The 6 Best PCs For VTubers
VTubing started low-key, but now, it's blowing up and going mainstream, and tons of aspiring VTubers are riding that wave to full-time stardom. But if you're looking to slay it in the VTubing game, you have to gear up right.
So, when we're talking PC for VTubing, you've got two ways to go about it. First, you can roll with a beastly gaming PC that handles your gaming grind and streaming. Or, you can level up your setup with a dedicated streaming PC.
But an all-in-one setup might be your jam if you're all about that top-notch experience. You'll need some serious CPU and GPU power, preferably from NVIDIA, for those sweet graphics technologies like DLSS and the NVENC hardware encoder. Just know that going all-in-one is costly because you must get hardware that can handle gaming and stream encoding seamlessly. And that's what makes a PC best for VTubers.
->In case you're in a hurry and just want to know our top pick, check out the  Alienware Aurora R14 Ryzen Edition—it's our 🥇 Ultimate PC Choice for VTubing!
Based on all of that and some serious testing, here are the best PCs for VTubers that can handle everything from streaming to adrenaline-pumped gaming sessions.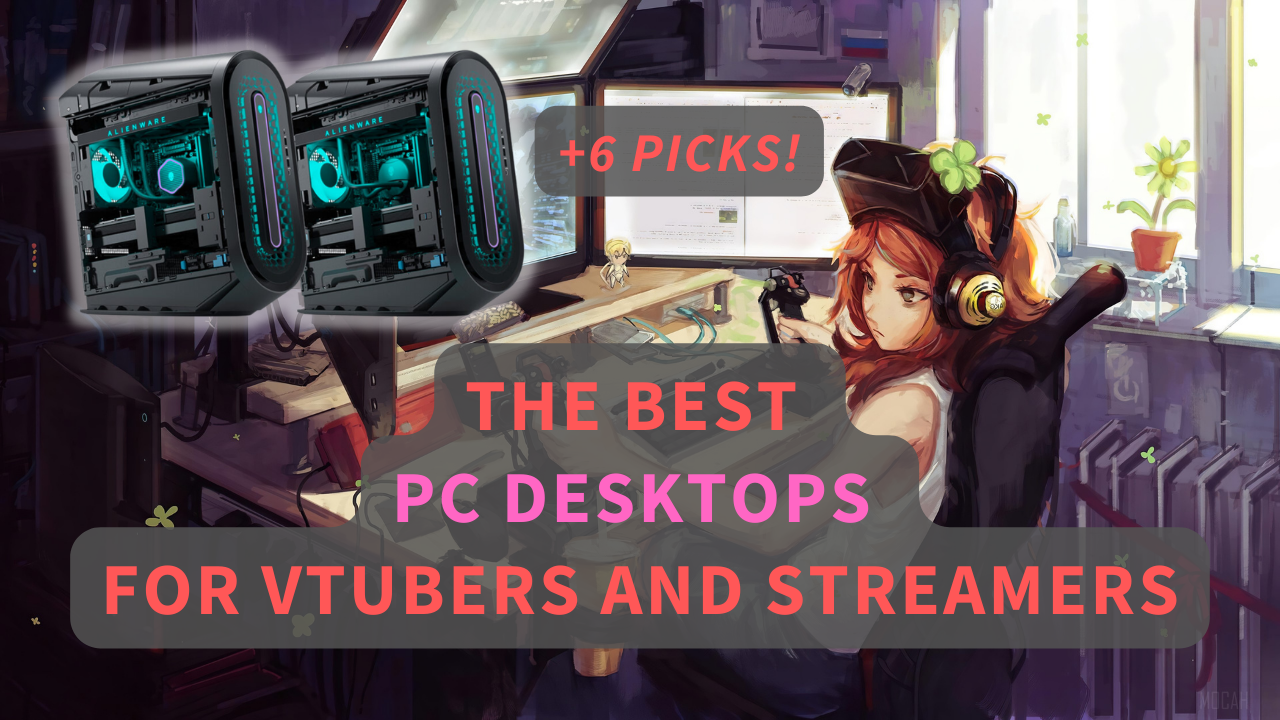 Our Top Picks
MSI Infinite RS 13th🥇 Best VTuber PC With An Intel CPU
Alienware Aurora R14 Ryzen Edition 🥈 Best VTuber PC With An AMD CPU
Alienware Aurora R15 🎖️ Best Runner Up PC For VTubers
Lenovo IdeaCentre Gaming 5i 🎖️ Best Budget PC For VTubers
Corsair Vengeance i7400 🎖️ Solid Bang For Buck
Acer Predator Orion 7000 🎖️ Jack Of All Trades
The 6 Best PCs For VTubing
No matter if you're starting your VTubing journey or if you are a seasoned VTuber, the PCs mentioned below will cover all your needs. Whether you need to run VSeeFace, VTube Studio, Live 2D, or whatever software you need to stream with your VTuber avatar, the PCs below can easily handle them.
Plus, they'll have no issue if you want to edit videos or play high-end hardware-demanding games, especially if you go with our top choice with an AMD processor—Alienware Aurora R14 Ryzen Edition. It has 12-core and 24-threads, which means it's pretty great at multi-tasking.
Anyway, here are our top PC choices for VTubing—check them out:
MSI Infinite RS 13th: The Best PC For VTubing With An Intel CPU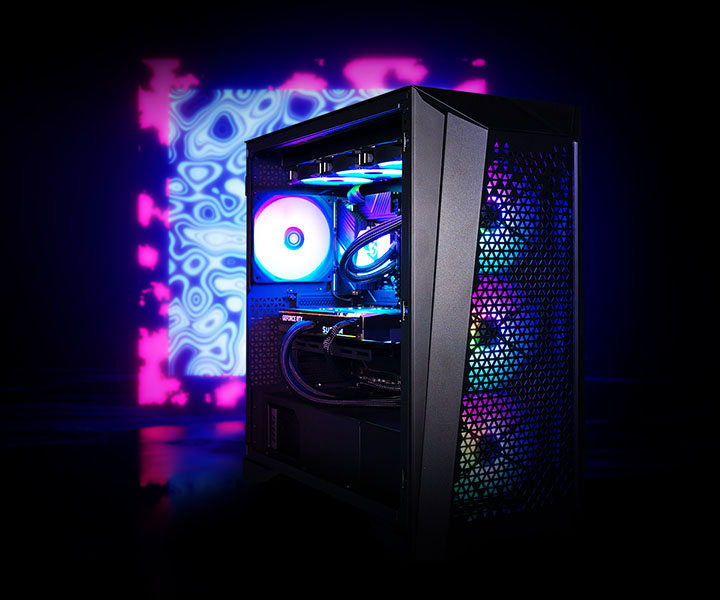 If you're hunting for the absolute VTubing beast, the MSI Infinite RS 13th is where the magic happens, but it'll cost you a pretty penny. This rig is on a whole other level!
It comes with a 13th Gen Intel Core i9, 32GB DDR5-5200 RAM, a massive 2TB MSI Spatium PCIe 4.0 SSD, and a liquid-cooled Nvidia GeForce RTX 4090. It's like a VTubing dream come true, delivering stellar performance while staying as quiet as a ninja. Plus, you can pimp it out even more down the line.
The parts are all standard. And the case, the MSI Prospect 700RL, is spacious—almost too spacious for some folks! It can house two radiators and nine fans, making this beast quieter than a whisper in our tests.
They throw in a keyboard and mouse, but you'll probably want something fancier.
In our tests, this rig served up insane performance. If you're all about that silky-smooth gameplay and future-proofing your prebuilt setup, even if it means sacrificing some desk real estate, this is the one to keep on your radar.
Why We Think MSI Infinite RS 13th Is The Best PC For VTubers (Top Pick From Intel's Line Of CPUs)
The MSI Infinite RS 13th is hands down the ultimate VTubing rig, designed to elevate your streaming game to the next level. Priced at $4,199, this beast is packing Intel's 13th Gen muscle, rocking a Core i9-13900KF processor and MSI's custom GeForce RTX 4090 GPU, making it an absolute powerhouse for VTubing.
But what really makes this PC lit is its dope design – those hinged side panels are a game-changer. No more struggling to get inside your rig; it's like a VIP backstage pass for upgrades. And with a massive chassis, you can pimp it out with extra SSDs and fans.
Let's not forget the RGB game, fam. The whole setup is super lit, and you can customize it with MSI Center software. Your VTubing studio will look like a million bucks.
Now, benchmarks were a tad sus, but don't trip; this baby's still a beast for VTubing. The RTX 4090 and Core i9 combo delivers epic rendering and gaming performance.
In the VTubing world, where aesthetics are everything, the MSI Infinite RS 13th is a flex with its sleek design, easy access, and RGB bling. It's a must-cop for creators looking to slay the VTubing game. If you're balling on a budget, the Lenovo IdeaCentre Gaming 5i is a solid option, but for that top-tier VTubing experience, MSI's got the juice.
Alienware Aurora R14 Ryzen Edition: The Best PC For VTubing With An AMD CPU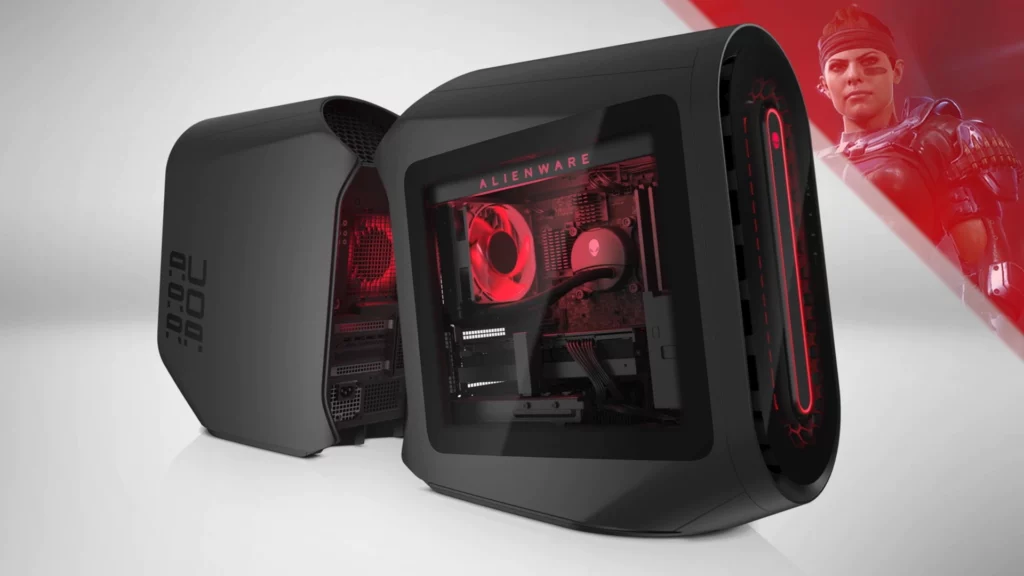 Alienware Aurora R14 Ryzen Edition is 1000$ cheaper than R15 but still is an absolute beast for VTubing. This bad boy rocks an AMD Ryzen 9 5900X CPU and an Nvidia GeForce RTX 3080 GPU, packing enough power to handle your VTubing adventures and tear through those top-tier games like a boss.
Let's break it down—the AMD Ryzen 9 5900X starts at 3.0GHz, and guess what? It's the third most popular choice among AMD users, per the April 2023 Steam Survey. But you can push that baby up to 4.7GHz if you're craving more juice. Plus, with dual storage drives, you're rolling in space for your entire game library and then some.
But that's not all. This rig's got liquid cooling, teaming up with the built-in fans to whisk that heat away from your components. It keeps everything frosty for max performance and efficiency. And let's not forget the style points—that chassis rocks a slick, rounded design that will make it stand out in a sea of basic tower PCs. Oh, and it's a breeze to pop this puppy open with tool-less access. Clean those fans, rewire like a pro, or drop in upgrades without breaking a sweat.
Why We Think Alienware Aurora R14 Ryzen Edition Is The Best PC For VTubers (Top Pick From AMD's Line Of CPUs)
The Alienware Aurora R14 Ryzen Edition is the best PC for VTubers, perfect for content creators who want to skip the tech hassle and dive right into the action. It's got that slick, UFO-inspired design that screams "next-level gaming."
With an AMD Ryzen 9 5900X CPU and a custom Dell RTX 3080 GPU, this beast is ready to deliver some seriously spicy performance.
When it comes to VTubing, you need that silky-smooth rendering and encoding muscle, and the 5900X brings it like a pro.
Whether you're flexing your charisma for the viewers or diving into intense gaming sessions, the R14 won't break a sweat. It even crushes 4K gaming, leaving consoles in the dust.
For streamers, connectivity is key, and the R14 packs more USB ports than you can shake a joystick at. Plus, you've got the peace of mind that comes with Dell's top-tier after-sales support. While it's not exactly a budget pick, Dell often drops mad discounts, making it a sweet deal.
Sure, hardcore PC enthusiasts might nitpick about cooling and upgradability, but if you're all about that plug-and-play life and crave a PC that's as hot as your gameplay, the Alienware Aurora R14 Ryzen Edition is the absolute sauce.
Alienware Aurora R15: Best Runner Up PC For VTubers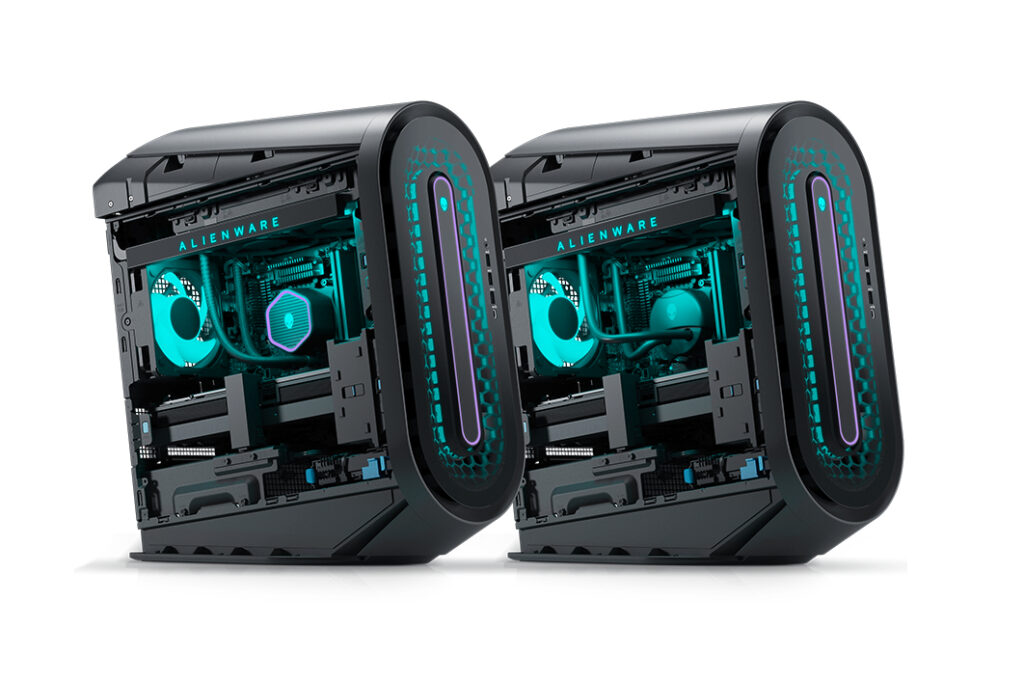 The Alienware Aurora R15 is like a PC that's in a class of its own regarding gaming and VTubing. It's the evolution of the R13 and R14 but with a unique flair. It is not perfect, and Dell still loves to use its particular parts, but this rig is a reliable powerhouse that has its unique cosmic style.
This beast has an RTX 3060, a monster GPU, an Intel Core i9-13900K, and a beefy 32GB DDR5 RAM. It smashes through Benchmarking, handling games like Cyberpunk 2077 and Hogwarts Legacy like a pro.
But, as with any pre-built PC, there are a couple of quirks to consider. First, using a lot of plastic in design might not be everyone's cup of tea. And sometimes, you'll hear some weird noises as the temperatures do their thing, which is somewhat eerie if you're used to regular fan sounds.
One of the R15's downsides is its upgradability, as its motherboard isn't standard. But that's pretty much standard in any branded pre-built PC.
It's got just two DIMM slots, so you're limited on RAM options. And inside, it's tight, with Dell's liquid cooling setup and other parts squeezing for space. But hey, if you're the type to grab a whole new rig down the line rather than tweak this one, the R15 will keep serving up cosmic-level performance for ages. And that makes it one of the best PCs for VTubers.
Why We Chose Alienware Aurora R15 One Of The Best PC For VTubing
The Alienware Aurora R15 is totally the best PC for VTubers, offering a bunch of pros and a few cons you've got to mull over. It drops in a bunch of flavors, from newbie-friendly to super-charged, so you can snag the one that's your vibe in terms of needs and budget, making it flex for all kinds of VTubing rigs.
With an overclockable Intel K-series CPU, you can juice up the power when you're going all out with your streams and renders. Plus, there are plenty of ports on both the front and back for all your gear, so linking up your VTubing setup is super easy.
Let's talk about that sick design and RGB lighting—it's a total feast for your eyes while you're repping your VTubing persona. You'll be leveling up the viewer experience, especially if you're into IRL streams as a VTuber.
But there are a couple of downsides. The PC's not as easy to upgrade as you might think, which could put a cap on future upgrades. The fans might crank up the volume, messing with your audio game during streams if you don't have a decent enough noise-canceling VTuber mic.
Lenovo IdeaCentre Gaming 5i: Best Budget PC For VTubers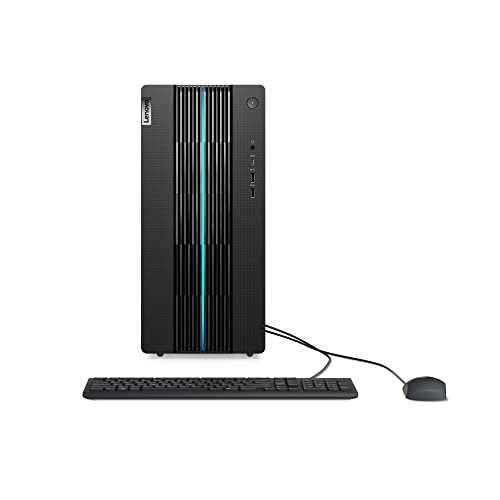 The Lenovo IdeaCentre Gaming 5i desktop is one of the best PCs for VTubers and gamers on a budget. This rig is all about affordability without sacrificing performance. Let's dive into it!
Under the hood, you've got that 12th gen Intel Core i5 CPU, 16GB of RAM, a speedy 512GB SSD, and the Nvidia GeForce RTX 3050 graphics card—it's the dream setup for VTubing and budget gaming.
Compared to our top choice (Alienware Aurora R15), the Lenovo IdeaCentre Gaming 5i desktop is a generation behind in CPU and GPU. The graphic card is great for an entry-level VTuber PC, but if you want to stream and game simultaneously, go with the top choice mentioned in this article.
But here's the cool part: the case rocks this office-friendly look, so it's perfect for shared spaces or if you've got a setup that does double duty as a workspace and a gaming zone. Plus, there's no crazy RGB lighting to distract you.
You've got a bunch of USB ports to plug in your gear, Bluetooth 5.1 for all those wireless peripherals, and even a VGA port for those vintage monitors.
And don't sleep on the upgrade potential—you can bump that RAM to a whopping 32GB and swap out components as your needs evolve. This rig's all about giving you options.
Why We Chose Lenovo IdeaCentre Gaming 5i As The Best Budget PC For VTubing
The Lenovo IdeaCentre Gaming 5i is a total VTubing powerhouse! This rig comes ready to rock with an RTX 3050 and a beefy Core i7-12700 CPU, perfect for delivering top-notch streams.
With 16GB RAM and a lightning-fast 1TB NVMe SSD, you've got the juice for multitasking and quick asset access. The 500W PSU, while a tad under NVIDIA's recommendation, holds up well, thanks to the energy-efficient Core i7-12700.
Its design, with cool airflow and handy USB ports, keeps things smooth during those epic streaming marathons. When it comes to upgrades, you're somewhat limited due to its compact size, but it can still handle smaller GPUs.
And the best part? It's a sweet deal! Especially when it's on sale, the IdeaCentre Gaming 5i is a killer choice for budget-savvy VTubers looking for a reliable streaming and gaming rig.
Corsair Vengeance i7400: Solid Bang For Buck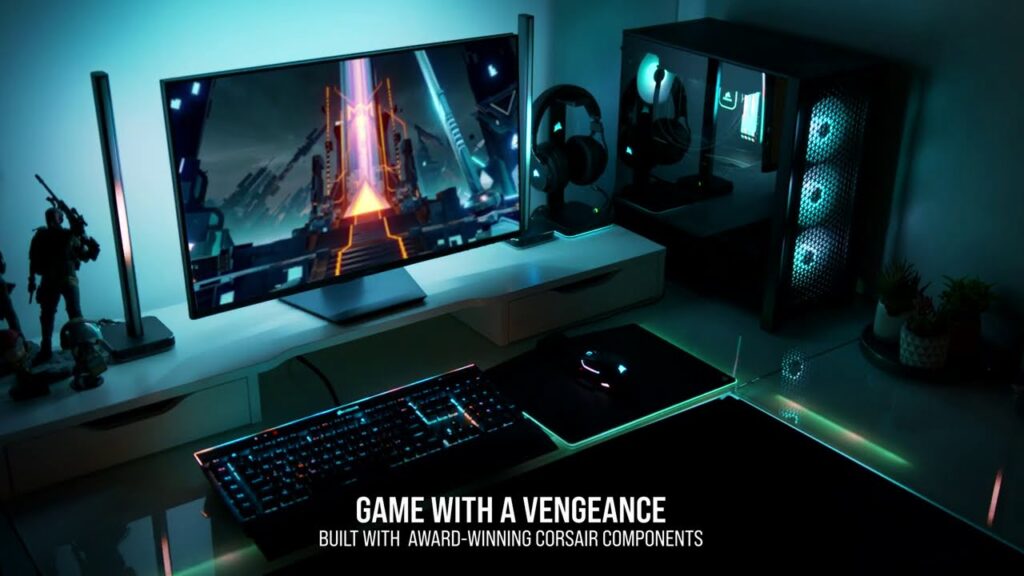 If you're an established Vtuber, the Corsair Vengeance i7400 is an excellent option for a gaming rig upgrade. This thing is an absolute beast for your VTubing journey!
In specs, we're talking a 13th gen Intel Core i7 CPU, a whopping 32GB of RAM, a massive 2TB SSD, and a GeForce RTX 4080 GPU. It's like a powerhouse custom-built to handle all your content creation tasks, from rendering video files to crafting those eye-popping thumbnails, all while you're flexing your streaming and gaming skills.
Plus, you've got all the storage space you need for your raw and edited files, not to mention your entire game library.
But wait, it gets even better! This beast is equipped with a liquid cooling system that's all about banishing excess heat and keeping your rig running icy cool. This cooling system will keep your CPU cool as a cucumber if you decide to overclock your CPU for max performance.
The mid-size tower design is sleek and compact, so it won't hog up all your desk space. Perfect for those cozy little gaming corners.
Why The Corsair Vengeance i7400 Is A Bang For Buck PC For VTubers
The Corsair Vengeance i7400 is a streamer's dream rig! It rocks a killer Intel Core i9-13900K and Nvidia GeForce RTX 4080 combo that crushes gaming benchmarks. No DIY hassle – it's pro-built, so you can focus on content, not building. Plus, it's got dazzling RGB in a slick Corsair case, perfect for that streamer vibe.
Don't sweat multitasking – 64GB DDR5 memory keeps everything smooth. And it's a ninja in silence, vital for top-tier audio quality. This beast is ready for your VTuber adventures, with liquid cooling to keep cool under the streaming pressure.
With a solid two-year warranty and prices starting at $2,149.99, the Vengeance i7400's bang for the buck is hard to beat in the high-end gaming world. For VTubers seeking performance and value, this rig's an Editors' Choice winner!
Acer Predator Orion 7000: Another One Of The Beast PCs With An Intel CPU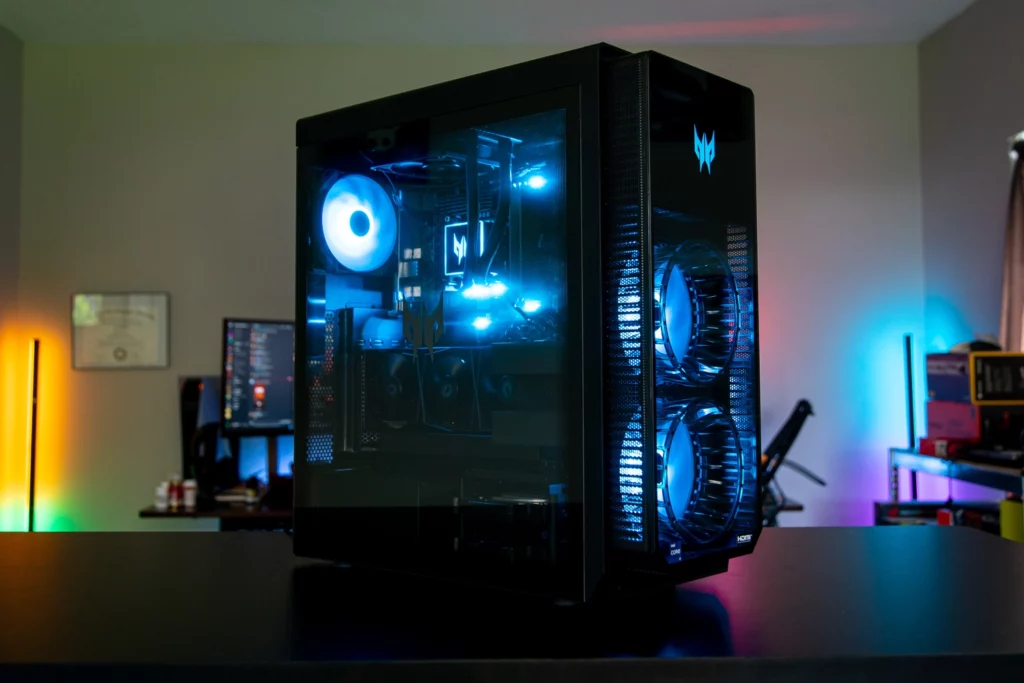 Acer Predator has been a big player in the prebuilt VTubing and PC gaming market for a minute now.
They upgraded the motherboard in 2022 to handle the crazy power of those 13th Gen Intel processors. Plus, they jumped on the Nvidia RTX 40 series hype train, so this thing's packing some serious power.
This PC can devour any task you throw at it, whether gaming or rendering, for breakfast. We got our hands on one with a beastly 13th Gen Intel Core i9-13900KF CPU and an RTX 4090. It's not cheap, but it's one of the mightiest gaming rigs out there.
One downside is that fans can get loud and need to do a better job keeping things cool.
It's weird that these fancy new motherboards don't support XMP, but this one's a total champ as far as plug-and-play gaming PCs go.
Why Acer Predator Orion 7000 Is A Great PC For VTubing
The Acer Predator Orion 7000 ($4,299) is an absolute VTubing powerhouse, perfect for content creators seeking that top-tier performance boost. Sporting Intel's Alder Lake CPU and Nvidia's monstrous GeForce RTX 3090, this rig's got the juice to make your streams pop.
In terms of looks, this sleek black beast is a stunner on your setup. When you're just cruising through regular tasks, the cooling system keeps things whisper-quiet. But when you go full throttle for those epic gaming or VTubing marathons, the fans might kick up a ruckus, but hey, it's the price of peak performance.
Now, I won't sugarcoat it—this PC comes with a hefty price tag. But trust me, it's worth every dollar. Its gaming prowess is off the charts, handling Cyberpunk 2077 at max settings in 1080p like a champ. And if you're eyeing that 4K gaming experience, well, this beast is up for the challenge.
Beyond gaming, the Acer Predator Orion 7000 is a multitasking monster. It can juggle a gazillion Chrome tabs, video streams, and even heavy-duty tasks like video editing without breaking a sweat.
So, if you're willing to splurge on a gaming rig that'll have your VTubing streams running smoother than a pro, the Acer Predator Orion 7000 is where it's at. It might burn a hole in your wallet, but hey, quality and power like this don't come cheap, my fellow streamer.
If you're looking for something more budget-friendly that still packs a punch, check out the Lenovo IdeaCentre Gaming 5i. They won't quite match this powerhouse, but they'll save you some serious bucks while delivering solid gaming and streaming performance.
Wrapping Up
I hope you've snagged the sickest PC setup for your VTuber journey after checking out this guide. All the PCs on this list are top-notch, but my absolute favorite has to be the Alienware Aurora R14 Ryzen Edition—it's next-level versatile!