The 5 Best Laptops For VTubing
Quick Answer: The Asus ROG Zephyrus S17 is the VTuber's ultimate sidekick, packing an Intel i9 and Nvidia RTX 3080 for lag-free, visually stunning streams. But if you are looking for something on a budget, go for the HP Victus 16 instead.
VTubing is lit in the streaming scene right now, and it's not just a casual grind anymore. You can level up your game and turn your passion into a cash flow with live VTubing. But to climb the VTubing leaderboard and become the next big thing on platforms like Twitch, you need a top-tier VTubing laptop.
A solid VTubing laptop is your ticket to streaming in HD like a pro for your adoring squad. You need to roll with a laptop, packing some serious GPU and CPU muscle. But picking the right laptop can be a real grind, so we've got your back with our handpicked selection of laptops that are totally VTubing-ready, complete with the power combo of a beefy GPU and a turbocharged CPU.
Some of these VTubing laptops are so portable that you can take your virtual persona on the road for IRL adventures. We know not everyone is pulling in those mega-streamer stacks, so we've got options for different budgets. Whether you're just starting out and grinding on a budget or you're looking to flex with a premium setup, we've got your back with these choices.
Enough said! Let's dive straight in!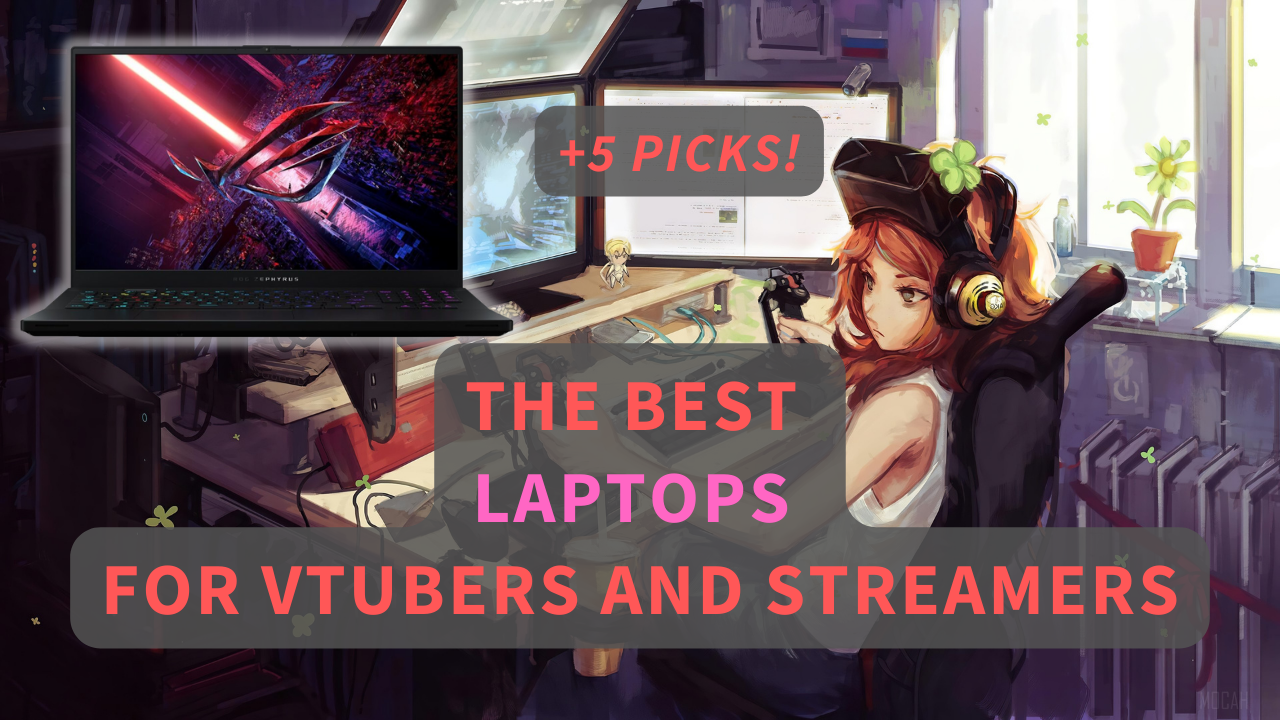 The 5 Best Laptops For VTubers
Our Picks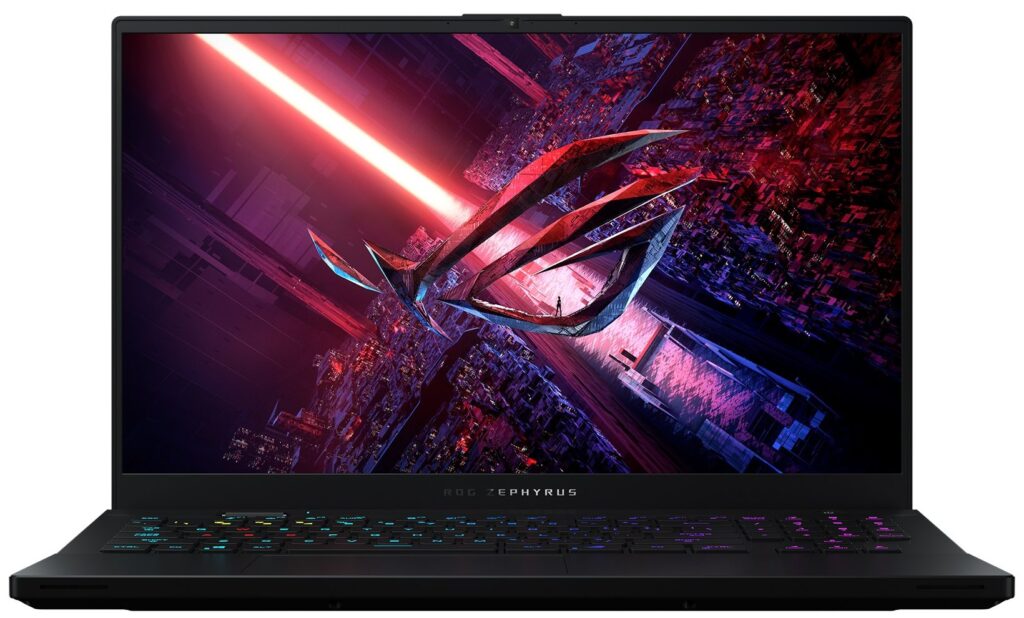 The Asus ROG Zephyrus S17 is an absolute beast for VTubers! It's got the guts you need to level up your streaming game. With an Intel i9 processor and an Nvidia RTX 3080 GPU, you're packing serious power under the hood for smooth VTubing performance. The 17.3-inch 4K display with a 120Hz refresh rate is a visual treat, making your VTuber avatar and gaming content pop with vibrant colors and clarity.
This laptop is built tough with a metal chassis, ensuring it can handle those long streaming sessions. The six-speaker sound system pumps out epic audio, and the RGB per-key-lit mechanical keyboard not only looks amazing but lets you personalize your keys for quick actions while streaming.
You've got options to suit your budget, with different configurations to choose from. The innovative design with a lifted keyboard and improved trackpad placement adds to your comfort during those extended streaming marathons. It's a bit of a heavyweight, but that's because it's packing that massive 17.3-inch display, giving you more screen real estate for your VTubing and gaming content.
When it comes to performance, this laptop is a powerhouse. It breezes through CPU and GPU benchmarks, keeping your VTuber software and games running smoothly without any annoying lags.
Connectivity is solid, with Thunderbolt 4, HDMI, and Wi-Fi 6 options, making it a breeze to hook up your streaming gear.
Sure, the battery life isn't the longest, but for everything else, the Asus ROG Zephyrus S17 is a VTuber's dream machine. It's the perfect combo of power, visuals, and features to take your streaming game to the next level. It might not be the cheapest option, but for serious VTubers, it's worth every penny!
Why We Consider The Asus ROG Zephyrus S17 The Best Laptop For VTubing?
The Asus ROG Zephyrus S17 is an absolute beast for VTubing! This laptop is a one-way ticket to VTube stardom. With its blazing-fast GPU and CPU performance, you'll be rendering those 3D models and environments like a champ. And the 17.3-inch 4K display with a 120Hz refresh rate? That's the crystal-clear canvas for your digital persona to shine.
But it's not just about the specs; this laptop oozes luxury. The rugged all-metal chassis gives off those pro-streamer vibes, making you look like the gaming royalty you are. Need I mention the six-speaker sound system?
The sound is crisper and more immersive than ever. Plus, the customizable keyboard is your secret weapon for quick emote triggers and hotkey magic.
Now, I won't sugarcoat it: this laptop doesn't come cheap. You might have to dig deep into your virtual treasure chest, but if you're on a quest for the best of the best, the Zephyrus S17 is the Excalibur of VTubing laptops.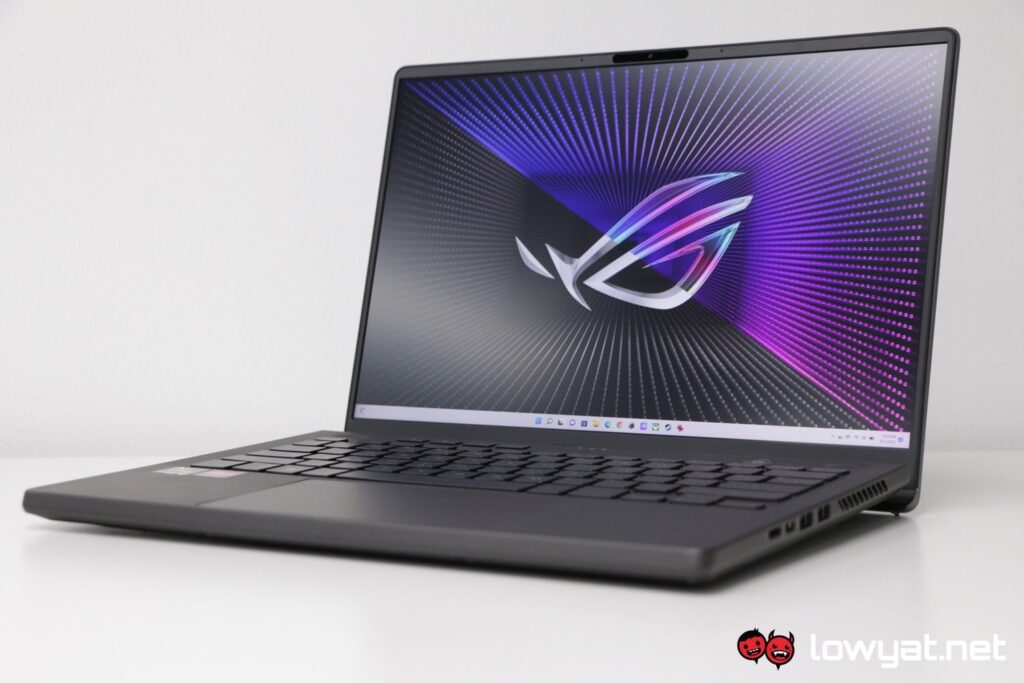 If you're on the hunt for the ultimate VTubing sidekick for streaming on the go, the 2022 ROG Zephyrus G14 is the best portable laptop for VTubing out there. This laptop is an absolute beast, rocking an all-AMD setup with the Ryzen 7 5800H CPU and the NVIDIA GeForce RTX 3060 GDDR6. These two titans tag-team like champs, ensuring your VTubing setup runs buttery smooth.
And let's talk visuals, fam. The 16:10 aspect ratio screen with a crisp 2560×1600 resolution is an absolute eye-candy delight. It boasts a dazzling 500 nits of brightness and a buttery 120Hz refresh rate. Trust me, your VTuber persona will look straight-up fire with these visuals.
Asus finally stepped up their game and tossed in a webcam. Sure, it's "only" 720p, but it's a bazillion times better than having no cam at all. You can now rock those epic face-cam moments while you're slaying it on your streams.
Performance? Off the charts! This laptop absolutely demolishes tasks. Whether you're gaming, rendering, or multitasking like a pro, it'll keep up. The AMD Ryzen 9 CPU handles multitasking like a pro, and it crushes single-threaded tasks, too.
Gaming? This laptop's got your back. The Radeon NVIDIA GeForce RTX 3060 packs a punch, and it's not far behind the big boys, making it perfect for gaming and streaming combined.
It's sleek, lightweight, and portable, making it the perfect on-the-go VTubing partner. The integrated webcam and the upgraded display are worth every dime of its price tag.
Sure, it's got a couple of quirks, like the so-so keyboard backlighting and limited upgrade options, but honestly, that's small beans when you look at the big picture.
Why We Consider The ROG Zephyrus G14 The Best Portable Laptop For VTubing?
The ROG Zephyrus G14 is as lightweight as a feather, tipping the scales at just over three pounds, making it your trusty sidekick for on-the-go streaming adventures. Fueling your stream with the AMD Ryzen 7 5800H processor and the NVIDIA GeForce RTX 3060, you're packing some serious firepower under the hood. Say goodbye to lags and stutters during your VTubing sessions.
Now, let's talk about the nitty-gritty. The keyboard isn't exactly "streamer-approved." It's a tad mushy, and the backlighting doesn't scream "wow."
However, if you're in the market for a portable powerhouse that delivers top-tier performance while you rock your VTubing persona, the Zephyrus G14 is the MVP of your streaming setup. It's your ticket to high-octane, lag-free VTubing, all in a sleek and lightweight package.
MSI Raider GE67Hx: The Best Premium Laptop For VTubing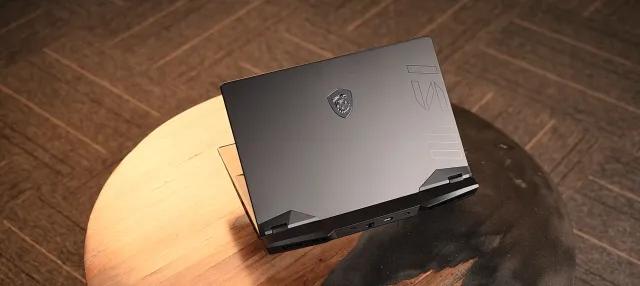 Folks, let me drop some knowledge about why the MSI Raider GE67Hx is the top-tier choice for all our VTubing enthusiasts out there. I mean, it's got the VTuber must-haves – premium hardware, beefy performance, and the power to make your streams pop like never before. Sure, it's a bit of a wallet buster at $3,500, but you know what they say: you get what you pay for in this game.
Now, on the outside, it doesn't look all that different from the older models, but as they say, never judge a laptop by its aluminium cover. It's what's inside that counts, and the Raider GE67Hx is loaded with all the good stuff. We're talking an Intel 12th gen Core i9-12900HX CPU, 32GB of DDR5 RAM, and an Nvidia GeForce RTX 3080 Ti laptop GPU.
But let's get to the good stuff. This laptop is all about the performance, and it shows. Cinebench, a pro-grade benchmark, gives it a thumbs-up for both multi-core and single-core tasks. So whether you're rendering 3D models, encoding videos, or crunching data, it's got the muscle to keep up with your demands.
Gaming performance, you ask? The GeForce RTX 3080 Ti is a champ. With almost a 25% performance boost in 3DMark Time Spy, it'll handle even the most demanding games like a pro. Ray tracing? No problem; it's a solid 23% faster than its competitors.
The webcam? It's got a 1080p one now, so say goodbye to that old 720p look. A wider angle and quality speakers and microphones are perfect for streaming without needing an external camera.
The cooling system is no slouch either, with phase-change liquid metal for enhanced performance and longevity.
Why We Consider The MSI Raider GE67Hx The Best Premium Laptop For VTubing
The MSI Raider GE67Hx emerges as a top-tier choice that's ready to level up your virtual persona game. This laptop is a true powerhouse, sporting a massive 15.6″-inch QHD display that ensures your VTubing content shines with crisp, high-definition visuals.
It's not just powerful; it's downright slick with the latest 12th-gen Intel processor, guaranteeing smooth performance as you become your VTubing character.
Now, let's tackle the elephant in the room: the price. At over $3,500, it might sting your wallet, but if you're dead-set on VTubing domination, this laptop is the holy grail. It's a premium investment in your content creation arsenal, offering unmatched power and visual immersion.
When you're ready to go big, the Raider GE67Hx is your ticket to creating captivating and engaging VTubing content that'll leave your audience in awe.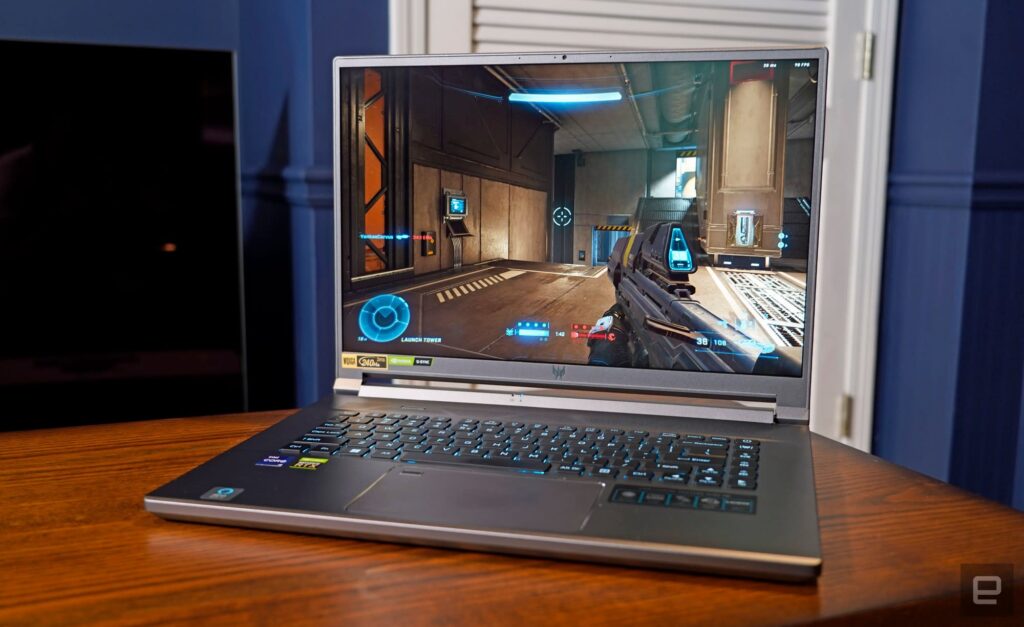 The Acer Predator Triton 500 SE is here, and it's not just a gaming laptop – it's a versatile powerhouse for VTubing and more.
This sleek, silver beast has an Intel Core i7-12700H CPU and an Nvidia GeForce RTX 3070 Ti GPU under the hood. And the cherry on top? A 165Hz refresh rate display. That's right, your VTubing and gaming experience is going to be smoother than a pro's headshot.
With a 2560 x 1600 resolution and a 16:10 aspect ratio, it's perfect for all your streaming-related tasks. So whether you're editing videos, writing scripts, or researching your next VTuber collab, you've got the space to do it all.
Webcam-wise, it's the usual 720p deal, nothing too fancy. The microphone delivers clear audio, although it could be a tad louder. Sadly, there is no face recognition for Windows Hello, so you'll have to stick to fingerprint scanning for security.
All this tech wizardry is powered by a massive 100-watt-hour battery, giving you over 8 hours of runtime for long streaming sessions without needing to plug in. But let's be real, it's a gaming laptop – you'll still need a charger before the day's over, especially if you're planning to game or VTube.
Gaming performance? The Predator Triton 500 SE shows its muscle with GeForce RTX 3060 GPU. It's 165Hz screen keeps those high-action games looking silky smooth. It even beats out some more expensive laptops with its performance in 3DMark's benchmarks.
So, whether you're fragging your enemies in Apex Legends or streaming on Twitch, this laptop's got you covered.
Why Is Predator Triton 500 SE A Great Laptop For VTubing
If you're diving headfirst into the world of VTubing, the Predator Triton 500 SE should be on your radar. This laptop offers the perfect blend of style and performance, catering to the needs of both work and play. With a design that doesn't scream "gamer," it exudes a mature aesthetic, ideal for VTubers aiming for a professional and sleek look.
Under the hood, it's powered by the Intel Core i7-12700H CPU and the Nvidia GeForce RTX 3070 Ti GPU. This dynamic duo ensures you can handle the demands of VTubing, striking a balance between productivity and gaming duties.
Moreover, it provides a decent battery life of around 8 hours, a rarity among gaming laptops. Although it's not the lightest option, weighing close to five pounds, it's a small trade-off for the robust performance you'll enjoy. The Predator Triton 500 SE is the VTuber's best friend, offering the power and versatility needed to create captivating content.
HP Victus 16: The Best Budget Laptop For VTubers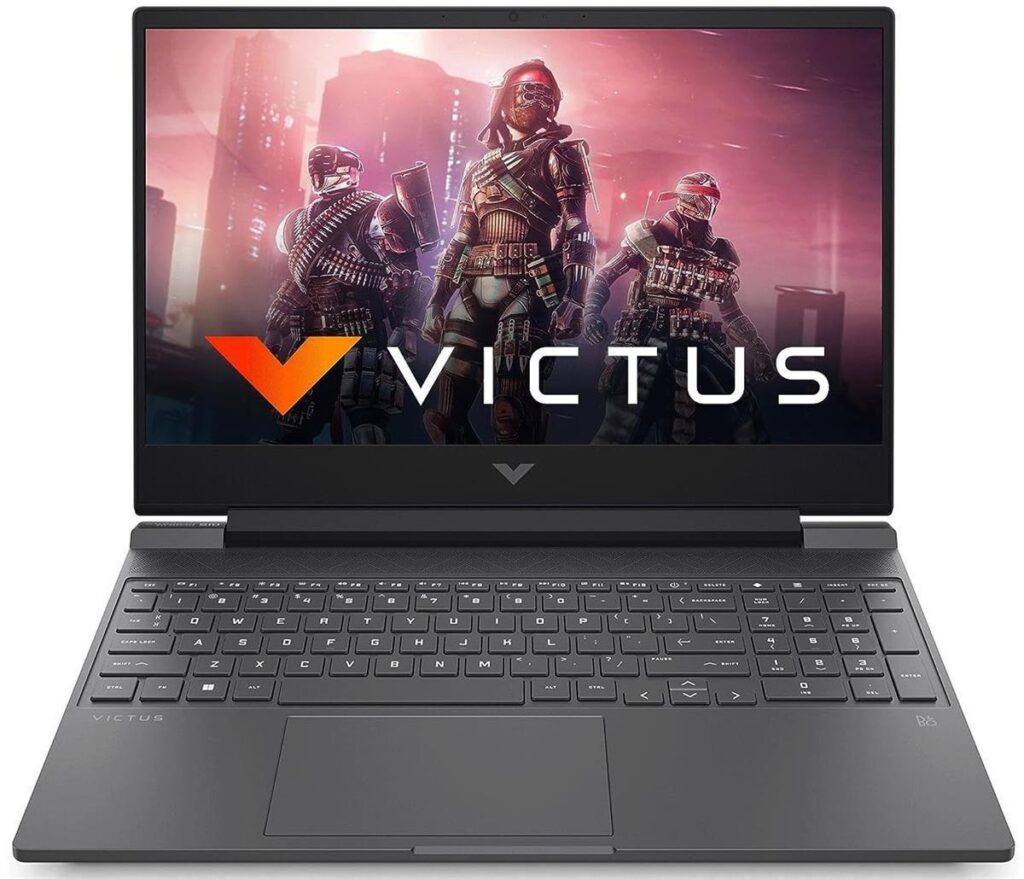 The HP Victus 16 is an absolute steal for VTubing on a budget. This 16-inch beast has a price tag of around $1,200, making it a solid contender in the gaming notebook arena.
Under the hood, this baby packs a punch with an AMD Ryzen 5 5600Hprocessorr and a GeForce RTX 3050 GPU. That means you can handle your VTubing software, stream without a hitch, and even mix in some gaming. The performance is on point, as the benchmarks prove.
Design-wise, the HP Victus 16 keeps it clean and minimalistic. No RGB bling here, but it's got a sleek aesthetic that works for both work and play. The keyboard is comfy for those long VTubing sessions, and you've got that nifty number pad for quick commands and shortcuts.
Battery life is not bad for a gaming laptop, giving you the flexibility to stream on the go. Plus, it charges up quickly, so you won't be waiting around to get back to VTubing action.
Sure, it doesn't have all the flashy gaming aesthetics of high-end laptops, but the HP Victus 16 is all about screen quality, performance, and not burning a hole in your wallet. If you're a VTuber on a budget, this laptop is the real deal.
Now, remember, there are more powerful laptops out there, but for the price, the HP Victus 16 is a top choice for VTubers who want to level up their game without going broke.
Why The HP Victus 16 Is The Best Budget Laptop For VTubers
The HP Victus 16 is an absolute champ you, as a VTuber, can't afford to miss! It's got all the tools to keep you at the top of your VTuber game.
But here's the real game-changer – that comfy keyboard! It's a VTuber's best friend during those marathon sessions, and it even throws in a nifty number pad. That's a blessing for gamers trying to manage a bunch of controls. Sure, it might not score high in the laptop beauty contest, but remember, it's what's under the hood that counts.
The HP Victus 16 serves up some serious performance that'll keep your VTubing journey on point. If you can look past the plain exterior, this laptop is the smart choice to fuel your VTubing adventure. It's all about reliability, comfort, and top-notch display performance—all within budget!
How We Tested These Laptops
Our team at Dereproject puts each and every Windows laptop through a battery of benchmarks. These tests dive deep into the laptop's GPU and CPU powers, battery endurance, and more. Our mission? To see how they stack up against the competition so you can have your undisturbed VTubing sessions! Below, check out the details on each test and why we're putting these laptops through the gauntlet.
PCMark 10: This is where we find out if the laptop can handle everyday tasks like web surfing, document editing, and streaming software load.
HandBrake: HandBrake measures how fast the laptop's CPU can tackle a monstrous 30GB file encoding. So, these laptops on this list of best laptops for VTubing can handle any type of video encoding you can throw at it!
Cinebench: We stress those CPU cores with a lightning-fast 2D scene rendering task.
3DMark: This test checks if the laptop can keep its 3D gaming performance on point by running intense graphics scenarios. This comes in handy, especially for VTubers
Video Rundown Test: We loop a 4K video with Windows 10's Movies & TV app until the laptop calls it quits to check the battery life.
What To Look For In A VTubing Laptop
As a VTuber, your laptop is your best friend, confidant, and stage. Choose wisely, and may your VTubing adventures be filled with pixelated victories and endless joy!
The kind of laptop you need largely hinges on your VTubing style and ambitions. Are you into casual indie games like Stardew Valley, or do you aspire to conquer visually intense titles like Cyberpunk 2077? Let's break it down for you, from GPUs to CPUs and beyond!
GPU
Your Graphics Processing Unit (GPU) is the soul of your VTubing laptop. It's the powerhouse that dictates your gaming performance. You can't upgrade it later, so choose carefully! While you don't need the crème de la crème for something like Fortnite, picking the right GPU is crucial.
Entry-Level: The GTX 1650 is a budget-friendly option, perfect for smooth 1080p gaming with mid-to-high graphics settings. But don't expect miracles with the latest releases!
Power Boost: For a little extra oomph, consider the GTX 1660 Ti or higher or even one of those fancy RTX 30-series GPUs. They'll make your VTubing world pop with graphics magic!
CPU
Your Central Processing Unit (CPU) is the brain of your laptop, and you can't upgrade this either. Intel or AMD? It's your call, VTuber!
Intel's Charm: Go for an 11th-gen Intel Core i5 or i7.
Team Red (AMD): If AMD's your jam, grab a Ryzen 4000 or 5000 series. Aim for at least four cores, but if you can swing six or more, that's the VTubing dream!
RAM
More RAM means smoother multitasking during your VTubing adventures. You want at least 8GB, but if you can swing 16GB, go big!
Storage
Storage isn't just about space; it's about speed. Aim for at least 512GB of SSD storage along with a trusty hard drive. SSDs load games faster and keep your VTubing seamless!
Display
Your VTubing journey is incomplete without the right display! For that immersive experience, a 1080p screen with a 60Hz refresh rate is your baseline. And when it comes to size, VTubers handling multiple windows might want to go big, like a 17-inch screen!
Battery Life
VTubing laptops are known for their voracious power consumption. The battery life is usually nothing to write home about, lasting around four to six hours on a single charge. But that's the price we pay for gaming glory!
Wrapping Up: The Best VTuber Laptops
There you have it! The 5 best laptops for VTubing. But hey, VTubing isn't just about the visuals; it's about your voice, too. That's where a top-tier VTuber mic comes into play. Check out our picks for the best VTuber microphones to make sure your voice is crystal clear when you're thanking your subs or dropping mad shade on your in-game rivals. And if you need a VTuber camera, we have a buying guide for that, too!