The Meaning Of Tsundere: What's Really A Tsundere?
Considering the many anime character types, the true meaning of tsundere often gets lost and we're left wondering – what's really a tsundere? What is the definition of tsundere?
Well, you can check out our male dere types to get a taste, but let's start off with a question: if Tohsaka Rin (F/S Night) and Michiru Matsushima (Grisaia) are both defined as tsunderekko, then why do they seem so different?
The Meaning Of Tsundere
The beauty is in the details. The definition and meaning of the term "tsundere" has actually changed quite a bit over the past few decades (and arguably for the worse). The most amazing thing about cultures is the natural and gradual change of their parts to suit and be understood by the whole. First off, let's begin with the definition we use for tsundere.
The term is a portmanteau of the two Japanese onomatopoeias tsun tsun (ツンツン), which describes sharp and prickly attitudes, and dere dere (デレデレ), which elicits the feeling of infatuation and being lovestruck.
This basically means that regardless of when and where it happens, a tsundere very loosely means having those two traits, tsun-tsun and dere-dere at some point in time. Looking at the two examples, both Rin and Michiru definitely have both of those traits. But what is the difference…
What's Really A Tsundere?
Well, I've come up with two definition that can help us compare and contrast the two types of tsundere: The Classic and the Neo:
1. The Classic Tsundere Definition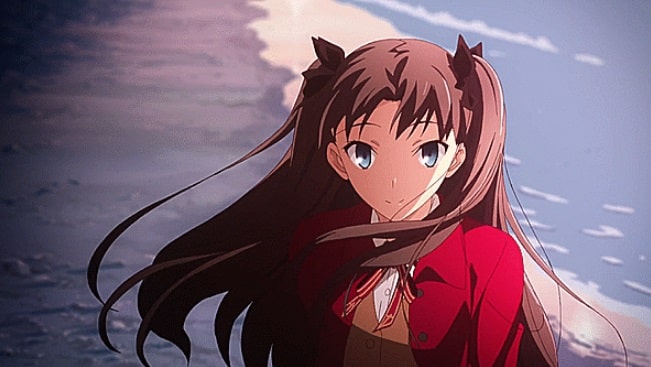 In Rin's case, she is very hostile and distant from Shiro at the beginning of the Holy Grail War. She even goes as far to tell him that she will defeat him as soon as possible and attacks him pretty early on. But as the story progresses, her attitude changes (for the better) and she becomes a lot more attached to Shiro. As the relationship develops, Rin falls for Shiro and her tsun-tsun side slowly becomes less pronounced as the dere-dere kicks in. She actually falls for him so hard that she is even willing to throw away her chance at the Holy Grail to save him – now that's some dedication for a girl who was all tsun-tsun at the beginning!
This is the type of personality which we define as tsundere, or more recently called "classic tsundere" to avoid confusion with the second type. (note, Rin is not the furthest left on the classic spectrum, but I felt like she was a good example to use in this discussion)
2. The Neo-Tsundere Definition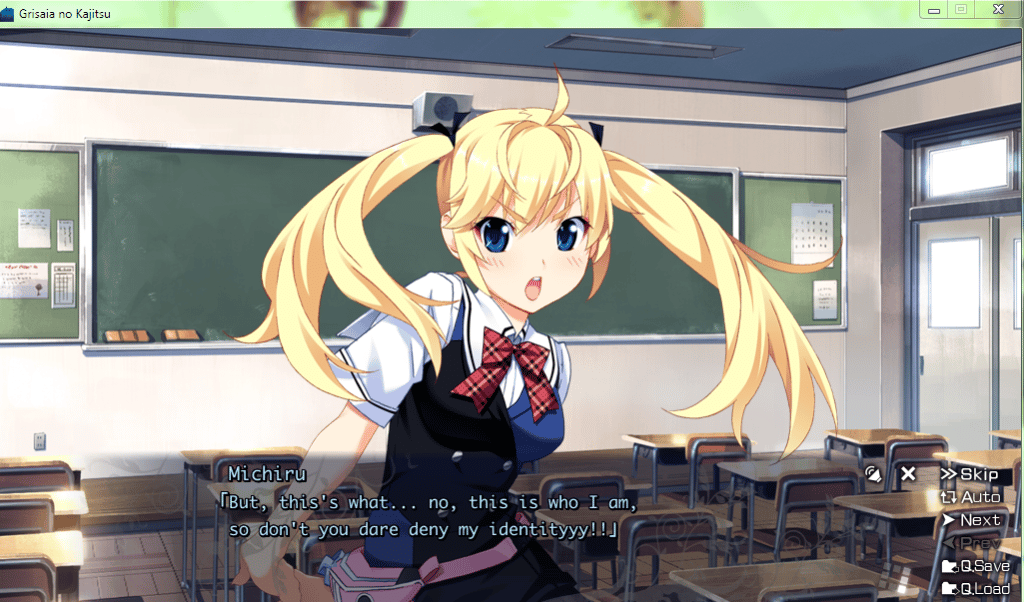 With Michiru, there's a lot less explaining that needs to be done. First of all, we figure out at the VERY BEGINNING that even she thinks of herself as tsundere when Yuuji catches her reading tsundere flashcards (seriously!?). From then on, almost every interaction with her comprises of some sort of tsundere-like banter between those two. She will constantly act very pompous and aggressively defend her position, but then ultimately be defeated in an episode of embarrassment and general failure. It is actually a lot more apparent in the Visual Novel, but well, what can you really expect from a single cour run?
Anyways, Michiru is definitely tsundere, but not the same type as Rin. The common label for this type is "neo-tsundere", which has a different meaning for reasons that'll be described next.
A Tale Of Twin Tails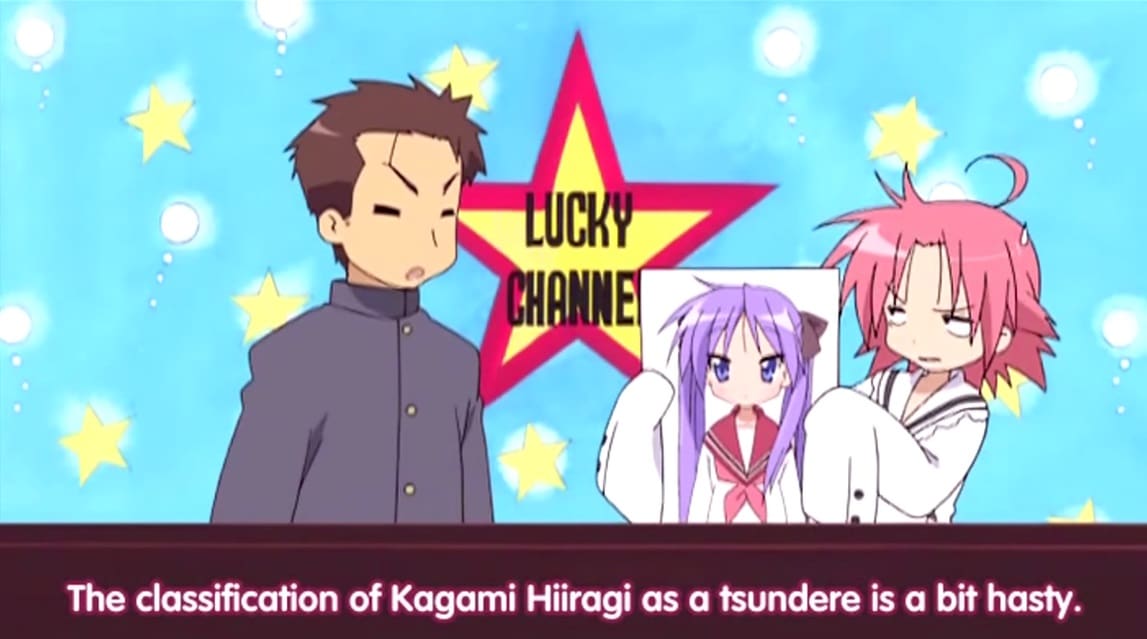 Get it? Heh.
Anyways, the difference between these two types? The best explanation is given by Shiraishi in Lucky Channel episode 10. To quote,
The original term was defined as a character who starts as tsun-tsun and eventually becomes dere-dere. Yes! This means that it was supposed to describe a change over time! And now.. it is used to describe the multiple faces of a character. In other words, tsun-tsun on the outside, and dere-dere on the inside would be how the word is currently understood.
So what does this mean? Well, nothing bad or crazy honestly. This is simply the natural progression of anime driven by media interests and the drive to use the definition for anything and everything that is even remotely possibly tsundere. The fact is that tsundere sells. Look at any media or social campaign which has to do with anime and there is a very high chance you'll see this buzz-word. Heck, even if the characters are not actually tsundere there might be some sort of ploy to attract people with the meaning of the word! But why is tsundere so popular?
Why Is Tsundere So Popular?
I'd say that it was because of half tsun…, and half… dere! Let's go back to the origin of everything — where it all started: moe.
Moe embodies the feeling of attraction or cuteness in a character or even a person.
The Meaning Of Moe
Moe was a concept introduced in the 1990s, back in the days of manga and early 2ch to describe that feeling so that there would be common ground when discussing certain characters. The word is said to have come from 萌え, a form of the word 萌える(to burst into bud/sprout) and also a homonym of 燃える(to burn). Look it up on Wikipedia or Google if you want some interesting discussion on the origin!
I feel like the main reason it stuck is the same reason why people like cute things. The very core of moe in anime is to illicit those feelings of attraction to cute things, so who wouldn't expect it to stick? From the success of moe in anime sprung up many other similar terms to describe exactly why these moekko are.. so moe. One such explanation is gap-moe (and no gap-moe does not mean AM I CUTE UGUU~).
Gap-moe is a particular type of moe which derives its value from a "gap" in the character's personality.
Moe In Anime
Just as Sora exclaims in NGNL, "MOE WA SEIGI!" And I fully agree, but there's more to it than just being "cute". Ok, cute things are cute,… but that's all. It doesn't tell you anything about why they are cute. Cuteness could mean looks, personality, or even the situation they are in! Initiative, Intelligence, Perception, Perseverance, Athletic Ability, etc matter a great deal. If all of the moekkos in the world were just cute, I would eventually get bored.
What Is Gap Moe?
I think that it was a similar train of thought that led people to gap-moe in anime — the unexpected moe. A mean girl that is actually sweet on the inside? A cute girl that is actually a terrible person? A smart meganekko who is not actually smart?! Seriously, whoever thought that people would like gap-moe was a genius. And from that genius sprung the tsundere definition.
Tsundere As A Story Element
But there is another aspect to why classic tsundere are the way they are which aligns with Shiraishi's explanation (in my opinion). Although moe and gap-moe were beginning to surface as popular personality traits, they were never considered the main driving factor behind the work, be it manga or anime (but especially manga). Typically the main attraction to a story is.. well… the story!
This means that the trait had to be baked into the story as you would normally handle character development. And obviously, the best way to do this was with a love interest that had some sort of conclusion near the end. This meant that a tsundere started out tsun-tsun at the beginning of the story and ended up dere-dere over the main love interest by the end. This is the classic tsundere definition.
But as they became more popular and the media giants realized that tsundere was gaining popularity, they put in a lot more effort in having them stand out as characters aside from the overall plot and really push the meaning in your face. And of course, execution really matters and that is where things changed. What is the easiest and quickest way to sell a tsundere character in the first episode?… See where I'm getting at! This meant that no longer would we see the slow defrost of their personality over the series, but rather the rapid switching between the two states reminiscent of a bipolar disorder.
Neo Tsunderes In Anime
Not to hate on neo-tsunderes, because honestly I like quite a few of them, but it's always nice to think about the deeper meaning of a character's personality. Haven't you ever seen anime with neo-tsunderes shamelessly thrown into the mix for no apparent reason? Did it feel like there was some sort of reasoning behind it, or did it just seem like some sort of cheap show? And more importantly, why do I like those anime so much?!
Given all that though, most characters end up somewhere in the boundary between classic tsundere and neo-tsundere definition. No bid deal though, we love them anyways.
Even with all of this, there's still a whole ton more to discuss on the subject of tsunderekko, but let's end it with a quote from Zetsubou sensei:
Sensei: "I'm somewhat behind these Otaku trends. Can a character be Tsundere if she never shows a Dere side?"
Harumi: "Oh yes, the Dere side can be left to the imagination so it's a-ok if it never shows up in canon screentime."
So Then… What Is A Tsundere?
I'll leave you all with a thought experiment: If a character is tsun-tsun to one person, and dere-dere to another, are they still tsundere?
Define tsundere yourself and reply back with your thoughts! And make sure to check out our very own tsundere, Kiho Hiryuu!