5 Best Headsets For Streaming & Content Creation
The best headset for streaming can level up your streaming experience on platforms including Twitch, Kick, and YouTube. Content creators need to be on top of their game while streaming. That means they need to be entertaining, be great at the game they're playing on stream, and interact with their chats in a fun way.
-> Just in case you don't want to read any further and just want to know what our top pick is, see the SteelSeries Arctis Nova Pro Wireless, which we feel is the 🥇 Best headset for streaming.
And more often than not, they have to do that for hours upon hours. So, naturally, they need a headset that helps them feel comfortable, listen to coms from their teammates, and talk to their chat through a high-quality microphone. And that's exactly what we looked for when we tested the best headsets for streaming on this list. So, read on to find out our top picks!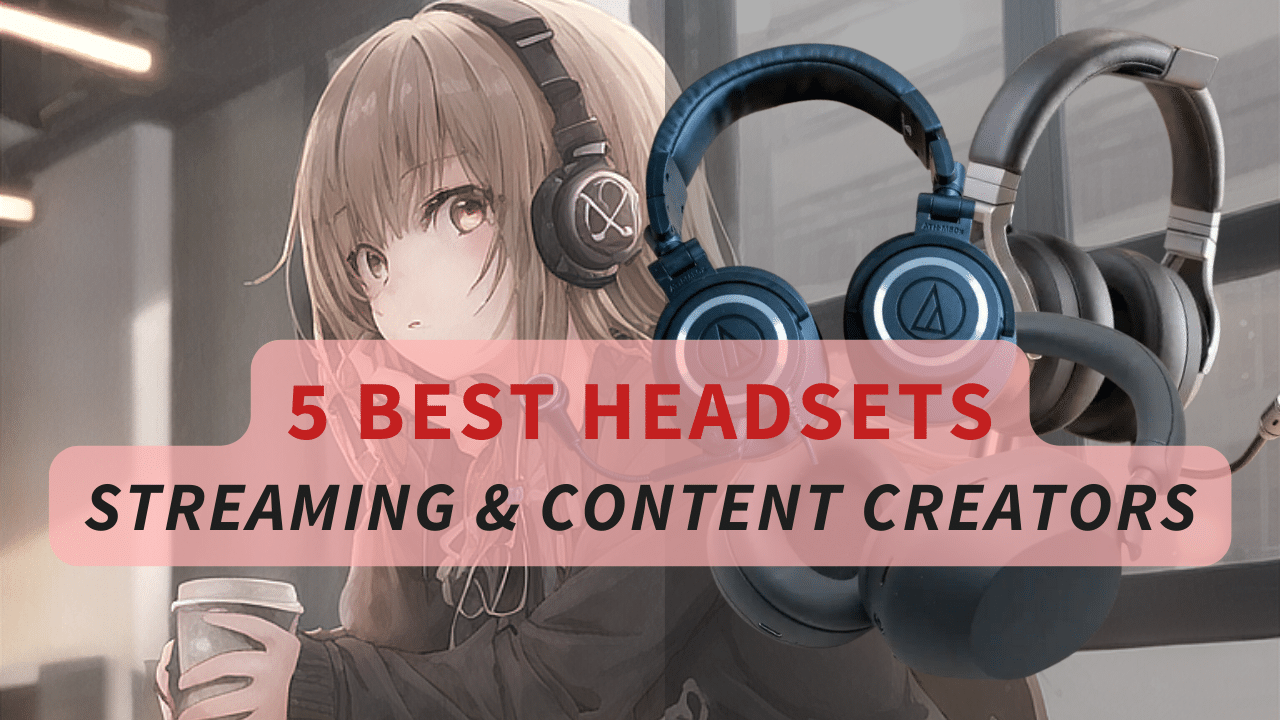 Our Picks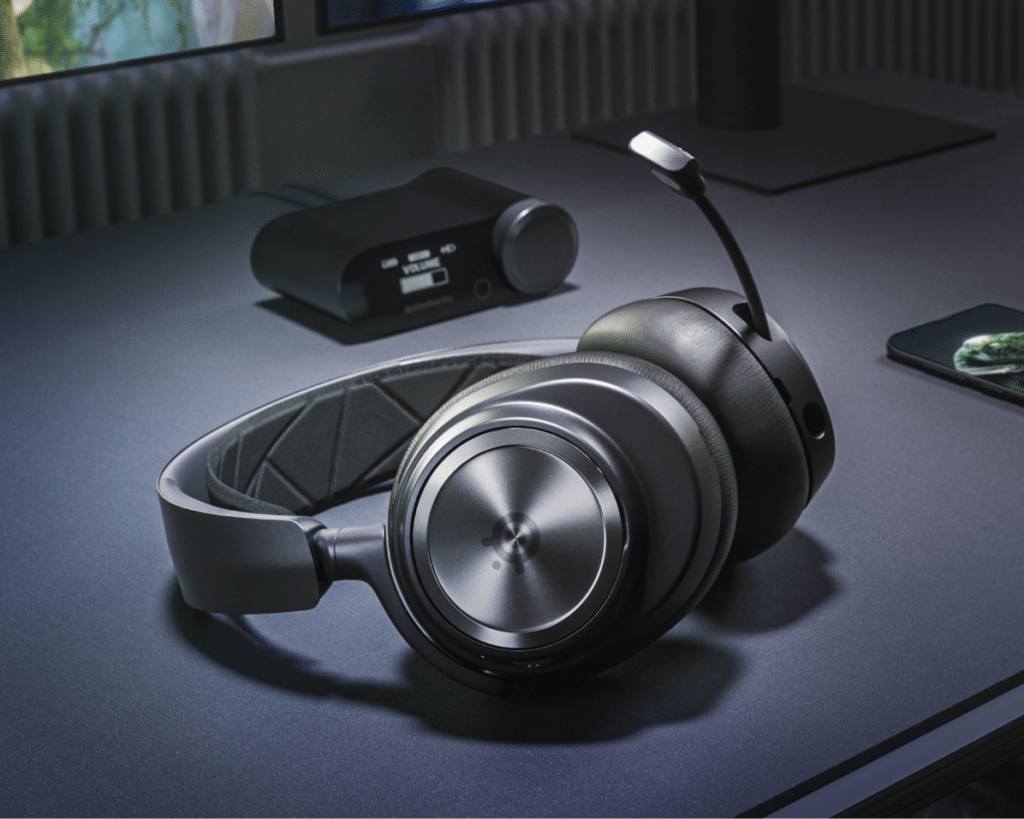 In 2018, the SteelSeries Arctis Pro Wireless impressed gamers with its versatility, sound quality, and dual batteries. However, it has taken SteelSeries over four years to release a proper successor. Enter the Arctis Nova Pro Wireless, the freshest addition to the company's top-tier lineup of wireless gaming headsets. Priced at $349, this headset not only retains the features of its predecessor but also brings several improvements to the table.
Design
Visually, the Arctis Nova Pro Wireless looks and feels premium. The smooth, matte black plastic earcups are well-built, complemented by circular gunmetal-colored metal earcups at the back.
Rocking a sleek metal headband reinforced with a perfect blend of durable plastic and rubber, this bad boy comes equipped with an adjustable ski goggle-style suspension strap for the ultimate comfort and style combo. The earcups are extendable and retractable, providing customization options.
While the earpads, covered in faux leather and generously padded with memory foam, cannot be replaced with fabric pads, they offer a comfortable fit for long streaming sessions.
Controls & Connectivity
The left earcup is your ultimate control hub, packed with all the epic essentials you need to dominate the streaming arena. We're talking about a boss power button, a savage mic mute button, a sick volume wheel for that eargasmic sound, a 3.5mm port for plugging in your sick audio gear, and, to top it off, a discreet boom mic that'll make your voice boom like thunder. It's all right there, right at your fingertips, giving you the ultimate power to conquer the streaming realm with style and finesse.
The right earcup houses the Bluetooth pairing button and indicator LEDs. The magnetic back panels of the earcups are easily removable. And that reveals the battery slot on the right and a USB-C port on the left.
The redesigned base station features a sleeker design and improved connectivity options. The black plastic device with curved sides no longer looks boxy, resembling a square audio component. It has a sleek gunmetal-colored multi-purpose knob holding it down on the right side of the face, keeping things stylish and functional. 
The Base Station
The OLED screen on the transmitter displays relevant information. This includes the connected device, battery levels, audio sampling and bitrate, and sound visualization. The large volume dial adjusts the headset's volume, and it can be switched to ChatMix mode to balance game audio and voice chat. The transmitter also features a battery slot, with each battery lasting up to 36 hours over 2.4GHz or 18 to 22 hours using both 2.4GHz and Bluetooth.
Software
To maximize the Arctis Nova Pro Wireless's potential, SteelSeries provides the SteelSeries GG software. It enhances audio performance and offers a range of features. The Sonar tab within the software provides a parametric equalizer for the game and chat audio, along with presets for quick adjustments.
Microphone
The microphone of the Arctis Nova Pro Wireless delivers clear audio, especially when combined with the Sonar features. The Clearcast AI Noise Cancellation effectively filters out non-vocal sound, while Smart Voice regulates volume. The mic EQ presets in Sonar allow for further customization to achieve optimal voice quality.
One notable addition to the Arctis Nova Pro Wireless is its active noise cancellation (ANC) technology, which effectively blocks out office noises, laptop fans, and subway sounds. While not on par with the top ANC headphones in the market, such as those from Apple, Bose, or Sony, the Arctis Nova Pro Wireless offers a strong ANC performance for a gaming headset.
The Audio Quality
In terms of audio quality, the Arctis Nova Pro Wireless delivers impressive low-end sound and well-balanced audio across different genres. With the SteelEngine software and simulated surround sound, directional audio in games like Satisfactory and Fortnite is accurately reproduced, providing an immersive streaming experience.
What Makes It The Best Headset For Streaming?
The SteelSeries Arctis Nova Pro Wireless is an absolute beast of a gaming headset for streamers. It's got that killer design that screams "pro gamer," and the sound quality is just mind-blowing. The base station is a connectivity hub on steroids, with USB ports that let you easily hook it up to your PC, PlayStation, or Xbox. And let's not forget the active noise cancellation (ANC) feature, which drowns out all the background noise, making you feel like you're right in the game while also helping you stream in a noisy environment.
Plus, the dual-battery setup means you can keep slaying without worrying about your headset dying on you. The software suite lets you fine-tune your audio settings and even gives you sick spatial audio mixing options. Oh, and the microphone? It's crystal clear, so your streams and call-outs will be on point. If you're serious about streaming, you've got to get your hands on the Arctis Nova Pro Wireless, no doubt.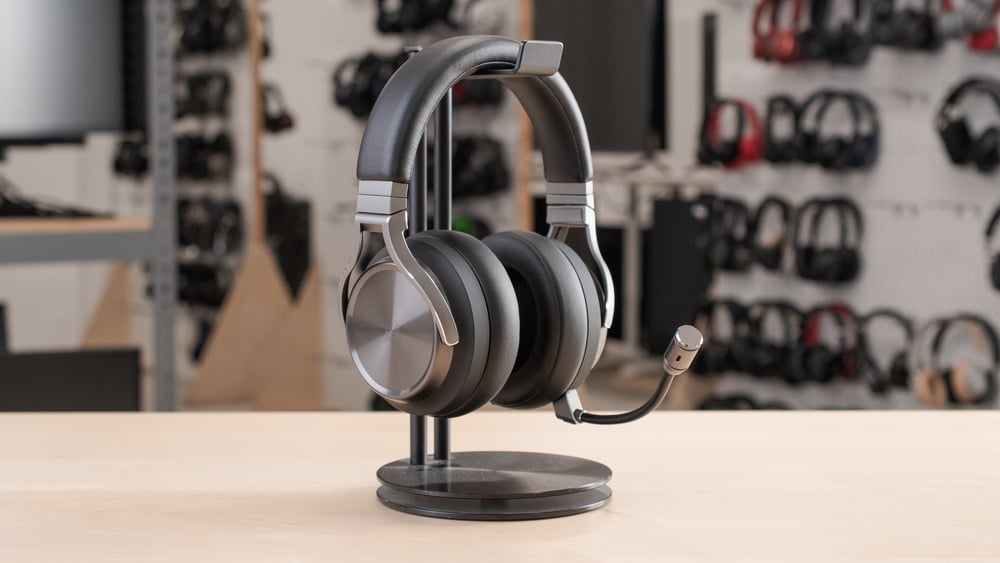 Corsair is back with their latest release, the Virtuoso headset line, and let me tell you, it's a game-changer. They've taken their low-cost offerings and thrown them out the window, opting for an all-out, high-end assault on the gaming headset market. This time, they're leaving no compromises behind.
The High-End Beast For Streaming
You know what, folks? The Virtuoso is not here to mess around. It's a head-to-head competitor with the top dogs of gaming headsets, offering an insane spec sheet and a jaw-dropping aesthetic that's on a whole new level, making your streams more pleasing to watch. It's like Corsair took a detour from the audiophile market and decided to show gamers just how high the ceiling can go when it comes to headphones.
Bang For Your Buck
Corsair has somehow managed to keep the price reasonable. For £150 or $180, you can get your hands on the Virtuoso RGB Wireless model. And if you're feeling extra fancy, drop a few more bucks—$210 or £180, to be exact—and you'll snag the Virtuoso RGB Wireless SE.
.
A Design That Makes You Go "Wow!"
The Virtuoso is a head-turner, no doubt about it. They've ditched their usual style and gone all-in on a fresh new look. We're talking gunmetal-tinged aluminum; matte rubberized plastic, and, oh my, that stitched leatherette headband and earcup padding are pure luxury. The little ruler inlays on the headband, the sleek hinges—it's like they designed it for the red carpet of gaming.
Audio That Hits Hard
The Virtuoso is all about that hi-res audio, with a frequency response from 20Hz all the way up to 40KHz. Now, I know what you're thinking again: "Do I even have hi-res audio sources?" Well, here's the deal: even if you're rocking CD-quality or compressed MP3s, this headset will make them sing. It's like leveling up your audio game, no matter what you're throwing at it.
Super Comfortable
Alright, alright, comfort is key, and the Virtuoso doesn't disappoint…mostly. The padding material on the headband underside could use a little love because, after an hour or so, you'll feel a bit of a dent in your noggin. The earcups are a whole other story. They're plush, they're breathable, and they won't leave you drenched in sweat during those intense streaming sessions.
Features Made For Streaming
The Virtuoso doesn't hold back on features. We're talking hi-res audio, wireless connectivity, RGB lighting that'll make your setup pop, USB-C charging for lightning-fast juicing up, and a whopping 20-hour battery life. That's enough to get you through a whole streaming marathon and then some.
Why It's Great For Streaming?
The Corsair Virtuoso is an absolute game-changer for streamers. Its mind-blowing hi-res audio quality takes your streams to epic levels of immersion. The wireless freedom lets you slay the game without cable chaos. Plus, the eye-popping RGB lighting makes your setup pop on stream. It's a streaming powerhouse that amps up your content and keeps your viewers hooked. And that makes it one of the best headsets for Twitch streaming, or any other streaming platform, for that matter.
Sony's WH-1000XM5: The Best Headsets For Streaming Without a Mic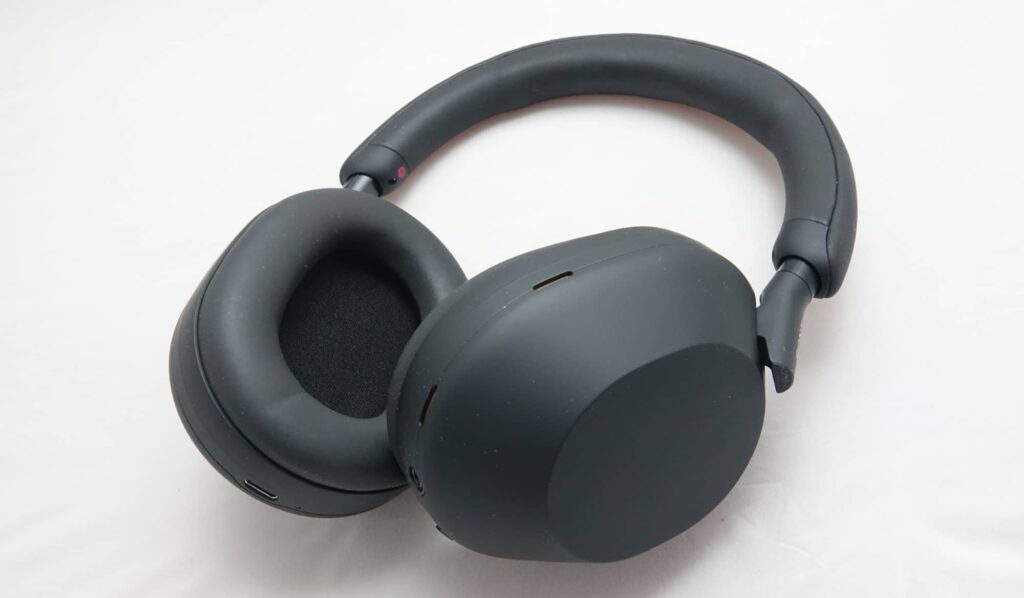 The Sony WH-1000XM5 headphones have a lineage that's the straight fire in the world of audio. With their predecessors, the WH-1000XM3 and WH-1000XM4, receiving major props from the community, the WH-1000XM5 had some big shoes to fill. And they did more than a decent job filling them. So, if you already own a dedicated mic, this one is your best choice.
Regarding specs and performance, the WH-1000XM5 stays true to its lineage (maybe a bit too true). But these bad boys are breaking new ground in terms of design. Despite the departure from the traditional look, we had a blast testing them out, so they made it to our top picks in the best headsets for streaming without a mic.
Pricing
The Sony WH-1000XM5 headphones hit the market in May 2022 with a price tag of £380 / $399 / AU$649. That's a step up from the previous-gen WH-1000XM4, which came in at £350 / $349 / AU$549.
WH-1000XM5's Design
It's like they got a makeover from a top-tier stylist. The curvier, sleeker design is a breath of fresh air. The articulation points are more discreet, the noise-canceling mic ports blend seamlessly, and the slimmer headband is shrouded in a classy leather-look covering.
The ear cups have a slightly different shape, too, giving them a unique vibe. Plus, the slide-out extension points feel sturdier and more reliable than ever. No more worrying about them snapping under pressure.
While the design upgrades are on point, there are a few downsides. There's still no water resistance, which is a bummer. And since the headphones no longer fold up, they're not as portable as before. But fear not; they still bring comfort to your long streaming hours.
The padding around the ears is ample, and the cups twist and pivot to accommodate all head sizes. The headband smoothly extends, providing a snug fit without turning your brain into mush.
Controls & Connectivity
You'll find physical buttons on the left ear cup for cycling between noise canceling and ambient awareness settings, as well as a controlling power and Bluetooth pairing.
The right ear cup boasts touch-sensitive controls for changing volume, pausing audio, and answering calls with a double tap. Plus, there's a USB-C charging port and a headphone jack if you need them to connect your headsets to your PC.
Battery Life
The WH-1000XM5 boasts an impressive 30 hours of playtime with noise cancellation activated, ensuring that your streaming experience won't be cut short.
Need a quick power boost? Just a 10-minute charge will give you approximately five hours of playback. It's perfect for those moments when you're running late for your streaming session and need your headphones to be ready to rock instantly.
Some Cool Features
Active noise cancellation takes the spotlight, and it's an absolute beast. The XM5s build upon the already stellar performance of their predecessors. While they excel at blocking out low-frequency sounds, they also work harder to handle higher frequencies. Thanks to their new 30mm driver design, you'll experience a serene listening experience even in the bustling, chaotic environment. And that's all you need to look for in the best headset for streaming.
These headphones come packed with smart features that enhance your audio journey without lifting a finger. For instance, they learn your daily routine and adjust noise cancellation levels accordingly. Streaming from home? They'll tone it down. Streaming from a cafe? They'll ramp it up.
Why It's Best For Streaming?
With their advanced noise cancellation technology, you can immerse yourself in your favorite games and streaming sessions without any distractions from the outside world. The Adaptive Sound Control ensures that you don't miss a single call-out or sound effect, automatically adjusting the audio settings based on your activity. The exceptional sound quality brings every scene to life. Whether you're chilling and binging on reaction videos or engaging in intense gaming sessions, the WH-1000XM5 is the ultimate streaming companion.
CORSAIR HS55 STEREO: The Best Budget Headset For Streaming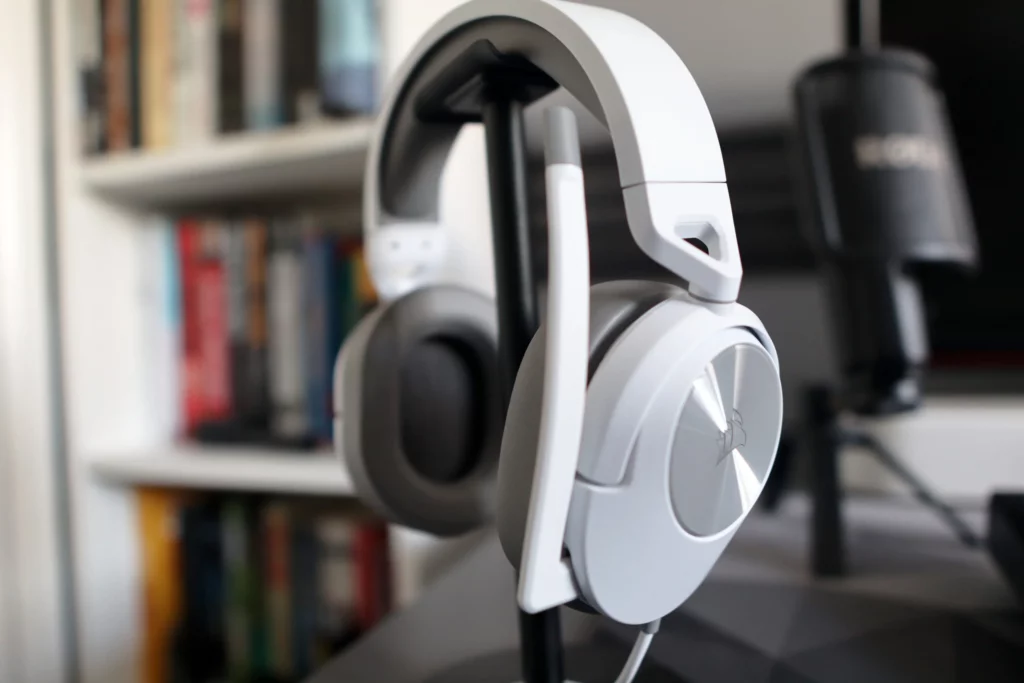 Some time ago, Corsair unleashed the HS50 budget gaming headset, and boy, was I impressed! It offered solid value and decent audio quality. Now, they've taken it up a notch with the new and improved Corsair HS55.
Priced at $60, these gaming cans manage to hold their ground amidst fierce competition, making them a great option for streaming.
Unmatched Comfort: A Treat for Your Ears
With the HS55, Corsair has addressed the comfort issues of its previous budget models. Unlike the stiff and inflexible foam of the HS50, the HS55 boasts plush earcups that provide a world of difference. Weighing in at a mere 284g, they offer extended comfort during those marathon streaming sessions. Although the leatherette covering may cause a bit of sweat on hot days, it's a common trade-off in this price range.
A Mic That Flips the Game
The HS55 introduces a game-changing feature in its microphone arm. Unlike its predecessor, the HS50, which had a detachable mic, the HS55's mic is permanently attached to the left earcup. What sets it apart is its ability to be flipped up and out of the way when not in use. No more worries about losing your microphone or having it constantly obstructing your face. It's a small but significant improvement that streamers will appreciate.

The HS55's microphone is a standout feature, providing exceptional clarity and performance. Your voice will shine through with accuracy, capturing every subtle tone and nuance. Say goodbye to muffled and scratchy audio. Whether you're engaging with your Discord community or interacting with viewers during your streams, the HS55 ensures that you'll be heard loud and clear.
Audio Quality
While the HS55 may not match the audio refinement of higher-end headsets (like the SteelSeries Arctis Nova Pro Wireless, Corsair Virtuoso RGB Wireless SE, or Sony's WH-1000XM5, mentioned in this article), it offers a commendable balance between highs, mids, and lows.
You'll experience enough definition to discern different sounds in-game, giving you a competitive edge. Whether it's the adrenaline-pumping action or the haunting melodies of your favorite games, the HS55 brings your streaming experience to life.
Why We Liked It For Streamers?
At $34 (On sale now), the HS55 offers exceptional value for money. Corsair has packed in a range of features and improvements without breaking the bank. It's the ideal choice for streamers and gamers who seek a reliable and affordable headset without compromising on quality. While there may be strong contenders in the market, the HS55's combination of features, price, and overall performance sets it apart.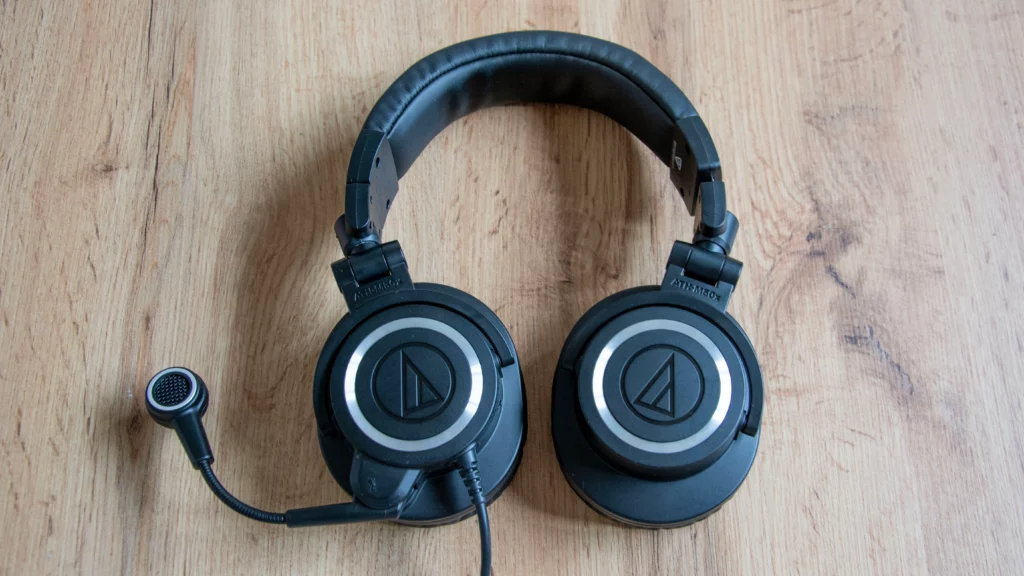 For content creators seeking a gaming headset that delivers exceptional sound and microphone quality, Audio Technica's ATH-M50xSTS StreamSet is a beast.
Unlike most gaming headsets with subpar microphones, this high-end closed-back headset offers an integrated cardioid condenser mic that rivals desktop microphone setups.
Impressive Sound & Build Quality
Priced at $229, the ATH-M50xSTS StreamSet boasts a premium build and stylish design. Its strong yet flexible construction features fully rotating and folding earpieces with swappable pads, ensuring both durability and comfort. The matte black finish, complemented by silver metal accents, exudes a sleek and high-end aesthetic.
Audio Excellence Across The Board
Whether it's listening to music or immersing yourself in-game, the ATH-M50xSTS delivers exceptional audio quality. With balanced sound reproduction and attention to detail, these headphones showcase the renowned Audio Technica sound DNA. The bass response is slightly emphasized, but it doesn't overshadow the bright treble and warm tones, resulting in an immersive experience.
Immersive Gaming & Streaming
The ATH-M50xSTS excels in gaming scenarios, offering clear and detailed audio even during intense action. Playing Overwatch 2 or Sons of the Forest, you'll appreciate the headset's ability to accurately render positional audio cues. The lightweight design and comfortable fit make it suitable for extended gaming sessions.
User-Friendly Features
The StreamSet keeps it simple with minimal external controls. A single button and scroll wheel are dedicated to adjusting the volume and toggling monitor mode, allowing you to hear your own voice in real-time. The included sidetone circuit enhances the natural tone of your voice, further improving the monitoring experience. While adjusting audio settings through the PC may require a slight adjustment period, the streamlined design is worth the trade-off.
Outstanding Microphone Performance
Audio Technica's StreamSet microphone surpasses expectations. The attached boom mic incorporates a cardioid condenser based on the brand's 20 Series microphones. With a flexible arm and flip-to-mute functionality, the mic offers versatility and convenience. The audio captured is comparable to that of a desktop mic, making it a hassle-free and superior alternative. Background noise is minimal, eliminating the need for additional noise removal software.
Plug-and-Play Simplicity
The ATH-M50xSTS StreamSet is a true plug-and-play device, requiring no driver installations or complex software. The USB model comes with a fixed USB Type-A cable and a Type-C adapter, ensuring compatibility with various devices. For audiophiles seeking even more audio fidelity, the rare analog XLR option is available.
What Makes It One Of The Best Headsets For Streaming?
Audio Technica's ATH-M50xSTS StreamSet delivers on its promise to replace dedicated desktop mic setups. With superb sound quality and an outstanding microphone, it justifies its higher price tag. Combining top-notch headphones and an exceptional mic in one package, this headset-mic combo offers content creators a hassle-free and high-quality solution. Say goodbye to compromise and enjoy the best of both worlds with the ATH-M50xSTS StreamSet.
Wrapping Up: The Best Headsets For Streaming
There you have it! I hope that you were able to pick the best headsets for streaming with the help of this article. All of the streaming headphones listed here work perfectly, but my favorite one is the SteelSeries Arctis Nova Pro Wireless because of its incredible versatility.
That's all, folks!
Which headset is best for streaming?
Although all of the headsets mentioned in this article are great for streaming, if you have no budget restraints, the SteelSeries Arctis Nova Pro Wireless is the best because of its sound and mic quality, comfortable design, and stylish looks.
Are headset mics good for streaming?
Usually, we won't recommend going with the headset mic, especially if you can afford a dedicated one. But the AUDIO-Technica ATH-M50XSTS StreamSet's mic makes a great case for itself. Check out why!
Why do most streamers use wired headphones?
Streamers used to use wired headphones due to lag and poor battery life, but that's not the case with the new generation of headphones. So, now streamers are starting to adopt wireless technology, realizing the convenience it brings to their streaming experience.
What is the best headset for ps5 twitch stream?
If you are streaming on Twitch using your PS5, we recommend going with The SteelSeries Arctis Nova Pro Wireless, as it works great with a PlayStation 5 and a PC.