E-WIN Gaming Chair Review [4 Best Selling Chairs Tested]
PC gamers spend hours planted in their seats, so finding a comfy chair that looks great is a must. Sure, some raise an eyebrow at the price tag on gaming chairs, but think about it—they're the most important part of your setup, something you practically live in.
As a full-time work-from-home guy glued to my setup, comfort is my top-tier concern. When I'm not working, I'm busy playing FPS games, so I know how important posture is when aiming.
You'd know the struggle if you were an FPS gamer trying to adjust your posture every time you randomly die).
Plus, I can't afford to wreck my back before hitting my 30s. Used a "gaming chair" before, which did a number on my back.
Luckily, I got to test four of the best-selling E-Wing gaming chairs.
And let me tell you, E-Win gaming chairs hit different—they brought everything with them that I was looking for in my chair.
In this article, I'll go into the details of my experience with E-Win Gaming chairs. Plus, I've got a sweet discount code to hook you up with 20% off your own E-Win Gaming chair purchase! (Psst!.. It's "dereproject"). So, read on!
Some links here are affiliates. If you make a purchase, this diligent blogger may earn a commission. It keeps the ramen coming!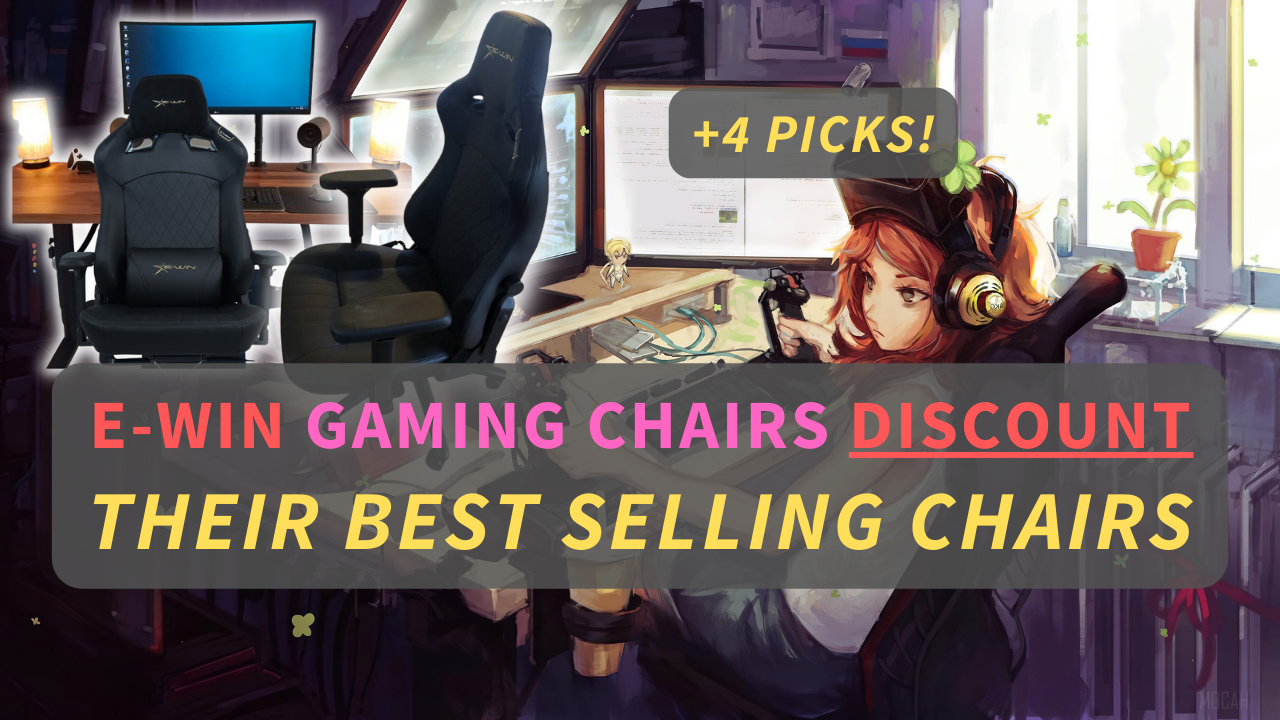 E-Win Flash XL: The Most Comfortable Gaming Chair
Priced at $549.00 (you'll get a 20% discount, though, using the discount code "dereproject"), the E-Win Flash XL gaming chair is a heavyweight champ, supporting up to 550 pounds and seven-foot-tall people.
Now, some say gaming chairs are overrated, but if you're a big and tall person seeking comfort and durability, this could be your golden ticket. 
And there are very few people on this planet who'll not be able to use this awesome chair.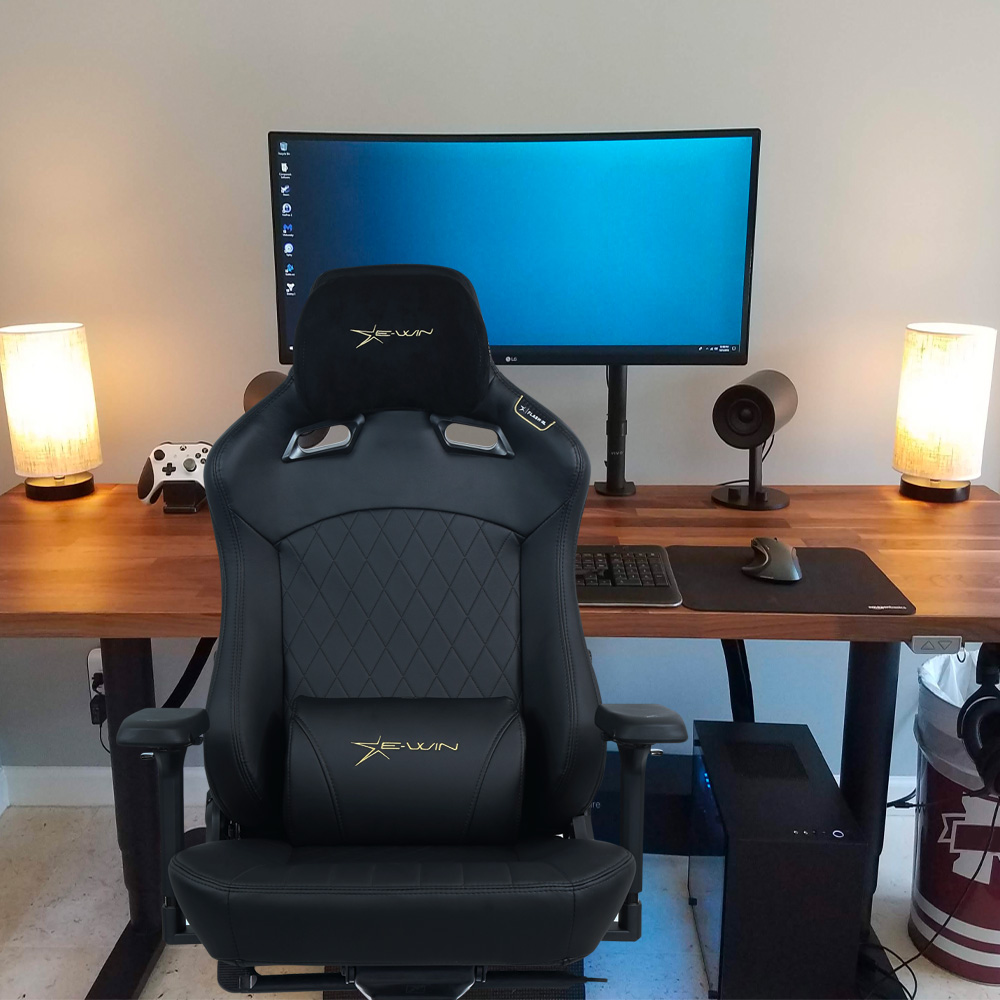 Unboxing & Assembly
As I unboxed it, I got hit with that fresh new car smell from the PU leather—totally promising! The instructions were a breeze, and they even hooked it up with some slick white gloves (fancy, huh?).
Everything I needed was in there—tools, solid wheels, and a heavy-duty aluminum base—promising rock-solid support for us heavy-duty peeps.
Putting the chair together wasn't exactly rocket science. Alright, maybe a smidge of wiggling and tightening screws, but nothing crazy hard.
The Comfort Test
The first time I sat on the E-Win Flash XL gaming chair after assembling it, it was like, Wow. It totally blew my mind. No pressure points behind the knees, legs feeling relaxed, and that lumbar support—impressive!
Even without the extra pillows, it felt like sitting on a cloud. Oh, and guess what? Crossed legs? Totally an option now without feeling all cramped up (because of the ample space)!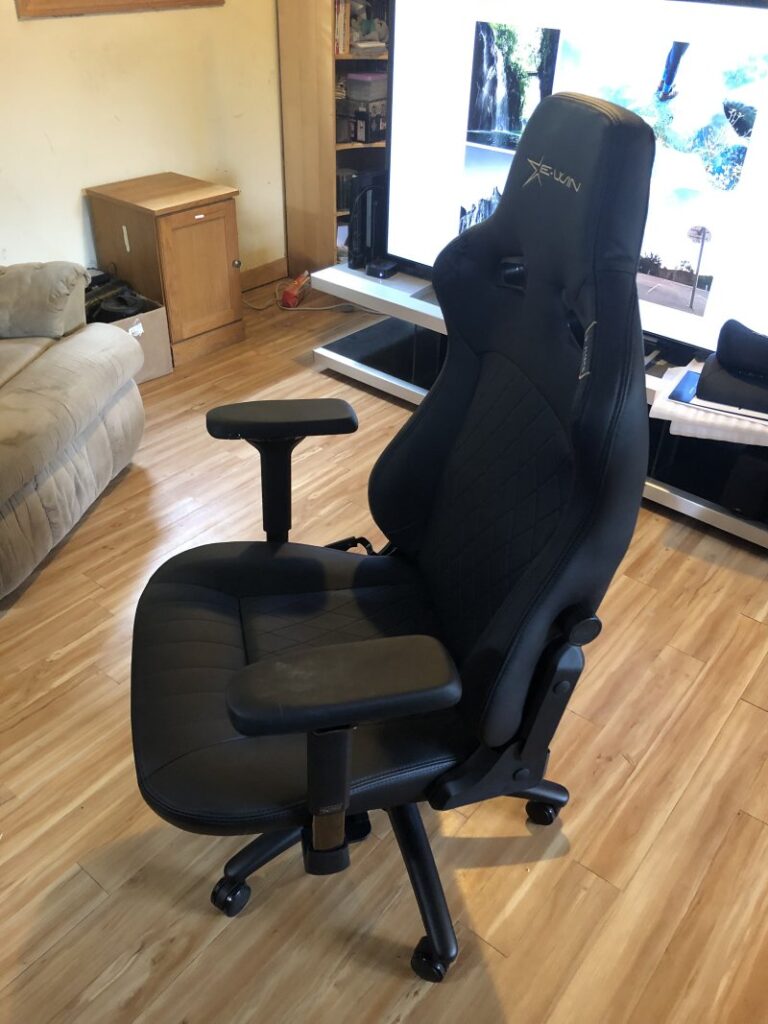 Armrests & Adjustability
Armrests are customizable to the max! Adjust the angles, length, and width—basically, it's your arm's paradise. It's a 4D adjustable armrest, after all. The only thing that bothers me (with not only this chair but most gaming and office chairs) is that why not use the same cushioning material on the touchpoints?
It's the little things that could make the E-Win Flash XL chair even better. Other than that, it's a solid armrest like one could expect from a top-tier gaming chair like this one.
The Size Matters!
Size totally matters, and this bad boy is larger than its earlier versions. My favorite part? More room to wiggle during those marathon editing sessions. With its 23-inch width, there's ample space to flex, and trust me, for us bigger folks, that's a streaming upgrade worth chairishing!
Our Verdict On The E-Win Flash XL
The E-Win Flash XL gaming chair is a beast, priced at over $500, but worth every penny. It can handle up to 550 pounds, which is rare in gaming chairs. The Full Metal 4D PU-padded armrests are sturdy yet comfy, and those magnetic clips? Pure convenience.
The chair's got the next-gen temperature-sensitive foam that keeps you cozy. The integrated lumbar support and memory foam head pillow add to the said comfort.
The cushioning is thick, promising to outlast all your previous chairs. Ewin Racing's lineup is diverse, too, with different sizes and colors that show they really get ergonomic design.
Honestly, this chair blew my mind. It's got way more features than your average gaming chair. If you're after quality and you are a big person looking for comfort, just go for the E-Win Flash XL gaming chair. And don't forget, punch in 'dereproject' at checkout for that sweet 20% off.
E-WIN Champion Upgraded Series Gaming Chair
E-WIN wants to be your go-to seat with their Champion series, and we snagged one to put it to the test. As a serial gaming chair owner, I was excited to review the E-Win Champion Gaming Chair and compare it to E-Win's other models.
And I must say, for the price you are getting the Champion Upgraded series gaming chair, it won't just level up your gaming rig; it'll also change your work-from-home grind. It's a throne made just for you to sit on!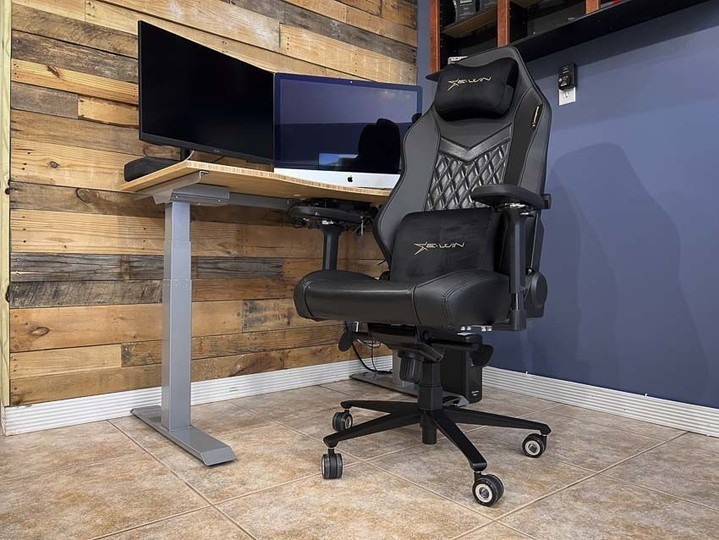 Here's how our test went:
Unboxing & Assembly
Opening up the Ewin Champion Gaming Chair was like cracking open a treasure chest! Everything was neatly packed, with clear instructions and all the tools needed. Assembling it was super easy—it only took me about 20–25 minutes.
Features & Adjustability
This chair is not just for gaming—it's a style statement. The sleek design blends into any space effortlessly. But what really blew me away was its rock-solid metal build. A major upgrade from those flimsy plastic office chairs!
When I got my hands on this chair, the first test was the noise level—I've had chairs that sounded like a haunted house! But this one? Silent as a ninja.
And talk about adjustable—hydraulic lift, armrests that move in every direction, and a recline that almost hits 180 degrees without any worry of tipping.
But what really wowed me is the E-Win Champion gaming chair's customization based on your height and weight. It'll be a tailored fit for your body!
Comfort & Usage Experience
My gaming marathons became even more immersive with the chair's comfort. Sitting through extended sessions playing Uncharted 3 and 4 was no problem.
The material used remains a mystery to me, but it's definitely a winner—no discomfort or overheating, even during extended use. Plus, its ability to adapt to my fidgety nature was a major plus, providing support without restricting movement.
The best part is the customization the Ewin Champion Gaming Chair offers! I'm talking a 160-degree recline without any fear of tipping, armrests that fit just right, and top-notch lumbar support—this chair screams comfort.
Whether I'm grinding through work or gaming for hours, it's a joy ride!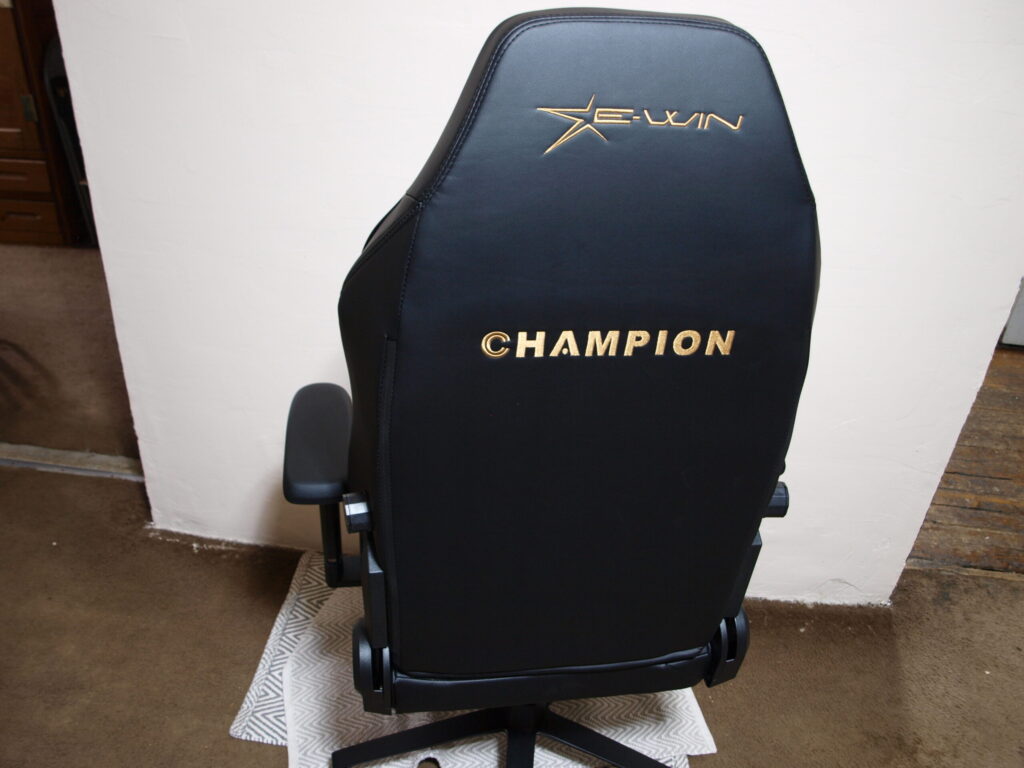 The Minor Quirks: Real Talk
Amongst all the love, a couple of tiny things caught my eye. The armrests, though adjustable, could do with a bit more padding—I felt a twinge of discomfort during those marathon gaming sessions.
And being on the taller side, I wished for a bit more adjustment range to really nail down my ideal sitting setup. But if you aren't taller than 6'5″, you'd have no problem, and this chair would be the perfect fit for you. But if you are a bit on the big side (both height- and weight-wise), go for the E-Win Flash XL.
Our Verdict On The E-WIN Champion Upgraded Series Gaming Chair
The Ewin Gaming Chair nailed it on all fronts: rock-solid stability, stealth-level quietness, unbeatable comfort, and crazy versatility. And it became an instant hit with my kids, too, sparking some occasional chair squabbles!
One thing that stood out was how this chair's sitting style differs from regular office chairs. It took me a few days to get the hang of it, but once I did, it was really comfortable.
But let's talk weight—it adds stability, but moving this thing between rooms was a workout, especially for someone like me who's picky about where to use it.
Other than that, it passed my test with flying colors! If you are looking to grab one, click the link below and be sure to use the code "dereproject" for a 20% discount!
E-WIN Calling Series Gaming Chair: Best Value To Money
So, I'm super specific about my gaming setup, especially when it comes to my throne. I mean, I practically live in that chair, going back and forth between work and gaming like it's second nature.
My journey with chairs has been quite a ride. I've gone through several, the latest being a mid-grade one from Office Depot that served me well until it started to wear out.
Then, out of the blue, Ewin reached out, offering their calling series chair for me to review and a 20% discount code (it's dereproject) for my readers. I was a bit wary at first—I didn't want to end up with a total dud and have to pretend it was grand.
But guess what? The E-Wing Calling Series Gaming chair actually held its own among its epic siblings (E-Win Champion Gaming Chair and the Flash XL Gaming chair).
Here are all the details:
First Impression & Unboxing
The chair showed up right on time, and the packaging was seriously impressive (E-Win has really got the packing nailed down for all their series). I mean, no wasteful excess, and everything was snug and safe in the box.
Putting it together like their top-tier models was super easy and took me around 20 minutes. And you could tell it was really good quality from the get-go.
I was really surprised at how good the quality was, especially considering its price. So, the E-Win Calling Series Gaming chair is really the best bang for your buck you could get when buying a gaming chair.
Quality & Design
The E-Win Calling Series gaming chair is all about function without any fancy frills. It's got adjustable armrests, a solidly wide base, and uses tough materials that really make it shine.
Even after months of non-stop use, it's holding up tight—no signs of wear and tear. The leather upholstery? Still as fresh as day one, showing off its serious durability.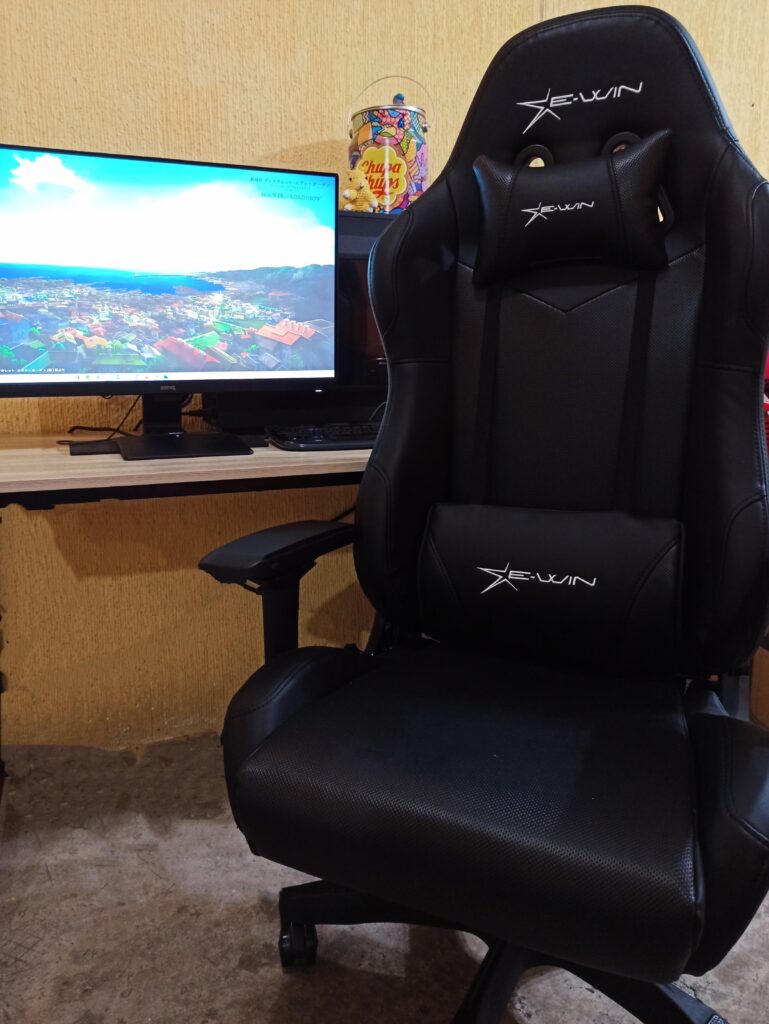 Comfort & Support
This chair nails it in the comfort department. The lumbar support does its job pretty well, giving that extra oomph for those marathon sitting sessions. But because it's leather, it doesn't breathe like those mesh chairs, so things can get a bit warm after long hours of use. Nothing crazy, just a heads-up.
Value For Money
At a retail price of around $269, it's a great value. And if you buy it using the discount code "dereproject" for 20% off, it's basically a steal at this point. I'd easily invest in this chair again. It hits that sweet spot of quality and affordability that's often hard to find.
Our Verdict On The E-WIN Calling Series Gaming Chair
To put it simply, the Ewin Gaming Chair earns a solid 10 out of 10 from me. No, I wasn't coached on what to say, and yes, I put in months of testing before forming this opinion. It's a chair I'd wholeheartedly suggest to anyone seeking a dependable, cozy, and reasonably priced gaming chair.
E-WIN Knight Series Gaming Chair: The Budget Option
The Ewin Knight Series gaming chair is priced at just under $230. It caught my attention. Why? I had a really great experience using E-Win's premium gaming chairs, and now I want to know what E-Win has done for thrifty shoppers.
I'm here to break down everything you need to know. Strap in (pun intended) as we explore what this chair has to offer.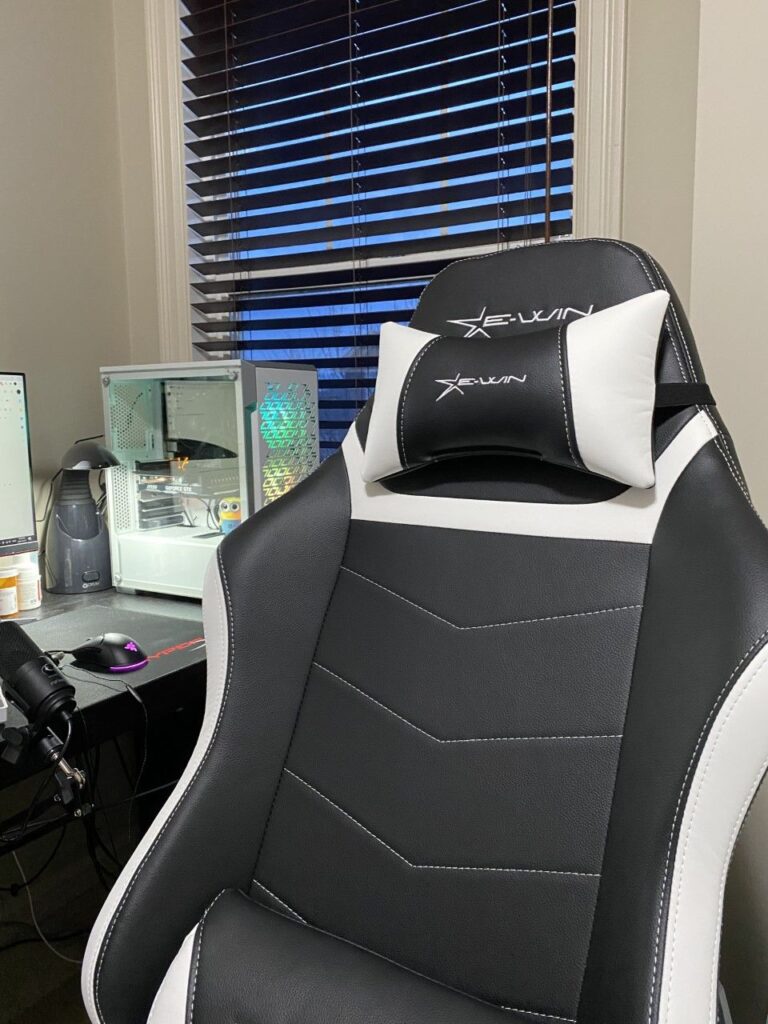 First Impressions
Built for folks between 5'3″ and 6'1″ and supporting up to 400 pounds, it promised inclusivity. I'm a bit taller than the upper limit, but surprisingly, it fits me like a glove.
Well, not like a glove, but you know what I mean. It's super cozy, which is key for those extended gaming sessions. Although it's a budget gaming chair, the material used doesn't feel that way in any way. It's great to touch, and doesn't really feel cheap.
Material & Comfort Level
Crafted from stain-resistant PVC leather, this chair aims to handle any gaming messes while staying stylishly sleek in black. The Ewin Knight Series features their 'cool cure foam,' offering a balance between firm support and dreamy comfort. Trust me, sitting on it feels like floating on a feather.
This chair's comfort is next-level. Unlike other budget gaming chairs I've tested, this one truly supports my back. Say goodbye to awkward neck rests—the pillow hits just right, and finally, my feet can actually touch the ground comfortably.
Adjusting the tilt is as easy as it gets—it rocks back and forth smoothly and locks in place securely when I need it to. Plus, even after long sessions, the leather doesn't get uncomfortably sticky. The build quality is seriously unbelievable, and the unboxing experience was unexpectedly pro.
The Things I Didn't Like
The armrests, while they get the job done, don't have the complete adjustability I was expecting. There's also a bit of wiggling and rattling that's a tad irritating. And the backrest, despite the magnetic attachments promised, just wouldn't stay in place.
Our Verdict On The E-WIN Knight Series Gaming Chair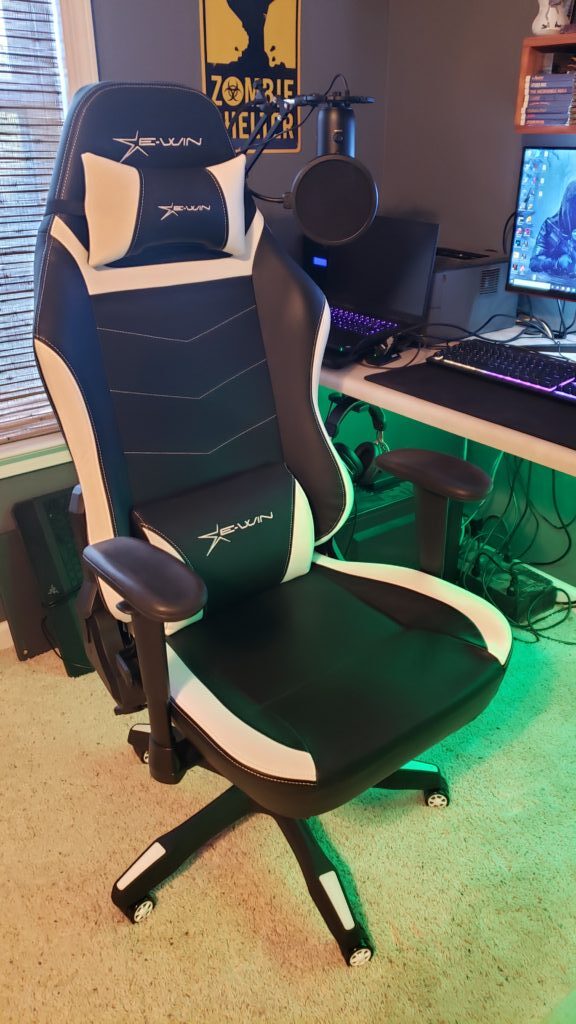 The Knight Series by Ewin really stands out with its comfort and quality, especially considering its price. It's a major step up from my last budget gaming chair (not gonna name any names), which called it quits after just a week.
If you're hunting for a dependable, cozy gaming chair that won't empty your wallet, this could be the one for you. If you are going to buy the Ewin Knight Series Gaming chair, use the discount code "dereproject" when checking out for 20% off (thank me later).
Wrapping Up
All of the gaming chairs mentioned in this article are available in different colors, but black is my favorite one. What's yours?
Anyway, there you have it! We reviewed and rigorously tested the best-selling E-Win gaming chairs. I've become a fan of E-Win's commitment to quality throughout their product line and delivering such great products at reasonable prices.
If you are interested in buying any of these gaming chairs or anything from E-Win, be sure to enter the code "dereproject" at checkout for 20% off.
That's all, folks!