The 7 Best Gaming Chairs For Streamers
Summary: If you're hunting for the best gaming chair for streamers, you'll want a chair that keeps you comfy during marathon sessions and fits your play style. The Herman Miller Embody nails it, but it's a pricey pick. For a similar cozy vibe without breaking the bank, check out the E-Win gaming chair review. Their chairs pack value, and there's a sweet discount code to make the deal even juicier.
Sitting has become an art form for gamers—we take our posture very seriously as our aim depends on it. Maneuvering controllers, staying alert for opponents, and spending hours in one position put your body in fight-or-flight mode. Finding a comfortable, suitable and best gaming chair for streamers becomes even more important when you are streaming for long hours for your Twitch audience.
But not all gaming chairs are created equal. Some offer ergonomic designs, while others come with extra features like footrests. Finding the best gaming chair for your needs can be challenging. That's why we want you to make an informed decision.
If you're searching for the best gaming chair for streamers, who better to ask than those who spend hours sitting in them? I am a gamer myself and occasionally stream too, and over several years I have used multiple gaming chairs. Currently, I own the most comfortable one I've used so far, and it's the Herman Miller Embody, which I highly recommend for streamers planning to stream for long hours.
But different chairs work better for different people. Some are ideal for taller individuals, while others provide better lumbar support for back pain relief. Before making a purchase, check our list to find your perfect match.
The 7 Best Gaming Chairs For Streamers
Our Picks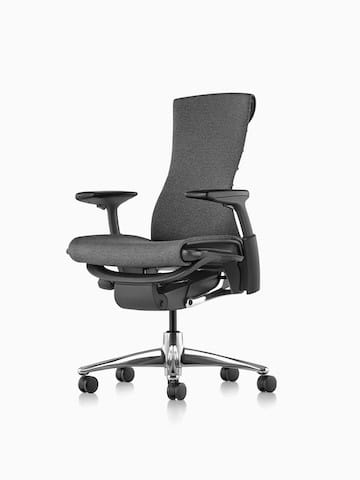 Renowned for their exceptional office chairs, Herman Miller introduces the Embody, a pinnacle of comfort designed for those enduring long hours at a desk. While it may have a modest appearance compared to other options, it packs a wealth of impressive features.
The standout feature of the Embody is its remarkable backrest, featuring Herman Miller's innovative Pixelated Support system. This unique design consists of a central "spine" connected to smaller "ribs" that flex and conform to your body. With customizable adjustments, it offers a perfect fit for almost anyone, making it the best gaming chair for streamers.
As a dedicated streamer, you spend countless hours each week creating content for your audience, both on and off-camera. Having a chair that spares you from back pain during those demanding 14-hour days is crucial. That's why we wholeheartedly recommend the Herman Miller Embody.
Interestingly, many people readily spend large amounts on graphics cards, webcams, monitors, keyboards, etc., without hesitation, yet hesitate to invest more than a couple of hundred dollars in a chair they spend 5-10 hours a day in. However, lower-tier gaming chairs often prioritize looks over ergonomics. In contrast, the Herman Miller Embody prioritizes proper posture—an essential consideration often overlooked by gamers—and offers unmatched comfort.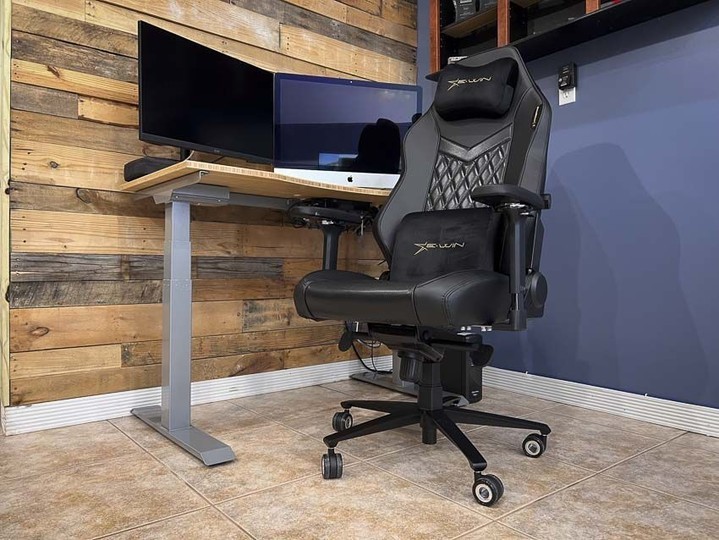 The experience I had with using the E-Win Champion Series gaming chair was like sitting on a cloud, and I kid you not. Unlike those chairs with faux leather that peel off in a few years, this one's built with great materials.
No worries about your chair turning into a shredded mess, especially if you've got playful pets around. Even though it's not priced like an ultra-premium gaming chair, it sure does perform like one.
Each chair comes with neck and lumbar support pillows. Now, it doesn't have the cutouts for the lumbar pillow, but it's still a comfortable fit. The armrests are a standout feature.
They're not just adjustable up and down; they rotate and move forward and backwards. This means more comfort, no matter your body type or play style.
And the reclining ability is solid. I can lean back up to 180 degrees without feeling like I'm going to tip over. Plus, these chairs are heavy-duty; the XL series can handle up to 400 pounds.
So, whether you're petite or larger, this chair accommodates you without making you feel squished.
Sure, there's a small downside: my lumbar pillow doesn't have the typical attachment spots. But honestly, it's a minor inconvenience compared to the overall quality and flexibility this chair offers.
Would I spend my hard-earned money on this chair? Absolutely. It's like getting the quality of a Secretlab chair without the hefty price tag. Plus, there's a 20% discount using the code "dereproject", making it an even better deal.
It's a chair I genuinely like and would recommend to anyone seeking a top-tier seating experience for gaming or long-streaming sessions.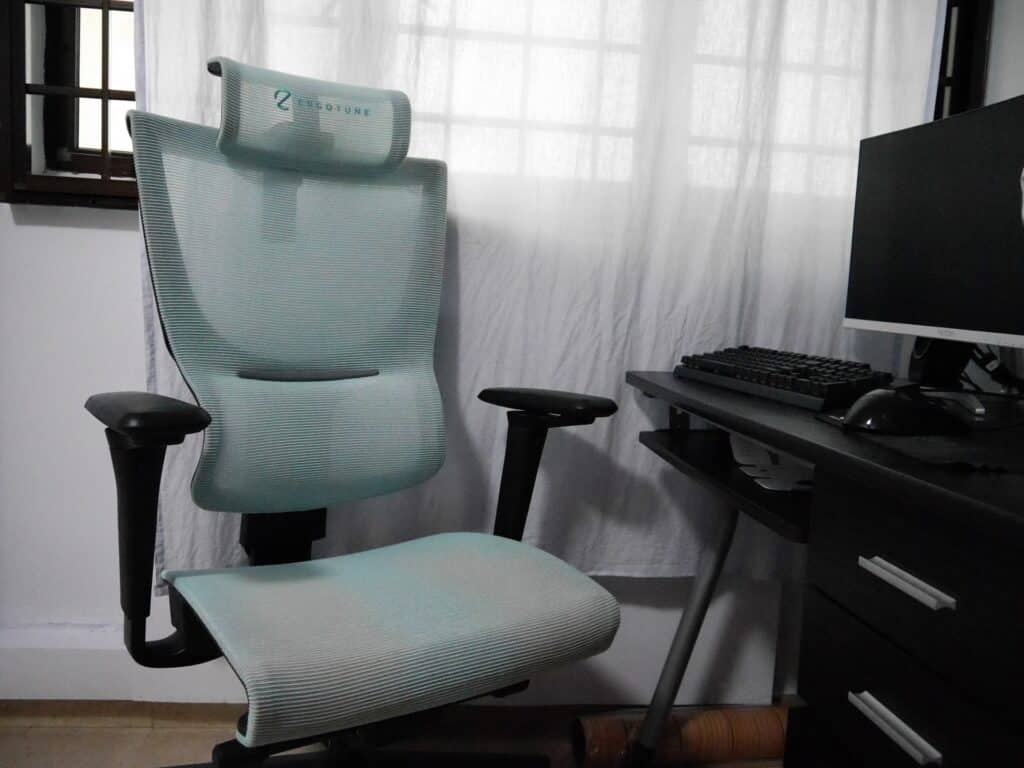 ErgoTune, a newcomer in Western markets after establishing itself in Singapore, offers the trendy ErgoTune Supreme office/gaming chair. With an exceptional focus on ergonomics and body posture, it stands out as arguably one of the best gaming chairs for streamers we've tested.
Despite an initial adjustment period, your body will thank you for choosing this chair. Available in three colors, its numerous adjustable points make it suitable for almost anyone.
The chair's quality construction, easy assembly, and comfort add to its appeal. It incorporates user feedback, providing features like an adjustable neck rest, lumbar support, armrests, and pneumatic bases for different heights.
The ErgoTune Supreme features a cooling mesh that prevents overheating during extended sitting, making it ideal for warmer months. Its four adjustable bars allow for personalized comfort and body conformity, surpassing the capabilities of most gaming chairs.
The chair's curvature and improved air circulation make it an excellent choice for prolonged sitting sessions. This particularly benefits Twitch streamers, who aim to spend extensive hours engaging with their community every day.
Moreover, it is competitively priced, especially during sales. The ErgoTune Supreme is available in Australia, the US, and Singapore. Its design and setup are user-friendly and offer excellent comfort once properly adjusted.
With its impressive features, affordability, and suitability for individuals with posture issues, we highly recommend the ErgoTune Supreme as a top-quality and comfortable gaming chair for streamers.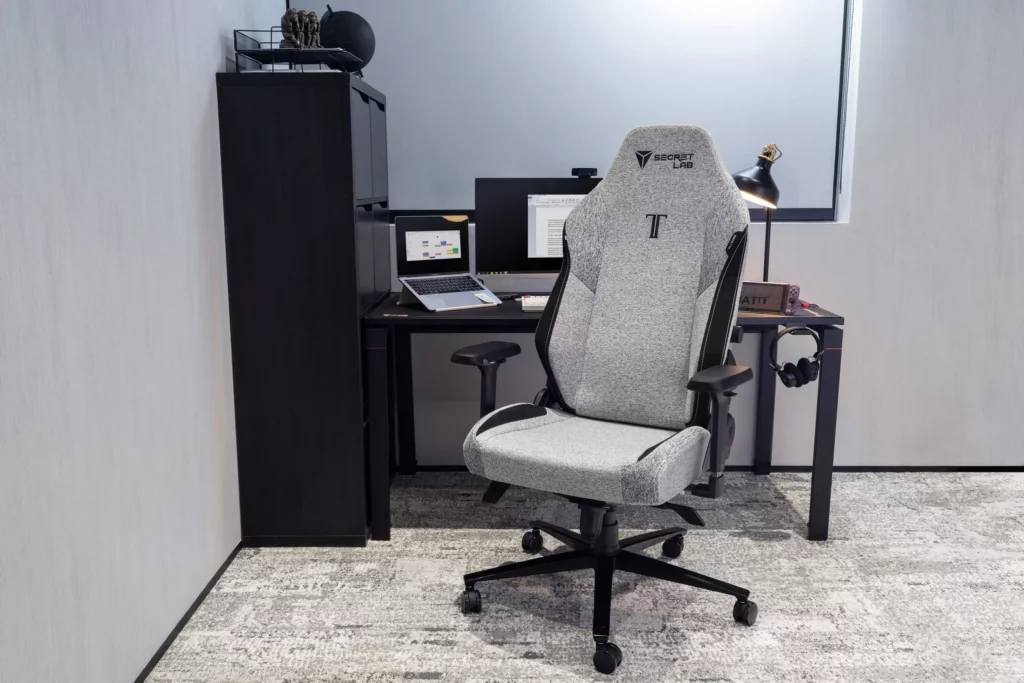 The Secretlab Titan Evo 2022 isn't just another chair with a fancy name. Secretlab took an already great chair and made small, user-friendly improvements to make it even better.
They upgraded the chair by using magnetic attachments for the head pillow and armrests. This not only enhances the chair's appearance but also improves its functionality. Unlike traditional headrest attachments that use tracks or straps, the magnets keep the headrest in place while giving it a cleaner look.
One of the best features of the Titan, the adjustable internal lumbar support, remains intact in the Evo 2022. It surpasses the average lumbar pillow support, making it one of the best gaming chairs for streamers who stream for long hours. The chair also retains its locking, padded 4D armrests, ensuring they stay in place even when you stand and grab onto them.
The Titan Evo 2022 provides a comfortable seating experience with its firm feel. The wide seat base accommodates larger users and those who like crossing their legs. The experience is almost on-par with the most comfortable chair on this list of the best gaming chairs for streamers, i.e., the Herman Miller Embody chair. The wide and tall backrest offers full back support and can tilt up to 160 degrees.
Its exceptional performance for extended streaming and gaming sessions makes most streamers stick to this chair as an everyday choice.
The Titan Evo 2022 is available in three sizes: small, regular, and extra large, catering to different body types and weights. It comes in four upholstery choices, allowing you to select between Neo Hybrid Leatherette, Softweave Plus Fabric, Napa Leather, and Exotic.
The Respawn 900: The Best Recliner Gaming Chair For Streamers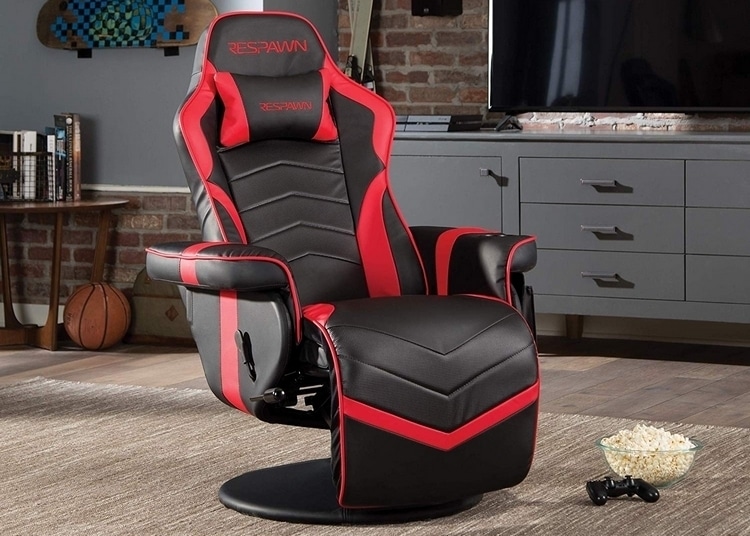 The Respawn 900 gaming chair is a visually striking chair designed specifically for comfort gamers. So, if you are a variety streamer who likes to sit back and relax while churning out content, this chair is for you. Its sleek carbon-fiber fabric and vibrant accents give it a high-performance racing car seat aesthetic, making it a stylish addition to any gaming setup.
One of the standout features of the Respawn 900 is its seamlessly integrated footrest. Unlike other gaming chairs, the footrest blends perfectly with the chair, providing exceptional comfort by curving under the knees. The cushioning balances support and plushness, offering a comfortable experience during long gaming sessions, making it the best recliner gaming chair for streamers.
While taller individuals may find their legs slightly extending beyond the footrest when fully reclined, most users will not face this issue. The chair's reclining function allows users to find their preferred recline angle for optimal comfort. At its most reclined setting, the chair almost reaches a horizontal position, although it may require a slight head adjustment to maintain a clear screen view.
In terms of convenience, the Respawn 900 includes a detachable pouch for a controller and remote storage and a molded cup holder on the armrest. The pouch attaches securely under the armrest using heavy-duty Velcro, while the cup holder accommodates standard-sized cans and bottles.
While the Respawn 900 may not directly enhance gaming skills, its comfortable and versatile design offers a pleasant gaming experience. It can be positioned closer to your setup for enhanced immersion and effortlessly transitions between reclined and standard sitting positions. The chair's swivel feature enables streamers to adjust their position according to their comfort preferences.
Homall Gaming Chair: The Best Budget-Friendly Gaming Chair For Streamers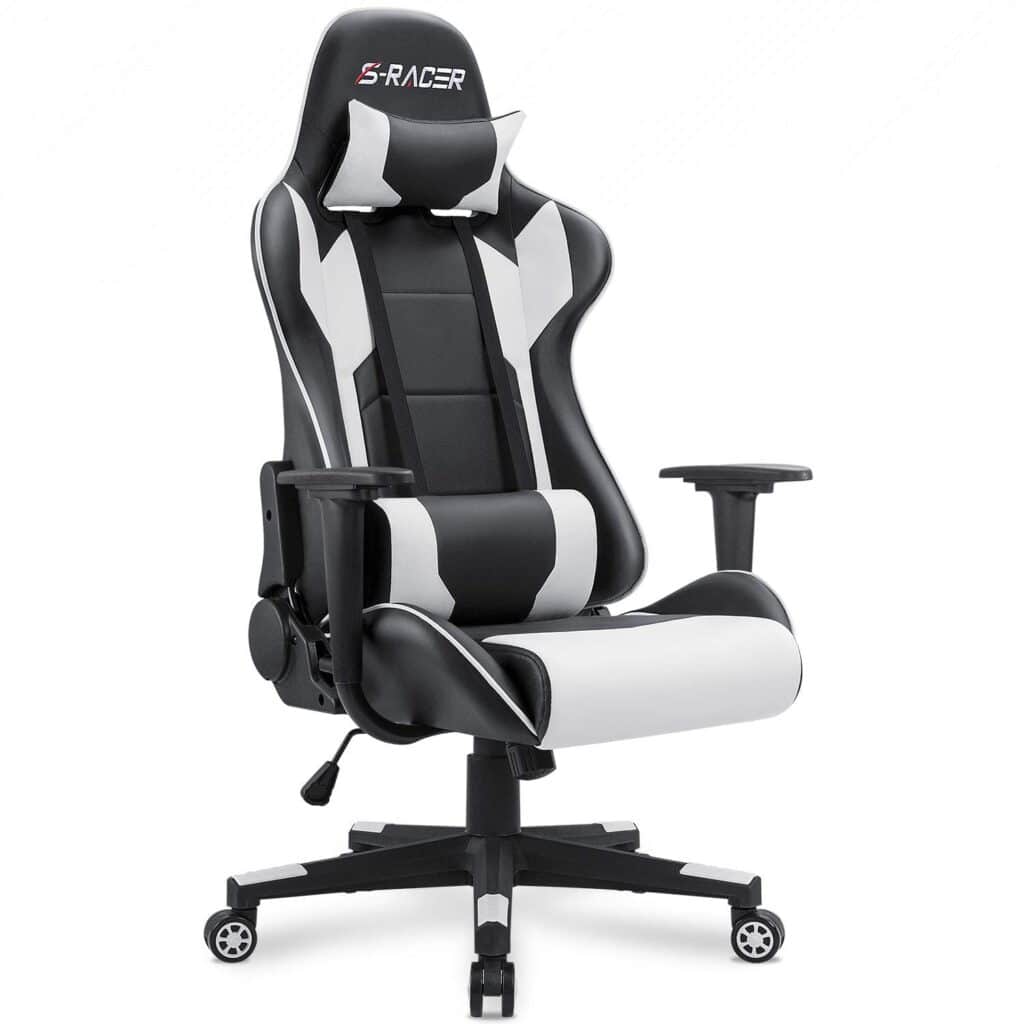 Gaming chairs are a great investment for streamers, but their high prices scare many people away. Thankfully, companies like Homall are producing quality gaming chairs at a reasonable cost.
I recently got my hands on the Homall S-Racer Gaming Chair and tested it thoroughly. Let me share my thoughts on this budget-friendly gaming chair for streamers.
The instructions for assembly are poorly translated, but you'd manage to assemble the chair without any major issues. The chair comes with a tool that serves as a hex wrench and a Phillips screwdriver, which is sufficient for the assembly. Attaching the armrests and plastic housings is a bit challenging, but doable.
The Homall S-Racer chair doesn't have a lot of features, which is expected for its affordable price. It has fixed armrests, a reclining function (though it falls short of the advertised 180°), a rocking feature (which is not very effective), and height adjustment. It also comes with a headrest and lumbar support pillow, both of which are comfortable and adjustable.
For a chair in this price range, the build quality is impressive. The movable components are made of metal, ensuring durability. However, the plastic base and covers over the hinges feel a bit cheap. The chair is on the top-heavy side, making it prone to tipping when moved.
The chair offers good padding and comfort, allowing you to sit in it for extended periods without discomfort, making it one of the best budget gaming chairs for streamers. The lumbar support pillow is effective, and the adjustable headrest pillow is useful.
Razer Iskur: The Most Stylish Gaming Chair For Streamers
Priced at $499 in the US and 499€ in Europe, the Razer Iskur positions itself as a high-end gaming chair. Its standout feature is the innovative back support system, which replaces the traditional back cushion with a strut. This unique design promises exceptional lumbar support and sets it apart from its competitors.
The chair arrives well-protected, and the unboxing experience is exceptional. Razer has put a lot of effort into creating excitement by gradually revealing useful information through the packaging. The assembly process is straightforward, with clear instructions provided.
When it comes to build quality, the Razer Iskur impresses. The materials are high quality, the finish is impeccable, and the chair feels sturdy. The imitation leather coating is durable and pleasant to the touch. However, some minor noise issues were observed, such as noise from the wheels and the back support when getting up. Nonetheless, these noises are not significant enough to be bothersome and won't be an issue for your streams.
In terms of design, the Razer Iskur has a sleek and premium look. It incorporates subtle side checkerboard stripes and a snake-like imitation on the back support, reminiscent of Razer's iconic branding.
The Razer Iskur offers a range of customization options. The highlight, however, is the adjustable back support system with the strut. It successfully replicates the back's natural curvature, providing excellent support and comfort.
Speaking of comfort, the Razer Iskur does not disappoint. The multi-layer synthetic leather offers firm yet supportive cushioning. The memory foam head cushion adapts to the neck and head, ensuring optimal rest. This makes it one of the best gaming chairs for streamers.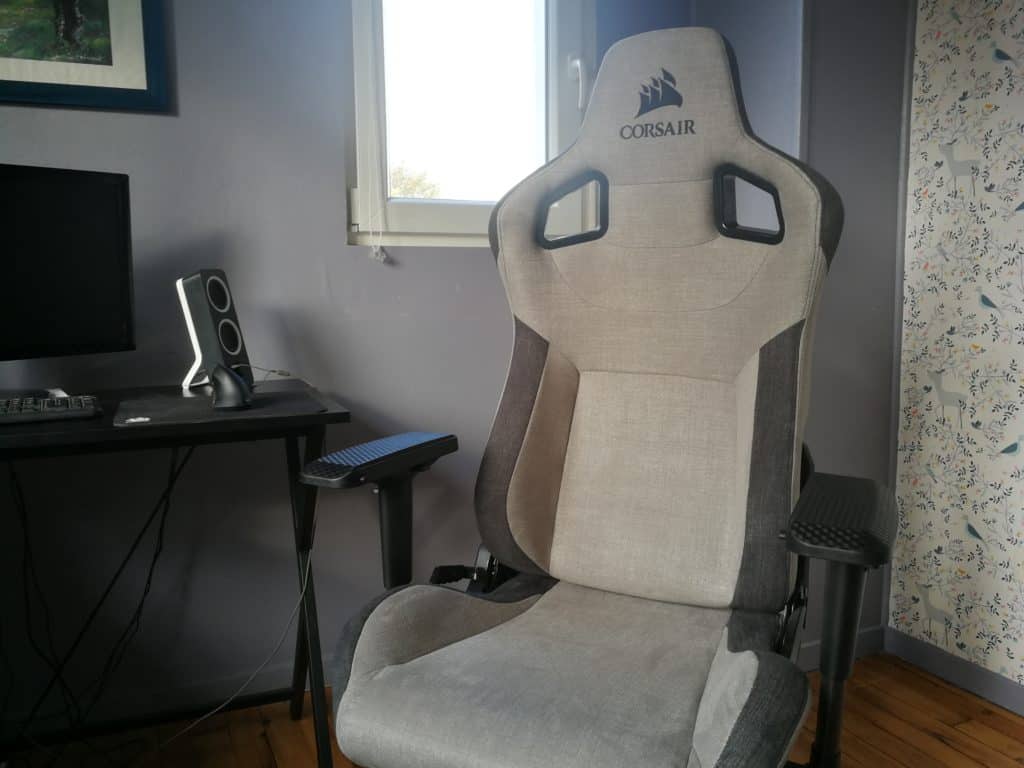 Corsair, a renowned name in PC components and peripherals, offers the Corsair T3 Rush gaming chair as a compelling option for streamers and gamers. Priced at $320 or £299, it falls within the mid-range category, providing a competitive choice for those seeking comfort and quality.
The T3 Rush boasts an appealing design with its subtle gray fabric, well-proportioned bolsters, and unobtrusive flair. It strikes the right balance, making it suitable for both work and gaming. The chair has different color options, such as gray and white, charcoal, or charcoal and grey, catering to various aesthetics and setups.
One standout feature of the T3 Rush is its material. The soft, breathable covering adds to the chair's visual appeal and serves a functional purpose. It effectively regulates temperature, outperforming leather or leather-style chairs, especially during intense gaming sessions. This is a significant advantage for individuals who tend to heat up quickly while gaming.
The armrests of the T3 Rush feature a carbon fiber weave appearance, providing a stylish touch. Despite their sleek design, they are comfortable, highly adjustable, and remarkably sturdy. The casters, often a weak point in cheaper gaming chairs, perform admirably on different surfaces, ensuring smooth and stable movement.
Regarding adjustability, comfort, and performance, the T3 Rush delivers a satisfactory experience. While the initial comfort may not be immediately impressive, continued use reveals its all-day comfort potential. The seat cushion offers excellent support, while the snug fit encourages ergonomic posture during extended sitting sessions.
The Corsair T3 Rush gaming chair is ideal for streamers due to its exceptional comfort and breathable design. It provides all-day support for extended streaming sessions and ensures optimal airflow to keep streamers cool.
What Gaming Chair Do Famous Streamers Use?
When looking for the best gaming chair for streamers, what better source to turn to than the famous streamers themselves, right? They are the ones you aspire to be. So why not copy their setup? I mean, it's not like they would have a shortage of money and would have to skimp on their comfort to get by. And that means they would go for the best of the best in the market that'll help them stay cozy for the long hours they have to stream for.
That's why we looked into their gaming setups, and here are the gaming chairs that most streamers use:
What Gaming Chair Ninja Uses?
Richard Tyler "Ninja" Blevins is a true icon in the streaming universe. This guy is so famous that he's basically the boss of the streaming world, known by gamers and non-gamers alike.
Ninja's journey began with some epic Halo gameplay, slaying it like a pro. But it was his Fortnite streams that propelled him to astronomical heights. I'm talking intergalactic levels of popularity, folks! He soared like a shooting star, capturing the hearts of millions of viewers on Twitch.
Ninja rocks the mighty Herman Miller Embody chair like a true gaming boss. This chair is the cream of the crop, offering top-tier performance and ultimate comfort. It's like sitting on a cloud, allowing Ninja to conquer long streaming sessions with ease.
The Embody is packed with adjustable features, giving Ninja the freedom to customize it to his liking. It's a beast in terms of durability, built to withstand intense gaming marathons. Sure, it comes with a hefty price tag, but for someone like Ninja, who spends countless hours at his desk, it's worth every penny. This chair is the real deal for a true streaming superstar like Ninja.
What Gaming Chair Ibai Uses?
Ibai Llanos Garatea, the Spanish sensation, is tearing up the streaming scene with his epic skills. He's a force to be reckoned with, representing G2 Sports like a true champion. Since his Twitch debut in 2016, Ibai's been slaying the game, especially with his sick League of Legends content. With a massive following of 6.9 million loyal fans on Twitch and 6.3 million subscribers on YouTube, this dude is on fire!
Ibai hit a jaw-dropping high of 48,911 subscribers in June 2021. And his YouTube game is on point, racking up a mind-blowing 40-50 million views per month.
But Ibai isn't just a streamer. He's a true gaming maestro, taking center stage as an announcer at major eSports events. FIFA, League of Legends, Fortnite—you name it, he's rocked it. This dude knows how to bring the hype and keep fans on the edge of their seats.
Ibai rocks the Secretlab Titan Evo 2022 chair for some serious reasons. This chair isn't just a rehash of the old stuff; it's got upgrades that make it top-tier. The head pillow and armrests attach magnetically, making it look sleek while staying functional. No more janky straps or tracks for the headrest; it stays put.
And those armrests? They're easily swappable if they get wrecked or for a fresh style. The adjustable internal lumbar support is a game-changer, way better than your average lumbar pillow. Plus, the locking, padded 4D armrests keep things steady when you stand up. With its wide seat base, high backrest, and smooth tilting action, this chair's got all the comfort you need. And the Secretlab Skins? They let you customize and protect your ride.
What Gaming Chair xQc Uses?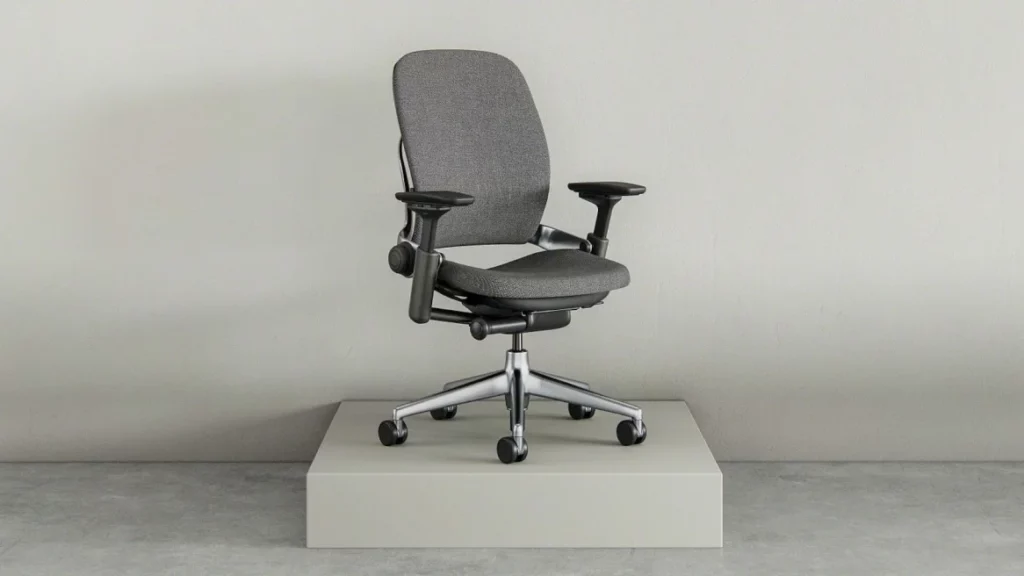 Felix "xQc" Lengyel started off as a pro Overwatch player before diving into the wild world of streaming and YouTube. He made big moves, representing Canada in Overwatch World Cups and even making it to the finals in 2017. That's no joke, but unfortunately, they couldn't take down the champs, South Korea.
After his time with the Dallas Fuel, things got a bit rocky with multiple suspensions and fines, leading to a mutual parting of ways. xQc didn't let that bring him down. He had some quick gigs with teams like "GOATS" and the Gladiators Legion before going full-time streamer mode. And let me tell you, this dude knows how to pull in the crowd. With 5.6 million Twitch followers and a solid 80k subs, he's on fire.
xQc, knows how to game in style, and that includes having the right chair. He's rocking the Steelcase Leap like a pro. This chair is all about that gaming swag, with tons of options to make it just right for you.
Now, this isn't your average gamer chair with flashy colors and all that jazz. The Leap is sleek and sophisticated, with a cushioned back and seat that brings the comfort level up to the max.
It's got all the adjustments you need to find that perfect ergonomic position, from lumbar support to upper back firmness. And let's not forget the gliding seat feature, which is clutch for taller users like xQc. No more feeling perched on the edge; this chair's got your back…literally.
The Leap doesn't come cheap, with options ranging from fabric to leather and additional accessories like a headrest. It's an investment for the long haul, though, with a 12-year warranty to back it up.
What Gaming Chair Shroud Uses?
The legendary Shroud is an absolute beast in the streaming game, known worldwide for his insane skills and top-tier gameplay. He transitioned from CS:GO pro to full-time streamer in 2017, and let me tell you, he didn't miss a beat. People go crazy to watch this guy because he's still killing it at the highest level.
After retiring from the CS:GO scene in 2018, Shroud took the streaming world by storm, dominating battle royale games like PUBG, Apex Legends, and Call of Duty: Warzone. And you know what? His popularity just exploded even more. The guy knows how to keep his audience hooked with non-stop action and jaw-dropping plays.
Shroud decided to dip his toes back into the world of competitive gaming, this time in the realm of VALORANT. He joined the Sentinels squad and proved once again why he's a force to be reckoned with.
Shroud has leveled up his streaming setup with the epic Herman Miller Embody chair. This chair is no ordinary loot drop; it's a top-tier performer in comfort, adjustability, and durability. The Embody chair has got Shroud covered during those intense gaming sessions, providing supreme comfort that allows him to slay enemies for hours on end without feeling fatigued.
With its customizable features, he can fine-tune the chair to his liking, ensuring maximum support for his pro-level maneuvers. The chair's sturdy construction is built to withstand the most intense gaming battles.
Sure, it may come with a higher price tag, but for someone like Shroud, who dominates the streaming game, the Embody chair is a worthy investment that enhances his gameplay and keeps him in the zone. GG, Shroud, GG!
What Gaming Chair Pokimane Uses?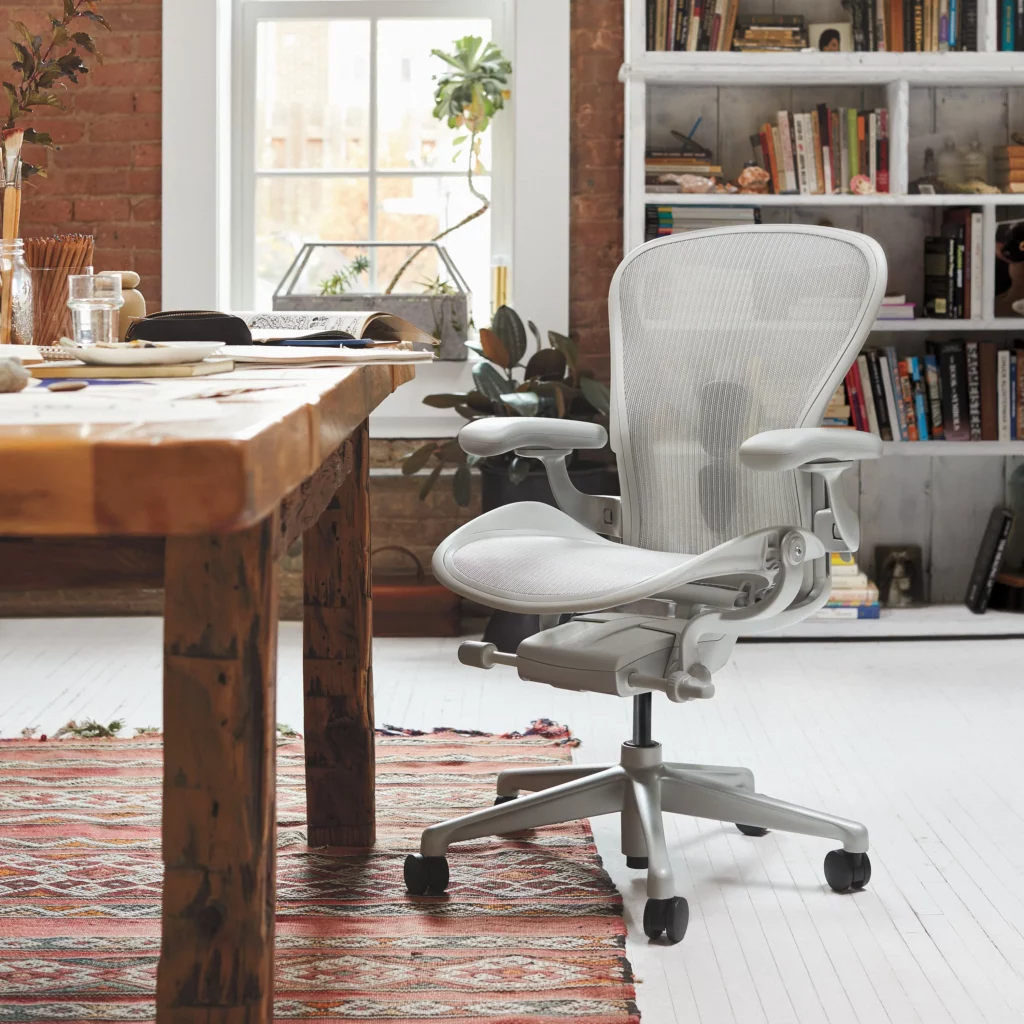 Imane "Pokimane" Anys, the queen of YouTube and Twitch, is an absolute legend in the streaming world. She's got the skills to pay the bills with her epic gaming content, vlogs, and variety streams.
Back in 2013, she started her career on Twitch with her sick League of Legends plays, and since then, she's blown up like a mega power-up. Can you believe she's now the most followed female streamer on the entire platform? She's got a massive fanbase that can't get enough of her awesomeness.
Pokimane isn't just a gaming superstar; she's also one of the masterminds behind OfflineTV, a crew that knows how to bring entertainment to the table. From gaming shenanigans to epic housemate pranks and vlogs, they've got it all covered. Pokimane is a true trailblazer in the streaming world, carving her own path and inspiring countless others to chase their dreams.
Poki uses the Herman Miller Aeron chair because it's an absolute flex! This chair is straight-fire and levels up her streaming game to the max. The Aeron is like the ultimate "mesh ergo chair." It's got that adjustable lumbar and arms and a reclining backrest that's all about those healthy neutral postures, keeping her comfy during those long gaming sessions.
Plus, that next-level mesh suspension tech is straight-up OP, giving her the support she needs while she slays in the virtual world. And let's not forget the flex of that world-class 8Z Pellicle mesh upholstery, making her feel like a boss while she's live. It's pricey, but it's worth it for the clout and mad comfort it brings. Poki knows what's up, she's all about that high-end gaming chair game, and the Aeron is her secret sauce for dominating the streaming scene.
Consider These Factors Before Buying A Gaming Chair For Streamers
Before investing a significant amount of money in a gaming chair, here are some factors to consider:
The Reason To Buy
Consider your chair's purpose. If it's primarily for gaming and streaming, prioritize head, neck, and back support. Opt for a versatile, recliner-like design if you'll use it for various activities like working, dining, or relaxing. Clarifying your chair's intended use helps you find the perfect fit.
Your Weight & Height
Consider your height and weight when selecting a gaming chair to ensure the perfect fit. Avoid chairs that are either too big or too small for your body proportions. Look for models available in alternative sizes, offering durability to withstand extended gaming sessions without concerns of breakage or excessive wear-and-tear.
The Comfort-Level
Comfort is key when it comes to gaming or streaming. A good gaming chair provides support, promotes good posture, and ensures you stay comfortable during long sessions. With the right chair, you can enhance your performance, fully immerse yourself in the experience, and focus on gameplay or content creation without any discomfort. Invest in a reliable and comfortable gaming chair that will take your experience to the next level.
Specifications
Before making a decision, take into account the additional features offered by a gaming chair. Some models go beyond the basics and include plush neck rests for added comfort, built-in footrests to support your legs during long gaming sessions, and convenient cup holders to keep your beverages within reach. Assess how these features align with your specific streaming needs and preferences, and choose a chair that enhances your gaming or streaming experience in the best possible way.
Warranties
Before purchasing a gaming chair, check the company's warranty policies. Most gaming chairs come with a hefty price tag, so it's important to know what protection is offered. Look for chairs with money-back guarantees or warranties and understand the coverage. If a chair lacks a warranty, consider the potential costs of repairs or replacements. Considering warranty coverage helps you make an informed decision and provides peace of mind for your gaming chair investment.
Why a Streamer Gaming Chair Is a Must-Have
Whether you dream of becoming a Twitch sensation or simply desire a supremely comfortable chair that feels like sitting on a cloud, there are compelling reasons to invest in a top-notch gaming chair. However, if you prefer a straightforward chair with exceptional ergonomic features, get the Herman Miller Embody chair from the list above. Don't let the "office chair" label fool you—it's suitable for those marathon gaming sessions too. After all, if it meets the standards of renowned gamer Shroud, it's surely more than suitable for you.
Are Streamer Gaming Chairs Worth It?
Gaming chairs for you if you fall in any of the following categories:
Are you a serious gamer?: If you spend extended periods playing video games, prioritize comfort and support. Look for a gaming chair with generous lumbar support to maintain good posture and minimize discomfort. Additionally, consider chairs with a wider recline range, which will allow you to relax and relieve tension during intense gaming sessions. Taking inspiration from pro gamers and popular streamers can give you insights into the chairs they prefer, helping you make an informed choice. Check out our page on the gaming chair Ninja uses for valuable recommendations.
Do you need a connected gaming chair?: While they may come with a higher price tag, connected gaming chairs can enhance your gaming experience. These chairs often feature built-in speakers, console support, and additional features like vibration support, creating an immersive environment. A connected gaming chair could be a worthwhile investment if you're seeking a more interactive and engaging gaming setup.
Big & Tall Consideration: If you have a larger build, find a gaming chair that accommodates your proportions comfortably. Look for chairs specifically designed for big and tall individuals, as they offer a higher weight capacity and larger seat adjustments. While these chairs may be pricier, they provide the necessary support and durability for long-term use.
Long-Lasting Investment: Cheaper gaming chairs typically have a shorter lifespan of around two to three years. However, investing in a high-quality gaming chair ensures longevity. These chairs are built with durable materials and superior craftsmanship, allowing them to withstand regular use for five to ten years or more. Consider it a worthwhile investment for your gaming comfort and overall well-being.
What Gaming Chairs Do Streamers Use?
Streamers use a variety of gaming chairs based on their personal preferences and requirements. Some popular gaming chair brands favored by streamers include Secretlab, Herman Miller, Razer, Noblechairs, and Corsair (all mentioned in this article). These brands offer a range of models with ergonomic designs, adjustable features, and comfort-oriented features.
Several streamers have their own signature edition chairs in collaboration with gaming chair brands. For example, streamers like Ninja, Shroud (a version of Herman Miller Embody mentioned in this article), and PewDiePie have their own customized chairs in partnership with different brands.
Ultimately, the choice of gaming chair depends on the streamer's individual needs, style, and budget. Streamers often prioritize comfort, durability, and ergonomic support to ensure they can sit comfortably during long streaming sessions. Research different brands, read reviews, and consider personal preferences to find the best gaming chair for streaming.
Wrapping It Up: The Best Gaming Chairs For Streamers
I hope this article has provided valuable insights into choosing the perfect gaming chairs for streamers. Among the remarkable options of streamer gaming chairs listed here, I must admit my personal preference for the Herman Miller Embody, primarily due to its unparalleled comfort level.
Good luck with your streaming careers!