Commissioning Female VTuber Model: Unleashing the Virtual Goddess
Oh boy, have you ever heard of VTubers? They're virtual YouTubers, and they're all the rage these days. I mean, who wouldn't want to be a cute anime girl or a handsome anime boy? But have you ever considered becoming a VTuber yourself? Well, let me tell you, it's not as easy as it looks. You need a VTuber model, and that's where things get complicated.
As a VTuber myself, I know firsthand the struggle of finding the perfect VTuber model. It's not just about looking adorable — although let's be honest, that's an essential requirement! You also need a model that can express your personality and make you stand out from the sea of other VTubers out there. And that's where the magic of commissioning comes into play.
Commissioning a female VTuber model can be daunting, especially if you're new to the world of VTubers. But fear not, my friends, because I'm here to guide you through the process. From finding the right artist to communicating your vision to them, I'll cover everything you need to know before taking the plunge and commissioning your own VTuber model.
Male vs. Female VTuber Models
As someone who has commissioned both male and female VTuber models, I can tell you that there are some key differences to keep in mind. Here are some things to consider:
Differences
Naturally, the most obvious difference between male and female VTuber models is their appearance. The allure of cute anime girls is undeniable, and female models often draw attention from admirers, lovingly referred to as "simps." If you're a female VTuber, brace yourself for a wave of affection and support – it comes with the territory!
Conversely, male VTubers may face a bit more of a challenge in gaining popularity, but fear not, chivalrous knights! With a dash of unique personality and style, you can still conquer viewers' hearts and achieve VTuber greatness.
Female characters usually boast more intricate features, curves, and charming details. When seeking an artist to bring your VTuber persona to life, make sure they have experience creating female characters. That way, you can rest assured that your model will look natural and, of course, irresistibly appealing!
VTuber Commission
When commissioning a VTuber model, there are a few things to keep in mind. Seek professional artists with experience in crafting VTuber avatars. Check their portfolio, read reviews from other clients, and ensure they're a good fit for your VTuber dreams.
You'll also want to make sure you have a clear idea of what you want your model to look like. This includes things like the character's personality, appearance, and any accessories or clothing you want them to have. The more specific you can be, the better.
Accessories
Accessories can be a great way to make your VTuber model stand out. For female models, the options are endless – think adorable hair accessories, elegant jewelry, and playful makeup. For male models, accessories like hats, glasses, and unique clothing can help them stand out from the crowd.
When choosing accessories, make sure they fit with your character's overall style and personality. You don't want to choose something just because it looks cool if it doesn't make sense for your character.
Finding A VTuber Artist
As someone who has commissioned a few VTuber models in the past, I know how daunting it can be to find the right artist for the job. But fear not, I'm here to drop some knowledge bombs and share some tips on how to find the perfect artist for your female VTuber model commission.
Where To Look
Knowing where to look is half the battle won! The best place to commission a VTuber model are platforms like Fiverr and Etsy that offer a bounty of artists, and there's a hidden gem that you mustn't overlook — the Live2D Discord community! It's a treasure trove of extraordinary talent, filled with artists and riggers open for wondrous commissions.
Evaluating Their Portfolio
Once you've found a few potential artists, it's time to evaluate their portfolio like a true detective. Look for artists whose art style aligns with your vision for your VTuber model. Don't be afraid to ask for examples of their previous work or a rough sketch of what your model would look like if they were to create it.
Research What's Popular
It's important to keep in mind what art styles are popular in the VTuber community right now. Do some research and see what styles are currently trending. You don't want to commission a model with an outdated style. Stay fresh, relevant, and in tune with the latest trends.
Our Picks
As someone who has commissioned a few VTuber models, I know how difficult it can be to find the right artist. That's why I've compiled a list of our top picks for VTuber model commissions.
Our Top 3 Fiverr Picks
Nikhil Sapra: With over 100+ actively streaming models on Twitch and YouTube, Nikhil Sapra is a seasoned VTuber model creator using the enchanting magic of Live2D since 2018. Expect unmatched after-sales service and a Full-body Live2D VTuber Model Art & Rigging for $980.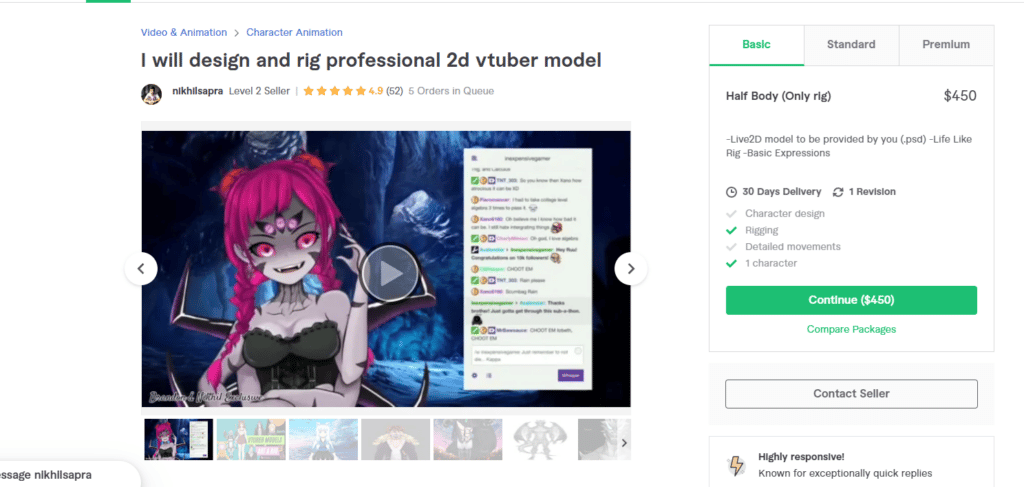 Xiaojing: An artist with a remarkable seven years of experience in character and Live2D model design. With a passion for conceptual art and expertise in live2D model creation, Xiaojing offers a full-body Live2D model character art for $300 and an animated model for $750.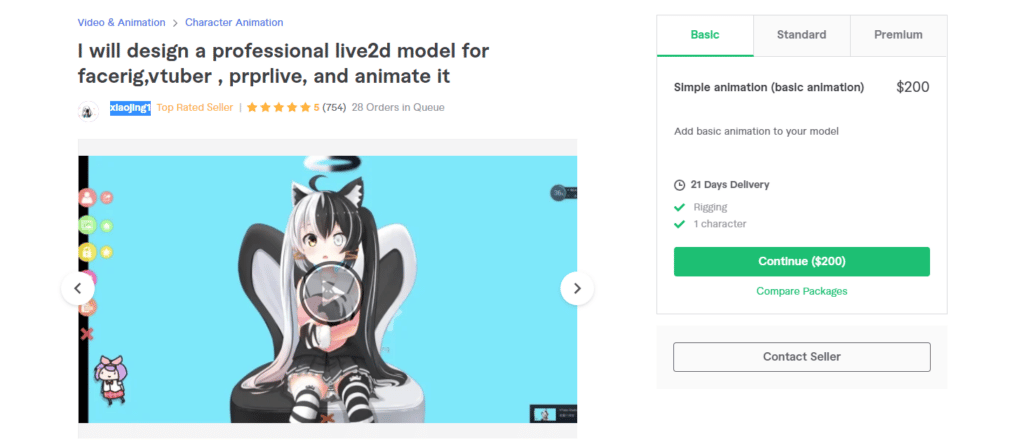 Pierre: A VFX compositor and 3D animator with two decades of experience in crafting commercial advertising and VFX for movies and video games. Pierre's creations boast advanced rigging, facial shapes, and stunning texturing, available as a Full 3D rigged character for $2,800.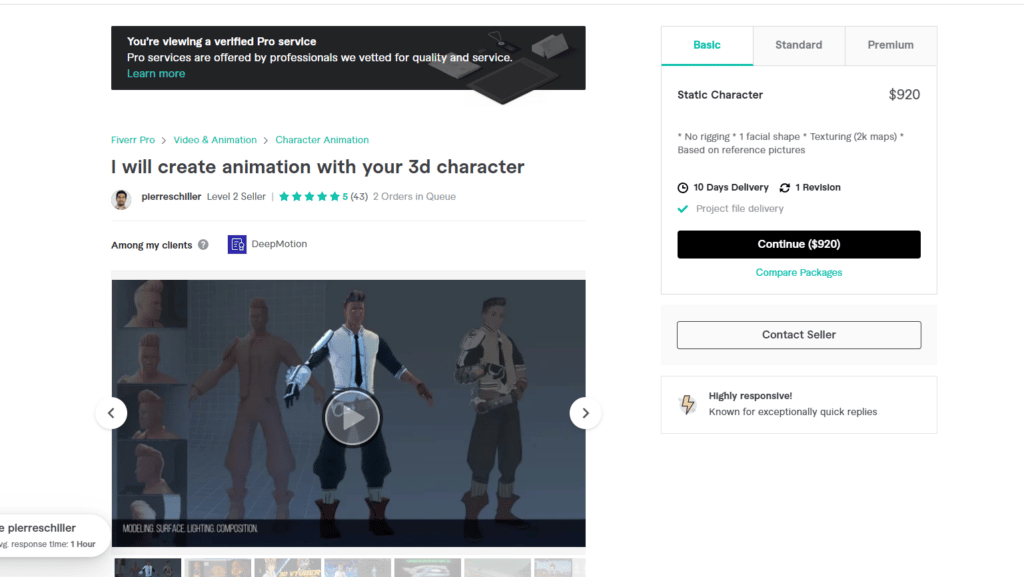 Our Top 3 Etsy Picks
Eva: Welcome to the realm of creativity and Live2D modeling! Eva from IdealCityDesign provides custom-made Live2D designs, art, and rigging. Their premium package with Full Body Painting + Full Body Top Rigging awaits you for $700.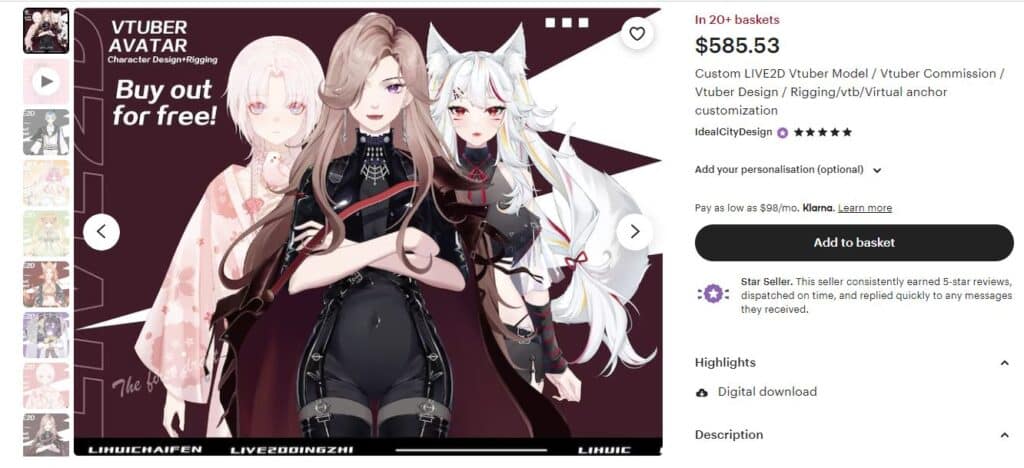 Ajana: For lovers of 2D anime VTuber characters, Ajana offers a full-body 2D anime VTuber character design with multiple side views in a high-quality PNG format for $288.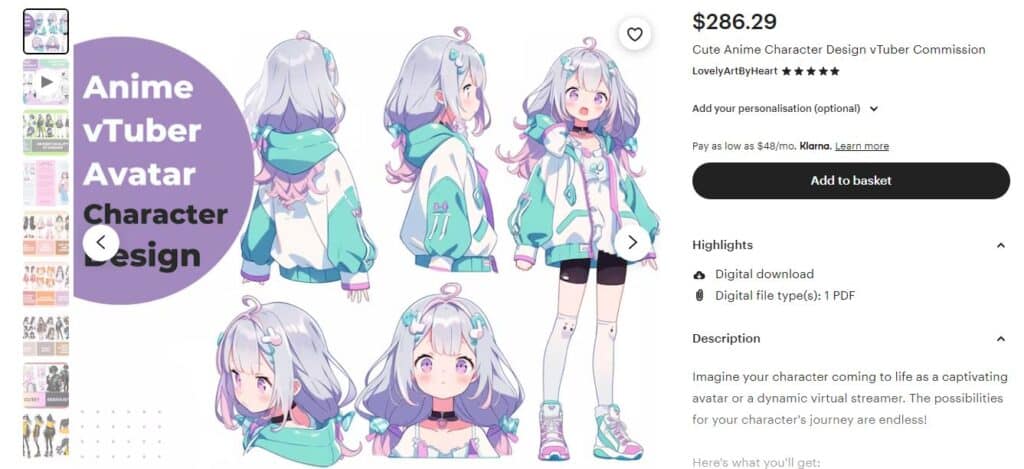 Jor: Delve into the Japanese Anime Style with TinyManga! Jor and the team are offline studio artists specializing in the Japanese Anime Style Commission (mostly). Their basic package starts at $156, so get in touch for more accurate pricing.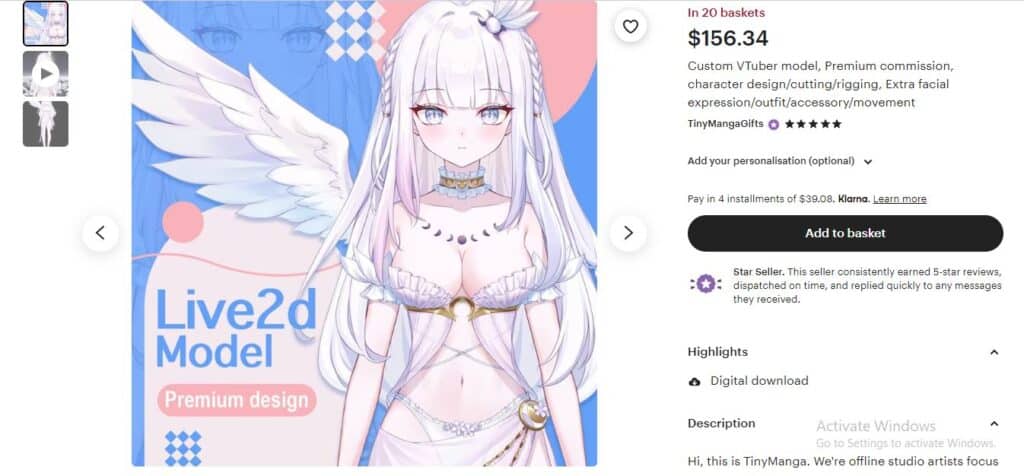 There you have it, our top picks for female VTuber model commissions, each artist radiating their own unique enchantment. Remember, there are plenty of other great artists out there, so don't be afraid to do your own research and find the perfect artist for you.
Different Commission Types
Ah, the moment of truth has arrived – it's time to decide on the type of VTuber model that will bring your virtual persona to life! Fear not, my fellow VTuber enthusiasts, for I shall illuminate the path ahead and guide you through the three main types of wondrous VTuber models that await your artistic commission.
2D Models

2D models are the most common type of VTuber model. They are essentially 2D illustrations that are animated to create the illusion of movement. These adorable avatars are brought to life using software like Adobe Photoshop or Clip Studio Paint.

When commissioning a 2D model, you can expect to receive a set of still images that have been rigged for animation. The number of images required will depend on the intricacy of the model and the level of detail you desire.
Live2D Models

Live2D models are similar to 2D models, but they have the added benefit of being able to move in 3D space. This is achieved by using software that allows the artist to create a 2D model and then add depth and perspective to it.

When commissioning a Live2D model, you can expect to receive a set of still images that have been rigged for animation, as well as a 3D model that has been created using the Live2D software. This means that the model will be able to move and interact with the environment in a more realistic way.
3D Models

3D models are the most complex type of VTuber model. Crafted using advanced 3D modeling software like Blender or Maya, these avatars are fully animated in 3D space, offering unparalleled versatility and dynamism.

When commissioning a 3D model, you can expect to receive a fully rigged and animated model that can be used in a variety of different environments. These models are the most complex and may require a more generous budget due to the time and expertise involved.
The type of model you choose depends on various factors – your budget, the level of intricacy you seek, and the kind of content you wish to create. Each type has its own enchanting charms, so weigh the options and find the perfect balance between cost and functionality.
I personally think that Live2D models are the best option for most people, as they offer a good balance between cost and functionality.
Using Your Commissioned Model
So, you've got your brand new female VTuber model commissioned. Congratulations! Now it's time to unveil your virtual goddess to the world. Here are some tips on how to make the most of your investment:
Twitch Streaming
The first and most obvious use for your new VTuber model is Twitch streaming. With your new character, you can interact with your viewers in a whole new way. They'll love seeing your character's expressions and movements as you play games or chat with them.
To use your new model on Twitch, you'll need to set up OBS or another streaming software. Once you have that setup, you can add your VTuber model as a source and start streaming. But heed this sage advice – test your setup before going live to ensure you don't run into any issues during your stream.
YouTube Videos
Another great way to use your VTuber model is in YouTube videos. From thrilling Let's Plays to endearing vlogs and beyond, your viewers will love seeing your virtual persona come to life in various settings.
To use your VTuber model in YouTube videos, you'll need to record your footage with OBS or another recording software. Once you have your footage, you can edit it and add your character as an overlay. Once again, make sure to test your setup before recording so you don't run into any issues during your recording session.
Here is popular VTuber Ironmouse playing Elden Ring on Twitch and then posting the video on Youtube:
Our Personalized Tips
As someone who has commissioned a VTuber model, I've learned a thing or two about the process. That's why I'm here to share the three tips I would have appreciated when I was commissioning my VTuber model. 
Tip #1: Be Specific About Your VTuber Persona
Before you commission a VTuber model, you need to have a clear idea of who your VTuber persona is. Are you a bubbly, energetic personality? Or are you more reserved and serious? Do you have any specific colors or themes that you want to incorporate into your design? The more specific you are about your character, the more authentically your artist can weave their magic and create a design that truly embodies your essence.
Tip #2: Research Your Artists Carefully
Finding the right artist to create your VTuber model is crucial. Take the time to research different artists and their styles. Look at their portfolios and see if their creations align with the aesthetic you envision for your character. Be bold and ask for references or examples of their previous work. You want to ensure you're working with someone with the skill and experience to create the design you want.
Tip #3: Plan Your Debut Strategy
Once your VTuber model is complete, it's time to prepare for your grand debut! This is your chance to introduce yourself to the world and start building your audience. Think about what kind of content you want to create and how you can use your VTuber persona to stand out from the crowd. Consider collaborating with other VTubers or creating special events to generate buzz around your channel.
VTubing can be a lot of fun, but it's important to approach it with a clear plan and strategy. By following these tips, you'll be well on your way to creating a successful VTuber persona that truly reflects who you are.
If you're eager to dive deeper into the world of VTuber creation, be sure to check out our companion article, "The Complete Guide to VTuber Model Commissions."
Frequently Asked Questions
How much should I expect to pay for a female VTuber model commission?
Well, it depends on the complexity of the model and the artist you choose. Female VTuber model commissions can range from a few hundred to a few thousand dollars. But remember, quality comes at a price. So, if you want a high-quality female VTuber model, be prepared to pay a little extra.
Where can I find reputable female VTuber model commission artists?
There are many places on the internet where you can find reputable female VTuber model commission artists. Some popular websites include MyVTuber.com, Live3D, and SMBillion. You can also check out social media platforms like Twitter and Instagram to find talented artists.
Are there any female VTuber model commission discounts or promotions available?
Yes, some artists offer discounts or promotions from time to time. Keep an eye out for these on their websites or social media pages. And if you're lucky, you might even find a female VTuber model commission artist who offers discounts for repeat customers.
What are some important factors to consider when choosing a female VTuber model commission artist?
When choosing a female VTuber model commission artist, there are a few important factors to consider. First, make sure the artist has experience creating female VTuber models. Second, check their portfolio to see if their style matches what you're looking for. And finally, seek artists with excellent communication skills, for the key to success lies in harmonious collaboration.
Can I request custom features for my female VTuber model commission?
Yes, you can! Many female VTuber model commission artists are willing to work with their clients to create custom features for their models. Just make sure to communicate your ideas clearly and be prepared to pay a little extra for any custom work.
How long does it typically take to receive a completed female VTuber model commission?
The time it takes to receive a completed female VTuber model commission can vary depending on the artist and the complexity of the model. On average, it can take anywhere from 3 to 5 weeks to receive a completed model. But remember, good things come to those who wait!