How to Make a VTuber Model | Beginner's Guide
So you are fascinated by the idea of building an online audience through VTubing. And now you want to know how to make a VTuber model. Well, you are in luck. In this article, we are going to cover everything there is about making a VTuber model.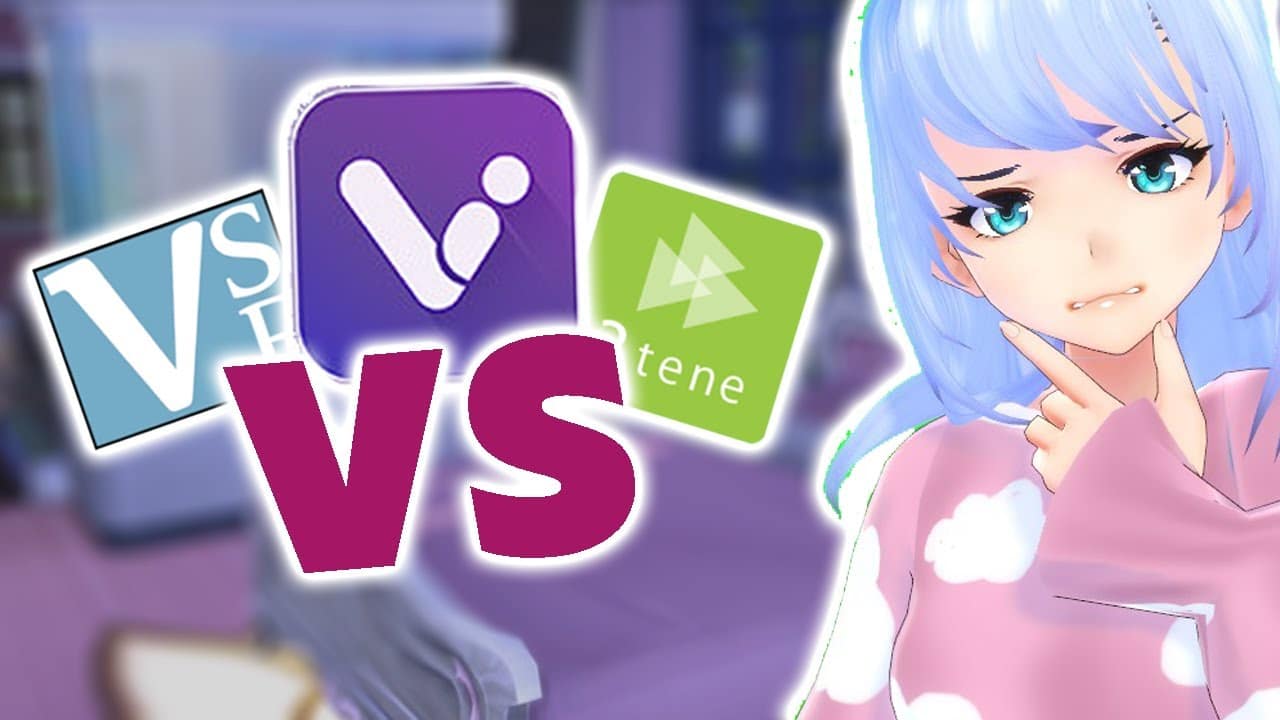 Whether you want to make yourself a basic and straightforward VTuber model or more of a sophisticated and professional one, we have got you covered.
That said, let's first cover the basic knowledge of a VTuber model.
What is a VTuber model?
A VTuber Model is a digital avatar that is animated and represents a real person that controls it. That person usually streams games, music, and other types of content on various streaming platforms, including Twitch and YouTube.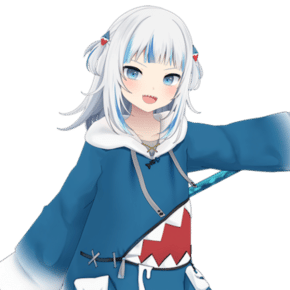 Most VTubers go for an anime look when making a model, whereas others go for video game characters and unique 3d characters.
Benefits of using a VTuber Model instead of your real identity
There are several benefits of using a VTuber Model instead of revealing your true identity in front of the camera. Some of these benefits are as follows:
You get to control an avatar that you made yourself or had it made in a rapidly growing online industry.
Suppose you are self-conscious about your natural body, privacy issues, or have anxiety about showing your real face on a live stream. In that case, a VTuber model might be your answer as it provides some of the benefits of a camera feed, such as expressing yourself through the expressions of a VTuber model.
Suppose you keep your real identity a secret and don't show your other profiles or any other online presence that might link to your real identity. In that case, you can leave your VTuber identity behind and make a new one if it is not working out for you or whatever might be the reason.
If it works well for you and you have got the hang of VTubing, then you can create multiple channels with different identities and scale up fast, primarily if you use a voice changer when streaming.
How to make a VTuber model?
Before you learn to make a VTuber model, you must consider a few things and set your preferences straight. It would be best to consider whether you want a 2d VTuber Model or a 3d one. Do you want your VTuber model to be simple, or do you want it to look professional? Do you want it to be in a typical anime style, like most of the VTubers, or do you have another style in mind?
Well, it all comes down to your preferences and budget. You can get a basic-looking VTuber model for free, or if you want it to look a bit more professional, you will have to spend some money on it. You can spend anywhere from free to $15,000 on a VTuber model.
The basic rule of thumb is that a professional-looking 2d VTuber model usually costs between $35 – $1,000, and the 3d VTuber model will set you back for $1,000 and upwards; it will cost you an arm and a leg.
Let's move on to how to make a VTuber model.
Easiest ways to make a VTuber model
If you want to build your VTuber avatar by yourself and don't have any artistic skills, you are simply on a tight budget. We have listed the best software programs that build decent VTuber Models for free or require a small fee.
Most have a very user-friendly interface and can be used by anyone, even if you have no prior experience making any 3d animations.
While others may require some time getting the hang of their features and tools.
ReadyPlayer.me: How to make VTuber models for free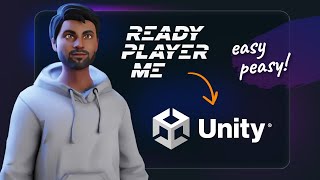 Ready Player is an excellent option if you are looking for a way to make a VTuber model for free, as it is a 3d avatar creator that is free to use and is entirely an online tool. That means you don't need to install software to make a model.
To make a 3d VTuber model with Ready Player, take a selfie and wait for the magic to happen. And voila! You have a 3d model that is personalized to your appearance.
Just visit their website, ReadyPlayer.me; they will scan your face through a webcam, and with the help of their patented AI, they will automatically convert the scan of your face into your digital self.
You can do this with your mobile device or through your desktop.
It won't be perfect, but you can tweak it a bit to get your required results. You can export the VTuber model in fbx format.
VRoid Studio: Most user-friendly interface for making a VTuber Model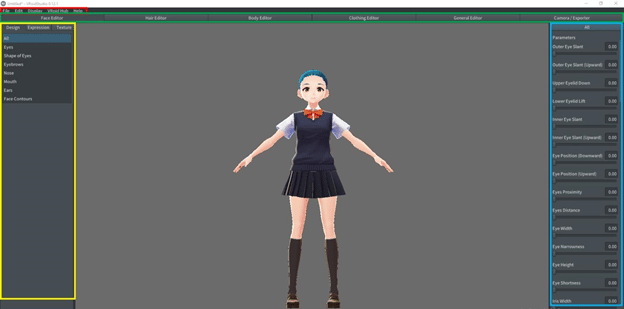 VRoid Studio is the best software to make a VTuber model if you don't have any prior animation or drawing experience and are going for an anime-style character. And the best part is it's free! That was a surprise for me when I used this software as no one matches the level of customization it provides for free.
From your facial features to the color and the style of your hair, you can customize almost anything.
And there is no risk of Copywrite take down as it allows the use of avatars, both commercially and non-commercially.
The level of customization it provides means that your VTuber model will be unique and can be used for VTubing, although it wouldn't be on the level of a model created by more advanced, premium software. But it will be good enough.
If you are starting VTubing, we highly recommend this software to test the waters as it is easy to use and free, so there will be almost no risk.
And once you start earning through VTubing, you can easily have the VTuber avatar made professionally by a freelancer (more on that later in this article).
Once you create your VTuber model according to your preferred appearance, you can import it into software like 3tene.
3tene is a free application available on steam. It captures your movements through a simple webcam and moves your VTuber Model accordingly.
A better way, in our opinion, would be to invest in a LeapMotion ( a device that tracks your hand movement). All you will have to do is, install Luppet and connect it to your LeapMotion device, and voila! Your VTuber avatar has moving fingers, that too without any programming hassle.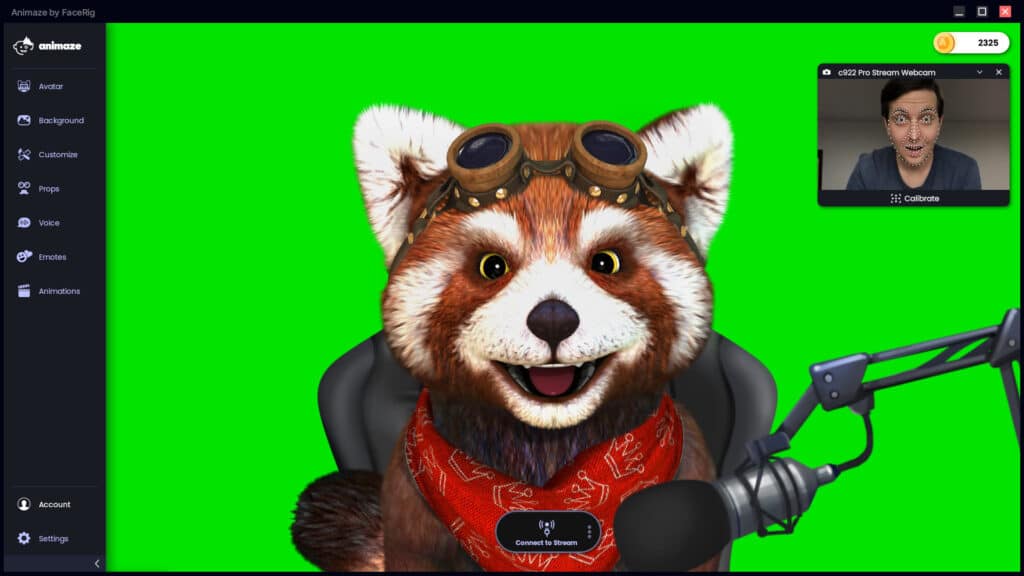 If all you need is the upper body of your character (you don't need to get up from your chair a lot while streaming), then Animaze is a fantastic option.
You can create a Live 2d model for yourself using this software. Animaze (formerly known as Face-rig) is remarkably accurate at tracking everything you do. Everything is tracked by using a simple webcam, from the movement of your lips and head to your eye movements and facial expressions.
Even your character's shoulders also sync with your shoulders' movement. And all of that gives a sense of illusion and depth.
You can use the pre-made models or import your creation, whatever tickles your fancy.
But all that comes with a price tag, which I should say is reasonable. The consumer edition of Animaze costs $14.99 on steam, and the Animaze consumer edition can be used for commercial use.
But once your revenue exceeds $400, you must buy the pro version, which costs $64.99. Which is still worth it, considering it is already making you some money.
Unlike the VRoid Studio, the user interface of Animaze will take a while to get used to as it is a bit more complex. Once you get the knack of using it, It's an excellent tool worth its value.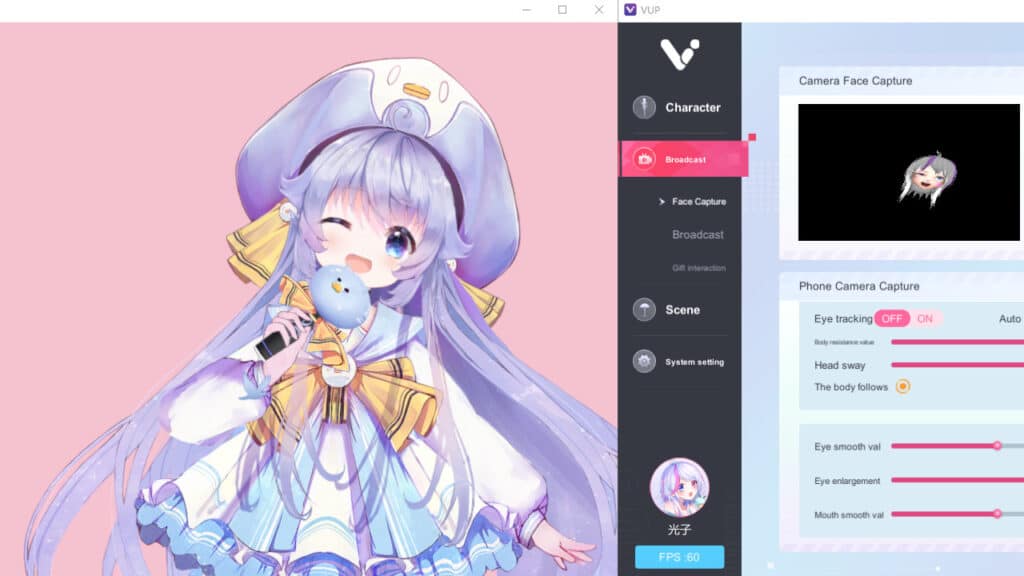 This is another good software to use if you have an anime-style character preference.
During the live stream, you can change the props and the background. VUP studio can also connect to Motion capture hardware for tracking and better animation.
Although it has pre-built 2D and 3D models to choose from, it doesn't provide much room for customization like the VRoid Studio.
VTube Studio: Known for its Classic Anime Style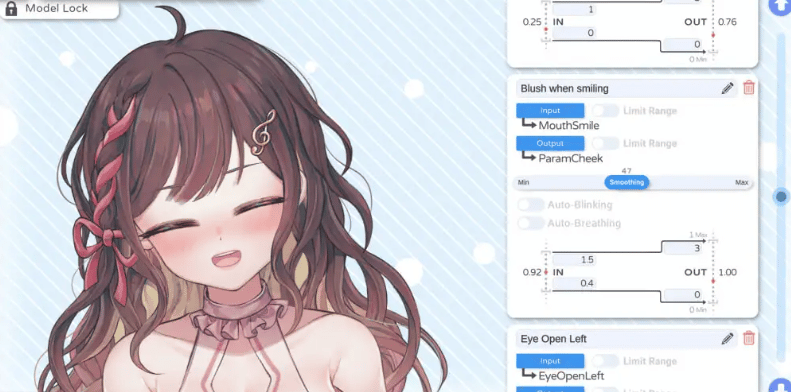 If you are a classic anime fan, I recommend VTube Studio over VUP Studio because of its easy-to-use interface. And more importantly, it's free to use.
But the drawback of using VTube Studio is that you wouldn't be able to create a 3D avatar as the only option it provides is Live 2D.
Hiring a Freelancer to Make a Professional Level VTuber Model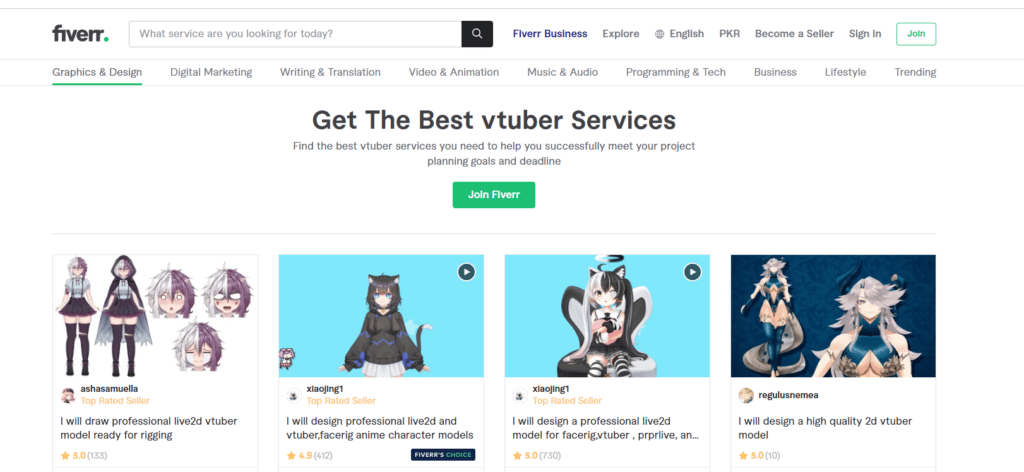 If you want to go with a more professional VTuber avatar, you can have it made by a freelance specializing in making one.
You would need a lot more budget than any of the methods discussed in this article if you choose this method of making a VTuber avatar. It would set you back $35- $15,000 if you want to hire a professional freelancer to make the character.
Anyways, if you want to hire a professional to make a VTuber model, all you need to do is as follows:
Furthermore, you would also need to answer the following questions when placing the order. We have added the questions for you so that you are prepared for what they might ask from you.
What do you want your VTuber model to look like?
You can have a rough sketch of a VTuber avatar in your mind and explain that to the artist, or you can choose an artist that already makes the VTuber avatar that look like what you have in mind and have them make it.
I would go with the latter option, as it would reduce the communication gap that might occur when explaining your ideas.
If you can't find an artist with the VTuber avatar samples more aligned with your preferences, then go for the one with the most experience. Just be as thorough as possible when explaining your ideas during the communication with the freelancer.
The best practice: VTuber model sketch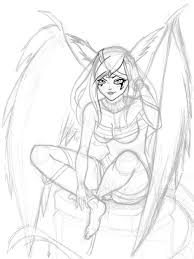 You can also have them sketch your ideal VTuber model first and make fine adjustments according to your preferences. This idea is the most efficient way as it would significantly decrease the time needed for the discussions and edits. It would be most helpful, especially if you are going for a 3D model.
What extra props do you want for your VTuber model?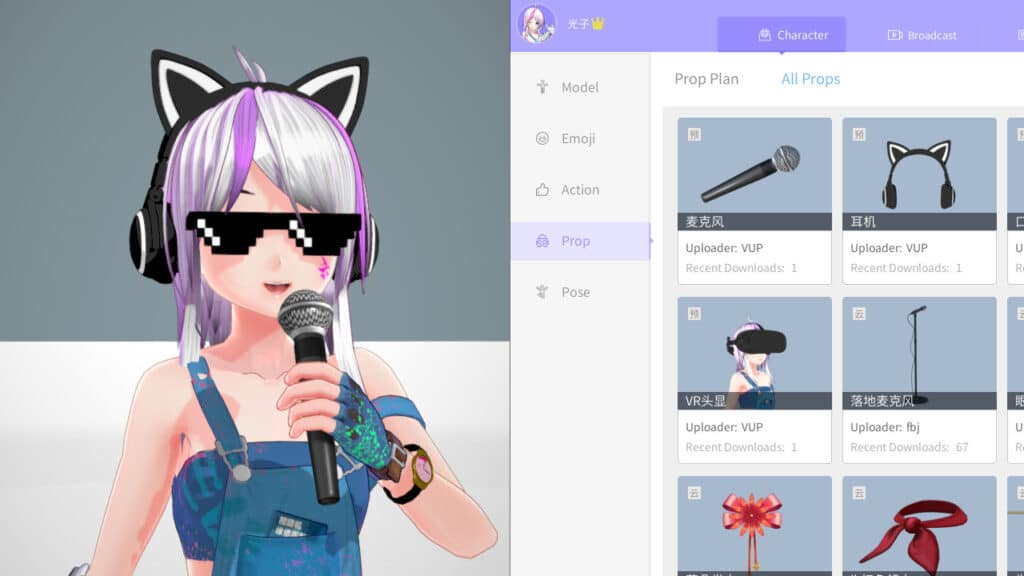 For a 3D VTuber model, adding in props like a cloak, a want, cat ears, a dog nose, any hand-held objects like a staff, etc. would be a lot of work for the artist as he would have to custom make the props through modeling and rigging in a tool like Blender.
Whereas, for a 2D model, it isn't much work. So keep that in mind when negotiating the price with the freelancer.
Do you need the facial expressions for your VTuber model?
Suppose you want your 2D VTuber model to have expressions similar to a typical anime's. In that case, you will have to draw and code it into the model, which would cost you extra, and without that, your 2D Vtuber model will be limited to expressions like mouth, eye, and eyebrow movement, shoulder movement, and head tilt.
When it comes to a 3D VTuber model, the complexity of giving your VTuber model a facial expression increases significantly, and so would the cost. For accurate motion capture, a 3D VTuber model would require 52 blendshapes. Blendshapes are a part of the rigging procedure. And you would need blendshapes if you are using a facial mocap app that requires an iPhone X or higher.
What software will be used to build your VTuber model?
When it comes to the software used for making a VTuber model, if you have a preferred one, you can search for the artist on Fiver that uses it.
If your only consideration is the outcome, i.e., a VTuber model that fits your needs, and you don't have any preferred VTuber model software in mind, then you can choose the artist and show them what you have in mind and be done with it.
I highly recommend downloading any of the software we mentioned in the list and using the pre-built characters to get a feel of your preferences.
What rig will your VTuber model have?
To explain this question, first, we need to explain what rigging is when creating a VTuber model.
What is rigging?
In layman's terms, imagine a puppet on strings; rigging is the process of creating all the connecting points (joints) at the end of the strings-digital bones of a character. The string structure allows the artist to move your VTuber Model.
With rigging explained, it is time to choose the rig for your model.
As explained, 3D models will always have some level of rigging for the movement, so your selected freelance artist will offer you some options for the rig. E.g. Spring Bones is used for natural hair animation, whereas Wiggle Bones is used for jiggly wiggly effect.
It is a pretty complex subject, especially if you don't have any 3D animation skills, so I recommend leaving it to the artist and communicating your demands properly.
Will your VTuber model have an entire body?
I would recommend making the hands and arms for your VTuber model, as you can create shortcut animation for them that would work even without motion tracking.
Other than that, it again comes down to your preference. Do you want your VTuber to stand up from their virtual chair? If so, I would recommend a full-body artwork; if not, only the torso is enough for your VTuber model to have.
Also, if you are new to VTubing, I would recommend using only the torso as it would cost significantly less than the full-body artwork. You can always go for the upgrade once your income picks up.
How to Make Your own VTuber Avatar through Avatar Builder
You can also build your own VTuber more professional-looking models through the software mentioned below. But these may require some prior artistic and 3d modeling knowledge. With some research and trial and error, you can make your own VTuber model through these software programs.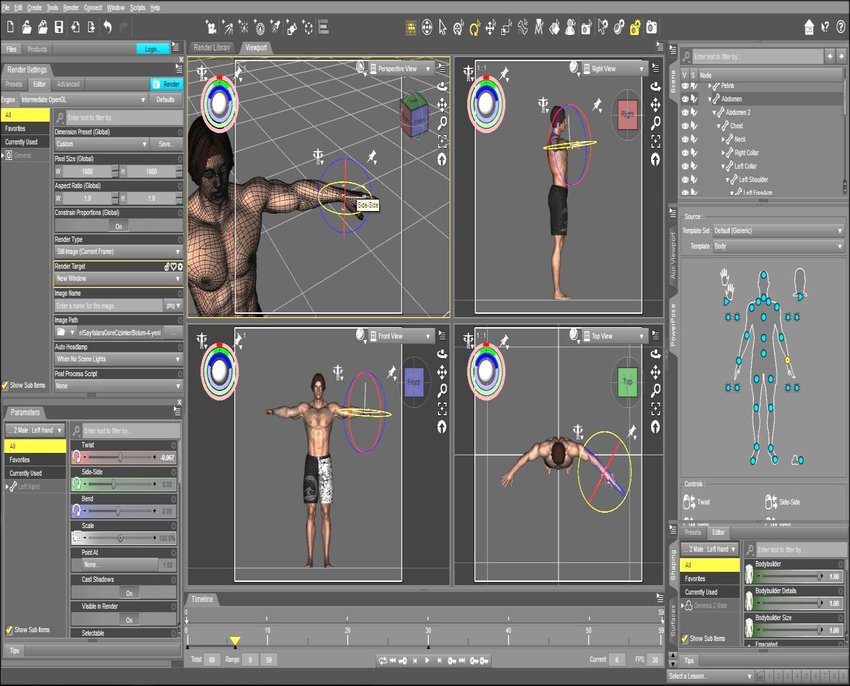 It is an excellent software for making a VTuber model; there are several tutorials on YouTube from where you can learn to create a VTuber model that is your own.
This software is popular among VTubers for its uniqueness.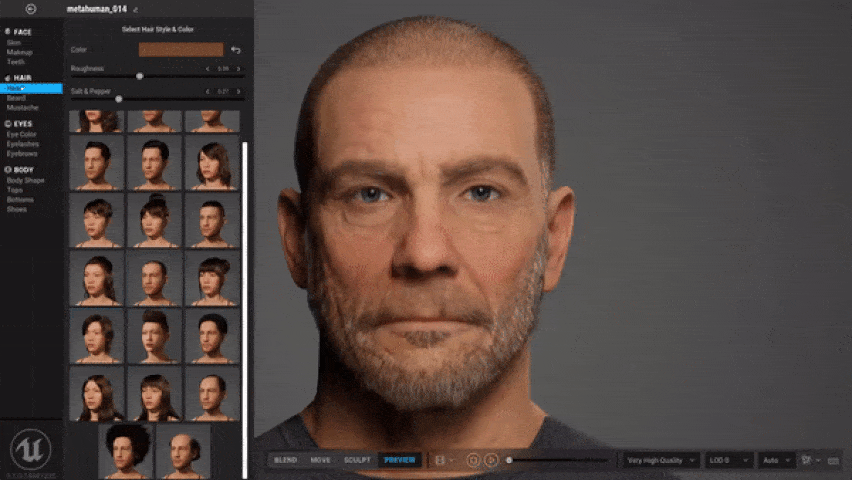 You can use MetaHuman Creator to make a VTuber model that looks exactly like you; MetaHuman Creator is also used to create a photorealistic model that doesn't even exist.
You can also learn to use this tool through the tutorials on youtube.
Once you are done creating a VTuber model through any of the software mentioned above, you will have to import the artwork into the Unreal Engine (A famous 3D engine used to render 3D animation in real-time.)
For these software, I would recommend upgrading from the webcam recording to LeapMotion: Affiliate, for more sophisticated motion capture.
How to Make VTuber model in Blender / Maya
You can create your own VTuber model in Blender or Maya, but I wouldn't recommend that as it would take a lot of time to learn to use Blender / Maya. Why use all that time to learn a software you might never use again just to create a VTuber model when you can be using that time creating content and building an audience as a VTuber?
I recommend hiring a professional and letting them do their job rather than trying to do everything yourself.
If I cannot persuade you to go a different route after saying all that, then the following are the things to consider when making a VTuber model in Blender / Maya.
For live streaming your VTuber model, you would need Unity or Unreal Engine, as any other software can't render your VTuber avatar in real-time.
The facial blendshapes used to create your facial expressions must contain 56 standard blendshapes, as it is a requirement set by Apple's ARKit and all other tracking systems.
Blender / Maya requires Polygon optimization for creating your own VTuber model
Conclusion
Last but not least, you should consider the most critical part of creating a VTuber model, i.e., uniqueness. What sets you apart from a sea of VTubers in the VTubing world? How would you entertain your viewers? 
E.g., Projekt Melody is a VTuber whose personality is that it is an AI program created for scanning and deleting files when it came across an email virus and got infected. And now she is obsessed with lewd things.
My point is that, like her, you need to come up with a personality for your VTuber model too, and that I think is the hardest part of making a VTuber model.
See you in our next guide, where we will discuss the best setup for VTuber. So follow us for more in-depth reviews and guides in the future.