The Best Places To Commission A VTuber Model
The VTubing scene has been popping off lately. With more than 50 new VTubers debuting every month, the niche is becoming more and more competitive by the day. And now you, too, have decided to join the scene.
Here's the thing: you'll need a unique, engaging, and charismatic personality and talent to stand out in such a crowded scene. And don't forget to commission an eye-catching VTuber model.
You see, your VTuber model is what's going to reel in new viewers to your streams. And your talent and personality will keep them hooked and make them your loyal fans who tune in whenever you are live.
I mean, that's what you are after, right? Long-term fans who'll make your dream of making VTubing your career a reality. Even as a hobby, that subscriber count matters! It affirms that you are good at what you love doing.
I digress. So, where would you get that VTuber model commissioned which can catch your potential viewers' attention and entice them into clicking your stream and giving you a shot? That's what this article is about!
We are going to share the best places where you can commission a dank-looking VTuber model. Plus, we'll list down the best artist to commission on each platform. Read on!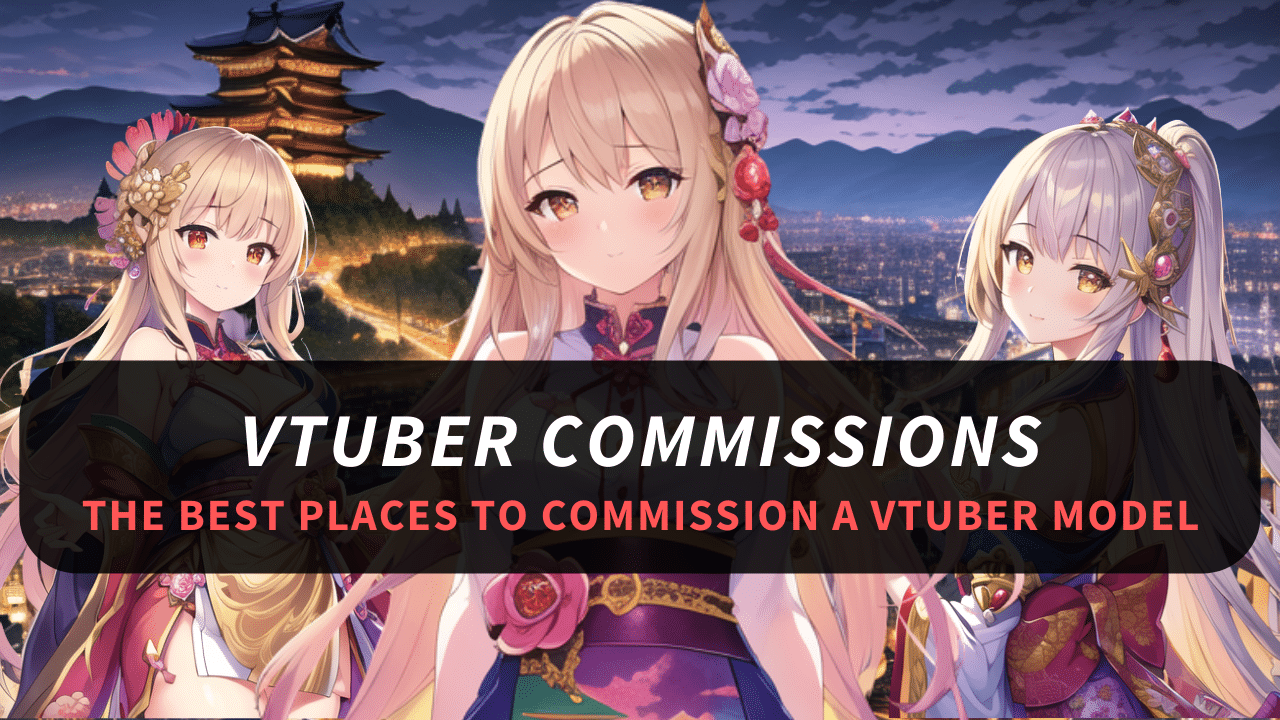 The 3 Best Places To Get Your VTuber Model Commissioned
Alright, I've got insider knowledge on where to snag a stunning VTuber model, and it's none other than Fiverr! It's an awesome site packed with freelancers offering great services starting at just $5.00. And yes, it's legit and super safe to use, so no worries there.
What makes this platform great is that there's no shortage of talented artists there. Also, the popular ones are tried and tested by other clients and have tons of reviews on their gigs, so you've also got that social proof.
Sure, there might be other places out there for VTuber commissions, but Fiverr is dominating the freelancing market right now, and here's why you'll want to choose it to find an artist that'll nail down all the details you want in your VTuber model.
There's tons of variety! They've got creators with great skills, and the options are endless. The whole process is smooth sailing, so there are no headaches dealing with sellers.
But don't worry; we'll also share other options than Fiverr. You'll have all the best places to commission VTuber models, so stick around.
But first things first—you need to decide what type of VTuber model you want to go for. As 50.8% of VTubers use Live2D VTuber models, and 31.3% use 3D Models, we'll only mention these two types of VTuber models.
Even if you are into PNGTubing, you can find great artists on Fiverr for that, too. So be sure to give it a shot!
Also, if you are confused about the things you need for VTuber model commissions and the whole process, do check out our guide, which goes into the nitty gritty of how to commission a VTuber model.
That said, here are our top picks for the best platforms for commissioning a VTuber model:
Fiverr: The Best Place To Commission A VTuber Model
As discussed earlier, Fiverr is the best place to commission a VTuber model. So, you can't go wrong with working with an artist from this marketplace, especially the ones we are going to recommend (later in the article). Do you know why? Because Fiverr has the highest standards for scrutinizing freelancers for any niche.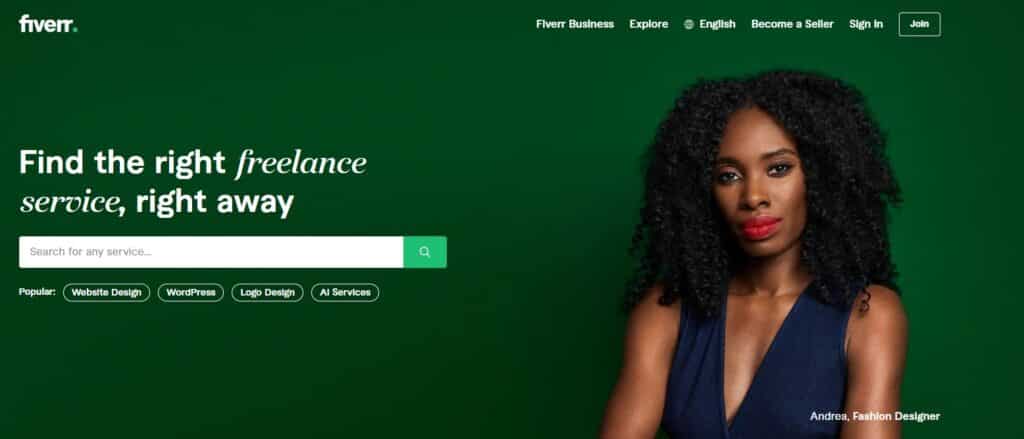 They have a system in place where only the best of the best talent comes on top. So, the freelancer artist can't afford to mess up your VTuber model order, as they'll lose their ranking in the Fiverr search results for their gig. That means that their career is literally on the line, and they have to deliver their best for every order they get (and that includes yours, too).
Fiverr also rewards the artists who are consistently doing well on the platform and delivering high-quality work. We'll list down these top VTuber model artists (crème de la crème) so you can commission them worry-free!
Here are the best artists on Fiverr for each type of VTuber model:
Best Live2D VTuber Model Artists On Fiverr
If you are into anime-style looks for your avatar, the Live2D VTuber model is what you should go after. For that, you'll need to commission an illustration of your avatar or choose an artist who'll draw and rig your VTuber model as a package.
For your convenience, we have picked the best artists available who offer a complete deal that includes illustration and rigging everything from only faces to full bodies and tons of expressions.
Here are the best artists available on the best platform to commission a VTuber model: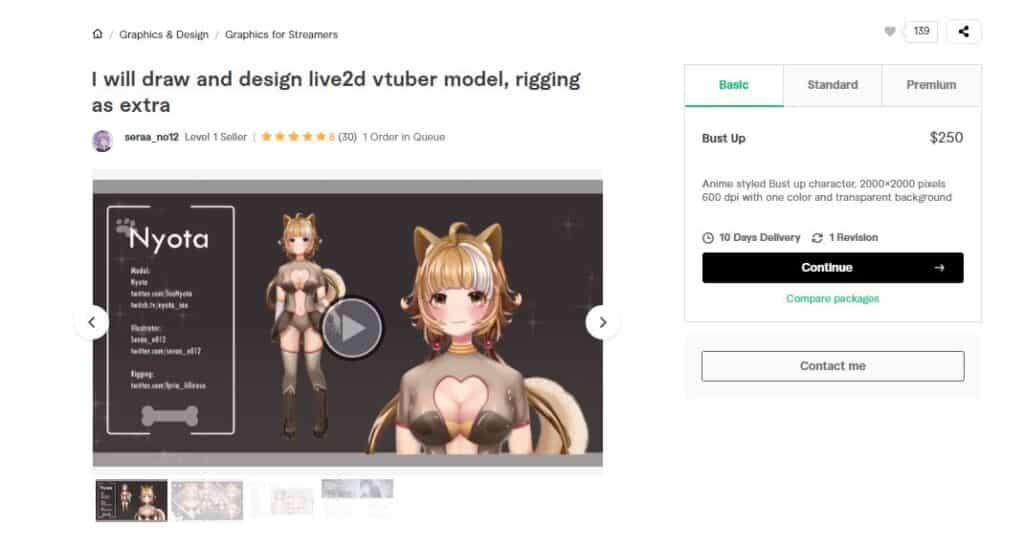 Sera is a college whizkid who owns the art game, offering up some seriously awesome art skills to everyone who's an anime enthusiast.
Sera is armed and ready with the ultimate artistic arsenal, including top-tier skills in Photoshop, Clip Studio Paint, Archicad, Sketchup, Live2D, Lumion renderings, and more. They've got all the tools to whip up a jaw-dropping VTuber model that'll leave you gasping for breath!
They're all about giving it their all, pouring in the hard work and dedication to make your dreams a reality. From epic character designs to mind-blowing backgrounds, Sera's art will have you satisfied and coming back for more future commissions.
Here's what their previous clients have to say about her services:

Packages
Here are the packages they offer:
| | | |
| --- | --- | --- |
| Package | Description | Price |
| Basic Package | Sera will craft an anime-style bust-up VTuber model just for you! It will be a visual treat at 2000×2000 pixels, super sharp at 600 dpi, and with one color and a transparent background. Trust us; this package is an absolute steal! | $250 |
| Standard Package | Sera will whip up an anime-styled thighs-up character that'll make your heart skip a beat. It's going to be larger than life at 4000×4500 pixels, ultra-HD at 600 dpi, and with one color and a transparent background. | $400 |
| Premium Package | Sera will be pulling out all the stops to create an anime-style full-body VTuber model that'll leave you awestruck. The canvas will be massive at 4000×6000 pixels, ultra-crisp at 600 dpi, and have one color and a transparent background. | $600 |
Sera's packages
Note that these prices don't include rigging charges. For that, they'll work with another artist, and you'll have to pay extra. That said, you'll get the whole package that outshines most VTuber models you can get anywhere in the market.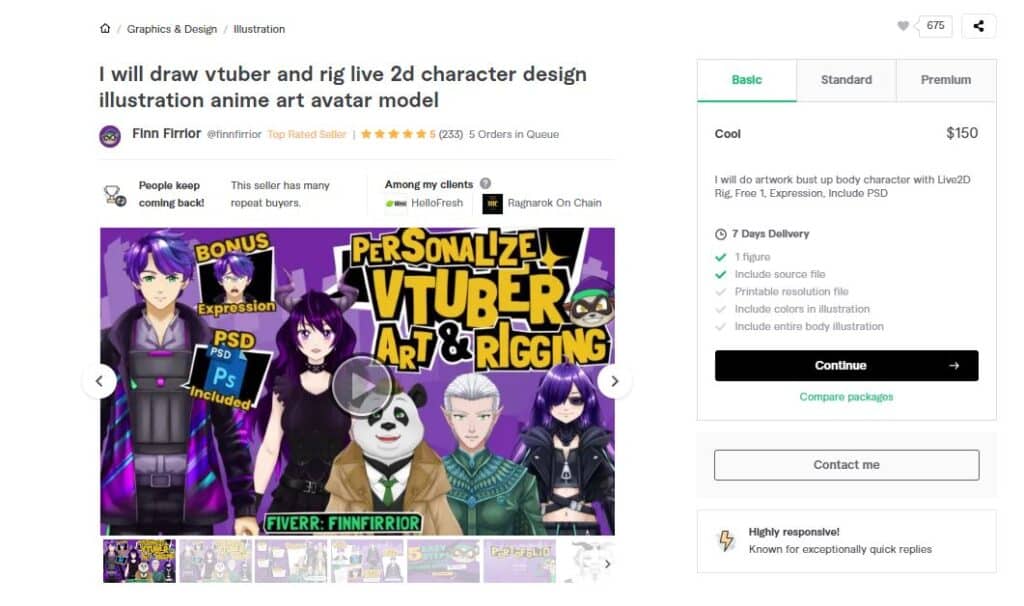 If you haven't got your VTuber design nailed down yet, Finn Firrior has got your back with their epic VTuber model creation services.
Finn Firrior is no noob in creativity, boasting over 12 years of experience in the streaming and content creation universe.
With a jaw-dropping 1500+ successful projects and a huge following of 1000+ loyal clients on Fiverr, they know how to hit the mark and make VTuber dreams a reality.
Wondering why you should team up with Finn Firrior? They've got the expertise, they've got the street cred with a massive community behind them, and you know they're legit with their rock-solid after-sales service.
While the offer doesn't include extra accessories or expressions, Finn Firrior's got you covered with the core VTuber model that'll have your audience shouting "Poggers!" in excitement.
Leave the nitty-gritty details to them while you focus on perfecting your streaming persona and building a loyal fanbase.
Here's what their past client said about them: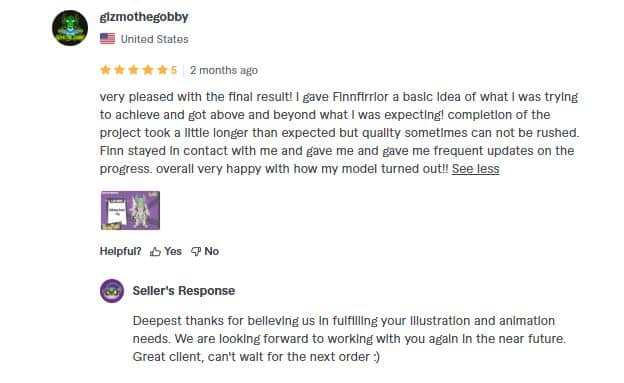 Packages
Here are the packages Finn offers:
| | | |
| --- | --- | --- |
| Package | Description | Price |
| Cool Package  | The Cool Package includes a bust-up body color and RIG Animation, ensuring you're looking sleek and stylish on the virtual stage. But that's not all! Finn Firrior goes all out with mouth tracking, eyes tracking, and head tracking for ultimate expression freedom. And the best part? You get a bonus Facial Expression to spice up your VTuber persona! | $150 |
| Awesome Package | This package includes a half-body color and RIG Animation, giving you more virtual real estate to work with. Finn Firrior hooks you up with mouth tracking, eye tracking, head tracking, and body tracking, so you can move and groove like a pro. And, of course, they're throwing in a bonus Facial Expression to keep your audience on the edge of their seats! | $225 |
| Showtime Package | With full body color and RIG Animation, you'll be fully immersed in your VTuber glory. Finn Firrior takes it to the max with mouth tracking, eye tracking, head tracking, and body tracking for an unparalleled virtual presence. And as expected, you get a bonus Facial Expression to leave your viewers in awe! | $300 |
Finn's packages on Fiverr
The Best Custom 3D VTuber Model Artists On Fiverr
Do you want a realistic VTuber model with a bit more complexity and facial expressions and body movements that can capture your audience's attention? In that case, a 3D VTuber model is the way to go.
To give you a super convenient VTuber model commissioning experience, we've compiled a list of the best 3D VTuber model artists available on Fiverr.
Check out these artists who'll help you make your dream a reality: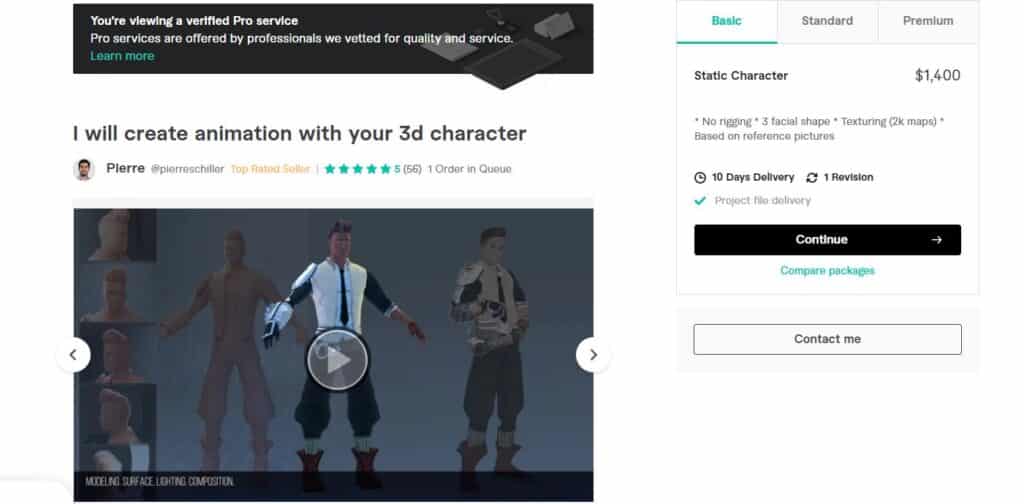 Pierreschiller is straight-up the GOAT in the 3D VTuber modeling niche! This artist's talent is next-level, and his portfolio is the absolute best on Fiverr, showcasing the sickest creations out there.
He's on another level and considered one of the absolute best on the entire platform. And you know it's legit when he's collaborating with big-time companies like DeepMotion!
If you want to flex with a high-tier VTuber model, you've got to hit up Pierreschiller. But fair warning, his skills and reputation come with a premium price tag. His basic package starts at $1400, and for the ultimate flex, you can go for the premium package at $2,800 with a 21-day delivery. But believe me, it's worth it!
With the quality he delivers and a massive list of satisfied clients, his pricing is totally justified. This dude is a certified "Pro Seller" on Fiverr, so you know he's the real deal.
If you're looking for the absolute best 3D VTuber model, you have to go with Pierreschiller. He's the MVP in this game. So don't wait; hit him up and get ready to dominate the streaming universe with style.
Here's what his happy clients had to say about him:

Packages
Here are the packages Pierreschiller offers:
| | | |
| --- | --- | --- |
| Package | Description | Price |
| Basic | With the Basic package, you get a STATIC CHARACTER that's still dripping with awesomeness. No rigging involved, but that doesn't mean it lacks style. You'll rock the streaming world with a custom VTuber model that's totally unique to you! | $1,400 |
| Standard | Step up your VTubing game with the Standard package and get a POSABLE 3D CHARACTER. This means you'll have more control over your virtual persona, and the options are endless. Flex those moves and express yourself like never before! | $2,100 |
| Premium | For those who demand the ultimate streaming power, the Premium package is where it's at! Get yourself a FULL 3D RIGGED CHARACTER that's loaded with features. No holding back here—you'll have advanced rigging for clothes and accessories, a whopping eight facial shapes for epic expressions, and high-quality texturing with 4k+ maps. | $2,800 |
Pierreschiller's
packages on Fiverr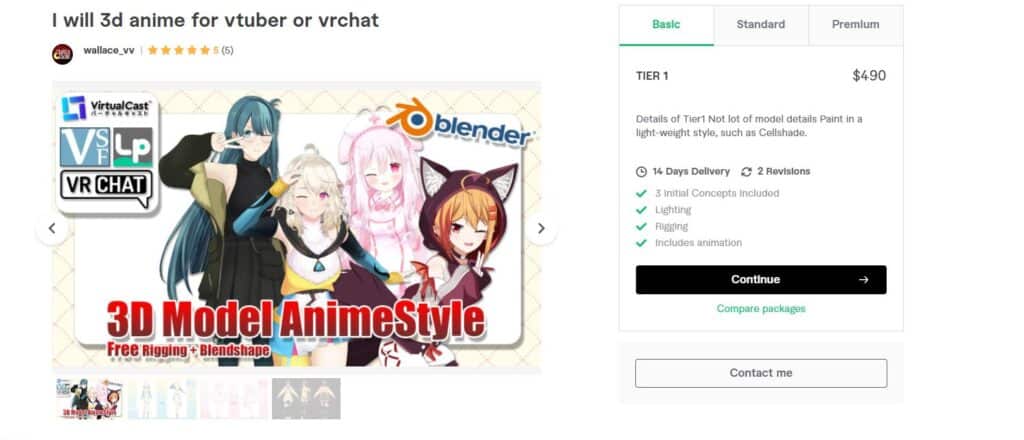 Check out the fresh talent, Wallace_vv, making a splash in the streaming scene! This artist may be new, but they're already crushing it with a solid 5-star rating from their past clients.
Rigging and blendshapes are their jam, and they're all about crafting those top-tier 3D VTuber models.
Straight out of Thailand, Wallace_vv brings their own unique flavor to the game. Prices start at a cool $490, and for the ultimate flex, you can go all-in with the tier 3 package at $790.
Before you hit that order button, slide into their DMs on Fiverr. Wallace_vv loves to chat it up, hash out the details, and make sure everything's looking good, just like they mentioned in their gig description.
Here's one of their reviews on Fiver:

Packages
Here are the packages Wallace offers:
| | | |
| --- | --- | --- |
| Package | Description | Price |
| Basic – TIER 1 | You're getting a solid start with some cool features in the Basic tier. Expect a lightweight style like Cellshade for a clean look. Lighting, rigging, and even animation are all included! Plus, you get three initial concepts to choose from and two revisions to make sure it's on point. | $490 |
| Standard – TIER 2 | Stepping it up with the Standard package means more details for your model. Things are getting real now! You'll still enjoy all the perks of lighting, rigging, and animation. And just like before, three initial concepts and two revisions are all part of the deal! | $590 |
| Premium – TIER 3 | When you go all-in with the Premium tier, it's game on! Loads of model details and a pattern that's out of this world! You're getting the full package here. Lighting, rigging, animation—it's all included, and then some! Just like before, you get three initial concepts and two revisions to make it shine! | $790 |
Wallace_vv's
packages on Fiverr
Twitter
Twitter is another one of the best places to commission a VTuber model. But there's a reason it's in the second spot on this list. That's because you can't really verify their portfolio like you can on Fiverr—anyone could just straight-up lie about it (especially the newbie artists).
Experienced and popular artists on Twitter charge way too much as they have a decent following, and the pricing includes a premium for that.
Other than that, you can find some of the sickest artists out there, and here's why:
Twitter is the place to be for all the VTuber model creators and design wizards.
With its hashtag game strong, you can easily find exactly what you're looking for.
Just hit up #VTuberModel, #VTuberCommission, or #VTuberArt, and voilà! The artists offering VTuber modeling services pop up like magic. You get to slide into their DMs or shoot them a tweet, making it super chill to talk commissions, pricing, deadlines, and all your special requests. 
Here are some of the best artists you can find on Twitter:
Live2D VTuber Model Artists On Twitter
For Live2D, Twitter is lit with tons of VTuber artists who are VTubers themselves. They get you, and they feel you because they know what it takes to make a VTuber model pop and slay! You'll vibe with them like no other, and together, you'll create the most epic VTuber model ever.
The following is the best of the best on Twitter: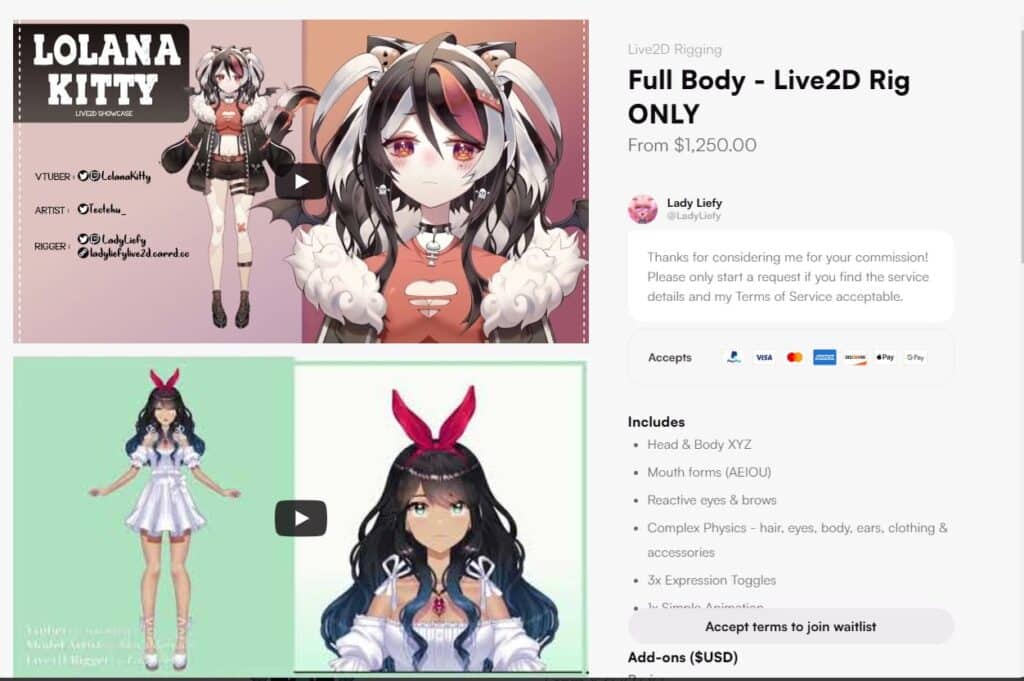 This VTuber/Artist is totally down for flexing their creative muscles, but they aren't afraid to throw out a "nope" to any commission that doesn't vibe with them. They own their art and keep the original copyright and ownership.
And get this, they don't play by the "first come first serve" rule. Nah, they carefully check out all the potential clients' profiles before saying, "Yeah, let's collab!"
If they feel they can do justice to a character, they'll slide into the client's DMs ASAP. But one thing's for sure; they expect some credit. It's all about respect, so put their name on blast in your Twitter bio, Twitch about section, TikTok bio, and everywhere else!
If you're curious to see the magic happen, they live stream their art on Twitch, and you can peep the recorded VoDs on YouTube too. But, hey, they get it—sometimes you need privacy or an NDA before making a grand debut, and if that's the case, a 15% NDA fee will hit you up.
If a company or talent agency wants to get their art, the price will be pumped up to match the flow. But if you're just an individual doing your own thing, no worries, the regular price is all you need, which will be at least $1,250 for full-body rigging.
3D VTuber Model Artist On Twitter
Here's the best 3D VTuber modeling artist on Twitter:
Shinigami/Shin is all about dropping some serious virtual magic! Here's the deal—Shinigami/Shin's got this slick workflow going on. They're laser-focused, so they take it one model at a time.
As they're getting close to finishing up one mind-blowing creation, they're already sliding into the DMs of the next person on their waiting list, like, in 30-40 days. Told you Twitter artists are busy peeps, didn't I?
Check out all the juicy deets in the Commission info or Form. For now, they have stopped taking new orders but keep an eye out if you can wait a bit.
Now, when it comes to Shinigami/Shin's vibe, they introduce themselves as the 3D modeling guru, making some serious moves with VRoid Studio as their base and showing off their wicked Blender skills for all the extra awesomeness.
Etsy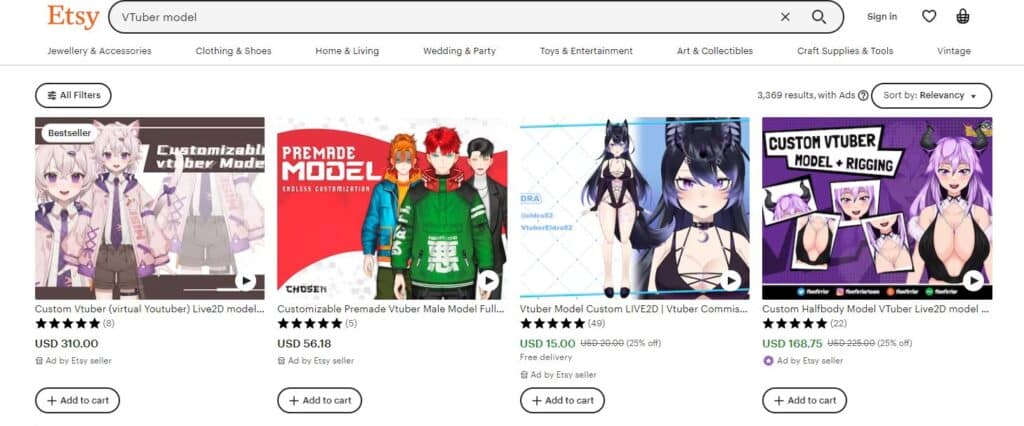 If you're looking to get that killer VTuber model that's going to make you stand out, then Etsy is the place to be. Here's what makes it one of the best places to commission a VTuber model:
Etsy is packed with some seriously talented artists who know their stuff in crafting those mind-blowing VTuber models. These creators live and breathe creativity, and they'll bring your dream avatar to life like it's nobody's business!
We get it; being a streamer, you aren't always rolling in dough. That's why Etsy is a total win! You'll find models at various price points, so whether you're just starting out or a seasoned streamer, there's something for everyone.
On Etsy, you can see what others have to say about a creator's work. So you can rest assured that you're working with a legit artist who's got a track record of delivering top-notch VTuber models.
Here's some of the best talent you can find on Etsy: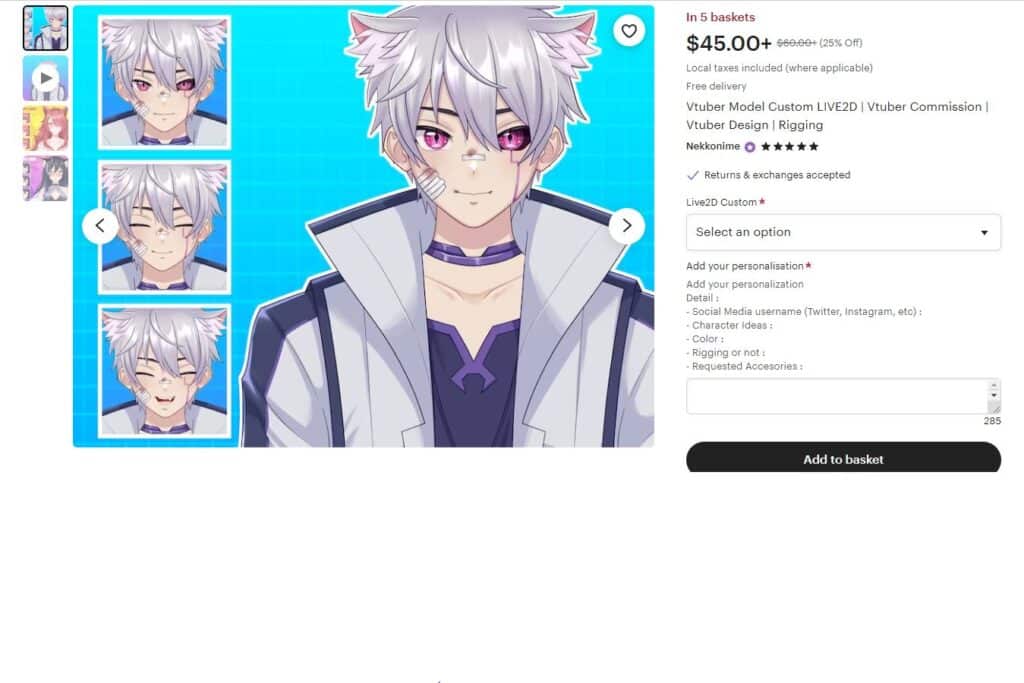 Yuuika is here to make your virtual dreams a reality with their mind-blowing full-body VTuber Model. And let me tell you; this isn't your average model—it's custom-made and LIVE2D, ready to bring that magic to your stream for just $180!
If you wanna take it up a notch and add that extra sparkle, Yuuika's got your back with their epic rigging skills. With the full package at just $360, get ready to see your virtual persona come alive like never before!
Yuuika's got the creativity, the skills, and that special something to put you in the spotlight you deserve.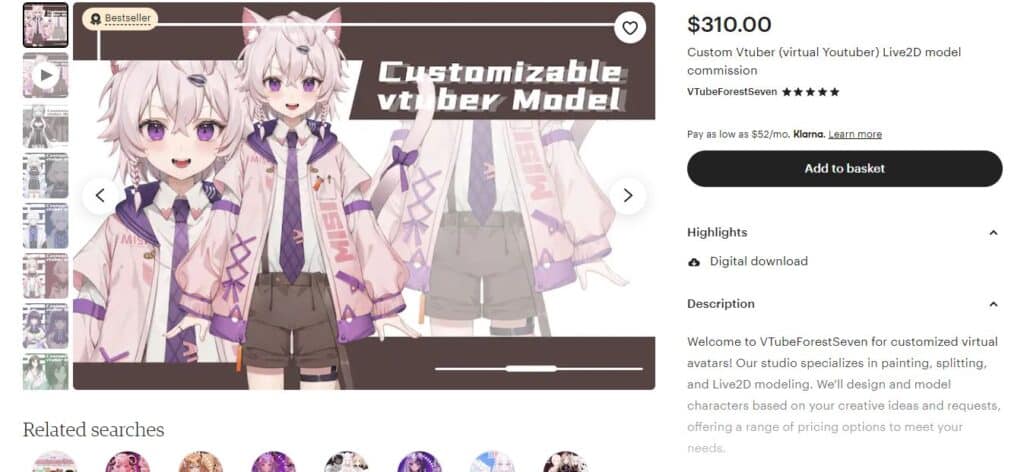 Forest Seven's studio is where the magic happens, and they're bringing that next-level game to the table.
These artists are masters of their craft, specializing in painting, splitting, and Live2D modeling. They take your creative ideas and requests and bring them to life in the most epic way possible!
And guess what? They got a range of pricing options that'll suit your needs like a glove. Starting with their basic package, you get a Standard Full-body illustration PLUS Standard Full-body Rigging, all for just $185! That's a steal!
Others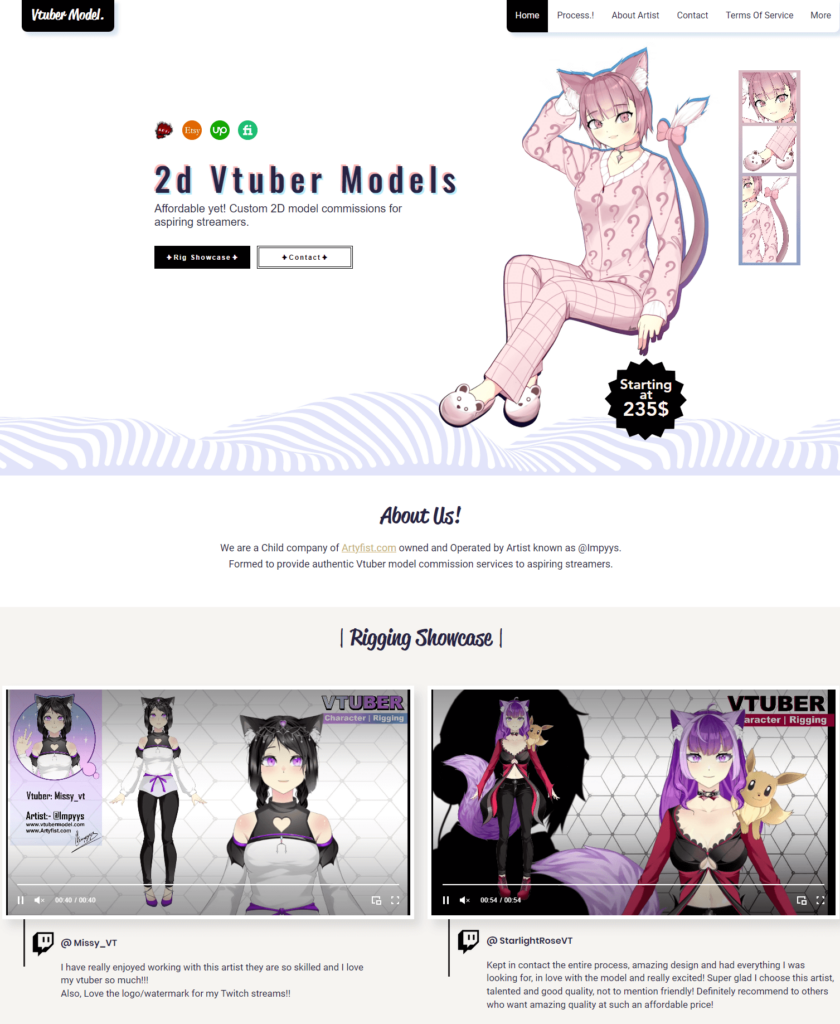 You can also find commission services from a simple google search. One such example is Impyys with their surprisingly affordable and straightforward process. Go check them out at vtubermodel.com!
Impyys is a professional artist who specializes in creating high-quality 2D VTuber models. Their streamlined ordering process makes it easy to get your custom model commissioned, and they work closely with clients to bring their vision to life.
They offer flexible pricing tiers to fit different budgets, along with friendly customer service to guide you through the process from start to finish!
Wrapping Up: The Best Places To Commission A VTuber Model
There you have it! All three best places to commission a VTuber model. While all the options mentioned in the article (when you do your due research) would deliver you a VTuber model that'll stop your audience from scrolling down and entice them into giving you a chance, Fiverr comes on top.
And we are willing to back it up wholeheartedly as Fiverr puts a lot of effort into ensuring the clients get the best experience.
That's all, folks! Good luck with your VTubing career!