The Complete Guide To VTuber Model Commissions
So you've decided to choose VTubing as your career and want your first VTuber model. Or maybe you are already a VTuber and wish to upgrade your VTuber model to be a bit more sophisticated with more expressions and a better illustration.
Either way, you'll need to commission a professional artist to make you a top-notch VTuber model.
But with so many options out there claiming to be "Expert" artists, which one should you choose? That's what we'll help you with.
In this article, you'll learn how to get a VTuber model made. Plus, we'll share some of the best artists and places where you can get the best VTuber models. So read on!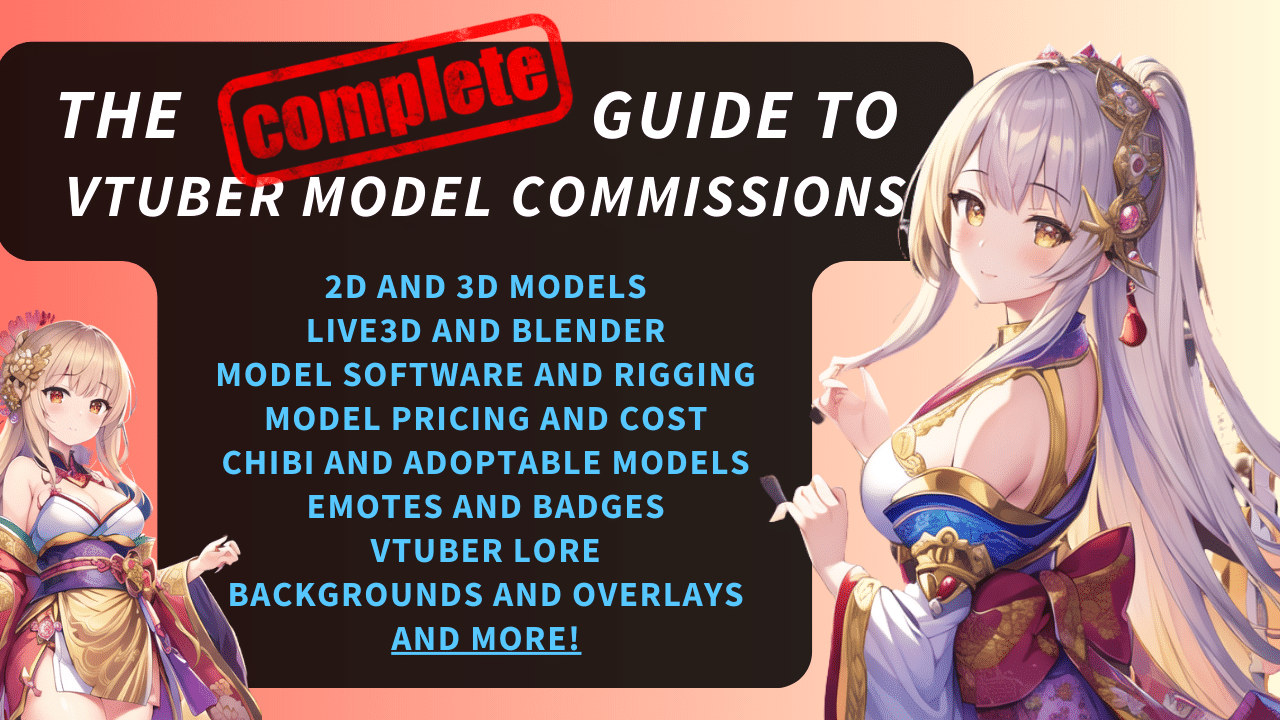 What Is A VTuber Model & The Process Of Making Them
A VTuber model is s digital avatar or character that you use when you're creating virtual content. It's all animated and represents the real you, controlling the action.
These are designed as 2D or 3D characters that show off your vibe during live streams, videos, and all kinds of media. Creating a VTuber model is all about crafting a unique character design, getting it rigged for movement, and animating it to bring it to life.
If you're all about body positivity, valuing your privacy, or getting those anxious vibes about showing your real face while streaming, then the VTuber model is the way to go. You can express yourself big time through the expressions of your VTuber model.
Once you've mastered the art of VTubing and it's totally your thing, you can go all out and even create multiple channels with different identities. You can even use a voice changer to mix things up instead of your real voice so you won't get identified. You can even build a whole crew of characters. With VTubing, the possibilities are virtually limitless!
Choosing Between A 2D & A 3D VTuber Model
You've got two options here: 2D and 3D VTuber models, each with its own set of tools and software. So, 2D models are made using programs like Photoshop or other art software combined with live2D for rigging and animation, and it's free. The software for going live includes VUP and VTube Studio.
Now, 3D VTuber models, they're on a whole new level of complexity. We're talking software like VUP, Daz3D, Blender, and Vroid Studio to create these VTuber models. They can then be brought to life in real-time using Unreal Engine, the 3D gaming software.
When we talk about anime VTubers, like the famous Kizuna Ai, they may look 2D, but they're actually 3D models with some epic 2D shaders applied. That's how they move like they're right out of an anime.
The 2D model is the easier one to get the hang of. These models don't actually exist in the 3D space. That's why their range of motion is a bit limited.
And the best part? They're not as complicated to create as their 3D counterparts, so these are cheaper. That's why newbie VTubers often go for this style, keeping it budget-friendly.
3D models are much more expressive and realistic looking. You can control them with gestures and facial expressions, just like the 2D models.
You can even control these 3D models with full-body tracking suits so they mimic your real-time body movements. How sick is that? 3D models require some serious complex work to create. That means they come with a higher price tag.
We recommend choosing an artist from this article and letting them do what they are best at, and you spend your precious time doing what's your passion: VTubing.
Model Size Difference
VTuber models come in various sizes: above the chest, above the waist, and full body. The size you choose determines the level of detail and work required by the artist, as well as the corresponding cost.
The above-the-chest size focuses on the upper body, while the above-the-waist size includes more of your body for added expression. The full-body size encompasses your entire form, providing your viewers with the most immersive experience.
The Best Places To Commission A VTuber Model
If you're looking to snag a sick VTuber model, there are tons of spots online where you can find them. But the ultimate spot we'd recommend is none other than Fiverr!
Fiverr is the best site packed with freelancers who offer services starting at just $5.00. And guess what? It's totally legit and safe to use, so you won't have any hassle dealing with the sellers there.
Sure, there are other places out there where you can commission a VTuber, but let me spill the tea in the next section. Fiverr has so many advantages that you won't even bother checking out those other sites.
They're the top dog in the market, hands down. But for the sake of just comparison, we'll also dive into other platforms where you can commission a VTuber model.
Fiverr
Fiverr is the ultimate spot to hit up if you're in the market for a sick VTuber commission. Let me break it down for you:
Fiverr is swarming with talented artists. Seriously, you'll find hundreds of gigs solely dedicated to crafting VTuber models. So, finding an artist who matches your vibes won't be a struggle. They showcase their work samples and reviews, giving you the lowdown on their skills and style.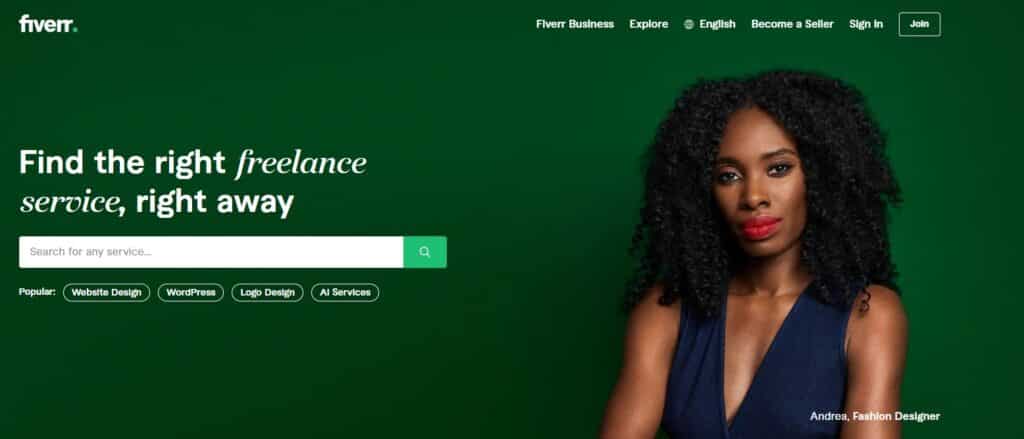 And guess what? Most services start at just $5.00! Yup, you heard that right. You won't be shelling out big bucks like on other freelance platforms, where you'd be looking at upwards of $1000.
It's a win-win situation—affordable VTuber models and artists building their side hustle or portfolio.
But wait, there's more! Many Fiverr peeps have revision policies in place. That means if the first version of your VTuber model doesn't hit the spot, you can request tweaks and changes. You're practically guaranteed to get exactly what you're after as long as you choose the right sellers!
And if that wasn't enough, Fiverr's got your back with decent customer support. If any issues pop up with a seller, their support team will swoop in to save the day.
Trust me, once you experience the breezy process of snagging a VTuber model from Fiverr, you'll be hooked. With thousands of sellers, you'll always find someone who offers services that match your style and at an affordable price too!
Best Live2D VTuber Model Artists On Fiverr
Here are the best Live2D artists to commission for your VTuber models on Fiverr:
When it comes to Fiverr, Xiaojing1 is the name that dominates the VTuber art scene. With a whopping 1000+ reviews, 6+ years of experience, and a jaw-dropping portfolio, Xiaojing1 is the ultimate artist for your live 2D VTuber model.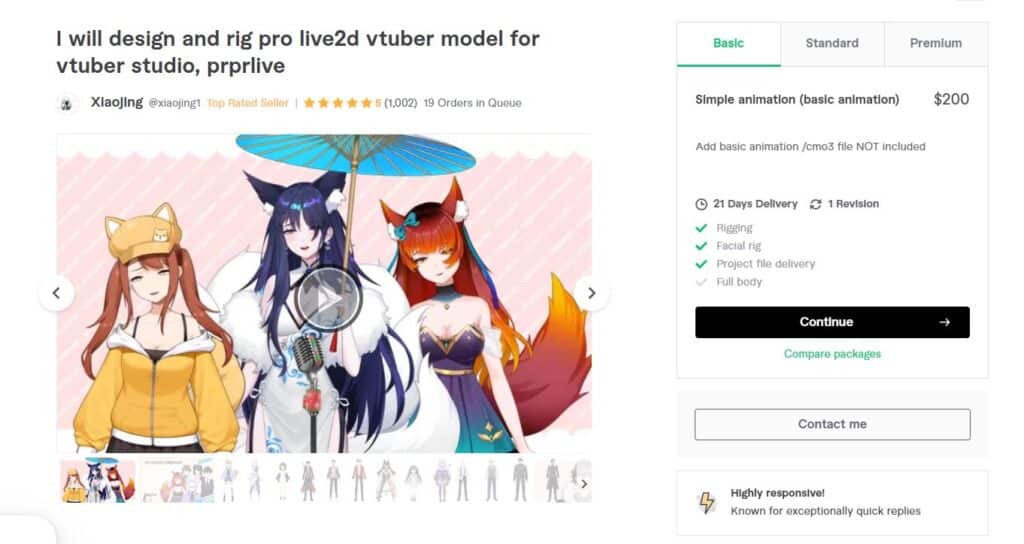 Hailing from China, Xiaojing1 holds the crown as the most sought-after artist on Fiverr for VTuber models. The price range for her services starts from $200 and goes up to $750, which, considering her extensive expertise, is pretty reasonable.
Xiaojing1's popularity comes at a cost: a longer waiting period. With over 19 orders already in her queue, it's no surprise, considering she holds the prestigious Top-Rated status on Fiverr.
But fear not because the quality and artistry Xiaojing1 brings to the table are worth the wait. So, if you're willing to exercise some patience and snag a spot in her queue, you'll be rewarded with a stunning VTuber model crafted by one of Fiverr's finest.
Here's what one of her clients has to say about working with her:

Risovaka, an amazing artist from the USA, brings some sweet advantages to the table. Being a native English speaker, you can expect smooth communication without those pesky language barriers. Plus, with 550+ glowing reviews, her talent and the quality of her VTuber models are unquestionable.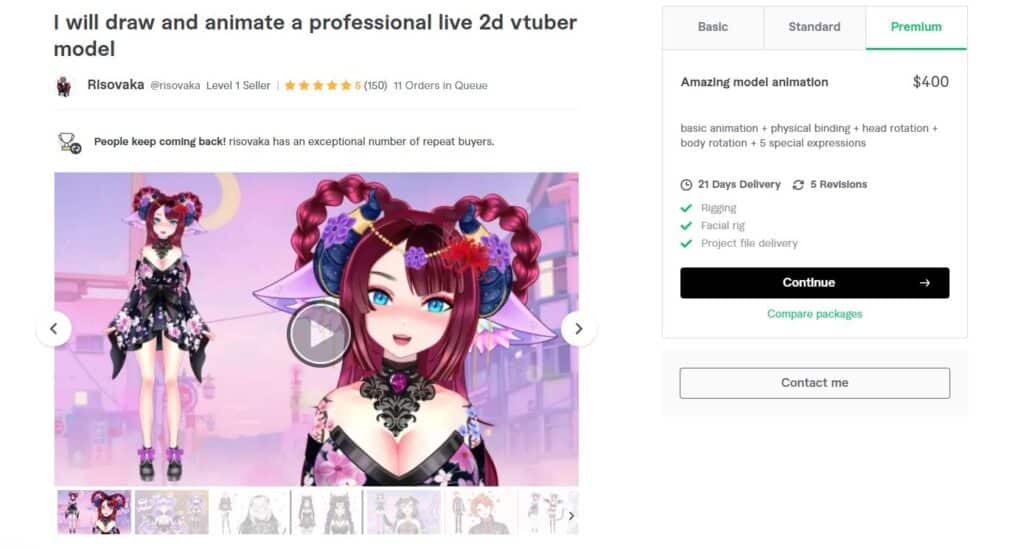 Risovaka offers a budget-friendly option compared to other artists. Starting from $130 and going up to $400, her rates are reasonable. But her pricing doesn't include the drawing of your VTuber model's full body. For that, you'll need to shell out an additional $110.
With Risovaka's skill, affordability, and solid reputation, you can rest assured that your VTuber model will be in good hands. So, if you're looking for a talented artist who understands your needs and won't break the bank, Risovaka is the one to go for.
Her reviews on Fiverr:

The Best Custom 3D VTuber Model Artists On Fiverr
Here are the best 3D VTuber model artists on Fiverr:
When it comes to top-tier talent on Fiverr, Pierreschiller reigns supreme, especially in the realm of custom 3D VTuber models. This artist is considered one of the absolute best available on the platform, and his impressive portfolio speaks for itself. Notably, Pierreschiller's credibility is further supported by his collaborations with renowned companies like DeepMotion.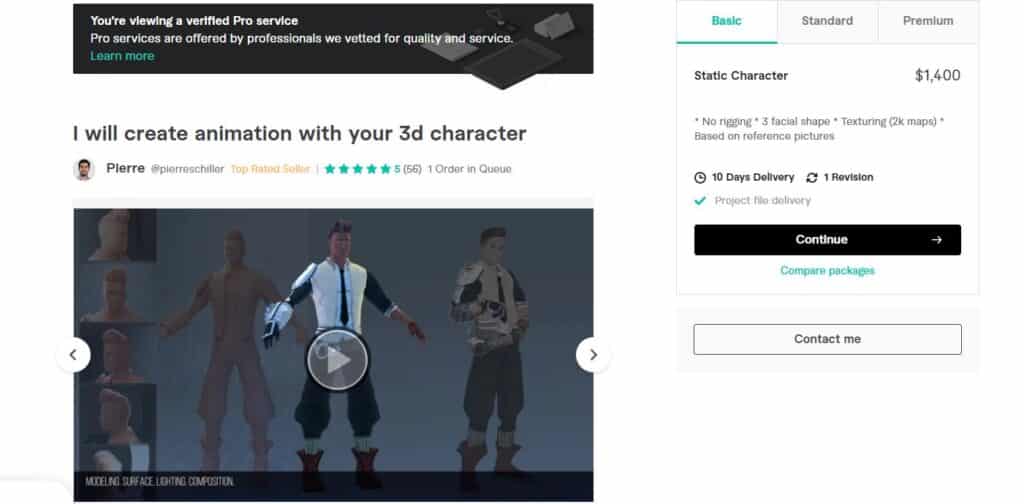 If you're seeking the crème de la crème of 3D VTuber models, commissioning Pierreschiller is the way to go. However, his exceptional skill and reputation do come at a premium price. His basic package starts at $1400, while the premium package, offering a 21-day delivery, goes up to $2,800.
Considering the outstanding quality of his work and the numerous satisfied clients he has served, Pierreschiller's pricing remains reasonable. As a "Pro Seller" recognized by Fiverr, his artistry comes with the added endorsement of the platform itself. So, if you're seeking nothing short of the best 3D VTuber model, entrusting Pierreschiller is a choice that ensures unparalleled quality.
Wallace_vv is a fresh face on the scene but already making waves. With just 5 reviews but all rocking 5 stars, this artist is building a solid rep. Their expertise lies in rigging and blendshapes, perfect for crafting top-notch 3D VTuber models.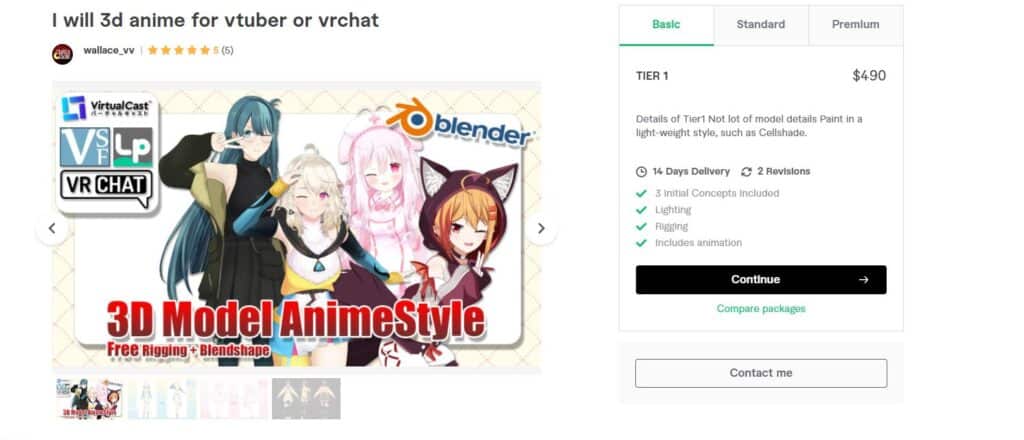 Hailing from Thailand, Wallace_vv brings their unique flavor to the table. Prices start at $490 and climb up to $790 for the tier 3 package.
But hold up! Before you hit that order button, make sure to shoot them a message on Fiverr. Wallace_vv wants to chat it out, discuss the deets, and make sure everything's on point, just like they mentioned in their gig description.
Here are their reviews:

This platform offers epic model customization options, from waist-up to full-body designs. They'll be in constant communication, guiding you through each sketch stage. It's the go-to buying hotspot for top-notch Vtuber models!
vtuber.gg, the hottest new platform in town, is the place to be for all your assets and commissions needs! The VTuber community is flocking to this epic marketplace operated by Iron Vertex. These legends were behind the most trusted Discord-based marketplace for VTuber assets to date. But compared to Fiverr, it's way too risky to commission a VTuber model on this platform, as it's a community website with few regulations.
Things You Need Before Commissioning A VTuber Model
If you're looking to commission a lit VTuber model, jot down the before going to an artist! The key to success is a dope VTuber character reference sheet. The better the deets, the better your VTuber model is going to be.
Dump all those ideas and details on that sheet. It's going to save you so much time and avoid miscommunication with the artist. You want that pro to know exactly what's popping in your mind!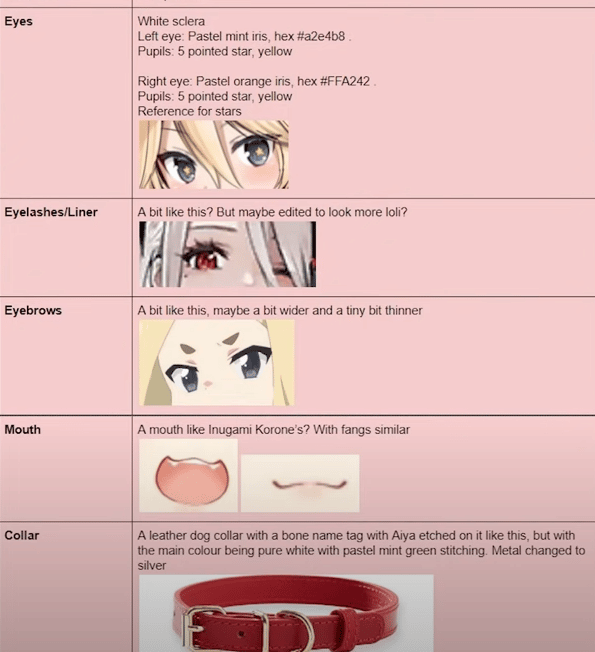 Check out our VTuber character reference sheet sample to see how it's done. And if you need some extra guidance, we've got an article that dives deep into making a character reference sheet for your VTuber avatar.
Now, here's the deal: not all the artists on the list above will draw your VTuber character or might charge extra for it. So before you hit them up, make sure you already got a drawing of your VTuber character.
How To Commission A Great VTuber Model: Get It Right The First Time
When it comes to getting your dream VTuber model, you have a few options. You can hit up popular marketplaces like Fiverr or scout for talented solo artists on search engines and social media.
The price range for 2D models varies depending on the artist's skill and the artwork included. You're looking at anywhere between $50 to $1,000, depending on the level of detail. Remember, the more skilled the artist and the more detailed the artwork, the higher the price tag.
But wait, we're not done yet. 3D models bring a whole new level of complexity and customization. The price range for these types of VTuber models can go from $1,000 all the way up to a mind-blowing $15,000, depending on how crazy you want to get. Simple 3D models will set you back around $1,000 to $2,000.
When figuring out how to commission a VTuber model, you have to ask yourself and potential artists some key questions. Here's what's up:
Do You Want A 2D Or A 3D VTuber Model?
Now about the 2D vs. 3D debate for your VTuber character. It all boils down to how you want your character to look and what you're aiming for.
If you're all about that 2D vibe and want an anime look, then it's a no-brainer. You can rock that classic anime style and express yourself as a 2D VTuber. It's a simple choice that captures that traditional anime aesthetic.
Now, if you're thinking about going 3D, here's what you need to consider:
Ask yourself if you want a character that stands out from the typical anime style. Maybe you're looking for something more unique and distinctive. If that's the case, 3D can offer you more flexibility in terms of character design.
With 3D, your character can have a full range of movement. They can turn their head, bust some moves, and bring your virtual persona to life. It adds that extra level of immersion and realism to your streams.
But if you're serious about 3D and want something dope, you have to be ready to invest at least $100 or more to get the results you're after.
What Software Do You Want To Stream On?
You can take the first approach and search for an artist first and then roll with the VTuber software they work with. It's all about finding a skilled artist whose style aligns with your vision, regardless of the software their artwork is built for.
On the other hand, if you have specific software in mind that you want your VTuber model to be built in, you can search for artists who specialize in that software. This way, your model will be created for the exact software you want to use for streaming.
Do You Want Props For Your VTuber Model?
In 2D, VTuber props are not much of a hassle. They can be easily added without too much extra work. Now, when it comes to 3D, things get a bit more complex. Props need some special treatment. Your artist will have to custom-build those props using tools like Blender. It takes time and effort to rig and model them, but it's worth it for that extra level of awesomeness.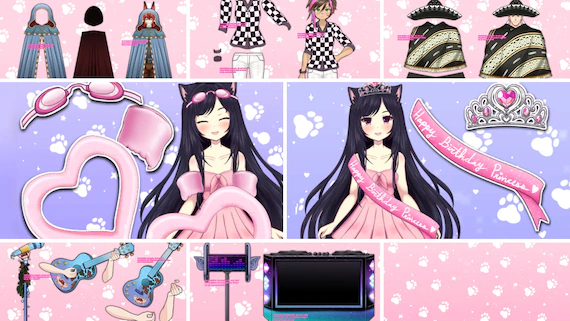 But here's the catch. These props can come at an additional cost. Because of the extra work involved, they may increase the overall price of your VTuber model. So, keep that in mind when budgeting for your epic VTuber commission.
What VTuber Expressions Do You Want?
In simple 2D VTuber models, you'll get the basics covered. You can rock eye movement, mouth movement, eyebrow action, and even tilt your head for that extra flair. But here's the deal:
If you want to pull off those epic anime VTuber facial expressions like Shoto or Ironmouse, have, they need to be drawn and coded into your model. It takes some extra work to make your character express emotions in that iconic anime style.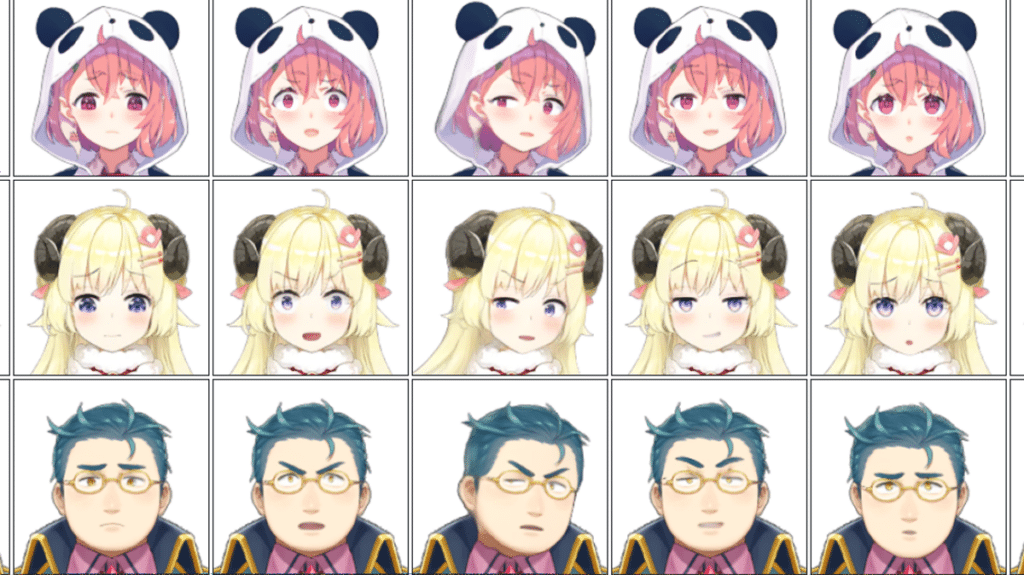 But 3D characters rely on blendshapes to bring their facial movements to life. For accurate motion capture, you'll need a whopping 52 blendshapes!
These blendshapes are essential if you're using a facial motion capture app with an iPhone X or higher. In the 3D realm, blendshapes are a crucial part of the rigging process.
What Type Of Rig Will Your Character Have?
Rigging is the backbone of a solid VTuber model. Without it, your character stays frozen like a statue.
A 'rig' is like the skeleton of your model. It's what makes your character move and groove. The bones in the rig are linked together, allowing your model to come alive based on the motion capture data you input. It's the secret sauce behind the magic!
Now, in the 2D realm, most illustration artists don't offer rigging as part of their package. You'll need to find someone else skilled in rigging to bring your character to life.
When it comes to 3D, though, things are different. Most 3D artists will include some form of rigging in their offerings. They'll make sure your character can groove and bust those moves. Some artists even go the extra mile and offer complex rigging, like spring bones, for realistic hair animations.
Rigging can be a bit tricky, especially in 3D. If you don't have the skills and experience in 3D, it's wise to leave it to the experts. They know their stuff and can ensure your character moves like you want it to. But if you want to learn the skill yourself, here's a great guide where we share how to rig a VTuber model in simple steps.
How Much Of Your VTuber Model's Body Should Be Built?
If your VTuber model you plan to commission won't get up from that virtual chair, there is no need to fuss over the bottom half of the torso or full-body artwork. Keep it simple and focus on what matters!
Even if you're chillin' in that chair, get those arms and hands modeled. They're essential for creating shortcut animations, no matter if you're using motion tracking or not. So, don't skimp on handy animations (pun intended), as these are totally worth it.
How Much Does A VTuber Model Cost?
Well, the cost of a VTuber model depends on its type, complexity, and how in demand the artist you commissioned is. Check out this article, where we go into more in detail about how much each type of VTuber model will cost you. Here's a general idea of what you can get for different price points:
High-Priced VTuber Models
First up, we have the high-priced 3D VTuber models. These are full-fledged models with body tracking, a high number of VTuber expressions, and whatnot. And these can cost you a pretty penny—over $8,000. Why is it so expensive? Well, 3D models require skills, time, and effort to design and create, so the price reflects that level of quality and craftsmanship.
Mid-Ranged VTuber Models
These are more budget-friendly, ranging from around $500 to $5,000. They still pack a punch and meet the needs of most VTubers, especially if you're a streamer with fewer than 100,000 followers. You can find some solid models in this price range, no doubt.
Low-Priced VTuber Models
These are a bit harder to come by, especially in the case of a custom 3D VTuber model. The reason for the high price is that the production costs are high, and artists have to invest a lot of time in them. But, if you're up for the hunt, you can find some gems in the range of $50 to $200. Check out different communities and collaborate with artists to snag a sweet deal.
Cheap Alternatives To Commissioning VTuber Models
If you don't have enough dough in your pocket for a VTuber commission but are passionate about becoming a VTuber, don't worry. There are some ways you can pursue your passion without breaking the bank. Here are a few cheap alternatives to the VTuber model commission:
Adoptable VTuber Models
We all know VTuber models can be pricey, especially if you're going for those famous artist commissions. But here's a savvy option for all you bargain shoppers out there: VTuber adoptable models!
Sometimes, a VTuber decides to sell their VTuber model. It's like a secondhand car deal. You don't get to choose the color or add-on features, but you're getting a pre-owned gem. And you pay way less than what it would cost to buy a new one.
The same is true with a VTuber model. The previous owner might be retiring from the VTubing game or upgrading to a newer and better model. Whatever the reason, they're willing to let it go for a lower price than what it initially cost them. But you don't get a say in the design, facial expressions, rigging, etc. You just have to buy a pre-made one.
That said, you might get a great deal on these used VTuber models if you keep your eyes peeled and search for them on community platforms.
If you're interested in such a deal, check out this post, where we discuss the platforms where you can find adoptable VTuber models.
Make A VTuber Model For Yourself
If you have enough free time on your hands, are willing to learn new skills, and have a hidden artist in yourself, you can always save money and make a VTuber model yourself.
In case you are interested in learning this skill, check out this complete guide, where we go through how to make a VTuber model.
But we wouldn't recommend going through all this, as you'd have to put in a lot of time and effort developing and fine-tuning your artistic skills. Instead, we recommend buying a VTuber model and putting all that time you'll save into your VTubing career.
Think about it: It would take you at least 2-3 months (if you are a fast learner) to be a decent artist. But if you put that period into your VTubing career, you'd build a decent following by that time.
What Other Types Of VTuber Commissions Are There
As a VTuber, investing in custom commissions is a fantastic way to stand out and create a unique identity for your virtual persona. Whether you're looking for animated models, captivating artwork, engaging graphics, immersive backgrounds, or engaging storytelling, there's a commission type that suits your needs. VTuber commissions can vary depending on your needs and preferences. Here are some common types of VTuber commissions:
Live2D Model Commissions
Through a Live2D Model Commission, your 2D illustrations can come to life with rigging and animation.
Teaming up with talented artists, you'll create custom avatars with expressions, movements, and effects to enthrall your audience. It's a collaborative process where your vision takes center stage, allowing you to engage viewers with dynamic interactions.
3D Model Commissions
For VTubers looking for a more immersive experience, 3D models are the way to go. Hire 3D artists from this article to have custom-made 3D models of your avatar that are rigged and animated to perfection. That'll ensure that the model you get has dynamic movements.
Avatar Design Commissions
Your avatar's design is crucial to defining its personality and visual appeal. With an avatar design commission, you can work closely with talented artists to create concept art and designs that capture your vision.
Together, you'll develop the appearance, personality, and style of your avatar, providing a reference for future modeling or illustration commissions.
Artwork & Illustration Commissions
Eye-catching artwork and illustrations are essential to promote your streams, videos, and social media presence. Commissioning artists to create custom artwork featuring your VTuber avatar can help you establish a strong identity. Whether it's channel banners, thumbnails, or promotional materials, these visuals will captivate your audience and reflect your desired mood and theme.
Emote & Badge Commissions
Engaging with your audience is key, and custom VTuber emotes and badges can do just that. Commission artists to design emotes and badges with unique graphics representing your expressions, catchphrases, and inside jokes.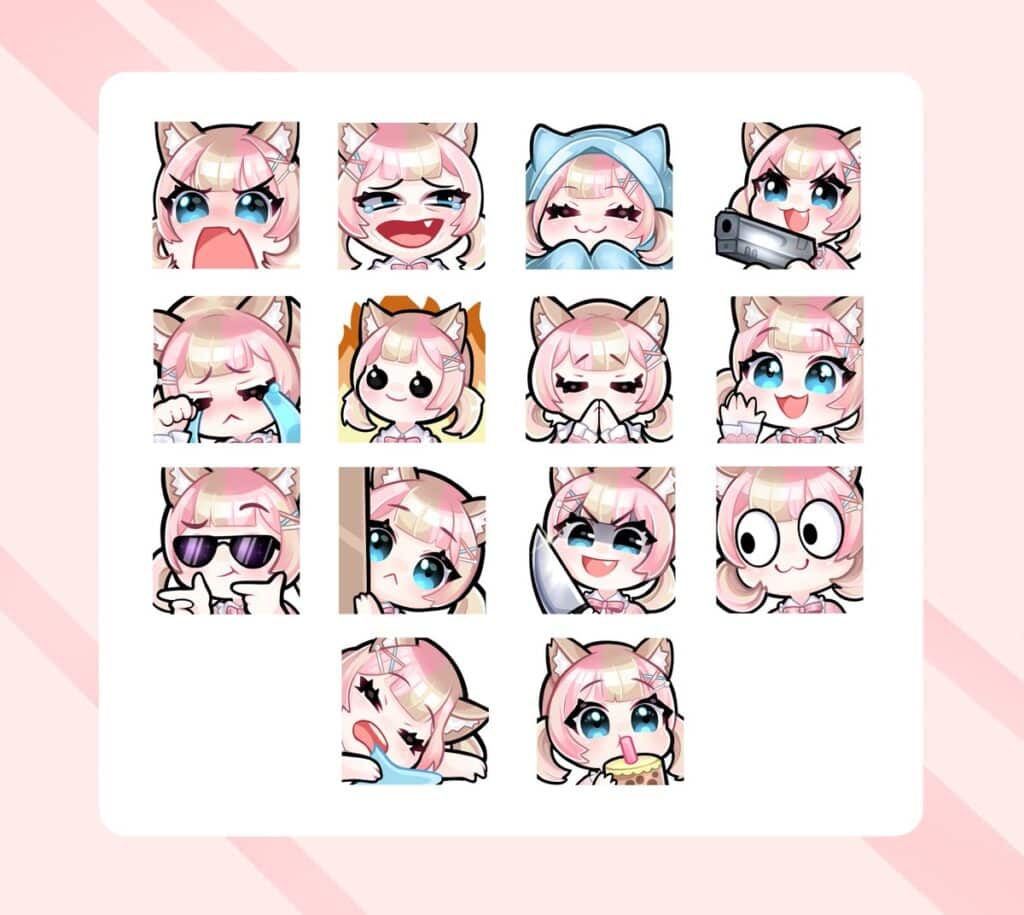 These visual elements create a shared language among your community on platforms like Twitch, Discord, and YouTube.
Stream Overlay Commissions
To create a cohesive and professional streaming experience, personalized stream overlays are a must. Commissioning designers to create custom overlays that incorporate elements like webcam frames, chat boxes, alerts, and branding elements will enhance the visual presentation of your streams.
Your audience will be immersed in a visually appealing environment that reflects your VTuber identity.
VTuber Lore Commissions
Engaging your audience goes beyond the visual realm. As a VTuber, you need to create intricate backstories and lore for their characters.
By commissioning writers or content creators, you can develop detailed lore, character histories, and world-building elements that add depth and complexity to your VTuber persona. This will keep your audience invested and eager to learn more about your virtual world.
VTuber Debut Commissions
Your debut video or livestream sets the stage for your VTuber persona. Hire video editors, animators, or content creators to create a high-quality introduction that showcases your avatar, personality, and unique traits. This commission ensures that your debut is unforgettable and leaves a lasting impact on your audience.
VTuber Background Commissions
Custom backgrounds or virtual sets are essential to enhance the visual aesthetics of your streams, videos, or promotional materials. Commissioning artists or designers to create immersive and visually appealing backgrounds will bring your VTuber brand to life. These backgrounds reflect your style and create an engaging atmosphere for your content.
Blender VTuber Model Commissions
Blender is a popular 3D modeling software, and if you prefer it for your VTuber avatar, we've listed popular Blender artists in this article, so check them out! You can have customized 3D models and rigging that perfectly represent your virtual identity by commissioning artists proficient in Blender.
Chibi VTuber Commissions
Chibi-style artwork is known for its adorable and exaggerated proportions. If you want to showcase your avatar in a cute and playful way, commissioning artists to create chibi versions of your VTuber avatar is a great choice.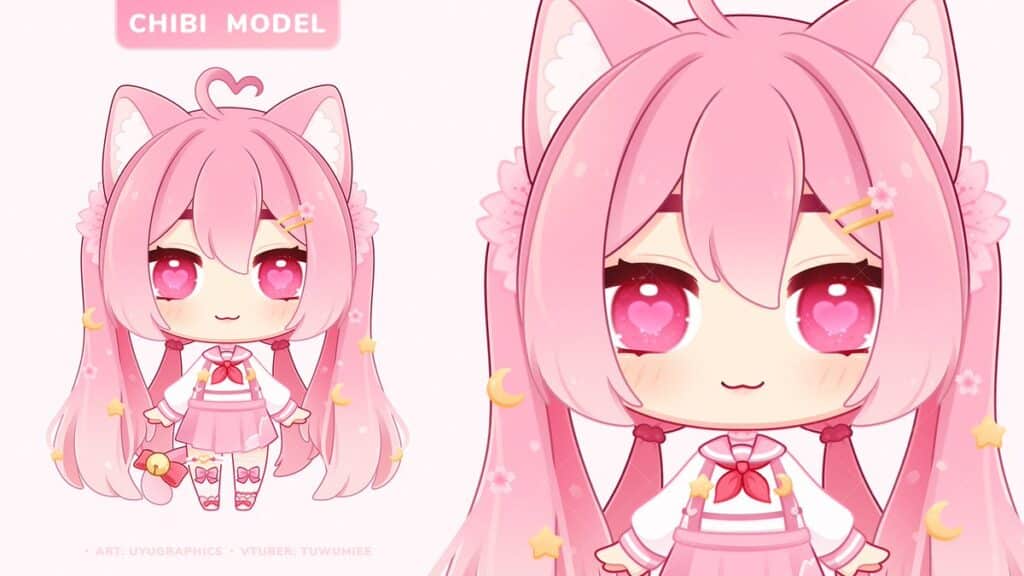 These chibi illustrations can be used in merchandise, emotes, social media content, or as an alternative representation of your character.
VTuber Rigging Commissions
Smooth and natural movements are essential for a captivating VTuber experience. Commissioning rigging specialists ensures that your VTuber avatar can perform a wide range of expressions and actions during livestreams and recordings.
Rigging adds a skeletal structure and controls to your model, making it come alive in the virtual world.
Wrapping Up
We understand that VTuber commissions can be a bit expensive. But if you are serious about dipping your toes in the virtual world, you need a great-looking VTuber model.
Why? Because that's what's going to represent you to your viewers. And to create an immersive experience, you need a VTuber model that'll pull them in, and the rest of the stream will be for you to carry.
Good luck with your VTubing careers!