The Cheapest VTuber Commissions On The Web
Hey there, fellow savvy VTuber enthusiasts on a budget! Have you ever found yourself gazing longingly at intricate $1000 VTuber models, wishing you could replicate the magic for just a fraction of the price? Yeah, me too. 
I'm Vishwas, the resident VTuber expert over at dereproject.com. And I've spent many hours scouring the web's dark budget corners searching for VTuber deals.
From delving into the digital tombstones of "budget VTuber" Google ads to navigating the delicate dance of haggling artists down to their absolute rock-bottom prices, it's been quite the adventure. 
But fear not, dear bargain hunters, for I'm about to spill the beans on my sacred collection – a compilation of genuinely skilled artists who are generously offering unbelievably cheap VTuber commissions! Get those wallets ready people. Let's get thrifty!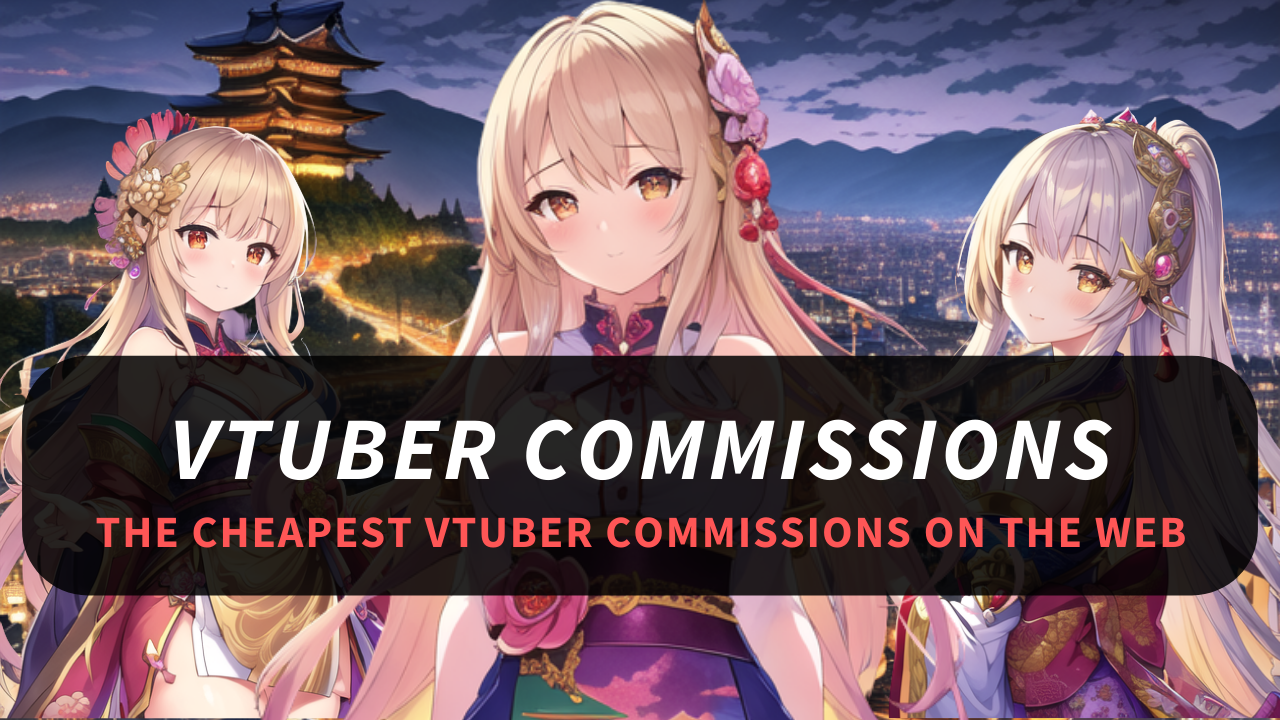 My Journey to Affordable VTubers
As I set forth on my path to becoming a renowned VTuber, I held the misconception that commissioning a model would be a breeze both in terms of time and expenses. I mean, crafting an adorable character to represent me during streams couldn't possibly be an arduous task, right? Ah, the innocence of my early days.
Reality hit me like a truck when I discovered the hefty price tags attached to quality custom models – often soaring above the $ 1,000 mark. These magnificent creations required serious skills I clearly underestimated. But for an aspiring content creator on a shoestring budget, dropping a month's rent on a single model simply wasn't feasible. 
This set me on an epic quest — discover legitimate VTuber artists who could work their magic for a fraction of mainstream prices. I bravely slid into DMs lowballing offers, investigated suspicious "cheap VTuber" Google ads, and scoured every art platform, sorting prices from low to high.
It was a grind, but gradually I uncovered hidden gems — talented artists creating impressively polished work for shockingly affordable rates. How did they offer such insane value? Unclear. But today I reveal my historic budget finds so fellow ballers on a budget can also unlock VTuber dreams!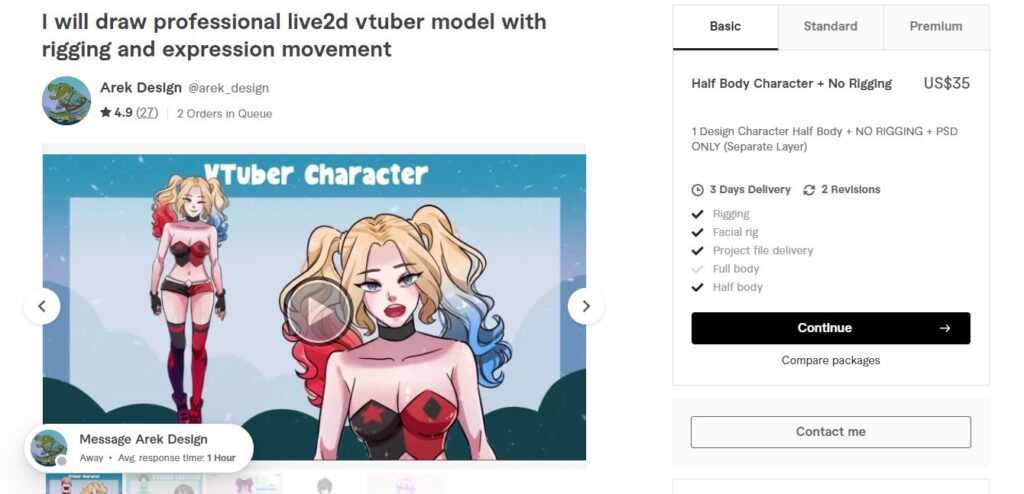 Arek Design is a young, innovative designer who's dedicated to crafting stunning designs to meet all your streaming needs. With a focus on transforming basic ideas into fabulous creations, Arek Design is the go-to artist for breathing life into your VTuber dreams. They're all about bringing your character to life with captivating expressions and fluid movements.
Offering: Full-body VTuber Design + Rigging and 5 Expressions for an affordable $145.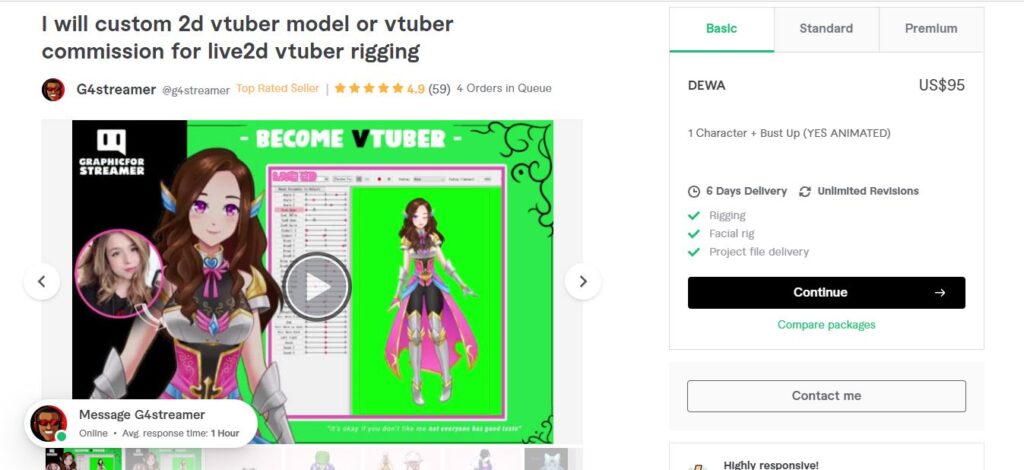 G4streamer is a dynamic duo that brings a wealth of talent and experience to the table, with a specific focus on delivering exceptional designs tailored for streamers. Their comprehensive services cover all your streaming design needs, making them a one-stop solution for your artistic requirements.
Offering: Full-body vibrant color Character + Animation — all packaged for a competitive $225.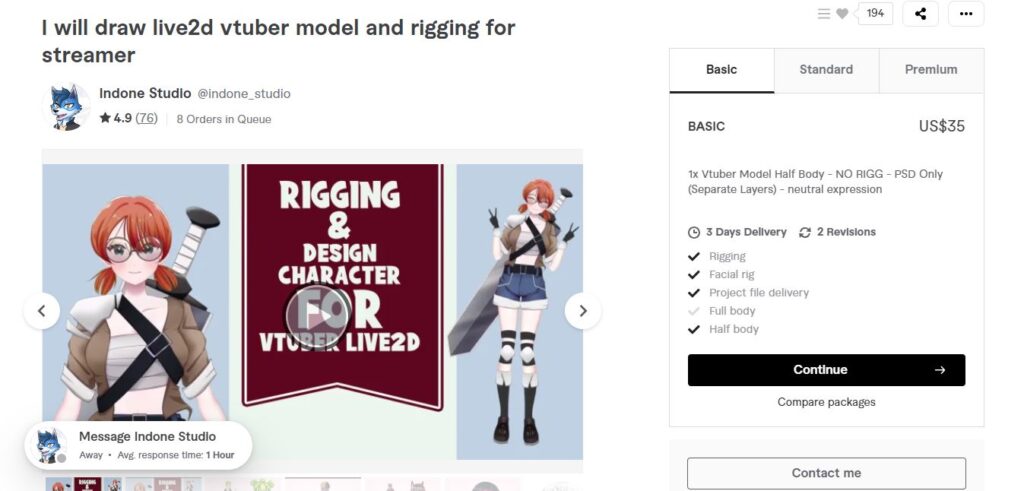 Indone Studio operates as a team of freelance artists skilled in graphic design, motion graphics, and 3D character creation. Their passion for embracing new and challenging projects makes them a valuable partner for your VTuber journey. Whether you're after something cute and eye-catching or a dynamic blend that reflects your unique persona, Indone Studio can create characters that stand out on your stream.
Offering: Full-body VTuber Model + Rigging + 5 Expressions with enhanced Physics for just $135.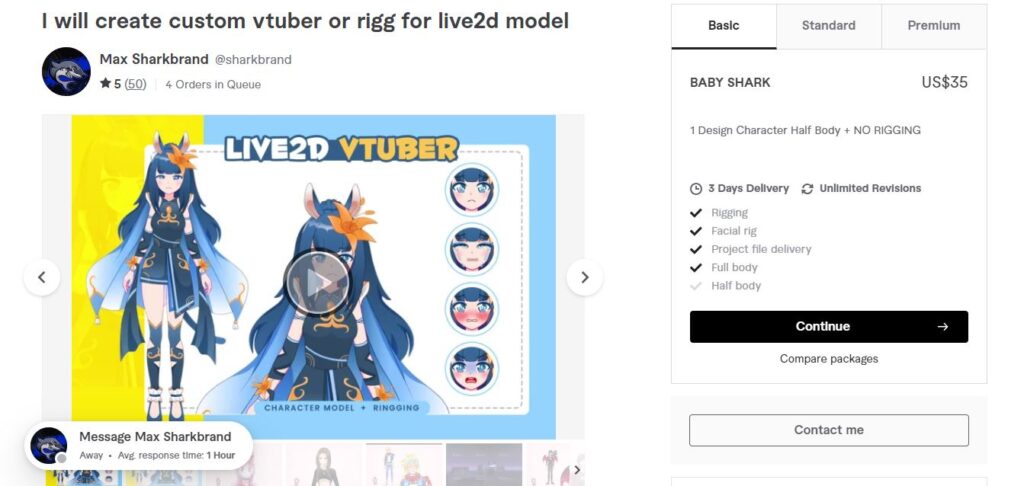 Mark Sharkbrand is a professional and experienced designer who's all about delivering quality work that satisfies your exact needs. As a friendly and dedicated freelancer on platforms like Fiverr, Mark understands the nuances of graphic design. From emotes and badges to logos and animated logos, they're well-versed in creating a variety of visual assets for your VTuber branding.
Offering: Full-body Character Design + Rigging + 5 Expressions package available at $175.
Budget Pick #5 – Virgie T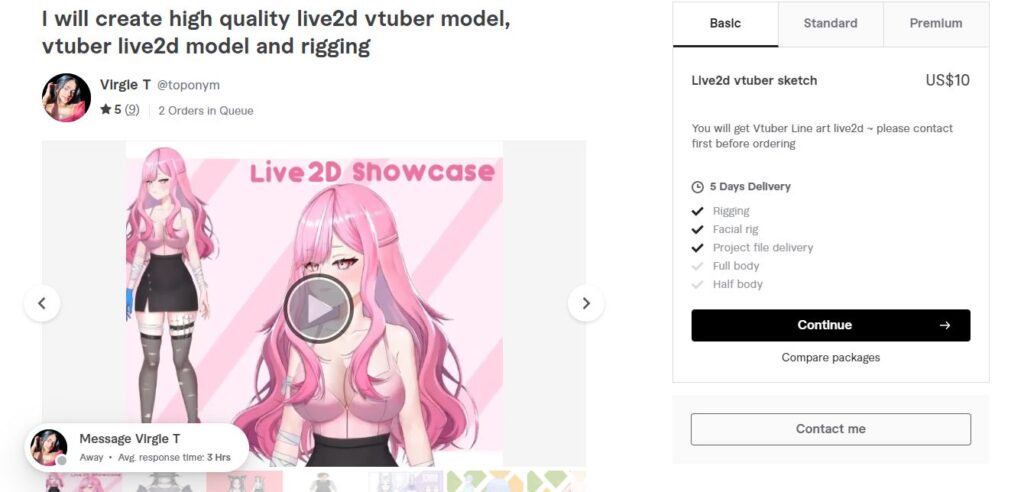 Virgie T is a seasoned artist and animator with extensive experience in both 2D and 3D projects. With a track record in 2D and 3D modeling, texturing, rigging, and animation, Virgie T brings a professional touch to their work. If you're seeking to bring your animated ideas to life, from concept to completion, Virgie T's skills and dedication are here to make it happen.
Offering: A comprehensive package including a full body Live2D VTuber model character design, five basic expressions, and Live2D rigging, all for a reasonable $200.
Wrapping Up
And voilà! That concludes my mind-blowing lineup of the cheapest VTuber commissions around! The undeniable truth is that top-tier quality and intricately designed models often come with a hefty price tag. But these astonishingly affordable artists have cracked the code, making the joy of basic VTubing accessible to everyone.
Of course, a word of wisdom – it's essential to manage expectations and provide crystal-clear references to ensure your vision comes to life. By following these steps, you'll be well on your way to becoming a savvy budget-conscious VTuber extraordinaire!
Let me know if you unearth any other delightfully cheap VTuber gems during your deal-hunting adventures! My wallet and I eagerly await more budget-friendly finds.
If you're ready to elevate your VTuber experience to new heights, I invite you to check out our complete guide to VTuber model commissions.
Frequently Asked Questions
Are budget VTuber models lower quality?
While they might lean towards simpler designs with fewer intricate features, it's important to note that skillful artists can still deliver impressive work even at lower prices.
Can I find very cheap fully rigged and animated models?
In general, fully rigged and animated models tend to come with a higher price tag due to the advanced skills required for their creation. However, you might come across limited options that are more budget-friendly.
Are there risks in buying ultra-cheap commissions?
Indeed, there can be risks, especially on platforms with questionable credibility. It's crucial to exercise caution. That being said, artists on trustworthy platforms who offer transparent pricing for their lower tiers usually provide a safer option.
Should I avoid paying more than $100 for VTuber art?
It's not a strict rule. Investing more in your VTuber art allows for greater detail and customization, resulting in a more tailored representation. However, if your budget is a priority, don't worry — there are bargains out there that can suit your needs.
What is the average price for budget but decent VTuber art?
For 2D artwork that captures a renderable likeness, a range of $50 to $150 is a reasonable ballpark to aim for. As for 3D models, you might find that prices starting at $200 or more are a more realistic expectation.