VTuber Overlay Commissions: Overlays For Your Live Streams
Hey there, fellow VTubers! Are you ready to level up your streaming game and bring out the true essence of your virtual persona? I feel you! I know just how crucial it is to have an overlay that screams "ME" to the world. That's why I decided to commission a custom VTuber overlay and let me tell you, it's been a game-changer! Now, I'm here to spill the tea and share all the exciting deets on how you too can get your hands on a one-of-a-kind overlay that perfectly captures your uniqueness and style.
Not only will a custom overlay make your stream look insanely professional, but it will also make you the star of the show, shining brighter than ever before amidst the vast sea of streamers out there.
There's a plethora of options to explore when it comes to VTuber overlays. From trendy Twitch overlays to jaw-dropping background designs, the world is your oyster! You'll be spoilt for choice, guaranteed to find that perfect match that resonates with your personality.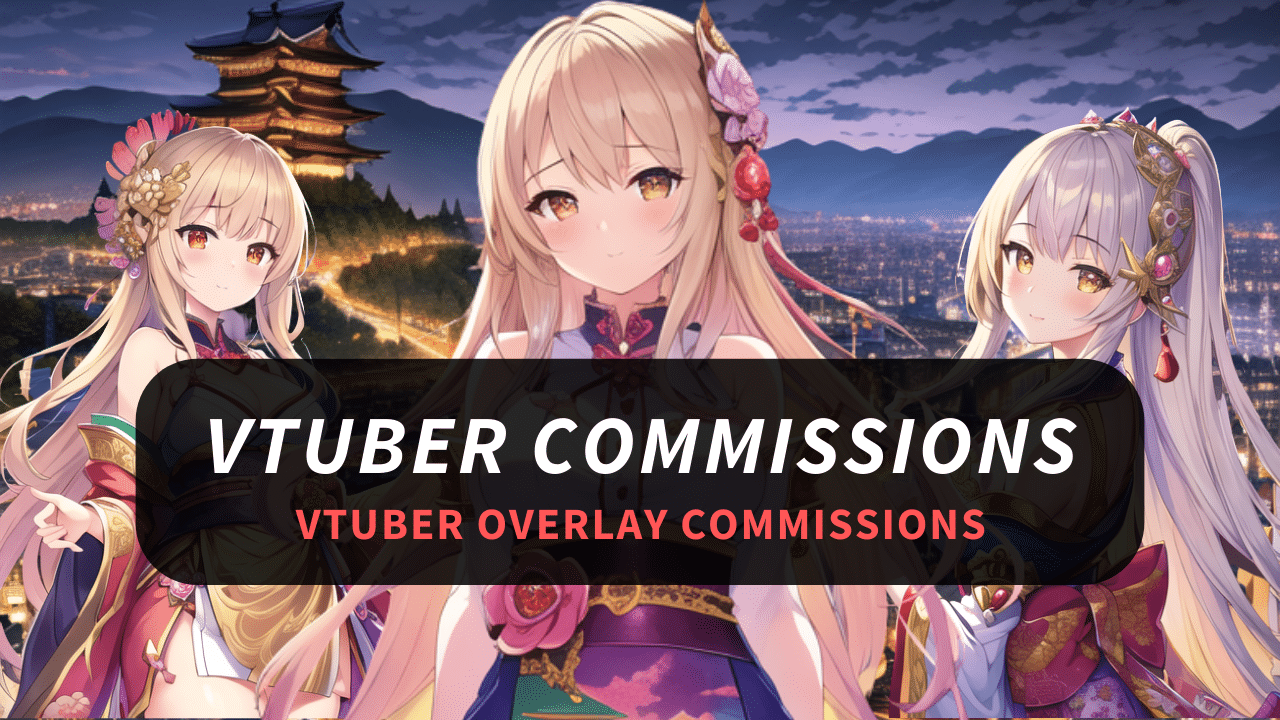 What Is A VTuber Overlay?
An overlay is like a fancy, customizable layer that displays information and adds a sprinkle of visual pizzazz to your stream. And a VTuber overlay is a graphic layer that is specifically designed for VTubers and their avatars.
With a VTuber overlay, you can showcase your webcam in a snazzy border, chat it up with a stylish chat box, flaunt your social media presence with snappy icons, and even add other graphics that make your stream more aesthetically pleasing.
And here's the best part — you can customize it to perfectly match your personal style and personality.
If you want to make your VTuber overlay yourself, check out this awesome video tutorial:
Personalized VTuber Overlays
One of the benefits of having a personalized VTuber overlay is that it adds flavor to your stream. It's like a gift wrap for your VTuber persona. With a well-designed overlay, you'll stand out like a rare waifu figure in a crowded otaku convention, attracting more viewers and leaving them in awe.
When it comes to creating a personalized VTuber overlay, there are many options available. Some VTubers prefer to don their creative hats and design their own overlays using graphic design software, while others prefer to commission an artist to create a custom overlay for them.
Commissioning an artist for a custom VTuber overlay can be a great option for those who don't have the time or skills to create their own overlay. There are many artists available who specialize in creating VTuber overlays, and they can work with you to create an overlay that fits your style and personality.
Whether you go solo and unleash your artistic prowess or embark on an adventure to find the perfect artist ally, a personalized VTuber overlay is the secret ingredient to a successful VTuber stream.
Types Of VTuber Overlays
When it comes to VTuber overlays, there are different types to choose from. In this section, I will discuss the three main types of VTuber overlays, each with its own special charm: static overlays, animated overlays, and overlays with chibis.
Static VTuber Overlays
Static overlays are the most basic type of overlay. They are simple images that are placed on top of the stream video. These overlays, while lacking in animation or movement, can work wonders for just chatting streams or when you're not busy slaying virtual dragons.
Static overlays can be a good option if you are on a budget. They are usually cheaper than animated overlays and can still look good if designed well. However, do keep in mind that they might not be as engaging as their animated counterparts. But hey, a good design can still make heads turn, right?
Animated VTuber Overlays
Animated overlays are more advanced than static overlays. They include movement and animation, which can make the stream more engaging. Imagine blinking eyes, swaying hair, and a world of captivating visuals that breathe life into your virtual persona.
Animated overlays may come with a slightly higher price tag compared to static ones but trust me when I say they are worth every virtual penny. They infuse your stream with a burst of personality and keep your viewers hooked. And for the cherry on top, consider animated overlays with chibis!
Overlays With Chibis
These animated wonders bring forth a small, lovable character or mascot who dances, interacts, and adds heaps of personality to your stream. They can be customized to perfectly match your own unique style and brand.
The choice of VTuber overlay depends on your budget and the style you wish to achieve. If you're on a budget, static overlays have got your back. If you crave the mesmerizing allure of movement and animation, animated overlays are your calling. And if you want to unleash the power of cuteness upon your viewers, overlays with chibis are the way to go.
Choosing The Right Artist
We've arrived at the crucial crossroads of finding the perfect artist to bring your VTuber overlay dreams to life. This decision can make or break your streaming career, so let's dive into some invaluable tips on how to choose the right artist for your VTuber overlay commission.
Our 3 Favorite Fiverr Picks
Fiverr, the treasure trove of artistic talent, is a great platform to find skilled VTuber overlay artists. Here are three of our personal favorites:
Pyrada: Pyrada is an artistic wizard passionate about all things anime, games, and VTubers. Their expertise lies in creating captivating and custom VTuber overlays that will make your streaming dreams come true. And the cherry on top? Their basic custom overlay package is a steal at just $15!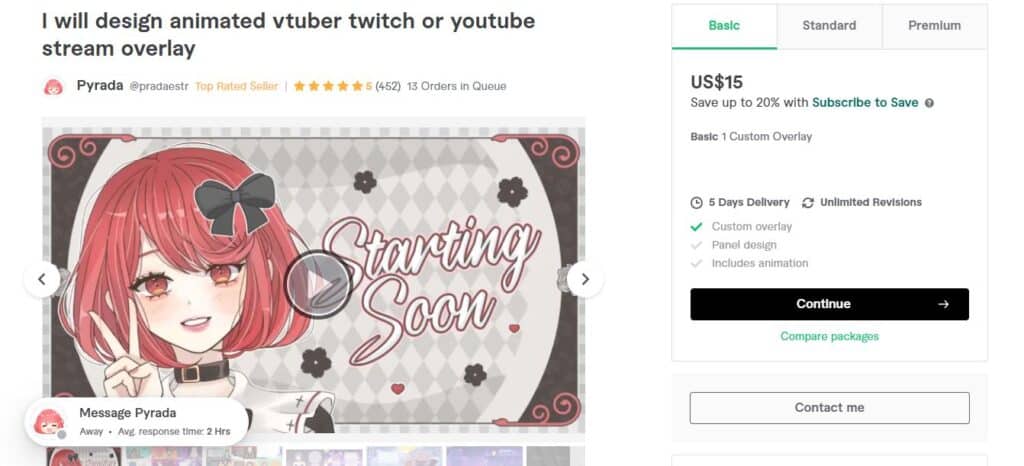 With years of experience in the creative fields, Pyrada brings a wealth of talent and expertise to the table. Rest assured, they are dedicated to providing you with the best service possible and ensuring your utmost satisfaction.
Liquid Gtx: LiquidGTX is a master of the art of Anime Design Banner, Overlays for VTuber or Streamer, Logos or Mascot, and Illustration. Their passion for creative expression shines through in their work. With over six years of experience in this creative field, they pour their hearts and souls into every project, aiming to exceed your wildest expectations. Their basic custom overlay package also starts at just $15.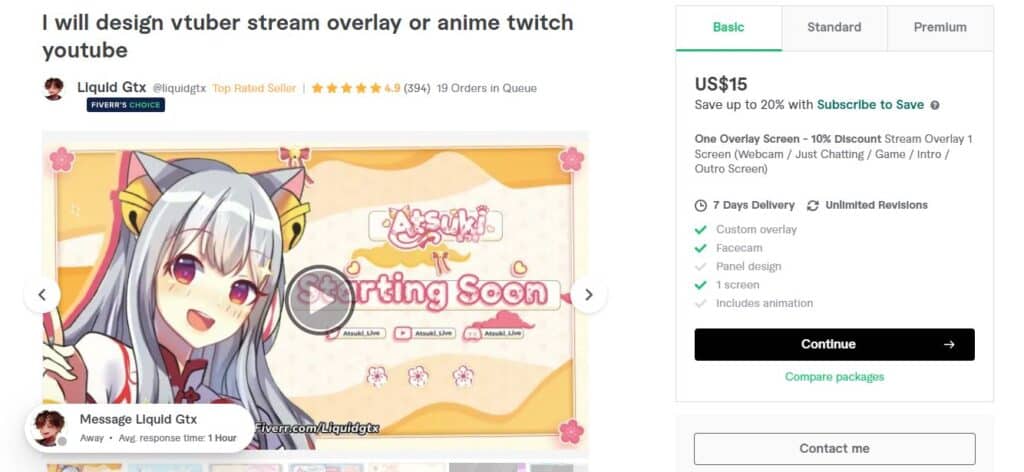 Mei: Brace yourselves, for Mei's packages may lean towards the expensive side, but trust me when I say they are worth every virtual penny!
In Mei's basic package, priced at $140, you'll be treated to a collection of captivating screens that will take your streaming experience to new heights. You'll receive a delightful "Starting Soon" screen, a charming "Be Right Back" screen, a captivating "Ending Soon" screen, and a captivating "Offline" screen. But that's not all! Each of them will feature a custom chibi character, adding an extra dose of adorable magic to your stream.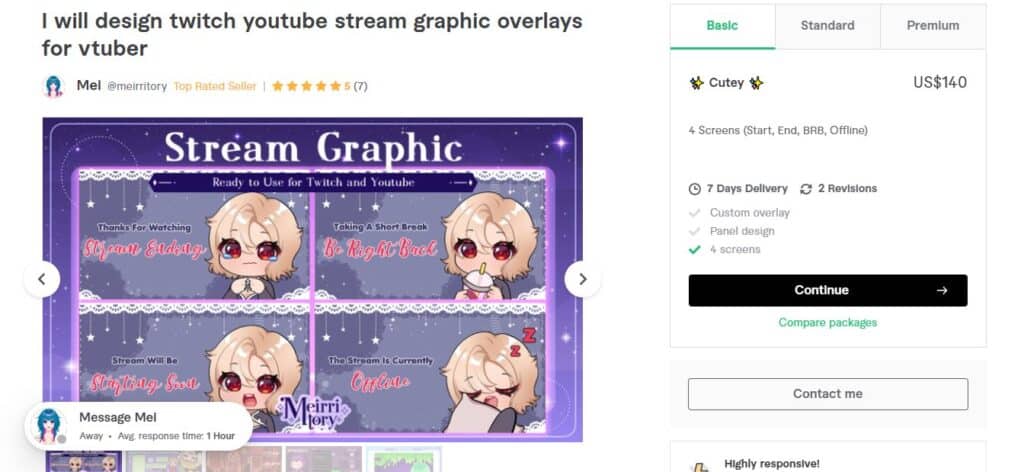 Our 3 Favorite Etsy Picks
Etsy is another great platform to find VTuber overlay artists. Here are our three favorite picks:
Natali: Ah, behold the Butterfly Bliss Purple Magic Stream Pack by Natali! This complete package is designed to whisk you away to a realm of streaming wonder. For a price of $42, you'll receive an array of overlays, scenes, transitions, alerts, an offline screen, and panels, all adorned with a magnificent purple butterfly theme.
The overlays in this pack exude elegance, adding a touch of sophistication to your stream. The scenes provided will allow you to seamlessly transition between different segments with a professional flair.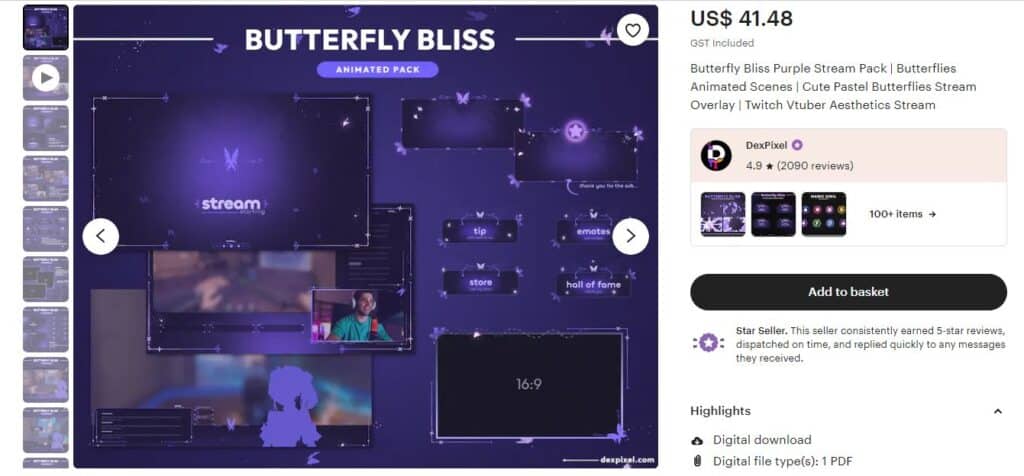 Nikki GZ: Let's cozy up at Nikki GZ's virtual cafe! For a delightful price of $22, Nikki GZ offers a customizable overlay that will transport your viewers to a cozy and inviting atmosphere. This package features day mode and night mode options for your Just Chatting background, as well as two animated loading screens.
What makes this overlay truly special is its flexibility. All the elements in the overlays are separated, allowing you to change their position and layout to your heart's desire. Move that table, shift the chair, and adjust the placement of your favorite drinks.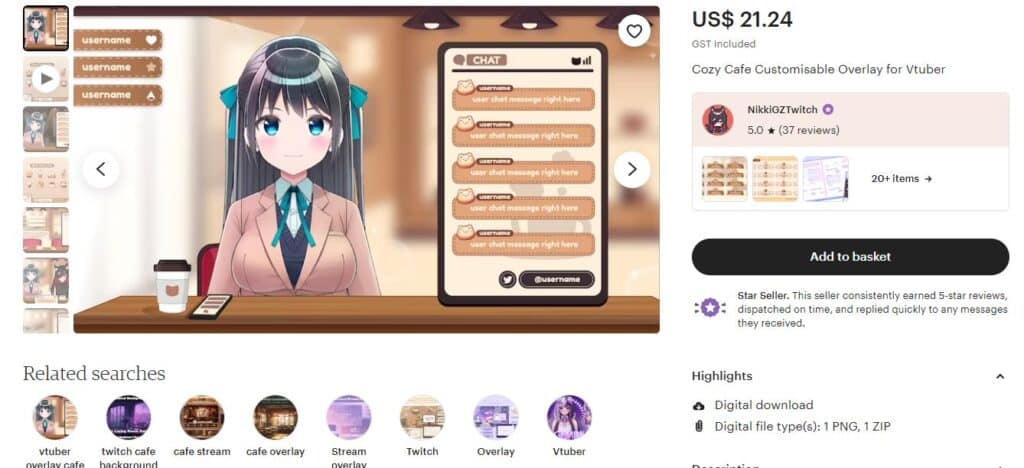 Rabbit: Prepare to be whisked away by the enchanting world of Rabbit's Dreamy Pink Rose Animated Livestream Set! For a mere $16, you'll receive everything you need to decorate and start streaming on Twitch with a touch of magic. This design features thorn vines, roses, and rose petals, perfect for VTubers and livestreamers with a penchant for cute, romantic, royal, or dreamy aesthetics.
When choosing an artist, strike the perfect balance between budget and quality. Take your time to browse and compare prices and portfolios. Look for artists who showcase their work and have a strong portfolio. And most importantly, communicate clearly with the artist to ensure they can bring your vision to life.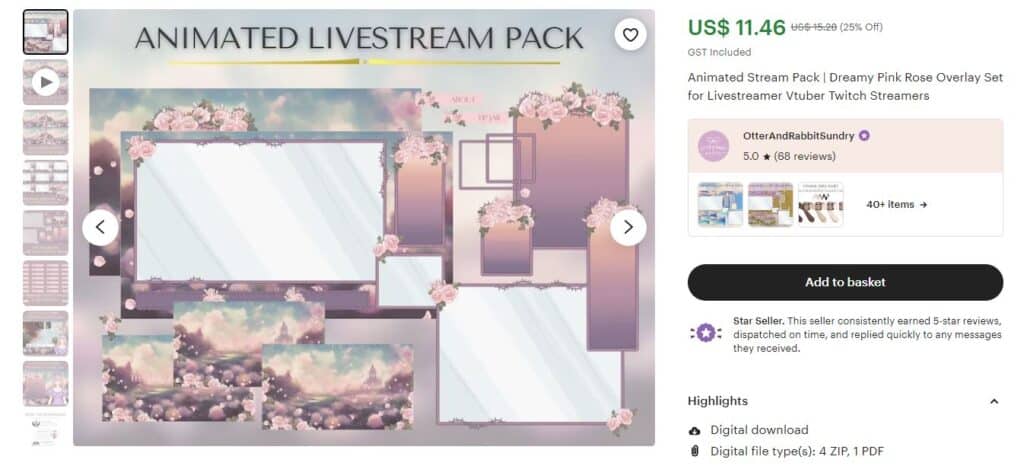 Commissioning VTuber Overlays
Commissioning VTuber overlays can be an exciting experience, but it can also be a bit overwhelming, especially if you are new to the process. But fear not, for I shall be your trusty guide.  I will provide some invaluable tips and guidelines to help you in the process, just like I did with the VTuber logo commission.
Reference Styleguide
When commissioning a VTuber overlay, it's important to give the artist assets like a reference sheet so they can capture your intent. A reference sheet is a document that provides detailed information about your VTuber character, such as their appearance, personality, and backstory. This will help the artist create an overlay that accurately represents your character and aligns with your vision.
Additionally, it's important to provide a style guide that outlines your preferred color scheme, font style, and any other design elements that you want to include in your overlay. This invaluable tool ensures that the artist can align their vision with yours, resulting in an overlay that perfectly represents your brand and visual identity.
Revisions And Changes
Communication is key when commissioning a VTuber overlay. Establish clear and open channels of communication with the artist, and be ready to provide feedback and guidance throughout the process. Most artists offer a certain number of revisions as part of their commission package, so make sure to take advantage of this to refine and polish your overlay.
However, it's important to strike a balance. While revisions are encouraged, excessive back-and-forth can delay the delivery of your overlay and may incur additional fees. Provide clear and concise feedback, and be open to compromises and suggestions from the artist. Together, you can create a masterpiece that satisfies both your vision and their artistic expertise.
Payment And Delivery
When commissioning a VTuber overlay, it's important to establish clear payment and delivery terms with the artist. Most artists will require a deposit or full payment upfront before beginning work on the overlay. Read their commission terms and conditions carefully, ensuring you understand and agree to the payment structure.
Additionally, it's important to establish a delivery date and to communicate any specific delivery requirements, such as file type or resolution. 
By following these tips and guidelines, you're well on your way to commissioning the perfect VTuber overlay.
Exploring Other VTuber Elements
When getting that fabulous VTuber overlay commission, it's essential to consider the other elements that can elevate your VTuber persona to new heights. Let's explore these captivating elements that will make your channel shine!
VTuber Backgrounds And Logos
Having a unique and eye-catching VTuber background is like casting a spell that captivates your viewers. Whether it's a simple background or a more intricate design, consistency is key. Choose a theme that resonates with your brand and ties your channel together seamlessly. And let's not forget about the power of a memorable logo! A logo that is easily recognizable acts as a beacon, guiding viewers back to your channel time and time again.
Other Chibi Assets
Your VTuber avatar is the star of the show, but don't be afraid to sprinkle in some extra chibi VTuber assets to add even more personality to your channel. This can include chibi versions of your avatar and other characters or objects relevant to your channel's theme. These assets can be used in various ways, such as on your channel's banner or in your channel's panels.
Panels And Filters
Panels are your trusty companions in creating an organized channel that viewers can navigate with ease. They provide essential information about your channel, such as links to your social media accounts, details about your content, and more. Make them visually appealing and informative to ensure your viewers have a delightful browsing experience. And for that extra touch of flair, consider using filters on your stream. These magical tools can enhance the overall look and feel of your channel, creating a captivating atmosphere that draws viewers in.
When you embark on your VTuber overlay commissioning adventure, remember to consider these other enchanting elements that can enhance your channel's overall appeal. From backgrounds and logos to chibi assets and panels, each element can help add personality and style to your channel.
If you're eager to dive deeper into the world of VTuber creation, be sure to check out our companion article, "The Complete Guide to VTuber Model Commissions."
Frequently Asked Questions
What are some popular websites to commission a custom VTuber overlay?
Many websites offer VTuber overlay commission services. Some popular options include Fiverr, Live3D, and UWU Media. These sites have a variety of artists with different styles and pricing options to choose from.
How much should I expect to pay for a VTuber overlay commission?
The cost of a VTuber overlay commission can vary greatly depending on the complexity of the design and the artist's experience. On average, you can expect to pay anywhere from $50 to $300 for a custom overlay. It's important to discuss pricing and expectations with the artist before commissioning to avoid any misunderstandings.
Are there any free VTuber overlay templates available online?
Yes, there are some free VTuber overlay templates available online. However, keep in mind that these templates may not be as unique or tailored to your specific needs as a custom overlay. It's also important to make sure you have the proper licensing and permissions to use any free templates you find.
What are some important factors to consider when commissioning a VTuber overlay?
When commissioning a VTuber overlay, it's important to consider factors such as the artist's style, experience, and pricing. You should also think about the overall look and feel you want for your overlay, as well as any specific features or elements you want to include.
Can I use a pre-made VTuber overlay or should I commission a custom one?
You can certainly use a pre-made VTuber overlay if it fits your aesthetic needs. However, remember that a custom overlay can offer more unique branding and customization options. It's essential to weigh each option's pros and cons before deciding.
What are some unique ideas for a custom VTuber overlay design?
Some unique ideas for a custom VTuber overlay design could include incorporating elements from your brand or personality, using a specific color scheme or theme, or including interactive elements such as animations or sound effects. It's important to work with your artist to come up with a design that reflects your individual style and needs.