VTuber Logo Commissions: How to Get The Perfect Custom Logo
Looking for a logo for your VTuber channel? As a VTuber, I understand the importance of having a logo that screams "ME" and captures the essence of your virtual persona. That's why I delved deep into the realm of VTuber logo commissions to discover the crème de la crème of artists out there. Trust me, I've scoured every corner of the internet to bring you this juicy list.
Now, before we jump into the good stuff, let me just say that there's a logo artist for everyone, regardless of your budget or style preferences. We've got seasoned digital maestros with a gazillion positive reviews and talented graphic designers specializing in VTuber logos.
Moreover, many of these incredible artists offer commercial licensing for platforms like Twitch and YouTube. That means you can proudly slap your logo on all your content creation endeavors without any worries.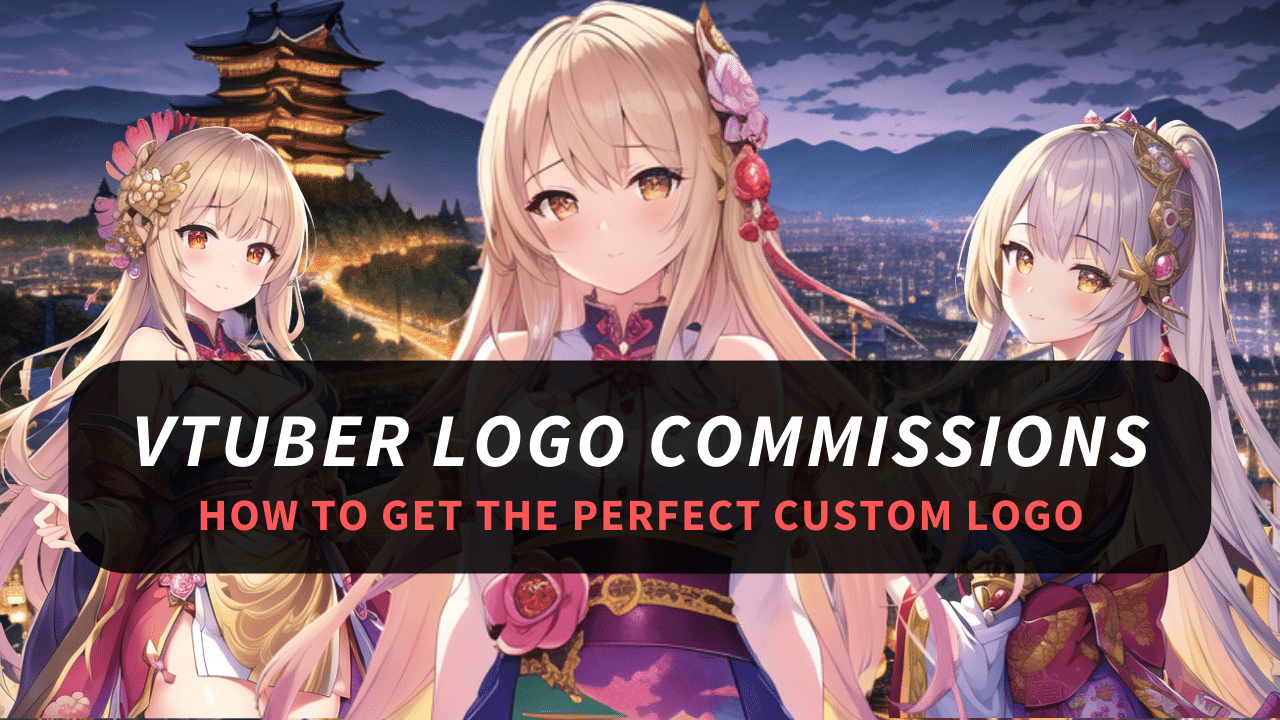 Why Your VTuber Logo Matters
As a VTuber, your logo is an essential part of your brand. It is the visual representation of your persona and sets the tone for your content. This section will discuss why it matters and how it can skyrocket your success.
It Will Be Recognizable
Your logo is the face of your brand. It's the superstar that shines bright and catches the eye of anyone who comes across your content. So, make sure to pick a unique logo that screams "YOU!" Let it reflect your personality and style. And hey, versatility is the name of the game! Your logo should look snazzy and work its magic across different platforms and mediums.
Broadcast Your Unique Flavor
Think of your VTuber logo as your personal flavor bomb! It's your chance to unleash your creativity and showcase your one-of-a-kind personality. A top-notch logo helps you establish a strong brand identity and makes you unforgettable to your audience.
When you're designing your logo, consider the colors, fonts, and imagery that best represent your brand. What's the message you want to send? What emotions do you want to evoke? Your logo should reflect your brand values and the type of content you create.
Your VTuber logo is not just a fancy picture — it's the soul of your brand. So, don't skimp on this important aspect. Invest in a logo that's as unique as you are, versatile enough to conquer any platform, and a perfect reflection of your fabulous self. With a killer logo, you'll establish a strong brand identity, stand out from the sea of VTubers, and pave your way to success.
Custom-Made Vs. Pre-Made Logos
Ah, the age-old dilemma: custom-made or pre-made logos? Let's unravel this logo conundrum and find the perfect fit for your VTuber persona.
Pre-Made Logos
Pre-made logos are pre-designed and available for purchase, making them a quick and budget-friendly option. Sure, they may not be as unique as a custom-made logo, but they still pack a punch in their own way.
Custom-Made Logos
Now, if you're craving a logo as unique as your VTuber persona, custom-made logos are where the real magic happens. With a custom-made logo, you have the freedom to choose every pixel, every color, and every nuance, ensuring your logo truly represents your fabulous self.
But here's the catch — custom-made logos require the time and skill of an artist dedicated to bringing your vision to life. So they come with a heftier price tag.
Now, let me share my personal recommendation (because I'm just bursting with opinions, you know). If you want to unleash the full power of your VTuber persona and stand out, a custom-made logo is the way to go. However, if you're just starting out as a VTuber and aren't sure if it's something you want to pursue long-term, a pre-made logo can be a good way to dip your toes in without breaking the bank.
Ultimately, the decision between custom-made and pre-made logos boils down to your personal preference and budget. Consider how important a unique logo is to you, how much customization you desire, and of course, your wallet's comfort level.
Here is an awesome video tutorial on VTuber logo making:
Why Pick A Proven Market for VTuber Commissions
When it comes to commissioning a VTuber logo or artwork, it can be tempting to go with the first artist you come across. But hold on a minute! Let me share with you the incredible benefits of choosing a proven market for your VTuber commission.
A proven market offers a track record of successful commissions. You can see examples of previous work and read reviews from satisfied customers. This gives you a better idea of what to expect and can help you avoid any potential scams or low-quality work.
Opting for a marketplace offers a level of security and protection for both you and the artist. These platforms typically have policies in place to ensure fair transactions and customer satisfaction. It's a peace-of-mind guarantee that lets you focus on the excitement of bringing your virtual dreams to life.
Who doesn't love options? A proven market for VTuber commissions offers a wide range of artists and styles to choose from. Whether you dream of a cute and bubbly logo or a more serious and professional design, you'll find an artist who can work their magic and deliver exactly what your heart desires.
The choice is clear — a proven market for your VTuber commission is the ultimate path to success. Not only does it offer a track record of successful commissions, but it also provides security and a wide range of options to choose from.
The Best Platforms For VTuber Logo Commissions
As a content creator, I know the importance of having a unique and eye-catching logo for my VTubing profile. After researching, I've found that Etsy and Fiverr are two of the best platforms to commission a VTuber logo.
Here are my top picks for each platform:
Our 3 Top Fiverr Picks
Nutnut: Hailing from Indonesia, Nutnut is a digital artist ready to sprinkle their creativity on your VTuber logo. For the price of $65, you can get a custom logo design in a transparent PNG file. Their artistic prowess will bring your virtual identity to life in a stunning and unique way. Get ready to add a touch of Indonesian magic to your logo!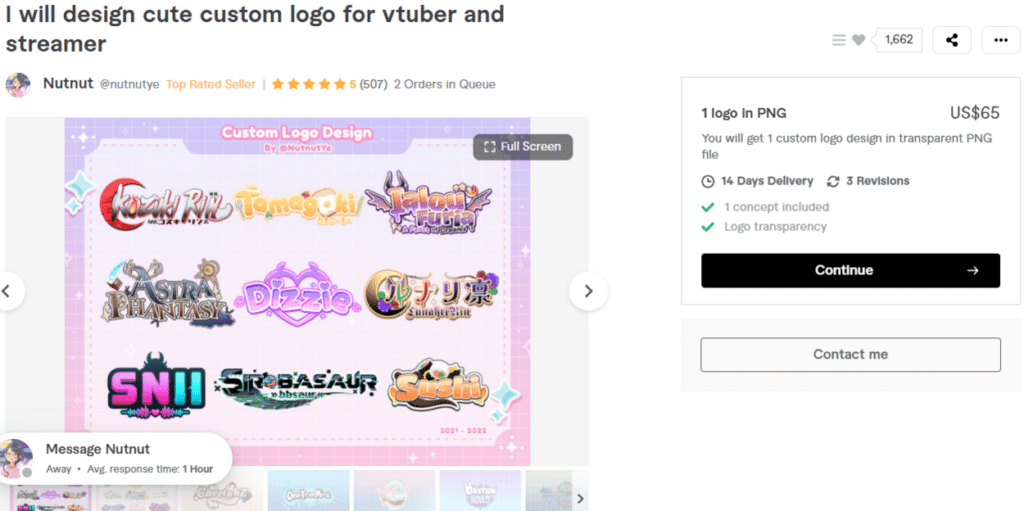 Vebrina: Vebrina is a seasoned professional graphic designer with 8 years of experience under their belt. Their expertise shines through in their VTuber logo designs. With prices ranging from $65 to $140, Vebrina offers a range of options to fit your needs and budget. Get ready to collaborate with a pro who knows the ins and outs of graphic design.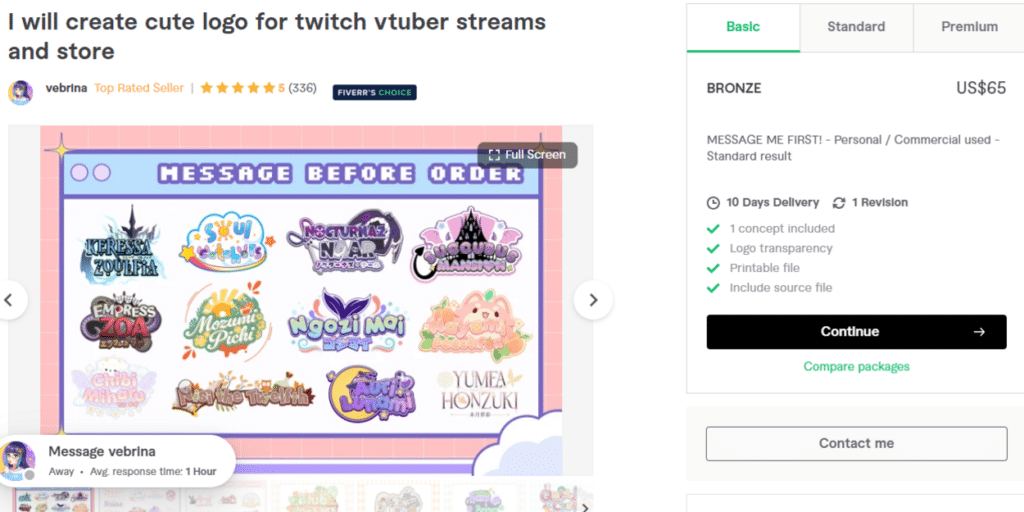 RAAZU: Meet RAAZU, a freelancing expert who has been creating stunning designs since 2017. With a team of talented individuals, they bring a wealth of creative ideas to the table. Their rates start at just $35 for a basic package and go up to $90 for a complex one. No matter the complexity, RAAZU is here to deliver a logo that captures your virtual essence.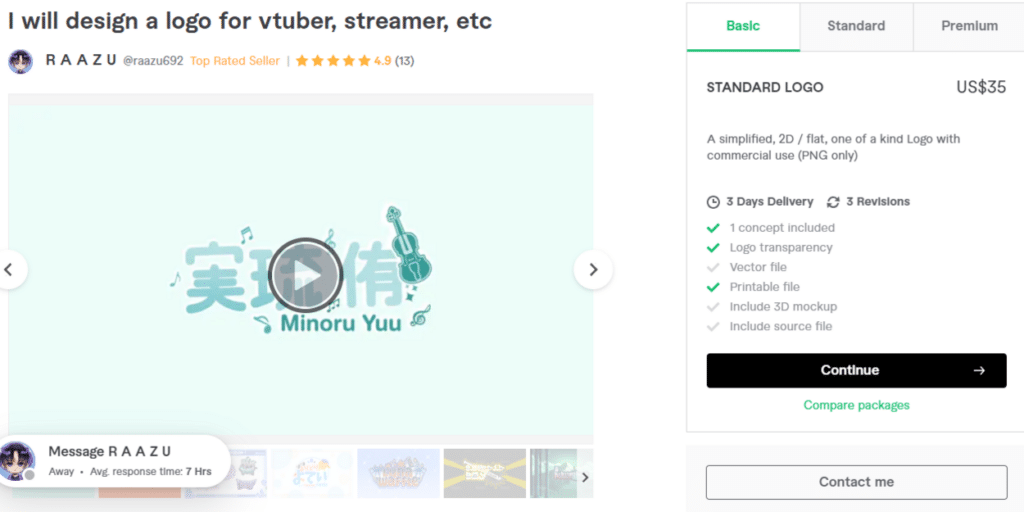 Our 3 Top Etsy Picks
Unify Creations: It is an India-based seller offering VTuber logo designs at incredibly affordable rates. With prices starting at $30 for a simple logo and $50 for a detailed design, they make high-quality logos accessible to all. Their artistic finesse and attention to detail ensure your logo captures your unique persona.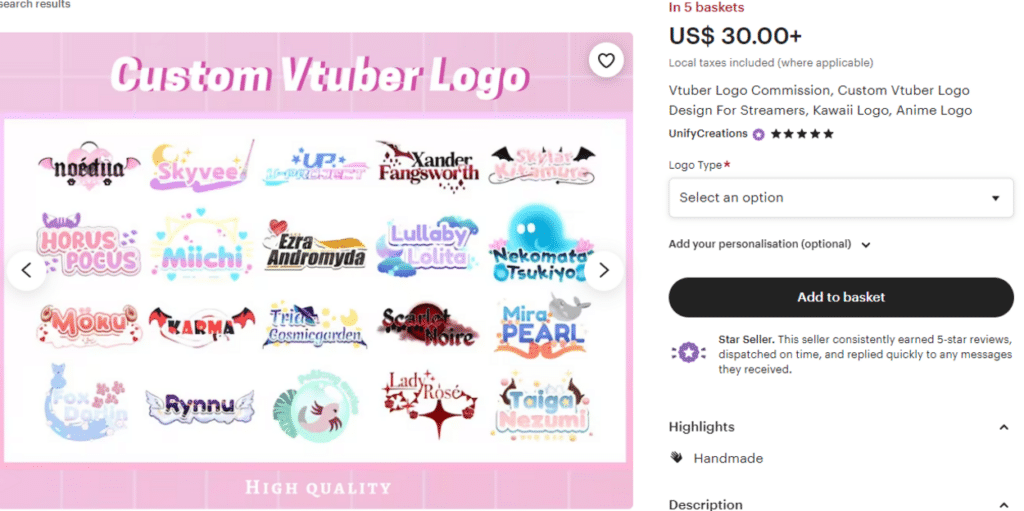 Kiku Mart: Kiku Mart Design Shop is your one-stop destination for VTuber logo design, Twitch overlays, and custom Instagram filters. Their adorable and bubbly logo designs will add charm to your virtual persona. With a price of $60, you can have a logo that embodies your personality and leaves a lasting impression on your audience.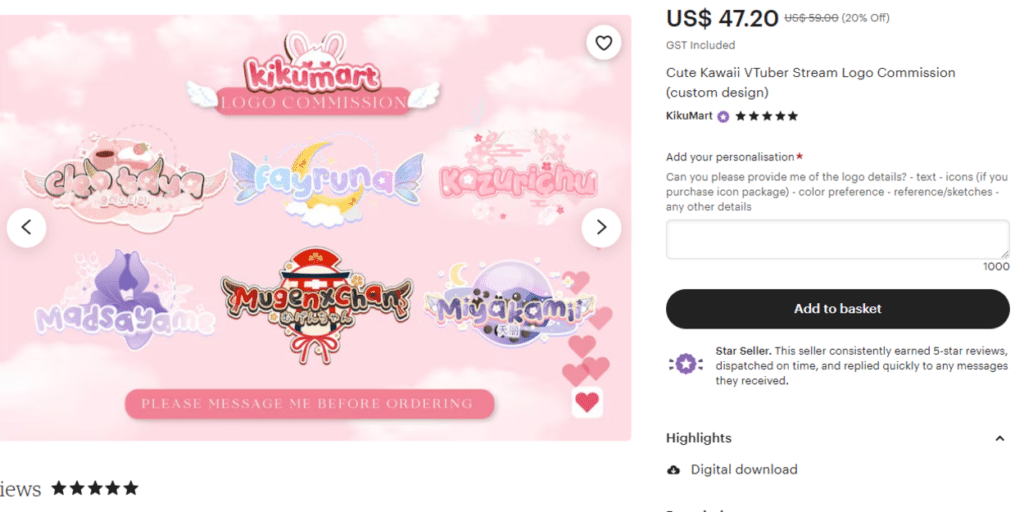 Nemuneko Studio: Introducing Nemuneko Studio, a design powerhouse hailing from Indonesia. With an impressive 7 years of graphic design experience, they bring a wealth of expertise to the world of VTuber logos. They specialize in creating custom VTuber text logos that are bound to impress. And the best part? Their prices are incredibly budget-friendly, with a custom VTuber text logo available for less than $12. It's an amazing opportunity to obtain a high-quality logo at an affordable price.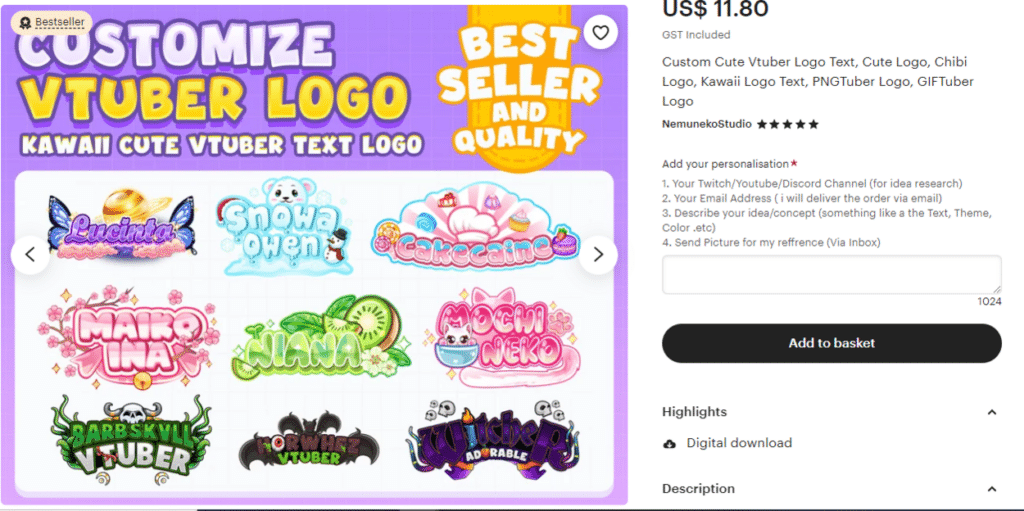 Both Etsy and Fiverr offer a wide variety of talented designers who can create amazing custom VTuber logos for you. But remember, it's important to research and find a designer specializing in VTuber logos that fits your style and budget.
Working With Professional Designers
Similar to commissioning a VTuber model, collaborating with a professional designer to bring your VTuber logo dreams to life can be a great option. Here are some essential tips to keep in mind when working with these logo wizards:
Logo Specifications
When working with a professional designer, you will be asked to provide specifications for your logo. Specify the color scheme, font preferences, and any specific imagery you want to include. The more detailed you are, the better the designer can understand and create a logo that perfectly matches your vision.
Payment
Before the designer works their magic, you must discuss and agree upon the payment. The cost will depend on factors like the designer's expertise and the complexity of your logo. Ensure that a clear payment agreement is in place so that both parties are on the same page from the start.
Delivery of Files
Once the logo is complete, the designer will deliver the files to you, and oh, what a glorious moment it will be! You can expect to receive a high-resolution image file that will serve as the cornerstone of your VTuber branding. But don't forget to inquire about any additional file formats you may need, such as vector files for printing purposes.
Working with a professional designer can be a great way to get a high-quality VTuber logo that meets your specific needs. Just be sure to communicate clearly with the designer and provide detailed specifications to ensure the best possible outcome.
Promoting Your VTuber Persona On Social Media
It's time to take your virtual persona to new heights and connect with your audience on social media. In this section, I'll discuss how to promote your VTuber persona on social media, specifically on YouTube, Twitch, and Twitter.
YouTube
YouTube is the holy grail for VTubers, with many successful VTubers having millions of subscribers, and now it's time to make your mark. To promote your VTuber persona on YouTube, you should create a channel that reflects your branding and style. This includes using your custom VTuber logo as your channel icon and creating channel art that matches your branding.
When creating videos, make sure to incorporate your VTuber persona into the content. This can include using your VTuber avatar in the video, adding custom animations, and using your custom VTuber logo in the intro and outro. Don't forget to use relevant keywords and tags to boost your visibility in search results.
Twitch
Twitch is another popular platform for VTubers, especially for live streaming. To promote your VTuber persona on Twitch, create a profile that reflects your branding and style. This includes using your VTuber logo as your profile picture and creating custom overlays and panels matching your branding.
When live streaming, make sure to incorporate your VTuber persona into the content by using your VTuber avatar on your webcam, adding custom animations to your stream, and using your custom VTuber logo in your stream overlays. You should also interact with your viewers and engage with them in the chat.
Twitter
Twitter is a great platform for promoting your VTuber persona and connecting with your audience. Create a profile that reflects your branding and style by using your custom VTuber logo as your profile picture and creating a custom header image that matches your branding.
When tweeting, make sure to incorporate your VTuber persona into your tweets by using your VTuber avatar in your profile picture, adding custom animations to your tweets, and using your custom VTuber logo in your tweets. You should also interact with your followers and engage with them in conversations.
Promoting your VTuber persona on social media is essential for building your brand and growing your audience. By using a custom VTuber logo and incorporating your persona into your content, you can create a strong and consistent presence across all platforms.
Additional VTuber Assets To Think About
We've covered the importance of a custom logo, but let's take it a step further. There are some additional assets you should consider commissioning to truly make your channel shine. Here are a couple of options to think about:
Getting A Chibi VTuber Logo Commissioned
If you're looking to add a dash of cuteness and eye-catching charm, a chibi version of your VTuber character is an absolute must-have. Imagine having a chibi companion that can accompany your logo on social media, video thumbnails, and more. A chibi commission can also be a more affordable option if you're on a budget.
When commissioning a chibi, make sure to provide the artist with a clear reference of your VTuber character. Give them all the details you want to include and discuss the style and coloring options to ensure the chibi perfectly matches your branding. Prepare for an adorable addition that will capture the hearts of your audience!
Getting VTuber Lore Commissioned
Want to take your channel to epic storytelling heights? Consider commissioning VTuber lore, my friends. Dive into character backstories, world-building, and more to create a rich and immersive experience for your audience. A captivating lore can help your viewers feel more connected to your channel and give you a treasure trove of content to explore.
Check out this VTuber lore video of the popular VTuber Nyanners:

When commissioning VTuber lore, find an artist or writer who truly understands your vision and can bring your ideas to life. And don't forget to think about how you'll incorporate this lore into your content, whether through videos, social media posts, or live streams.
Getting additional VTuber assets commissioned can make your channel stand out and create a more immersive experience for your audience. Whether you're looking for a cute chibi or a rich backstory, there are plenty of options to explore.
Wrapping Up: VTuber Logo Commissions
Stand out in the virtual realm with an amazing custom VTuber log. Collaborating with professional designers brings your vision to life, while chibi commissions and VTuber lore add charm and captivating storytelling. Promote your brand consistently on YouTube, Twitch, and Twitter, forging connections with your audience and igniting their imagination.
If you're ready to elevate your VTuber experience to new heights, I invite you to check out our complete guide to VTuber model commissions.
Frequently Asked Questions
How much should I expect to pay for a VTuber logo commission?
The price of a VTuber logo commission can vary greatly depending on the artist and the level of detail you require. However, on average, you can expect to pay between $10 to $200 for a VTuber logo commission. It's important to remember that higher prices don't always guarantee better quality, so it's worth researching before committing to a particular artist.
What are some good resources for finding a VTuber logo maker?
You can find skilled VTuber logo designers in several online marketplaces, such as Fiverr, Upwork, and Etsy. You can also check out social media platforms like Twitter and Instagram, where many artists showcase their work and offer commission services.
Is it possible to get a VTuber logo made for free?
While finding someone who will create a VTuber logo for free is not impossible, it's important to remember that creating a high-quality logo takes time and effort. It's reasonable to expect to pay for the time and expertise of the artist you're working with.
What are some popular fonts used for VTuber logos?
There is no one-size-fits-all answer to this question, as the font you choose will depend on the style and theme of your VTuber persona. However, some popular fonts used for VTuber logos include Futura, Helvetica, and Bebas Neue.
Are there any free VTuber logo templates available online?
Yes, several websites offer free VTuber logo templates, such as Canva and Placeit. However, keep in mind that these templates may not be as unique or personalized as a custom-designed logo.
Where can I find a VTuber branding guide or tutorial?
Several online resources can help you with VTuber branding, such as YouTube tutorials and blog posts. Consider reaching out to a branding or design professional for guidance.