How To Find Free VTuber Assets
Compared to last year, when VTubing first started to explode to today, this is the perfect time to start getting into VTubing. Let me explain why. Today, you do not need to spend much money to get into VTubing. Now you can get free VTuber assets on the internet.
You might have spent a lot of money to commission a VTuber model. Spending more on VTuber assets like backgrounds, overlay elements & props could leave a big dent in your wallet.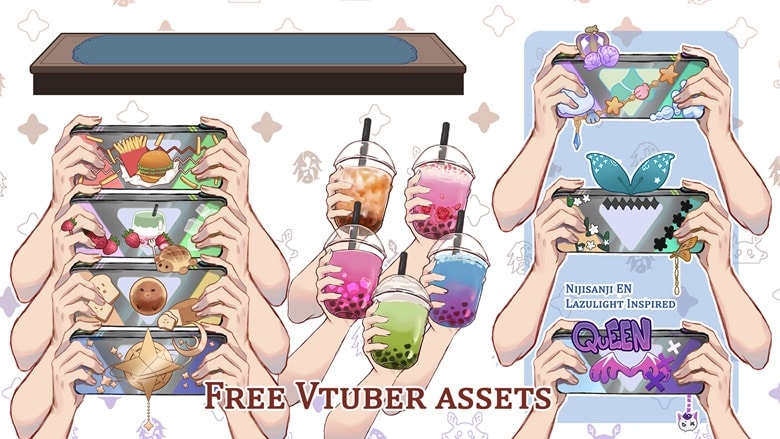 That is why we decided to write this article to help you find free VTuber assets like VTuber eyes, VTuber outfits, etc.
So let's find out where and how to find the free VTuber assets.
Finding Free VTuber Assets On Twitter
Twitter might be the best place to find free VTuber assets. That is because Twitter has the most optimized search options. You can also find some great VTuber logos on Twitter if you know the correct tags.
But the catch is that you must know the proper Japanese terms to search on Twitter. However, there are some English tags that you can use, but if you are only using that, then you are narrowing your potential to find some fantastic assets like the following:
Don't worry if you, like me, do not understand Japanese. Later in this article, we mentioned several keywords you can use to find the VTuber assets on Twitter, like VTuber eyes and VTuber outfits.
Japanese Terms To Use For Searching Free Assets On Twitter
Japanese artists make some of the most beautiful free assets. However, they only use tags on Twitter that are in Japanese.
Following Japanese keywords can be used to find some fantastic free VTuber assets on Twitter:
Japanese Terms To Search For Free VTuber Outfits
シャツ 〜 Shirt
パンツ 〜 Pants
ブレザー 〜 Blazer
コート 〜 Coat
パーカー 〜 Parker/Hoodie
靴/シューズ 〜 Shoes
ドレス 〜 Dress
スカート 〜 Skirt
ブラウス 〜 Blouse
マスク/仮面 〜 Mask
Some Japanese Tags To Search For General VTuber Assets
着物 〜 Kimono
ヘア 〜 Hair
モデル 〜 Model
VRChat 〜 VRChat
アバター 〜 Avatar
フリーVtuberの目 〜 Free VTuber eyes
フリー素材 〜 Free VTuber assets
Vtuber準備中 〜 VTuber assets
Finding VTuber Assets On Booth
Booth is another excellent website where artists upload their artwork for VTubers. Although its interface is in Japanese, if you open it in google chrome, it will automatically translate into English. Then you can easily navigate through the website.
Like on Twitter, you need to learn a few tags to search for free VTuber assets.
Japanese Terms To Use For Searching Free Assets On Booth
[VTuber向け]
[バーチャルYouTuber]
[配信用]
How To Filter The VTuber Assets On Booth
Finding the assets for VTubing on Booth can be a bit tricky. That is why you can follow the following guide to find them:
First, search for the terms we mentioned earlier in this article.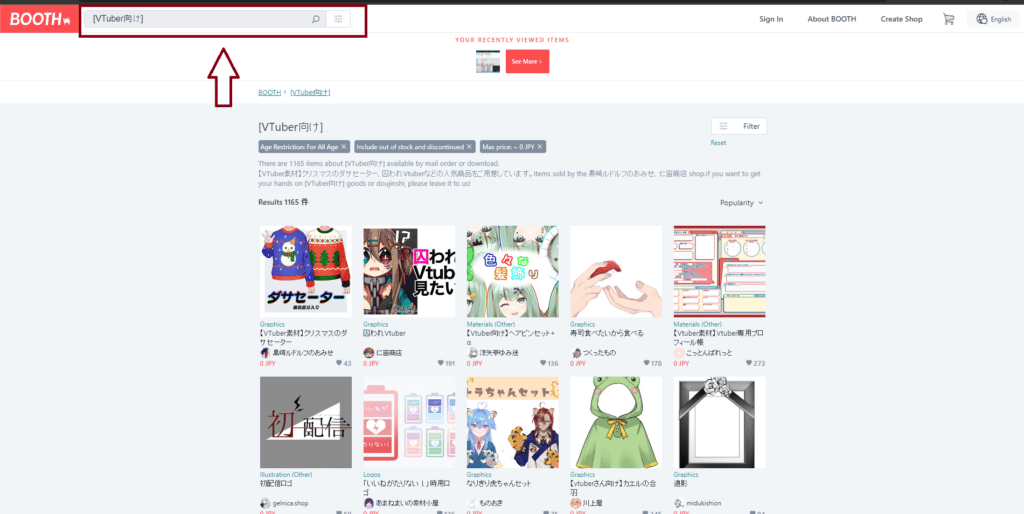 Once the search results appear, click the filters button, as shown in the picture below.

A filters menu will pop up, and set the price slider to zero for free VTuber Assets.

You can make an account on Booth to use their favorite option to save the assets you like. You can find anything related to VTubers on Booth, from VTuber outfits to backgrounds, overlay elements, and props.
Using OKUMONO For Free VTuber Assets
OKUMONO is a website that provides VTuber assets you can use for VTubing. The Japanese VTubers and artists mostly use this website.
Most of the backgrounds, overlay elements, and props are exclusive to this website. You will not find these anywhere else on the internet.
Like the Booth, this website is also in Japanese, so you have to open it in google chrome for automatic translation.
For free, you can find different frames and backgrounds ranging from patterns to realistic backgrounds, like a bedroom, a cinema, etc., and some random props.
Navigating Through The Categories On OKUMONO
This website has different categories where you can find all the abovementioned assets.
You can navigate through these categories to find the free stuff that you want by clicking on the buttons shown in the image below: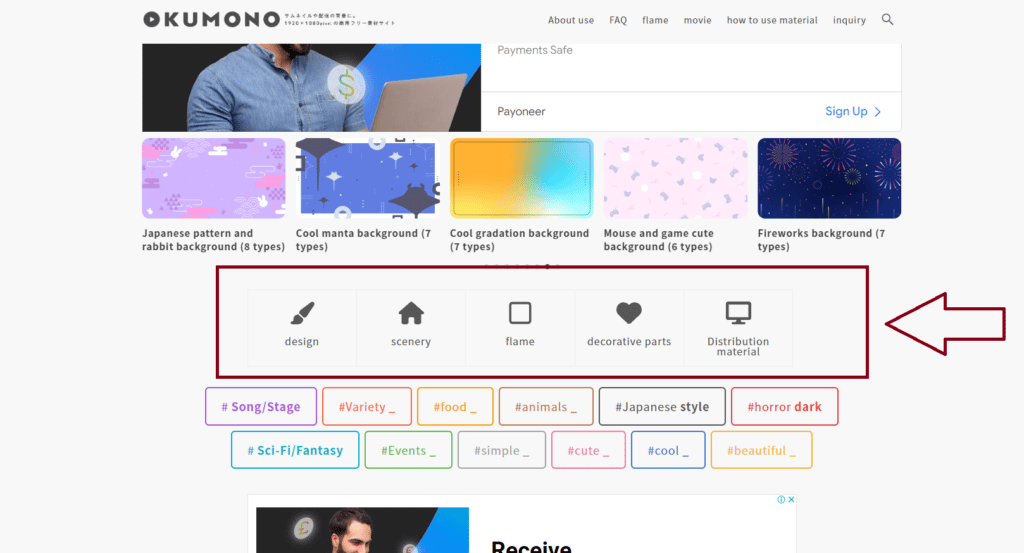 Once you have found your desired asset, click the thumbnail. After enlarging the image, right-click on the image and click the save image to download the image to your device.
Now you can use that image for VTubing.
Discord Server Full Of Free Backgrounds, Props & Overlay Elements
You can join some great communities on the Discord server that share free assets on Discord channels. Following is a fantastic community that shares anything they can find on Twitter or anywhere else related to the VTuber assets:
You will have to complete some easy tasks before you can talk in their discord channel. Nevertheless, seeing the VTuber assets in their channel, I can confidently say it is worth it.
Bonus Google Drive Assets Library
We found a great library full of VTuber assets that are absolutely free for you to use. It is a google drive link where you can download any artwork you like.
You can find the link to the library below:
Google Drive Free VTuber Assets Library
All you have to do is click the thumbnail of any asset you want. It will pop up and show the full-sized image. Then click the small download button on the top right corner of your screen.

Just like that, now you have a free asset that you can use while VTubing.
Terms Of Using Free Assets For VTubers
Although all of the assets mentioned in this article are free to use and monetize on your stream, it is still better to be safe than sorry.
That is why we recommend following the guidelines below:
Credit the artists, if possible. It is not required. However, if you do it, you will be safe, and you will be helping the artist a lot, which they deserve.
Secondary distribution of the material is prohibited. This term is understandable. You can not go around selling someone else's artwork, passing it as your own. If you do, you deserve a copyright strike.
With OKUMONO assets, you can not use more than ten backgrounds in one video. You do not need that many backgrounds and overlays in a video anyway.
You generally can not print these free assets on your merch and sell them.
Wrapping It Up
Whether you have money or not, free stuff is always great. The same is the case with Free VTuber assets. In this article, we helped you find VTuber assets for free. Now how you use them depends on you. I hope you use them creatively, and good luck with your VTubing careers.