VTuber Emotes: How To Create Them
VTuber emotes make your streams much more fun for you and your audience. They help your chat react more expressively and a bit more interactively as compared to using only words.
If the VTuber emotes are custom-made, e.g., chibi emotes, they offer your chat a much more personalized experience and make them feel a little more in touch with you as their favorite VTuber.
Now there are two ways you can go about creating emotes for your VTuber. The first one is hiring a professional freelancer to make the VTuber emotes for you, and the second one is creating them yourself.
Both of these methods have their own pros and cons, which we will discuss later in the article, along with a guide on both ways. So, let's take a deep dive into the topic at hand and get you some dank-looking emotes!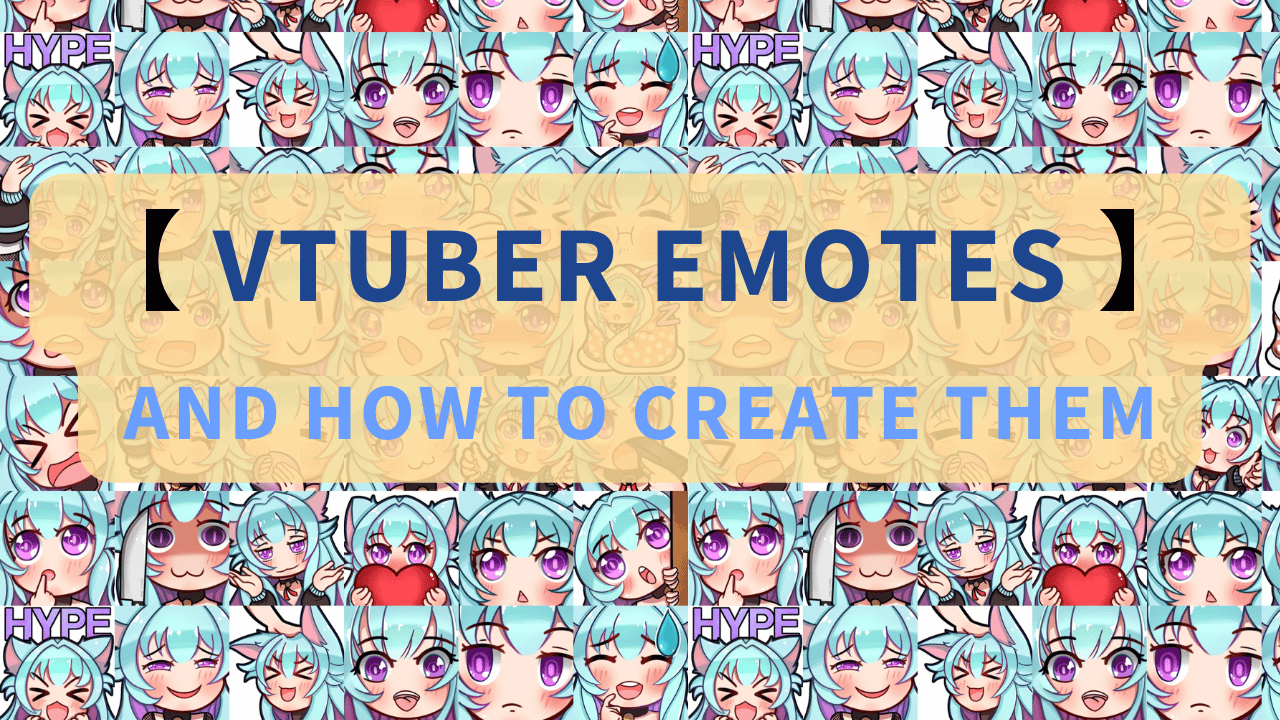 Hiring A Professional Artist To Create VTuber Emotes
In my opinion, the best way to have emotes for your Twitch, Youtube, and Discord is by hiring a professional artist to create them for you. For that to happen, you would need to commission an artist from Twitter or some freelancing marketplace. I personally recommend Fiverr. Why? Because the process is simple and transparent, you, as a buyer, are protected from fraud, and the artists are experienced and rated by hundreds, if not thousands, of their previous clients.
We have chosen the best artists from Fiverr and listed them here in this article to make this process even easier for you. But before that, let's discuss why hiring a professional artist is the better way to create the VTuber emotes as compared to making them yourself. And what are the pros and cons of hiring a professional artist?
The most obvious benefit of hiring a professional is that they are just better at art than an amateur artist. They have tons of experience creating VTuber emotes over and over again for their clients. These professional illustrators have many more ideas and are more creative than amateur artists. They'll pitch you an idea for emotes you wouldn't even know you'd want. They are just that good.
Going this route will save you much more time than making the emotes yourself. If you are going to make the emotes yourself, it isn't free; you'd have to invest in your precious time that you can use to do things like VTubing, where you are good at!
That said, it will cost you some money to get yourself some VTuber emotes this way. The amount depends on the artist you go with. Typically, more popular artists will charge you more. But there's a reason why they are famous; they are good! However, along with the artists that are famous, we will also mention some artists that are good but haven't been noticed by the masses yet, providing the best bang for your buck. So, let's move on to the list of best artists for VTuber emotes.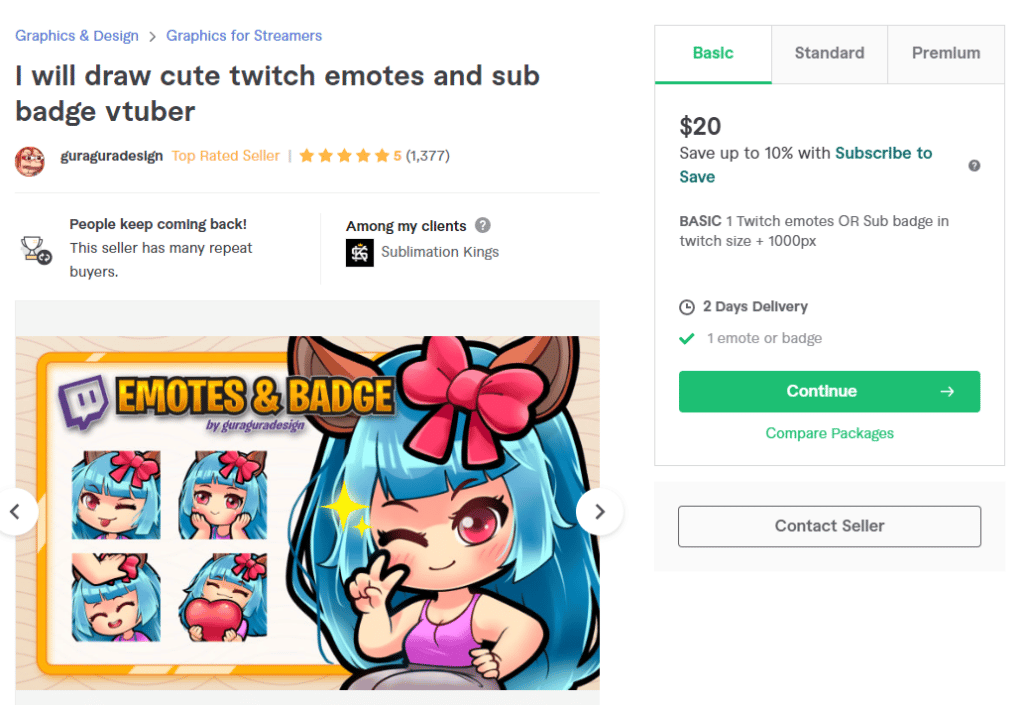 Guraguradesign is an expert illustrator and character design artist. Their real name is Erie, and they have ten years of experience in the illustration/character design industry. They are from Indonesia and have excellent communication with their clients.
For these reasons, they currently have 1,377 five-star reviews on their Emotes gig and have people repeatedly returning to buy more VTuber emotes for their streams. Guraguradesign is the most famous artist on Fiverr; that's why they charge premium prices. However, they are the best, so you do get what you pay for.
And did I tell you that they are Fiverr's choice? Yeah, they are exceptional at what they do, earning them the Fiverr's choice badge.
Reviews On Fiverr
As explained before, Guraguradesign has some of the best reviews on Fiverr. According to the reviews, they are really good at communicating, capturing what you have in mind for your emotes, and delivering exceptional art pieces. You can see some reviews below: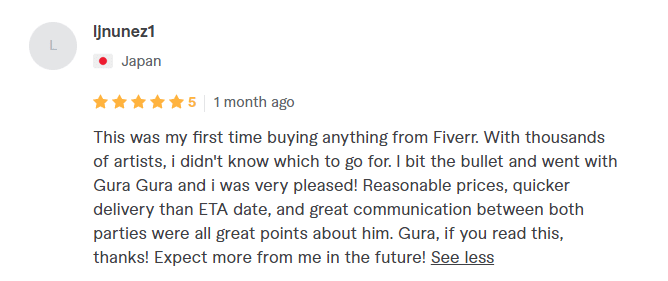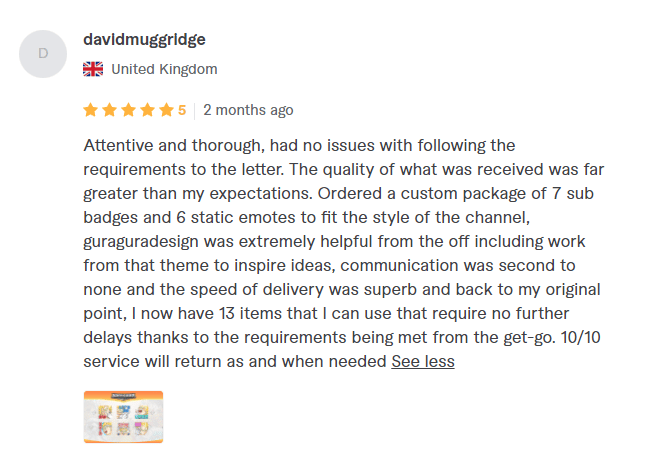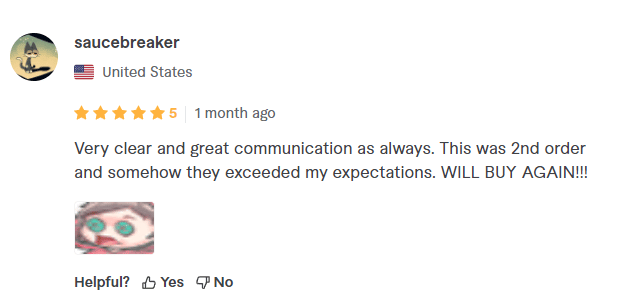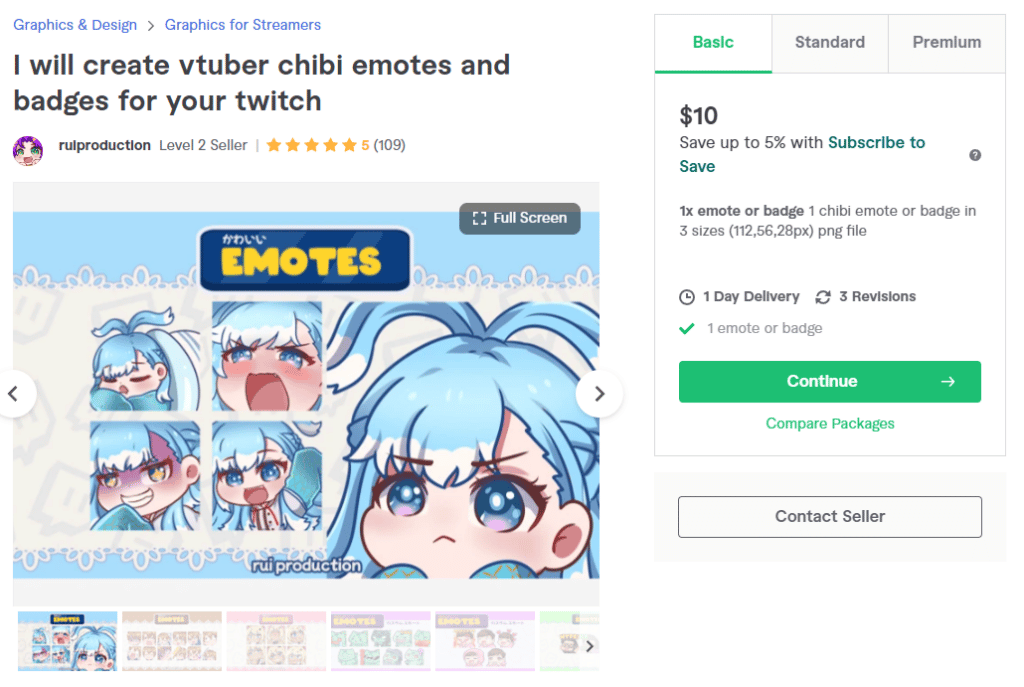 Rui Production is the best bang that you can get for your buck. They are an illustrator and graphic design studio from Indonesia. They have 1,500 satisfied customers, all thanks to their six years of experience in the field.
Hiring them will get you three to five revisions based on your chosen package. That's why you can rest assured that the result you'll get will be tailored to your satisfaction.
They provide pretty good service for the price they charge, and that's why on their VTuber emotes gig, they have 109 five-star reviews.
Reviews On Fiverr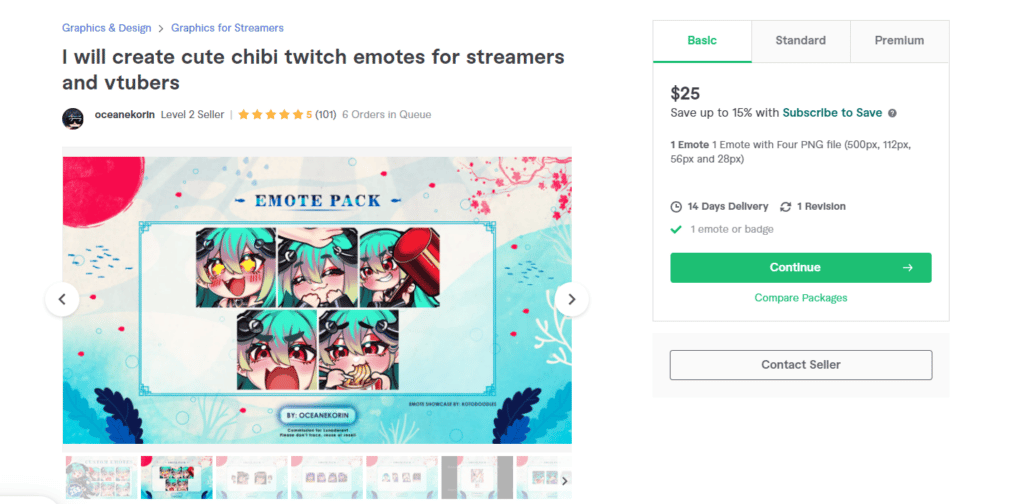 Océane is a game concept artist and an illustrator. With over four years of experience in this industry, they produce the most fantastic and cute art imaginable. They specialize in digital art, including the VTuber emotes.
Although they are more expensive than any of the artists mentioned above, they have excellent skills in creating VTuber emotes. You can just look at their portfolio, and I'm sure that you'll come to the same conclusion as me. The proof of their extraordinary service is in their rating; Oceanekorin has 101 five-star ratings for this gig and has nothing below four stars. That's just incredible.
Reviews On Fiverr



Requirements For Hiring An Artist For VTuber Emotes
For most of the VTuber emotes artists, you are required to have some reference images of the emotes that you want and your VTuber models. So make sure you have the reference images before you approach them.
How To Create VTuber Emotes Yourself
The second method of creating the VTuber emotes is to make them yourself. I recommend hiring a professional, but if you are committed enough and have some prior illustration experience, you can go down this road. We will discuss the easiest way you can go about creating the VTuber emotes. But first, let's discuss the pros and cons of creating your own VTuber emotes.
Choosing to create your own VTuber emotes will save you $10-$20 per emote, which I don't think is worth the effort you'll have to put in. For a decent-looking VTuber emote, you'll have to make a sketch, then illustrate and color it accurately. That takes a lot of time; the time that you can invest somewhere more productive, like, e.g., actually VTubing. However, we do have a quick way of creating your own VTuber emotes. It involves using Canva Pro.
It's okay if you go with the free version, but you'll end up with a white background behind your emotes, which looks a bit weird. But if you don't mind that, you don't need to buy the pro version of Canva.
Step 1: Sign Up/Sign In To Canva
Sign in to your Canva account. If you don't have a Canva account, you'll need to sign up for one. It's a simple process; you can sign up by clicking on the "sign up with Facebook/Google option," and VOILA! You are in!
Step 2: Search For The Term "Twitch Emotes"
Once you have logged in to your Canva account, click on the search bar and search for the term "Twitch Emotes."

Step 3: Select The Template You Like From The Search Results
After searching for the term "Twitch Emotes," multiple VTuber emotes templates will appear in the search result. Select the one that you like, and it will take you to the next step. I selected the third option, highlighted in the screenshot below:
Step 4: Select The VTuber Emote That You Want To Customize
In the left column, click on the template that you selected. Select the VTuber emote that you want for customization options. I chose the one highlighted in red in the screenshot below: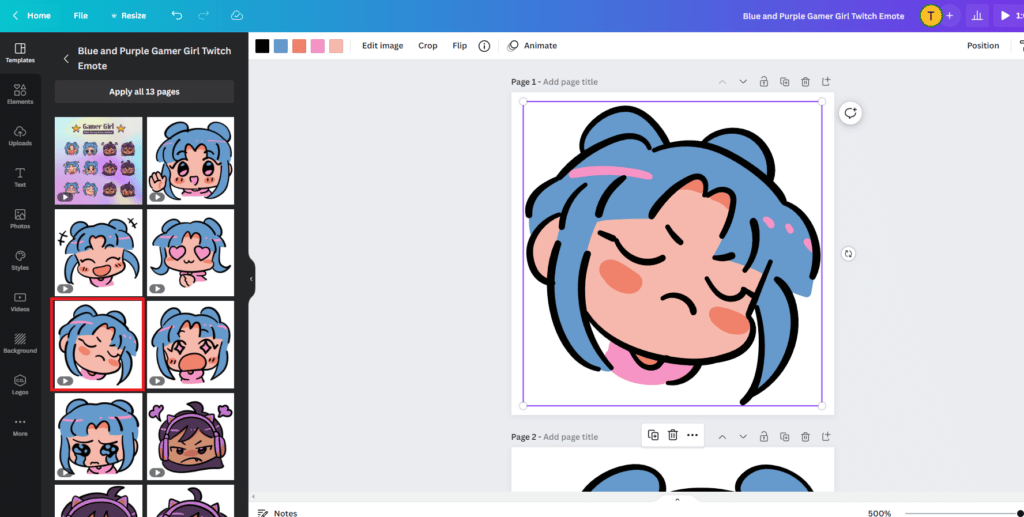 Step 5: Customize The Emote To Match Your VTuber Model
Once you have selected your favorite VTuber emote, it's time to customize it to resemble your VTuber model. The only thing you can customize is the colors. All you need to do is select the colors from the top bar of the Canva editor and match the color of the emote's hair, eyes, etc., to your VTuber model. And you are done.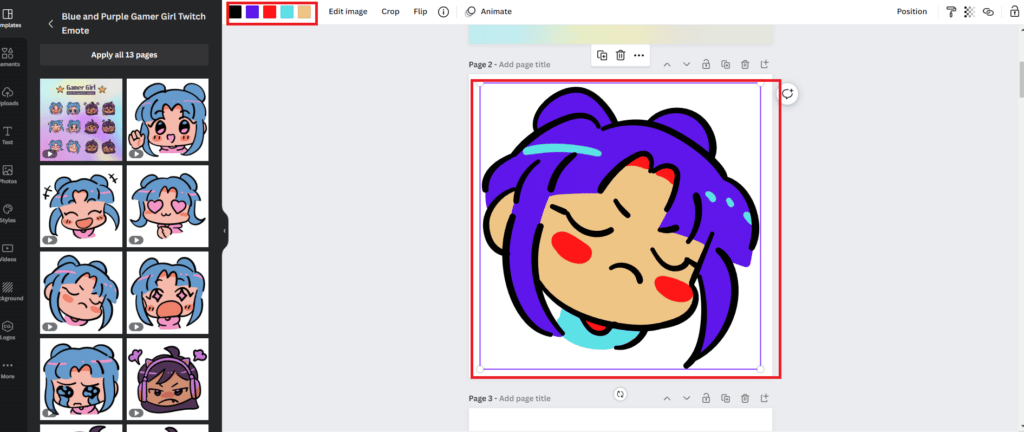 As seen in the screenshot above, I changed the color of the hair, skin tone, the color of the shirt, etc., of the emote. You can do the same and match it to your VTuber model.
Step 6: Export The File
Once you are done editing and are happy with the results, you can then download the emote as a PNG file. Here is where the difference between the free version of Canva and Canva Pro lies.
With Canva Pro, you'll be able to download it with a transparent background, which looks excellent in your chat. However, with the free version, you'll have to make do with the awkward-looking white background. That's why I recommend that you buy the Pro version.
To download the emote, click on the button at the top-right of your screen that says "share."
Click on the download button.
Make sure you select the transparent background if you are on the paid version of Canva.
Choose the file type to be PNG.
Click on the purple button that says "download."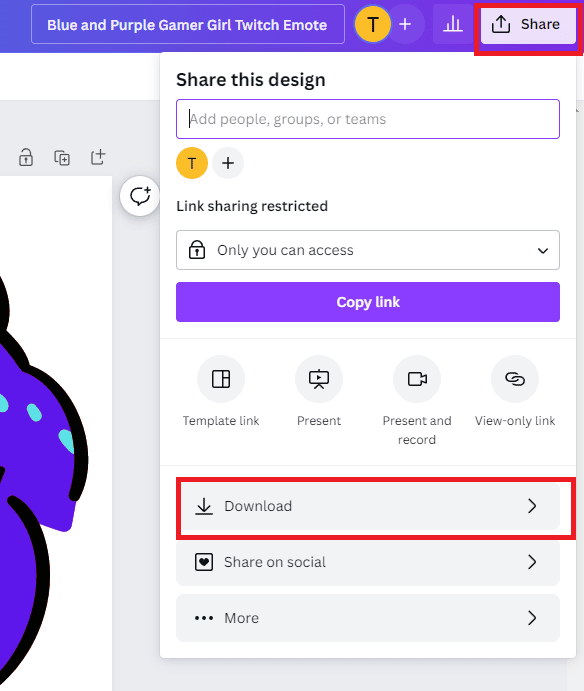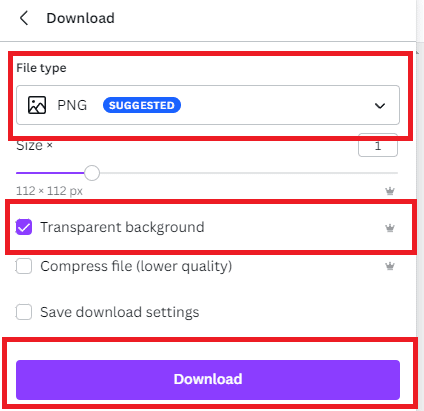 Once you've done all that, congratulations, now you have a "free" VTuber emote. Here is a video explaining all the steps mentioned above in detail.
Step 6: Uploading The VTuber Emotes To Your Streaming Channel
Now that you have created the VTuber emotes, here is how you upload the emote for your chat to use them on Twitch and YouTube.
And with that, your job is done. Now it's up to your chat if they want to use the emotes you worked so hard on or not.
Wrapping It Up
This article discussed how to create VTuber emotes yourself or get them commissioned. As mentioned before, I highly recommend hiring an artist rather than creating them yourself, as they would do a more professional job of making them as they specialize in it. And it will also save you a lot of time.
With that advice, this article comes to an end. Good luck with your VTubing careers!