How To Start VTubing On Twitch
With the recent boom in the VTubing industry, many aspiring individuals are looking to make haste while the sun shines and become VTubers. However, the first question that pops into their mind is where to start streaming. Being the largest streaming platform, Twitch seems like a viable option. But how do you start VTubing on Twitch?
Well, folks, we are here to answer this very question! In this article, you'll learn why Twitch should be your first platform as a VTuber and how to start streaming on Twitch. You'll also learn how Twitch as a streaming platform compares to its competitors, such as YouTube, and what it takes to be a VTuber on Twitch. So, read on!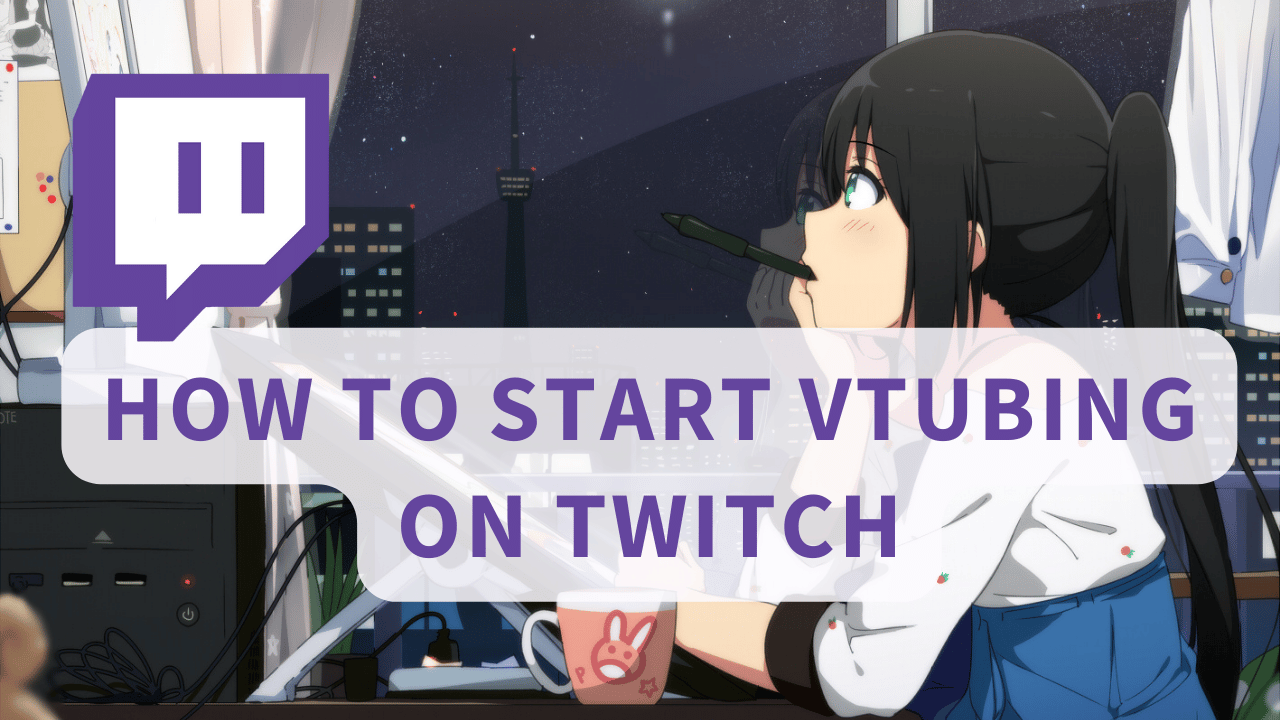 Why Should You Start VTubing On Twitch?
While there are many platforms for VTubing, Twitch is, by far, the largest of these right now. A whopping 76 percent of all streamed gaming content in the first quarter of 2022 was from Twitch. It boasts 30 million active users online every day. With that large of a user base, there's actually a greater chance of your content getting noticed.
Twitch Vs. YouTube
You could argue that YouTube has more favourable revenue splits for its creators. While that may be true, it also takes longer for you to get monetized there. As of this writing, YouTube needs you to have at least 1000 subscribers and 4000 watch hours to monetize your content.
In contrast, Twitch's Affiliate Program only requires that you have 50 followers, stream for at least a total of 8 hours over 7 different days, and average 3 viewers on these streams to start earning. Also, there are more ways to make money on Twitch than on YouTube, which makes it a much better choice for beginners. 
Twitch also outperforms YouTube in terms of engagement tools. Whether it's bots or extensions, you'll have a lot of ways to engage with your viewers more. As a VTuber (or as a streamer in general), engagement is going to be key to growing and retaining your audience. Twitch has these engagement features in spades.
Preparing For Your VTuber Debut On Twitch
Assuming you've already gotten a working VTuber model, it's finally time to prepare for your debut on Twitch. VTubing might seem like it's just a matter of going live and talking over gameplay, but there's more that goes on behind the scenes. Let's talk about how you should make your debut and start VTubing on Twitch!
Setting Goals
Before you start VTubing on Twitch, you should first set goals for yourself and a deadline for achieving them. These goals can range from increasing the number of followers or subscribers to increasing monthly revenue and/or obtaining a Twitch Partnership.
A good goal to set if you're still new to Twitch would be follower growth. Your follower count isn't just an indicator of growth. On a platform such as Twitch, your follower count can also influence your growth. For beginners, 5 would be a reasonable number of new followers, so let's start with that as a weekly or even monthly goal. As you hit this goal, consider setting another that's progressively higher.
The key is to make sure that the goals you set can be achieved reasonably and are time-bound. Later on in the article, we'll also talk about how you can use a Twitch feature to share the goals you set with your community.
What Content Should You Be Making As A VTuber?
Your first order of business after setting a goal is to find a suitable type of content to stream. Ideally, you want to stream something popular to attract more viewers. For specific content ideas, you'll have to check out the most-viewed categories on Twitch's front page. Take note of which game or category has the most viewers, and try to plan your content around those.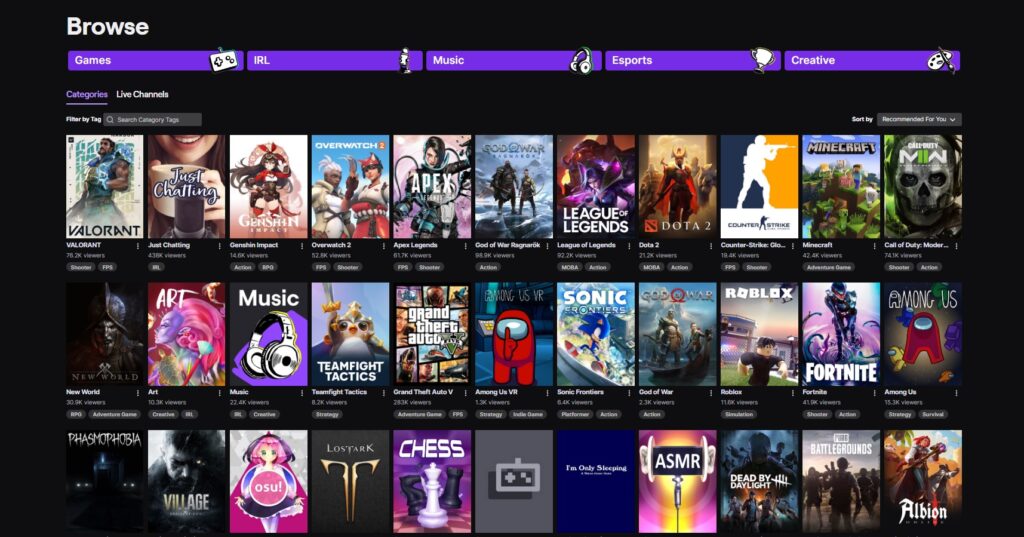 If you're someone who enjoys FPS games, maybe consider Valorant, Overwatch 2, or Apex Legends. Not interested in games/gaming? Consider coming up with content that'll fit under the "just chatting" category. This can include (but isn't limited to) react content, creating digital art, or even singing or music streams.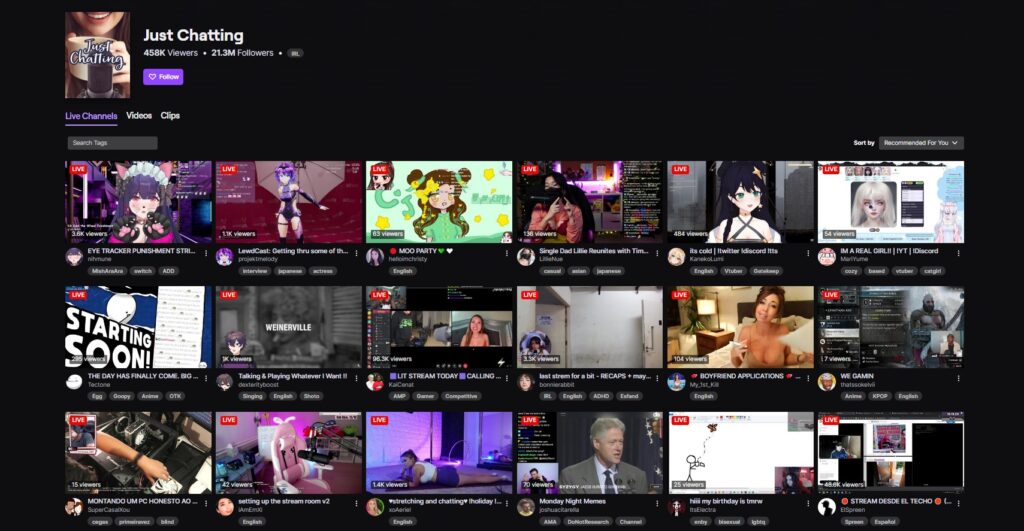 More important than the type of content, though, is the enjoyment you get while making it. Your viewers are going to notice if you're not enjoying yourself. And when this happens, they're even less likely to engage with your content. So try to strike a balance between creating content for popular games and trends and those that you have fun playing.
Technical Considerations
Once you're set on the type of content you want to make, it's time to check if you have the hardware and software to start streaming.
Hardware
For hardware, you're going to want a computer with decent specs (a multi-core CPU and ideally a dedicated GPU), a mic, a monitor, and a webcam. Now, depending on the type of VTuber model and software you're using, you can even disregard the webcam. Some PNG-tubing software, like Veadotube, will only require a microphone to work.
If you want to use the motion capture features of Live2D and/or 3D VTuber software, then investing in motion capture equipment is a must. Depending on the equipment, this could set you back thousands of dollars (at least $4000 and as much as $15,000 in some cases).
Streaming Software
Streaming on Twitch will be a much smoother experience when you're using dedicated streaming software. OBS and Streamlabs are arguably the best options you'll have for this. Both are relatively easy to use and are now standard software in the streaming industry. 
OBS Vs. Streamlabs
Though it is functionally the same as OBS, Streamlabs has features that make it an arguably better option. Chief among these is access to free and paid themes and overlays, a merchandise store, widgets, as well as tools for making emotes, logos, and intros.
You can accomplish something similar with OBS, but you're going to have to tinker around with its settings and/or use something like StreamElements (for overlays and themes, a chatbot, and a merch store). For ease of use, go with Streamlabs. If you're curious and want to tinker around, then opt for OBS.
Some Other Streaming Software
While they are usable, certain drawbacks prevent us from recommending other streaming software such as ReStream, vMix, and XSplit. Restream is browser-only streaming software that's free and, on paper, seems great to use. The problem is that a lot of its features are locked behind a paywall. Stand-alone streaming apps like XSplit and vMix also suffer from the same problem.
In XSplit's case, you can try the software for free, but only if you're a non-profit and only for a year. With vMix, you either pay for a lifetime licence or opt-in to a subscription, as it does not have a free option.
Starting VTubing On Twitch
Now that you have the hardware and streaming software, it's finally time to start VTubing on Twitch. In this section, we'll break down how to set up your VTuber software with either OBS or Streamlabs.
Connecting Your Twitch Account To Streamlabs
Let's first set up Streamlabs with your Twitch account. 
Once you've downloaded and installed the Streamlabs desktop app, you're going to want to open it and navigate to settings (you can find this in the lower left-hand corner of the app's screen). Click on it, and then look for and click on the login button in the lower left-hand corner of the window that pops up.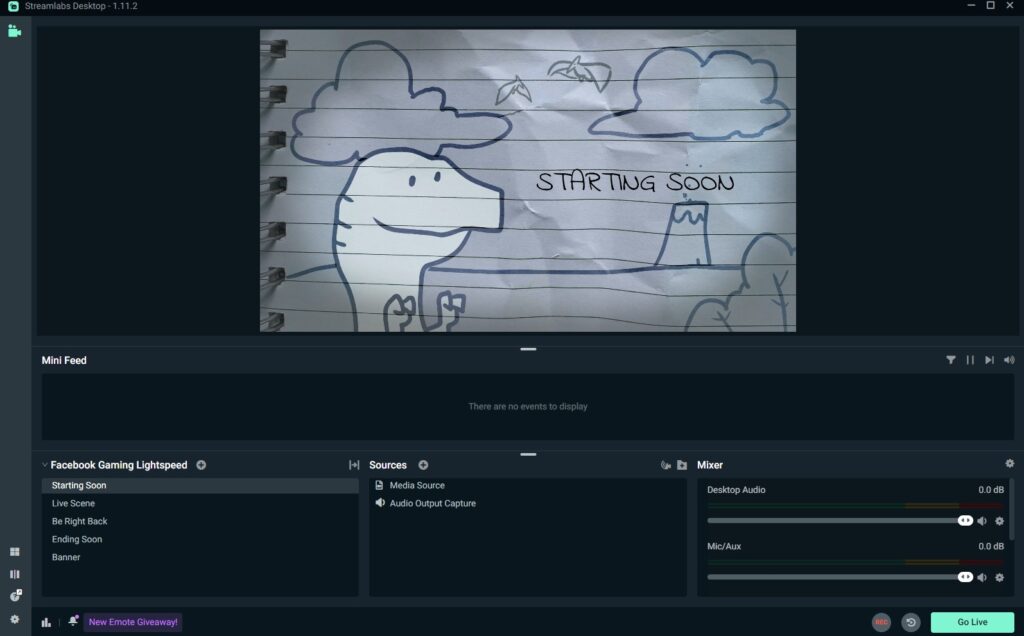 Doing this should then bring up the Connect screen. Clicking on the Twitch logo will open a browser window prompting you to log in to Twitch and authorise Streamlabs to access your account.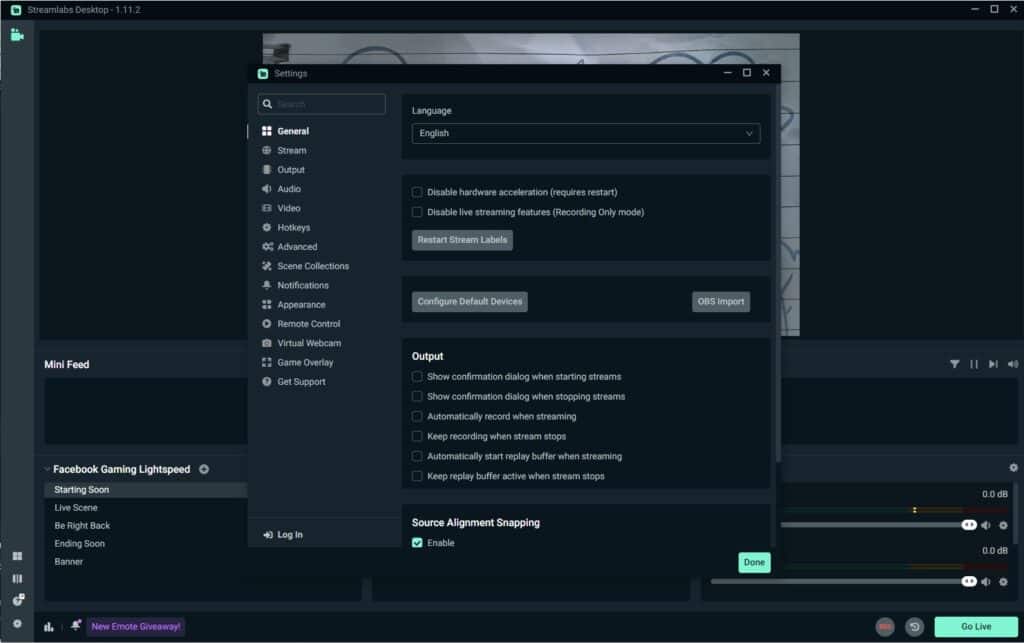 Clicking on "Authorize" should then bring you back to the Streamlabs desktop app. At this point, you've now connected your Twitch account to Streamlabs.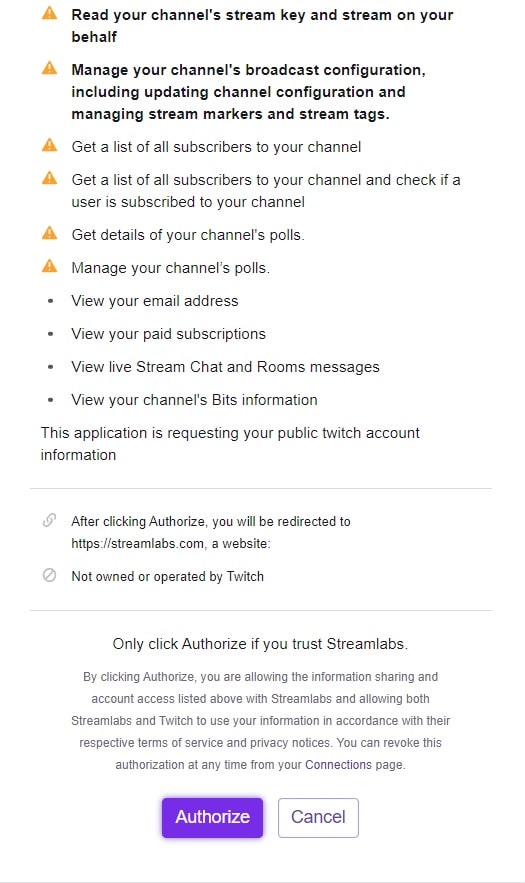 To double-check, click on the Settings gear icon again. You should now see the option to log out in the lower-left corner of the Settings window. To the right of this option should be the Twitch logo and your username.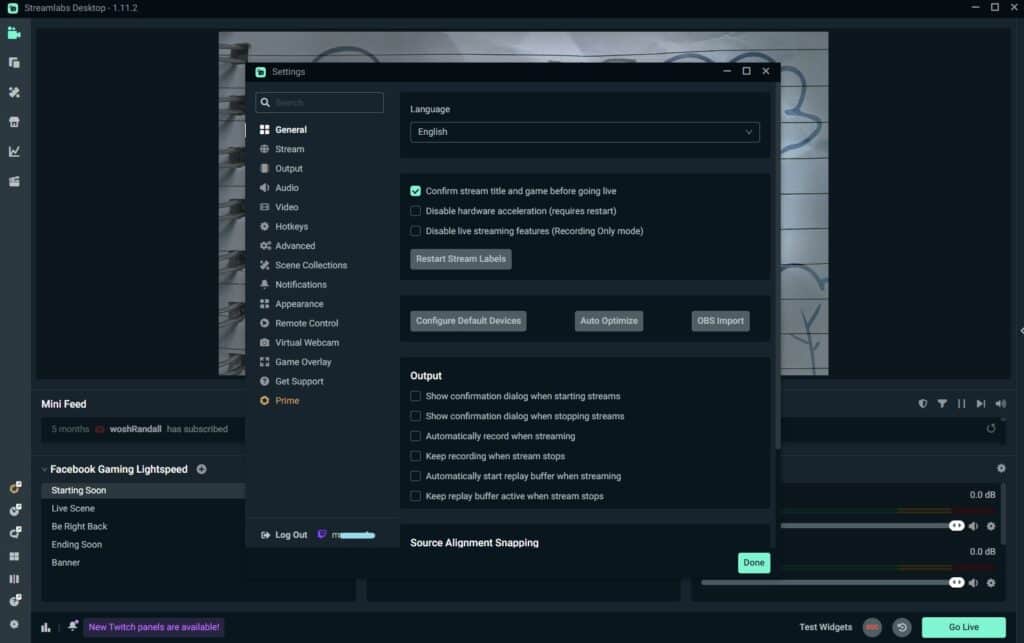 Once you've done this, just follow the steps below to set up your VTuber software with Streamlabs:
On your Streamlabs broadcast panel, look for the Source toolbar and click on the "+" sign. Look for the option "Game Capture" and then click on it.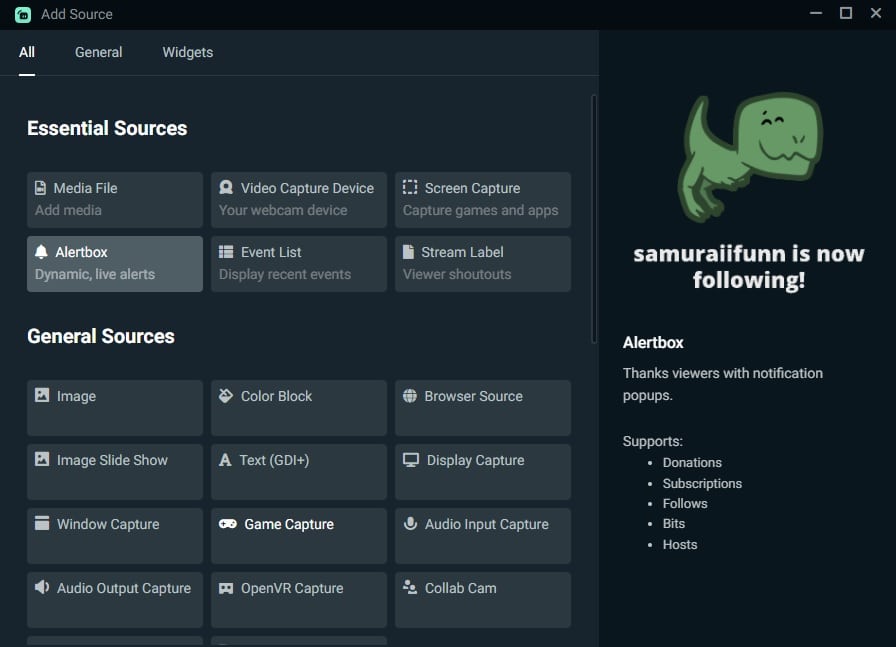 This will take you to an "Add Source" window that will ask you to enter the name of your source. By default, it's named "Game Capture," and you could leave it as is. Some people might change it to the name of the game or app they plan to capture. Either way works. Once you've decided on a name, click on the "Add Source" button.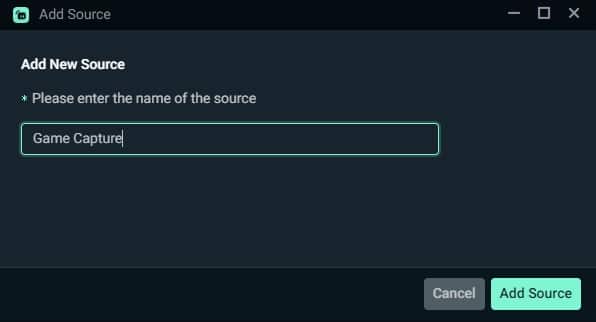 You should now be in the Settings for "Game Capture" window. By default, the mode on this window is set to auto. This allows Streamlabs to automatically detect any program or game. If your VTuber software is the only program running, then it should show up like the image below. Press the Close button on the lower right-hand corner of the window, and we're ready for the next step.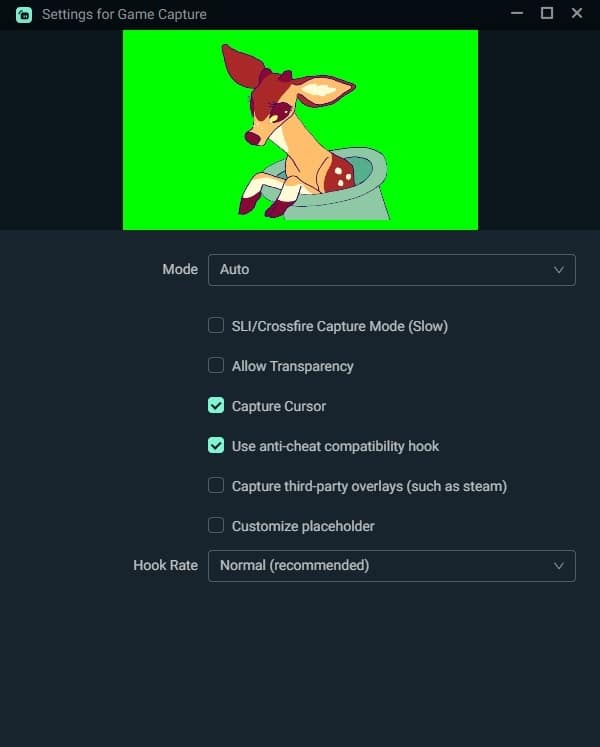 Now you'll need to take out the green screen background. To do this, right-click on the name of your "Window Capture" on your mini-feed and look for filters.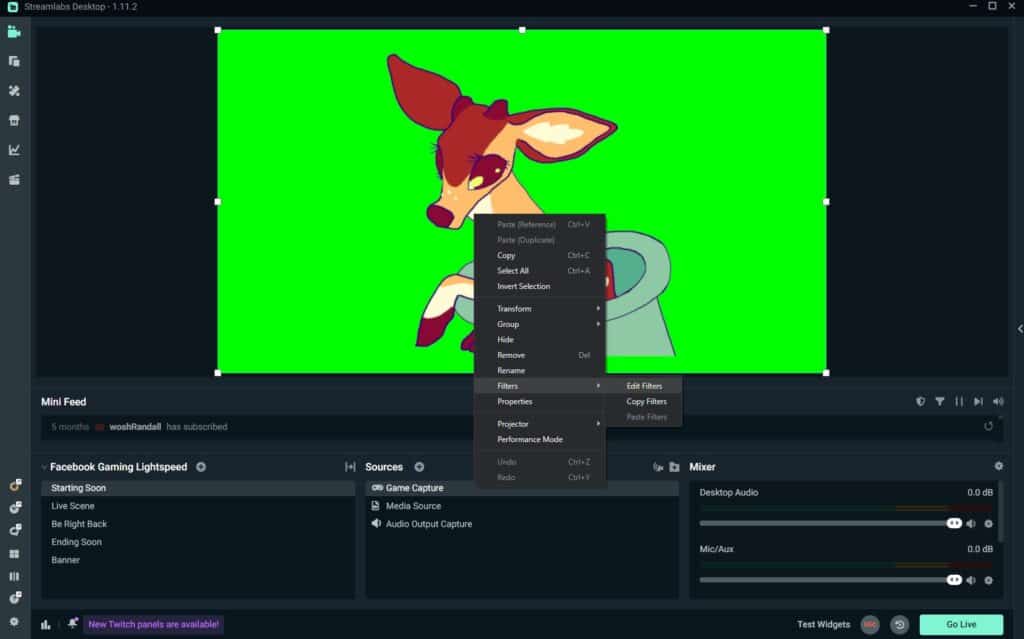 Click on "Add Filter," then set the filter type to "Chroma Key," and then press "Add." This should now remove the green background from your VTuber avatar.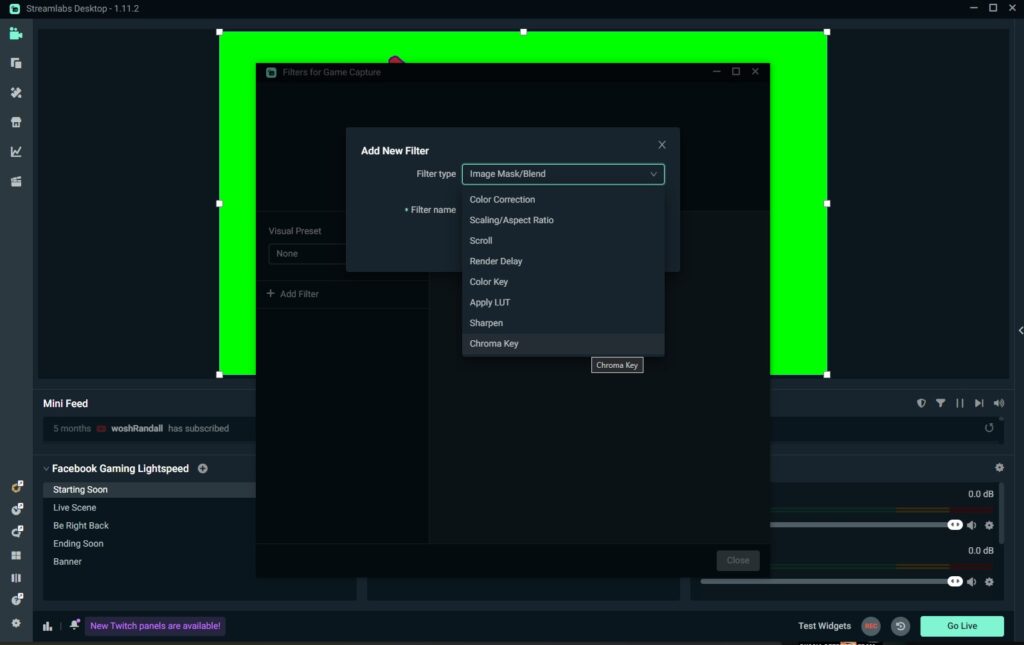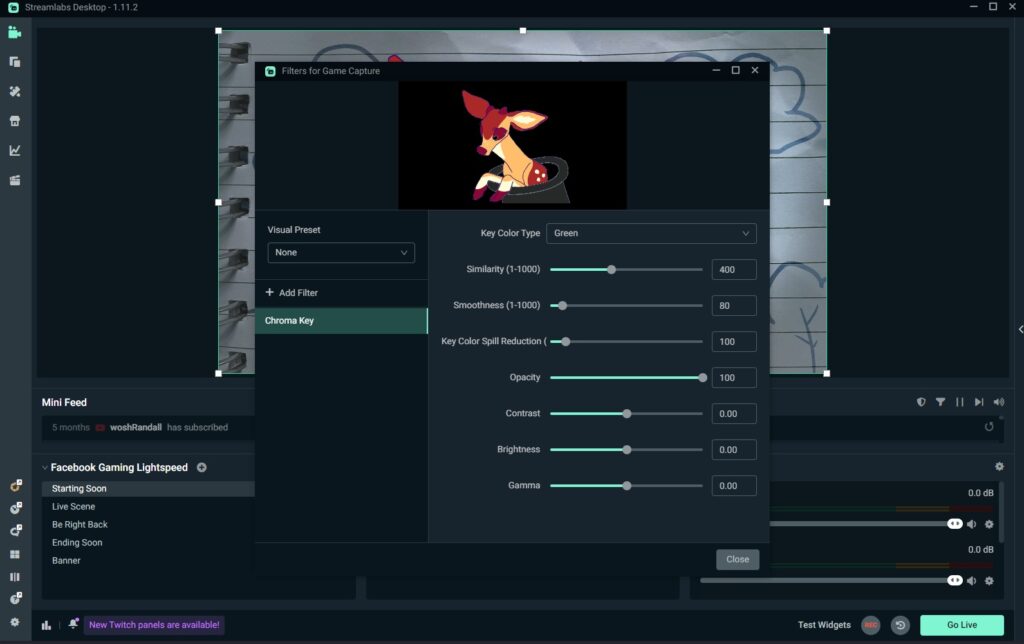 Now click on "Close" on the filter for "Game Capture" and click on the "Game Capture source." Doing this will then allow you to resize your VTuber avatar by dragging the corners of your source inwards or outwards. To move it, just mouse over your VTuber avatar, hold the left click and move it to either the lower right or left side of the screen or scene.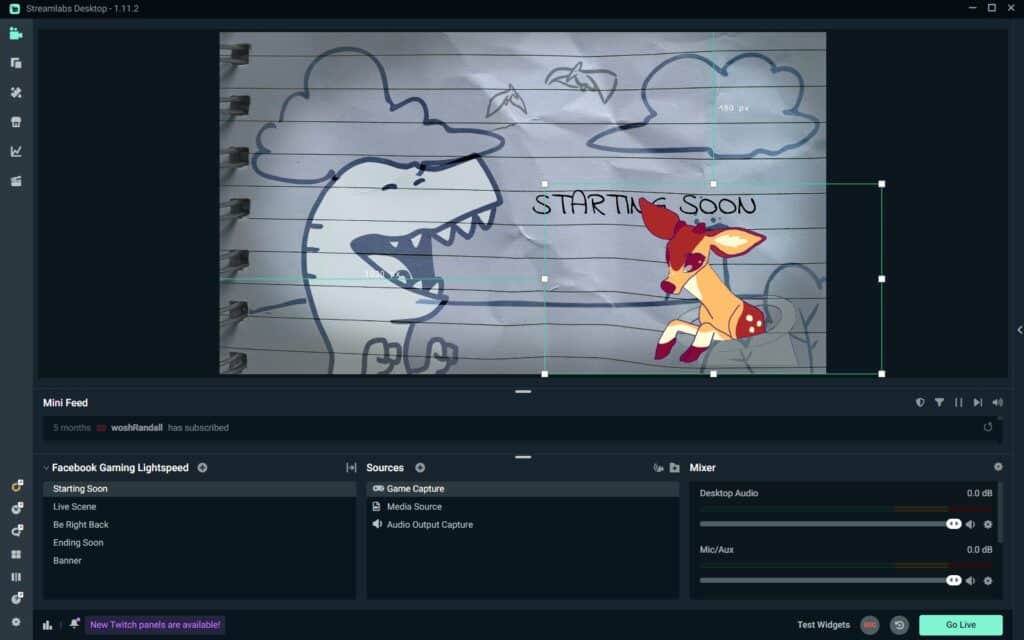 What's Next After Starting VTubing On Twitch?
Now that you've gone live, what are some of the things that you can do moving forward? In this section, we'll introduce you to two Twitch features that you can use to help manage your streams and further your streaming goals.
Moderation
Moderation is going to be crucial for any streamer. If you neglect moderating your community and chat, you could end up getting in trouble with Twitch's Terms of Service.
At some point, you are going to want to set up moderators to help you with policing your chat. This is especially true once your community has grown large enough. You should ideally get mods from your own followers. Doing this not only allows you to better focus on making content, but you'll also be able to reward your subscribers'/followers' loyalty. To set someone as a moderator:
Just head over to your chat and type this command without the quotes: "/mod username" (with the username being the Twitch username of your follower or subscriber).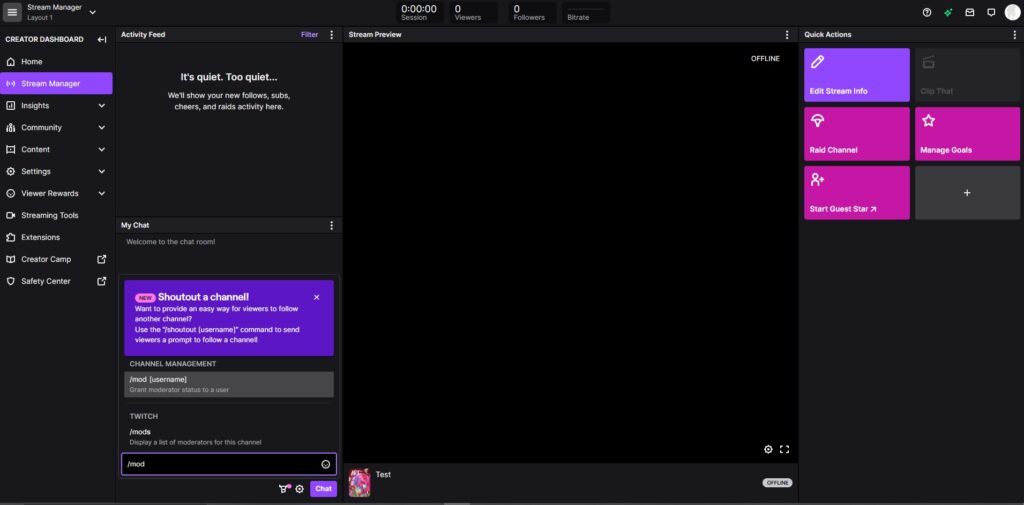 Other than this, you can click on your follower's username in chat and then click on the icon with a person's outline that has a plus sign on it.
Either of these steps should allow you to add a follower or subscriber as a moderator. If you want to assign other roles to them, head on over to your Creator Dashboard and look for "Roles Manager" under "Community." Aside from moderator, the roles available are limited to the editor, artist, and VIP.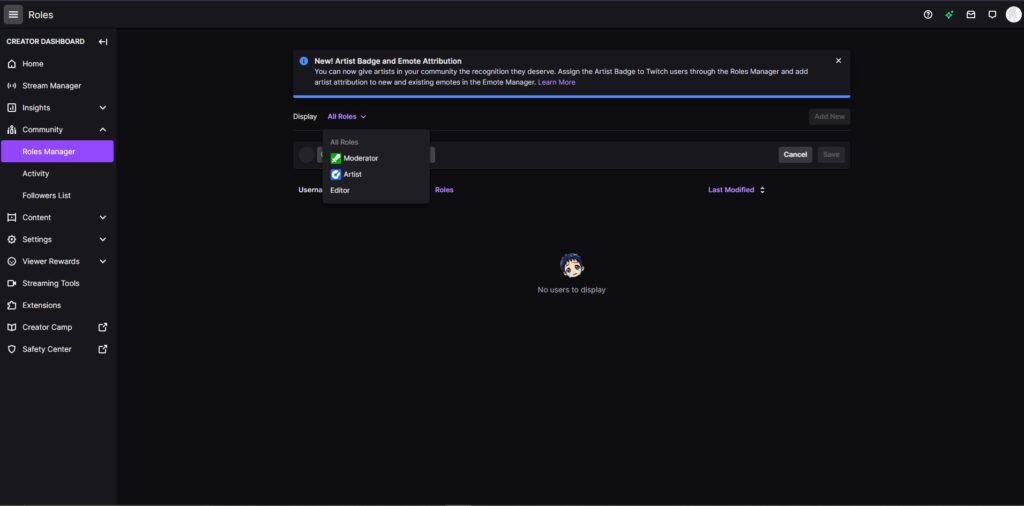 Sharing Your Goals With Your VTuber Community
Earlier, we talked about setting goals for yourself as a VTuber on Twitch. To achieve these goals faster, you can also make use of Twitch's Creator Goals feature. This allows you to share your goals with your viewers and followers.
Follow these steps to access these features:
Go to your "Creator Dashboard" and look for "Stream Manager."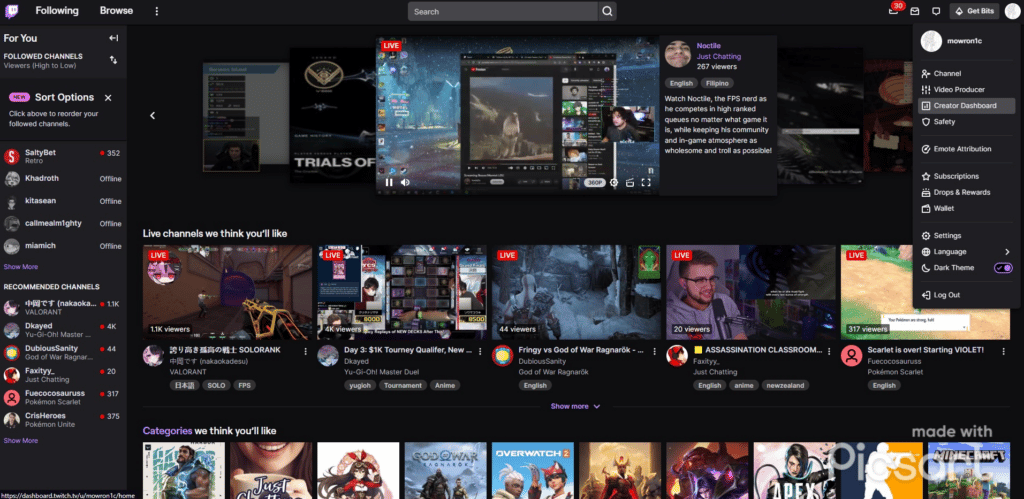 Under the "Quick Actions" section, click on the "Manage Goals" button.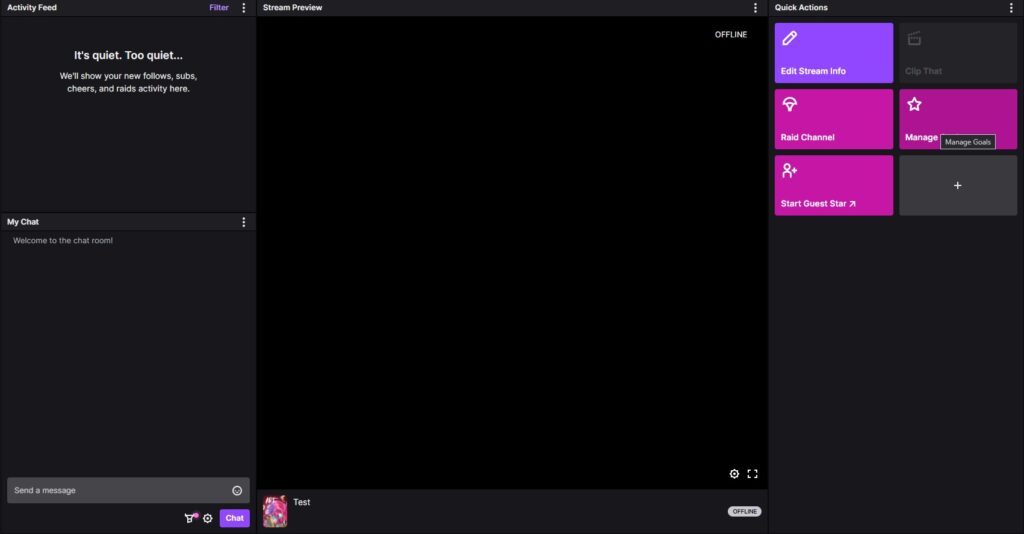 A Start Goal window will pop up. If you're still new, you should only have "Followers" as an option. Set your goal and then click on "Start Goal."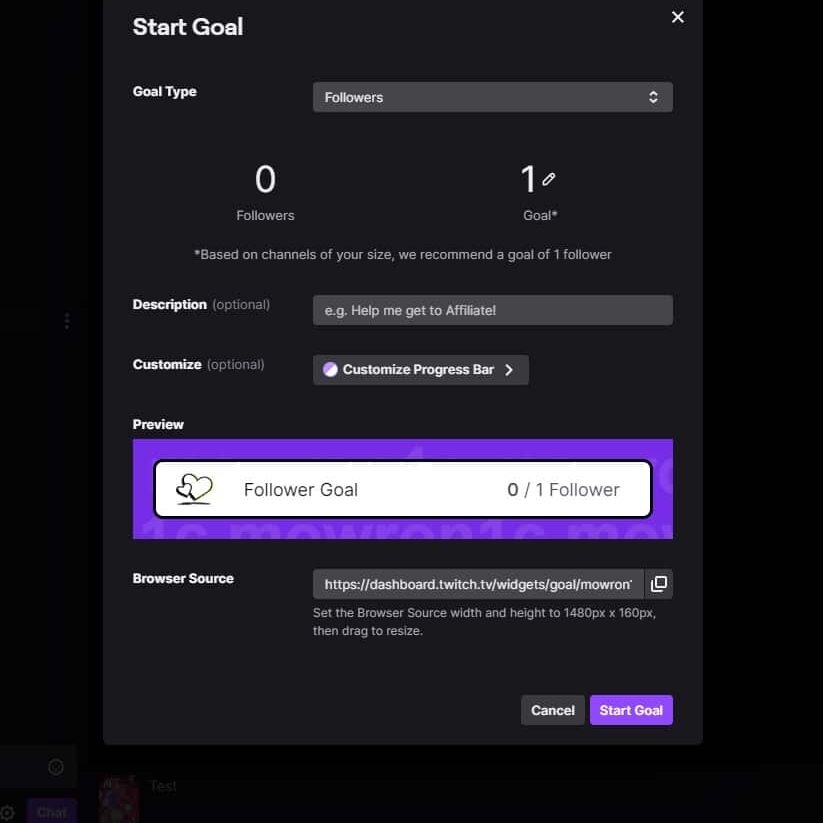 Take note that Twitch typically suggests a goal that it thinks is suitable for you based on your channel's size. You can choose to disregard this goal if you want. Again, though, make sure that the goal you decide to set is reasonable and achievable. Later on, you'll have access to more goal types.
Having Fun
As mentioned earlier, it's paramount that you enjoy the content you're creating. Don't force yourself to stream if you're not into it. Yes, reaching your goals is important, but not at the expense of your mental health.
If you're not feeling well, then it's okay to cut your stream short or not start streaming at all. Playing a game for hours on end can be a strain, both physically and mentally. Take short breaks and use these as a way to engage more with chat.
Wrapping It Up
Twitch is a great platform to start VTubing. You can get noticed very easily, collaborations are much more convenient, and you'll be able to grow fast on Twitch. In this article, we discussed how to start VTubing on Twitch. We hope that was of great help to you.
Thank you for taking the time to read this entire article, and we'll see you in the next one! Good luck with your future endeavors!