Corpse Husband Face Reveal | What Does He Look Like IRL
Corpse Husband, the mega online sensation, has somehow maintained his looks as a mystery—well, kinda. So, how does he look like IRL? Let's spill the deets.
With 2.91 million subscribers solely on his YouTube channel, Corpse is one of those content creators who have gained rapid popularity.
Even though Corpse Husband is a total online sensation with millions of loyal fans on YouTube and Twitch, he's mastered the art of keeping his personal life and looks locked up tight, away from the prying eyes of the internet.
Without ever dropping a public face reveal, any tiny bit of potential info sets fans on fire with excitement. But wait! Some of these claims might actually be on to something real (more on that later in the article).
Here are all the instances where someone claimed to reveal Corpse's real face):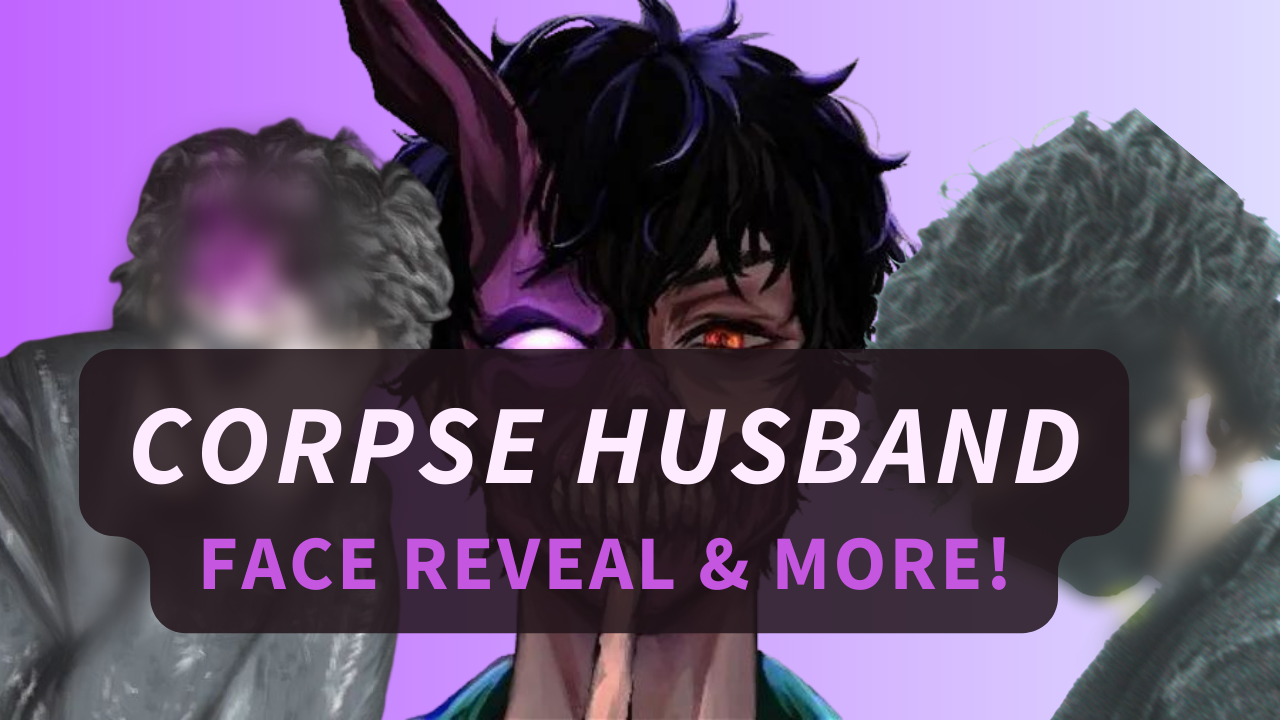 Who Is Corpse Husband?
Corpse Husband, who was born on August 8, 1997 (currently 26 years old), also goes by the CORPSE (all caps). This American content creator and musical maestro hails from sunny San Diego, California, in the United States.
Now, if you haven't heard, Corpse is famous for two things: his voice that's so deep it could give you shivers, and his epic Among Us escapades with fellow YouTubers and Twitch streamers. The man's gaming skills are as sharp as a knife, and his streams are nothing short of a thrill ride.
Corpse isn't just another YouTuber; he's the spine-tingling captain of the Horror Narration Channels community. When he's not sus-ing out imposters in Among Us, he's exploring the darkest corners of the internet to unearth spine-chilling tales of horror.
These aren't just any stories, mind you; they're stories straight from the minds of his subscribers and spooky subreddits like r/LetsNotMeet and r/NoSleep.
Corpse's Content
Before he became the YouTube sensation we all know and love today, Corpse Husband's haunting voice had people going, "OMG, you should totally narrate horror stories on YouTube!"
Back in the day, his content was similar to channels like MrCreepyPasta, Chilling Tales for Dark Nights, and Cryaotic. But what really got his blood pumping was stumbling upon the likes of Mr. Nightmare, Be Busta, and Lazy Masquerade.
These guys dished out the juiciest real-life horror tales. That's when he knew he had to dive headfirst into the horror narration content creation.
So, Corpse got busy crafting his own channel, one that would soon become the undisputed kingpin of horror storytelling on YouTube.
But the name "Corpse Husband"? He sat down for 20 minutes, jotting down names left and right. And from that, the name "Corpse Husband" emerged.
His then-girlfriend gave it the thumbs-up, but Corpse wasn't entirely sure about it and even teased that he might change it. Well, guess what? It's still hanging around, and it's become his signature.
Now, when Corpse Husband first fired up the recording, he didn't have a fancy setup. Nope, it was a mic strapped together with zip ties and rubber bands, all wrapped up in a pop filter. Maybe that's why he sounded a bit, well, "weird" at the start.
But some brave souls dug his unique vibe, and that was all the fuel he needed. The real kicker? Mr. Nightmare himself (the guy he looked up to when he started his own channel) started leaving comments on his videos. It was the ultimate shoutout for him, and Corpse was all in, ready to keep those horror stories rolling.
His Personal Life
Corpse Husband, the man of mystery in the streaming world, shared some real talk about his life journey. He dropped out of the school in 8th grade due to some personal issues, made a brief return, and then quit for good. He's all about that rebel life, proudly mentioning that he only rocked it in Computers and English.
Before he became the streaming sensation we know today, Corpse dabbled in sports. He started with soccer, scoring a spot in the local newspaper. Then he switched to baseball and made the school's sports website front page. Surprisingly, he wasn't a big fan of traditional sports.
In terms of his home, an apartment in San Diego is where the king resides. It was once shared with his ex, but now it's a solo spot. It's his go-to for late-night storytelling sessions when things are quiet.
Regarding his streaming gig, Corpse keeps it on the down-low from his real-life pals. He's got a special room dedicated to his content creation, and he warns his guests to stay out of there when there's a party at his place. However, some people have tweeted some photos, claiming them to be Corpse Husband's face reveal (more on that later in the article). And no one in his real life knows what he does for a living.
Plus, he drops a subtle hint that his YouTube profile picture might give you a clue.
He stands at a modest 5'10" (178 centimeters) in height. Corpse is not your typical streamer; he's the enigmatic presence in a world where most are all about the glitz and glam.
What Health Issues Does Corpse Face?
Corpse Husband doesn't just bring the Among Us gameplay – he's also fighting a bunch of real-life health problems. Here are a few of those issues:
Fibromyalgia
Sleep Apnea
Chronic Insomnia
GERD (Gastroesophageal Reflux Disease)
Eye Disease and Eyepatch: He wears an eyepatch due to an eye disease that causes inflammation.
The Stalking Issue He Faced
Corpse Husband's real-life horror story took a chilling turn when a stranger knocked on his front door, posing as a gas company affiliate. His mother, unsuspecting, let the person inside, only for him to leave without a trace. Unaware of the bizarre encounter, Corpse later called the gas company, only to find out they had no knowledge of any such visit.
The eerie events continued the following day when, upon returning home, Corpse's family spotted an unfamiliar person near their car in the driveway, conducting some suspicious "inspections" before making a quick getaway. Things escalated when the family heard heated arguments outside the house, followed by a loud crash. Rushing to the backyard, they discovered a wrecked couch.
Panic set in as someone began kicking their front door, while a chaotic scene unfolded outside, with cars speeding away and people shouting. When Corpse and his family finally braved the confrontation by opening the front door, the intruders had mysteriously vanished.
After this harrowing incident, their home became a target for several more instances of stalking. Every time a family member ventured outside, the culprits would flee the scene. Strangely, since June 2016, Corpse Husband hasn't publicly spoken of any more disturbing occurrences, leaving us all with an unsolved mystery that sends shivers down the spine.
Corpse Husband Face Reveal
Throughout the years, there've been tons of "face reveal" rumors popping up from all corners of the internet, but none have been the real deal. Social media platforms have blown up with folks insisting they've got the legit scoop on Corpse Husband's face. Check out these identical posts that appeared on Reddit: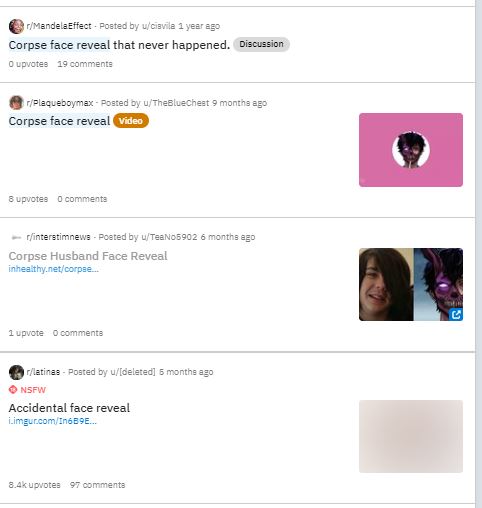 The most recent buzz about a Corpse Husband face reveal has once more been debunked. The pic causing the clickbait frenzy actually originates from a Twitter account called Nog, which posted a photo claiming to be Corpse Husband's face back in 2021. When they first dropped the pic with the caption "Babe wake up. Corpse husband face reveal just dropped," it caused quite a ruckus among fans, drawing heavy criticism.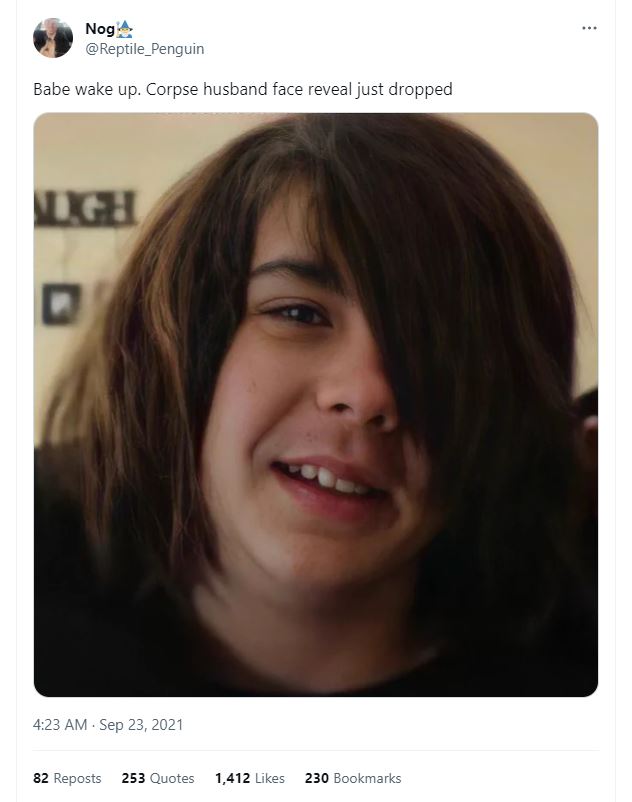 As per sources, this image was supposedly part of a bigger leak that included alleged pics and details about Corpse. But it's still a mystery if those images truly belonged to Corpse himself.
Now, fast forward to March 2023, and the same image has resurfaced on Twitter, igniting yet another round of discussions about how fans see content creators and the whole world of parasocial relationships.
As opposed to Dream, a fellow content creator, Corpse has never definitively committed to revealing his face. Dream had built up significant anticipation for his own face reveal, which created a huge frenzy.
When Dream did finally reveal his face, it triggered a wave of criticism, with plenty of harsh jokes and mockery on social media. Seeing this kind of reaction might discourage Corpse from unveiling his entire face.
In 2021, Corpse dropped a total bombshell in one of his TikTok videos titled "haha." He tacked on an epic extended shot, and it kind of revealed his face. You see him there, his hand covering his face, and then these mysterious wings emerge from the shadows.
Now, there's no official stamp that this is the real deal, but let me tell you, his fans lost their minds over this semi face reveal. Comments section?
It's all "Yes," "OMG," "I'm shook," and "my jaw's on the floor" before it turns into a mix of hilarious thirstiness.
And you know how Corpse's fans roll, right? They took it up a notch, saying stuff like, "A strange way to propose, but yes," and there was fan art flooding within hours of this TikTok hitting the scene.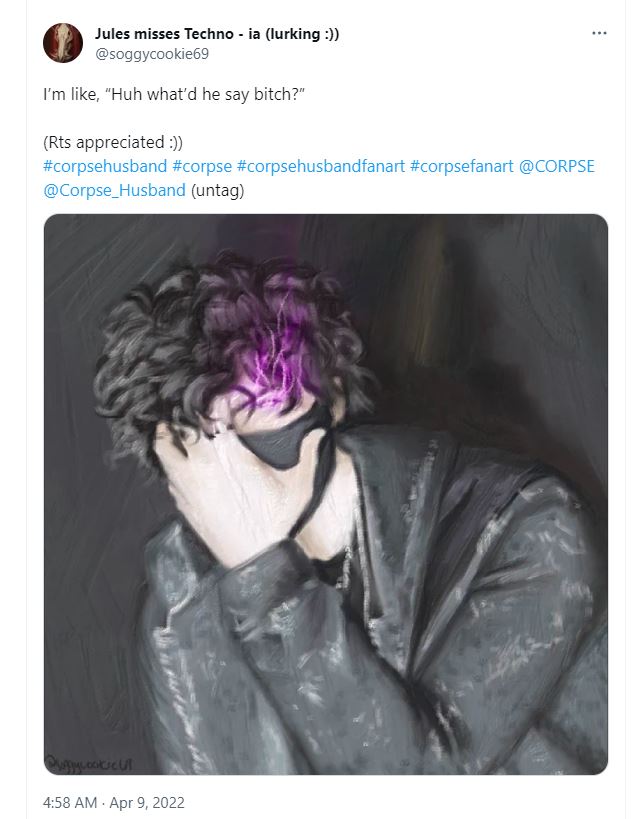 What Did Corpse Stop Streaming & Where Is He Now?
Corpse Husband gave us the info on why he dipped out of streaming, and it all boils down to feeling major pressure. He shared with Ironmouse that he would be shaking the whole time during every stream, and eventually, he straight-up said, "Yeah, I don't really think I enjoy doing this."
But don't think he ghosted streaming altogether. Nope, he found his groove in guesting on his pals' streams. He said, "I like being on other people's streams," he confessed. "I don't know how the f**k that makes sense."
Even though he promised to pop up on others' streams, he hasn't been around much lately. But in February 2023, Corpse gave his fans a surprise by dropping a quick TikTok video, repping a hoodie he designed with Gloomy Bear. He didn't say much about what he's been up to, but fans were living for that update.
Corpse's buddies and fellow content creators, Valkyrae and Sykkuno, shared their thoughts on his MIA status. Valkyrae mentioned that Corpse had been swamped with tons of commitments, and even though she kept inviting him, he had to bail due to his insane schedule.
Sykkuno backed her up, saying Corpse is deep into various gigs, but they didn't say what's filling his calendar.
Corpse is keeping it stacked with other hustles, like his booming music and voice acting gig. He even teamed up with MrBeast to whip up a Feastables chocolate bar, proving he's got more going on than just streaming.
Wrapping Up
Corpse's vibe is all about the mystery—not just his face, but that killer deep voice, too. It's a real possibility that this streamer and musician might stick with the secrecy forever, but it could also cramp his style down the line, especially when it comes to IRL events and meet-ups.
If you enjoyed reading this and are a fan of VTubers too, you'd like to read this post: 13 VTubers who revealed their faces.
That's all, folks!