The 7 Best VR Headsets For VTubers
Step into the realm of virtual reality and open a door to a whole new dimension of creativity and connection as a VTuber, or virtual content creator. As a VTuber, with the power of VR technology, you can transport yourself into immersive virtual worlds and engage with your audience. But to truly elevate your virtual experience, you need the right tool by your side—the best VR headset.
-> Just in case you don't want to read any further and just want to know our top pick, see the Meta Quest 2, which we feel is the 🥇 Best VR headset for VTubing.
If you are a VTuber, have a 3D virtual environment ready for your streams, a motion-tracking VTuber camera, and want to move around with full body tracking in that environment, you need a VR headset. That way, you'll have an immersive experience, enjoy your streams, and be able to interact with objects in your 3D virtual streaming room.
In this article, we dive into the world of VTubing to present you with the seven absolute best VR headsets. These VR headsets will take your content to the next level. Be ready to captivate your viewers, dazzle their senses, and start your successful VTubing career as we explore the ultimate tools for VTubers, so read on!
Deeper Dive: The Best VR Headsets For VTubers
Our Picks
The Meta Quest 2: The Best VR Headset Overall For VTubers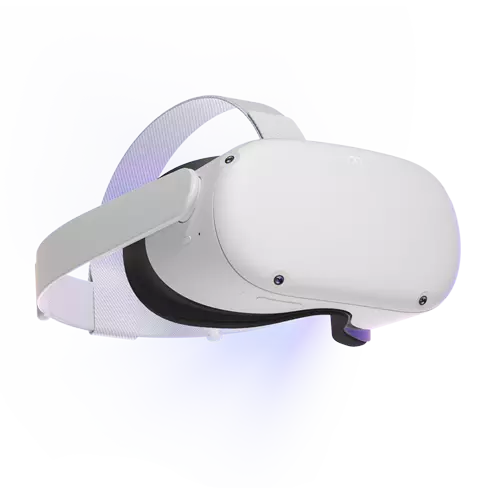 The Meta Quest 2 perfectly balances accessibility and performance, making it the best VR headset for VTubers who want to stream in a virtual 3D environment. While it may not have the best specs compared to headsets like the Vive Cosmos or PlayStation VR 2, it has some unique features that make it stand out.
Its most prominent advocates are the Meta Quest 2's wireless design and internal processor. This means there's no need to tether to a powerful console or PC, making it more accessible and lowering the overall cost. Also, Meta's ever-growing library of games, including popular titles like Beat Saber and Resident Evil 4, makes it a compelling choice for VR enthusiasts and VTubers who want to stream these games.
The Quest 2 launched initially for £299/$300 for the 128GB configuration. However, Meta has since increased the price to £399/$400.
It features a Qualcomm Snapdragon XR2 processor, 6GB RAM, and a resolution of 1832 x 1920 per eye. While it may not be able to run the most demanding games without being connected to a gaming PC, it still offers smooth performance and impressive visuals. The headset also supports Oculus Link, allowing access to a wide range of VR games that require more power.
The Quest 2's inside-out tracking eliminates the need for external sensors. It provides accurate movement tracking. That makes it great for VTubers wanting to stream in a virtual environment with full body tracking. It offers both room-scale and stationary play options, accommodating different play spaces.
It's slightly smaller and 10% lighter than its predecessor. It features a new white paint job and has a single velcro clasp for easier adjustments.
Why We Liked The Meta Quest 2 For VTubers
The Quest 2 VR headset is a popular choice for VTubers due to its affordability. Also, the standalone functionality and extensive game library make it the obvious choice. It offers an accessible entry point into virtual reality without the need for a powerful PC. The headset's portability and ease of use make it convenient for content creators on the go.
While the Meta Quest Pro offers advanced features, its higher price makes it less feasible for most consumers. With the Quest 2, VTubers can enjoy immersive VR experiences at an affordable price, making it an ideal choice for those looking to enter the virtual reality space.
The Valve Index: The Premium Tracking Kit For VTubers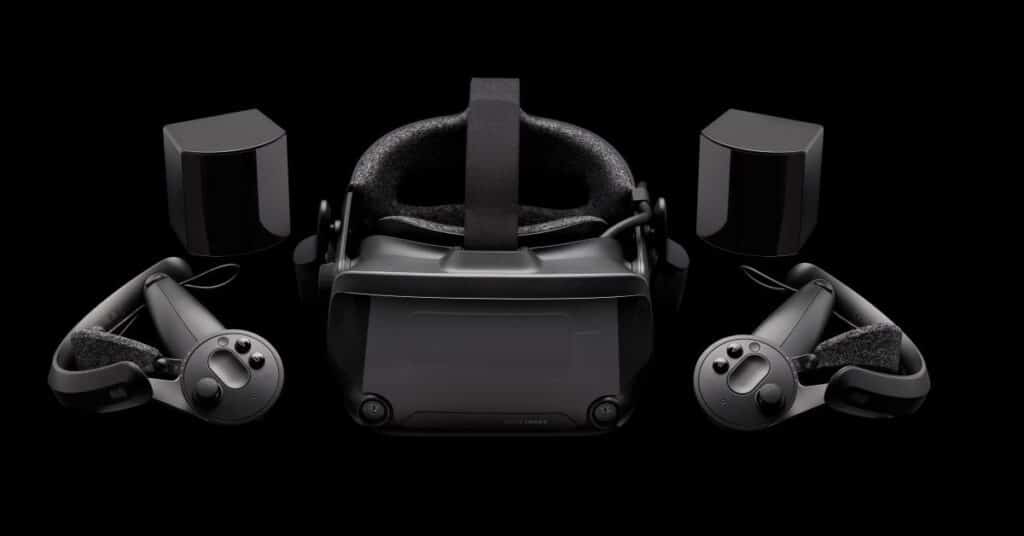 The Valve Index is a premium VR headset that offers exceptional performance for Vtubers. It's a high-end PC-tethered VR system priced at $1,435 for the full package. While the headset itself doesn't offer much beyond a smoother 120Hz refresh rate, the standout feature of the Valve Index is its controllers. These controllers feature individual finger tracking, providing a more natural and immersive feel compared to other VR controllers on the market.
The standalone Oculus Quest 2 is a more affordable and user-friendly option that doesn't require a PC or console. However, the Valve Index surpasses the Quest 2 in terms of smoother action, advanced graphics, and superior controllers. The Quest 2 is suitable for entry-level VR experiences, while the Valve Index caters to VR enthusiasts and dedicated PC gamers.
It features a unique room view provided by two cameras located below the front plate, allowing for 2D or 3D outlines of nearby objects and natural hand tracking. That makes it the perfect choice for VTubers. The headset also offers a comfortable fit with a padded head harness and adjustable fabric strap.
The Valve Index requires separate base stations that track the headset's position in the room. These base stations come with adjustable stands and can be mounted on a wall. Also, the Valve Index controllers stand out with their impressive individual finger tracking, providing nearly full control over each finger.
The Valve Index offers a 1,600-by-1,440 LCD display for each eye with a 120Hz refresh rate. Its hardware requirements are relatively light for a tethered VR headset. Setting up the Index involves connecting the base stations, headset, and controllers to your PC and configuring the play area through SteamVR.
Why We Liked The Valve Index For VTubers
The Valve Index VR headset is a compelling choice for VTubers due to its advanced features. While it comes at a higher price point of $1,435, the headset offers a smoother 120Hz refresh rate and highly immersive controllers with individual finger tracking.
These controllers provide a more natural and precise VR experience than other options like the Oculus Quest 2. The Valve Index is specifically designed for VR enthusiasts and dedicated PC gamers who prioritize superior graphics and smoother action.
The headset's room view cameras, adjustable head harness, and comfortable fit further enhance the overall experience. Despite its price, the Valve Index delivers exceptional performance and functionality. That makes it a top choice for established VTubers looking to create immersive and high-quality content.
HTC Vive Pro 2: The Best High-Resolution VR Experience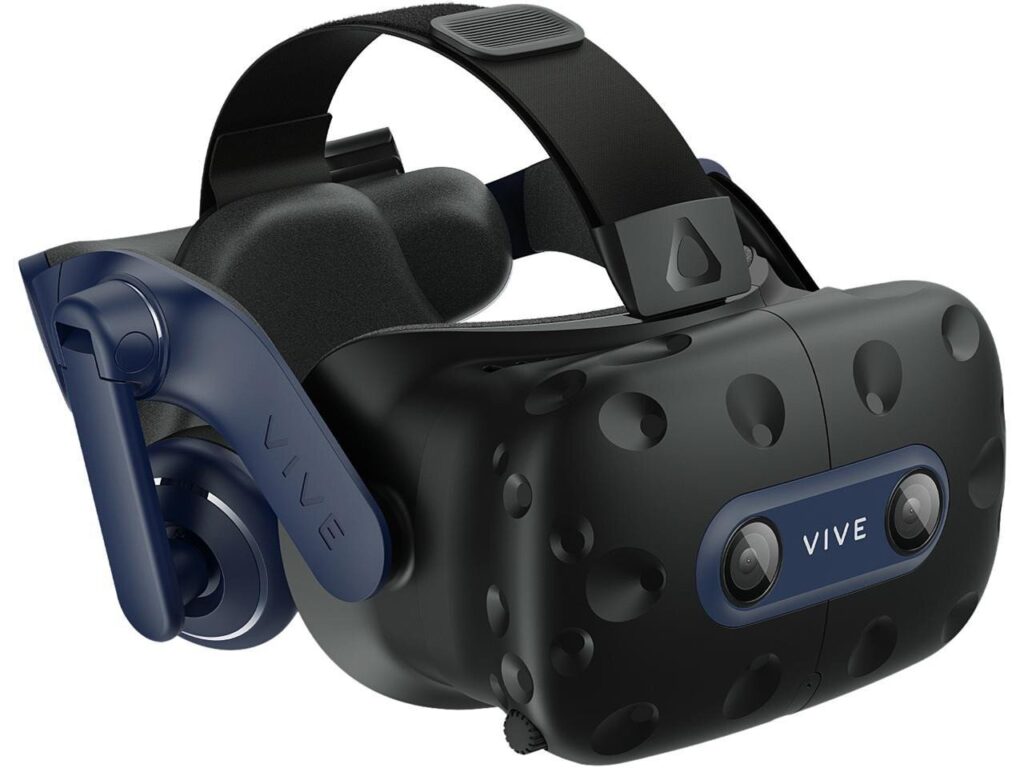 The Vive Pro 2 is a popular choice among VTubers who prioritize visual accuracy. It's positioned as both a professional and consumer VR headset, providing SteamVR compatibility and access to HTC's Viveport ecosystem. It offers exceptional resolution and visuals for a consumer-available VR headset.
To fully utilize the Vive Pro 2, compatible base stations and motion controllers are required, which can be purchased separately or mixed and matched with Valve Index components. The Valve Index controllers, in particular, are highly recommended due to their individual finger tracking and enhanced immersion.
The Vive Pro 2 supports optional accessories such as the Wireless Adapter Pack for wireless connectivity and the Facial Tracker for capturing facial expressions. The headset boasts an impressive resolution of 2,488 by 2,488 pixels per eye, a field of view of 120 degrees, and a refresh rate of 90Hz or 120Hz. That makes it one of the best VR Headsets for VTubers.
Testing the Vive Pro 2 with Valve Index base stations and controllers proved seamless, offering an improved visual experience compared to the Valve Index. Games like Half-Life: Alyx showcased enhanced detail and cleaner visuals, while even less graphically demanding titles benefited from the headset's higher resolution.
While the Vive Pro 2 delivers an exceptional VR experience, its high price tag of $800 for the headset alone. Coupled with the additional cost of accessories and components, it makes it a pricey investment. The Valve Index, offering comparable visual quality, is considered a better value option at a lower price point. For those seeking a more accessible entry into VR, the standalone Oculus Quest 2 is recommended as a cost-effective choice.
Why We Liked The HTC Vive Pro 2 For VTubers
The Vive Pro 2 is a fantastic choice for VTubers because it has amazing visuals and makes you feel like you're really in the virtual world. It has a super clear display and a wide field of view, so everything looks detailed and immersive. VTubers can easily use it with popular VTubing software and platforms because it works well with SteamVR.
The headset is also really comfortable, with adjustable lenses and built-in headphones. VTubers can even get accessories like the Facial Tracker to capture their facial expressions accurately. The Vive Pro 2 costs more, but it's worth it for VTubers who want to create a realistic and exciting virtual avatar experience for their viewers.
The Meta Quest Pro: Best VR Headset For Pros & Established VTubers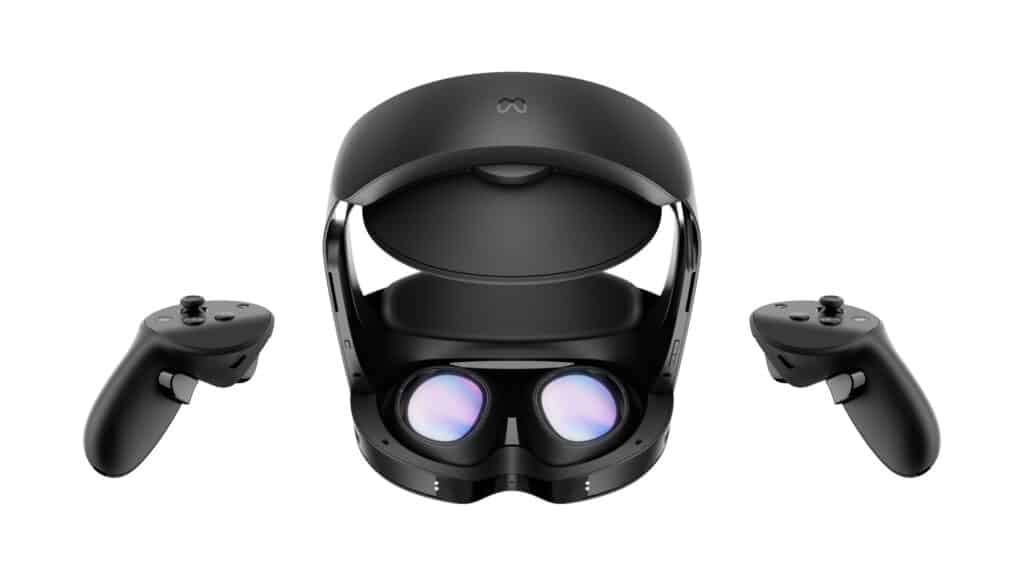 The Meta Quest Pro is a great choice for VTubers due to its versatility, affordability, and user-friendly features. It offers a comprehensive virtual reality experience without breaking the bank.
With its powerful Snapdragon XR2 Plus processor and 12GB of RAM, the Quest Pro delivers smooth performance and seamless gameplay, essential for VTubers who rely on real-time interaction and streaming. The 256GB of storage provides ample space for storing recordings, videos, and VR experiences.
One of the standout features for VTubers is the Quest Pro's improved tracking system. The controllers offer accurate and responsive tracking, allowing for precise gestures and movements. This is crucial for your engaging and expressive VTuber models.
The built-in rechargeable batteries of the controllers ensure uninterrupted sessions, eliminating the need for frequent battery replacements. This is especially beneficial for VTubers who often spend extended periods recording or streaming content.
The Quest Pro's comfort-focused design is another advantage for VTubers. The plastic strap with added padding ensures a secure fit during long recording sessions, minimizing discomfort. The improved weight distribution makes it feel lighter despite its slightly heavier build.
Also, the Quest Pro's ease of use is perfect for VTubers. The standalone nature of the headset eliminates the need for additional hardware, simplifying the setup process. Its intuitive interface and user-friendly controls make it accessible for VTubers of all skill levels.
The Quest Pro's affordability compared to other premium VR headsets is a significant factor for VTubers, especially those starting out or on a limited budget. It offers a comprehensive VR experience at a more accessible price point.
Why We Liked The Meta Quest Pro For VTubers
The Meta Quest Pro is an excellent choice for VTubers due to its powerful performance and versatile features. Its standalone VR capabilities, including a powerful processor and ample RAM, offer smooth performance for creating high-quality virtual content.
The mixed-reality features, such as color passthrough and face tracking, enhance the VTubing experience by providing a seamless blend of the real and virtual worlds.
The built-in rechargeable controllers and stylus functionality offer convenient and flexible tools for interaction. While the battery life may be limited for extended sessions, the Quest Pro's affordability compared to other premium headsets makes it an appealing option for VTubers. It provides the necessary tools to create engaging and immersive virtual content, bringing VTuber performances to life in an interactive way.
The HP Reverb G2: Best VR Headset For VTubers Wanting To Keep It Simple
The HP Reverb G2 is a solid choice for VTubers looking for a simple and accessible VR headset. Priced at $599.99, it offers a more affordable option than high-end headsets like the Valve Index or HTC Vive Pro 2.
The Reverb G2 features improved motion controllers and reliable compatibility with SteamVR. It offers better comfort with its smooth plastic visor, generous memory foam padding, and adjustable three-point harness. The headset's cameras handle position tracking, eliminating the need for external sensors or beacons.
The display quality is impressive, with 2,160 by 2,160 pixels per eye at 90Hz, surpassing the Oculus Quest 2's resolution. However, it falls short of the HTC Vive Pro 2's higher resolution and the smooth motion of the Valve Index. The built-in speakers deliver loud and clear audio, though noise isolation is lacking.
Setting up the Reverb G2 is relatively straightforward, with SteamVR and Windows Mixed Reality compatibility. The process involves connecting the headset to a DisplayPort and USB-C port and following software instructions.
The Reverb G2's camera-based motion tracking is generally reliable, although not as consistent as systems with external sensors. VTubers will find it suitable for shooting gallery games and social VR experiences like VRChat. However, freely moving around may cause occasional tracking hiccups.
While the Reverb G2 sits between the more affordable Oculus Quest 2 and the pricier Valve Index in terms of features and performance, it offers a good balance for VTubers seeking a tethered PC headset with a sharp picture. Ultimately, the Oculus Quest 2 is a more versatile option, while the Valve Index remains the top choice for its superior controllers.
Why We Liked The HP Reverb G2 For VTubers
The HP Reverb G2 is an excellent choice for VTubers for several reasons. It offers a high-resolution display, providing sharp and clear visuals essential for creating immersive virtual content. The headset's motion controllers have been improved and work reliably with SteamVR, making interactions more natural and intuitive. The Reverb G2 utilizes camera-based motion tracking, which, although not as consistent as external sensor-based tracking, still provides accurate movement detection.
The headset is comfortable to wear, with adjustable features and memory foam padding. Also, it is compatible with both SteamVR and Windows Mixed Reality, offering a wide range of software options. Although it sits between the lower-priced Oculus Quest 2 and the higher-priced Valve Index, the Reverb G2 provides a balance of affordability and quality, making it a suitable choice for VTubers seeking a reliable and visually impressive VR experience.
The HTC Vive XR Elite: A Solid Contender & Great At Motion Tracking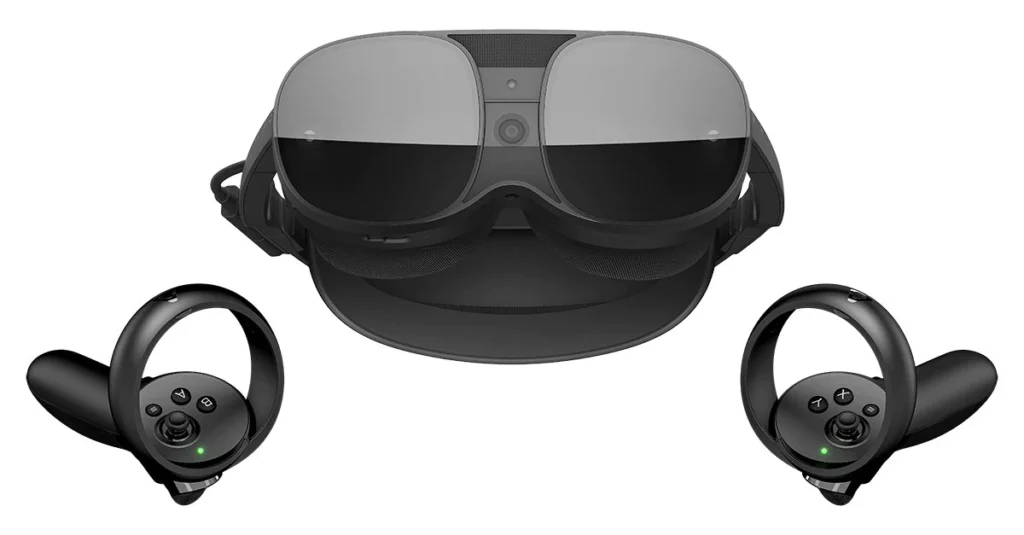 The HTC Vive XR Elite is a solid contender in the VR landscape, especially for VTubers. While it may come with a higher price tag of $1,099 / £1,299 compared to the Meta Quest 2, it offers several advantages worth considering.
One notable aspect is its design. The Vive XR Elite stands out as one of the more aesthetically pleasing headsets, boasting a lightweight build. Weighing 614 grams, it sits comfortably on the head, distributing the weight evenly and avoiding strain on the nose area. The headset's thoughtful design also incorporates non-intrusive cooling, allowing users to wear it for extended periods without discomfort.
Despite its portability, the HTC Vive XR Elite falls slightly behind the Quest 2 in terms of battery life, offering around one and a half hours of gaming compared to the Quest 2's two hours. However, the Vive XR Elite makes up for this with impressive specifications. It features 6 DoF inside-out tracking, an LCD with a resolution of 3840 x 1920 (1920 x 1920 per eye), a refresh rate 90Hz, and a Snapdragon XR2 processor. The headset also includes dual mics and embedded speakers for enhanced audio immersion.
The controllers provide a satisfactory experience with decent battery life, but occasionally, one of them turns on spontaneously. Another noteworthy feature is the Vive XR Elite's convertibility. Connecting directly to a PC becomes a lightweight 260g headset.
Tethering the headset to a PC using the included USB Type-C to Type-C cable has limitations. The cable's length is insufficient for optimal freedom of movement, making it less ideal for VR games that involve extensive arm movements. Also, HTC recommends purchasing a separate USB 3.2 Gen 2 Vive streaming cable for streaming purposes.
Why We Liked The HTC Vive XR Elite For VTubers
Its compact design makes it easy to wear and use for extended periods of time. The VR headset can be used with a PC or on its own, giving VTubers flexibility in their setup. The high-resolution displays provide clear visuals, enhancing the immersive experience for both the VTuber and their viewers. The XR Elite also has the capability to run mixed-reality apps, allowing VTubers to blend the virtual and real worlds seamlessly.
Also, the adjustable prescription lenses cater to individuals who wear glasses, ensuring a comfortable fit. Although the XR Elite may have some drawbacks, such as its modular design being a bit clunky, it offers a glimpse into the future of VR/AR technology. Despite its higher price tag, the XR Elite presents an opportunity for VTubers to elevate their content and engage with their audience in new and exciting ways.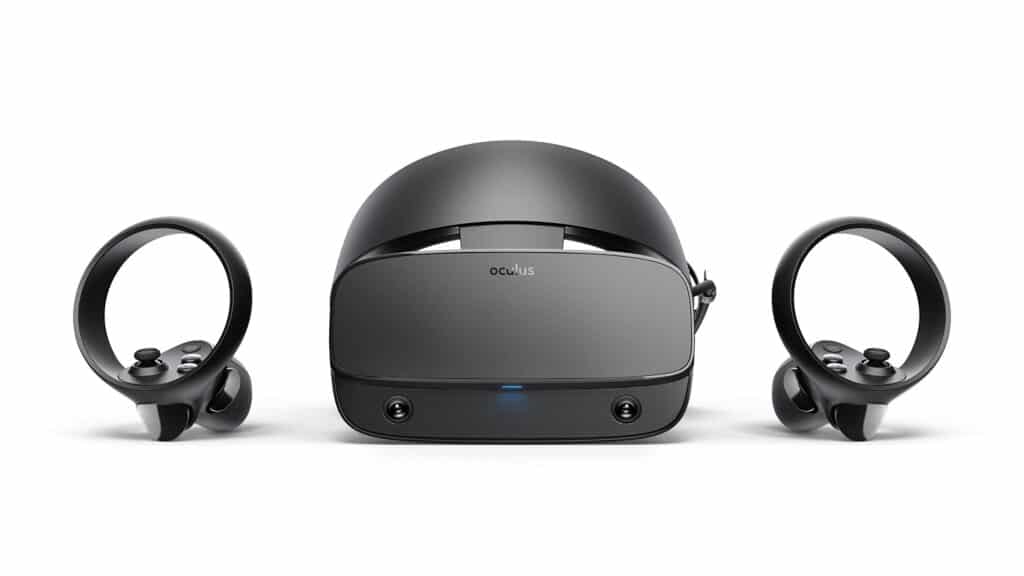 If you're in search of one of the best VR headsets for VTubers, the Oculus Rift S is up there. While not a true successor to the original Oculus Rift, the Rift S offers several improvements and added features that make it a valid contender among the best VR headsets available in 2021. Priced at $299 / £299 / AU$499, it is considerably cheaper than its competitors like HTC Vive, Vive Pro, and the Valve Index, all of which require external tracking sensors.
The Rift S connects to your PC via a USB 3.0 port and a DisplayPort connection, providing an immersive virtual reality experience. Its design differs from its predecessor, with a curved plastic mold that enhances comfort by distributing weight across the forehead and base of the skull. While it feels slightly heavier than the original Rift, including outward-facing cameras eliminates the need for external motion-tracking sensors, making the setup process more efficient.
The Rift S comes with a pair of touch controllers that are comfortable and intuitive to use, featuring face buttons, thumbsticks, trigger buttons, and a grip button. The controllers' tracking ring sits on the top, and they are incompatible with the original Rift. The headset itself has directional speakers in the headband, which offer a reasonable sense of directional audio but tend to leak sound and lack bass. However, you can connect your own headphones for a better audio experience.
In terms of display, the Rift S features a single LCD screen with a resolution of 2560 x 1440, providing a sharper image compared to the original Rift. The refresh rate has been reduced from 90Hz to 80Hz to keep the price down and maintain compatibility with existing hardware.
Why We Liked The Oculus Rift S For VTubers
The Oculus Rift S offers a high-quality virtual reality experience that can immerse viewers in a virtual environment, enhancing the overall engagement and entertainment value of VTuber content. The headset's tethered connection to a PC allows for more advanced and ambitious VR worlds, enabling VTubers to create visually stunning and interactive experiences.
The Rift S is more affordable than other high-end VR headsets on the market, making it an attractive option for VTubers on a budget.
Also, the Rift S features an improved design compared to its predecessor, the original Oculus Rift, offering better comfort and ease of use. The inclusion of inward-facing cameras eliminates the need for external motion tracking sensors, simplifying the setup process for VTubers.
The touch controllers included with the Rift S are comfortable and intuitive to use, enhancing the overall interactivity of VTuber content.
While the Rift S may not be a significant leap forward regarding upgrades and features, it still delivers a solid VR experience at an affordable price, making it an excellent choice for VTubers looking to incorporate a virtual environment into their content.
Wrapping It Up: The Best VR Headsets For VTubers
There you have it! The seven best VR headsets for VTubers. We tried and tested all of the headsets mentioned in this list extensively. Out of all these VR headsets, we liked the Meta Quest 2 the most due to its wireless connectivity, excellent tracking, and comfortable design.
If you need an excellent mic for VTubing, we have a superb guide written on it, so do check that out.
That's all, folks!