The 8 Best Webcams For VTubing
As a VTuber, there are two most essential pieces of hardware that can play a make-or-break role in your VTubing career. The first one is the mic, and the second one is a decent webcam.
-> Just incase you don't want to read any further and just want to know what our top pick is, see the Elgato Facecam which we feel is the 🥇 Best Webcam for VTubing.
The mic is essential because the audience has to listen to your voice. However, they can't see your face. So, why a webcam, you might ask? Well, your webcam should be able to track your face and, in some cases, your body, so your VTuber model can move perfectly with your IRL movement.
That's why it's really important for you to choose the best webcam for VTubing. But what should you look for in a webcam to decide that it's the best for VTubing? We'll answer that and list down the best cameras for VTubing. So read on.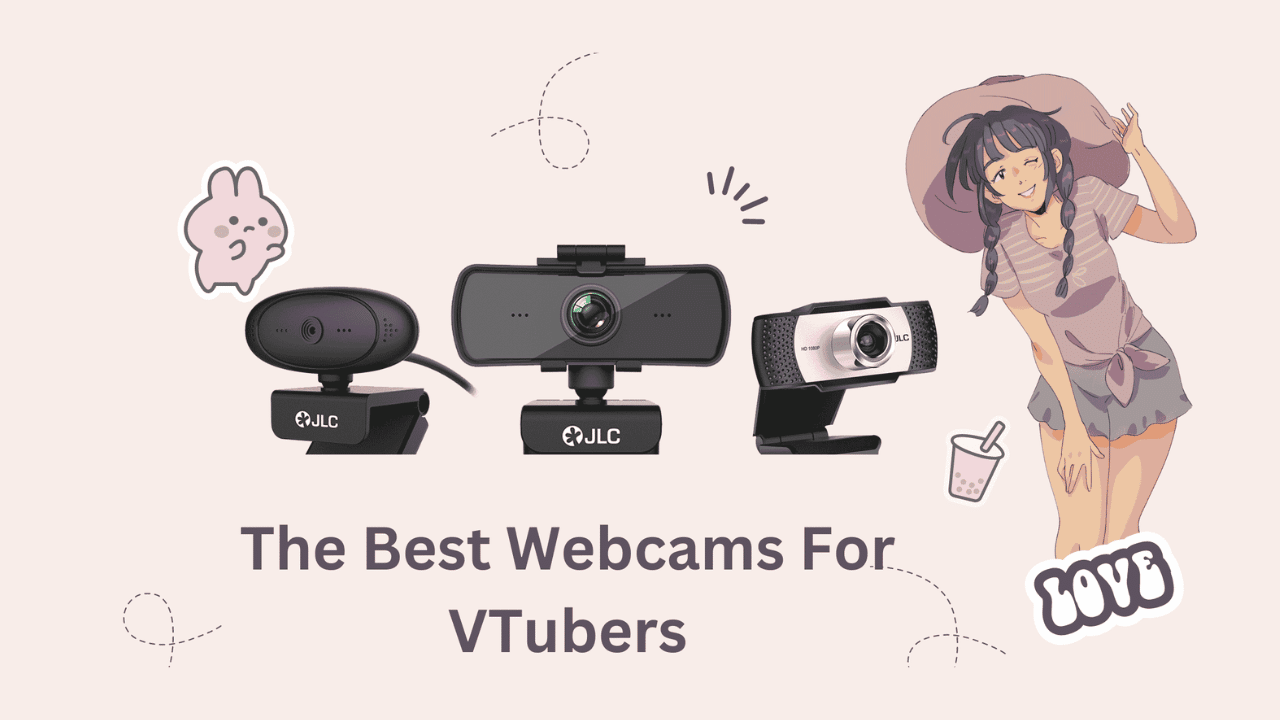 The 8 Best Webcams For VTubing
Our Picks
Elgato Facecam 🥇 Best Overall
Razer Kiyo Pro 🥈 Best Runner Up
Logitech C922x Pro 🥉 The Gold Standard
Razer Kiyo 🎖️ Best Bang For Buck
NexiGo N60  Best Budget
Logitech C930e 🎖️ Jack Of All Trades
NexiGo N930E 🎖️ Best Budget Two-in-One
Logitech Brio 4K Pro 🎖️ Best Video Quality
Elgato Facecam—1080p 60 FPS: The Best Webcam For VTubers (The New King)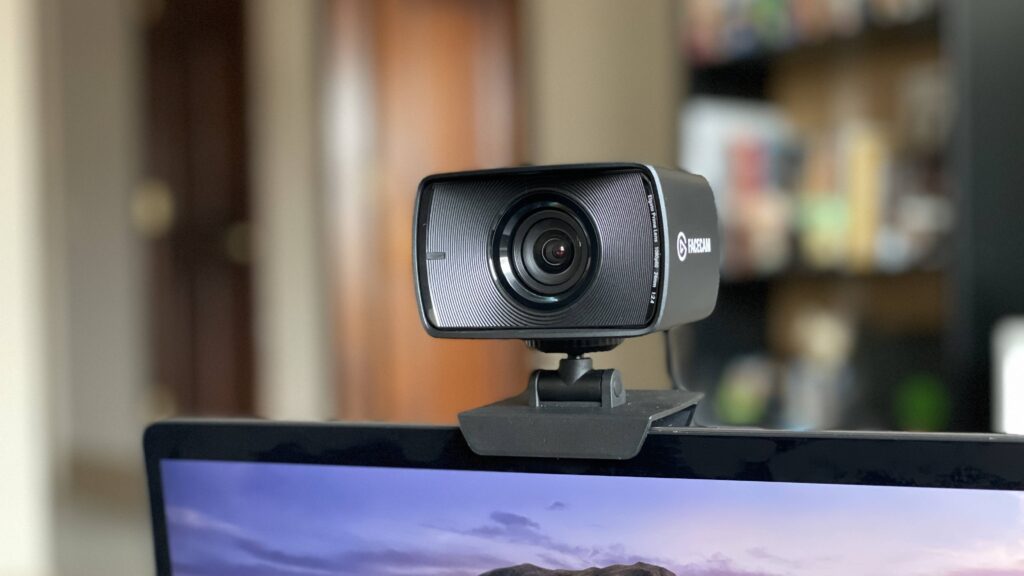 The Elgato Facecam is the real MVP in the world of VTubers and content creators, setting a blazing trail through the cluttered webcam scene. VTubing is a world where impeccable face, eyes, and body tracking rule, and this cam is the ultimate sidekick for creators (keeping these factors in mind).
This isn't just any webcam; it's a CES 2022 Innovation Awards honoree, and for good reason. It's the A-lister of webcams, sporting a jaw-dropping f/2.4 aperture, a 24-millimeter focal length, and a top-notch Sony Starvis CMOS sensor. And that makes it the best camera for VTubers.
What about image quality? The Facecam outshines the competition with vibrant colors, sharpness, and contrast that leave others in the dust. And it adapts like a chameleon to changing light conditions. That means it'll have no issues tracking your face, eyes, and body movement, even in low-light conditions.
While it's a bit bulkier than your average cam, it delivers videos that scream "movie magic." Whether you're in a sunlit room or a dimly lit corner, the Facecam shines, making it your trusty companion for indoor content creation.
The Elgato Facecam comes to life with its software magic. It's plug-and-play out of the box but transforms into a powerhouse with the right apps. It's your go-to for VSeeFace, VTube Studio, and more, seamlessly switching between streaming and recording at your command.
This cam lets your PC's mic handle the sound while it focuses on delivering uncompromised video quality. Plus, it remembers your settings, so you can switch between Windows and Mac with a snap.
Customizing with the Elgato Camera Hub is a breeze, giving you control over FOV, exposure, and more. The mobile Stream Deck app adds even more tricks to your VTuber repertoire.
Why Do We Like The Elgato Facecam For VTubers?
The Elgato Facecam is the go-to webcam for all you VTubers out there! Yeah, it comes with a hefty price tag, but trust me, it's worth every penny.
This bad boy bridges the gap between regular webcams and those fancy DSLRs. And that gives you the tracking quality that'll make your stream stand out from the rest.
With a crisp 1080p resolution at 60 FPS, it will track every bit of your movement (including eye tracking, face tracking, and body tracking), and your VTuber model movement will be as smooth as butter. And don't worry about focus—it's always on point no matter how far you are from the camera.
But what really makes it shine is that Sony STARVIS CMOS sensor. It's a champ in low-light situations, making your stream pop with vibrant colors and crystal-clear visuals. And that helps it in tracking, too!
Plus, it's got those DSLR-style controls. You can tweak your ISO and shutter speed like a pro to get that perfect exposure and motion clarity, especially in those dimly lit setups.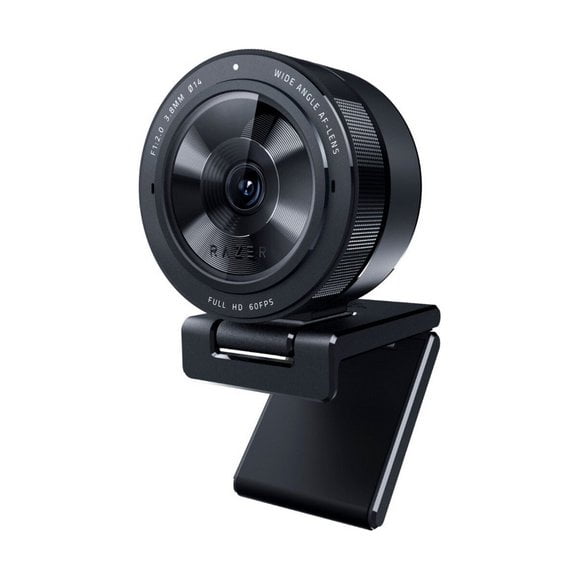 One thing that you should know as a VTuber is that none of the webcam's specifications matters as much as the lighting does. The reason is that most webcams are bad at capturing your facial and body movements in a low-light environment. And the webcam needs to capture the movements, especially in the case of VTubing, for the tracking to work. If the tracking doesn't work properly, your VTuber model won't be able to move in sync with your facial and body movements. In bad lighting conditions, you'll end up with wonky and weird VTuber model movements, and your whole stream will be ruined because of that.
But lucky for you, the Razer Kiyo Pro isn't any ordinary webcam. It offers excellent video quality, even in low light. So, it's perfect for VTubing. It will continue tracking your motion, even if your room is dark and your monitor only illuminates you.
The Razer Kiyo Pro is able to record 1080p video at 60 fps and offers a field of view (FOV) of 103 degrees. Although the built-in microphone records pretty crisp and clear audio, I wouldn't recommend using it as a primary mic for VTubing. You should always go with a dedicated mic as a VTuber.
The only downside to the Razer Kiyo Pro is its software. Those of you who have used Razer peripherals before would know that Synapse is a bit bloated software. That shouldn't be a problem for VTubers, though, as you won't be using the software much anyway.
Why Do We Like The Razer Kiyo Pro For VTubers?
We consider the Razer Kiyo Pro the best webcam for VTubing because of its low light performance and true 1080p video quality at 60 fps. And last but not least, this webcam is on sale right now, making it a no-brainer for VTubers.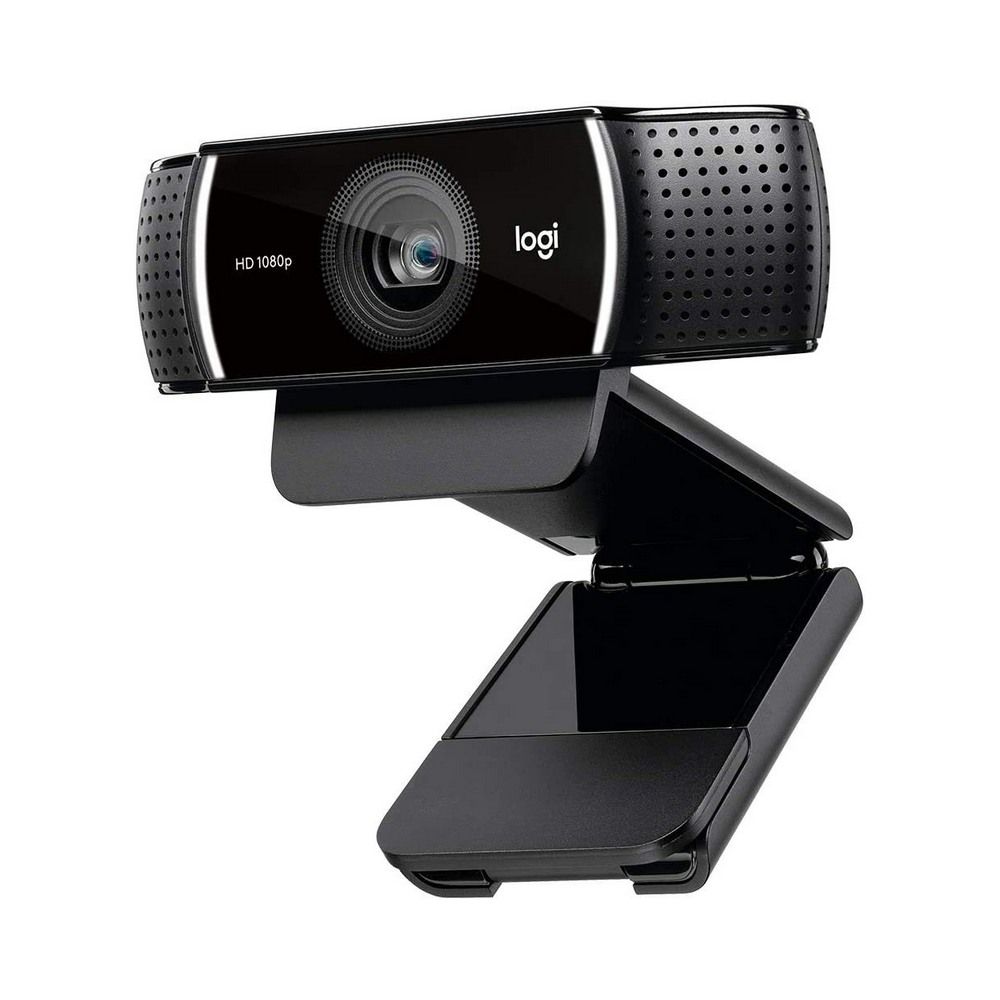 The Logitech C922x Pro comes from a tried and tested series of Logitech's dozen webcams. It's a great option, especially if you are looking for a mid-priced webcam that can do it all. The Logitech C922x Pro is the perfect sweet spot between price and performance, earning it the runner-up spot on this list of the best webcams for VTubers.
It does, however, sacrifice some features to be at the mid-range price point, like the fact that it's only able to achieve 30 fps at 1080p, so if you want to show your face on the stream while VTubing, you won't be able to stream on that sweet 1080p, 60 fps setting. But if you are not going to do a face reveal as a VTuber in the foreseeable future, then the lack of fps won't matter as, according to our testing, more frames per second doesn't translate to better tracking.
The Logitech C922x also lacks some features, such as a high dynamic range and adjustable FOV. Regardless, these features only come in higher price-bracket products like the Razer Kiyo Pro, so, understandably, Logitech C922x lacks these features given its price point.
This webcam comes with a handy tripod stand and two omnidirectional mics that work great for your school zoom calls, but I won't recommend using the built-in mic for VTubing.
Other features include autofocus and light correction, making it an excellent webcam for VTubing as it can track your face as well as your hands in poor lighting environments.
The Logitech C922x has a nonadjustable FOV of 78 degrees, which isn't as great as the Razer Kiyo Pro's adjustable FOV of 103 degrees but will do the job, especially if you don't move a lot across your room too close to the camera.
So, if you want a decent webcam for VTubing without breaking your bank, the Logitech C922x is an excellent choice for its price.
Why Do We Like The Logitech C922x Pro For VTubers?
The Logitech C922x Pro offers excellent facial and body motion tracking due to its autofocus and light correction features. These features make this webcam the best mid-range price bracket choice for VTubers.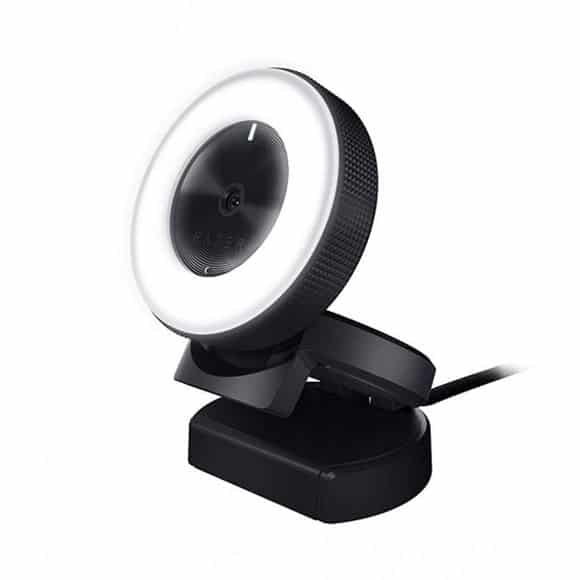 With its built-in ring light, Razer Kiyo solved the most significant problem faced by the VTubers regarding poor tracking due to the dark environment. And that too at under $100 price point, making it the best bang for buck choice for VTubers.
The 1080p lens on this camera gives it the ability to capture detailed and sharp images, which comes in handy if you are planning a face reveal. It also has a decent FOV of 81.6 degrees, which is good enough for streaming, even when you have some VTuber friends over for a collab.
However, the mic on this camera is a different story. If you are planning to use the built-in microphone for VTubing, which by the way, I don't recommend at all, this camera isn't an excellent choice for you as it's soft and muddy, resulting in muffled audio quality. The software of the Razer Kiyo is another area where it lacks. The Razer Synapse is known for being bloated.
The ring light on this webcam makes up for everything, especially for VTubers. You won't have to pay another $30 for a dedicated lighting set-up for better tracking, as the built-in one works great in the low-light environment, making the eye and hand tracking for your VTuber model just perfect.
Why Do We Like The Razer Kiyo For VTubers?
The Razer Kiyo has a built-in ring light, making the facial and body motion tracking seamless. Even without the ring light on, the webcam's sharp video performance surprised me because of its reasonable price. These key features make the Razer Kiyo the best bang for the buck and earn the third spot on this list of best webcams for VTubers.
NexiGo N60: The Best Webcam For VTubers On A Tight Budget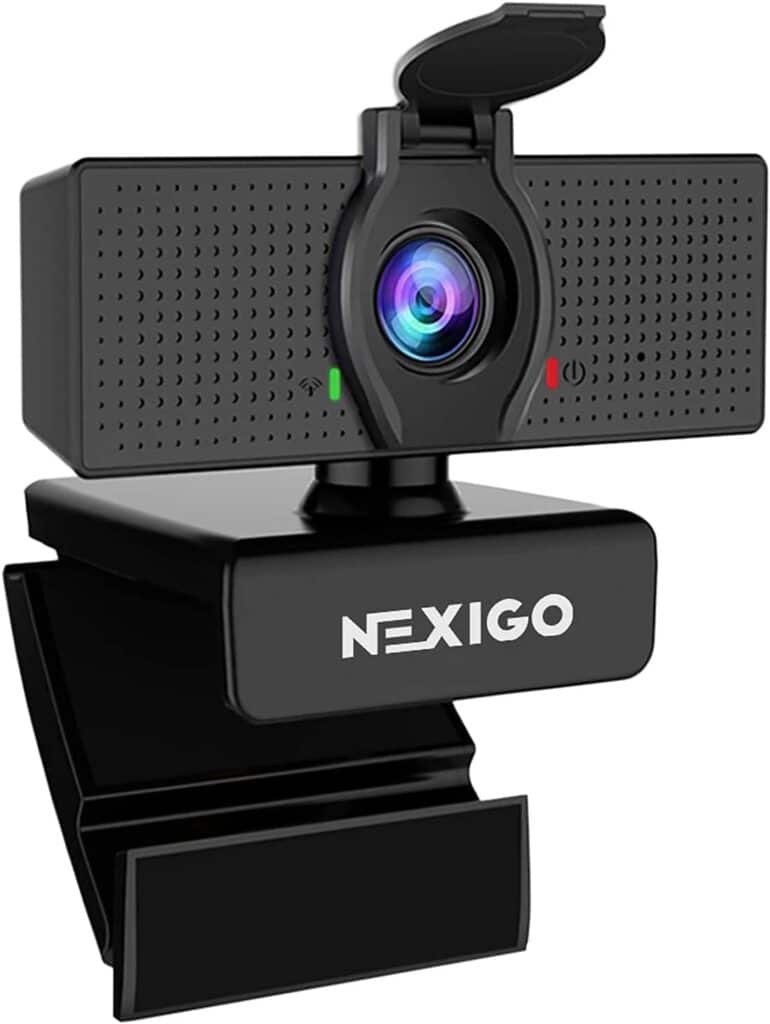 If you are on a tight budget but still want a decent 1080p webcam for VTubing, the NexiGo N60 is an excellent choice. But don't get me wrong, the video quality is nowhere near the high and mid-range price bracket options on this list of best webcams for VTubing.
However, for such a low price, it's as good as it can get. It offers decent enough video quality at 30 fps, making it great for tracking. If your streaming room has poor lighting, you would need a dedicated lighting setup for this camera.
The privacy shutter on this camera works well for people concerned about their privacy being breached.
And if you are one of those VTubers who are okay with showing their faces on stream, e.g., codeMiko, I would recommend you to save a bit more and invest in a better webcam on this list. That doesn't mean the NexiGo N60 is bad for VTubing; it works great for tracking your facial and body motion for your VTuber model.
However, if you are planning to show the IRL camera feed on your streams, you deserve better. Take a look at our next pick: Logitech C930e. For just $25 more, it offers much better video quality, better viewing angle and great software support.
Why Do We Like The NexiGo N60 For VTubers?
If you want to get into VTubing and have a very tight budget, the NexiGo N60 is a great choice. This webcam has all the features that a VTuber would need for a very reasonable price. The video quality isn't that great, but for tracking your face and body, it will work. Just pair it with a decent ring light, and you are good to go.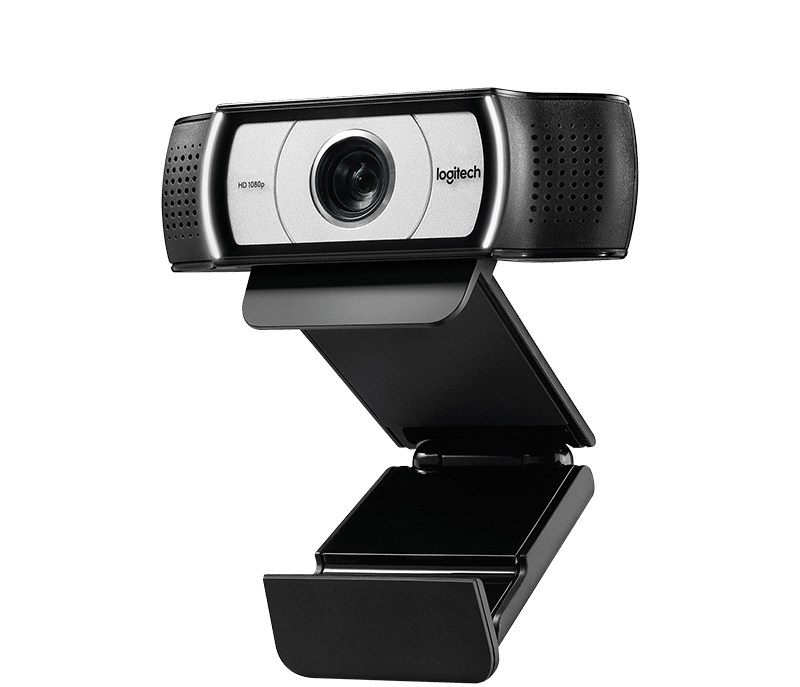 The Logitech C930e is a webcam that does everything perfectly at a reasonable price that won't leave a dent in your wallet. That's the reason why it's one of the best 1080p webcams you can buy. So, if you can spare twenty bucks, I recommend you go for the Logitech C930e instead of the NexiGo N60.
Here are the reasons why. The Logitech C930e has far better image quality and low-light performance than the NexiGo N60. That's why it has better facial and body movement tracking in dark environments.
The previously recommended NexiGo N60 sometimes messes up your eye tracking, and your VTuber model may blink asymmetrically. This looks funny sometimes, but if your VTuber model does that often, it just looks weird.
Also, the Logitech C930e has a much better viewing angle, thanks to its 90-degree FOV, than the NexiGo N60. So, if you have friends over and are okay with showing your face, they can all fit into the frame and be part of your streams.
The Logitech C930e, like the NexiGo N60, also has a privacy shutter. So, if privacy is one of your concerns, the Logitech C930e has got you covered on that front.
This camera's only drawback is that it can only go as fast as 30 fps at 1080p resolution instead of 60. However, given its price, that's understandable, but you won't be able to upload 1080p, 60 fps videos to YouTube with this webcam.
Why Do We Like The Logitech C930e For VTubers?
The Logitech C930e has almost all of the features of a premium webcam at a reasonable price. The 1080p resolution, great low-light performance, and excellent software make this camera a no-brainer for VTubers.
NexiGo N930E: Best Budget Webcam For VTubers With Built-in Ring Light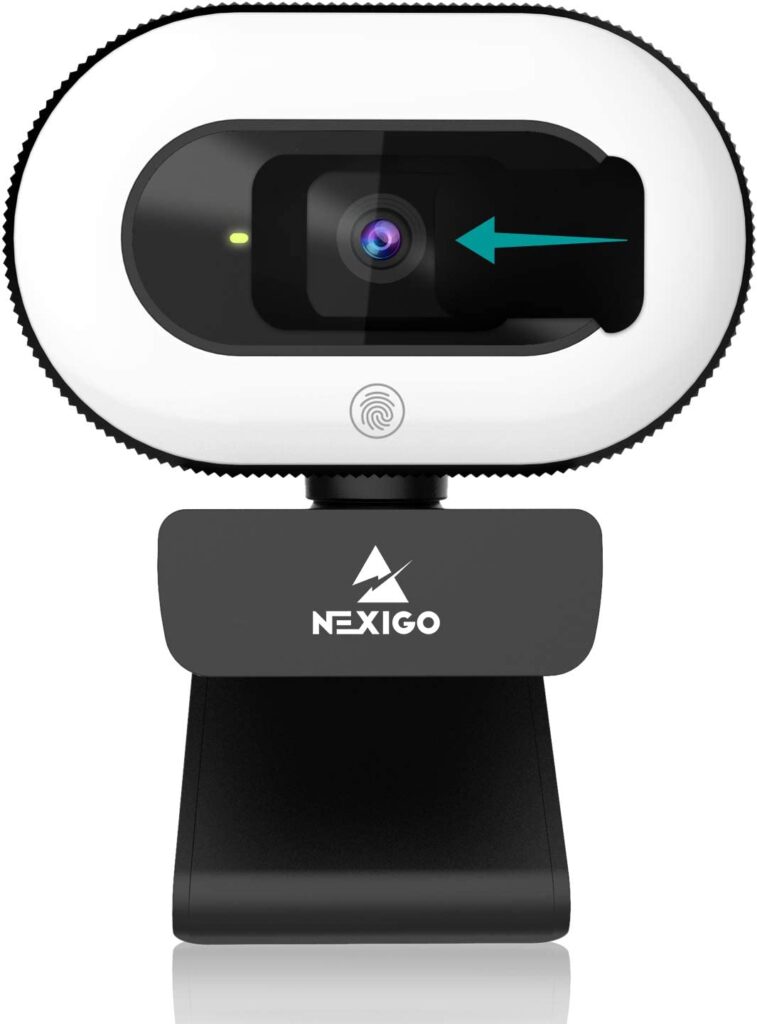 The NexiGo N930E is another webcam on this list that comes with a built-in ring light, just like the Razer Kiyo. The difference between the both, however, is their prices. The NexiGo N930E is $26 cheaper than Razer's offering. NexiGo had to cut some corners to achieve that price point; more on that later.
The NexiGo N930E is a 1080p webcam with a speed of 30 fps. The fps can reach 60 if you are willing to stream at 720p, which you shouldn't do, in my opinion. The camera has a great autofocus feature with automatic low light correction. Combining that with the built-in ring light, you've got yourself the best camera for VTubing.
The autofocus and automatic low-light correction help you track your facial and body movements, leaving no room for errors. These features work so well in this camera that the built-in ring light is just an added bonus at this point.
The built-in mic is good but not as good as a dedicated XLR mic would be. This webcam also has an included tripod stand, which comes in handy if you don't want to mount it on the monitor. The plug-and-play feature makes it really easy to install. All you have to do is connect its USB A cable to your PC, and you are on your way to your VTuber stream.
The thing I don't like about this webcam is that its video quality isn't that sharp compared to the Razer Kiyo. Don't get me wrong, the video quality is excellent for its price, and if you haven't used a better webcam, you wouldn't be able to tell the difference. However, the difference is there.
Why Do We Like The NexiGo N930E For VTubers?
The Nexigo streamcam N930E is an excellent webcam for its price. The autofocus, automatic low-light correction, and the fact that it comes with a built-in ring light make it a perfect choice for tracking your facial expressions, your hands, and even your whole body. That's why it's the best budget webcam for VTubers with a built-in ring light.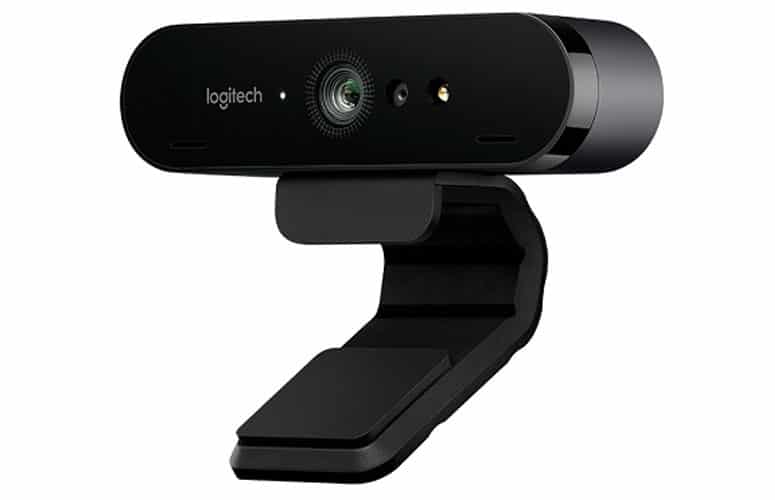 The Logitech Brio 4K Pro has the best video quality of all the webcams listed here. However, it's the most expensive webcam on this list too. In fact, it's the most expensive webcam that Logitech has to offer. So, as a VTuber, this webcam is the best choice for you if you have some pretty pennies to spare. And if you are planning to show your face on your streams, this webcam is a must. Let's discuss why.
The 4k in the name says it all. The Logitech Brio 4K Pro is one of the few webcams that are able to support 4K Ultra HD 2160p/30 fps. Granted, 4K isn't that popular yet, but that's where the world is going. In fact, 11 percent of the viewers on YouTube watch videos in 4K, and that number is rapidly growing with the 4K monitor technology getting cheaper. So, getting this webcam will help you future-proof your career, especially if you are spending this much money and aren't planning to upgrade soon.
The video quality on the Logitech Brio 4K is incredible, even after dropping the resolution to 1080p/60 fps. I would go as far as to say that even at 1080p, it offers the most crystal-clear video among the cameras on this list.
Logitech's proprietary RightLight 3 with HDR helps this webcam adjust in a low-light environment better than any other webcam on the market. With the combination of the best automatic low-light adjustment and the best autofocus, it's safe to say that it will have no problem tracking your facial and body movements, making it the best webcam for VTubers, if you are willing to pay the price.
Why Do We Like The Logitech Brio 4K For VTubers?
Yes, the Logitech Brio 4K is expensive. However, it justifies its price with the genuine 4K video quality and excellent features like the RightLight 3 automatic low-light adjustment, great autofocus, and adjustable FOV. So, if you can afford it, the Logitech Brio 4K is as good as it gets for VTubers.
What VTubers Should Look For In A Webcam?
Now that we've mentioned all of the eight best cameras for VTubers, here are some of the factors you need to keep in mind when making the choice:
Low Light Performance
Most webcams will work just fine for tracking for VTubing. What you should look for and what we used as a benchmark for testing these webcams is their low-light performance.
The quality of tracking of your VTuber model primarily depends on the low-light performance or how well your streaming environment is lit. So, as a VTuber, you have two choices: go for a mid-ranged webcam from this list, or buy a cheaper option like the NexiGo N60 and get a ring light for your desk. For the latter option, here is a great ring light with a built-in mount for your webcam, which wouldn't break your bank either:
Webcam Light Stand for Live Stream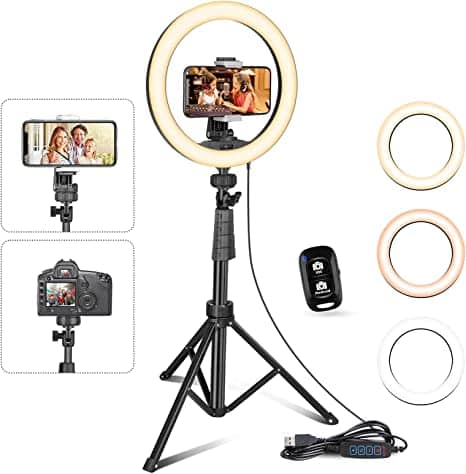 Even if you went for a cheaper webcam, your tracking would be on point with this ring light.
Eye & Face Tracking Capabilities
As a VTuber, it's easy to overlook the importance of rocking a top-notch VTuber webcam because, hey, you're not the one having the spotlight on the screen, right?
But here's the deal: for your virtual persona to pop off and flex those animated moves flawlessly, it's all about that eye and face tracking game.
When you have a low-end webcam, your VTuber software might not vibe with it, causing your in-game character to miss out on the cool cues you're throwing down.
So, investing in a quality VTuber camera isn't just for you but also for delivering a lit (pun intended) VTuber show that keeps your viewers hyped and engaged.
Frame Rates A VTuber Webcam Has
If you want that buttery-smooth animation, you've got to roll with a higher FPS camera. The key here is to make sure it's legit, clocking in at at least 30 frames per second (go for a VTuber webcam with 60 FPS for better performance).
None of that AI magic (trying to upscale it) because that road can lead to some gnarly glitches and hiccups in your streams. Go with a high FPS VTuber webcam, and your visuals will be on point!
Your Budget
Let's keep it real, folks—not everyone's got pockets as deep as Mr. Beast, tossing around hundreds of thousands like confetti. Being smart with your cash is key when you're making decisions like these.
Now, just because you're opting for a wallet-friendly choice today doesn't mean you're stuck in budget mode forever. That's why we took the time to explore different price ranges, so you can flex with the gear that suits your wallet now and keep your options open for when it's time to level up.
Budget-conscious choices today, limitless possibilities tomorrow!
Wrapping It Up: The Best Camera For VTubers?
I hope that you were able to pick the best webcam for VTubers with the help of this article. All of the VTuber cameras listed here work perfectly, but my favorite one is the Elgato Facecam because of its incredible versatility.
Good luck with your VTubing careers!