The Best VTuber Model Commissions on Facebook
Hey there, fellow VTuber enthusiasts! Have you ever found yourself deep in the vortex of Facebook groups, entering increasingly random niches from lawn care to pottery groups on the slim chance they might have hidden VTuber gems? 
Yep, been there, done that. I'm Vishwas, your friendly neighborhood VTuber expert over at dereproject.com. I've taken it upon myself to chart uncharted territories within Facebook's realm, all in the quest for that mythical VTuber grail — the talented artists actively showcasing their commissions.
Between joining groups centered around culinary arts, DIY crafts, gardening, and more, I can tell you it's been quite the expedition. While these communities are charming in their own right, they aren't exactly bursting with VTuber artwork.
But after some serious digging, I uncovered secret troves — Facebook groups dedicated purely to the art of VTuber commissions. Hidden pockets where artists and aspiring VTubers unite. And today, my friends, I'm spilling the beans on my extraordinary discoveries right here for all of you.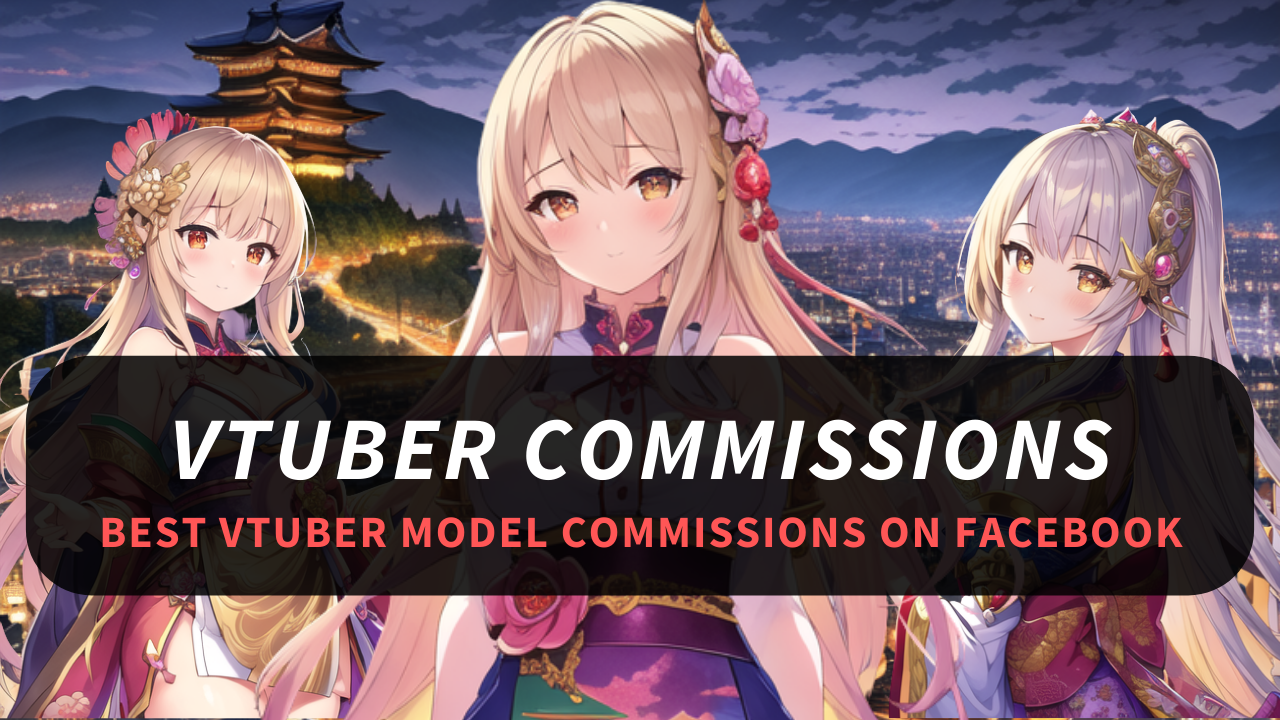 Exploring Strange New Facebook Worlds
When I decided to pursue my destiny as a renowned VTuber, I naturally turned to Facebook first to find an artist. "Facebook has groups for everything these days — there must be tons for VTuber commissions!" I naively thought. 
Oh, there were groups alright. Groups about anything you could imagine. Buttercream frosting enthusiasts. RV vacationers. Beginner banjo lessons. You name it, there was a group for it. 
In my optimism, I joined group after group, thinking, "There must be at least one member in here who does VTuber art!" But alas, no luck. Turns out deeply niche hobby groups are not overflowing with VTuber artists waiting to be discovered. Who knew?
But just as I was on the brink of surrender, poised to shut my laptop and make peace with a commissionless destiny, fate intervened most astoundingly — I chanced upon an extraordinary revelation. A realm where VTuber creativity and commissions thrived – dedicated groups tailored precisely to my quest! These were the promised lands, brimming with the very essence of what I had been seeking.
And now, the moment has come for me to extend the excitement to all of you. Get ready as I unveil my top-notch discoveries, a treasure trove of avenues to connect with the brilliant minds behind VTuber artistry on the Facebook canvas.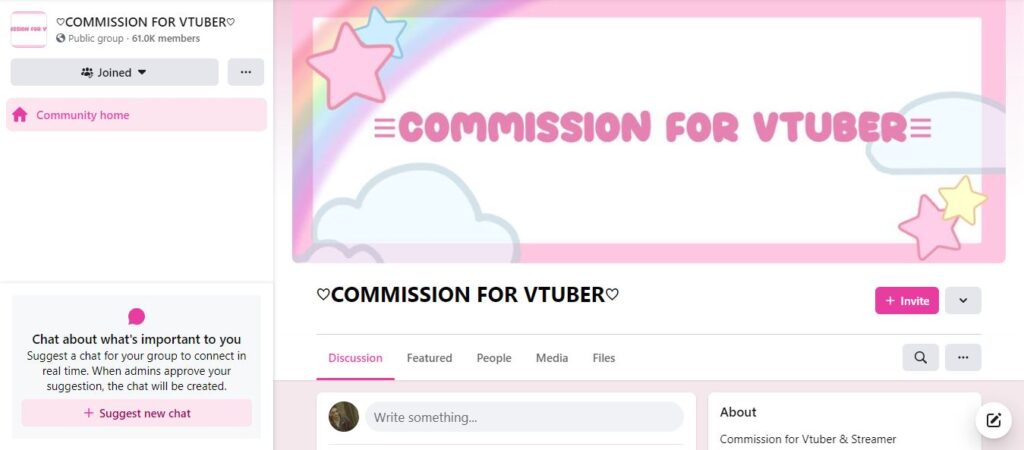 This group is your go-to haven, acting as a bridging platform connecting VTubers, streamers, and artists for all commission-related ventures. From crafting Live2D models to intricately rigging them, from motion graphics to mesmerizing PVs and MVs, if it's VTuber-related, it finds a home here.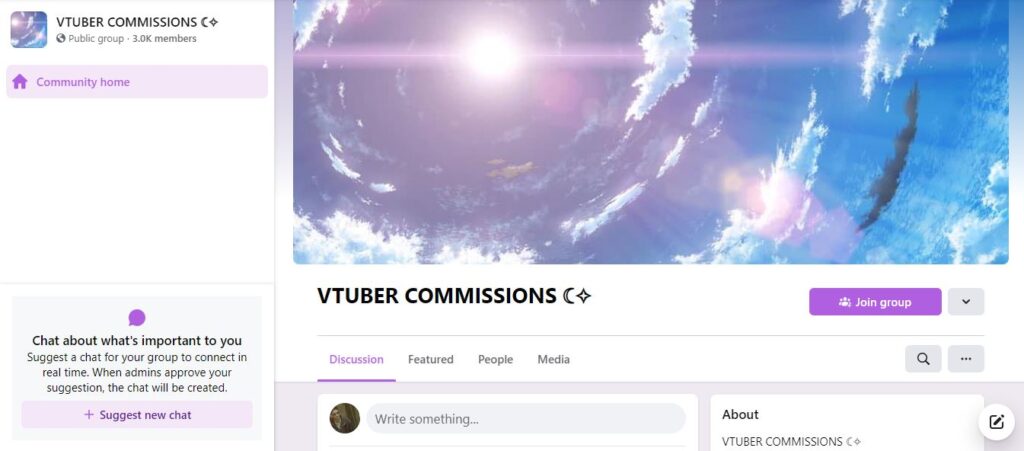 Another gateway into the realm of VTuber commissioning, this group fosters connections between VTubers and skilled artists. Whether it's the finesse of Live2D models or the captivating artistry behind motion graphics, this space embraces all things VTuber.
Facebook Group #3 – 2D VTuber (2300 Members)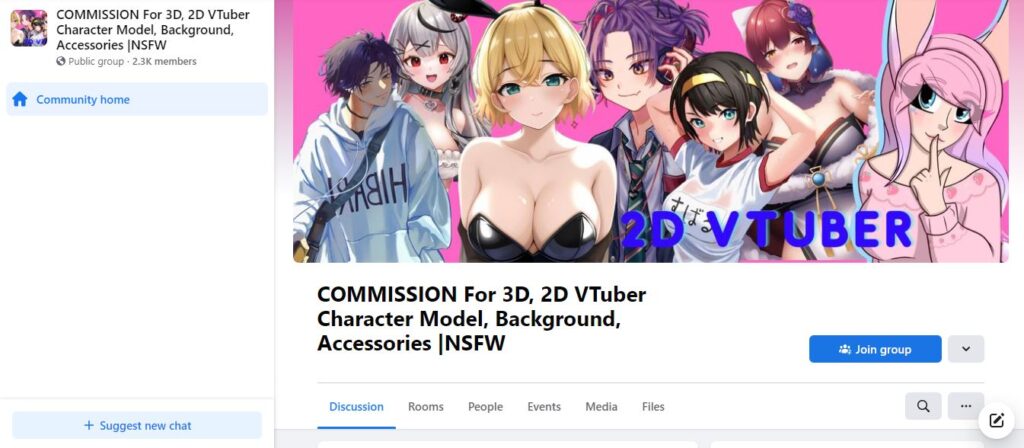 Ah, the welcoming abode of 2D VTuber enthusiasts! Within this dynamic group, aficionados of the mesmerizing 2D virtual content world unite. Here, you'll find professionals in the realms of 2D and 3D character modeling, poised to engage in enlightening discussions and share their knowledge.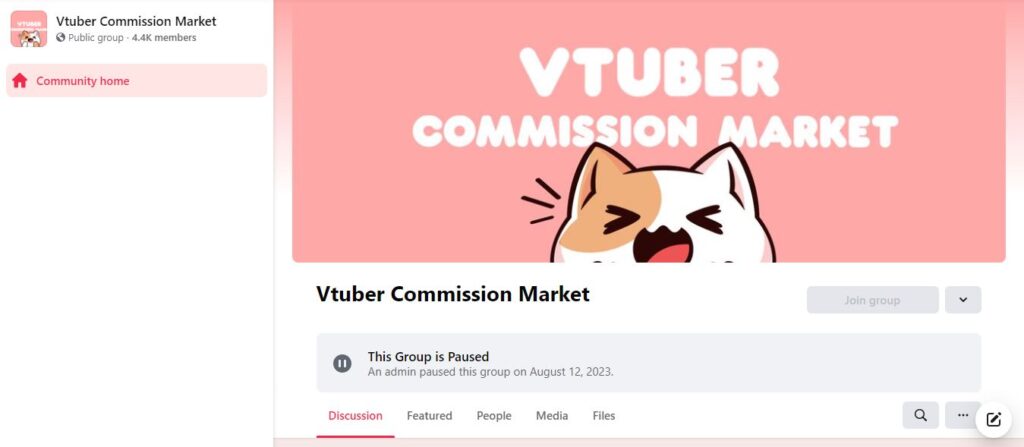 Stepping into this group is like entering a bustling marketplace of anime and VTuber freelance artists, all set to showcase their talents and explore opportunities. Ensuring legitimacy by weeding out scammers, this group embraces artists seeking gigs and clients on the lookout for their perfect VTuber model.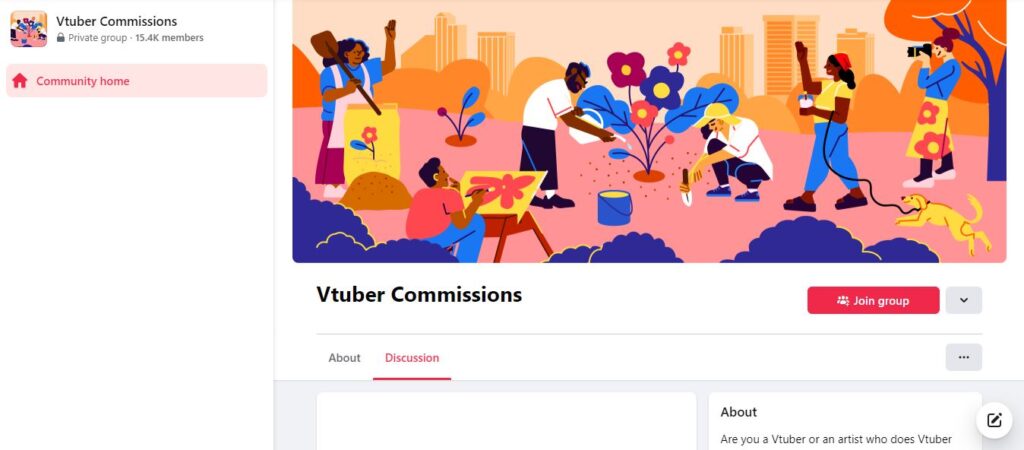 For VTubers and artists alike, this group is a veritable treasure trove. A rendezvous for those who specialize in VTuber commissions, it serves as a platform to connect with like-minded creators and find the ideal artistic collaborator.
And there you have it, five distinct Facebook groups, each fostering a unique space for VTuber enthusiasts and artists to converge, collaborate, and create magic. Happy networking and commissioning, everyone!
Wrapping Up
And there you have it — this brings us to the culmination of this adventure — a voyage that led us to the remarkable VTuber talents! But don't forget due diligence vetting artists, getting portfolio links/contacts outside Facebook for safety, and carefully reviewing work.
Should you stumble upon additional hidden gems during your own explorations of the Facebook landscape, don't hesitate to share your findings with me! The thrill of expanding this roster of incredible VTuber connections is something I perpetually relish. 
If you're ready to elevate your VTuber experience to new heights, I invite you to check out our complete guide to VTuber model commissions.
Frequently Asked Questions
Is it safe to commission VTuber models via Facebook? 
When it comes to direct transactions solely within Facebook, there are inherent risks. However, you can take steps to enhance your safety. One effective approach is to connect with established artists who are open to sharing portfolio links or alternative contact methods outside the Facebook ecosystem. This way, you can have a more secure transaction and establish a trusted working relationship.
Should I avoid Facebook altogether and only use dedicated art platforms?
There's no need to completely shy away from Facebook. It's worth noting that numerous talented artists operate across various platforms, including Facebook. However, a bit of prudence is wise. When considering Facebook for commissioning, ensure you exercise caution during the vetting process. Commission selectively and make informed choices.
Can I find discounts commissioning directly via Facebook?
Indeed, you might stumble upon some cost-saving opportunities by working directly with artists through their Facebook channels. Artists occasionally offer special rates, bundles, or promotions specifically for transactions made on Facebook. It's always a good idea to explore and inquire!
Is the quality on Facebook lower than on specialized art platforms? 
The quality of artwork on Facebook isn't intrinsically inferior. Many top-tier artists choose to use Facebook as a means to connect with potential clients. As with any commissioning endeavor, the key lies in meticulous research and evaluation. Prioritize vetting an artist's portfolio and reviewing their past work before making your decision.
How do I pay artists commissioned via Facebook groups?
To ensure your security, it's advisable to request that artists provide you with their preferred contact and payment methods outside of Facebook. This could involve using email communication or shared invoice links. Whenever possible, avoid direct Facebook-only payments in favor of more established and secure transaction methods.