The 7 Best Curved Gaming Monitors For Streamers
Looking for an immersive experience to make you and your audience enjoy your streams more? Choose one of these seven best-curved gaming monitors for streamers.
As a streamer, having the right gear is the key to providing your viewers with an enjoyable, immersive gaming experience. From high-quality headsets to powerful gaming PCs, having a reliable setup can make all the difference when streaming.
-> Just in case you don't want to read any further and just want to know what our top pick is, see the Best Overall: Alienware AW3423DW QD-OLED, which we feel is the 🥇 Best Curved Gaming Monitor for Streamers
And a curved display monitor is one of the most important components in any streaming setup and can offer several unique benefits compared to traditional flat-screen monitors.
For starters, a curved gaming monitor offers a much broader field of view. The screen's curvature helps give you more peripheral vision, making it easier to spot enemies or other important on-screen details during intense gaming sessions.
Not only does this monitor give you better visibility during gaming, but it also helps reduce eyestrain and fatigue over long streaming sessions. Let's dive into our top-tested picks of the best-curved gaming monitors for streamers in 2023.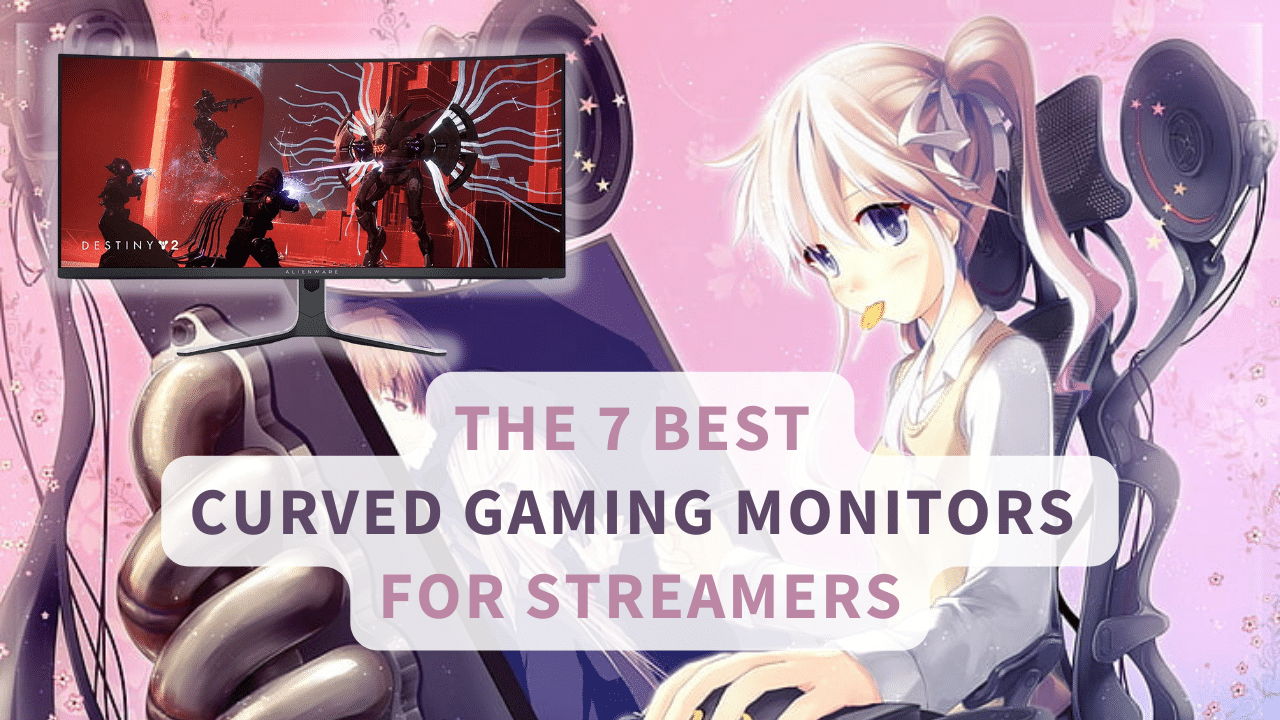 Our Top Picks

OLED technology has finally made its way to the PC gaming scene, and the Alienware 34 QD-OLED is leading the pack. The display has an 1800-R curve, making content appear more captivating and pulling you further into your games.
Either of the panel's two HDR modes, HDR 400 True Black or HDR Peak 1000, produces exceptional and vibrant images. It's also a beast in terms of gaming performance. With a 175Hz refresh rate and a lightning-fast response time of 0.1ms, you can notice the speed and difference in-game.
Even games that don't typically have impressive visuals look great, thanks to the quantum dot-enhanced saturation and speedy response.
Its OLED panel is Samsung's new QD-LED technology. That combines the ideal RGB subpixel structure with quantum dot technology to produce excellent color saturation and an even brighter panel.
The result is impressive, with 99.3 percent coverage of the demanding DCI-P3 color space and a full 1,000 nits of brightness. OLED is also far faster than LCD, and Alienware is quoting this OLED panel at 0.1 ms.
However, there's no HDMI 2.1 on this panel. So, it's probably not the best fit for console gaming. But as a PC gamer, we highly recommend this monitor for hooking up your PC for high-end gaming and streaming.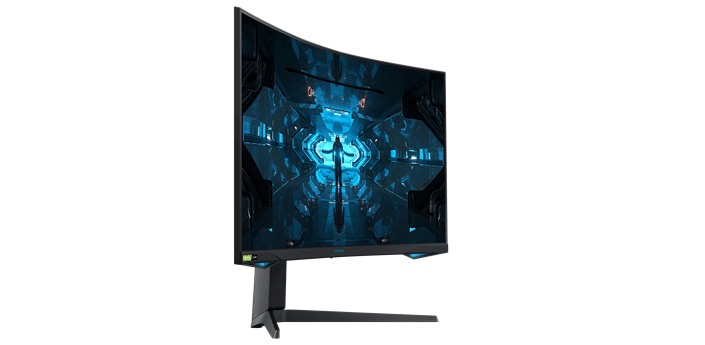 The Samsung Odyssey G7 C27G7 is an excellent choice for a curved gaming monitor for streamers, thanks to its impressive features.
With local dimming, adaptive sync, a high refresh rate, HDR, quantum dot technology, and more, it's a standout option in the market. The 27-inch display offers a 1440p resolution and a fast 240Hz refresh rate, which strikes the perfect balance between detail and speed.
The VA panel technology used by Samsung has a reputation for slow pixel response and laggy performance, but that's not the case here. With Samsung's claimed 1 ms response times, this monitor delivers fast and smooth performance.
Additionally, it matches IPS panels for color accuracy and delivers excellent contrast, making for a compelling package.
The only downside is the comparatively high price tag and slightly disappointing HDR implementation, despite its DisplayHDR 600 certification.
Nevertheless, the Odyssey G7 C27G7 remains a good choice for a curved gaming monitor for streamers as it offers a bit of everything for everyone.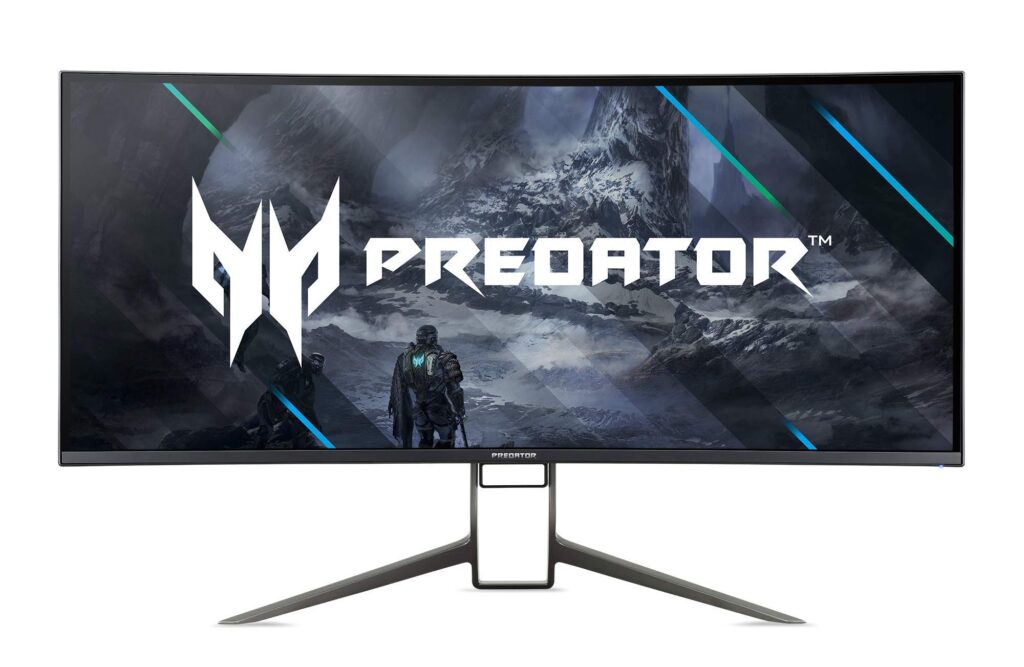 The Acer Predator X34 is an outstanding curved monitor that will make gaming and productivity a breeze.
Its 34-inch ultrawide display offers crisp and vivid visuals that will bring your content to life. The 21:9 aspect ratio provides plenty of real estate for multitasking or fully immersing yourself in a game.
The curved design adds a special touch, making you feel connected to the action on the screen like never before. The 1900R's curvature is slightly more subtle than other curved monitors on the market. But it still noticeably enhances your viewing experience.
A 144 Hz refresh rate makes gaming smooth and effortless, especially if you have a powerful graphics card. Plus, it supports NVIDIA G-Sync, which reduces screen tearing and stuttering.
Tastefully designed with its thin bezel, and sturdy stand that allows for tilt, swivel, and height adjustment, this monitor comes complete with built-in speakers. This monitor is perfect for those who don't want to invest in extra speakers!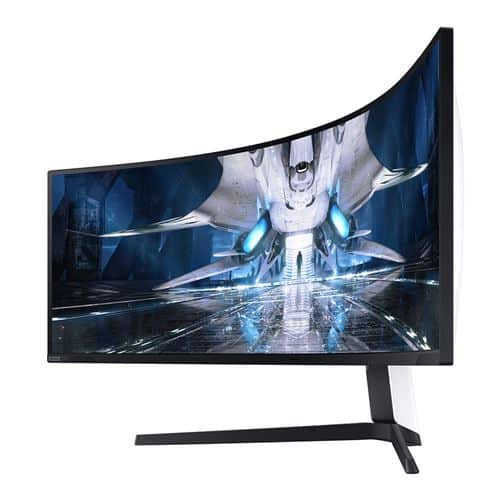 The Samsung Odyssey Neo G9 is a top-tier ultra-wide curved gaming monitor. It has a 49″ screen, a 32:9 aspect ratio, and a 5120 x 1440 resolution.
It features mini LED backlighting for brighter, better-controlled local dimming that rivals even the best TVs. Plus, with its 240Hz refresh rate and native support for both FreeSync and G-SYNC technologies, screen tearing is practically eliminated!
The SDR picture quality on this monitor is simply stunning. Furthermore, recent firmware updates have even improved the HDR image quality.
In terms of ports, the Samsung Odyssey Neo G9 offers two HDMI 2.1 ports instead of just one HDMI 2.0 port and two DisplayPort ports on the previous model.
To take advantage of the full 240 Hz refresh rate, you'll need a video card that supports Display Stream Compression (DSC), like the Nvidia RTX 30-series or AMD's 5000-series GPUs.
The older GPUs, like the Nvidia GTX 1080 Ti, will be limited to just 120 Hz refresh rates.
Dell S3222DGM: Best Budget Curved Gaming Monitor For Streamers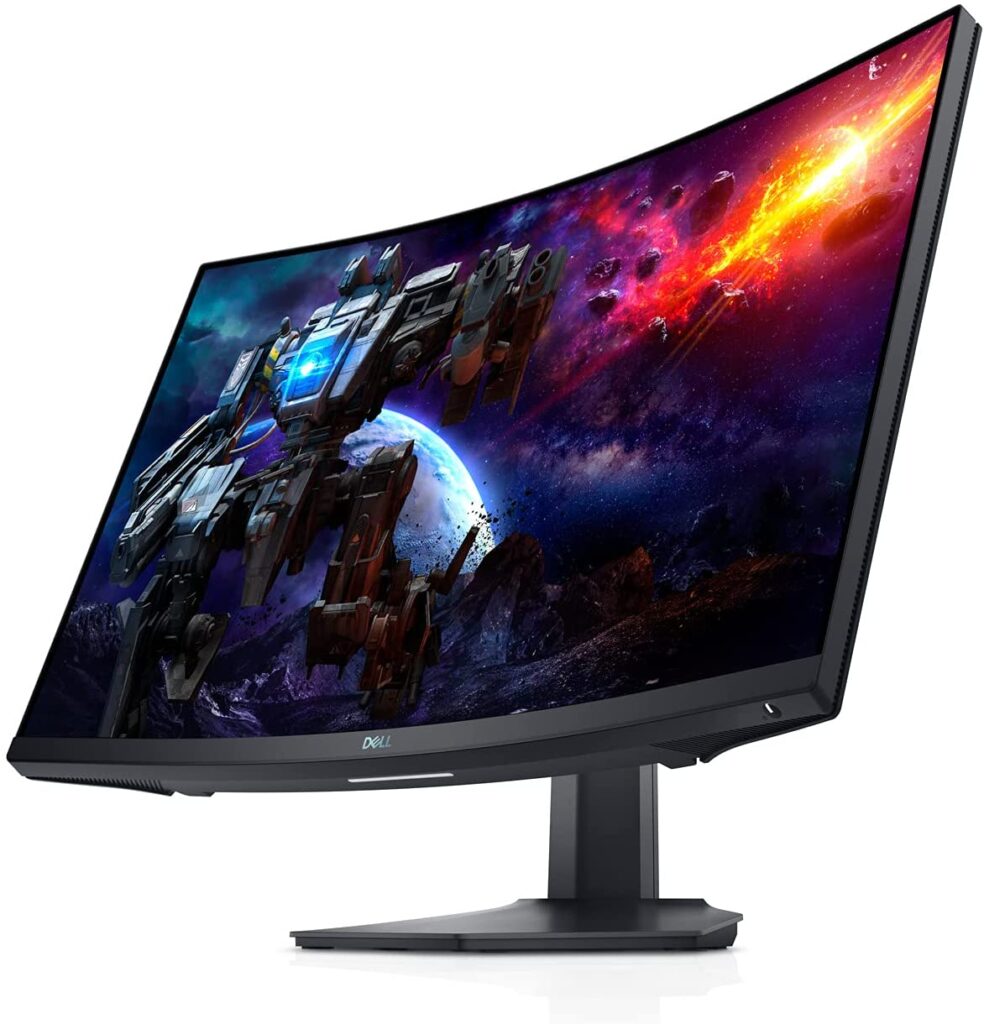 Dell's S3222DGM budget curved monitor is an excellent option for any streamer looking to upgrade their setup on the cheap.
It boasts a 32-inch screen size and 2560×1440 resolution with a refresh rate of up to 165 Hz. That gives users an immersive viewing experience that can make gaming and stream more enjoyable.
The 2x HDMI 2.0 and 1x DisplayPort 1.2 inputs provide plenty of connectivity options to customize your peripherals accordingly.
The monitor also features AMD FreeSync technology for a smooth, tear-free gaming experience.
The S3222DGM has a 3000:1 contrast ratio. That enhances sharpness and accurate color representation while watching videos or playing games.
Furthermore, it comes with a 2 ms response time (GTG). That allows images to remain crisp even when rapidly moving across the screen.
With its 1800mm wide viewing angle, users will always notice important details, even if they move around as they game or stream.
Overall, the Dell S3222DGM budget curved monitor provides excellent value at a fair price point with its expansive screen size and decent image quality.
For those seeking an affordable yet full-featured curved gaming monitor that can help elevate their gaming or streaming experience, look no further than Dell's S3222DGM budget curved monitor!
AOC CU34G2X: The Best Bang For Buck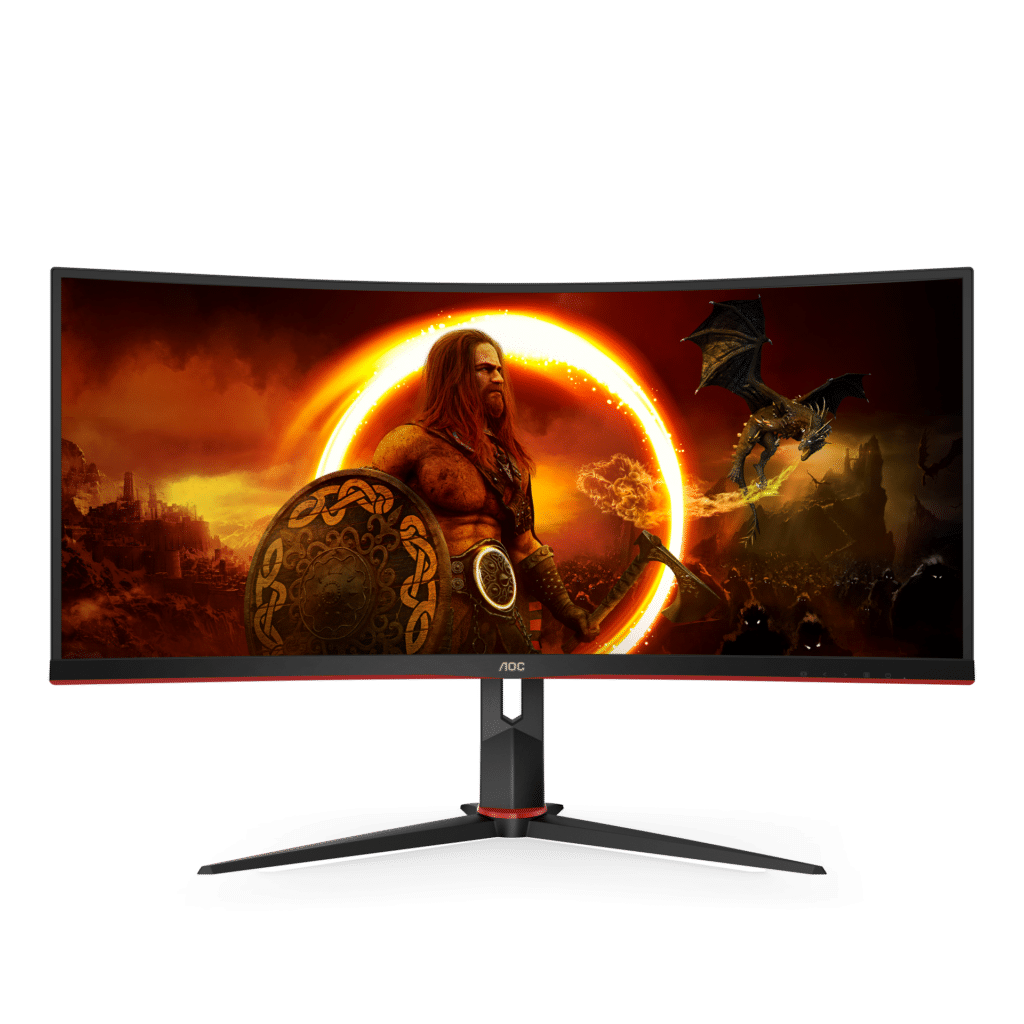 The AOC CU34G2X budget curved monitor is an exceptional choice for gamers and streamers looking for a higher-end display in a more affordable package.
It offers a 34-inch QHD VA panel with a 1500R curvature and a 1ms response time (GTG). That means, it's perfect for a mesmerizing gaming experience. While it may not have the picture quality of higher-end monitors like the Dell Alienware AW3423DW, it still delivers excellent performance with its 144Hz refresh rate and FreeSync compatibility for reduced screen tearing.
The monitor has low input lag that remains consistent, even at different frame rates. As far as design goes, the AOC CU34G2XA has slim bezels on all sides, creating an attractive borderless design.
The monitor features a 2x HDMI 2.0 port, 2x DisplayPort 1.2 ports, and a 3.5mm headphone output. That means you have the full spectrum of options with connectivity. The monitor features a 2x HDMI 2.0 port, 2x DisplayPort 1.2 ports, and a 3.5mm headphone output. That means you have a bunch of options when it comes to connectivity.
Overall, the AOC CU34G2X is an excellent buy if you're looking for a feature-rich display on a budget, offering vibrant colors and smooth gameplay without any input lag or screen tearing.
With so much value in this single purchase, this monitor is ideal for anyone wanting to upgrade their gaming/streaming setup without spending too much money.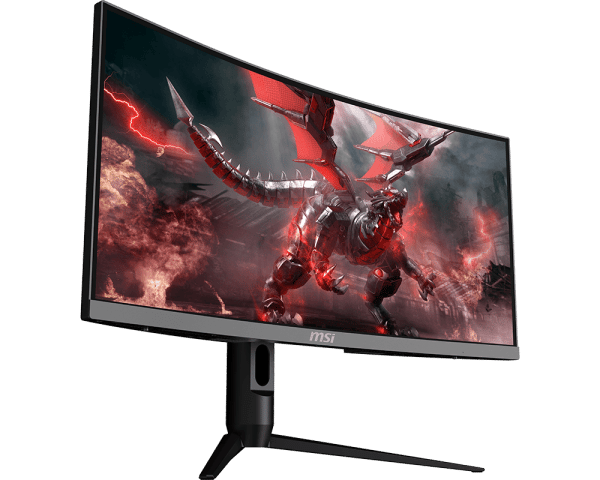 The MSI Optix MAG301CR is a budget-friendly yet powerful gaming monitor. Its design is simple, with a tripod stand and frameless bezel. Plus, there's the added benefit of subtle RGB lighting behind the screen.
Despite its affordability, it still has full height, swivel, and tilt adjustments for ergonomic viewing angles. It features a 1500-R curved gaming display, providing an immersive experience and an exceptional field of view.
This monitor comes with a 30" 2560×1080 VA display and a refresh rate of 200 Hz. That makes it ideal for gamers looking to get the most out of their gaming experience.
With AMD FreeSync Premium Technology, the Optix provides smooth gameplay without lag. It also has HDR compatibility and an Anti blur feature.
Additionally, its 1 ms response time ensures fast-moving visuals with no ghosting effects—ideal for players who need fast-paced gameplay.
Even though this monitor may be low in price, it still packs some serious power. That makes it one of the best budget-friendly curved gaming monitors available today!
What To Look For In A Curved Gaming Monitor For Streamers
When choosing the best-curved gaming monitor for streaming, key factors to consider are resolution, refresh rate, and response time. Below, we'll discuss each in detail.
Resolution
When it comes to displays, the resolution is an important factor to consider. Resolution refers to the number of pixels found in each dimension. To explain this concept, let's look at a resolution of 1920 x 1080. This particular setup allows for 1920 pixels across its width and 1080 down its height. That results in a total of 2,073,600 pixels on the screen.
Although you might assume that investing in powerful GPUs for higher-resolution monitors would be too expensive, these investments often have multiple bonuses.
High-resolution monitors have more pixel content than lower-resolution ones, giving you greater clarity and detail when viewing content. This can drastically improve your viewing experience.
Streamers, in particular, can benefit from this upgrade, as high-resolution visuals offer viewers a more engaging experience than their low-resolution counterparts.
Refresh Rate
Refresh rates in gaming have grown immensely in recent years. We're seeing monitors push out 144Hz, 240Hz, and even 360Hz+, plus a range of refresh rates between these.
A high refresh rate alone won't necessarily give you an edge, but it can provide more visual information processed per second – which is crucial for competitive gamers.
What's important to gain a real advantage from the high refresh rate is that there be a high frame rate for an improved 'connected feel.' This gives precision and fluidity when interacting with the game and low input lag for a latency-free experience.
Also, the combination of a high refresh rate and high frame rate decreases blur. Competitive gamers will really appreciate that, but so too can casual gamers get something out of it.
All that translates to better gameplay and, with it, a better experience for your audience.
HDR (High Dynamic Range)
HDR can provide great performance with vibrant colors when used correctly. HDR10 is the most common format supported by monitors, but it only defines the boundaries of a wide range of HDR hardware capabilities.
This requires 10-bit color (1.07 billion colors) processing, which can be done entirely on the monitor or with GPU dithering for more accurate results. This increases the varied shade levels compared to 8-bit (16.7 million colors) seen in SDRs and allows better use of wider color gamuts associated with HDR.
HDR10 has a long-term goal set to Rec. 2020 (BT.2020) for its huge gamut size, though near-term targets are still based on DCI-P3, which developers use.
VESA's DisplayHDR certification offers a further refinement of this by setting criteria like peak luminance and local dimming requirements, which are tailored to specific levels: 400 cd/m², 600 cd/m², 1000 cd/m² and 1400 cd/m² respectively. Increasing brightness and accuracy as you move up levels.
FALD technology using hundreds or even thousands of tiny LEDs offers some of the best results possible here since they allow intricate patterns of bright and dark areas to stand out. That's something necessary to fully experience the true potential of HDR visuals.
All these best curved gaming monitors for streamers have decent to top-tier HDR levels. Choose anyone according to your budget.
If, as a streamer, you edit your videos yourself, we recommend going with higher HDR levels to ensure better color accuracy for your YouTube videos.
Strobe Backlights For Motion Clarity
To minimize motion blur, many monitors now feature a backlight (or self-emissive pixels for displays) that pulses to match the monitor's refresh rate.
Manufacturers have coined various names for this technology, such as Aim Stabilizer from Gigabyte, ULMB from Nvidia, ELMB from ASUS, and Blur Reduction from BenQ. Monitors with this feature usually list an MPRT (Moving Picture Response Time) measurement in addition to a traditional GtG or G2G (grey to grey).
While these settings may not be appreciated by everyone, they can be essential for competitive gamers or those looking for the highest level of motion clarity.
Activating these settings often come with compromises, though, such as limited brightness adjustment, flashes and fringes, strong overshoot, strobing crosstalk ('double images'), and flickering.
In most monitors, activating these settings also disables any VRR (variable refresh rate) capability. Some models allow you to use both features at once, but none of them provide a solid experience combining strobe backlighting with VRR enabled.
Strong Contrast
Having blacker blacks and darker dark shades can provide a more atmospheric look too dark scenes in games. They can give extra "pop" to bright elements set against darker backgrounds while improving shadow definition and providing a clearer 3D structure to the scene.
It can even create a more solid or 'inky' appearance for medium shades, which is reflected in the game, even under daylight conditions.
When it comes to the best curved gaming monitors for streamers, VA models have the strongest contrast performance, typically with static contrast ratios of around 3000:1.
While OLED backlight less technology offers superior contrast performance, it is still far from mainstream. Luminance control, such as local dimming with a good number of dimming zones, can also help boost contrast efficiency.
There are nuances to take into account on LCD panels, such as IPS glow and VA glow, that could interfere with dark scenes in-game by eating away at details and atmosphere when viewed from certain angles and positions.
This tends to be less noticeable under brighter lighting conditions, but ambient lighting behind the monitor or LED strip lighting is still recommended for maximum effect.
Gamma consistency is also important when looking for detail levels in dark scenes. IPS models offer the strongest gamma consistency, TN models tend to suffer from top-to-bottom gamma shifts, and VA models usually suffer from a black crush, where dark shades blend too easily.
Wrapping Up: The Best Curved Gaming Monitors For Streamers
We have scoured the market and compiled this list of the best curved monitors that cater to all your needs, be it high refresh rates, impressive aspect ratios, lightning-fast response times, or even budget-friendly options that still pack a punch.
Picture this – streaming your favorite game on a monitor that boasts seamless motion and no screen tearing, providing an immersive gaming experience like no other.
The curvature of the monitor draws you into the game, transporting you into another world entirely.
The top-tier refresh rates ensure that every action is buttery smooth, without any lag or delays, while the impressive aspect ratios make for a more immersive experience.
But what if you are on a budget? No need to worry! We have included affordable options that don't compromise on quality.
As for the best curved gaming monitor for streamers, the Alienware AW3423DW QD-OLED is our top choice.
That's all, folks!