Fefe | VTuber Face Reveal & Everything You Should Know
If you are into NSFW VTubers, you definitely would have come across Fefe. This twice-banned Twitch VTuber is truly unhinged.
Even if you are a regular follower of hers and consider yourself part of the Breed Brigade, she'd still do something so unexpected as to surprise you.
Her own mods agree that she sometimes crosses the fine line between being a typical lewd VTuber and being too NSFW. That said, her streams are way too fun to watch, especially when she freaks out other VTubers with her licks!
She oozes chaotic energy even when she says nothing during her whole stream. In this article, you'll learn every aspect of her journey to becoming such a famous VTuber. We'll also share Fefe's real face. So without further ado, let's dive in!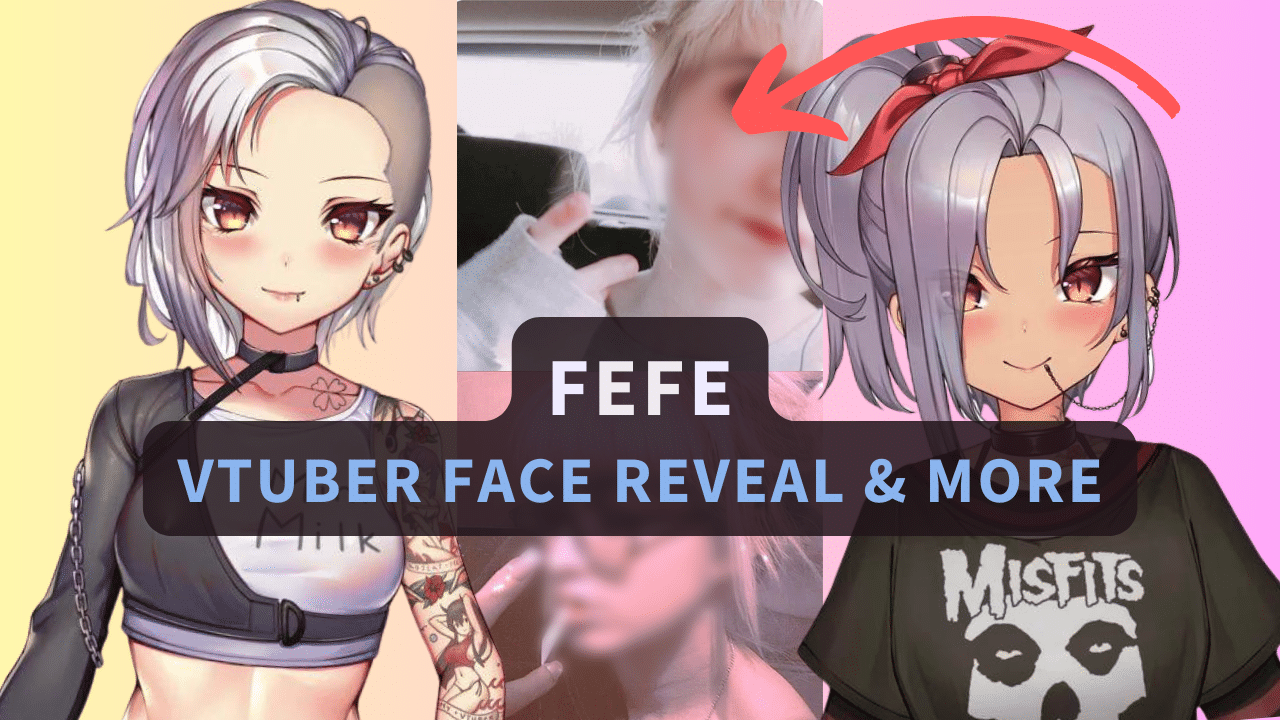 Who Is Fefe?
FeFe is an English VTuber who made her debut on November 1st, 2020. She is an independent creator but also belongs to the Seiso Girls team on Twitch.
Her Personality
During the majority of her streams, FeFe opts to remain silent throughout. Rather than dominating the conversation with her voice, she lets her expressions and interactions speak for themselves.
Her face is incredibly expressive, conveying a full spectrum of emotions that captivate her audience and keep them returning for more.
One of FeFe's most notable traits is her penchant for licking other streamers. This may seem like odd behavior to some, but FeFe sees it as the ultimate compliment. She licks her fellow streamers and shows them she appreciates and enjoys their content. It's a playful, lighthearted way of saying, "You're doing great!"
On the other hand, she might just be horny. When asked about her licking habit, FeFe quickly points out that it's not all fun and games. Licking someone can be messy, and sometimes she accidentally gets hair in her mouth. But despite the occasional inconvenience, FeFe feels compelled to continue tickling because she is horny and knows that no one else will.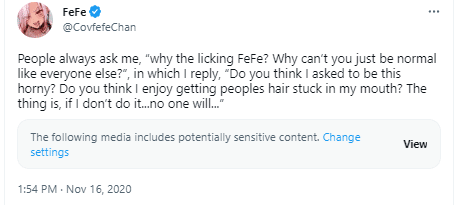 She affectionately calls her followers the "Breed Brigade." They frequently get together on her Discord server, FeFe Radio.
Fefe's Face Revealed
After digging deep into the depths of the internet, we have found Fefe's face reveal photo. But take it with a grain of salt, as Fefe hasn't officially confirmed that it is indeed herself.
This face-reveal photo of hers was shared by a Reddit user who confidently claims that she uploaded this photo herself. They seem to be on a mission to find her video and have asked for the help of fellow Redditors.
As soon as they find her real-life video, you'll find it here on Dereproject, so be in touch for an update!
Meanwhile, here's Fefe's real face: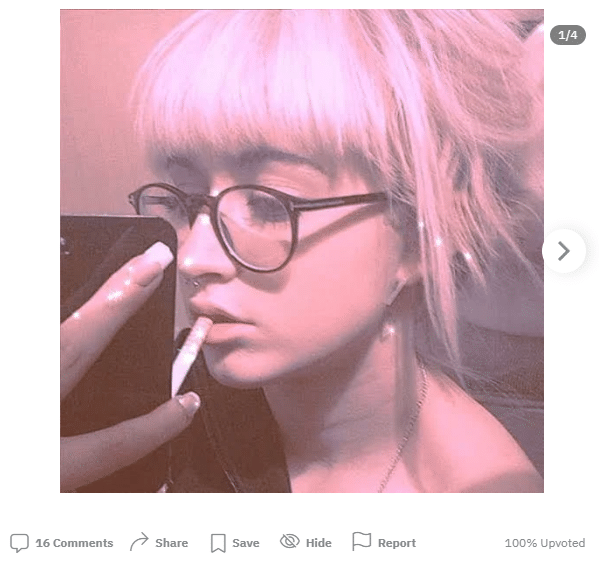 She looks stunning in this photo, especially with that cigarette in her mouth and her glasses. Be aware, though; we are not promoting smoking. But this look just works on her. She's giving off a punk vibe!
We also have Fefe's partial face reveal photo, which we found on her official Twitter account. In this photo, she can be seen holding her figurine. She shared this photo to promote her VTuber merch.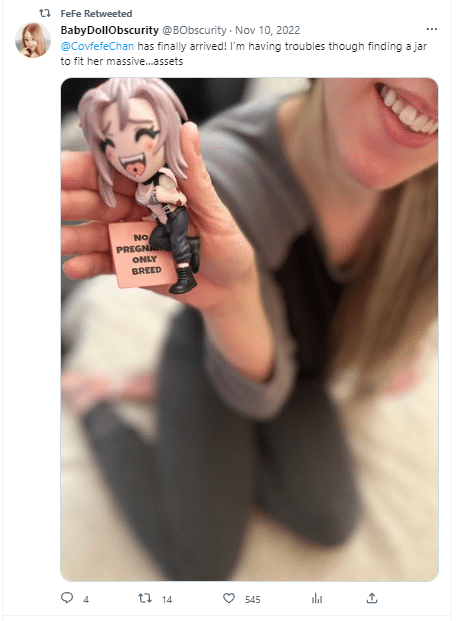 Fefe's VTuber Model
FeFe is a 2D VTuber with a punk-inspired aesthetic, featuring short white hair styled in an undercut. She is adorned with multiple tattoos of other prominent VTubers, including Projekt Melody, Natsumi Moe, Comdost, Bunny_Gif, Silvervale, Froot, Zentreya, and IronMouse.
Also, FeFe has several facial piercings and striking red eyes. Her signature ensemble typically consists of a white, sleeveless crop top emblazoned with the words "Mini Milk," which she pairs with a black right sleeve that drapes across her chest.
Complementing this top are a pair of dark shorts and a studded black belt that complete her punk-inspired look.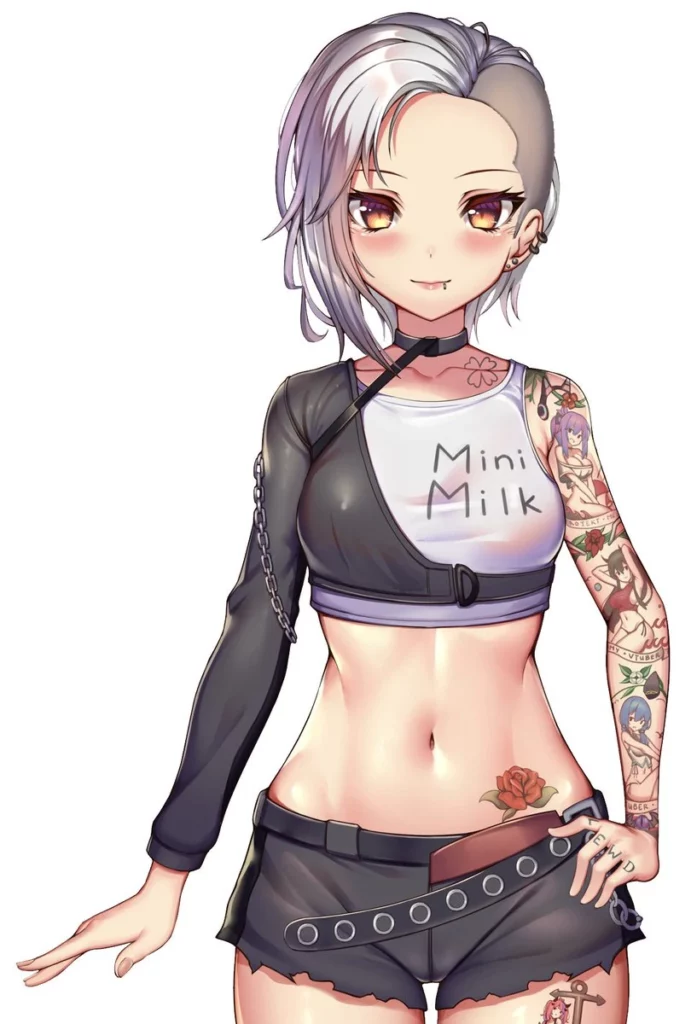 Her Career
FeFe's career as a content creator began on January 3rd, 2020, as a streamer before her VTuber debut almost ten months later. Her initial foray into content creation involved running her channel as "Punk Rock Radio for Weebs" while working a day job. Even after transitioning to becoming a VTuber, FeFe continues to operate her channel in the same capacity.
On November 1st, 2020, FeFe made her debut as a VTuber with the introduction of her 2D VTuber model. Since then, she has expanded her content to include media shares, which feature music videos, amusing YouTube clips, and watching and frequently licking other streamers both during live broadcasts and in their video-on-demand (VOD) recordings.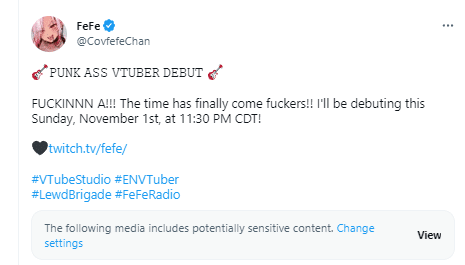 Aside from her Radio Show and Media Share content, FeFe has also been recognized for her collaborations with other streamers for multiplayer games like Among Us and Tony Hawk's Pro Skater 1 & 2.
On December 5th, 2020, FeFe launched a 54-track album titled "Virtual Memories," which is available on various platforms such as iTunes and Spotify. The album is notable for featuring numerous fellow VTubers as collaborators.
In June 2021, Twitch banned FeFe for two days due to reasons she didn't disclose publicly. Later, in October of the same year, Twitch banned FeFe for a second time, this time for 24 hours, after she flashed with her VTuber model during a stream.
Her Relationships
FeFe has developed close friendships with several fellow VTubers before her debut as a Vtuber. She is particularly close with Natsumi Moe, Comdost, Nuxtaku, ProjektMelody, IronMouse, Silvervale, Lilybelle, Bunny_GIF, Froot, and Zentreya.
FeFe regularly collaborates with other VTubers, including but not limited to Natsumi Moe, Comdost, IronMouse, ProjektMelody, Nyanners, and Merry. These collaborations have become a significant part of her content strategy. This allows her to expand her audience and engage with fellow creators in the VTuber community.
FeFe also has good relationships with non-VTubers such as Kaptivate, Tasha, Susu, and Evanit0. These friendships demonstrate FeFe's ability to connect with various individuals within and beyond the VTuber community.
After Froot's debut, Zentreya declared Froot to be her "waifu," Froot reciprocated the affection. In response, FeFe playfully tweeted that she was prepared to fight Zentreya for Froot's affection. That showcases the playful banter that often occurs between VTubers in the community.
Her Love Life
FeFe has been romantically linked to several of her fellow Vtubers, including Comdost, Lilybelle, Froot, Oppaipantsu, IronMouse, Zentreya, and ProjektMelody.
FeFe's romantic relationships with other VTubers, including Lilybelle, have been well-documented through various fan art and other content.
A simple search will yield copious amounts of evidence supporting these relationships. She has confirmed her relationship with Lilybelle, referring to her as "my wifey" in a Twitch chat.
Some Facts About Her
The following are some facts you should know about her, so read on!
FeFe is a big fan of Twix bars and often refers to her streams as "Lick'a'thons."
She enjoys NSFW artwork and retweets a lot of it.
Her voice has often been compared to Raven's from the Teen Titans. FeFe's husbando is Lelouch vi Britannia, and she is a big fan of Fairy Tail, to the point where insulting it is against her rules.
She has begged to be flexed on by "Nux daddy."
Her mod team sometimes has to stop her from being too NSFW on Twitch.
Natsumi Moe inspired FeFe to become a VTuber.
FeFe has a cat named Shota and has claimed multiple times that she was a Disney Channel actress due to being a background character on one of the channel's shows.
Her name, "CovFeFe-chan," refers to a tweet made by the 45th president of the United States.
It is also rumored that she has an NSFW video on a certain site, but nobody has found it so far.
Wrapping Up: Fefe VTuber Face Reveal
There you have it! All the instances where Fefe revealed her real face and every known fact about her. We also shared all the highs and lows that her career went through.
We hope that you enjoyed it, and if you did, check out this post where we shared all 13 famous VTubers that revealed their faces.
That's all, folks!