CottontailVA: The NSFW VTuber | Face Reveal & More
Voice acting is no easy feat. While VTubing does require some level of mastery over this art, being a voice acting specialist is a whole other ballgame.
Today, our focus will be on one such VTuber who also has complete control over her voice and has mastered the art of being a voice actor, CottontailVA!
This NSFW voice actor/VTuber has recently blown up and is finally on many of her fans' radars. And with that, her fans really want to know her identity and how she looks!
In this article, we'll share CottontailVA's latest face reveal photos. Plus, we'll focus on every secret she has revealed so far! So, read on!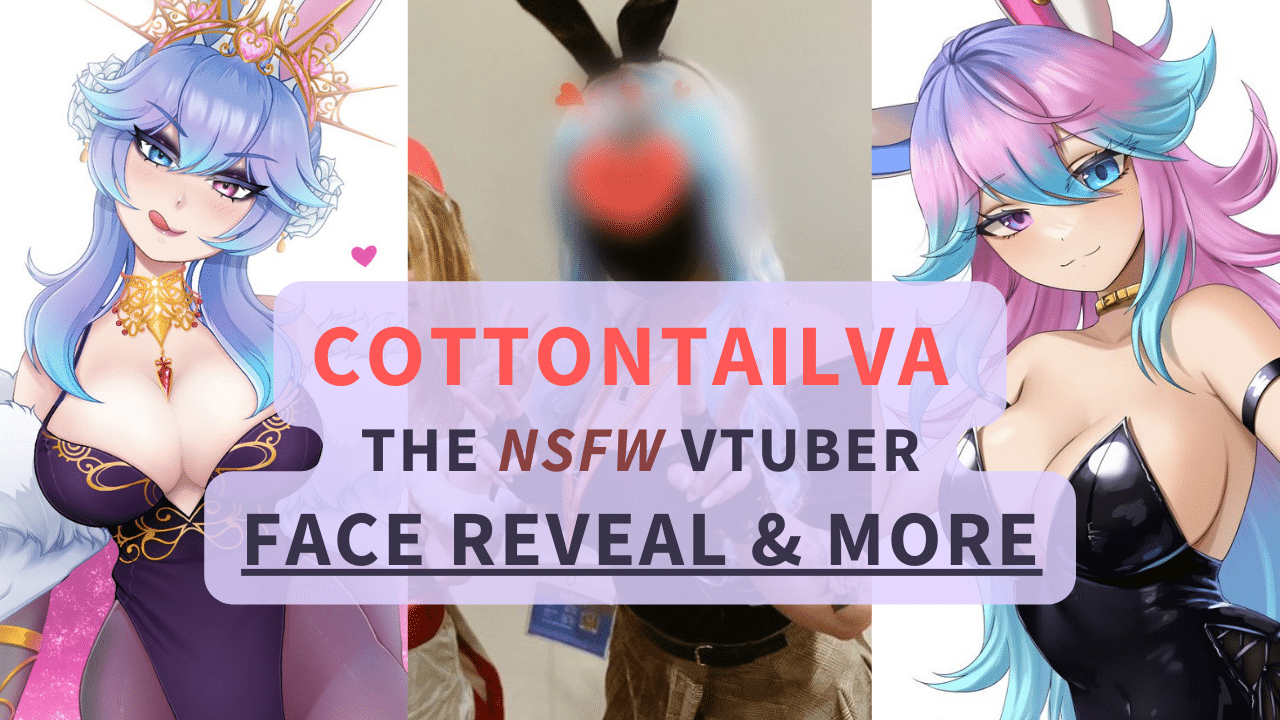 Who Is CottontailVA?
CottontailVA is a Canadian VTuber who made her debut on November 21, 2020. As an NSFW voice actress and a partnered Twitch streamer, she also shares content on YouTube and TikTok.
CottontailVA's Personality
Cotton is a lively individual who may try to embody the persona of a 6'9″ Dommy Mommy but, in reality, exudes the energy of a 4'11" brat.
Despite her energetic and sometimes scattered nature due to ADHD, she is kind-hearted and affectionate with her community.
Cottontail's chat often leads her on tangents during discussions. But this only adds to the fun and spontaneity of her content.
While she can be down bad at times, Cotton's wholesome side shines through frequently, thanks to the love and support of her devoted viewers.
Above all else, Cotton cherishes spending time with her chat. And they often encourage her to take care of herself by eating well
How Did She Get Into Voice Acting?
She got into VA work when she was eighteen; cotton liked the VA job she did back then. Cottontail bought a Blue Yeti mic, which she considers to be a lousy standard for voice acting.
She bought that mic (a Christmas gift from her mother) at the age of thirteen because she wanted to be a Minecraft streamer.
But after she bought everything, she didn't know how to stream. So everything sat in the closet for years.
Then she saw an audition online and thought, "Why not?" She already had a microphone, so she went for it.
It was an audition for Danganronpa (a video game series). And she failed that audition because she wasn't up to the mark yet.
But that's how she got into voice acting work. She auditioned through YouTube, and then it directed her to a casting call club site. From there, she saw a lot of new opportunities.
CottontailVA's Face Revealed
CottontailVA revealed her face when she met one of her fans, and here's that photo of the meeting: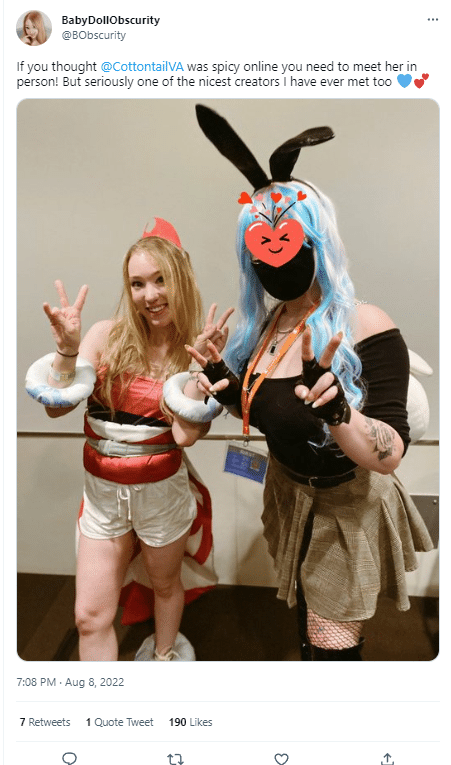 Yeah… unfortunately, she covered her face with a mask and an emoji! But here's another one. (The latest photo, where cottontailVA revealed her face and body!)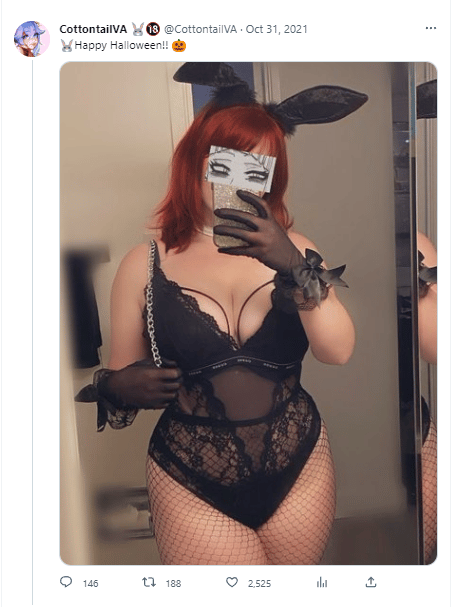 Dangit! She covered her face again! No worries; as soon as she takes that mask off, you'll find that photo right here in this blog, so bookmark it!
Meanwhile, read this great article that lists down and shows All the VTubers that really revealed their faces.
Or read on to find out the dirtiest secrets that Cottontail shared!
More Interesting Facts
The following are a few more secrets Cottontail shared with us:
Is There a Game She Considers Overhyped?
Many of you guys might get mad at her for this, but remember, the games you like or dislike are highly subjective.
One might love the game to death, and the game may seem cringy or boring to someone else. So don't show her any hate for this.
She thinks that Valheim is overrated/overhyped. And the reason she hates this game is that it crashed her computer. -_- !!! Okay! I know I just told you not to get mad at her, but… never mind! Don't show any hate to our favorite bunny girl!
Her Dream Role
CottontailVA just wants to be in a fighting game; it's her dream. She wants to make those "UHAAA!" voices that you usually hear in a game like Tekken or Street Fighter.
The Food She Doesn't Eat
Cottontail grew up scuba diving alongside fish, so she doesn't eat seafood. She feels like they are not food; they are her friends. How sweet! Right?
Her Birthday
Her birthday is on May 29th. She hasn't revealed the year, though!
The Worst Voice Acting Experience
Cottontail was messaging a person because they wanted to commission her. This was before she knew how commissioning worked. They sent her a massive script, and she was thrilled and enthusiastic about it.
She recorded everything for them, and it took her three days to record everything she needed. Then she had to edit it all, which took five more hours.
Then she sent the audio back to the employer and asked for her fee, which was $170. This was when her prices were really low, and she needed some projects to build her portfolio and gain some experience.
Then she realized that she was charging really little, and the people who wanted to work with her were willing to pay way more than that.
Despite that, she sent them the invoice for $170 for an hour-and-a-half-long audio clip (after editing). For those of you who don't know, it's a lot of work.
Guess what they did? They blocked her; they were scammers. And it taught her to ask for money beforehand.
Cotton's Favorite Tune
CottontailVA really likes Rät, which is about Elon Musk. She thinks it's really catchy.
Here's the song she's referring to:
And as a bonus, here's Elon reacting to that tune (fake, just for memes):
Favorite Anime
Cottontail's favorite anime right now is Attack on Titans (AOT).
How To Make Money In NSFW Voice Acting Industry
Cottontail gave a tip for aspiring voice actors reading this article. Here's how she makes money in the NSFW industry:
People who have animations, commercials, or scripts that they want to be read will contact her on her Twitter, via email, or on Reddit. (Cottontail is technically a Redditor).
They'll tell her what they want her to do. (Her job).
She counts the number of words in the provided script and guesses how many minutes it would take to read the script.
Then she quotes them her rate. And once they agree on the terms, she sends them a PayPal invoice, and they'll send her the money.
Within a week, she'll hand them their lines. So, basically, she gets hired to read scripts. And sometimes they ask her to write her own script, which she thinks is really cool!
How Does CottontailVA Deal With Someone Who Is Dead As A Fish?
She communicates! Cotton thinks that all you have to do is communicate. And she believes that if someone is not skilled in the craft, there's a reason for that—nobody told them how to do anything. So, be like, "Hey, this isn't working!"
But be really soft about it. That's because she understands that some people can be really insecure about it. So, be like, "Hey, this isn't working." She continued, "You need to give me some effort here—move your hands or your hips; just do something!"
Welp! She isn't wrong! You really have to DO SOMETHING if the other person has to tell you that you need to move your body!
Whoever that person was to whom she had to tell that, bruh! You let us down, bruh!
The Weirdest Encounter She Ever Had
She was walking down a busy street in California, and this guy approached her while she was alone and said, "Hey, Yo! West side!" Then he throws up his fingers like a W.
Cottontail was like, "What!" He said again, "Yeah! West side, wassup!?" He was acting like he was her best friend or something. And he was a grown man while she was 15 years old.
She didn't know what was going on and was really scared in such a big city. So she went along with it and was like, "Yeah, yeah! I haven't seen you in such a long time, man! What the heck!?"
Meanwhile, Cottontail was secretly grabbing her phone to call 911 just to make sure nothing bad happened to her.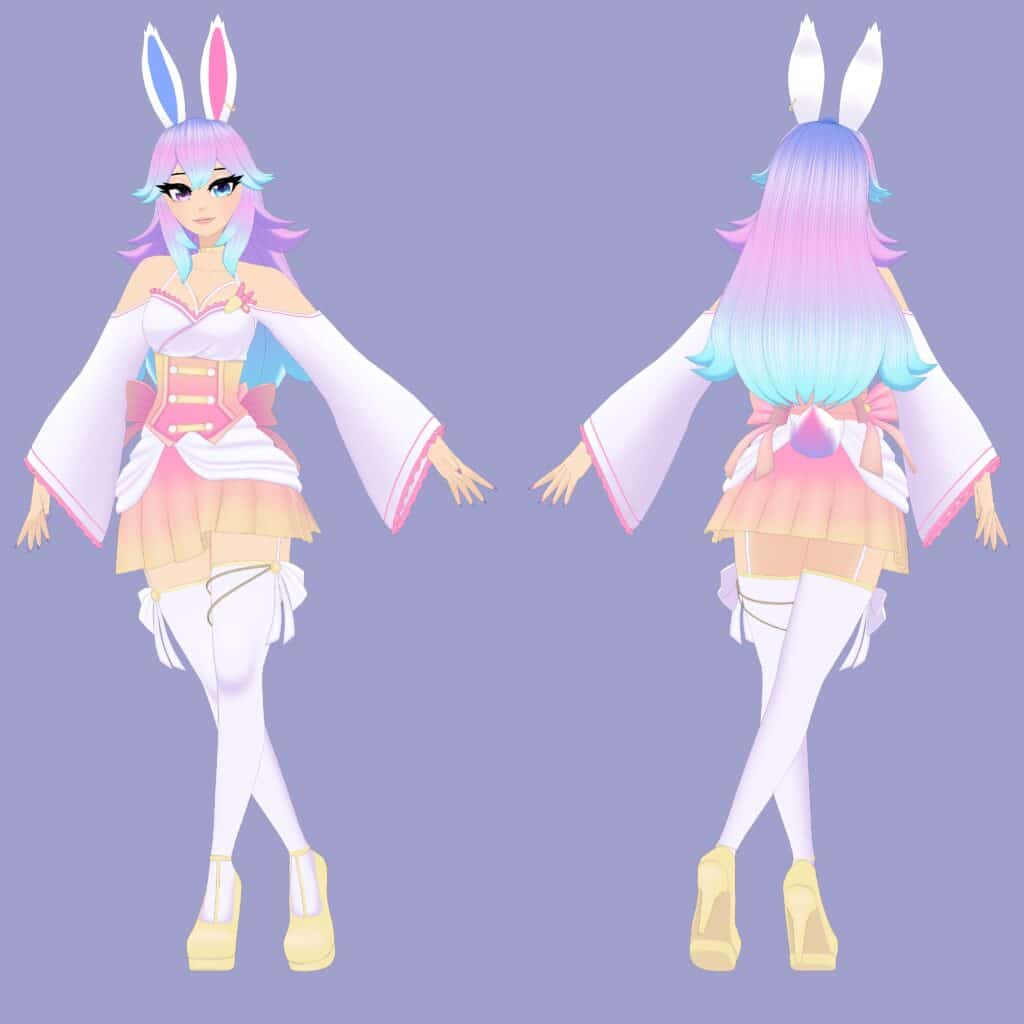 He told her, "Yo, what's up, west side! I haven't seen you in a long time either, and I just got out of prison!" And she was like, "uh-huh, uh-huh!"
It was terrifying for her; she had to pretend she knew this guy. She got out of the situation by telling him she had to meet an old friend in a building next to them and just ran into a random building.
Cottontail pretended to talk to this lady and told her how she was having the weirdest encounter of her life. Luckily, the lady played along and pretended to be her friend to get her out of that bad situation.
Her Idols In Voice Acting
Obviously, Tara Strong! Cottontail has such admiration for her. She thinks her range is incredible. Also, she really wants to have a huge range like her and be kind as well.
She met her when she was young. But, back then, she didn't really know what voice acting was. She didn't even know anything about her work in "My Little Pony," and her friend was obsessed with it.
So her friend told her, "Let's go meet Tara Strong." And she was like, "Who?" and then agreed to go along with her.
She met her and found her to be very kind. But now she looks back and feels like she should've gotten her autograph or something.
CottontailVA's Age
Although she hasn't revealed her age publicly, judging from her photos, she looks between 22 and 25.
Wrapping Up: CottontailVA Face Reveal
So, there you have it! Cottontail's face reveal photos, her age, interesting facts, dirty little secrets, and much more!
We hope you enjoyed it! And if you did, be sure to check out more of our articles where we share face-reveal photos of other VTubers, like this one: Yuzu Face Reveal
That's all, folks!