Cheap Alternatives To VTuber Model Commission
Can't afford an expensive VTuber model to start your streaming journey? It's 2023, and it does not have to be expensive! Let's take a look at some cheap alternatives to commissioning a VTuber model.
If you somehow haven't come across the people on Twitter crying about how they simply cannot be a VTuber because it's too expensive, have a look at this post.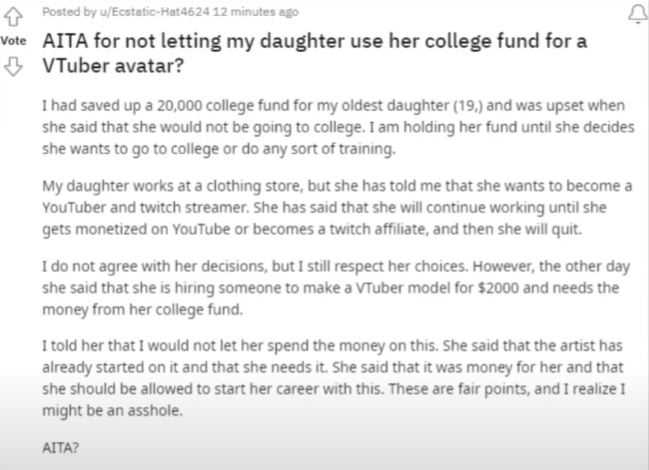 This is a super common misconception—that every single VTuber dropped $2k on JUST A VTUBER MODEL before even hitting Affiliate on Twitch. I'm gonna be real with you; no matter how much you think you MIGHT like streaming, you won't know until you start.
DO NOT spend money on VTubing until you're making money from it. Point blank, period. If you have a stable job and you want to spend $300-$500 or so, I think that's fine.
If you can afford to shell out that kind of money, check out this guide, where we go through the nitty-gritty of VTuber model commission. Seriously! Don't just work with the first artist you come across. In the guide mentioned above, you'll learn everything, from hiring an artist to the things you need and the best artists you can work with to commission a VTuber model.
But there's really no reason to spend more than $500 as a new VTuber unless you've already streamed before and know what to expect.
In this article, you'll find some cheap alternatives to the VTuber model commission and a few ways you can get your hands on free assets and a VTuber model. So, read on!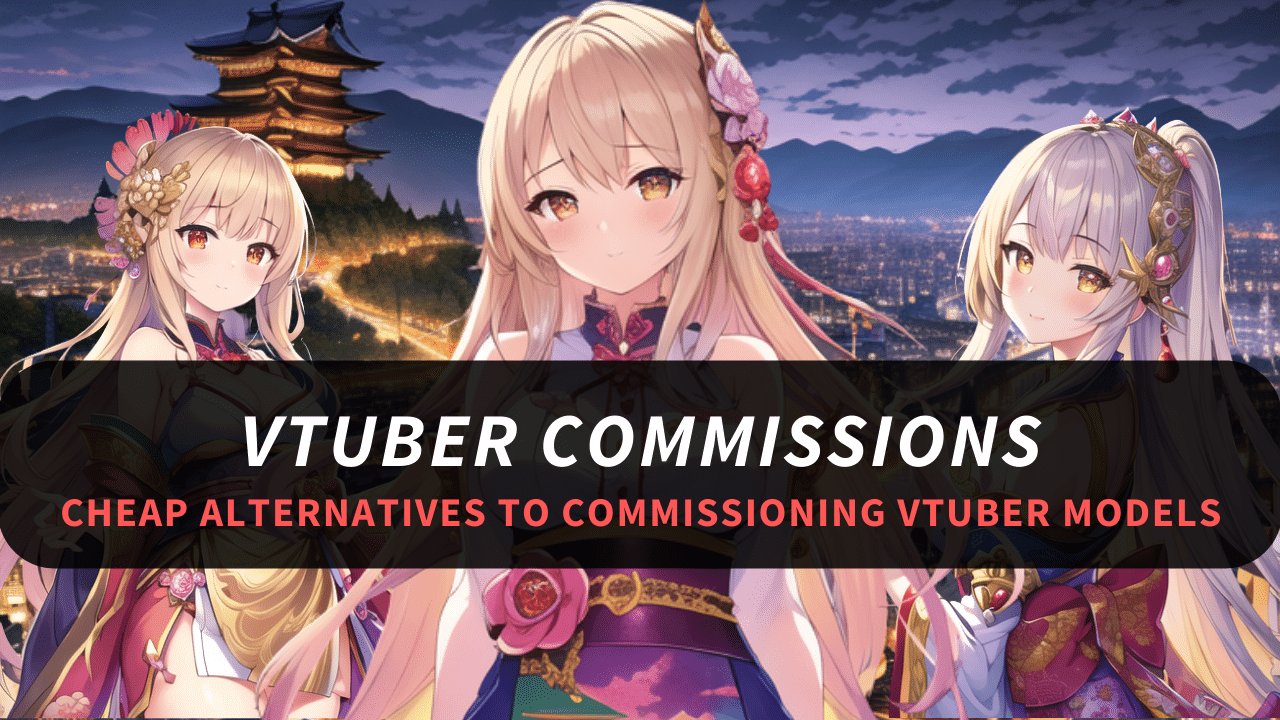 How to Start as a VTuber for Free in 2023
You can now start VTubing for free, basically. I'm talking about the streaming assets and software you need to be a VTuber. Obviously, if you don't already have the hardware needed for streaming, you won't be able to stream. I'm talking about a VTuber model, overlays, schedule templates, and all the stuff you need to start making a VTuber can 100% be done for free.
But first thing's first—having a VTuber model, no matter how expensive and nice-looking it may be, will NOT get you an audience. Twitter followers? BIG maybe. But if you want to be a STREAMER and stand out on whatever content-creation platform, it all comes down to your personality.
For example, ShyLily is known for having a really nice model that cost her about $8k. Very, very expensive model. But people don't watch her for her model; people watch her because she's hilarious and brings something new to the table.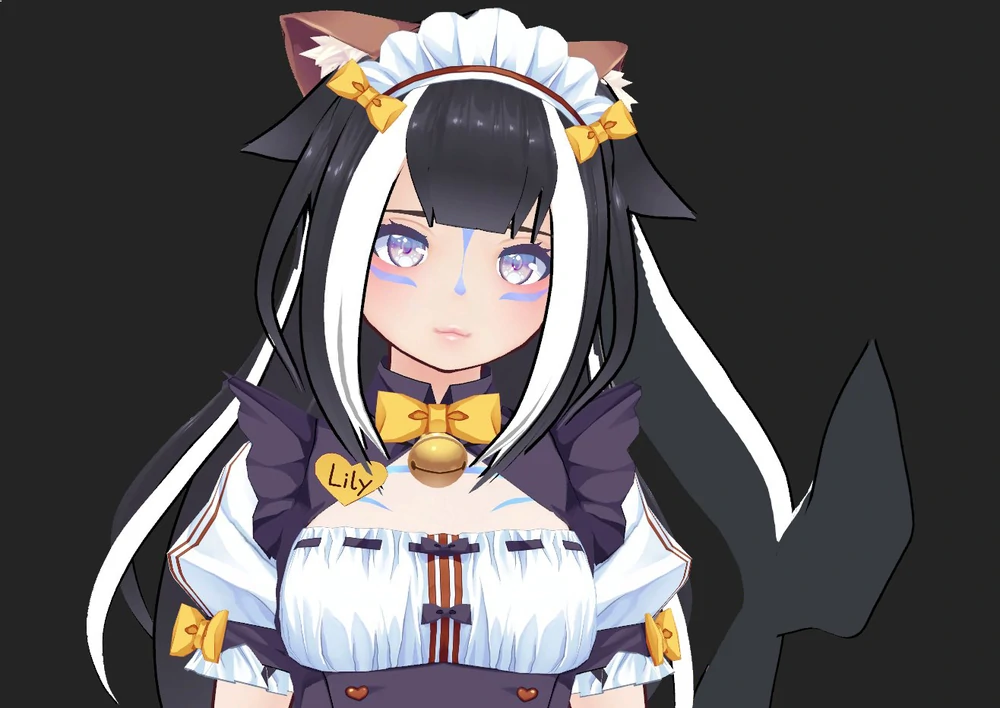 Also, she didn't just drop $8k on a model before she started streaming—she streamed for a while beforehand with what looks like a VRoid model. And this goes for all big VTubers. None of them started out with models that cost them thousands of dollars.
The first thing you'll need to become a VTuber is obviously an avatar. Now this doesn't have to be a full-on Live2D model at first, although there are free options for that too. A lot of people start off as PNGTubers, which are just little icons that you have on your screen as you stream.
Let's go over some of the options for both PNG and animated VTuber models.
PNGTubing
If you want to be a PNGTuber, there are a bunch of tutorials out there for you. If you do art, it's as easy as drawing a pose for your mouth to be open and closed and setting it up in a free PNGTuber software like Veadotube.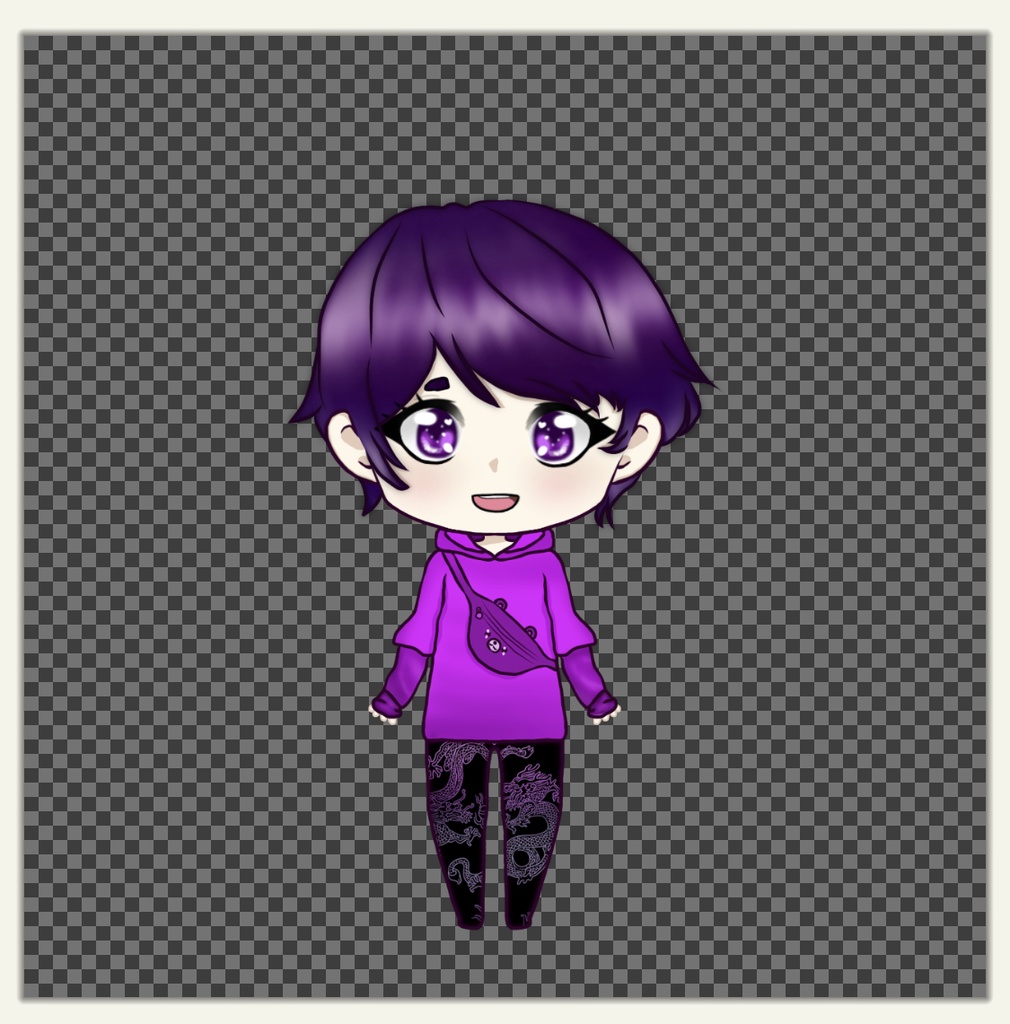 But If you're not an artist, I've seen a lot of people recommend Charat.me, which I've played around with and seems like a super good option!
Just remember to read the Usage Guidelines for everything I mention here, as a lot of these are meant to just get you started and may not allow you to make money from them. But you won't be making any money if you're not a Twitch Affiliate in the first place, so there should be no problem there.
3D VTuber Model
If you want a 3D model, the best free option by far is VRoid. It's a really cheap/free alternative to commissioning a VTuber model. A lot of the bigger names you see today started out by making their own VRoid models.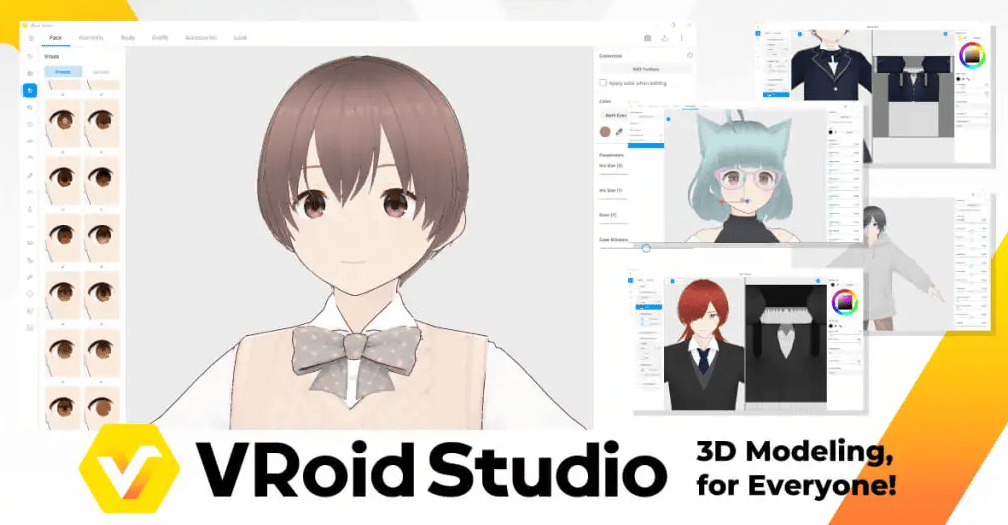 It's a free program that allows you to have complete control over how your character looks; there are tons of free tutorials and even more free add-ons.
And some programs let your audience throw things at you or trigger different effects on your model based on events in the stream.
Live2D model
If you want a Live2D model, there are free options for you. Live2D refers to the program used to make these models move with your face tracking, and they're the kind of models you'll see used by talents in Hololive, Nijisanji, and stuff like that.
They're the most popular, and usually, they're what people rush to spend thousands of dollars on. But a lot of people neglect to even look at the free options.
I think the free Live2D option with, by far, the most customization is vTuber Kit, which is a new program that's currently in Public Alpha. For it is free, it's an amazing value for people that want to look like they spent a couple of hundred on a model in the beginning.
If you're more into the anime look, Booth.pm has a ton of free beautiful Live2D models as long as you credit the creators and know that there will be other streamers who can use the models as well. There have been many times I've been looking at a VTuber and didn't even know their model was a free Booth model until I looked for their artist and rigger.
In general, Booth also has TONS of free assets you can pin onto your model to customize things a little more.
Super underrated site with some amazing artists. Also, the software to use Live2D models is called VTube Studio, and it is completely free on Steam! 
Overlays & Other VTuber Assets
The next thing on most VTubers' shopping lists are overlays. Now I'm going to say this upfront: you really don't need overlays. The most important thing you might need is a back screen, but generally, you can get away with just slapping your model over your game.
Also, if you really, really want overlays, you don't need personalized ones! There are hundreds of free overlays that would work for your brand. Some of the best free overlays are from freelance artists on Ko-fi! Once you click the one you want, it'll tell you the minimum price to pay, and if it says it's free, you just enter zero dollars, and you're good to go!
It's nice to support these artists when you can, but not everyone has the money for that. The easiest way to find these free Ko-fi overlays is to just look up 'free VTuber overlay' on Twitter. If you want free animated overlays, StreamElements actually has some really nice free stuff.
These come with alerts and all the screens you need. Now because StreamElements is so popular, way more people will be using these, but the average viewer won't even realize that they're a free asset.
Additional Resources For VTubers
Some extra stuff people may need as VTubers! Schedules to put on your Twitter and in your Twitch panels! These are pretty standard so that your audience knows when you'll be live. Kawa Entertainment is a VTuber agency that has a free schedule maker for VTubers to use on their website! It's super easy to use!
Next – logos! Logos are super personalized and hard to find for free! But. Free logos Exist!
Zenith on Twitter has provided four amazing VTuber logo templates! This is incredibly generous of her and so helpful to all the new VTubers just getting started. Please go show her some love on Twitter.
Adoptable VTuber Models: A Cheap Alternative To VTuber Model Commission
So, you're all hyped up about starting your VTuber journey, but oh man, the VTuber model costs can be sky-high, especially if you're looking to get those primo VTuber models designed by big-name artists. It's like you need to sell your soul for one!
Enter the VTuber adoptable model option! It's like being a savvy shopper on Black Friday but for your virtual avatar! Adoptable models are pre-designed VTuber characters created by talented artists. They're available for purchase at a more wallet-friendly price compared to custom-made ones.
Now, you might wonder, how does it stack up against the regular way of commissioning? Well, the main difference is customization. When you commission a VTuber model from scratch, it's like having your own tailor-made suit perfectly fitted to your unique personality and style.
You can work closely with the artist to bring your vision to life, from hairstyle to eye color, all the way down to the tiniest details.
On the flip side, with an adoptable model, think of it more like getting a stylish ready-to-wear outfit. You can choose from a selection of pre-made characters.
While some artists might offer minor adjustments like different outfits or expressions, you won't have the same level of personalization as a custom model.
It's a fantastic way to kickstart your VTubing journey without breaking the bank. These models are often super cute and well-crafted, and they're perfect for streamers on a budget or those who wanna dip their toes into VTubing.
But, and this is a big but, make sure the adoptable model aligns with your brand and personality. You wanna vibe with your virtual self, right? Here are some of your options if you want to go for an adoptable model:
Twitter
The VTuber community on Twitter is the place to be when finding some sweet VTuber-adoptable models. So, listen up and follow these steps to find your perfect virtual persona:
Get yourself logged in to your Twitter account.
Head straight to that search bar
Now, here's the secret sauce: type in these hashtags: #Vtuberadopt, #adoptable, #adoptables. Hit that enter button.
Boom! Your screen will light up with a colorful array of artists and VTubers selling their epic VTuber adoptable models.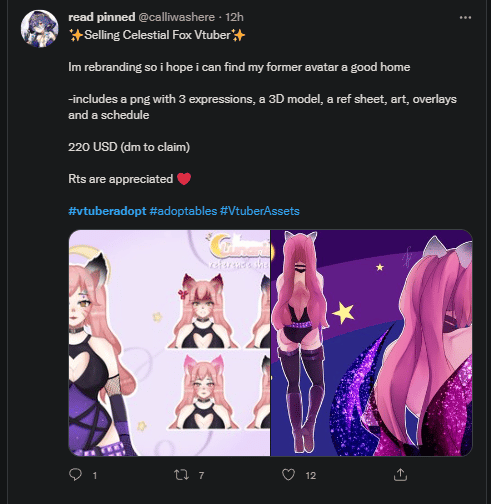 Discord
Discord is a vibrant hub for the VTuber community. One of the exciting things you can do on Discord is find adoptable models. Here's how you can find adoptable models in the VTuber Discord community:
Joining VTuber Discord Servers
First, you'll need to join Discord servers where VTubers actively participate. Look for popular VTuber communities or those dedicated to model adoption and character sharing.
Use keywords like "VTuber," "Virtual YouTuber," "Model Adoption," or "Character Sharing" when searching for these servers.
Live2D server is one prime example where tons of artists actively interact with each other. And these artists or retiring VTubers would often put up their VTuber models for adoption for a fraction of the original costs.
You just need to keep your eyes peeled for such opportunities.
Check The "#Adoptable_Models" Channel
Once you're in a VTuber Discord server, navigate to the "#Adoptable_Models" channel. This channel is where users share their pre-made character designs that are available for adoption. Keep an eye on this channel regularly, as new models might be posted frequently.
Browse The "Adoptable_Models" Gallery
Some VTuber Discord communities have dedicated galleries or image channels specifically for adoptable models. Head over to the gallery and scroll through the images to see the available models.
Use "Looking for Models" (LFM) Tag
If you're actively searching for a specific type of character, post a message in the appropriate channel with the "Looking for Models" or "LFM" tag. For example, write "LFM: Catgirl 2D model" if you're looking for a 2D catgirl character.
Engage In "Adopt Me" Auctions
Some VTuber Discord servers conduct "Adopt Me" auctions where creators put their models up for bidding. Participate in these auctions by offering virtual currency, art, or other incentives to win the model.
Reach Out To Model Creators
If you come across a model you love, but it's not explicitly marked as adoptable, don't hesitate to send a direct message (DM) to the creator. Politely inquire if the model is available for adoption or if they would be willing to create a similar model for you.
Respect Rules and Etiquette
Each Discord server might have specific rules and etiquette related to adoptable models. Read and follow these guidelines to maintain a positive community experience. Some models may have specific usage rights or restrictions, so clarify everything beforehand.
Do-It-Yourself (DIY) Approach: The Cheapest Alternative To Commissioning A VTuber Model
If you have some artistic skills, have free time on your hands, or are willing to learn, you can create your VTuber model yourself using free or inexpensive 3D modeling or illustration software. First things first, decide if you want a 2D or 3D model and whether you're going for a basic look or a full-on professional. It all depends on your style and budget. You can get started for free or spend some green to level up your game.
The Easiest Ways To Make A VTuber Model
If you're not an art wizard and need something budget-friendly, check out these top software options:
ReadyPlayer.me: This one's free and totally online. Snap a selfie and boom! Your 3D avatar is born, tailored to your looks. Easy peasy, right?
VRoid Studio: This user-friendly software is perfect for anime-style characters, and, the best part, it's free! Customize away, and get your VTuber model game on!
Animaze (Face-Rig): If you're looking to stay seated during streams, this one's for you. Create a 2D model with impressive facial tracking and expressions, all using a simple webcam.
VUP Studio: For you anime lovers out there, VUP Studio's got your back! Add props and backgrounds, and connect it to motion capture hardware for even better animation.
Live 2D: Classic anime vibes? You got it! But this software has a bit of a learning curve to it. But nothing you can't overcome by watching tutorials and playing around with it for a month or so.
VTube Studio: This free streaming software for Live 2D models, and it's super easy to use and perfect for starting your VTuber journey.
Make Your Own VTuber Model From Scratch With Pro-level Software
If you're a creative guru, check out software like Daz3d, Blender, and MetaHuman Creator. With some artistic skills and dedication, you can create a professional-looking VTuber model that's truly unique.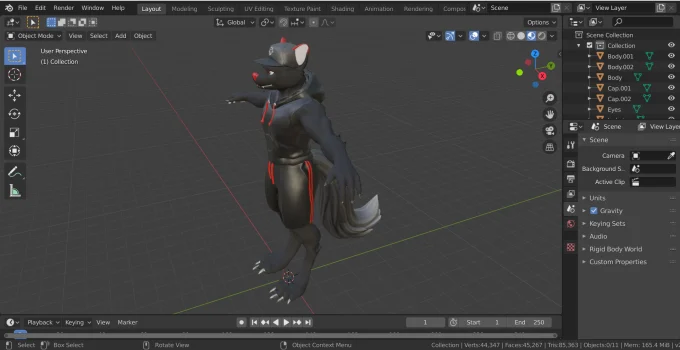 Wrapping Up
And just like that, you have everything you need to be a VTuber—some cheap alternatives to commissioning a VTuber model and some 100% free options. The most important thing to remember is that this is just to get you started.
This does not have to be your permanent brand, just something to get your foot in the door until you make enough money to reinvest into better assets.
Avoid having hundreds or even thousands of dollars invested in this hobby that you may not even like. Or, even if you do like it, it will keep you from wondering what you did wrong. Why are you getting no viewers even though your stream LOOKS professional?
You have to build up those streaming muscles first before you start pulling in viewers. And as you begin making money, your viewers will see their contributions pay off, and it will be more satisfying for you and for them. Streaming is not a sprint; it's a marathon.
As for emotes, sub badges, and channel point icons, listen, bruh! You don't need these right away, as you don't unlock them until you hit Twitch affiliate, so strive to get there first.
It's not a business investment if you're not making any money back. Too many people have thousands of followers on Twitter because of their expensive model, yet they haven't even hit Affiliate yet on Twitch.
And if you have the money lying around and you don't care about making it back, it's your life. But remember, eating is more important than streaming. But if you can afford to go down that road, here's the complete guide which goes into the details of how to commission a VTuber model.