How Uruha Rushia Got Terminated | The Full Story
Uruha Rushia has been terminated from Hololive, a big story for obvious reasons. And we have been holding off on covering this story till it is concluded. And now that everything has settled down, we decided to cover the full story of how Uruha Rushia got terminated.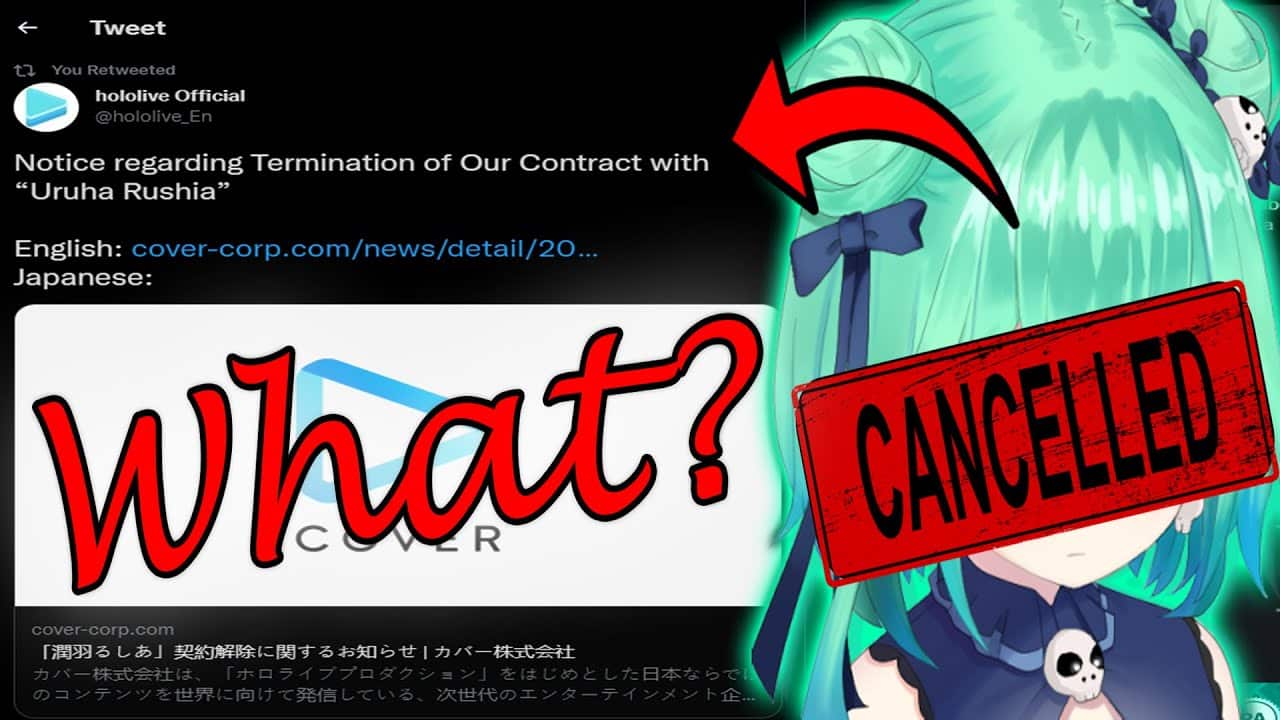 Here's How Uruha Rushia Got Terminated From Hololive
To understand Uruha Rushia's termination, we must understand what personality she had as a person and as a character. And also the target audience of Uruha Rushia and their expectation's as a whole.
Uruha Rushia's Personality
With a whopping 1.5 million subscribers, Rushia was one of the most successful VTuber in the world. Uruha Rushia had her fair share of charms that no other VTuber in the industry was capable of. When it comes to yandere style VTubers, no one played it better than Rushia. One of her most iconic traits was the stark contrast between her extraordinarily soft and gentle voice to her ear bleeding and hilarious screams. Her scream is the icon for Hololive itself.
As part of the Hololive generation 3, the generation that saved Hololive itself and cemented its spot in the market, Rushia was a vital part of Hololive and the community.
However, one of the reasons Rushia was so successful when compared to her peers was because she played a specific role and appealed to a particular experience. Using her yandere appeal and unhinged anger issues, Rushia played into "the girlfriend experience." Rushia played a jealous, needy, and possessive girlfriend for her fans.
Uruha Rushia's Fans And Their Expectations From Her
For some people, Rushia's "girlfriend experience." character was charming, especially to those who were lonely and looking for comfort in 2020 and 2021, a disastrous period in itself. But the downside is that it fostered quite a parasocial relationship with her fans.
Many fans were in love with her and were serious about it, but she liked that. Rushia wanted to play the girlfriend experience and liked her fans' reaction to that.
And the proof of that is found when Rushia's birthday merch in January 2022 was a breakout steal for many fandoms. The main reason was that she and the Cover Corp made the merch in the shape of a couple's mug, Rushia dressed as a bride, etc.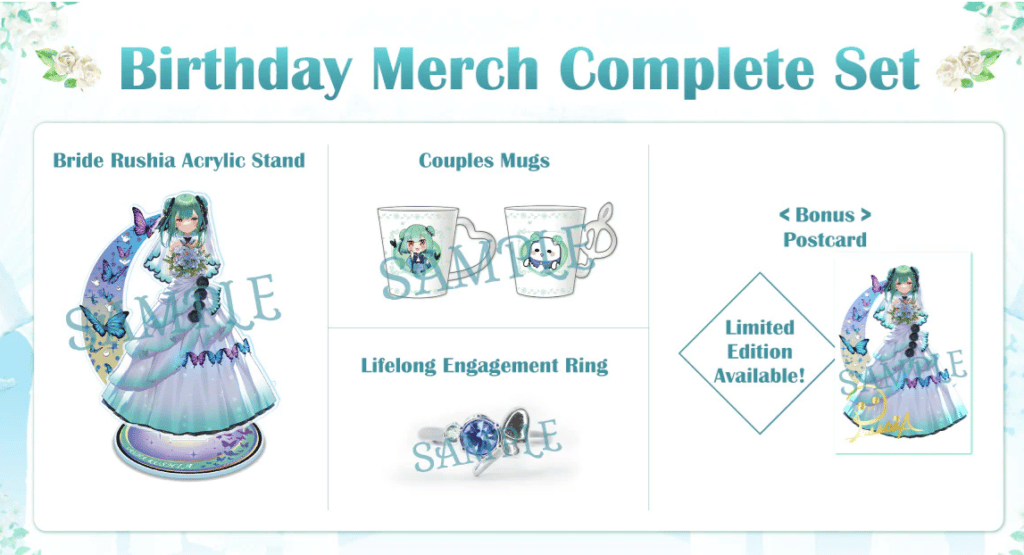 So many of her fans consider her as their girlfriend, for real. While profitability, community passion, and fan loyalty is a plus side in engaging such a dynamic with the fans. The downside is that many fans can hate you as much as they love you.
They can even hate anyone they deem a threat to their fictional relationship with you. Fans' loyalty becomes a shackle, and the profitability will be tied to how much you keep yourself in that imaginary relationship. And this problem plays an integral part in the story of how Uruha Rushia got terminated.
Menhera
Menhera was the word that the community associated with Rushia when the community found out that her anger issues, the possessiveness of her fans, and screaming weren't just a part of her character; these were signs of mental health issues.
She was reckless and had the fans and the managers of Hololive worry about her. But despite these issues, she was chalked up as a fun menhera in Hololive.
The MafuMafu Drama
The MafuMafu drama is what started it all. The seemingly innocuous thing happened when, on the 10th of February 2022, Rushia and Miko for a GTA 5 stream. She received a message from a Japanese singer, MafuMafu, which read, "I just finished streaming, gonna go home now, Mi-chan.". And for the reasons mentioned earlier in this article, this upset many of her possessive fans. She broke her character of a "girlfriend experience.".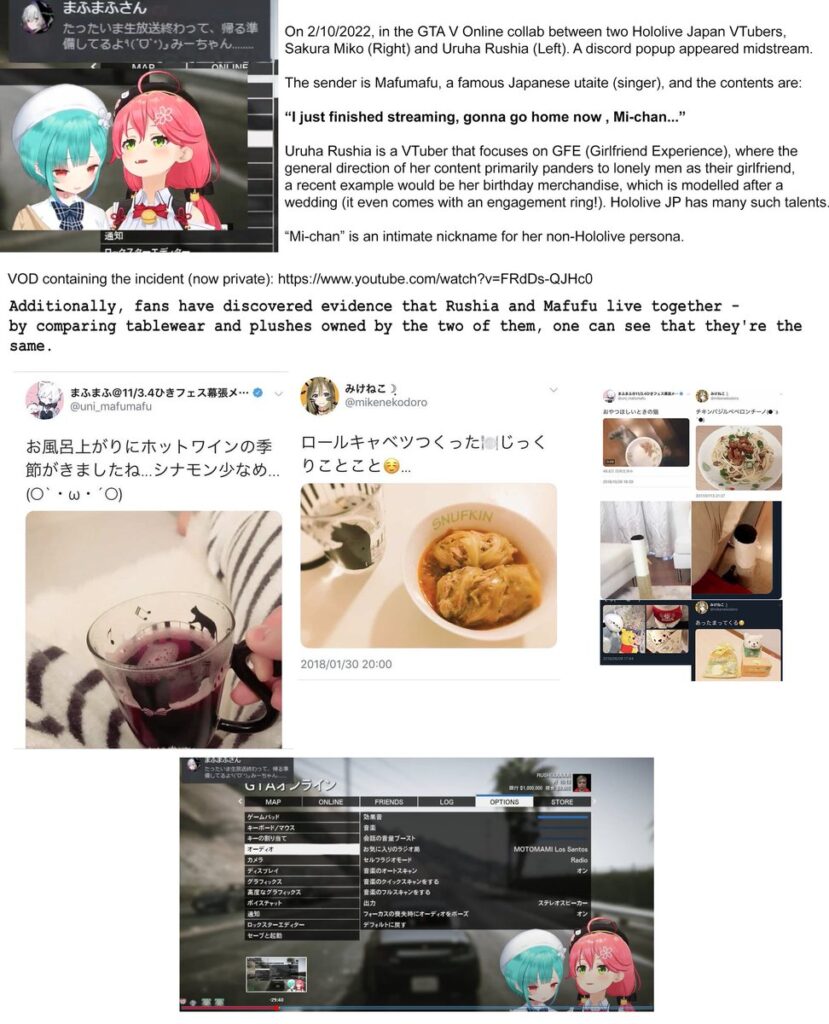 Fans' Reaction To The MafuMafu Drama
Some of her fans dug into her social accounts. They speculated that she and MafuMafu might be living together as they both had the same things in their pictures.
Pretty obsessive and invasive fans if you ask me. So, the fans got upset and envious of MafuMafu; they felt betrayed and cheated on. And they freaked out on Twitter, especially those who were really into the whole girlfriend experience. And to put the salt on the wounds, all this drama happened on Valentine's Day. But after a while, all of this drama was settling down.
Hololive's Initial Statement
After this whole drama, Hololive released a statement in which they stood by their top-earning VTuber and her privacy.
By this time, Rushia was holding off on her streaming, and things weren't looking great for her. 
Uruha Rushia Tries To Defend Herself
Rushia mentioned something about suicide in her tweet, which was pretty concerning, but the management immediately deleted it. And all of this led her to make the decisions that followed.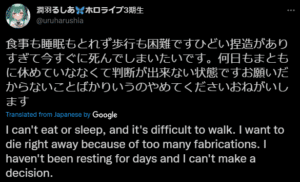 The KoreKore Stream
While defending herself, Uruha Rushia reached out to a Japanese YouTuber, who usually makes videos about drama topics, and sent some screenshots of her chat with MafuMafu. The chat screenshots showed that Rushia and MafuMafu were not dating and that they were just in an Apex clan together.
The screenshots she sent were not censored. And that was a big problem, as the screenshots contained private communication with multiple talent managers of Hololive and other event staff, which were non-public facing entities. This was a huge mistake made by Rushia. Still, as this wasn't enough, KoreKore went ahead and did a long stream showing Rushia's screenshots without censoring the confidential information himself. This situation is likely why she got fired because this is a massive breach of the NDA agreement. The screenshots showed who manages which talent in Hololive and when released, it might have caused a big problem in Hololive.
Although her intentions behind this action could not have been malicious, as anyone would defend themself if there is a rumor about their private life, especially if it might not be accurate, it's just that her ways were reckless. She released the confidential information about Hololive to a drama YouTuber when she could've easily censored the parts in question. That actually is the worst way she could have gone about it.
Uruha Rushia's Twitcast
Once all that happened, she started a Twitcast where she said, "Check your messages, Goodbye." followed by the mic hitting a strong gust of wind. Then she went ahead and started a YouTube channel, which has 850k subscribers right now, and uploaded a black video with no sound.
Hololive's Termination Statement
Finally, after all this drama escalated, Hololive terminated the contract with Uruha Rushia in a statement. Hololive mentioned how Uruha Rushia breached the NDA by leaking false information to third parties, including communications about business matters. Details are mentioned in the picture below.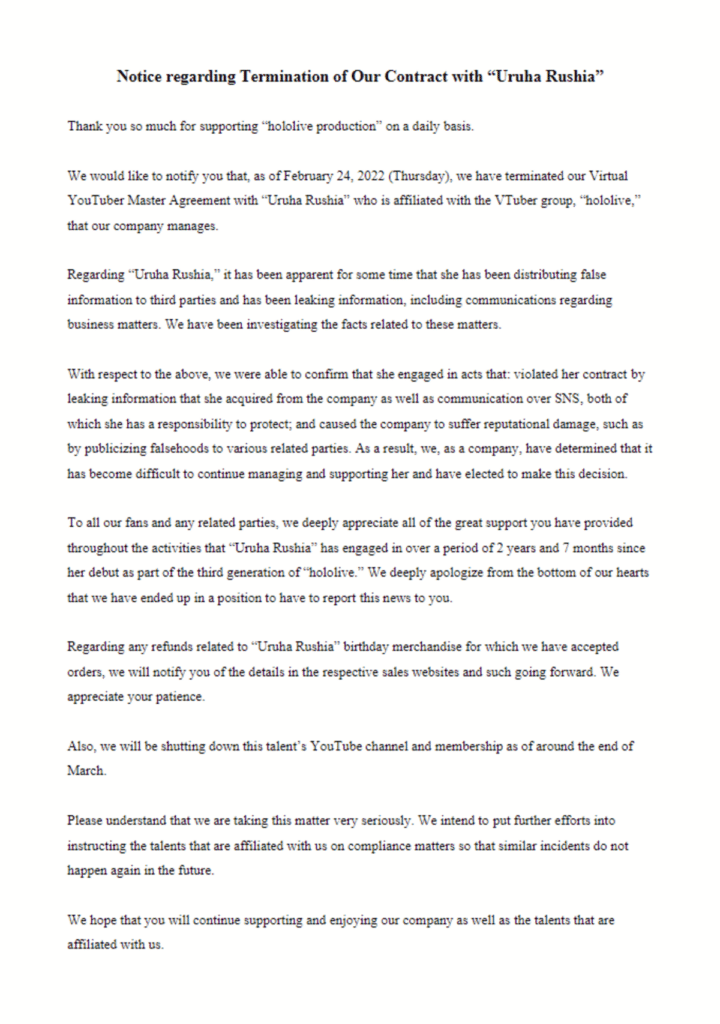 Hololive's Gen 3 Members' Reaction To Her Termination
They had different reactions, with most staying silent; some supported Uruha Rushia. But most of the responses seemed fake, which explains how much Rushia messed up, as they were colleagues for two years. Following are the responses of some of the members.
Some other 3rd generation VTubers also tweeted which in opinion, didn't seem coming from the heart. Especially considering that they were colleagues with Uruha Rushia for almost 2 years.

Uruha Rushia's Fans' Reaction To Her Termination
On Twitter, there was a lot of support for Rushia, which is understandable as many fans of Rushia didn't want Rushia to get terminated over a dumb situation.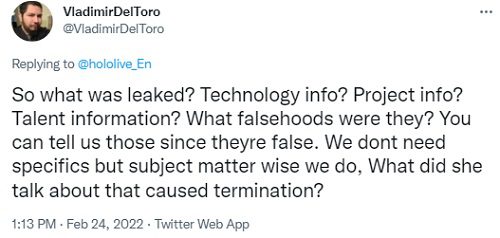 There was no proper send-off due to immediate termination hence fans were mad about that too.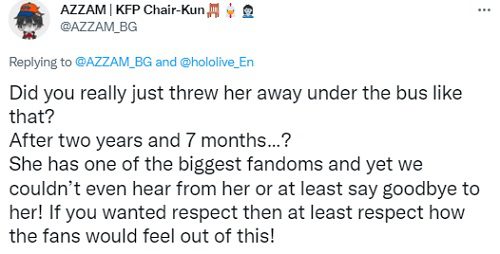 And then there was this humorous trend going on that confused many.
What People Are Missing
All these aggressive tweets show that people are missing the point: she leaked the information to a drama YouTube channel, which hurt Hololive's business. But there is a counter-argument to that, as the main reason for Rushia's success was the girlfriend experience she provided. Cover Corp might have just terminated her based on how MafuMafu's message destroyed her image of being single and available to her obsessive fans.
Our Final Thoughts On Uruha Rushia's Termination
In my opinion, Rushia got terminated over what was initially a benign situation. That said, her reckless behavior didn't help her either; she made the whole situation worse than it already was and gave Cover corp a good enough reason to terminate her by breaching the NDA.
However, as a VTuber community, we should introspect as well. She acted so recklessly because her fans were mad at her and acted toxic, which threatened her success, making her reach out to KoreKore and commit career suicide.