Yuzu's Face Revealed | 5 Times Yuzu Revealed Her Face
VTubers are often shy and don't usually reveal their faces. In fact, most of them start VTubing because they want to remain anonymous.
However, today's focus will be on a VTuber named Yuzu, who is an outlier in the VTubing industry and has revealed her face on multiple occasions. The moth VTuber has one of the most quirky personalities and is the queen of double-meaning puns! She's a woman of culture!
In this article, we'll focus on all five times Yuzu revealed her face. Plus, we'll also take a deep look at her personality, height, and age. So, without further ado, let's get into it!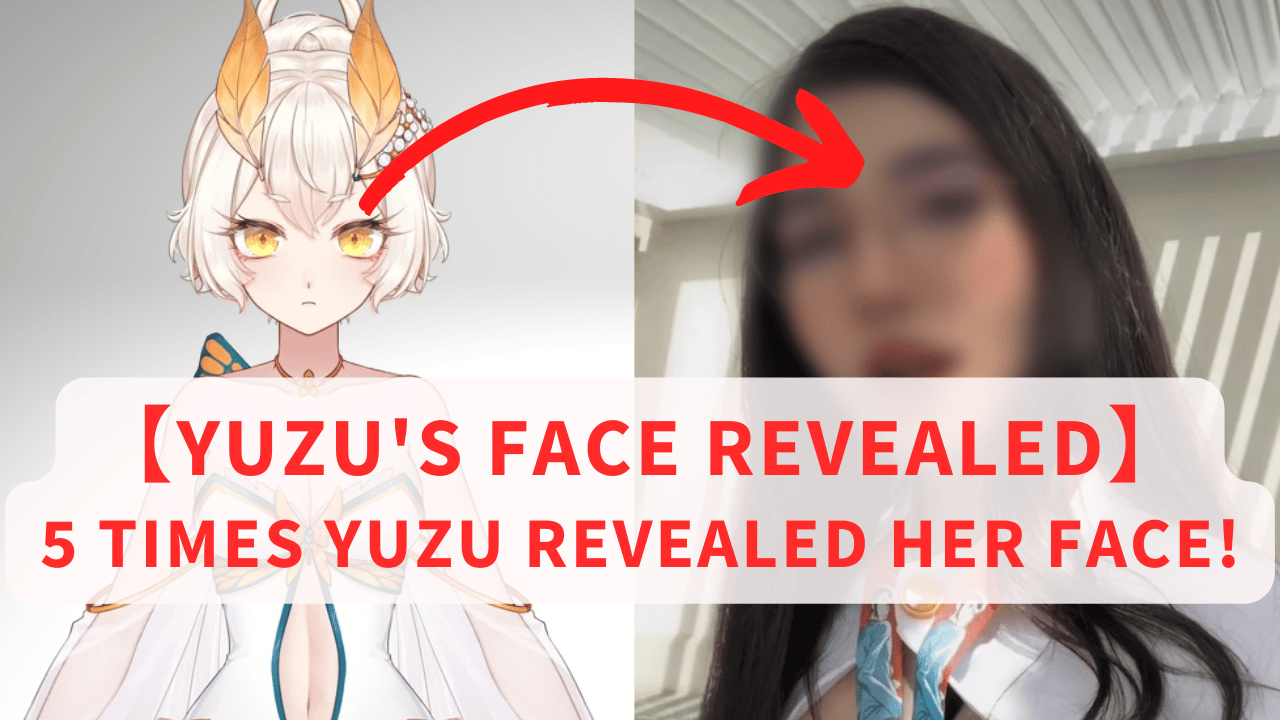 Who Is Yuzu?
Yuzu Sanagi, also known as 蛾虫ユズ, is an independent English-language virtual YouTuber (VTuber). She made her debut on June 12, 2021.
Since then, she's been streaming on Twitch and has even managed to snag a partnership with the platform. When she's not streaming, Yuzu can be found uploading highlights on YouTube and sharing memes on TikTok.
Yuzu's Lore
Ever heard the backstory of Yuzu Sanagi? According to legend, Yuzu is a silk moth spirit based on the Japanese silk moth. For hundreds of years, she was farmed for her high-quality silk and spent so much time confined that she lost track of her age and grew to distrust humans.
However, she found a small measure of comfort in the presence of a moth spirit named "Koga," who would bring her a Yuzu fruit every night.
One day, Koga stopped visiting for weeks, and Yuzu feared that he had been caught by the guards.
However, she was suddenly freed by a mysterious figure, who turned out to be Gojo Satoru from Jujutsu Kaisen. As it turns out, Koga had simply been waiting for the Yuzu tree to bear more fruit, which was out of season.
Now, Yuzu streams from a shrine in the spirit realm, trying to determine if she can live among humans once again. Tune in to her streams to see what she discovers on her journey.
The Personality
Yuzu is a friendly streamer who is frequently bullied by her chat. She cracks many lewd jokes and mispronounces words, which doesn't help her when she's facing her audience. When it comes to her fans, she refers to them as LampChamps.
However, when she does receive love from her chat, she's hesitant to accept it at first. Only to turn around and tell them she despises them in true "tsundere" fashion.
Despite this tough exterior, she's also well-versed in modern-day meme culture and TikTok trends. You can see that on her social media accounts.
Despite her tendency to be lewd and tsundere, Yuzu's streams and chat are actually quite wholesome. At times, she may suffer from impostor syndrome and worry that her content won't be appreciated.
Her chat quickly reassures her with head pats and emote spam, reminding her that she's an S-tier content creator.
In addition to her streaming, Yuzu is also known for her cultured tastes in video games and anime. She's a big fan of BL (or "bacon and lettuce," as she likes to call it). Plus, she prefers thighs to boobs.
In fact, she's even complained that artists tend to draw her with huge boobies unless she specifies otherwise. All in all, Yuzu is a unique and multi-talented individual who's sure to bring some excitement to your life.
Yuzu's Height
Yuzu is 165 cm or 5'5″ tall in real life. No wonder she looks like a supermodel IRL. Once you see Yuzu's VTuber face reveal photos later in the article, you'll agree with me on that.
Her Age
In the lore, she is anywhere between 100 and 1100. When it comes to her real-life age, her birthday is January 24.
That said, she hasn't made her real age public at any point in her career. However, judging from her face reveal photos, it's safe to say she's between 19 and 21.
Yuzu VTuber Face Revealed
On June 21st, 2022, Yuzu revealed her face for the first time in a tweet titled "periodt." People were surprised that she wasn't an actual moth. Instead, she was a human with a pretty face.
You can see that face reveal tweet for yourself here: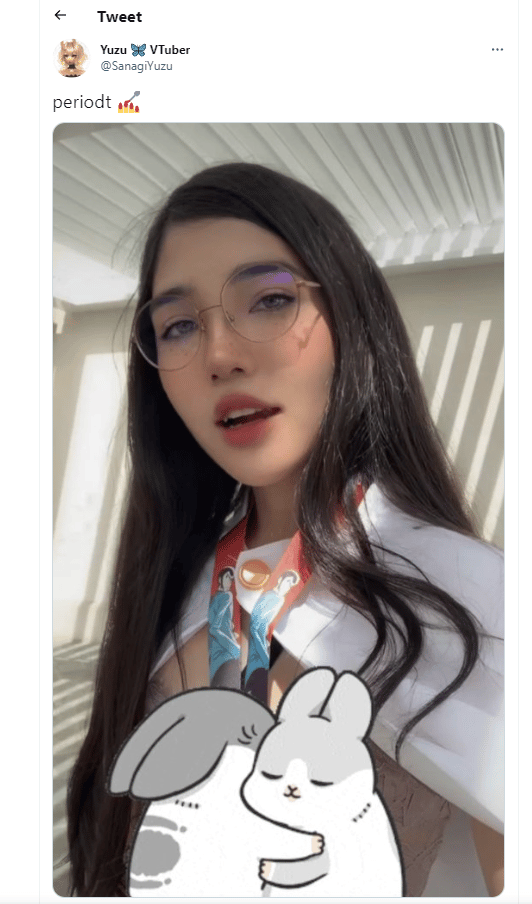 She revealed her face again on July 9th, 2022, in a tweet titled "Pressed the slay button." This time, she shared two photos of herself. In one of those photos, she had the widest smile. In all seriousness, her smile is so captivating that she could star in a toothpaste ad.
Here's that tweet: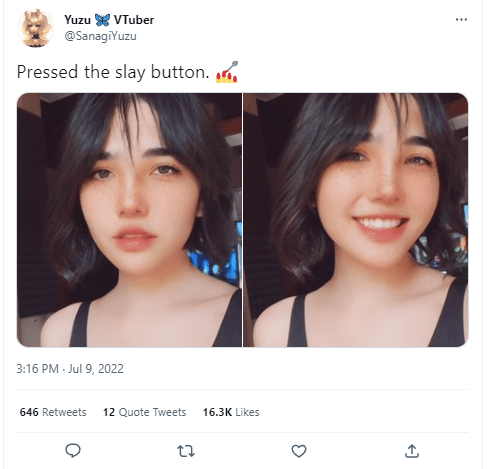 VTuber Numi replied to the tweet with, "I MISS WAKING UP AND SEEING THIS PRETTY FACE EVERY MORNING." I think she represented all of us when she said that, especially if we were in her place.
Here are both of her photos in full size so that you can bless your eyes with her beauty: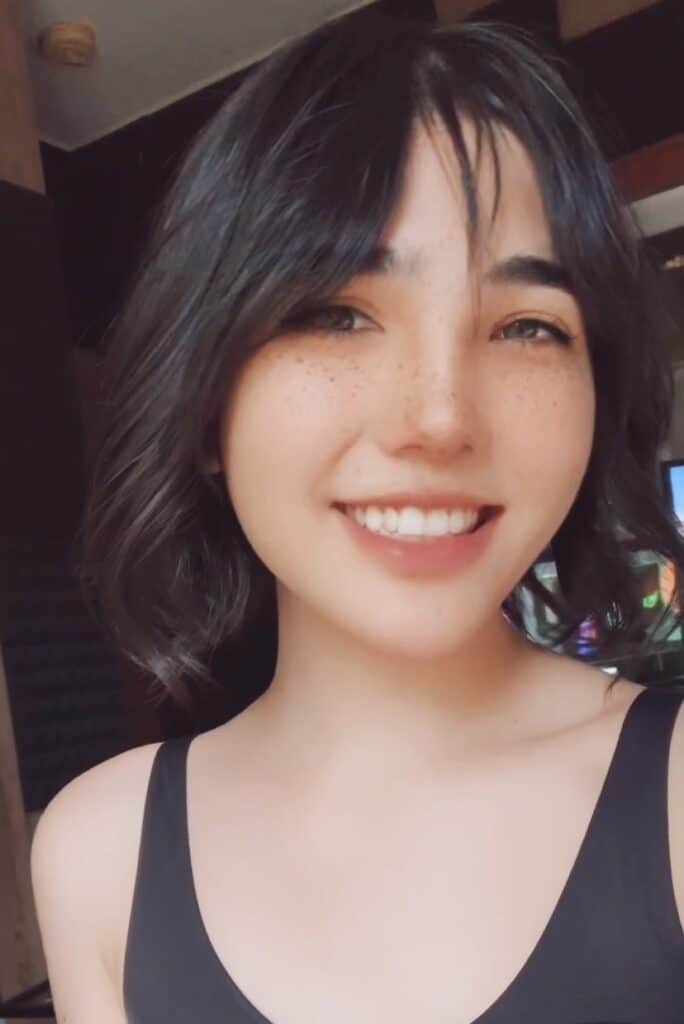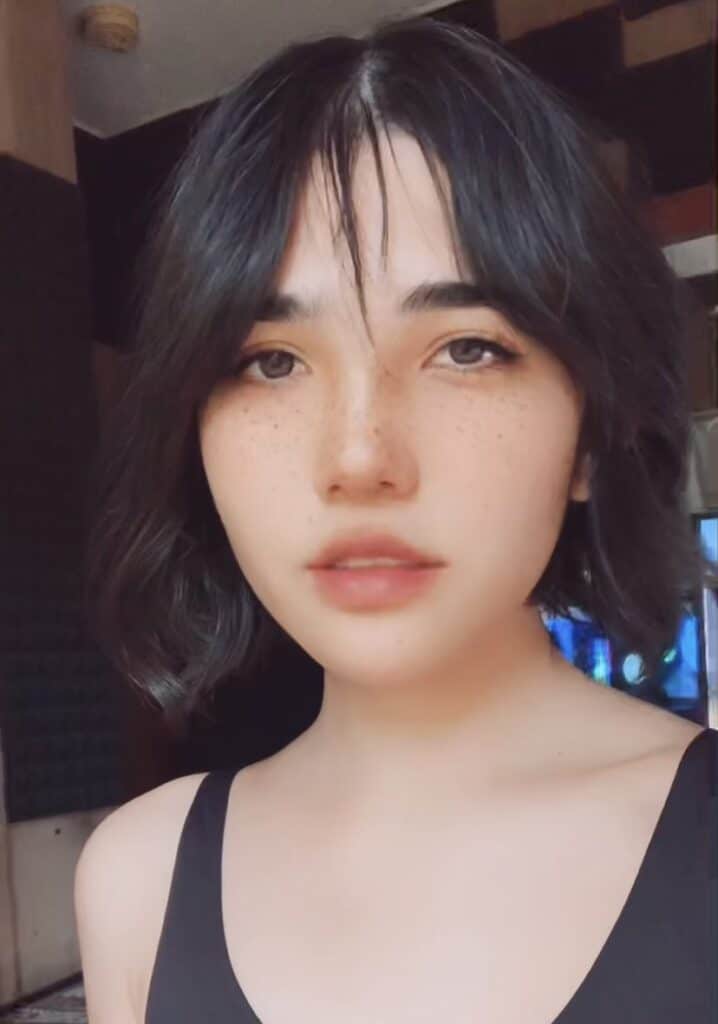 On October 21st, 2022, Yuzu revealed her face again, this time to show off her gorgeous dress. She does look absolutely stunning in that white dress. Don't you believe me? Take a look at it yourself: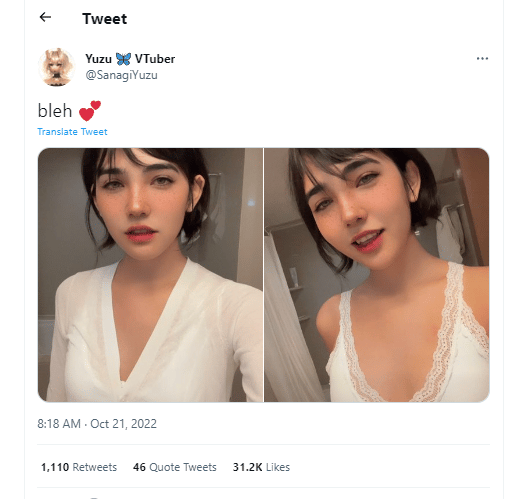 The tweet is titled "bleh," but it isn't "bleh" in any way. In fact, I think you'd agree with me when I say it's "omph." Kekw!
Here are both of these face reveal photos in full size: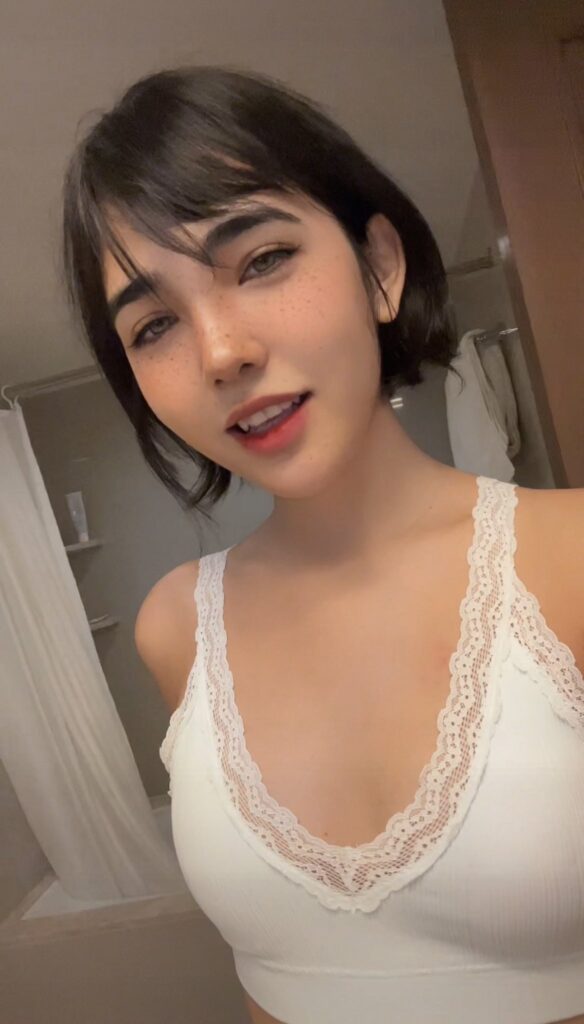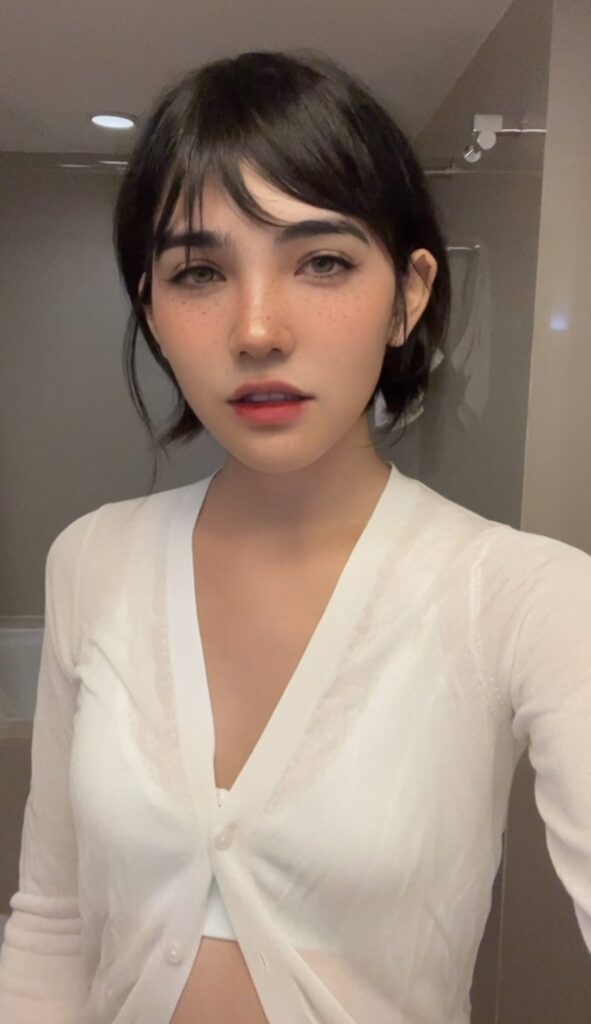 The most recent Yuzu face reveal was on December 14th, 2022, and she was dressed all in black, giving off goth vibes.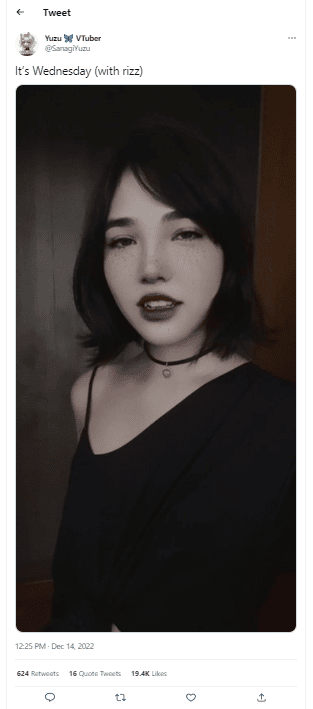 Black suits her, though.
Interesting Facts: Yuzu's Likes & Dislikes
In her debut stream, she revealed everything she liked and disliked. There are some pretty funny things, and the reasoning behind them is even funnier. Stick with us to find out!
Her Likes
Bacon & lettuce (BL): She loves bacon and lettuce, or boys' love (all that type of manga and stuff). Not sure which one of these is true, but one is for sure!
Sour stuff: Things like pickles and veggie chips are her favorites. She likes stuff that makes her mouth feel like it's bleeding. Spicy food is also her top choice. She wants to feel pain when she has food but hates waking up the following day after having spicy food and going to the bathroom. She calls it the "Queen Sh*t." That's actually funny!
Staying indoors: She wasn't sure if it was Stockholm syndrome, but she likes to stay indoors. I think most of us do like to stay indoors.
Tea: She likes green tea and matcha green tea. Any time she goes out, she always gets those.
Boba: She's a fan of "Boba" or "Booba." And I'm sure she's not alone; many of us do like "Boba."
Anime: She loves anime! Watch her debut stream, where she lists a bunch of anime she likes in particular!
Multiplayer games: She likes to play multiplayer games as a support because she wants to be the reliable one.
Traveling: Although she likes to stay indoors, she wants to go to China, Korea, and Thailand.
Waking up with Sun-Chan: She wants to touch the sun one day. She loves it when the sun rises in the cold weather whenever she wakes up. Not sure how she's going to touch the sun, but I am all for it! Do it, Yuzu-Chan!
Yuzu's Dislikes
Wearing bras: She started this list with a bang! She just hates wearing bras. Even her VTuber model isn't wearing a bra. Whenever she comes home, it's off! She even despises the person who made the bra. In her opinion, her boobies hold themselves up, and she likes to feel free!
Milk: She also hates milk! She thinks it's cow boobie juice, and whoever likes it is yucky. It reminds her of white sticky stuff if you know what she means! She likes silk almond milk, though.
Overstimulation: She's not into ovary stimulation. Oh, I'm sorry, I mean overstimulation. Anything ovary senso-I mean sensory overload! Anything that overloads her senses, she hates it.
Mammals: She hates mammals. Yuzu admits, though, that the hate comes from her being salty about most VTubers hating bugs. She feels offended by that, as she's a moth herself.
Large crowds: One of the factors behind her dislike of going outside is large crowds. She feels uncomfortable being in a group of people or among a large crowd.
Blitzcrank players: If you play Blitzcrank or any type of championship or league, I've got bad news for you, my friend: She absolutely despises you!
Tomatoes: If you are a VTuber and haven't gone over your likes or dislikes of tomatoes, you aren't a VTuber. It's kind of an unspoken rule in the community. Yuzu hates fresh/raw tomatoes, but she likes sun-dried and roasted ones.
Horizon mains: She hates Horizon mains and is thankful they nerfed her.
Mushrooms: She doesn't like the shape and thinks they look too familiar and disgusting. They grow next to dead bodies, decaying trees, etc.
The dark: She likes when things are bright and hates the darkness. It makes her feel lonely.
Wrapping Up: Yuzu's Face Revealed
There you have it! All five times, Yuzu revealed her face. Our favorite moth VTuber really has an attractive personality and is a woman of culture. And she's got the looks that go with it!
If you enjoyed this article, you should read more of our posts in which we revealed the faces of other famous VTubers.
That's all, folks!