VTuber Adoptable Models
VTuber models are expensive, especially if you have them commissioned by famous artists. You can be a bargain shopper and go for the VTuber adoptable models option.
That can be a great way to start VTubing. But what is a VTuber adoptable model? How does it compare to the regular way of commissioning a VTuber model? And should you even go for it? We'll discuss all that and more in this article. So, read on.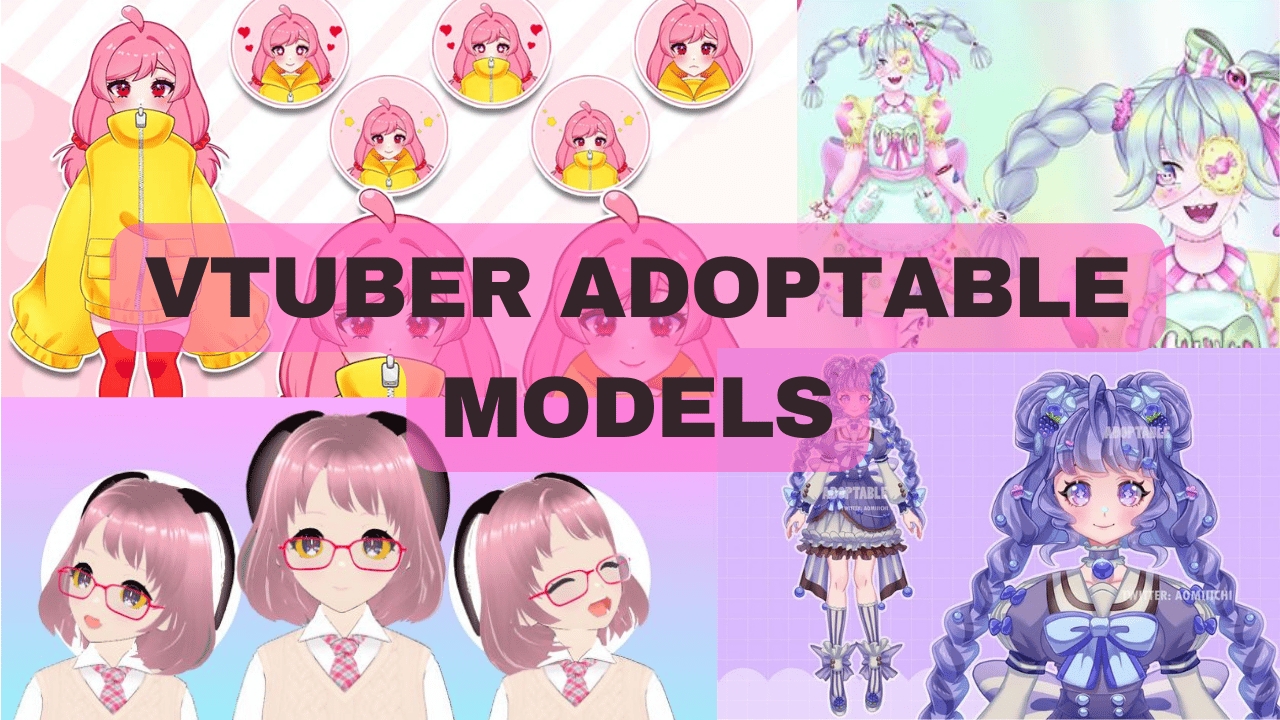 What's An Adoptable VTuber model?
For some reason, a VTuber sells their VTuber model, and you can get it from them for a lower price than you would have to pay for commissioning one.
Think of it as a used car. The owner wants to sell it because they got too old to drive, or they got a newer and better model, or whatever the reason might be, they'd sell it for a lot less than what it cost them when they purchased it. They might've had the option to choose the color and add-on features. However, you don't have those options, and it's already used, so you'd pay a lot less than what it would cost you to get a new one.
The same is the case with the VTuber adoptable model. You don't get a say in any of the features of the VTuber model, so you get it for cheap.
How And Where Can You Get VTuber Adoptable Models?
You can get VTuber models that are up for adoption from these two websites:
Fiverr
Here are some gigs from where you can adopt a VTuber model: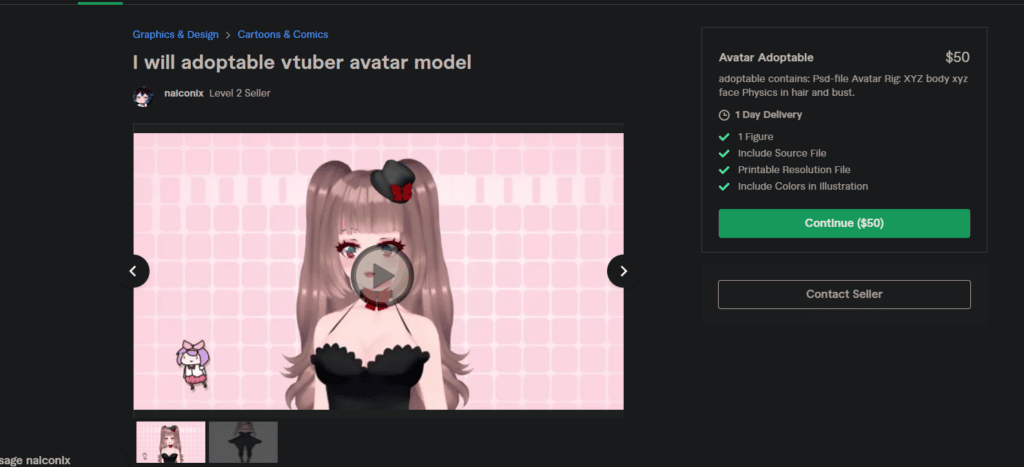 If you plan to use VTube Studio for streaming, I recommend adopting this model. Why? Because it's available for only $50, and the seller has excellent reviews on their profile on Fiverr. The model is already rigged and has XYZ body, face, hair, and bust physics.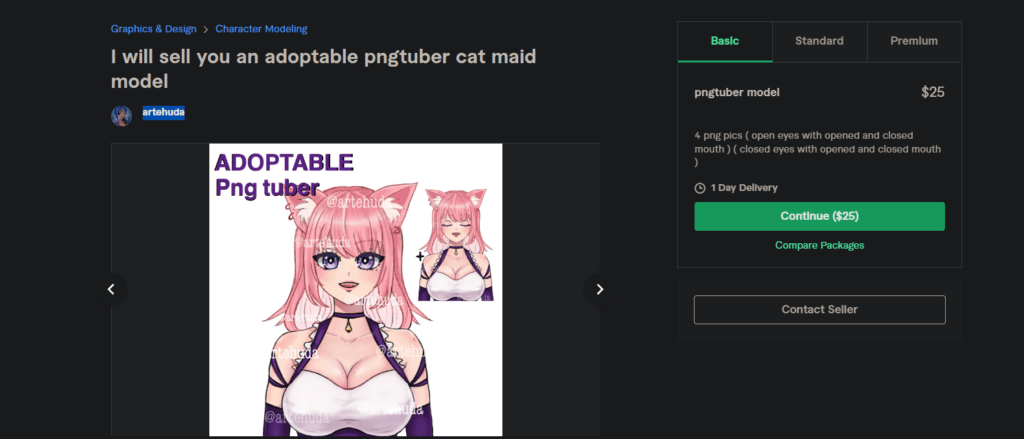 This gig is a great option if you are looking for an adoptable, ready-to-use PNGTuber model that doesn't break the bank. For just $25, you'll get 4 PNG pictures that you can use for PNGTubing. And if you want more expressions, you can request the artist, and they'll make them for you for a low price of $5.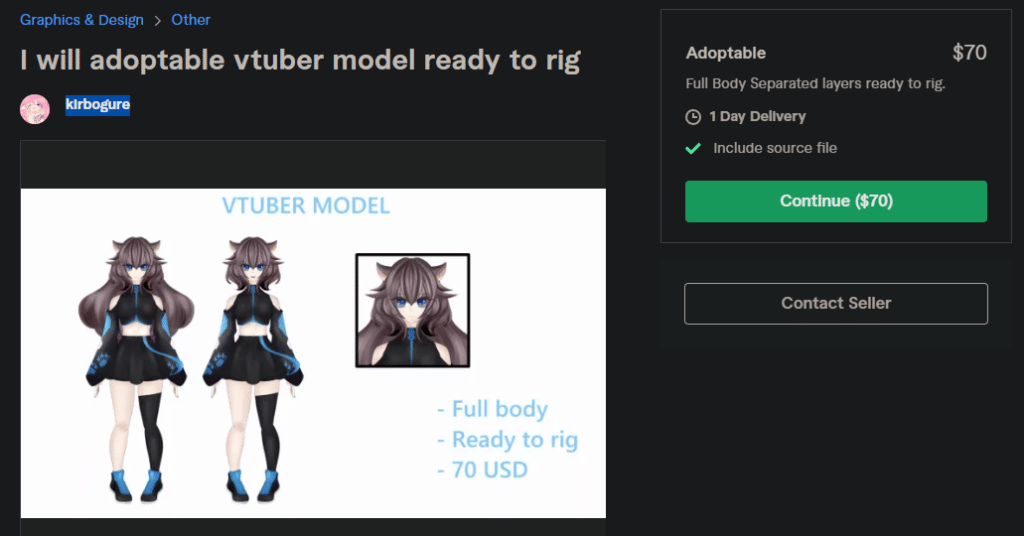 According to their reviews, Kirbogure is a great artist. They have a VTuber model with separated layers ready for adoption. Remember, they are only going to provide the artwork for $70. You will need to get it rigged from another artist.
Twitter
As a VTuber, you'd already know that a great and vibrant VTuber community is present on Twitter. You can find VTuber adoptable models on Twitter if you know where and how to search. Here is what you need to do.
Log in to your Twitter account.
Go to the search bar.
Search for these terms: #Vtuberadopt, #adoptable, #adoptables
You'll find several artists and VTubers, selling their VTuber models for adoption.
Here are some examples of people selling VTuber adoptable models.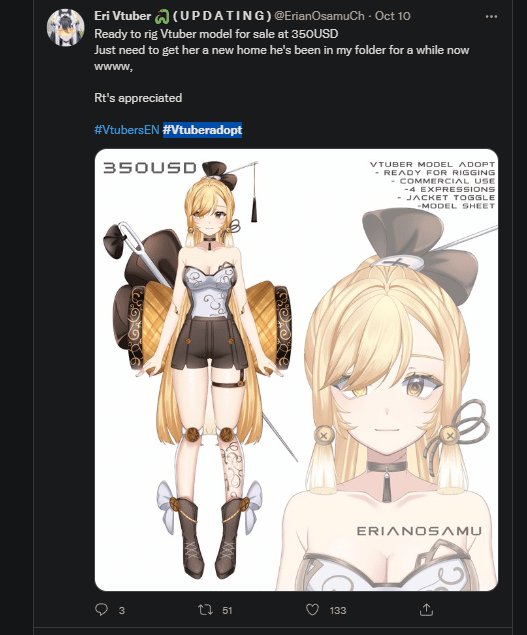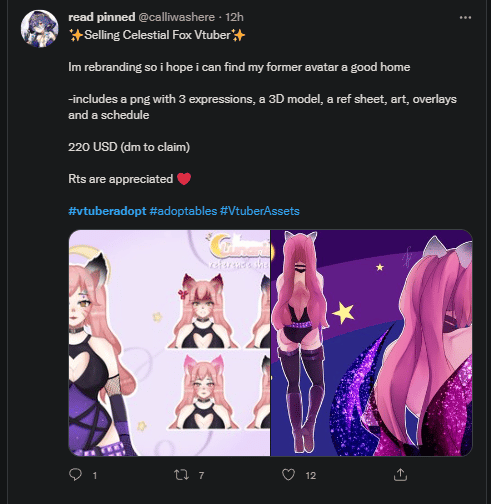 Why Do VTubers Sell Their VTuber Models For Adoption?
VTubers usually sell their VTuber models for VTuber adopt because of the following reasons:
Rebranding
VTubers often don't find success for some reason. These reasons include bad lore and theme around their VTuber character that didn't pan out as they would have expected, they had a bad VTuber debut, etc. For these reasons, they want to reset their VTubing career. That's why they would leave their old VTuber model behind and commission a new one.
Quitting Their VTubing Careers
Countless new VTubers are debuting daily, and not everyone makes the cut. VTubing isn't a piece of cake. It requires hard work and commitment, especially if you are doing it as a career choice.
You need to be consistent with your streaming hours to be noticed by the masses, especially by YouTube's or Twitch's algorithm. You can't expect to grow fast if you stream only once a week. That's why most of the new VTubers drop VTubing altogether in their early days. Once they quit, they will have no use for the VTuber model they spent a lot of money on.
Why waste it and have it sit around, hogging the space on their hard drives? For this reason, they want to recover as much money they spent on VTubing as they can by selling their VTuber model.
Upgrading The VTuber Model
Once the PNG VTubers succeed in VTubing, they want to upgrade their VTuber models from PNG to 2D or a 3D VTuber model. That's why you'd find a lot of PNG VTuber models up for adoption. Similarly, some VTubers start with a very basic VTuber model, with little to no expressions and very dull illustrations. Now they want a full-fledged VTuber model with detailed illustrations and rigging. So they sell their old ones and use the money to fund their newer and better models.
How Much Do VTuber Adoptable Models cost?
VTuber adoptable models can set you back anywhere from $25 to $500 based on the quality and type of the VTuber model. Typically, the PNG Tubing models are on the lower end of the price spectrum, while the 2D and 3D models cost more.
Should You Buy A VTuber Adoptable Model?
If you are short on cash or find a good deal on a well-illustrated and rigged VTuber model, then yes, you should buy a VTuber adoptable model. However, you should check if the previous owner of the VTuber model isn't involved in some controversy that ended their career. You don't want that negativity attached to that model at the beginning of your VTubing career.
Wrapping It Up
If you are on a tight budget and want a nice-looking VTuber model to start your VTubing career, adopting a VTuber model can be an option. This article discussed where you could get a VTuber adoptable model and how much it would cost you.
We hope that you found it helpful and wish you the very best for your VTubing careers!