How To Start VTubing | A Beginner's Guide
VTubing is quickly becoming a legit way to create content and build an audience to support yourself financially. Unlike the past, this is the BEST time to start VTubing.
Why? Because it's only getting more and more popular among the masses. And due to that surge in popularity, it's becoming easier by the day to become a VTuber.
Today, more individuals/companies are investing in tools, assets, and resources for you to become a VTuber with ease.
Yet, a lot of people are still struggling on their VTubing journey. This article will help anybody who fits that profile and guide you on how to start VTubing for real. So let's get straight to it!
How To Start VTubing On Twitch And Other Streaming Platforms
There is no predefined formula for success when it comes to streaming. But more often than not, it involves being unique, consistent, and a just bit smarter than all the other competition.
This exact same process is even more true with VTubing. You must be memorable and exciting for your audience to get hooked and for you to be a successful VTuber.
Choosing A Streaming Platform For VTubing
With Twitch finally moving away from the Partner exclusivity clause, there has never been a better time to be a VTuber across multiple platforms.
One of the best strategies would be to start VTubing on TikTok and YouTube as well. They allow you to stream on multiple platforms simultaneously, so you can build your audience way faster than if you were just using Twitch.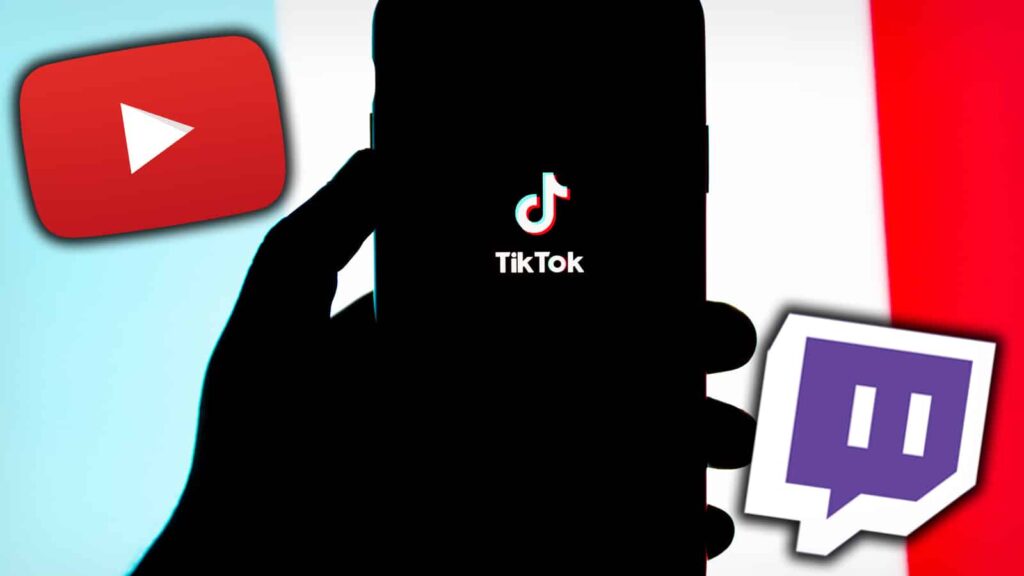 TikTok also has a higher conversion rate when it comes to converting your TikTok short-videos audience to your live stream audience. This way, you can build your audience on TikTok and later move them to other platforms like YouTube, where there are higher monetization rates.
So, the plan is simple, my friends. I highly recommend starting on TikTok and streaming simultaneously on other platforms like YouTube and then converting your audience to a better-paying platform – once you are big enough, of course!
Coming Up With Your VTuber Character's Lore
Once you are done choosing your streaming platform, next is the time to think hard about your VTuber character's lore. It can be anything, from being satan herself like Ironmouse to being a lewd AI robot-like Projekt Melody. Your imagination is the only limitation when it comes to your VTuber character's lore.
VTuber character lore shouldn't be bland at all. It should be exciting and engaging for your audience. It should be unique and maybe even a bit controversial enough to get you on a hype train. VTuber lore is a balancing act. I hope you get it right!
Brainstorm Ideas For Your VTuber Model (VTuber Character Sheet)
Now that you have chosen a streaming platform for VTubing, it is time for you to brainstorm ideas for your VTuber model. The best way to do it is to make a VTuber character sheet of what you want in your character.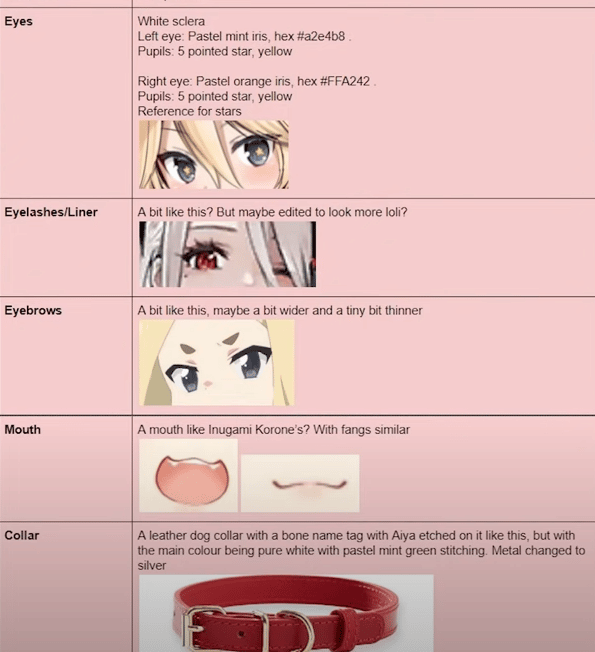 VTuber character sheet (also called the VTuber reference sheet) is a drawing/visual representation of the ideas you have for your VTuber model. You can later use this character sheet to commission an artist to illustrate your VTuber model according to your needs and likes.
This character sheet is a great way to fill the gap that might come in between you and your VTuber model artist. We have a fantastic guide on making a VTuber character sheet. You need to check that out!
Which VTuber Model Is Right For You?
You might get confused with VTuber models as there are tons of options to choose from. And there are lots of different types of 3D models too. But which one is the right one for you? Don't worry; we are going to break down each type of VTuber model, their cost, and whether you should even entertain that type or not.
PNG VTuber Model
PNG VTubing or PNGTubing is the easiest and cheapest way of getting into VTubing. All you need to have is two separate PNG files; one with your PNG model's mouth closed and the other one with the mouth open. So when you talk, they will appear on your stream alternatively to give an illusion of your PNG VTuber model talking.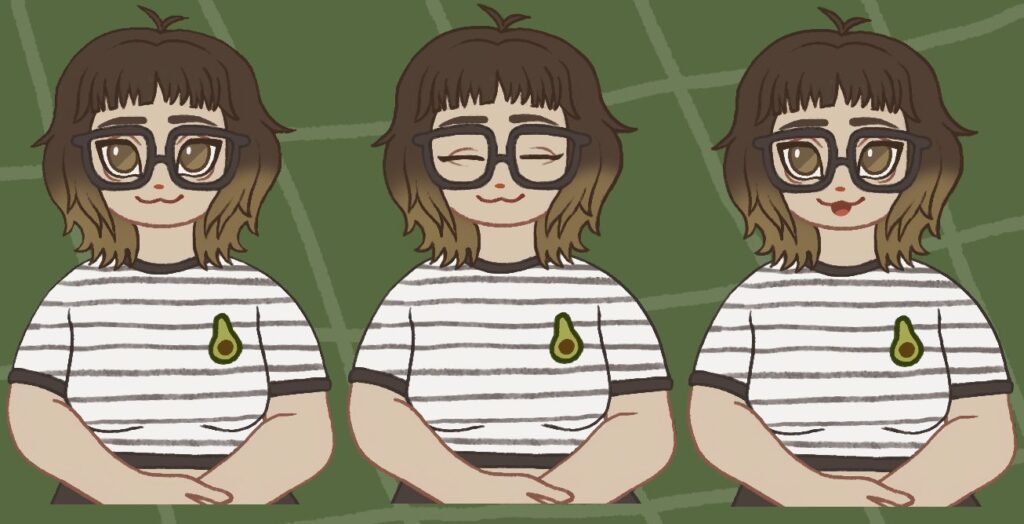 This VTuber model type is perfect for beginners as it is effortless to set up and use. It takes around 5 minutes to set it up and start streaming with a PNG model. More on that later in this article.
Cost Of PNG VTuber Model
PNG Tubing is basically free relative to the other types of VTuber models. However, if you go to an artist to draw a PNG character, it might cost you some money, especially if you're paying for commercial use of the model.
There are many websites on the internet where you can find a PNG avatar for free. Some of them are listed below:
Pros Of PNGTubing
Super Affordable
Easy to set-up
Cons Of PNGTubing
No movement
Not much immersive
Boring to look at for long streaming hours for both VTuber and the audience
3D VTuber Model
Being a 3D VTuber is the mid-range cost method. Though, that is only if you go for a 3D model made through pre-made bases and some YouTube tutorials. If you are going to go down the route of making it from scratch and decide to hire an artist, well that's a completely separate story.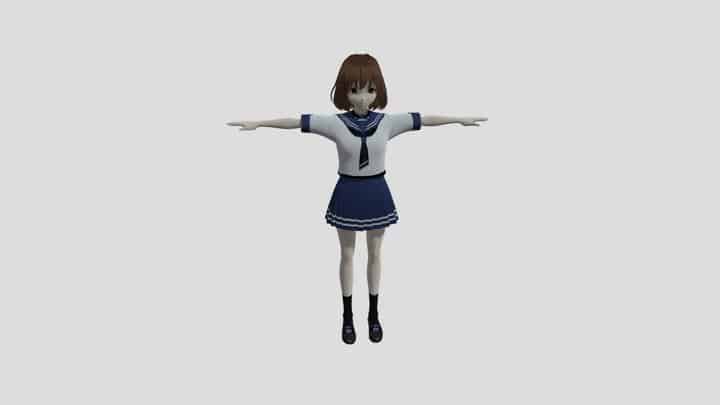 It will cost you your left kidney to create a 3D VTuber model from scratch as it involves a lot of complex work that takes hours and hours from the artist you commission.
3D VTuber models don't look stylized and are often very standard looking; in most cases, people use a pre-made base instead of a custom 3D VTuber model. So, all the 3D VTubers that use the pre-made base to create their model end up looking similar.
Cost Of 3D VTuber Model
The price of a 3D model is between $50 to $4000+ based on whether you used a pre-made base to create your 3D VTuber model or commissioned an artist to make it from scratch. Of course, commissioning an artist costs much more as custom 3D VTuber models are very stylized, time-consuming, and hard to make.
Pros Of 3D VTuber Model
Your 3D model can be tracked from a lot of angles.
You can track your hands using a 3D model, making your character more immersive.
Affordable if using a pre-made base to create your 3D model.
Cons Of 3D VTuber Model
You might need to wear tracking gear for long hours of streaming which can be tiresome.
If using a pre-made base to create your 3D model, it won't be unique at all. 
Live 2D VTuber Model
Using a live 2D model is the most popular choice among VTubers of famous VTuber Agencies such as Hololive, Nijisanji, and VShojo. Indie VTubers also prefer to use live 2D models for VTubing. It is the most high-end method for VTubing if you are not considering a custom 3D model. Some famous VTubers opt for both 2D and custom-made 3D models. However, their main form is in the live 2D VTuber model. The main reason for that is that 2D models are individually stylized and maintain the style of whoever the artist was.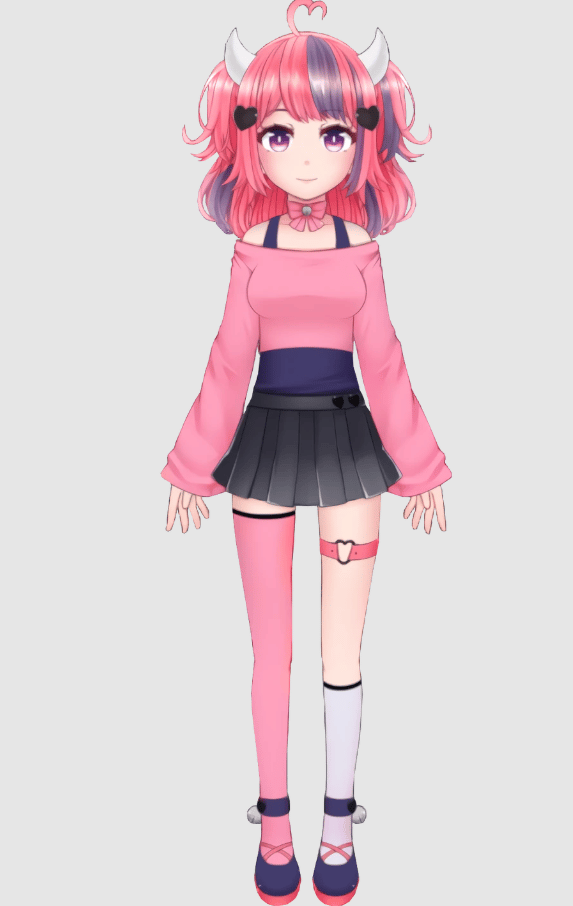 We have an excellent list of artists you can commission to get a live 2D VTuber model! Just check out our post on how to commission a VTuber model.
Cost Of Live 2D VTuber Model
Live 2D VTuber models can set you back anywhere from $300 to a whopping $8000, based on the artwork and the artist you commission. But why do they cost so much?
Well, it involves a time taking process of drawing the 2D VTuber model to your requirements with multiple possible revisions. Then they have to rig the model, which involves making it able to move according to your expressions and facial movement. So overall it is a time-intensive process and involves a lot of skills, both of which cost money.
Pros Of Live 2D VTuber Model
Live 2D models are very stylized and unique.
Aesthetically more pleasing.
A lot of expressions.
No tracking gears are needed.
Cons Of Live 2D VTuber Model
It is the most expensive method of VTubing as it involves separate payments for the artwork and rigging.
It takes a lot of time to create a live 2D model.
All the famous artists are booked up for months in advance.
Software To Use For VTubing
What software to use for VTubing totally depends on what type of VTuber model you choose. Here are some popular programs for VTubing for each kind of VTuber model: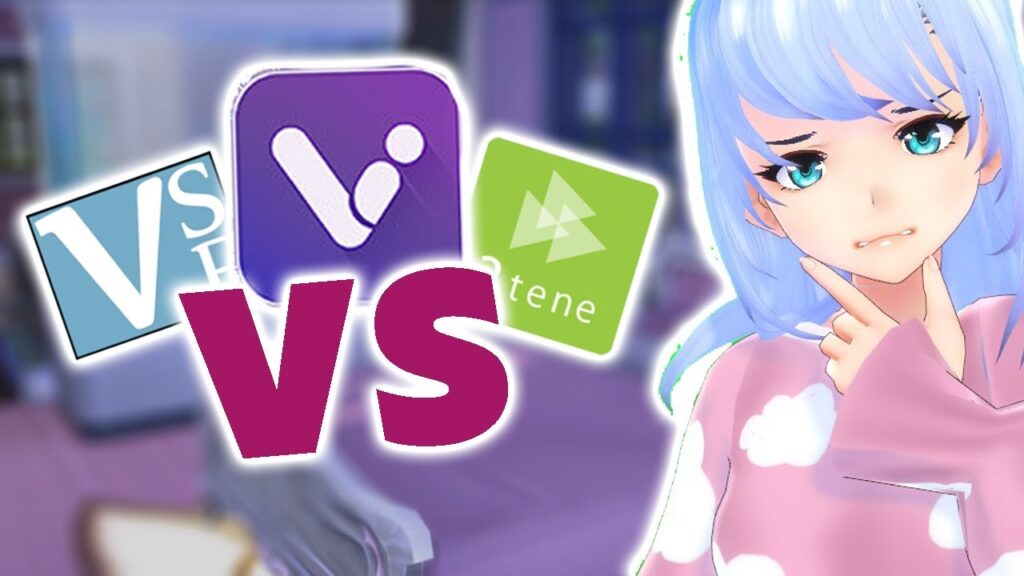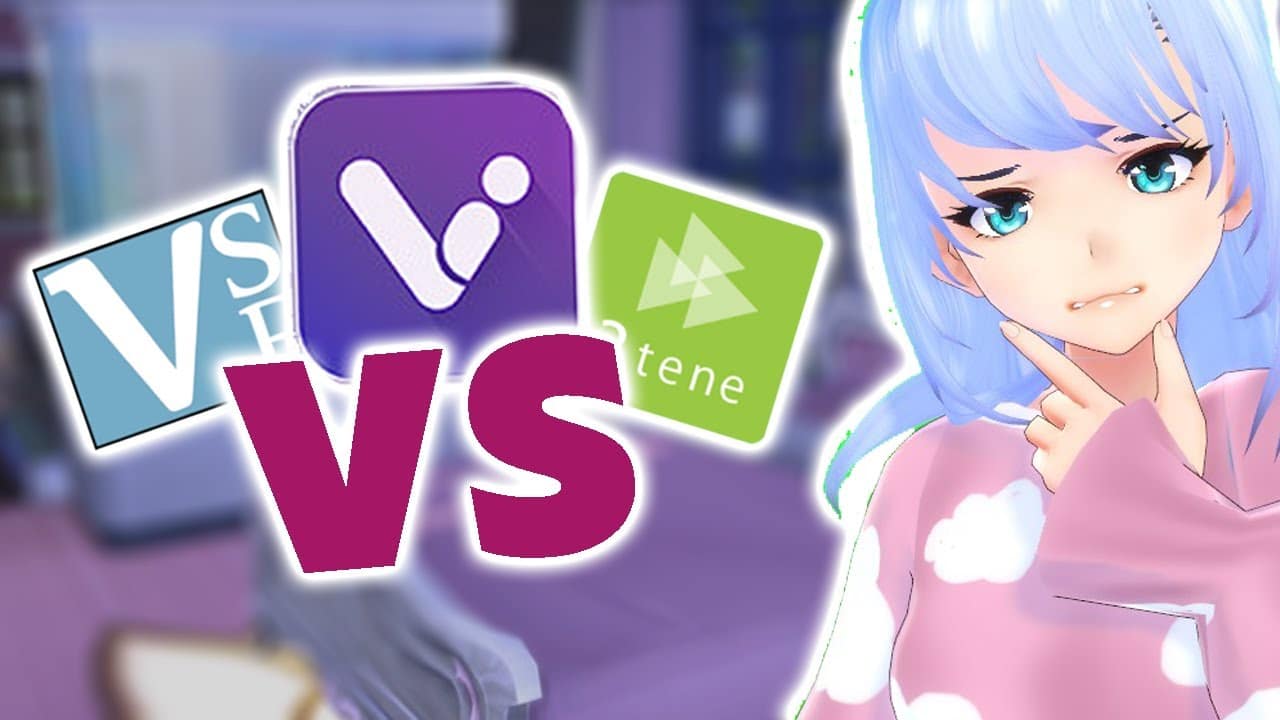 Software For PNG VTuber Model
You need the following software for PNGTubing:
Software For PNG Animation
For having your PNG character light up when your mic is on and having your character alternate between mouth open and closed, Discord Streamkit is the best option.
For Illustration
If you are creating the PNG image yourself, any of the following software will do the job:
Clip Studio Paint
Photoshop
Paint Tool Sai
Software For 3D VTuber Model
For a pre-made based 3D VTuber model, any of the following programs will work great:
VRoid Studio
VSeeFace
3tene
Luppet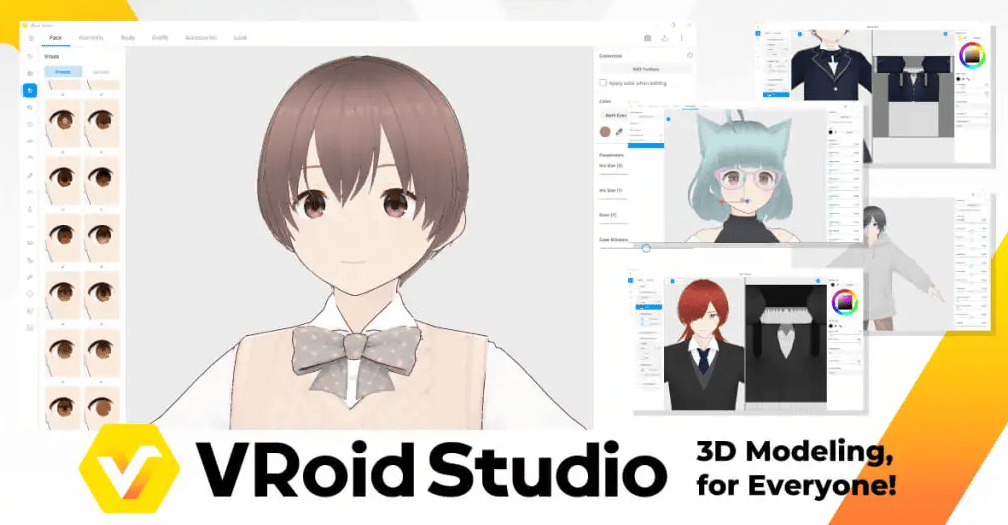 You will also need an iPhone or a webcam for tracking.
Software For Live 2D Model
Some of the popular software for VTubing are:
VTube Studio
PrPrLive
FaceRig
You'll also need an iPhone or a webcam.
For Illustration
If you are creating/drawing your own VTuber model yourself, then you'll need any of the following illustration software:
Clip Studio Paint
Photoshop
Paint Tool Sai
For Rigging
Cubism Live 2D is the best choice for rigging your own Live 2D VTuber model.
Make A VTuber Debut
Once you have your VTuber model ready, next it's time to make a VTuber Debut and start VTubing! In the past, only VTubers that belonged to famous VTuber agencies would put in the effort to make a VTuber debut. However, these days it has become a mainstream way of making an entrance into the VTubing world for every new VTuber, regardless of prior popularity.
It's a great way to give yourself an initial push by building up hype around you, and you do that by being active on social platforms. The best platform for creating hype would be Twitter in my opinion. The reason is the ever-growing presence of the VTuber community on the social platform.
What you can do to make a VTuber debut is:
Select a date for the VTuber debut and advertise it on social platforms.
Create the content on Twitter. If you are unsure what to make, look at other VTubers, see what they are doing, and get inspired to make your own content.
Talk to people and reply to their Twitter posts.
Join VTuber communities on Discord, Reddit, and Facebook.
Do a partial character reveal of your VTuber model to tease.
Come up with some ideas on what you will do on your VTuber debut.
Here is an excellent video discussing this topic in detail:
Where To Get VTuber Assets And Overlays
There are tons of ways to get free Vtuber assets and overlays. We did a detailed post on how to get free VTuber assets that you can check out.
As a reward for making it so deep down this article, here is a library of Free VTuber Assets and overlays we found:
Free VTuber Assets Spreadsheet
Tips To Being A Successful VTuber
Now that you have done everything mentioned in this article, including coming up with the ideas for your VTuber lore, commissioning an artist for your VTuber model, and making a debut as a VTuber, your journey as a VTuber starts. Now it is time to start VTubing. Here are some tips you can apply to your VTuber career to succeed.
Social Media Presence
As explained earlier, you need to have a social media presence, especially on Twitter, as most of the VTuber community is very active there.
You need to expand your social circle and become friends with other VTubers. Interact with their tweets and also visit their live streams and say hello. However, don't expect anything from them as you don't want to come on too strong. Otherwise, you will drive them away.
You should get to know them first, and don't be greedy about increasing your followers. You should make friends without any ulterior motives first, and followers will come naturally.
Collaboration Tips
A thing to remember: most organic relationships happen naturally. People will like you more if you are being yourself and do not expect anything to become their friends. The same thing applies to VTubing collaboration.
Don't start messaging random VTubers for collabs without even knowing anything about them. Here is what you need to do before you ask some VTuber for collaboration:
Be on their streams first and interact with them in their chat.
Know them better, their favorite games, timezone, and streaming schedule.
Know what kind of vibes they give off on their streams and introspect if those vibes match yours.
Unless you have followed these steps, do not ask for a collab yet. Even if they agree, it would only end up in a disaster like an awkward pause you have with people you don't know in your real life, and who suddenly start talking to you. You won't have anything to say to each other!
So, please get to know them first. Make those VTubers comfortable around you by replying to their tweets, showing up to their streams, and chatting for a while.
Just Be Yourself & Have Fun
An essential part of anything you do in your life as a career is that you have fun while doing it. If you are not having fun, you will end up quitting it altogether. The same applies to VTubing.
If you are being yourself, there won't be any pressure on you. You will be confident and have fun while streaming, which is quite important in VTubing. If you are not having fun, your audience will not either, and your stream will end up being boring.
You shouldn't worry about being a niche-type VTuber. There are plenty of fish in the sea. With VTubing growing as rapidly as it is, it doesn't matter what type of niche you are targeting. There will always be an audience for you, whether you are a loud and super hype VTuber or a quiet one. 
Wrapping It Up
So, we have talked about everything there is to start being a VTuber, whether it is VTuber models, lore, VTuber debut, choosing a platform, whether it should be Twitch, YouTube, or TikTok, and much more. Now start VTubing and have fun while doing it!
I hope you liked this article and that it helps you with your VTubing career. Good luck!
How much does it cost to be a VTuber?
You can start VTubing anywhere from free to $8,000 based on the VTubing setup and the VTuber model you choose.
Do you need VR to be a VTuber?
No, all you need is an iPhone 10 or the later model, or a Webcam to start VTubing.
How do VTubers track their face?
VTubers track their facial expressions through an iPhone 10 or a Webcam.
Can you be a VTuber on mobile?
Yes, you can be a VTuber on mobile. All you need is an iPhone 10 or above for tracking your facial expressions.
How do VTubers control their avatars?
VTubers control their avatars through motion capturing, which is done through a regular webcam. iPhone 10 or above are better at motion capturing due to iClone Motion LIVE which uses exclusive TrueDepth camera, powered by high res censors.
How long does it take to make a VTuber model?
It depends on what type of VTuber model you want to get. If you are looking for a Live 2D model from a famous artist, you might have to wait for months.