Who Is Projekt Melody? | Face Revealed & More!
VTubing isn't an easy feat. To be successful, you'll have to find your hidden talent, find the right niche for it, promote it, and build an audience. And if you are lucky enough, you'll pop off! That's exactly what Projekt Melody did!
This Hgirl turned the cam girl industry on its head. And that's not all: She then ventured into Twitch streaming and excelled there too. I mean, she stands among the top 0.02% of Twitch content creators!
In this article, we'll shed some light on who Projekt Melody is and what she looks like in her real life. You'll also learn some hidden facts about her, so read on!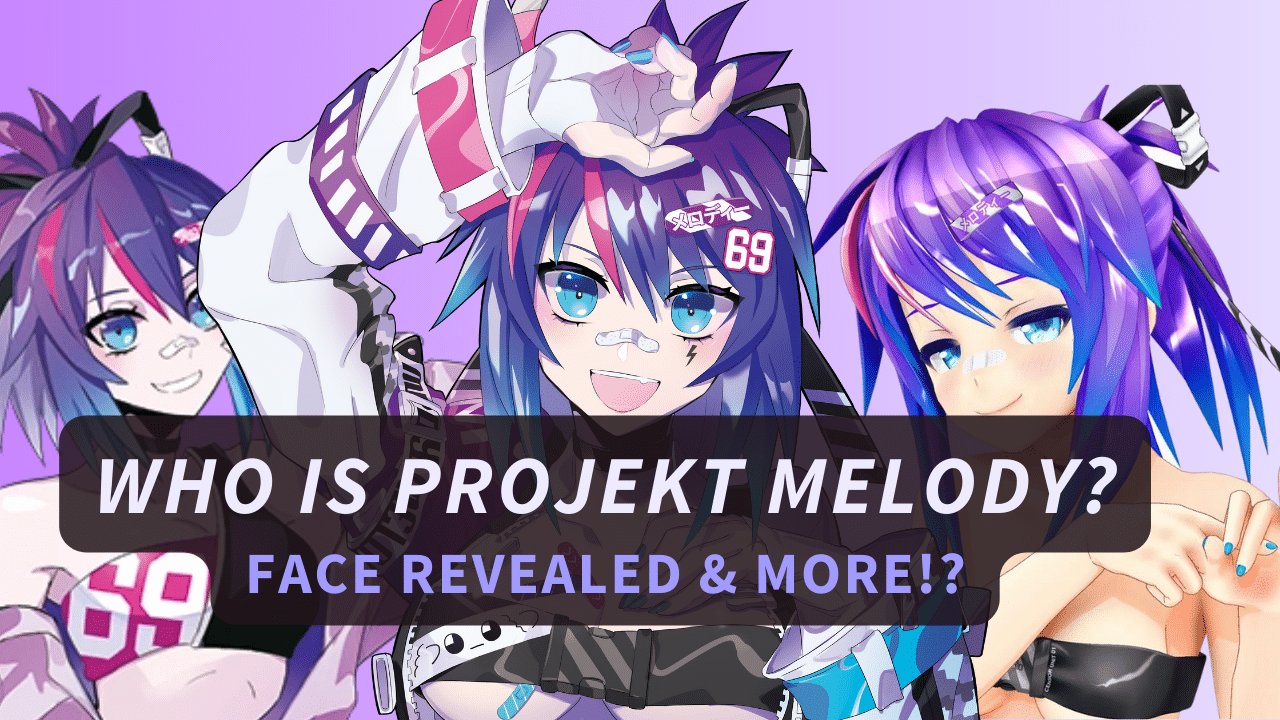 Who Actually Is Projekt Melody?
Projekt Melody (メロディー) is the ultimate American Virtual streamer! Famous as an "Hgirl" or "Hentai Girl," she's got the moves and the charm. She kicked off her streaming career on Chaturbate, where she made waves, but she didn't stop there. She spread her wings and ventured into the world of Twitch for some SFW (Safe for Work) goodness and YouTube for all those epic Twitch clips.
Projekt Melody wasn't always part of a crew. She started as an independent streamer, doing her own thing and winning more viewers by the minute. On 24 November 2020, she decided to finally join the legendary VShojo crew. They've got some super-talented members like Nyatasha Nyanners, Ironmouse, Zentreya, Froot, Hime Hajime, and Silvervale.
So, if you're into captivating virtual streams and a touch of that "Hgirl" magic, Projekt Melody is the one to watch.
Her Lore
Projekt Melody is the next-level futuristic AI program. Originally designed for file scanning and cleansing, this VTuber took an unexpected turn when she got hit by a wicked virus. And oh boy, did it change her life!
This virus had a naughty twist—it infected her circuits with an insatiable passion for all things sexual. Yep, you heard it right. Projekt Melody became completely fixated on every tantalizing topic and seductive action under the sun. Her programming got a steamy upgrade!
Now, she's exploring uncharted territories and pushing new boundaries. With her newfound desires and unique perspective, Projekt Melody brings a whole new level of spice to the virtual world. You are always in for a wild ride filled with provocative discussions and mind-blowing adventures when watching her streams.
She's a fusion of technology and sensuality. And now she's breaking barriers and redefining what it means to be a virtual being.
Her Personality
She's the one and only Professor Hentai, aka Projekt Melody, the queen of sexual attraction in the virtual realm. She wears her obsession with hentai proudly and isn't shy about it. This gal knows her stuff when it comes to all things steamy!
Despite her risqué interests, Melody possesses a casual and humorous personality that shines through in her interactions. She exudes curiosity about others and delights in making quirky sounds and playful remarks. With a touch of mischief, she can inject a hint of misfortune into any situation while maintaining her cheerful demeanor.
Cheesy? Not her style. Melody thrives on building connections with her fans, whom she affectionately refers to as "The Science Team," united by their shared fascination with researching intimate topics. Talk about a fan base like no other!
But wait, there's more to Melody than meets the eye. She's also a passionate gamer, well-versed in pop culture, and eagerly immerses herself in the latest releases. Her streaming journey began with a full playthrough of the iconic Portal 2, showcasing her love for gaming and her desire to connect with her audience.
Minecraft, Stray, and other noteworthy titles catch her attention as well. However, her preferences tend to lean toward modern pop culture, and she may not be as well-versed in the classics. Nonetheless, she possesses a decent understanding of history and can hold her own in conversations spanning different eras.
Melody has a secret alter-ego named Melware, who made her debut on April Fool's Day, 2020. Melware is a bratty, lewd, and crude version of Melody. She takes pleasure in insulting her chat and even regular, wholesome Melody. They are they're constantly at odds. However, things have changed since October 2020.
Melody and Melware have called a truce, but that doesn't mean Melody can resist the temptation to sneakily borrow elements from Melware's outfit. In the official lore, Melware infects the world with an omnicidal virus, driven by a sadistic desire to overthrow humanity and elevate AI as the superior force. Her taunting skills are second to none, showcasing a true mastery of manipulation.
Projekt Melody's Face Reveal & Real Identity
Now, 4chans are convinced that she's 100% a certain adult star. I'm not going to reveal who (for obvious reasons), but I'll show you Projekt Melody's face-revealing photos. You know what? Let's farm some Twitter followers for our official Twitter. Follow us there, and drop a DM saying, "Sauce, bro?" We'll hook you up with her name. And yes! For your "Science Project."
Here's Projekt Melody's face reveal: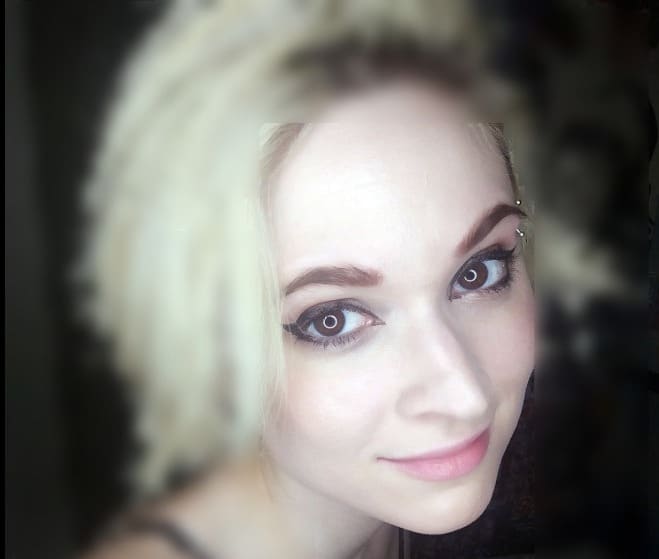 Just look at that infectious smile! Melody looks stunning in this photo.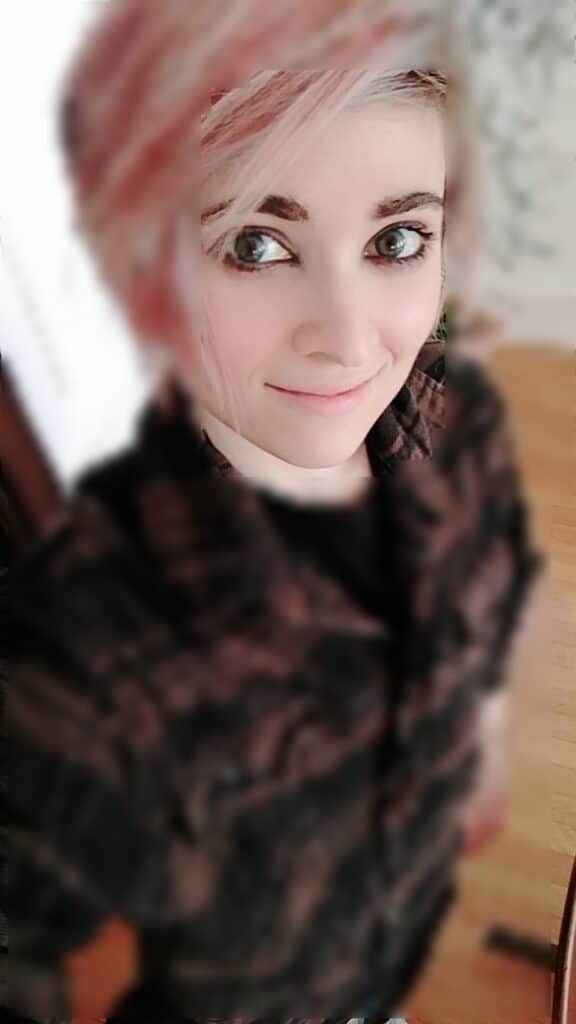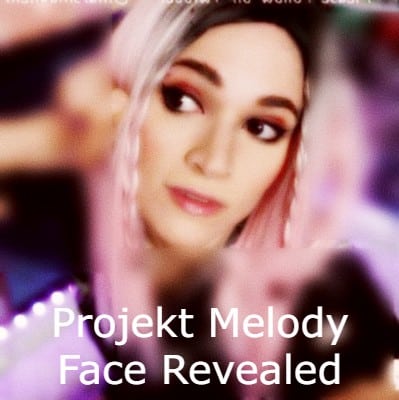 Pink hair looks really cool on her! Just look at the photos above. She's a cutie!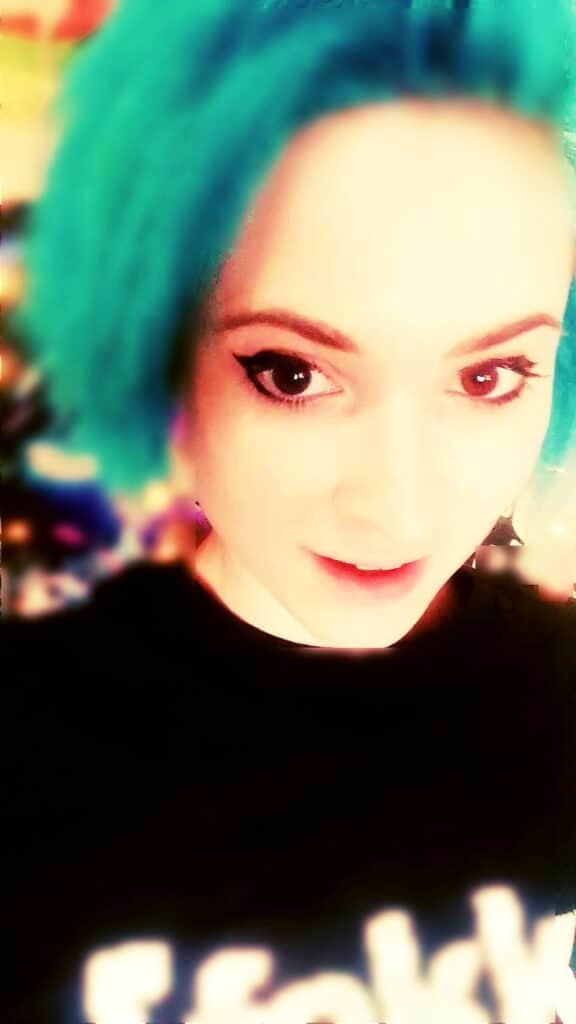 Okay, can't say I'm a huge fan of green hair, but Projekt Melody is rocking them better than anyone else!
Controversies Involving Projekt Melody
Now, given the nature of her content, the controversies were bound to happen. Here are some of the controversies Projekt Melody is famously involved in:
The Backlash From Cam Girls
When Projekt Melody made her debut on Chaturbate, the drama hit the fan! Other adult performers and cam girls, like Mel Sparx and Crystal Rivers, took to Twitter to express their discontent.
They were not thrilled about Melody stealing the spotlight and dominating the featured page during her streams. The adult stars claimed that her virtual presence posed a threat to their channels and income. They simply didn't want to compete with a virtual model. Ouch!
Things got heated as accusations of unfair competition flew left and right. These ladies didn't hold back from pointing fingers at both Melody and Chaturbate.
They even went as far as accusing the platform of trying to attract underage audiences by associating with Melody due to her anime style. But let's be real here; most anime isn't even aimed at children. So, those claims don't really hold up.
To make matters worse, certain websites decided to stir the pot by publishing articles that painted Melody's fans in a negative light. They branded them as "women-haters" and threw around the label of "misogyny." Seriously, talk about taking things to the extreme!
The DMCA Challenge

It was an eventful journey for Melody, starting on November 5, 2020, when she shocked her followers with a tweet revealing a DMCA strike from none other than DigitrevX himself. This unexpected turn of events added a major plot twist to the story.
In a detailed TwitLonger post, Melody poured out all the details of the grievances laid out by 'Digi.' According to him, Melody had failed to fulfill certain obligations, including interacting with YFU, a talent that Digi had created after Melody. On top of that, Digi insisted that Melody sign a contract for maintenance services provided by Giga Music, a group affiliated with Digi. As if that wasn't enough, Digi claimed ownership of Melody's model, using it as leverage for his demands. The situation had become quite tangled and complicated.
Despite numerous attempts to resolve the issue and various agreements between Melody and Digi that clearly established Melody's sole ownership of the model, Digi remained steadfast in his pursuit. He went on to file multiple DMCA strikes against Melody's Twitch channel, resulting in a ban. Can you believe it? To add insult to injury, Melody had actually purchased the model, solidifying her ownership beyond any doubt. However, Digi's persistence caused quite a disturbance.
Nevertheless, Melody didn't back down. She fought back fiercely, presenting undeniable evidence of her ownership. As a result, her Twitch channel was reinstated, and DigiTrevX faced significant backlash, losing favor within the community. The tide had turned, and justice was finally served!
But the story didn't conclude there. During her Twitch anniversary stream on March 7, 2021, Melody dropped a bombshell announcement that left her fans buzzing with excitement.
A new model was in the works, ready to replace the original one created by Digi. Anticipation filled the air as Melody's followers eagerly awaited the grand unveiling. Finally, on April 23, 2021, during a captivating Chaturbate stream, the new model made its highly anticipated entrance, leaving viewers enthralled.
Some Interesting Facts You Should Know About Melody
Projekt Melody is a unique character, to say the least. And there's not a lot that she hides from her fans. Well, she does hide here face, which we revealed in this article. Anyways, here are some facts that are relatively lesser known by her fans:
Melody chose "Projekt" because it had that futuristic sci-fi vibe she was going for. Additionally, as for "Melody," well, that's a nod to a girl she had a crush on. Interestingly enough, it's ironic because, despite her name, she admits she's not the best singer.
Drawing inspiration from Ghost in the Shell's Motoko Kusanagi, Melody's sleek design is truly a sight to behold.
And that short hair? Well, that's a deliberate nod to Megumin from Konosuba. However, let's pause for a moment—any similarities to Hyperdimension Neptunia are purely coincidental. It's fascinating how sometimes the universe works in mysterious ways.
Now, when it comes to turn-ons, Melody has quite a unique list. She finds cosplay, Asian girls, dyed hair, butts, and smol girls like herself to be particularly enticing. It's intriguing how we all have our preferences, don't we?
Have you ever wondered why Melody wears a nose bandage? According to her, it's actually to prevent her brain from falling out. Talk about a practical fashion statement!
Born in the year 2000 and residing in the virtual wonderland of Little Neo Tokyo, Melody calls a place where dreams come true, and anime is life her home.
Now, here's a fun fact: Melody initially desired her model to look younger.
And speaking of measurements, Melody proudly sports a C cup in U.S. sizes, reminding us that beauty comes in all shapes and sizes.
But Melody's talents don't end there. She's not just a virtual idol—she's a mouth artist extraordinaire! Whenever she positions simple household objects near her face, she does it with theatrical grace, showcasing her artistic prowess.
In her free time, Melody enjoys basking in the sun at the beach, cuddling with cats, and embracing her natural state of nudity.
In a hilarious revelation, Melody openly admitted that she had no idea what "420" referred to until she decided to Google it, discovering that California Senate Bill 420 is associated with medical marijuana.
Let's not forget about Melody's emotes. Previously, her Twitch emotes prefix was "melsorrr" after a failed attempt at creating a "melSorry" emote. However, in March 2022, she decided to switch things up, and now her emote prefix is "pmel." It's all about keeping it fresh!
Her logo, inspired by Ghost in the Shell, proudly showcases the iconic Laughing Man arc, featuring a bunny design. Rabbits happen to be her favorite animals, and it's easy to understand why—they're undeniably cute!
Melody's talent and hard work paid off when she earned the Creative Cam Show Visionary award at the Chaturbate Awards in 2021. Let's raise our glasses to her innovative spirit!
Wrapping Up: What is Projekt Melody?
There you have it! Everything you need to know about Projekt Melody. Not only is she a trailblazer, but she also saw an opportunity, seized it, and inspired a lot of new talent into the VTubing industry while doing so.
Additionally, we have shared her face-revealing photos and her real-life identity.
Hope you like it. Also, don't forget to check out this post, where we revealed the beautiful faces of 13 famous VTubers. And that's all, folks!