The 7 Best Keyboards For Gaming VTubers
If you have chosen the gaming niche as a VTuber, you need to be at the top of your game. Your viewers expect nothing but the best from you. And to deliver that to your audience, you'll need the best VTuber setup for streaming. A great VTuber setup includes an excellent webcam, a mic, a high refresh rate monitor, a decent GPU, etc. Today, however, we'll help you choose the best gaming keyboard for VTubing.
-> Just in case you don't want to read any further and just want to know what our top pick is, see the Corsair K70 RGB MK.2, which we feel is the 🥇 Best Keyboard for Gaming VTubers.
To choose the best gaming keyboard, you'll need to familiarize yourself with some basic terms that we'll use throughout the article. If you want to learn those terms, click here to skip to that section, and then read on to learn about our top choices.
So, without further ado, let's get straight into the article!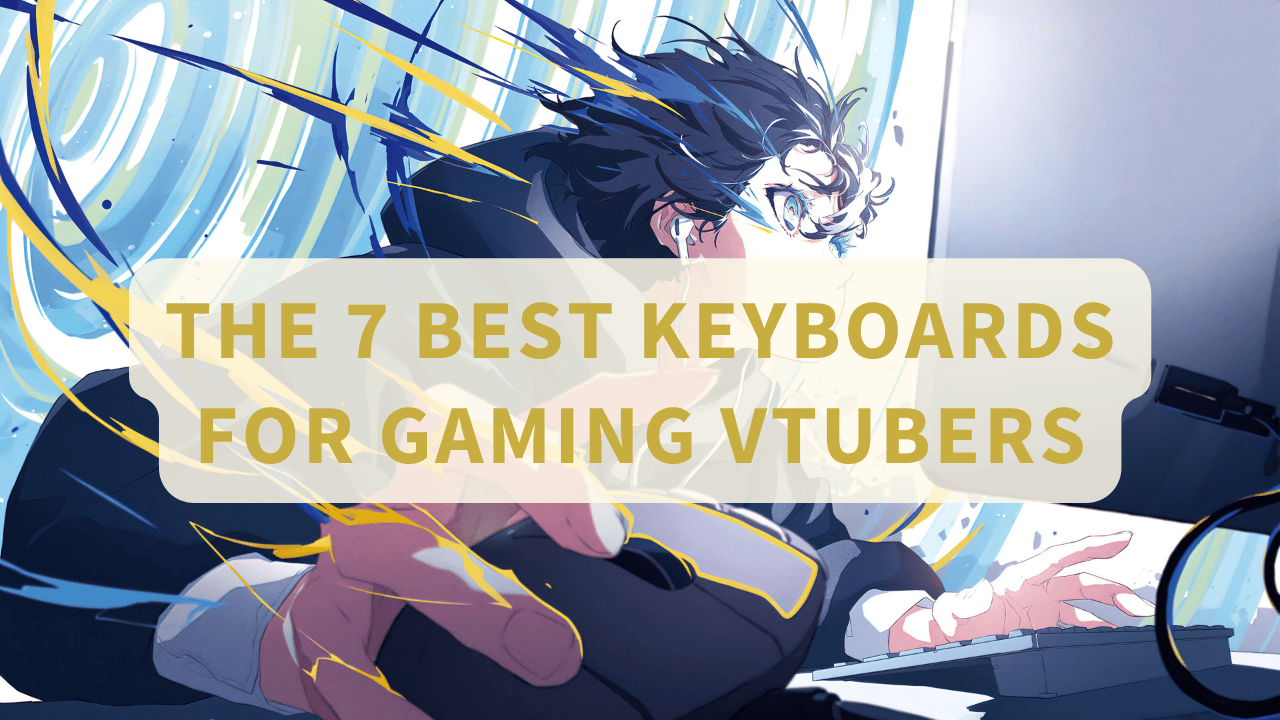 The 7 Best Keyboards For Gaming VTubers
Our Picks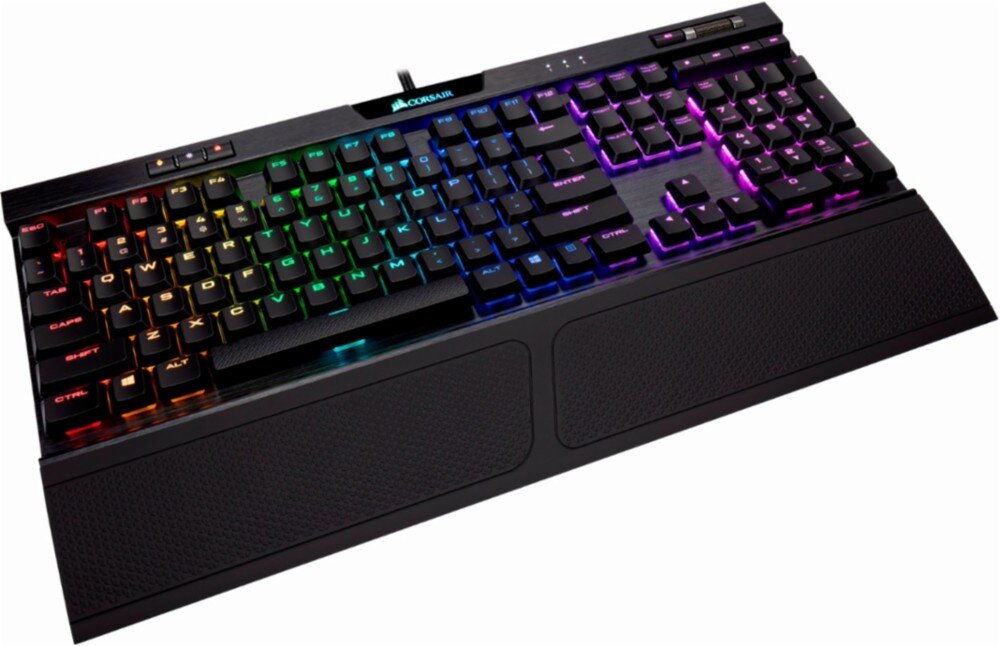 The Corsair K70 RGB MK.2 is as good as it gets if you are in the market for a wired mechanical keyboard. It has everything one could ask for in a mechanical gaming keyboard, from a sleek design and full array of RGB backlights to authentic Cherry MX switches.
It's a full-sized keyboard with 17 x 6-inch dimensions. The highlight of this keyboard is its keys. Corsair never compromises on its keys! However, Corsair's other models lack the variety of switches found in those keyboards. Luckily, that's not the case with this one.
If you are a gaming VTuber, you'll be happy to know that this keyboard comes with a bunch of switch options to choose from. Five Cherry switches are available on this keyboard: Speed, Brown, Red, Brown, and the most common, Blues. So Corsair just went all out with the switches on this gaming keyboard, and that's what I like the most about this one.
The Corsair Utility Engine (CUE) software has a learning curve. However, it's pretty fun to play with once you get the hang of it.
I personally tested the Corsair K70 RGB MK.2 in CS:GO and Valorant, and the springy and responsive switches with comfortable key caps made it really easy for me to counter-strafe. Also, the media keys are quite helpful for playing your favorite song in the background when you are grinding in the DMs and want to feel a bit invincible!
Why Do We Recommend The Corsair K70 RGB MK.2 For Gaming VTubers?
Although the Corsair K70 RGB MK.2 is pricey, the K70 MK.2 is designed with perfection in mind! Especially if you prefer something other than a wireless keyboard. Take a look at the key switch guide at the bottom of this article, decide what your taste is when it comes to switches, and go for this keyboard. My favorite ones are the blues, which most people like in my experience. You can expect a premium experience with this keyboard, making it the best gaming keyboard for VTubers!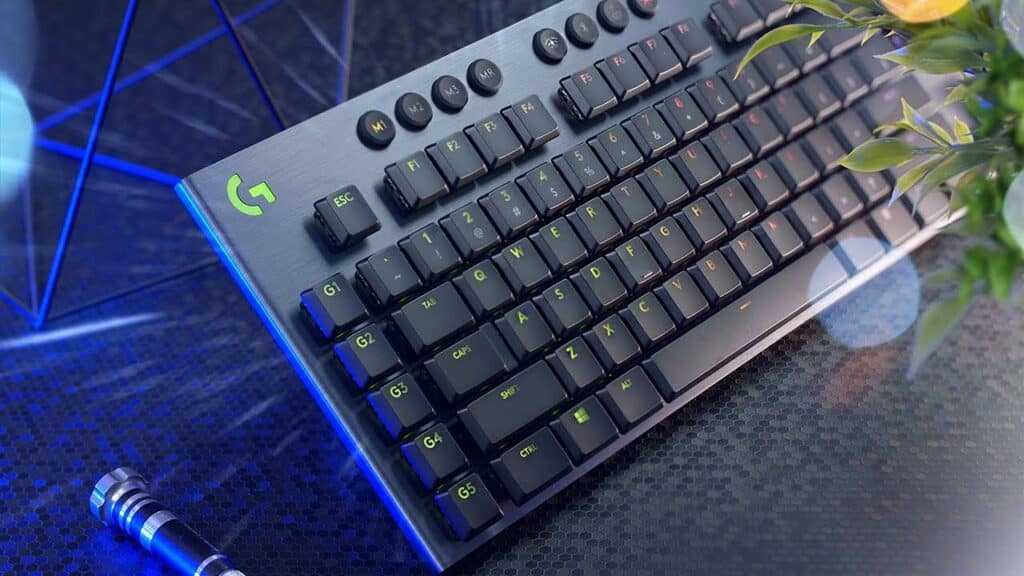 Before I say anything else about the Logitech G915 gaming keyboard, I need you to throw any preconceived notions about wireless peripherals out the window! I am a competitive FPS gamer, and believe me when I say that I can detect even minor lag. And with the Logitech G915, there weren't any!
And as far as the battery life is concerned, I use this keyboard as my daily driver. I just liked it so much that it's my main now! And the whole time, I only had to charge it once every two weeks with eight hours of daily usage.
The battery timing on this keyboard took me by surprise, as I wasn't expecting it to be that great! That's because I previously used G933 wireless headsets from Logitech, which used to last two days on a single charge. So, naturally, I was expecting the same with the G915 keyboard. This keyboard has a lot of room for the battery because it's a full-sized one, so they fit in a high-capacity battery.
This keyboard is my personal favorite out of all the keyboards mentioned in this list. One of the reasons for that is its low-profile keys. They are very comfortable and have great tactile feedback upon pressing. That makes this keyboard a reliable choice when you are in an ambush.
The software, as with all of the Logitech devices, is simple yet excellent. It isn't overly complicated and does what it's supposed to do. The design gives off a premium feel, and the lighting is elegant as well. The only thing that puts me off and would surely be a huge turn-off for many other mainstream gamers is its price point. It's one of the most expensive keyboards on the market. Although the features and quality justify its premium price, it is still just out of reach for many.
Why Do We Recommend The Logitech G915 Wireless For Gaming VTubers?
The Logitech G915 wireless is an excellent choice for VTubers who prefer their table to be free of wires. Also, some of us just like to lean back in our chairs, relax, and enjoy our favorite casual game. You'll need a really long cable for that, or you can go wireless. Personally, I would go for the later choice. This keyboard has everything a great wired keyboard should have, and on top of that, it's wireless with great battery life. That makes it the best wireless keyboard for gaming VTubers!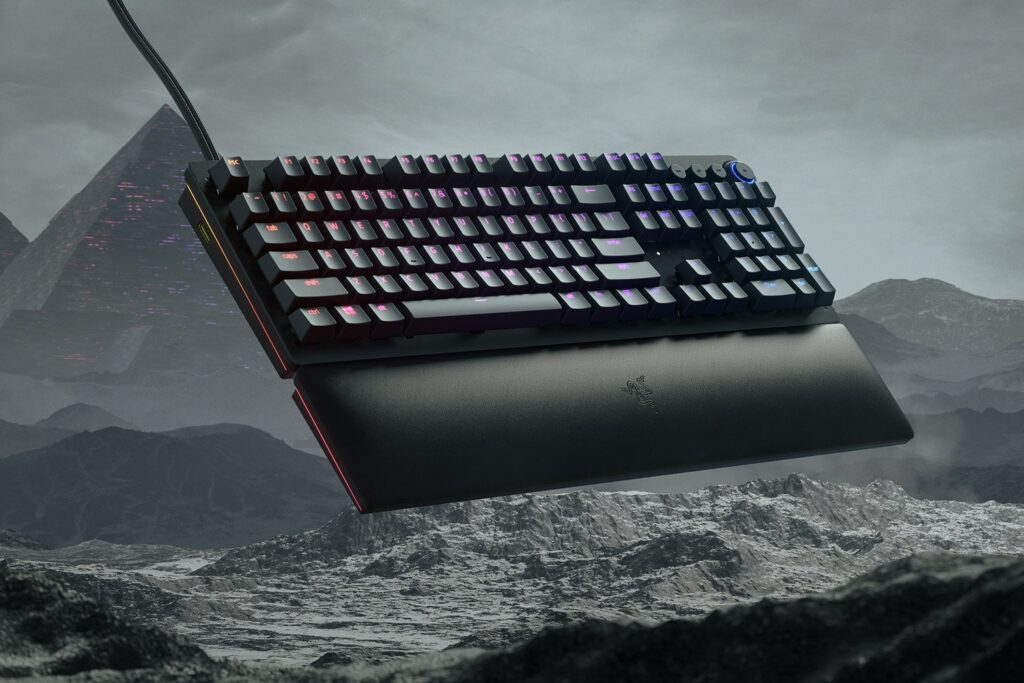 The Razer Huntsman V2 is the fastest gaming keyboard on the market, thanks to its 8000 Hz polling rate. However, in my opinion, that's just a marketing gimmick. I say so because most gaming keyboards come with at least a 1000 Hz polling rate. That means there's only a 0.75 ms difference between the response rate of the Huntsman V2 and any other decent gaming keyboard. You'd have to be a supercomputer to notice a difference that fast!
The Razer Huntsman V2 has made this list due to its adjustable analog keys. In layman's terms, that means you can adjust when a particular key is actuated upon pushing. You can even set different macros on a single key depending on how far the key has traveled. The analogue switches allow for more finesse, as the switches can emulate a joystick. They can be pressure-sensitive for movement, so in the same way the controller joystick might have you go from walking to running, the farther you push it, these keys will behave similarly. All of that makes this the best offering that Razer has released yet, especially due to the innovative and customizable switches.
Another great thing about the Razer Huntsman V2 is its wrist rest. It's more comfy than its previous version, the Razor Huntsman Elite, without being puffier, which helps in long gaming sessions. The USB pass-through also comes in handy as an extra slot to put your dongle in. You can use that to connect your headsets, mouse, or any other device you need to keep close to you.
As the switches are analogue, there is no point in having tactile feedback if the switch actuates before you can have bumpy feedback. That's why the Razer Hunstman V2 uses linear switches. It's pretty durable; basically, it's built like a tank. There is no flex at all. All that said, if you are considering this keyboard as your pick, be ready to pay a pretty penny for such premium features. It's not cheap at all!
Why Do We Recommend The Razer Huntsman V2 For Gaming VTubers?

VTubers that like to play games like Fall Guys should definitely consider the Huntsman V2. That's because such games take advantage of the analog key mechanism, i.e., the harder you push, the faster your character will run or perform a certain action. Also, the wrist rest on this gaming keyboard is the most comfortable I have ever tried. So if you are after comfort, this is a great choice for you!
ROCCAT Vulcan II Max: The Best Mechanical Keyboard For Gaming VTubers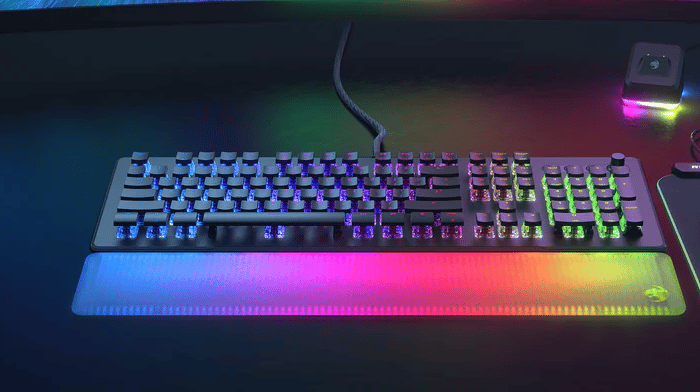 If you are considering the Roccat Vulcan II Max, you are in for a RGB light show. In fact, this is the best RGB I've ever seen in a PC peripheral! It's just designed to look pretty. The translucent wrist rest diffuses the light and glows up. The keycaps are intentionally thin, and the switches are tall and transparent just because they wanted the RGB light to spread better under the key caps. Each and every element of the design is created with the intention of putting on a show!
The absurd amount of RGB doesn't mean that the keyboard looks bland without it. As a matter of fact, the keyboard has a very elegant and minimalistic design that, even with the RGB turned off, looks very attractive. On top of that, the functionality is also top-notch, which means that if you are not a fan of RGB lighting, this keyboard is still a great choice for you.
The decision to go for this gaming keyboard becomes even easier with the fact that the key caps are low-profile and support third-party options. So, if plain white or black ABS keycaps aren't your style, you can just buy some custom keycaps, slap them on this keyboard, and you'll be good to go. The switches are linear, which sadly means that there's no tactile or bumpy feel to them.
The software, however, is where this keyboard shines. The Roccat Swarm software comes with pre-loaded macro settings for popular games, making it very easy to apply macros in your favorite game compared to any of its competitors. This software gives you full control over different profiles, lighting, customizing functionality, etc.
Why Do We Recommend The ROCCAT Vulcan II Max For Gaming VTubers?
Gaming VTubers who like RGB and want their streams to look nice should definitely check out the Roccat Vulcan II Max. The RGB on this thing will certainly turn your gaming room into a nightclub! And the quality of the switches on this keyboard is so perfect that you'll never drop a keystroke while playing your favorite game!
SteelSeries Apex 5: The Best Budget Gaming Keyboard For VTubers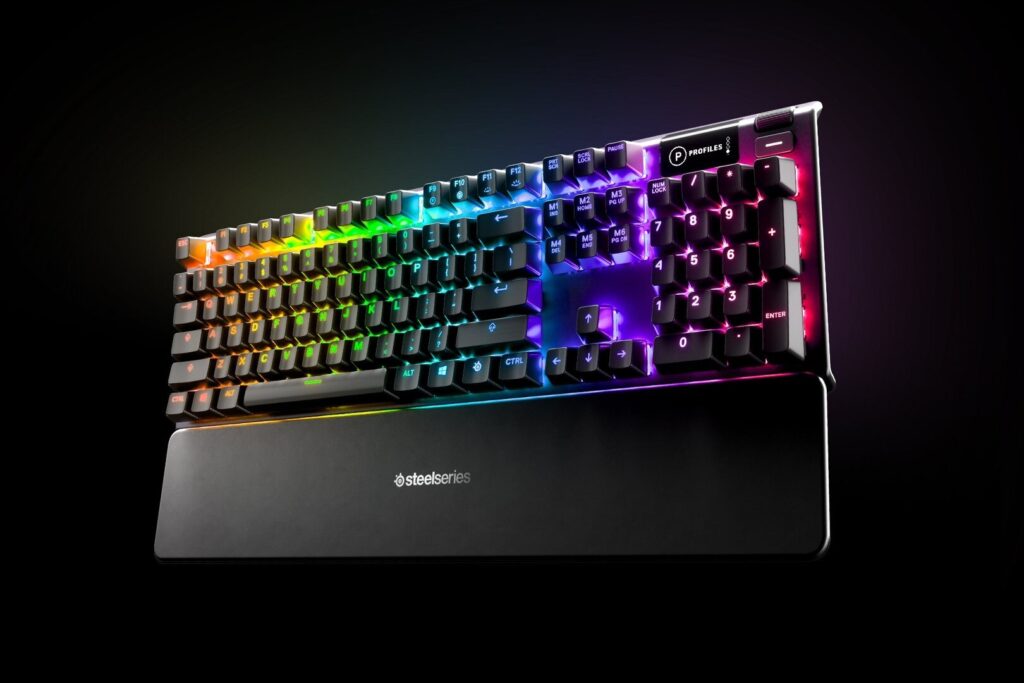 The SteelSeries Apex 5 Hybrid is a mid-range option for those of you who don't want to break the bank while still enjoying a great gaming keyboard. The "hybrid" in the name is because this keyboard features a blend between membrane dome and mechanical switches. The membrane parts help SteelSeries cut their costs when manufacturing this keyboard, while the mechanical parts ensure a flawless gaming experience! Although the keyboard is full-sized with all the keys present on the board, it's still somewhat compact.
It comes with a rather plain-looking but comfortable wrist rest. And the software on the SteelSeries Apex 5 is a bit bloated. However, it does its job well. The cool thing about this keyboard is its OLED display, which you can set a little screen saver for. That's my favorite part of this keyboard, as I love the neat little customizations you can do with your keyboard.
The RGB lights are not too flashy, but they look pretty decent and aren't over the top. The build quality is excellent and gives off a premium vibe. That's pretty good considering the price range of this keyboard.
Why Do We Recommend The SteelSeries Apex 5 For Gaming VTubers?
If you are a VTuber that doesn't want to put a dent in their wallet to buy one simple keyboard, the SteelSeries Apex 5 Hybrid is the perfect choice for you. It packs all of the great features of a good gaming keyboard into one, making it the best budget keyboard for gaming VTubers!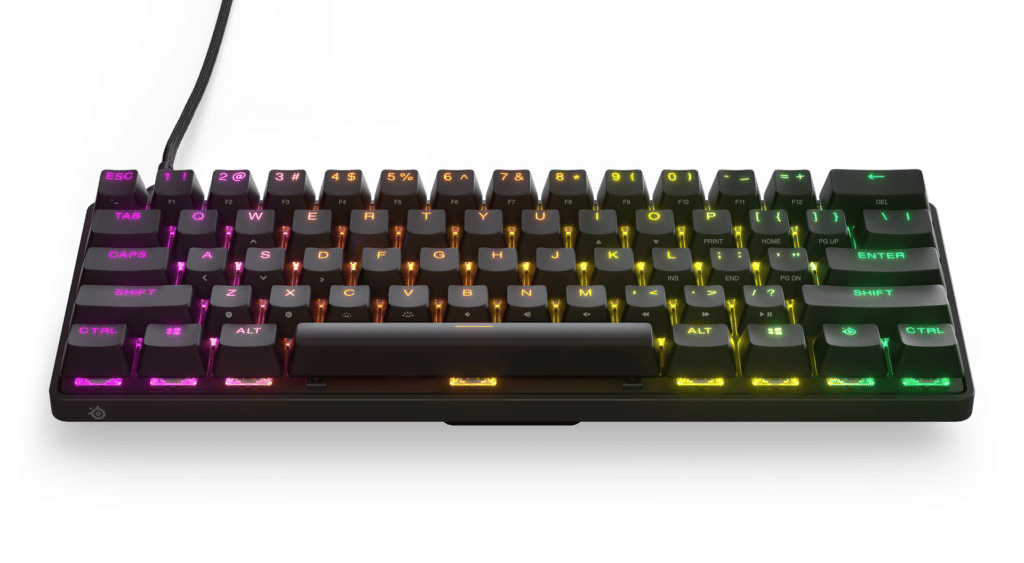 Another wireless entry on our list of the best gaming keyboards for VTubers is the SteelSeries Apex Pro Mini. This one, on the other hand, has a much smaller 60 percent form factor. Like the Razer Huntsman V2, this keyboard also features adjustable switches, which SteelSeries calls OmniPoint switches. To refresh your memory, the adjustable switches use magnetic sensors that allow their users to adjust the actuation point of the switches.
The extremely small form factor has a learning curve, so the user has to spend some time learning to use this keyboard if they haven't had a 60 percent gaming keyboard before. This small form factor is also appealing to some, especially when combined with the wireless functionality of this gaming keyboard, which makes your whole setup look a lot cleaner.
However, the SteelSeries Apex Pro Mini doesn't boast a lot of battery life compared to its competitor, the Logitech G915 wireless on this list. Although SteelSeries advertises 30 hours of use on one charge, in my experience, it only lasted 25. The Logitech G915, on the other hand, lasted 96 hours on a single charge. That's almost 4 times more battery life than the SteelSeries Apex Pro Mini. That might be due to the small form factor of the Apex Pro Mini, as unlike the Logitech G915, it doesn't have that much room in its body to house a larger battery.
A braided USB-C cable is included, though, for emergency situations where you run out of charge. The SteelSeries GG software, although it has all the required functionality, is sometimes buggy. The actuation point on this keyboard can go as low as 0.2 mm, which is the shallowest I have ever experienced, registering even a strong breeze blowing over the keys.
Why Do We Recommend The SteelSeries Apex Pro Mini For Gaming VTubers?
If you are a VTuber, and a loaded one because this keyboard is really expensive, and you want your setup to look clean, the SteelSeries Apex Pro Mini is a clear winner for you. It's the most compact keyboard on this list, and you can't go any smaller than this and call that thing a keyboard. Maybe a calculator, but now a keyboard! Also, it's sleek, it's stylish, and it looks graceful when placed on your desk; what more can you ask for?
Logitech G PRO: The Best Tenkeyless (TKL) Keyboard For Gaming VTubers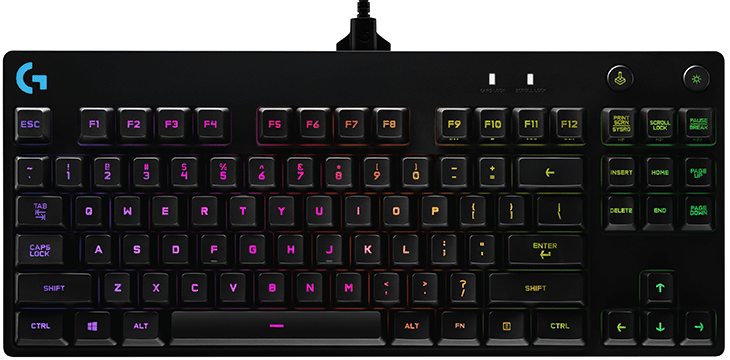 Coming in at number seven is another entry from Logitech; it's the Logitech G Pro gaming keyboard. It's one of the most widely used gaming keyboards in the professional eSports scene. The reason behind that is its simplicity and reliability. You know when Logitech puts their name behind anything, they deliver.
The Logitech G Pro has no fancy gimmicks or party tricks up its sleeves. However, if there's one thing it's good at, it's doing its job as a reliable mechanical TKL gaming keyboard! The Logitech G Pro gaming keyboard features Romer-G switches, which aren't special at all but beat many switches in latency and actuation time. The RGB on this gaming keyboard looks decent, and you can save an on-board profile where you can save your backlight settings. That way, whenever you hook up your keyboard to any other device than your home computer, the RGB light would be the one you have preset, not the default rainbow lighting.
The only thing I don't like about this keyboard is its tall forehead. The TKL keyboards are supposed to be compact. Don't get me wrong, though, the Logitech G Pro is a compact device. However, they could have saved a lot more space if it weren't for its tall forehead. I just don't get the point behind it.
Why Do We Recommend The Logitech G PRO For Gaming VTubers?
If you plan to stream eSports titles like Valorant, Dota, League of Legends, or CS:GO as a VTuber, then this keyboard is a must. More than anything else, this keyboard has become a statement in the eSports scene. Just by looking at your keyboard, your fans would be able to tell that you are an eSports player yourself! Other than that, it's compact, reliable, and reasonably faster than many of its competitors, making it an obvious choice for our list of the best gaming keyboards for VTubing!
How To Choose The Best Gaming Keyboard
These terms have been used throughout this article. So, if you are unfamiliar with any of these terms, give them a read so it will be helpful for you to choose the best keyboard for gaming VTubers.
Switch Specs
Key Travel: This is the distance from when the key is at rest to the bottom when it is pressed. Our tests found that the lower the key travel, the faster the gaming keyboard is.
Actuation Point: This is the distance that a switch needs to travel in order to be activated. Again, the lower this number is, the faster that specific keyboard will be.
Reset Point: It's the position when the switch has retracted enough to be actuated again.
Tactile/Clicky Position: The point where you feel the feedback of the key is actuated.
Actuation Force: The force required to pass the actuation point. These values are associated with light, medium, and heavy switches.
Types Of Switches
The following are the most common switches that can be found in gaming keyboards:
Cherry MX Red: These switches fall in the "linear" switch category, meaning they are smooth and do not offer a tactile feel. However, they are pretty easy to press.
Cherry MX Low Profile: These are my favorites for gaming. These switches are like the Cherry MX Red on steroids; they offer all the benefits of the Cherry MX Red while having the lowest key travel out there, i.e., 3.2mm, as opposed to the 4mm found in most mechanical keyboards.
Cherry MX Blue: The Cherry MX Blue switches are bumpy, loud, and have a clicky feel; hence, they fall into the "clicky switches" category. Also, they are the most common switches used in mechanical keyboards.
Cherry MX Brown: These switches have a tactile feel which means that upon pressing, they feel bumpy halfway through their travel time. This bump represents the actuation of the key. Hence, the key doesn't need to be fully pressed to register.
Optical Switches: Some keyboards mentioned in this article feature optical switches. These switches operate on a laser mechanism, instead of a mechanical one. When a user presses a button, it cuts off the light passing through underneath that switch. And once that happens, the switch is actuated. This mechanism is employed to achieve the fastest registration possible. That's why the keyboards that feature these kinds of switches are the fastest out there.
Some Interesting Terms
Hot-swap: It simply means that switches are removable from the PCB and can be swapped with other flavors of switches. Hot-swap keyboards are desirable because users can change how their keyboard buttons feel and sound. If they find themselves bored with their current ones, they can swap them for some other variety. Broken switches can also be replaced on a hot-swappable keyboard.
Fast Gaming Switches: All it means is that the actuation point on the switch is high, usually around 1 mm. That way, when a user presses a button, the registration happens a lot faster than with a common 2mm or 4mm actuation point keyboard. For example, the Cherry MX Speed Silver switches have an actuation point of 1.2 mm. So you have to lightly tap the key and be speedy with the switches.
Key-rollover: This is also known as N-key rollover. It basically represents how many keys can be registered simultaneously.
Polling Rate: This represents how many times your keyboard is sending signals to your computer. 1000 Hz represents 1 ms response time, and frankly, anything faster than that is just a marketing gimmick and doesn't improve your gaming experience.
Wrapping It Up
With the help of this buying guide, you'll be able to understand what the requirements are for a keyboard to be the best at gaming. Also, you'll be able to pick the best keyboard for gaming VTubers. Each one of the gaming keyboards listed here is the cream of the crop, but my favorite one is, and will be for the foreseeable future, the Logitech G915 wireless. That's because of its battery life, stylish design, and durability.
Good luck with your VTubing careers!