The 7 Best Monitors For Gaming VTubers
As a VTuber, you might already know that there aren't many online buying guides to inform you about all the gadgets and software you need for VTubing. That's where we come in, and today we'll help you pick the best monitors for gaming VTubers.
-> Just incase you don't want to read any further and just want to know what our top pick is, see the Alienware 34 QD-OLED (AW3423DW) which we feel is the 🥇 Best Monitor for Gaming VTubers.
VTubers have unique problems that require unique solutions. One of those problems is having the VTuber software show up on the screen every time you have to use an expression or play an animation during the stream. The solution to that problem is to have two gaming monitors.
That way, you'll be able to play games while streaming and using your expressions or whatnot without the VTuber software interrupting your gaming experience. Even if you aren't playing games while streaming, having your VTuber software pop up whenever you make an expression doesn't look cool. That's why the solution is, as I said before, two monitors.
I wouldn't recommend going for the high-end options for both monitors, even if you have the budget. Rather, I recommend getting one high-end gaming monitor with true HDR and great colors for post-production and gaming, while the second one should be a budget option.
Speaking of gaming, here is what you should remember: the higher the refresh rate and resolution, the better and more immersive gaming experience you'll get. On the other hand, the response time and input lag should be as low as possible. The input lag represents the time between pressing a key on your mouse or keyboard and the action appearing on your screen.
With all that out of the way, we'll get to the topic at hand. We'll list down the 7 best monitors for gaming VTubers and explain why each one of them deserves a spot on our list. These monitors include curved, 4K, budget, and high refresh rate options, so there's something for everyone. So, let's get to it!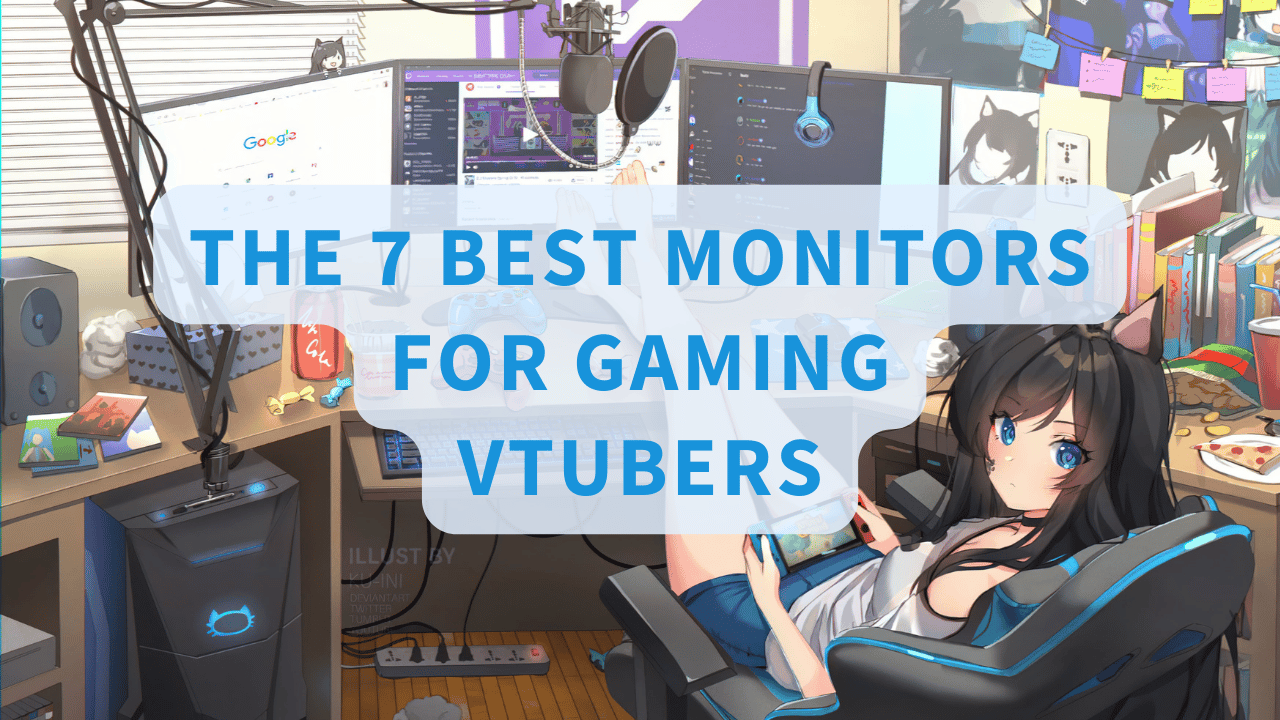 The 7 Best Monitors For Gaming VTubers
Our Picks

Alienware QD-OLED (AW3423DW) is the first-ever OLED monitor introduced in the market. This is the ultimate PC monitor as far as image quality is concerned. It's a 34″ 3440 x 1440p OLED monitor with a 175hz maximum refresh rate. OLED technology has reached these specs in a reasonable monitor size for the first time.
This monitor uses Samsung's QD-OLED panels and has superiority in the areas like brightness, efficiency, and burn-in over any other monitor available in the market. For creators, VTubers, and gamers, it means that the colors will be more accurate during gaming, streaming, and post-production.
The Alienware QD-OLED (AW3423DW) monitor is basically geared toward HDR gaming. It has Nvidia's G-sync ultimate hardware module, which fully works with all GPUs, including AMD GPUs. It's also Vaser DisplayHDR true black 400 certified, which, unlike the regular "HDR 400" certification, isn't complete trash.
The use of OLED in this monitor means that it offers true HDR hardware with 1000 nits of peak brightness and a 0.1 ms response time. The Alienware QD-OLED is a curved monitor with 1800 R curvature, which is pretty standard for an ultra-wide monitor. This curvature doesn't distort the images as much as most ultra-wide curved monitors do.
Although it's pretty expensive for a monitor, it's still competitively priced compared to monitors with similar or worse specs from other manufacturers. As a matter of fact, you won't get a monitor with better image quality and true HDR at this price point.
The build quality on this beast is as good as it gets, with tight seams and a premium feel. This best gaming monitor for VTubers is actively cooled, so you can expect some sound from its fans.
Why Do We Like The Alienware QD-OLED (AW3423DW) For Gaming VTubers?
The Alienware QD-OLED (AW3423DW) is a top-tier gaming monitor that packs the best specs in the market. And the more important thing is that it delivers on those specs. It's easily the best HDR gaming monitor you can get right now at the best price-to-performance ratio.
As a gaming VTuber, you'll have a great immersive experience while playing games on this ultrawide monitor. If you publish your clips on YouTube or TikTok, this monitor is a must for its post-production capabilities. You'll be able to see the color accuracy as you've never seen it before!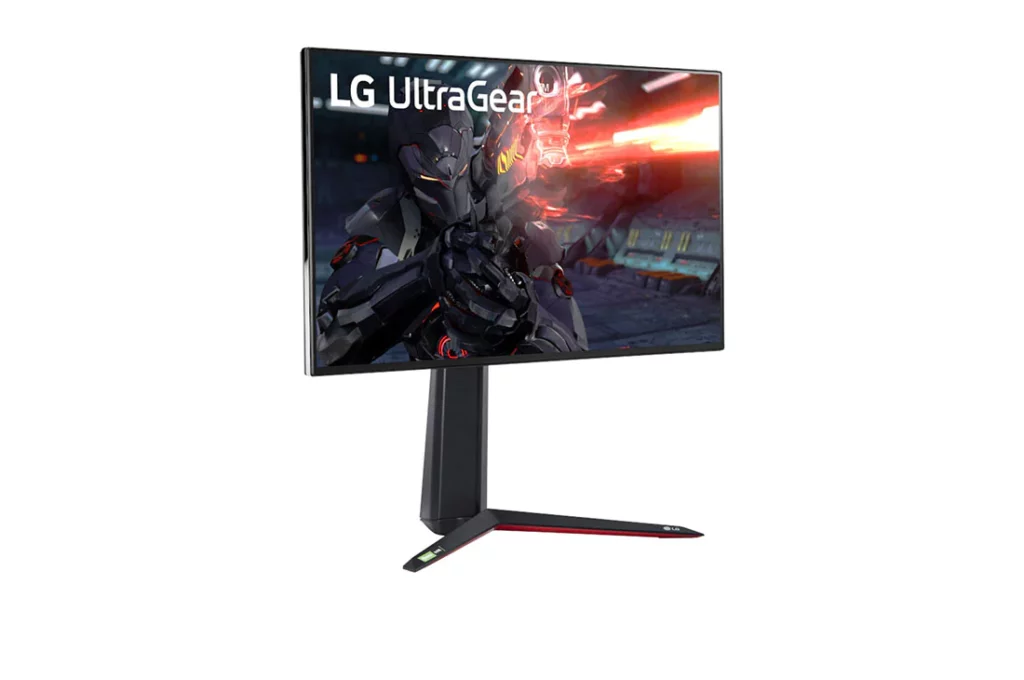 The LG UltraGear 27GN950 is pretty exciting because it's the best 4K 144hz gaming monitor on the market. This monitor has the nano IPS panel technology from some of LG's most successful displays. The LG UltraGear 27GN950, however, comes with a higher-resolution display. It offers a 1 ms gray-to-gray response time.
There is some HDR functionality included as the display is rated for HDR 600, but it's nowhere near the capability that the Alienware QD-OLED (AW3423DW) has.
It's reasonably priced, considering its functionality, resolution, and refresh rate. The slim bezels and no branding on the front give it a great look. Although personally, I wouldn't say I like RGB on the monitors, one thing going for this monitor is that it has pretty bright lights in the back. That means you'll have a nice ambient lighting experience illuminating the area behind the display, even in relatively bright conditions.
A great thing about this monitor is that you can get the 4K 144hz experience over a single cable, which is not the case with many of its competitors. That said, you'll need a GPU that supports a DSC cable.
The response time of this monitor held up in our testing. However, you'll need to enable overdrive in its settings to take full advantage of it, which helps it make it to our list of best gaming monitors for VTubers.
Why Do We Like The LG UltraGear 27GN950 For Gaming VTubers?
Overall, the LG UltraGear 27GN950 is the best 4K 144hz monitor. This monitor is twice as fast as any of its competitors in the price bracket it's placed in, with limited overshoot and an excellent single overdrive mode experience. All that is done without compromising the contrast ratio, which is not the case with many of its competitors.
The LG UltraGear 27GN950 is the ultimate display if you want the top-end 4K gaming and streaming/VTubing experience. Just make sure you've got the GPU horsepower under the hood to support it.
MSI Oculux NXG253R: The Best Gaming Monitor For Esports Streamers & VTubers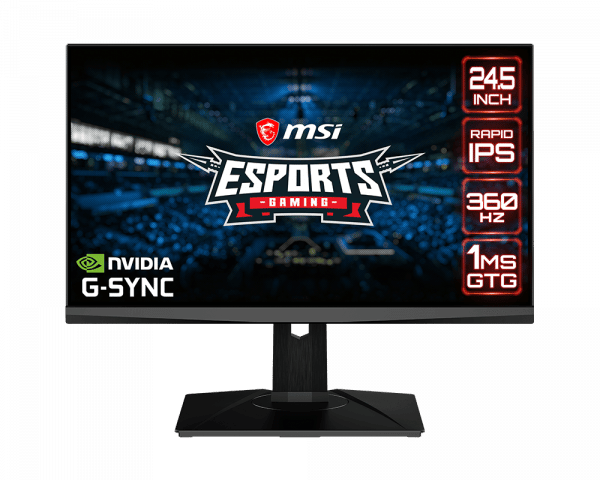 For streamers and VTubers into Esports such as CS:GO, Valorant, etc., the MSI Oculux NXG253R offers a stunningly sharp display and peak performance. In fact, this monitor is used in many Esports matches by professional gamers, all thanks to its 360hz display.
Such a high refresh rate means you'll enjoy an ultra-smooth gaming experience with a super fast response time of 1 ms and very little input lag. Although this monitor's overall design looks pretty decent, I am not particularly fond of its thick chin at the bottom.
The resolution on the MSI Oculux NXG253R is 1080p. That's not really high according to modern standards. However, due to its 360hz refresh rate, it is as good as it can get. There aren't any 1440p or 4K displays on the market with that kind of refresh rate anyway. And even if there were, the GPU technology hasn't advanced far enough to support that performance. Specifically, it's nearly impossible for GPUs to crank out 360 fps in modern AAA titles at 4K.
Also, if you are an Esports title player, you'd know better to play at 4K resolution. Esports players would squeeze the last fps they could out of their GPUs by lowering their resolution instead of increasing it for better visuals.
Moving on back to the 25″ gaming monitor, it also has support for Nvidia G-sync for a seamless, jitter-free gaming experience. Although you shouldn't expect color accuracy and contrast from a monitor purely aimed at Esports gamers, the display still holds its ground with 400 nits of peak brightness. The anti-glare screen also does its job well. That means you'll have no problems using this monitor in a bright environment.
With its 178-degree viewing angle, you'll enjoy consuming content on this ultrafast display, even from very sharp angles, without any distortion in colors or image quality. And all the things mentioned above help this monitor earn a spot on this list of best monitors for gaming VTubers.
Why Do We Like The MSI Oculux NXG253R For Gaming VTubers?
The VTubers playing games like Valorant and CS:GO during their streams can leverage this monitor's ultrafast refresh rate. The 360hz display means that you'll be able to see your enemy much quicker and more smoothly than they could see you.
The low input lag and the little-to-no ghosting mean that you'll be popping heads during your streams, impressing your audience with your in-game performance.
Although the color accuracy is not as great as the Alienware 34 QD-OLED (AW3423DW), or even the LG UltraGear 27GN950, it does hold its ground, especially for its budget. Your video editing sessions will be much more productive and enjoyable!
AOC 24G2SP The Best Budget Gaming Monitor For VTubers & Gamers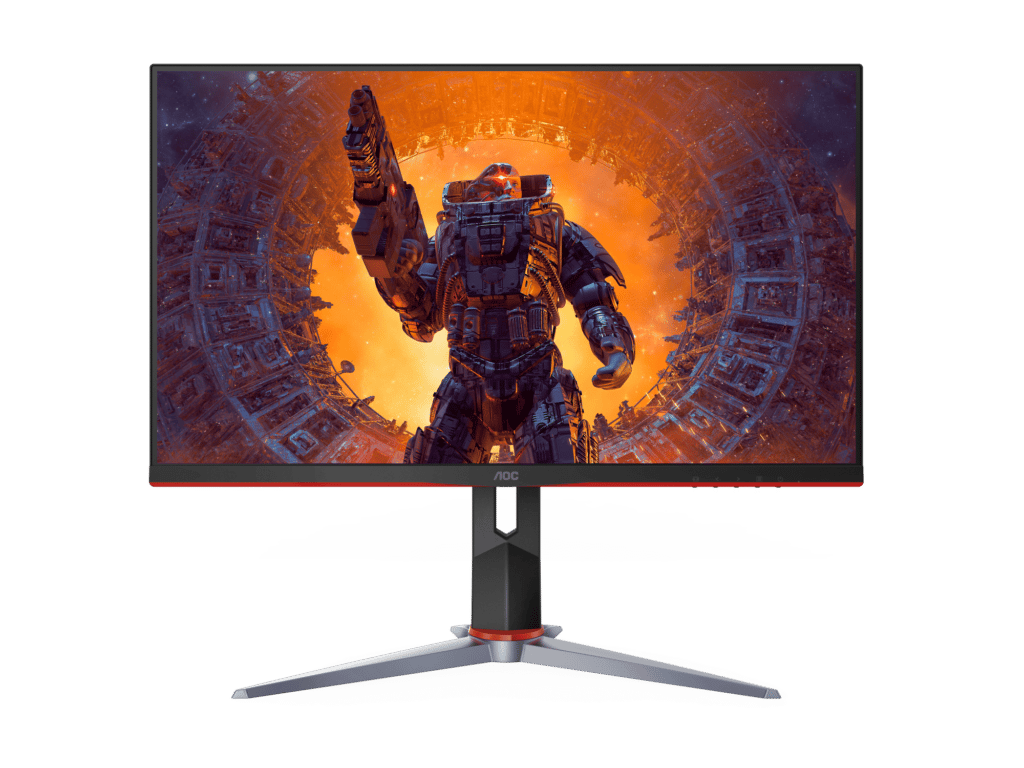 The AOC 24G2SP is a successor to the highly popular AOC 24G2, which I've been using as my daily driver for the past six months. Despite it being a budget option, I've been recommending this monitor to my family and friends due to its excellent performance and the very reasonable price it's available at. The older model continues to be the best value of any 1080p monitor on the market.
That said, we tested the newer model to see whether it has seen any further improvements. Surprisingly, it's available at the same price, or even at a lower price in some cases, as the older model. Moreover, it now has a 165hz display, an improvement from the previous 144hz.
The rest of the fundamentals are the same. It's still the same 24″ 1080p IPS monitor with adaptive sync technology that almost everyone loved. There's nothing over-the-top premium about the build quality of this monitor. However, it gets the job done well. In fact, it's well-built and doesn't waste money on unnecessary features like RGB lights, etc. 
Moreover, the stand that comes with the AOC 24G2SP is even better than most premium monitors have. It's funny how AOC has squeezed in such a premium quality stand at a sub-$200 price point while some companies like to charge $1,000 for just the stand—looking at you, Apple!
The stand is height-adjustable and offers horizontal and vertical movement for the monitor. If you get this monitor, you should definitely use the strong overdrive feature available in the settings to improve your response rate even further. The AOC 24G2SP is pretty power-efficient, thanks to its size and panel technology.
This gaming monitor does support a wide color gamut, with 95 percent coverage of DCI-P3 in our testing. These results are far above what AOC advertises on its website.
Why Do We Like The AOC 24G2SP For Gaming VTubers?
If you are a gaming VTuber, get this as your secondary monitor. Don't get me wrong, though. It will work absolutely fine as your main monitor. If you are on a tight budget, getting this monitor won't break the bank, and you'll get the best value for your money.
The AOC 24G2SP is more geared toward providing excellent color quality than faster response time, making it a great choice for gamers, VTubers, and streamers. It's also a great pick for people who consume media on their monitors rather than through a TV.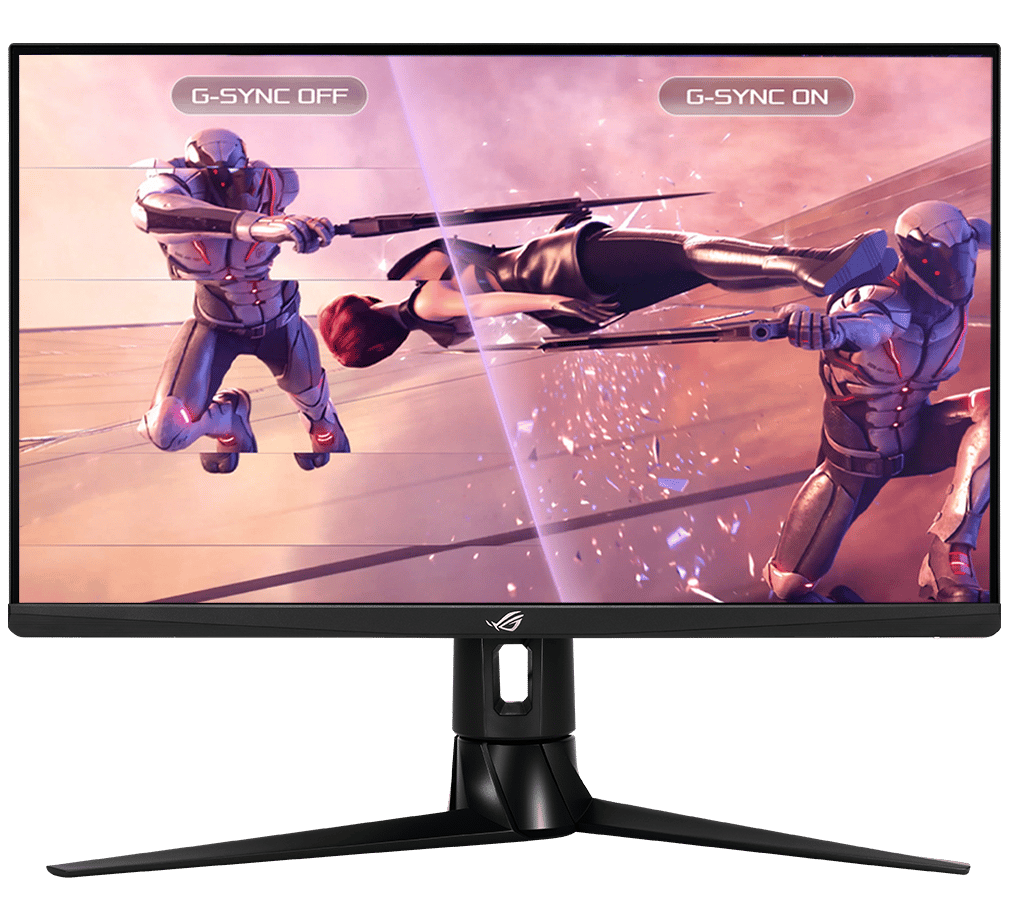 The ASUS ROG Strix XG27AQM is as fast as it gets when it comes to 1440p monitors. Although you can expect faster 1440p monitors in the near future, right now, this is the best available on the market. The reason for such a sudden influx of fast 1440p monitors is that many high-performing GPUs have been hitting the market lately.
Due to the GPU market getting more competitive by the day, AMD and Nvidia have been trading blows with each other, with Nvidia often coming at the top. They are pushing the boundaries with the performance of each generation of their GPUs, and that has resulted in even a mid-tier card like the Nvidia 3060ti churning out really high fps in most games. And that's only going to get better in the near future with the next generation of GPUs from both the red and the green teams knocking at the door.
That means you should really invest in a high-resolution and high-refresh-rate monitor for future-proofing. I recommend the ASUS ROG Strix XG27AQM due to its 270hz refresh rate at 1440p resolution. Let's say you are looking for a single monitor for your setup that can offer the least amount of compromise for the most amount of things like single-player gaming, competitive gaming, video editing, and normal day-to-day work. In that case, you can't get anything better than the ASUS ROG Strix XG27AQM.
With the most aggressive overdrive option available in its settings, this 27″ monitor's response time was the fastest among any of the monitors on this list. And it's safe to say it's one of the fastest monitors available out there. The response time with the default settings came at 7.4ms with 0% overshoot. With the overdrive enabled, the response time was reduced by 5ms to 2.4ms with a 7 percent overshoot, which is very reasonable considering the rapid response time.
Why Do We Like The ASUS ROG Strix XG27AQM For Gamers & VTubers?
If you are a VTuber or a gamer looking for a jack-of-all-trades kind of monitor, ASUS has the best 1440p monitor in store for you. It offers great colors for video editing, excellent response time, a high refresh rate, a low overshoot, and little-to-no ghosting, making it the king of 1440p monitors.
A thing you should remember when buying this monitor is that you need to have a fast enough GPU to get the most out of this monitor. You should only purchase this monitor if you have an Nvidia 3080 or above or if you plan to buy one from the next generation of GPUs.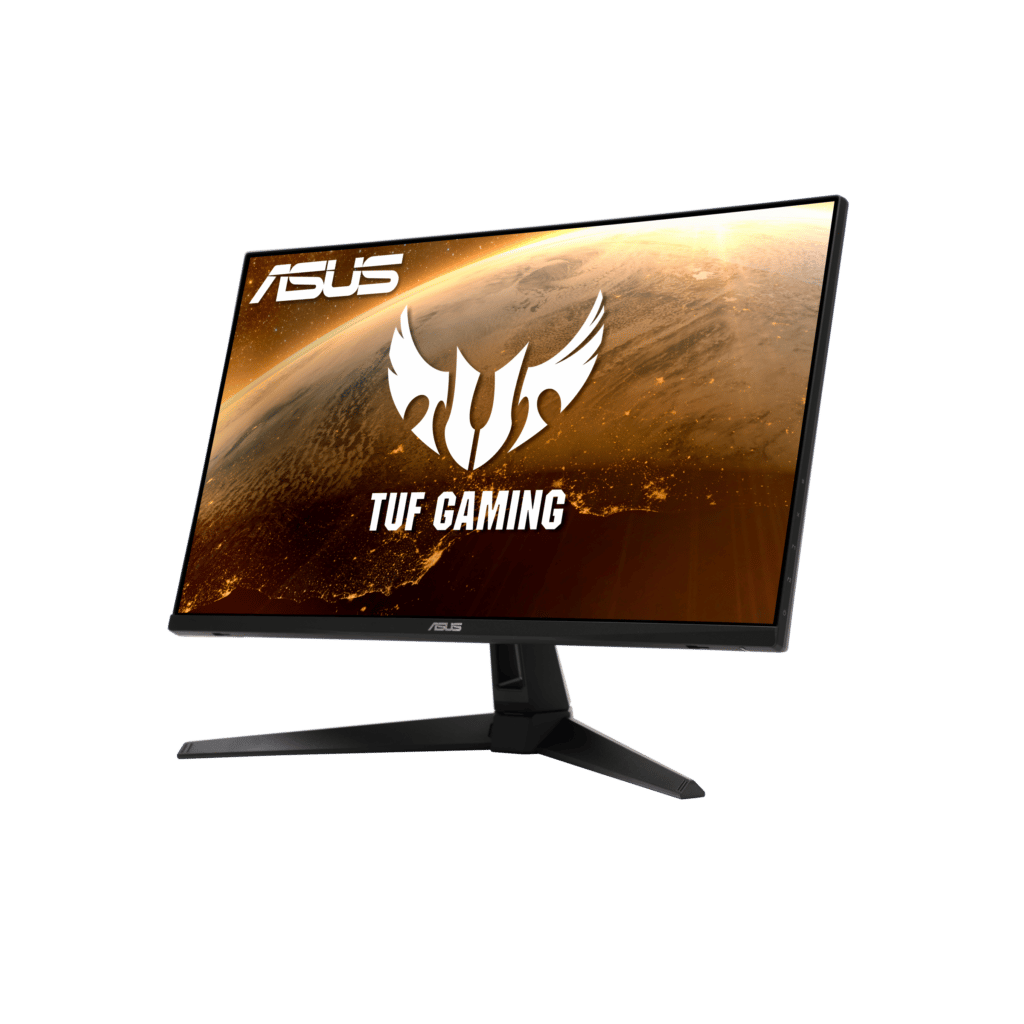 If you want to enjoy a high-refresh-rate 1440p gaming experience but don't want to put a dent in your wallet, I've got the perfect gaming monitor for you. The ASUS TUF Gaming VG27AQ1A is a 27″ 1440p IPS monitor with a 170hz refresh rate. Whether you're upgrading from your old 1080p, low refresh rate monitor, or you want it to be a stop-gap on your way to saving up for a better monitor; this monitor has got you covered.
Some of us don't really have the use case for all the high-end features that some of the monitors on this list offer. If this feels familiar, you should choose the ASUS TUF Gaming VG27AQ1A as your daily driver. Why? Because there are no better monitors available on the market in this price range than this gaming monitor, it's as simple as that.
The stand with this monitor is pretty sturdy and will keep it secure on your table. It can rotate up to +/- 20 degrees horizontally and has a +/- 5-degree vertical tilt. The build quality and bezel size are pretty decent, giving it a sleek look. The screen isn't that bright, peaking at 300 nits, but that's pretty much expected with monitors at this price point. However, it makes up for it with its fast response time and low latency, resulting in very limited ghosting.
Why Do We Like The ASUS TUF Gaming VG27AQ1A For Gamers & VTubers?
If you are a VTuber who's looking for an all-in-one monitor, and that too at a budget-friendly price point, you should definitely consider the ASUS TUF Gaming VG27AQ1A. It offers 1440p resolution at a 170hz refresh rate with decent brightness and response time, making it a perfect choice for budget shoppers.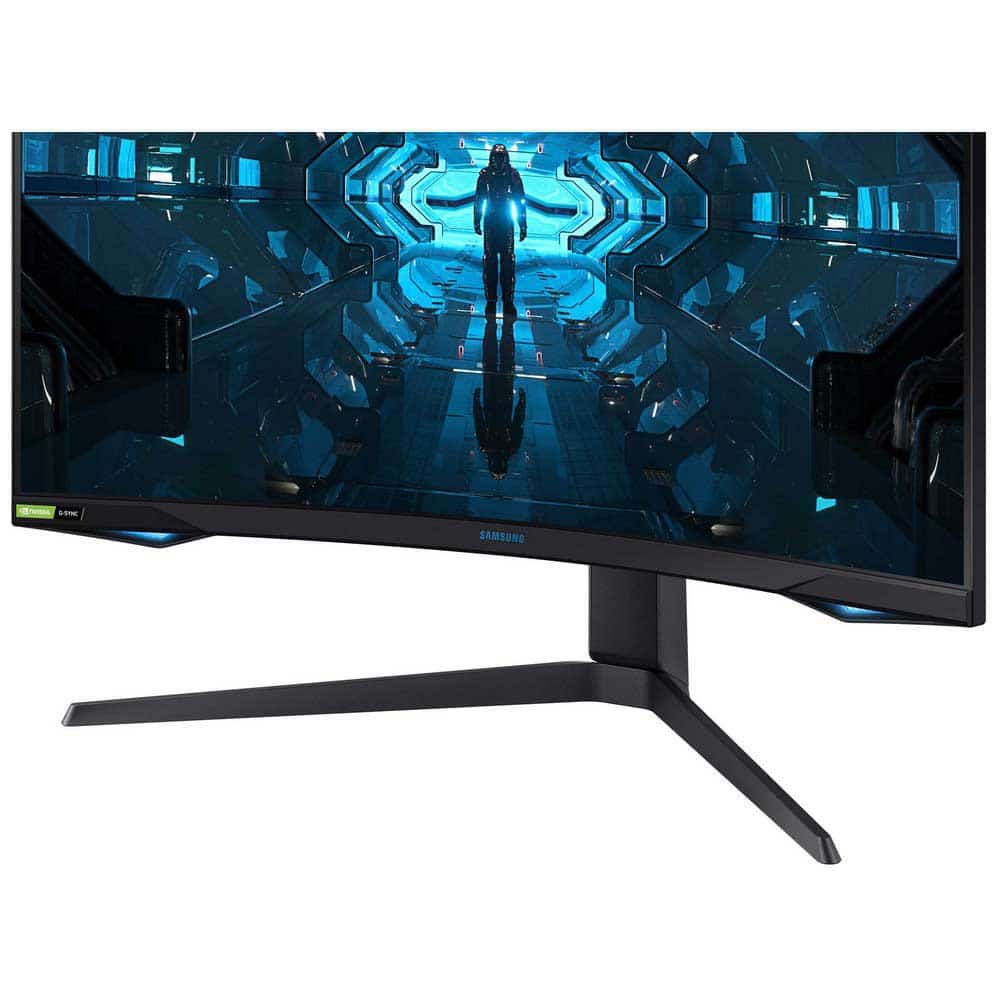 The Samsung Odyssey G7 is one of the most hyped gaming monitors in recent years. I must say, with the specs it comes with, the hype is well-deserved! The Samsung Odyssey G7 is a 32″ 240hz monitor with 1440p resolution. It has a 1000R curvature, which is a bit too much for my taste as it distorts images a lot.
You'll need to keep at least a 40cm distance between you and the monitor if you don't want your eyes to feel stressed. Although the RGB is well-integrated into the monitor's design and bright, I wouldn't say I like the idea of RGB in a monitor. However, it's really subjective, and some might like the RGB. Also, it can be turned off, so it really is a non-issue.
Moving on, the build quality is great and all, but the area where this monitor really shines is its response time. For those of you who don't know, TN panels are known for their quick response times, whereas VA panels used to be considered bad for gaming due to their latency and response time issues. Then Samsung introduced the Odyssey series. Despite this monitor being a VA panel, its response time rivals the fastest TN panels on the market and beats the quickest IPS panels available.
The HDR 600 functionality on this monitor isn't the best, and it doesn't justify the price tag it comes with. However, with the recent drop in prices of the Odessey series, the HDR performance makes sense now as it's still better than the more pricey competitors that come with a generic HDR 400 sticker slapped on them.
So, who should buy this monitor? Well, if you are a fan of 1440p curved monitors, then you are going to love this one. It's still pretty expensive if you consider the average money spent on a PC monitor, but for its specs, it's really competitively priced right now.
Why Do We Like The SAMSUNG Odyssey G7 For Gamers & VTubers?
If, as a gamer and a VTuber, you are looking for the best high-end curved gaming monitor on a budget, the Samsung Odyssey G7 checks all the right boxes. Although I personally wouldn't use this ultra-wide monitor for video editing due to its aggressive curve, which results in unnecessary distortions, some prefer the monitor to be this way.
Those are the people Samsung aims to target with the Samsung Odyssey G7. If you are one of them, you should consider this best gaming monitor for VTubers.
What Should Gamers & VTubers Look For In A Gaming Monitor?
You must consider several factors before deciding what monitor is best for gaming VTubers. These factors include:
Refresh Rate: The refresh rate is the number of times your display draws a new image per second. The higher the refresh rate, the better the monitor is.
Your FPS: You need to ensure that the number of fps in your favorite game matches the refresh rate you are looking for in a monitor. If your GPU is cranking out more fps than the refresh rate your monitor offers, you are missing out on the potential performance you can have out of your GPU. On the flip side, if your monitor's refresh rate is higher than your average fps, it's being bottlenecked by your PC.
Response time: This represents how long it takes for the pixels on your monitor to change color. The general rule of thumb is the lower the response time, the better your monitor performs. A high response time will result in ghosting. That means you'll see multiple images of an object in motion due to the pixels not changing colors fast enough. That will give a blurry effect and can be very confusing, especially in the Esports titles.
HDR: The higher the HDR rating is on a monitor, the better the contrasts between the lighter and darker areas of the in-game scenes.
Latency/Input lag: This refers to the time it takes between pressing a key on your mouse, keyboard, or any other input device and the action taking place on your monitor. For example, suppose you are playing an online shooter game, and you press the firing key on your mouse. In that case, the time it would take between the actuating of that key and the muzzle flash appearing on the screen is known as input lag or latency. The lower that number is, the better your monitor is.
Wrapping It Up
I hope that you were able to pick the best webcam for VTubers with the help of this article. All the monitors listed here are the best gaming monitors for VTubers in their own way. However, my favorite one is the Alienware 34 QD-OLED (AW3423DW) because of its true premium HDR experience.
Good luck with your VTubing careers!