The Best VTuber Software [Illustration, Animation, & More]
So you are looking into VTubing as a career choice. Well, about time, because right now is the best moment to become a VTuber! With the exponential growth of VTubing as an industry, it has become reasonably easy to become a VTuber nowadays.
All you need is a VTuber model, which you can commission an artist for, a great microphone, camera, and some software, and you are good to go.
Today, our focus will be on discussing the best VTuber software you will need if you want to get into VTubing. So, without further ado, let's get straight into it!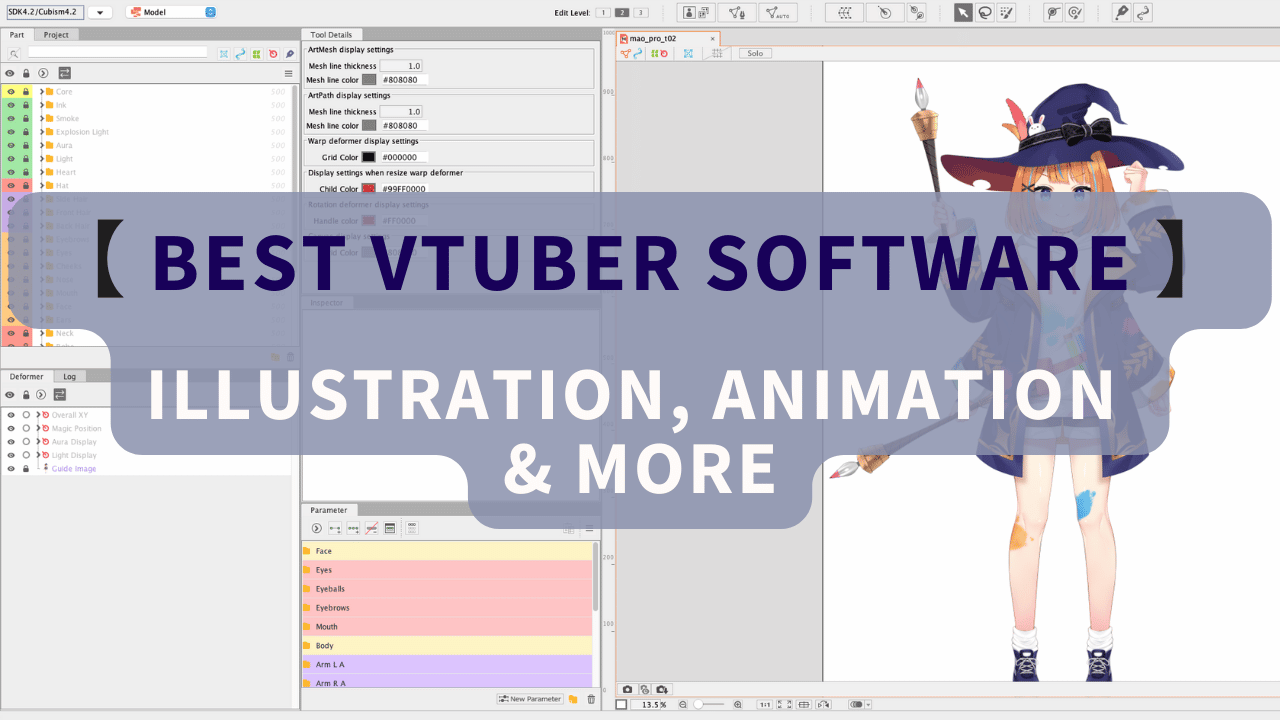 The Best VTuber Software
There are several steps in VTubing where you are going to need some specific VTuber software. For example, before you start streaming, you need a VTuber model. And if you choose to make your own VTuber model, you must draw it first.
VTuber Software For Illustration
Before you animate your VTuber model, you need VTuber art. It's basically a drawing of your VTuber model made in illustration software and then further cut up into a bunch of different layers and pieces. These layers and parts are then required to be exported as PSD files.
Here are the three best VTuber software for drawing a VTuber model:
If you are new to digital art, the Easy Paint Tool Sai is the best VTuber software choice for you. The reason is that Sai is much more beginner-friendly than any of the other illustration software mentioned in this list. I've used this in the past and its as basic as it gets.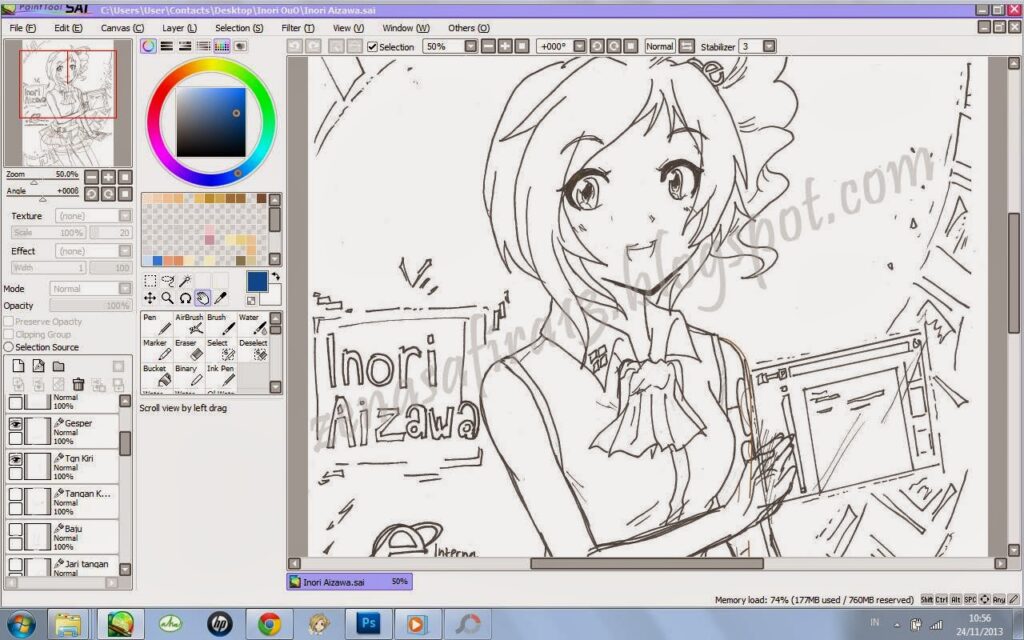 Unfortunately, you can't use Paint Tool Sai on an iPad or a tablet if you are into drawing on your iPad. Also, the tools it offers are limited, especially for professional digital artists.
Clip Studio Paint is the best VTuber software for VTuber illustrations, especially if you already have some experience in digital art. It offers a variety of tools you can use to create a more detailed VTuber model, which opens up many more possibilities for better animation/rigging in the later stages of creating a VTuber model.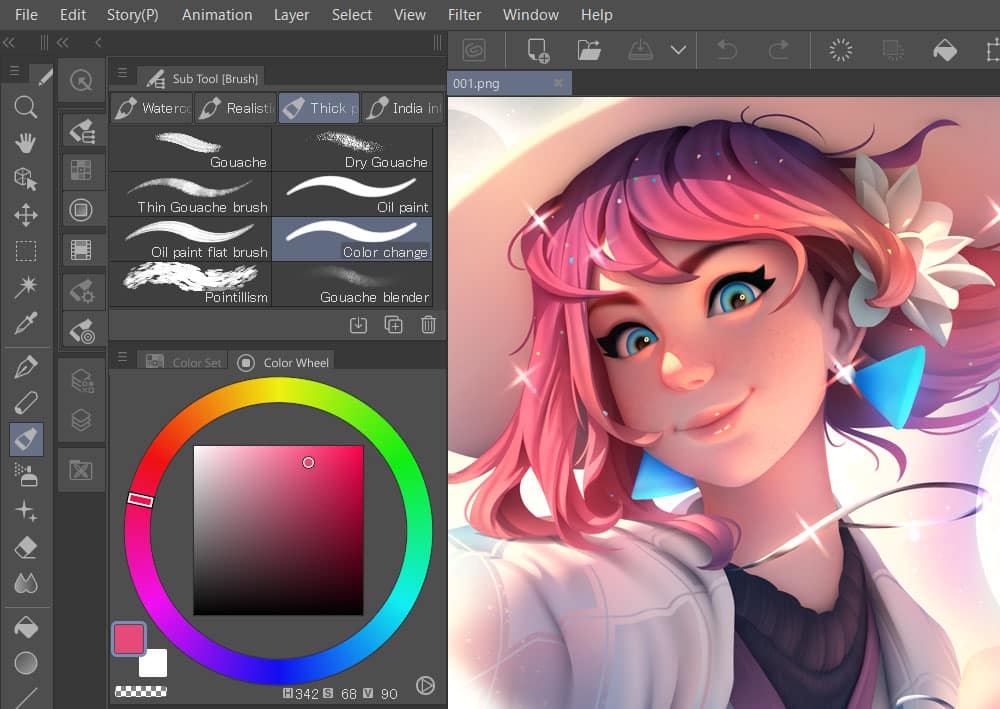 Unlike Photoshop, you only have to pay once for Clip Studio Paint instead of paying a monthly subscription fee for the rest of your life. So, if you are an artist who wants to learn to draw VTuber models, Clip Studio Paint is a better deal than Photoshop.
Also, if you are into drawing your VTuber model on your iPad, you are in luck, as Clip Studio Paint is the best app you can get on an iPad to draw VTuber models. It offers almost all of the tools available in desktop illustration software on an iPad.
For all the reasons mentioned above, Clip Studio Paint is the best VTuber software and the most popular among VTuber model artists and VTubers who want to draw their own VTuber models. 
If you haven't heard of Adobe Photoshop, you might have been living under a rock for the past few decades. It's the most famous illustration software out there. And it's what I currently use today.
Adobe Photoshop boasts the most features out of all the illustration software mentioned in this list. Although it has every tool you can imagine under its belt, it has a steep learning curve you must get past if you want to learn to use those tools effectively.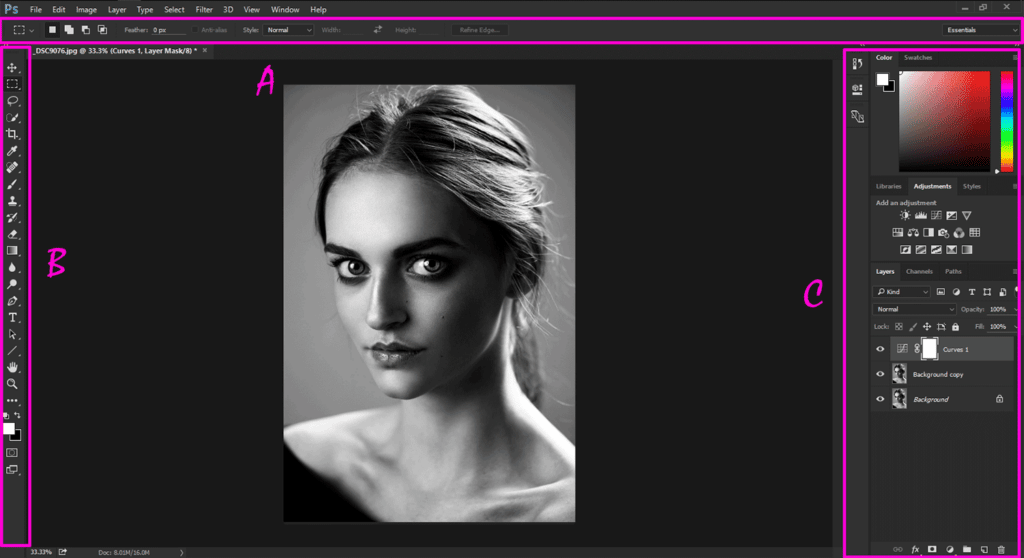 Once you have mastered it, you will end up with the most detailed VTuber model you can get. That's why I would recommend Photoshop to only those of you who are looking to become professional VTuber model illustration artists.
It's really not worth it to go through all that pain to learn Photoshop if you are going to create only one VTuber model for yourself. You'll be better off with the Easy Paint Tool Sai or Clip Studio Paint if you really want a more anime-style VTuber model. Also, you'll have to pay a recurring monthly subscription fee for using Photoshop, which is not the case for any of the two options mentioned above.
VTuber Software For Rigging
Now that you have got your VTuber art, it's time to make it move the way you want. For that, you'll have to add bones/skeleton structure to your VTuber model, so it has joints that will allow your VTuber art to move.
This process is called rigging; for that, you'll need software to help you rig your VTuber model. Multiple options are available on the market for rigging each type of VTuber model. Let's get into which VTuber model rigging software is best for which kind of VTuber model.
Best 2D VTuber Model Rigging Software
There's a reason that Live 2D Cubism is such a popular choice among the VTuber model artists and VTubers who make their own VTuber models. And the reason is that Live 2D Cubism, without a doubt, is the best 2D VTuber model rigging software available on the market. You can give your VTuber model a very anime-style movement using this software.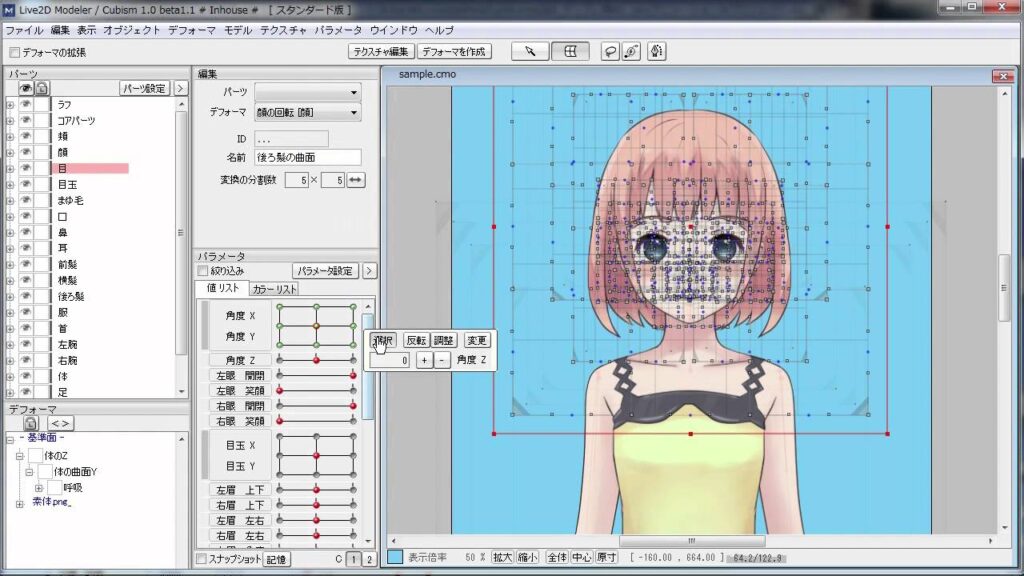 It's easy to learn – I mean, even I was able to get started with it within an hour.
Although it has a free version, the features available are limited, so for complete access, you'll have to pay for the pro version of Live 2D Cubism.
Best 3D VTuber Model Rigging Software
Blender is the best software when it comes to rigging any 3D models, including the 3D VTuber models. Many professionals in the film industry use Blender as their go-to tool for rigging 3D models. That says a lot about Blender being the best tool in its category.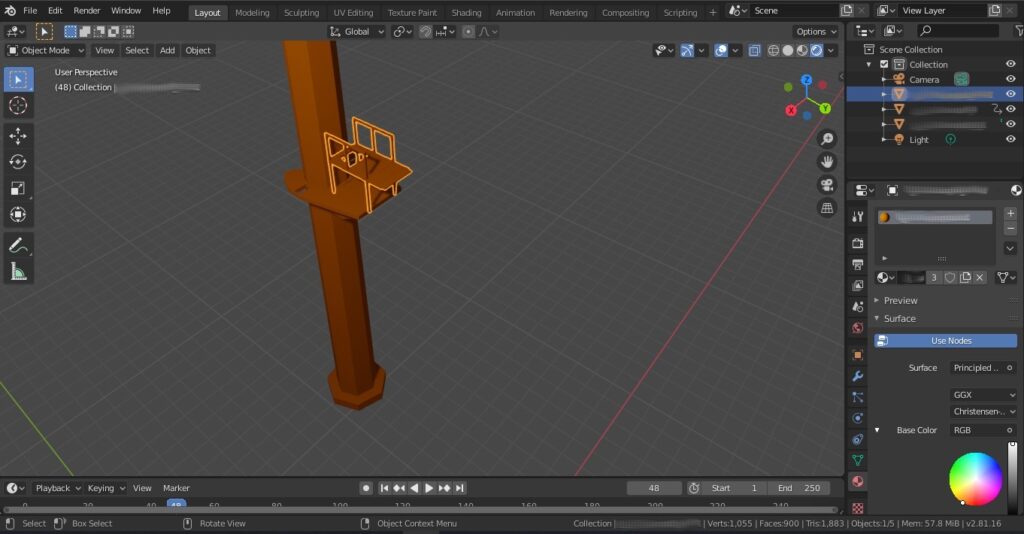 It does, however, have a learning curve. But no worries, we have a great guide on how to use Blender and Live 2D Cubism to rig VTuber models that you can check out to learn to rig.
VTuber Software For Streaming/Capturing
Once you are done rigging your VTuber models, it's finally time to stream and showcase your dank-looking VTuber model. And you've guessed it; you'll need software for that too.
You need to make sure that the software you use can import the file type created by the rigging software. All of the software mentioned below do support the file type created by the rigging software discussed above.
Enough chit-chat; let's get straight into the best streaming software for VTubers.
For those of you who own a potato PC, VSeeFace is the best choice for you. Why? Well, it literally has a setting named "Toaster," tailored just for low-end PCs. So if you don't have a high-spec PC and want to get into VTubing, this is the best choice.
VSeeFace also has the best lighting options compared to any of the capturing software available on the market. It's highly customizable, so you can mess around with it and fine-tune it until you find the sweet spot you like.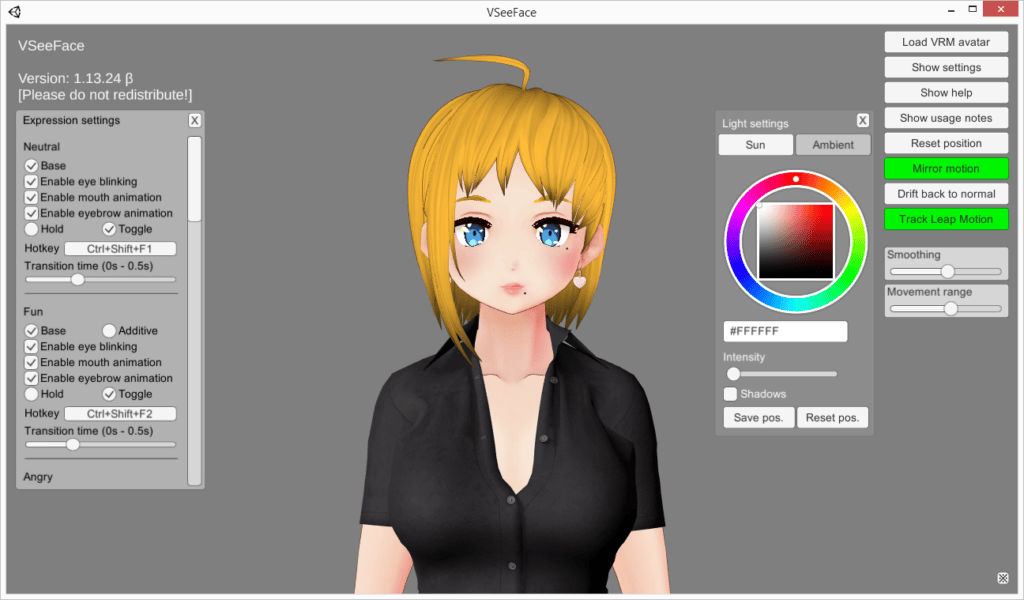 VSeeFace is very user-friendly, so if you are new to VTubing, you should go with VSeeFace as your first VTuber-capturing software. It also boasts the best face tracking among any of the software available in its category.
However, if you have drawn the whole body of your VTuber model and plan to use it, VSeeFace isn't a great choice, as it's impossible to track your entire body using VSeeFace. Also, the movement of your VTuber model feels kinda weird, and its UI basically sucks. Its UI feels a decade behind its competition. That said, it does its job quite well, so if a lousy UI doesn't bother you, it's a great choice overall.
3tene is the best VTuber-capturing software when it comes to animation and effects. You can literally make bubbles come out of your VTuber model's mouth, do a peace sign, and do a lot more without moving your body at all. All you'd have to do is press a button. That's right; you can bind a certain animation to a hotkey on your keyboard and just push it to make that animation happen without any tracking.
3tene also supports the full body, a feature that VSeeFace lacks. So those of you who are planning to show your VTuber model's full body on your streams, 3tene is an excellent choice for you. Also, unlike VSeeFace, the UI is pretty awesome looking.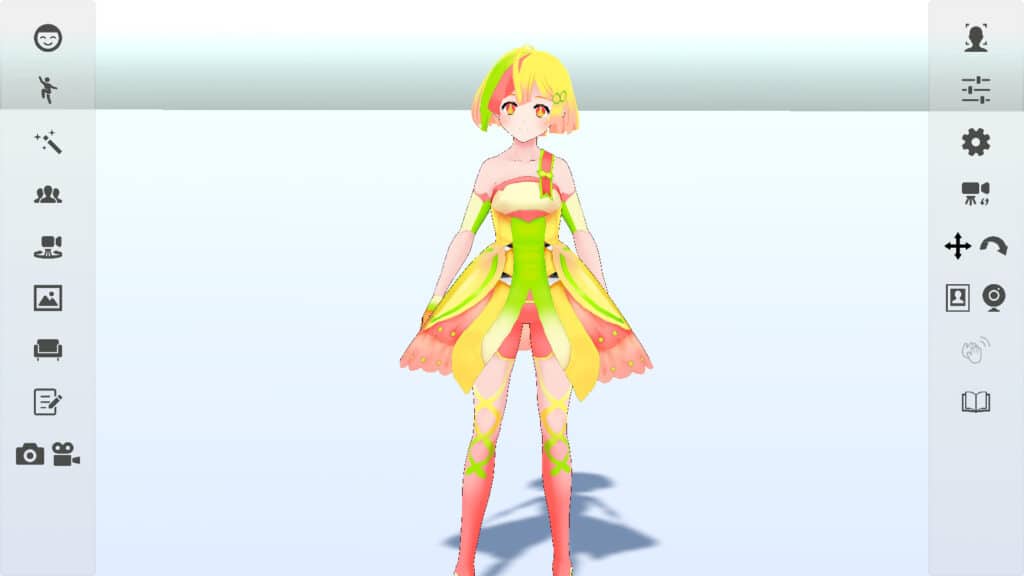 All that said, there are some things that you should know that are not as great in 3tene as in other VTuber software. First among the many cons of 3tene is that, by default, you have to be in the 3tene window for it to track your movement. It's a problem because most VTubers play games or do other stuff to entertain their audience. With 3tene, however, you can't do any of that, at least with the default settings. You can get around that by using a stream deck. But you'll need some extra budget for that, so if you don't have that kind of money, you should probably go with the VSeeFace.
Another con of using 3tene is that the character quality is a bit weird. There's a weird-looking outline around your VTuber character, which is a huge turn-off to the otherwise great VTuber tracking software.
VUP is an excellent option for those of you who plan to stream on YouTube. There are a bunch of poses and animations that you can do for your stream thumbnail. You can show your VTuber model's entire body while streaming and do full-body animations while streaming.
The lighting and background quality can help you create scenes that look like they were pulled straight from some high-production anime scene. Another great thing about using VUP for VTubing is that the Devs are really active and available on their Discord channel, and they take feedback from the creators very seriously. You can just join their Discord, tell them what feature you want to be added to VUP, and if it's feasible, they will probably add it.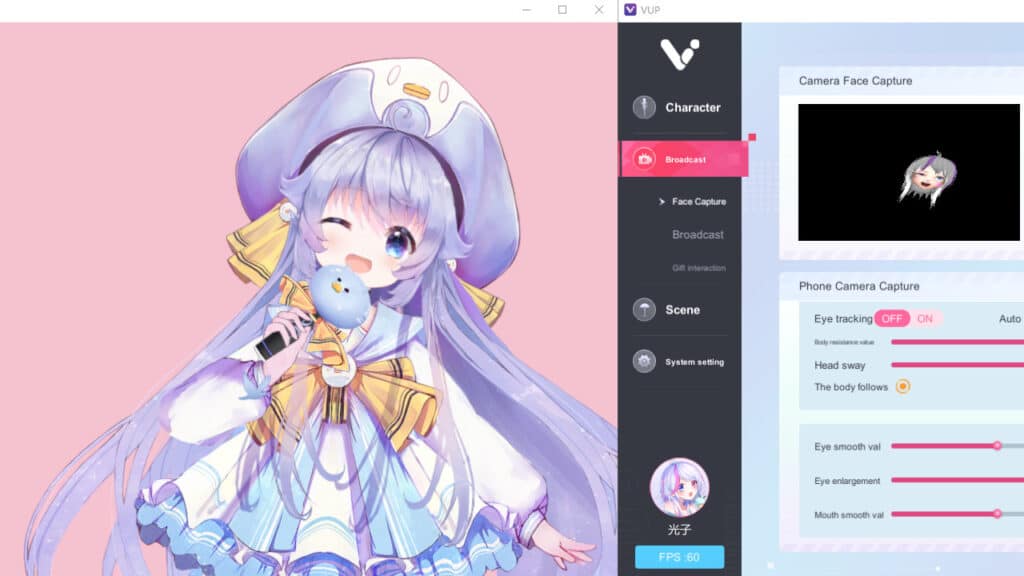 Now let's talk about what I don't like about VUP. The first thing that comes to mind that's really annoying to me is the weird bugs that need to be fixed. Especially with the hotkeys, they are kind of hit or miss.
Sometimes they work, and sometimes they just don't. And you'd hate that, especially when there's a moment while streaming where animation would fit in, and when you push the hotkey, and it won't work, the whole vibe is just ruined.
Best VTuber Video Editing Software
When you are streaming as a VTuber, some moments are hilarious or really interesting, and you can clip them from your VOD and make a separate YouTube video. These videos can help you grow your channel exponentially, especially if they get viral. And, of course, with the latest YouTube shorts monetization policy and how YouTube is really pushing the shorts just like TikTok did when it first launched, there's a real possibility for you to grow really fast.
In my opinion, you should cash in on that opportunity as it doesn't take a lot of effort cutting out a clip from your own VOD, adding some Pepe the Frog emotes and publishing it as a short. Considering the chances of you popping up as a VTuber are very high nowadays, you should really do it if you have to put in just a little effort. For that, you'll need video editing software. Here are the best video editing software for VTubers.
Adobe Premiere is a synonym for video editing, as Photoshop is used for photo editing. That's how popular Adobe Premiere is. If you ask any professional video editor that uses a machine with Windows as an operating system, they will always recommend Adobe Premiere Pro.
The best thing about Adobe Premiere Pro is its interface. It's user-friendly and, unlike Final Cut Pro, isn't complex at all. So, it's an excellent software for VTubers that are on a beginner level when it comes to video editing.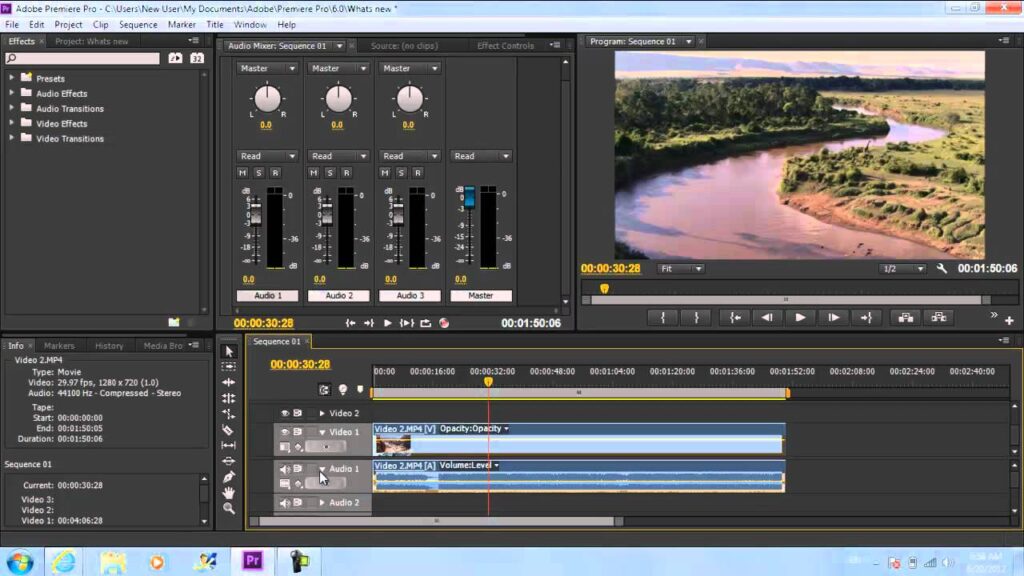 However, as we know, Adobe likes being paid a monthly subscription fee; the same is the case with Adobe Premiere Pro. You have to pay $21 monthly as long as you use the software.
Another thing that I don't like about Adobe Premiere Pro is how much of the system resources it uses. The recommended system requirements for Adobe Premiere Pro are:
Intel i7 or AMD Ryzen 7 Processor(Preferably the latest generation)
32 GB of RAM
SSD (Storage capacity depends on how long of a video you are looking to edit)
GTX 1080 or above graphics card for faster rendering.
Now, these are specs of a PC that's going to leave a massive dent in your wallet. If you are new to VTubing and don't want to spend that much money from the get-go, don't worry, you can still edit videos on a lower-end PC, but it will just take a lot more time to render the edits.
Final Cut Pro is Apple's non-linear video editor. That means it is specifically programmed for macOS and Apple's hardware, maximizing the performance when editing your VOD, even if it's in HEVC format and in 4k. You can also expect no stability issues when using Final Cut Pro as it's tailored for the hardware it's installed on. So, if you are a MacBook user, you should definitely go with the Final Cut Pro.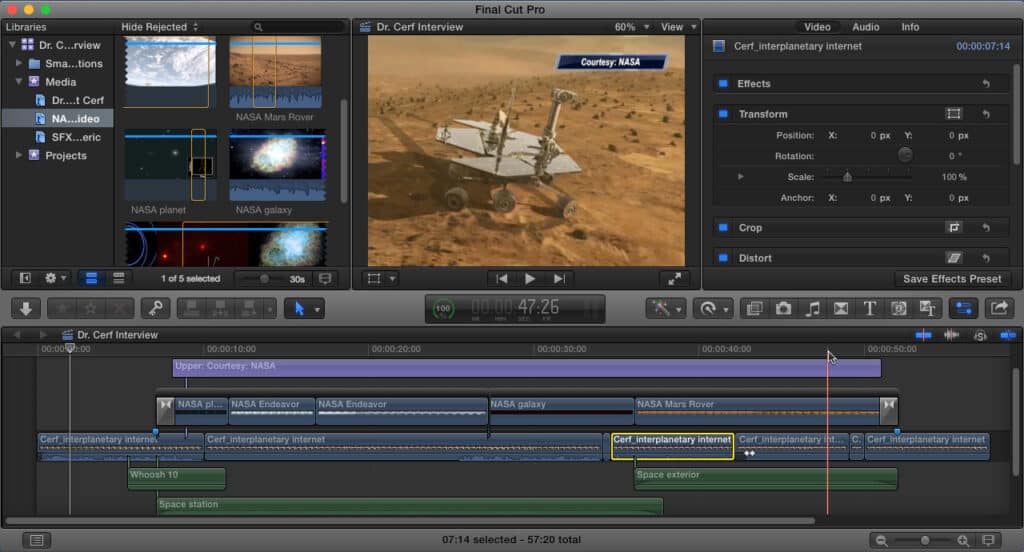 However, it's not available for any other operating system, so if you own a Windows machine, you should probably look elsewhere. It won't run as well as it does on macOS even if you virtualize macOS. So, unless you are ready to pay the price tag that comes with the apple product, you should go with the other option: Adobe Premiere.
Voice Changers For VTubers
Now I wouldn't really recommend using a voice changer as a VTuber as it's your whole identity. You won't stand out and sound like any other VTuber that uses a voice changer: just a generic robot-like voice.
However, if you still want to go down this road, here are a few voice-changing software that I recommend:
Voicemod is an excellent free voice changer for VTubers with features that some paid voice changers lack. You can modify your voice to be a woman, man, chipmunk, or a demon, you imagine a voice, and it might already have a similar voice modifier in its library.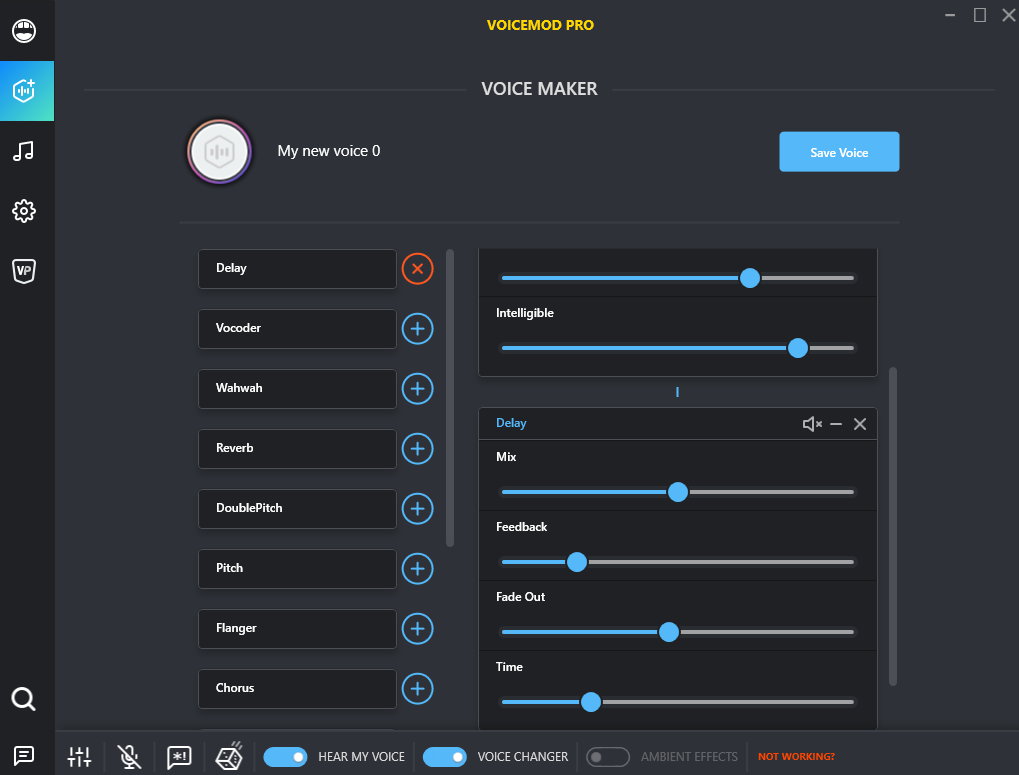 Key features of Voicemod:
Voicemod offers an endless library of voice-changing filters to choose from, e.g., pitch changing and gender-swopping.
Voicelab technology allows you to fine-tune your voice.
You can create your own audio effects that are playable in real time with a push of a button.
Voicemod integrates seamlessly with any program, such as OBS, VRChat, Discord, and many more. You can find tutorials on their official website for each program you like.
This voice-changing software sounds more natural than any other software on this list, especially if you want to change your voice from masculine to feminine or vice versa for VTubing.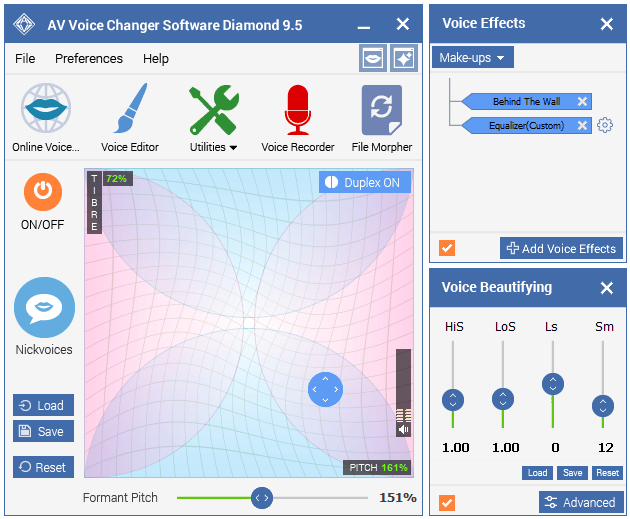 Features of AV Voice Changer Software Diamond:
Voice editor: You can edit and add effects to a modified voice file.
Effects: 40 plug-in Audio Effects, 30 Voice Effects, 17 Non-human Voices, 70 Background Effects, and more are available at your disposal when using the AV voice changer.
Voice Morpher: Adds voice beautifying, voice attributes, and many other advanced features to morph your voice.
File Morpher: Morphs the audio files in batches.
Nickvoices: Change through different preset voices with a hotkey.
Voice analyzer: Analyzes your voice based on harmony, score, pitch, and brightness and helps you improve your voice.
Parody mixer: You can use this feature to mimic any person's voice, e.g., Hollywood stars, singers, or any of the available celebrity voices.
Voice comparator: With this feature, you can imitate anybody's voice by importing a voice sample of them.
Hotkey: This is where you set hotkeys for nickvoices and frequently used features.
Add-on Library: There is a vast library of free voices and sound effects that you can take benefit of.
Wrapping It Up
With the help of this article, you'll be able to find the best VTuber software for every aspect of VTubing, be it the illustration, VTuber model rigging, streaming/tracking, editing your VTuber VOD clips, or using a voice changer to modify your voice.
We hope you find our recommendations helpful and wish you the best of luck in your VTubing careers!