The Best VTuber Commissions On Fiverr
Greetings aspiring VTuber legends! Have you ever found yourself deep in the depths of Fiverr, scrolling for eternity in hopes of uncovering that elusive buried treasure — a gifted artist who holds the power to manifest your ultimate VTuber persona into reality?
I'm Vishwas, resident VTuber expert over at dereproject.com. I've taken my fair share of journeys down the Fiverr rabbit hole, tirelessly seeking out those artistic talents that can weave magic into my visions.
Between digging through bizarre niche gigs and trying to filter quality options from the masses, it's been a journey. But with the right strategy, Fiverr is a goldmine for connecting with skilled VTuber artists! 
In the spirit of camaraderie, today I'm letting you in on my most prized VTuber commissions on Fiverr — ones that truly warrant your investment of time and creativity.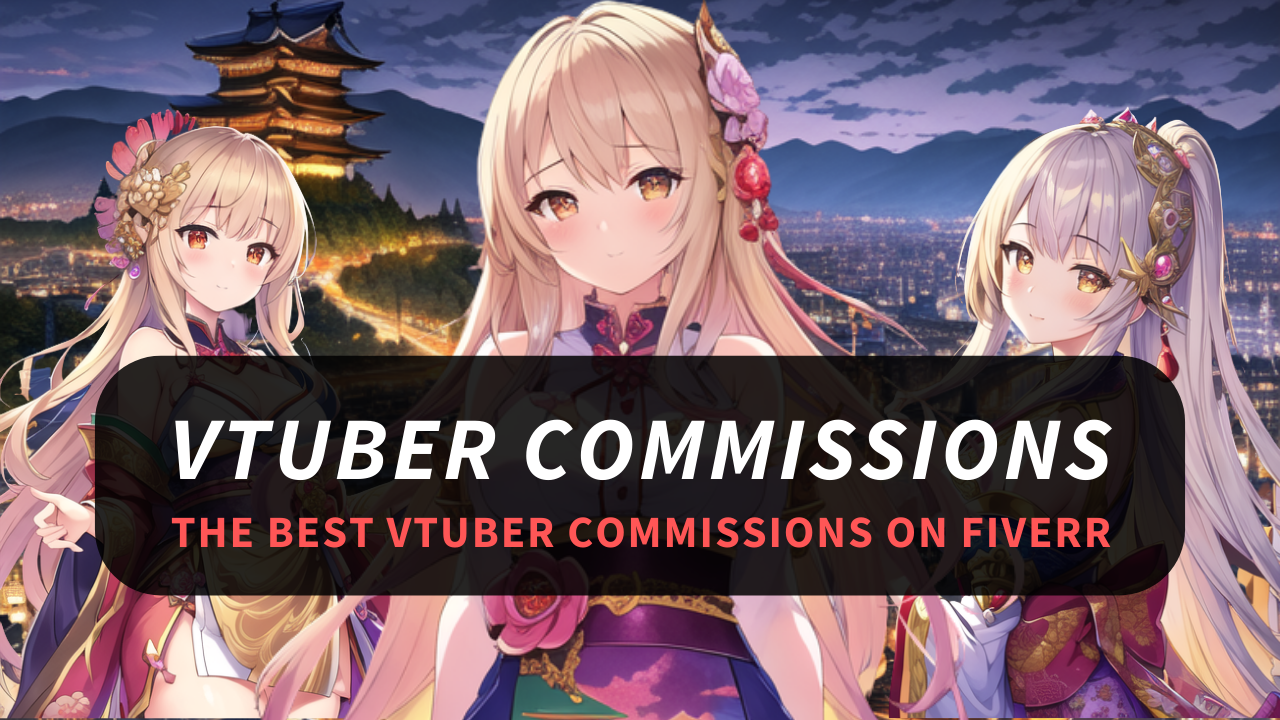 Sifting Through Fiverr VTuber Gigs
When I first turned to Fiverr for my VTuber needs, I imagined instantly discovering pages of qualified artists serving up five-star VTuber goodness. Oh, my sweet summer child, how naive I was. 
What I actually found was an endless sea of gigs with titles like "I will be your Minecraft VTuber girlfriend" and "Pokemon VTuber birthday video message." Not exactly what I had in mind.
But still optimistic, I persevered! I started filtering by the number of reviews, completion rate, response time…anything to bubble some real candidates to the top.
I dove deep into listings, researching portfolios and feedback. Sure, I saw some trauma-inducing art along the way, but it was worth it to uncover true gems. 
Gradually the quality options became visible amidst the masses of questionable gigs. And now, with excitement bubbling within me, I stand ready to share my fabled discoveries with you, dear readers. Prepare yourselves to behold genuine, skilled VTuber artisans on Fiverr, poised and ready to bring your commissions to life!
Eli: A lover of anime characters and a skilled Live2D artist, Eli is ready to breathe life into your VTuber dreams. With expertise in drawing and animating anime-style characters, their work seamlessly integrates with platforms like VTubeStudio, Prprlive, and FaceRig. For a mesmerizing Live2D half-body design and rigging, the price is set at US$450.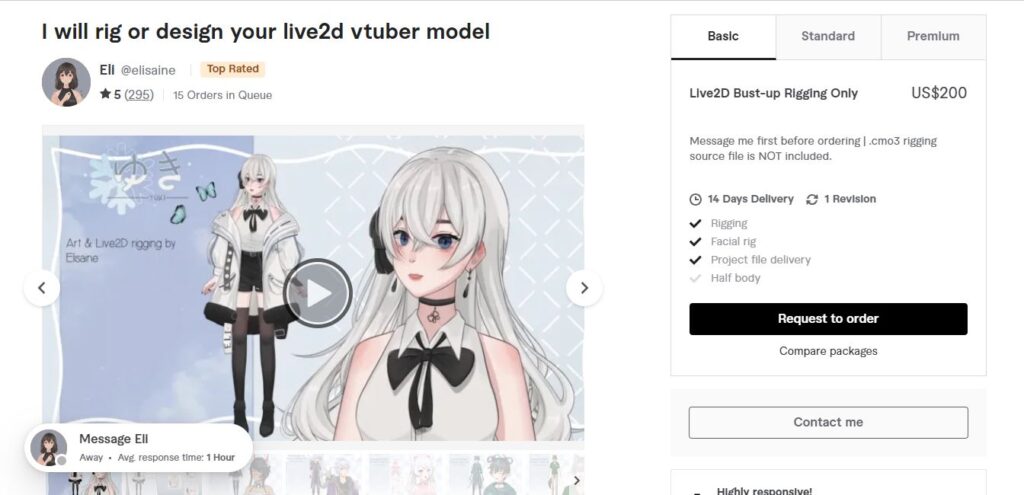 G4streamer: Meet G4streamer, a talented and experienced duo who lives and breathes design. With their artistic prowess, they can take a simple concept and transform it into thousands of extraordinary designs. For a fee of $225, you'll get a vibrant full-body animated character that will make you stand out in the virtual galaxy.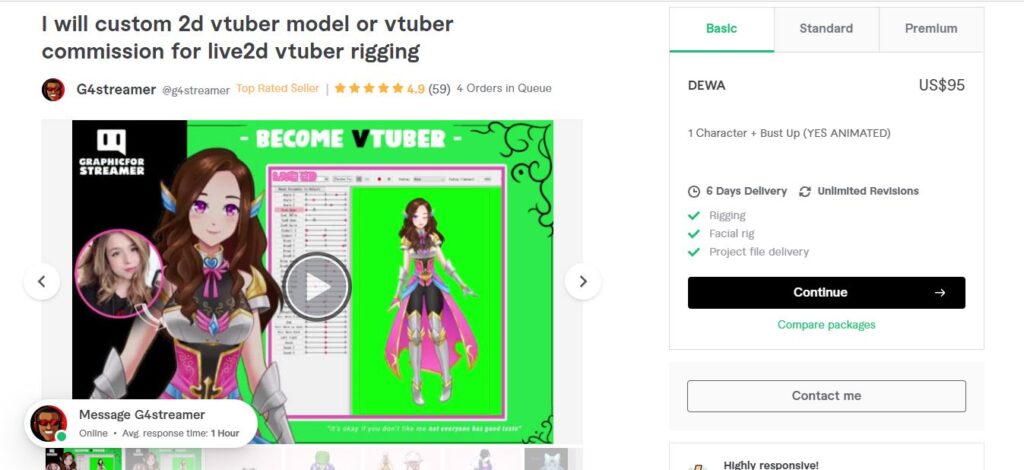 Akeno Arata: Enter the world of Akeno Arata, a seasoned illustrator with eight years of experience in Anime VTuber style. From stunning anime illustrations to captivating book covers, t-shirt designs, and even VTuber model design and rigging, Akeno's talents know no bounds. A full-body character design comes at an enticing price of $200, with an additional $123 for animation and rigging.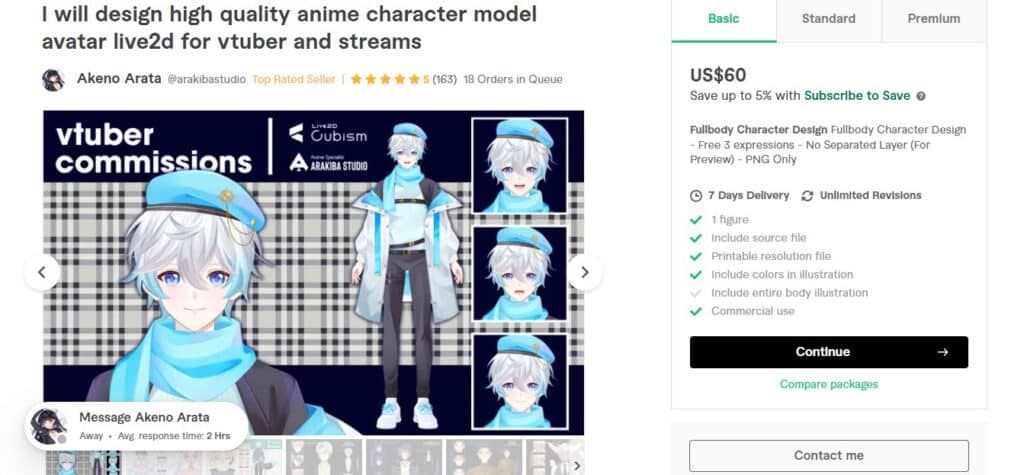 Nikhil Sapra: With over 100+ actively streaming models on Twitch and YouTube, Nikhil Sapra is a seasoned VTuber model creator using the enchanting magic of Live2D since 2018. Expect unmatched after-sales service and a Full-body Live2D VTuber Model Art & Rigging for $980.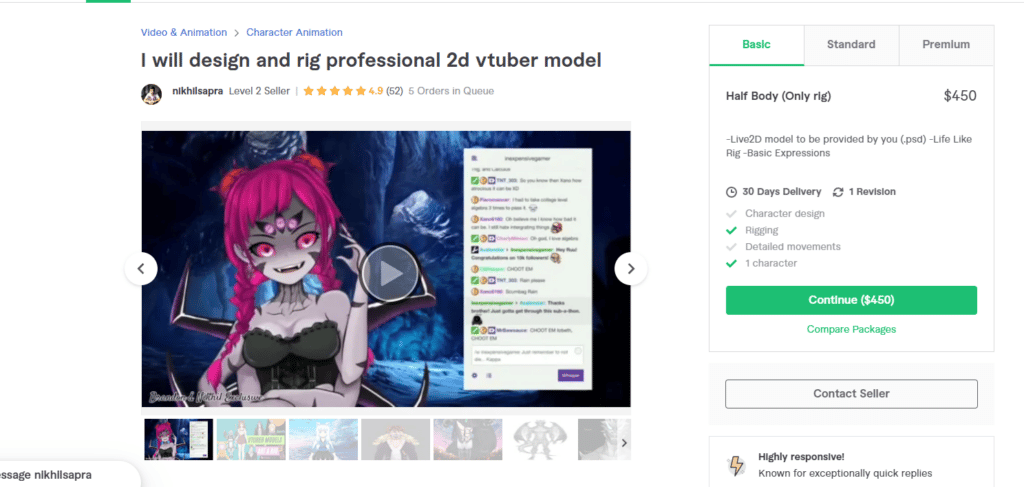 Zakimpo: Zakimpo, a multi-talented artist, has honed their skills in drawing, writing, and reading, making them a true creative force. Whether you're looking for a stunning full-body model at $430 or craving some smooth rigging for $450, Zakimpo's got you covered. With a professional approach to both writing and drawing, you can expect a touch of brilliance in every aspect of their work.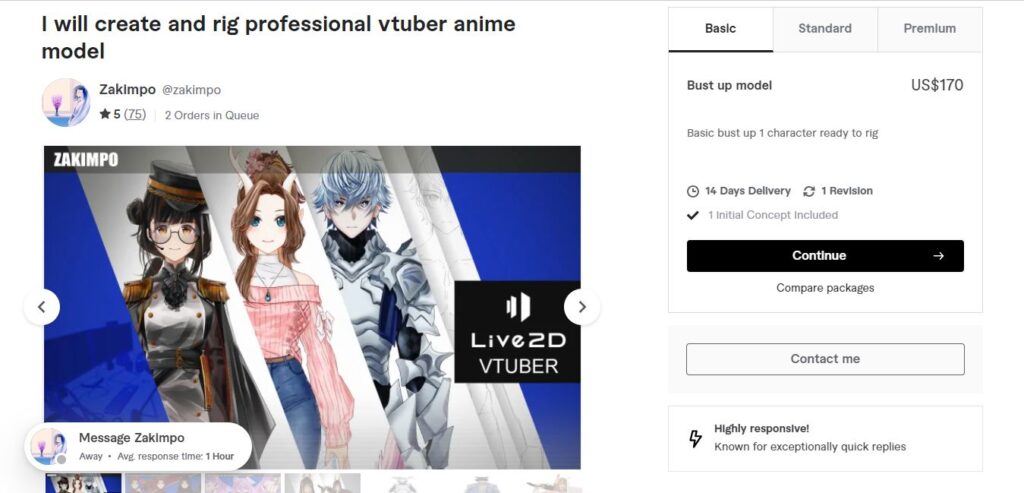 Tips for Getting Your Dream Model on Fiverr
I've gathered a treasure trove of tips to help you find the perfect Fiverr match:
Vetting for Excellence: Much like a seasoned anime protagonist carefully selecting their allies, you too should meticulously vet potential sellers. The triad of reviews, ratings, and completion rates shall be your guiding stars. Seek out those who shine in these areas, for they are the unsung heroes of VTuber artistry.
The Power of Revision: Never hesitate to request revisions if the initial work doesn't align with your vision. Remember, your VTuber model is an extension of your virtual persona, so sculpt it to your heart's desire.
Crystal Clear Communication: Communicate your details and wishes with the clarity of a sage's prophecy. By doing so, you can avoid the dreaded dance of endless back-and-forth messages and ensure that your artist conjures your vision seamlessly.
Generosity Rewarded: As gratitude begets goodwill, so too does tipping generously foster exceptional service. Your generous tip not only shows appreciation for their craft but also encourages them to continue delivering their artistic magic.
Wrapping Up
And there you have it — my picks for exceptional VTuber artists on Fiverr who can make your custom character shine. It takes some digging past questionable gigs, but the treasures are there.
I implore you to keep me abreast of any remarkable VTuber artisans you happen upon during your Fiverr journey. I'm always on the hunt for new talent.
Now get scrolling and bring your visions into the virtual world!
If you're ready to elevate your VTuber experience to new heights, I invite you to check out our complete guide to VTuber model commissions.
Frequently Asked Questions
Are all VTuber commissions on Fiverr only $5? 
No! $5 is just the minimum Fiverr allows. Many artists offer packages from $50-$500+.
Is the quality on Fiverr worse than commissioning directly?
Not if you find a properly vetted seller with tons of great reviews and experience. Quality varies anywhere.
Can I find discounts compared to the artist's main commission prices? 
Sometimes yes! Fiverr introduces sellers to new customers, so they may offer special gig deals. 
Should I avoid new sellers and only commission experienced ones?
Before casting your decision, be sure to survey their entire portfolio—delve deeper than mere Fiverr excerpts. Newcomers too have the potential to weave remarkable creations!
Is commissioning on Fiverr riskier than on other platforms? 
No, Fiverr offers buyer protection. Your task is to meticulously vet sellers, just as you would on any other platform.