VTuber Models for Sale: A Ticket to Virtual Stardom
Hey, hey, hey! What's crackin', fellows? Brace yourselves, 'cause the virtual world is bursting at the seams with VTubers, and they're all the rage! And you know what that means? VTuber models, baby! These are like our pixelated alter egos that help us connect with our adoring fans, and boy, oh boy, do we love 'em!
As a VTuber myself, I can totally vouch for how essential a killer VTuber model is. It's the face of our virtual persona. And let me tell you, finding a good VTuber model for sale can be a daunting task. We're talking endless options – 2D, 3D, cute, cool, you name it! Plus, the price tags? Well, let's just say they can range from pocket-friendly to a 'nope, I'll pass' kinda range.
But fret not! Yours truly has embarked on a grand quest through the labyrinth of the interwebs, and I've got the ultimate lowdown on the best places to score some stunning VTuber models. So, buckle up and get ready to level up your game!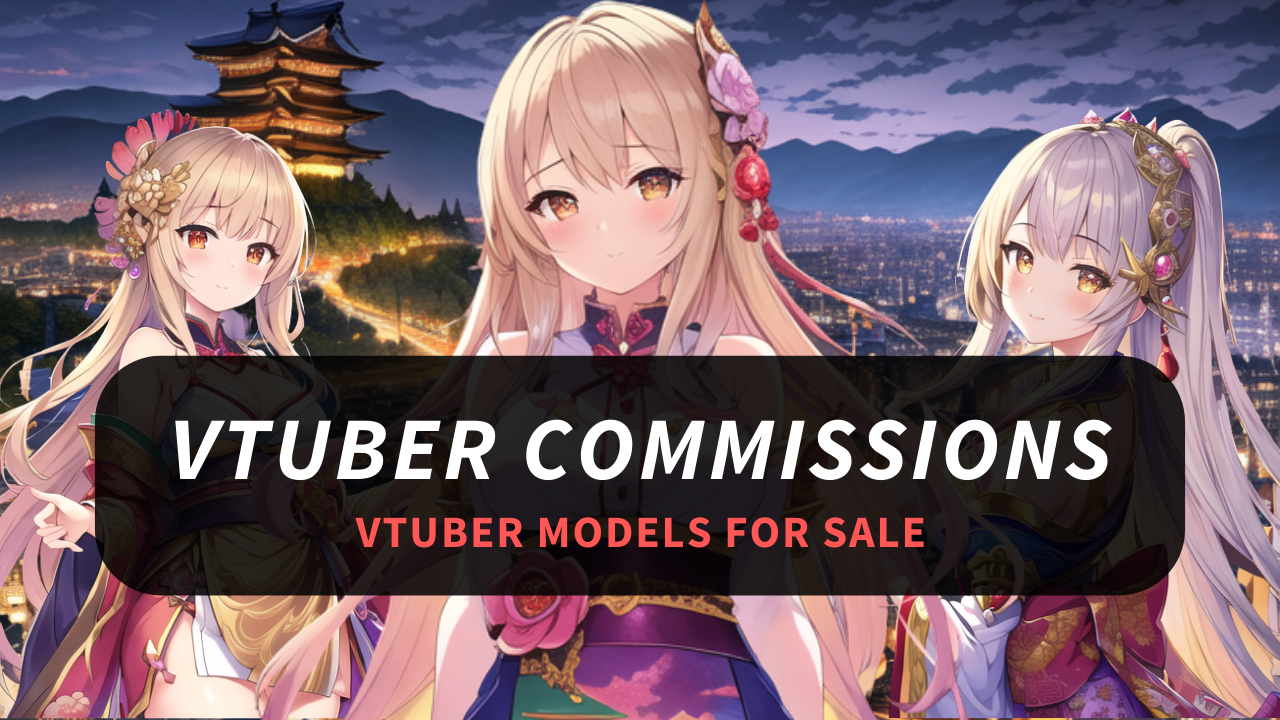 Buying Vs Commissioning VTuber Models
As someone who has spent a lot of time in the VTuber world, I can tell you that there are two ways to get your hands on a VTuber model — buying or commissioning.
Now, I know what you're thinking: "But I'm on a budget! Isn't buying always cheaper?" And you're right! Buying a pre-made VTuber model is always going to be cheaper than commissioning a custom one. But here's the thing: buying a pre-made model means that you're kinda limited to what's already out there. Sure, there are a bunch of awesome options, but if you're on the hunt for something ultra-specific, you might be out of luck.
On the other hand, commissioning a custom VTuber model means that you can get exactly what you want. You can work with an artist to create a character that fits your brand and personality perfectly. Of course, commissioning a custom model is going to be more expensive. But if you're serious about VTubing and want to stand out from the crowd, it might be worth the investment.
Now, let's talk about Live2D. If you're not familiar, Live2D is a software that allows for 2D animations and models to be created. It's what most VTuber models are made with. When it comes to buying or commissioning a VTuber model, you're going to want to make sure that it's compatible with Live2D. Otherwise, you won't be able to use it for streaming or recording.
Where To Buy VTuber Models
Are you looking to become a VTuber and need a model to represent you? Look no further! I've scoured the internet to find the best places to buy VTuber models. Here are some VTuber model for sale:
Fiverr VTuber Models
Fiverr is a great place to find talented artists who can create custom VTuber models for you. You can browse through hundreds of artists and their portfolios to find the perfect fit for your needs. From 2D to 3D models, you can find it all on Fiverr. Here are our best picks: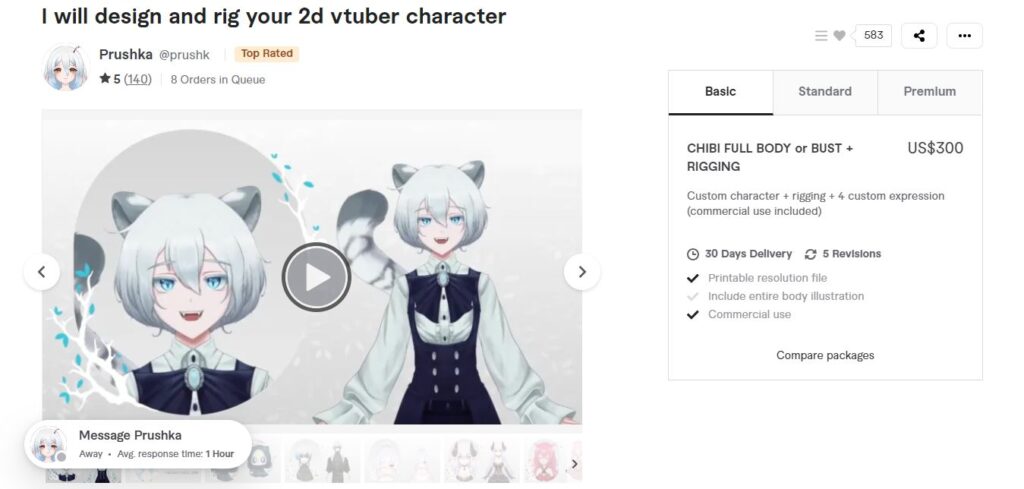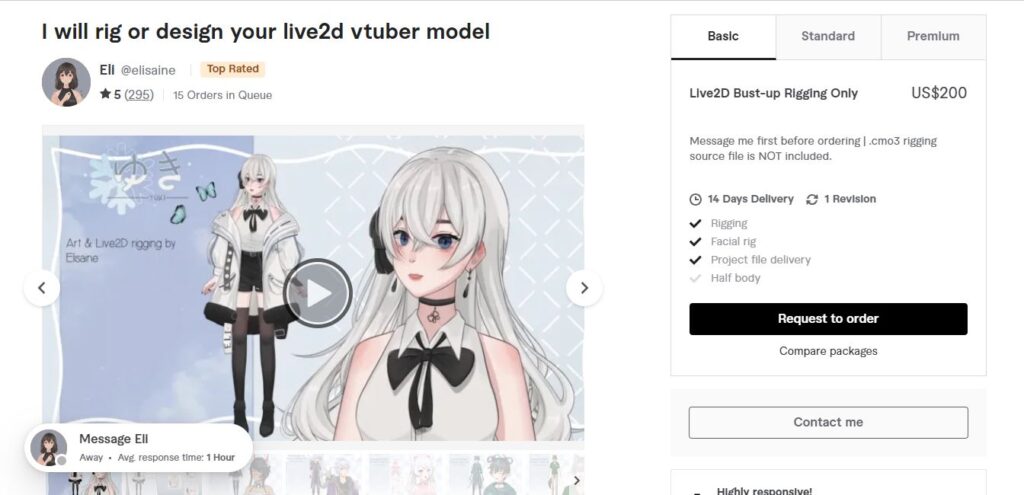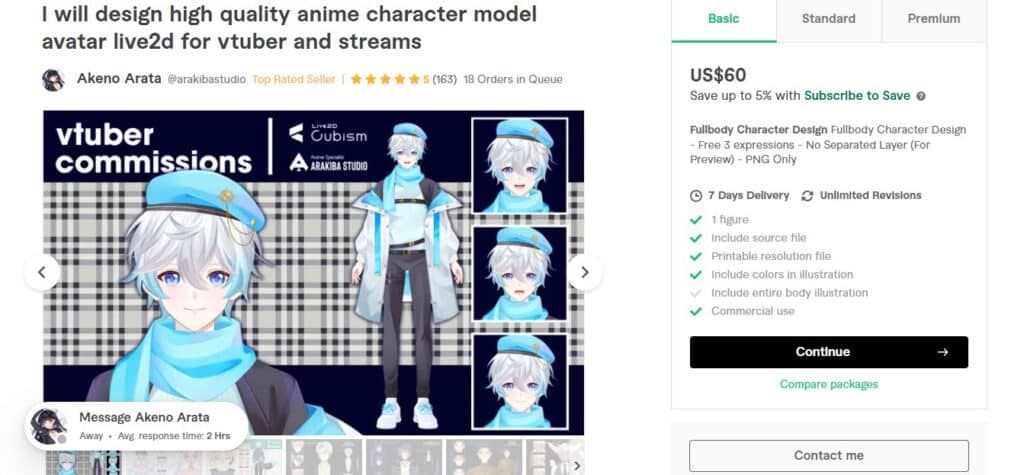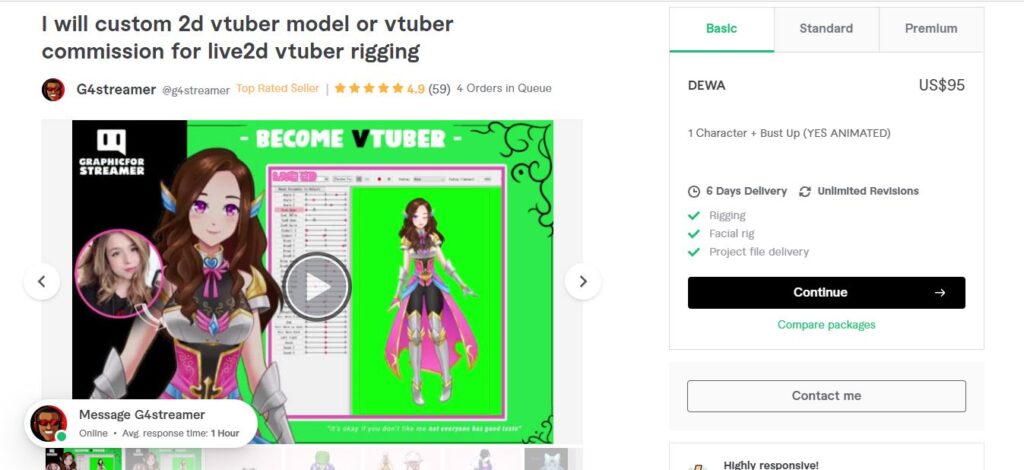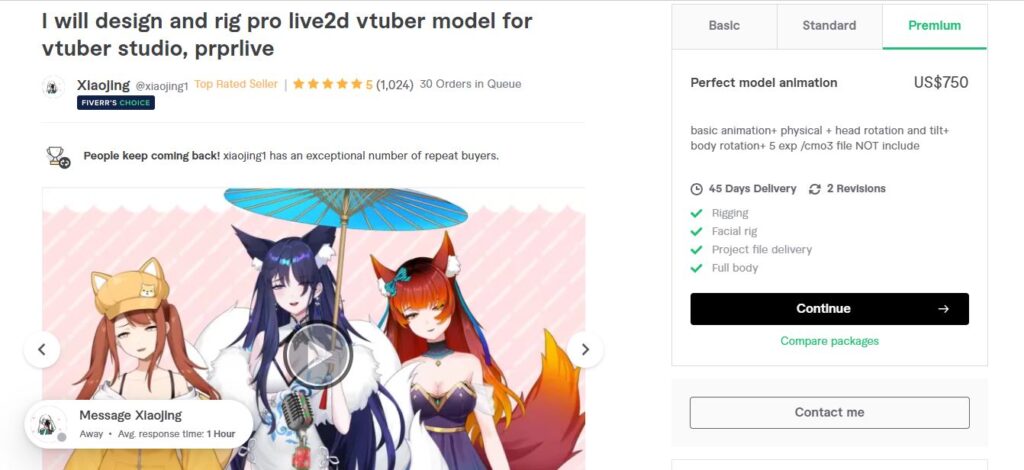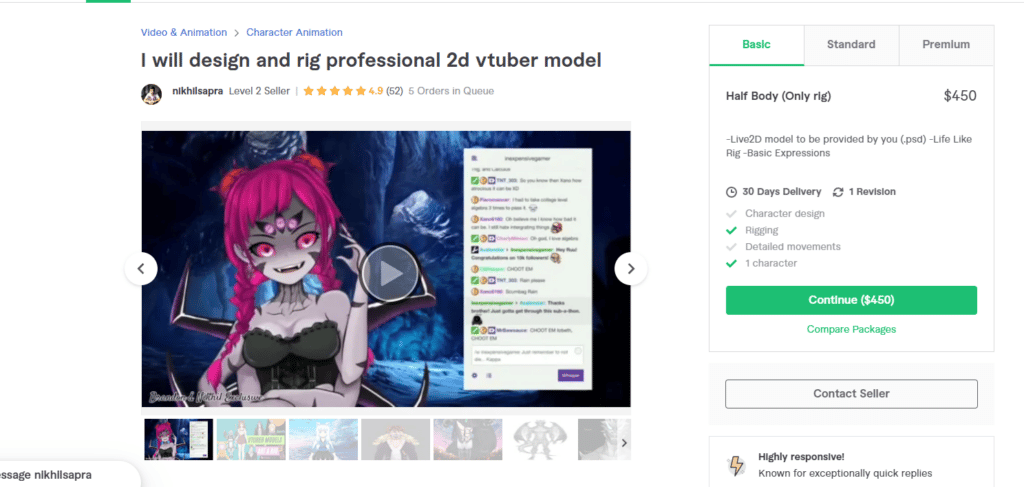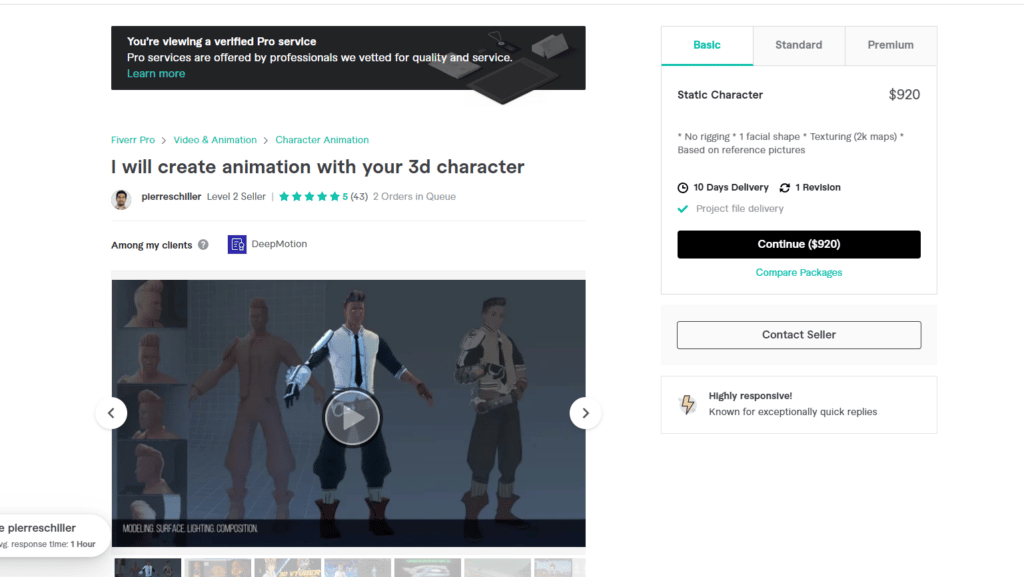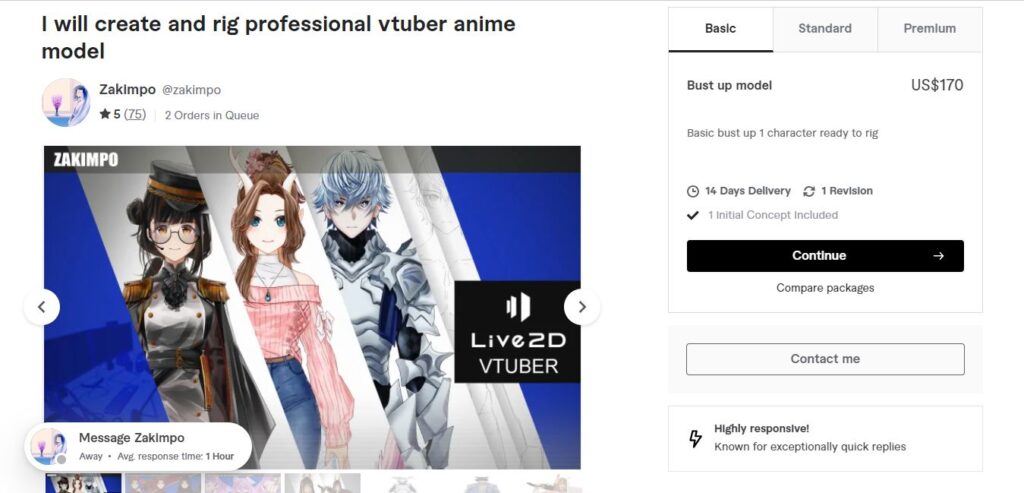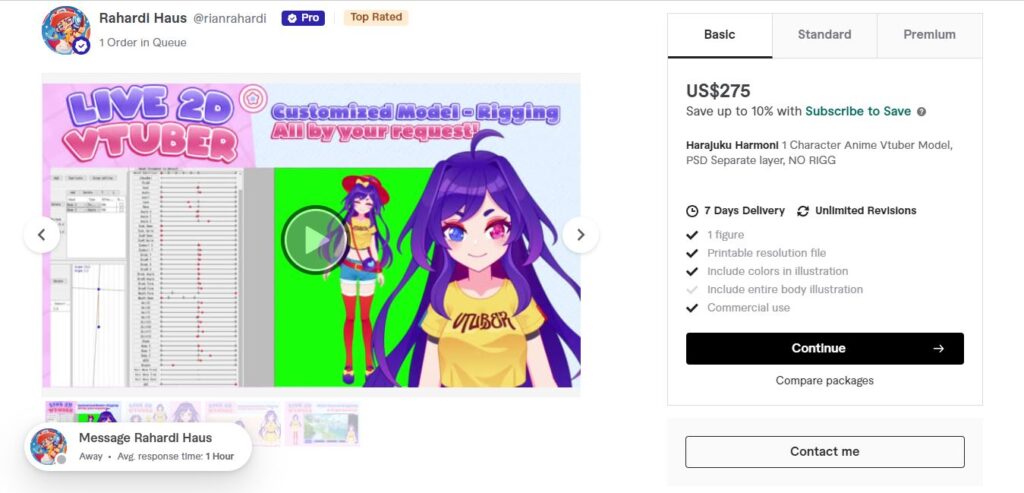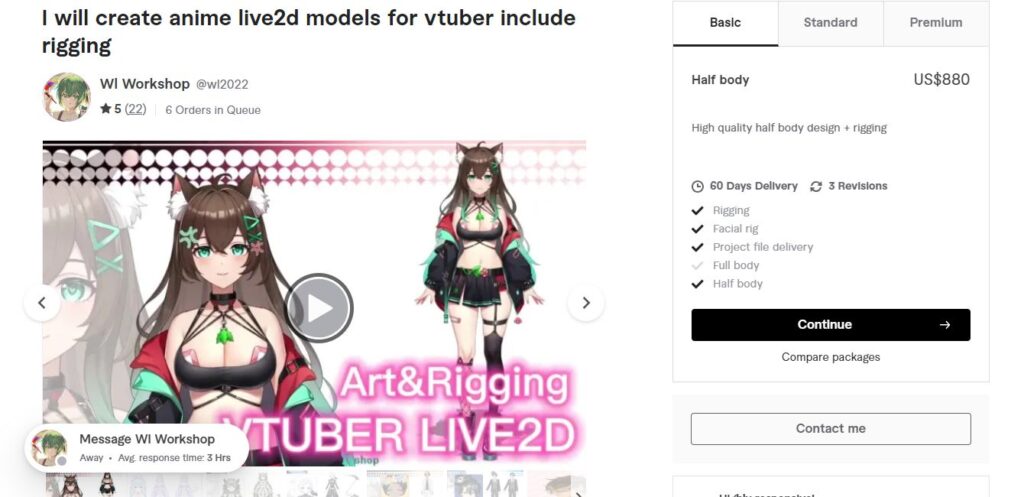 Etsy VTuber Models
Etsy is known for its unique gift ideas and handmade accessories, and it's no different when it comes to VTuber models. You can find a wide range of VTuber models for sale on Etsy, from pre-made models to custom ones. Plus, you can support independent artists while getting a great model for yourself.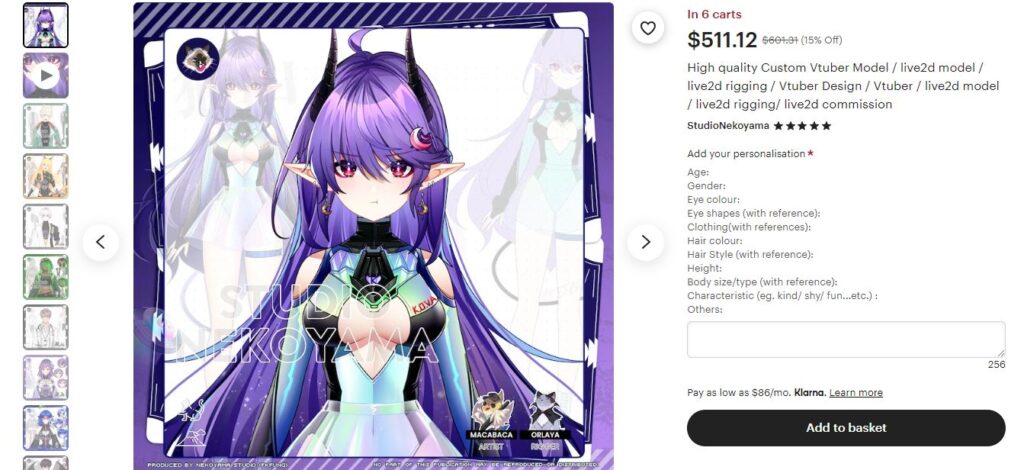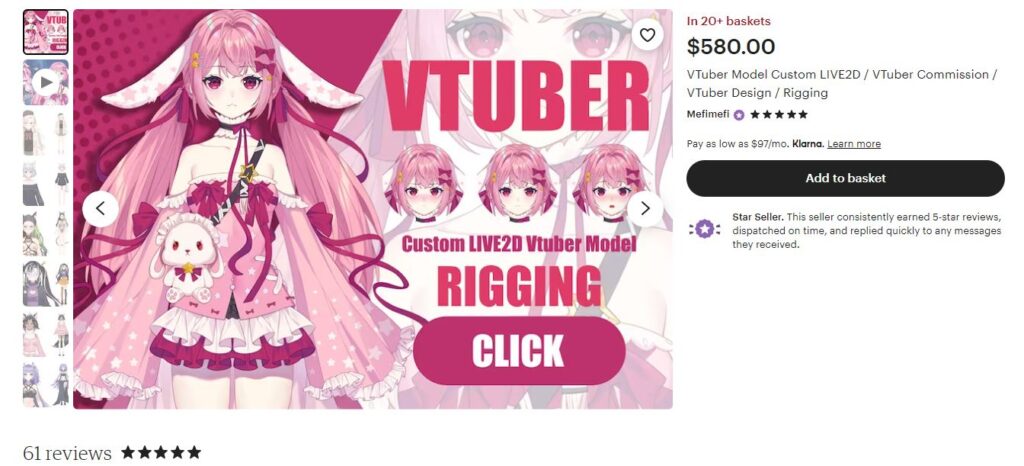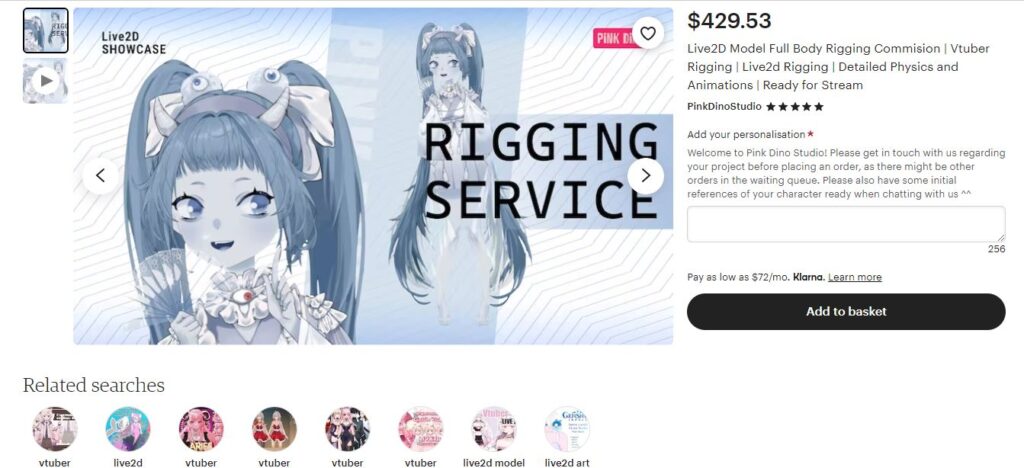 Booth VTuber Models
Booth is a Japanese website that offers a variety of VTuber assets and models. While the website is in Japanese, you can use Google Translate to navigate it. You can find a variety of VTuber model for sale on Booth, including ones that are compatible with Live2D and VRChat.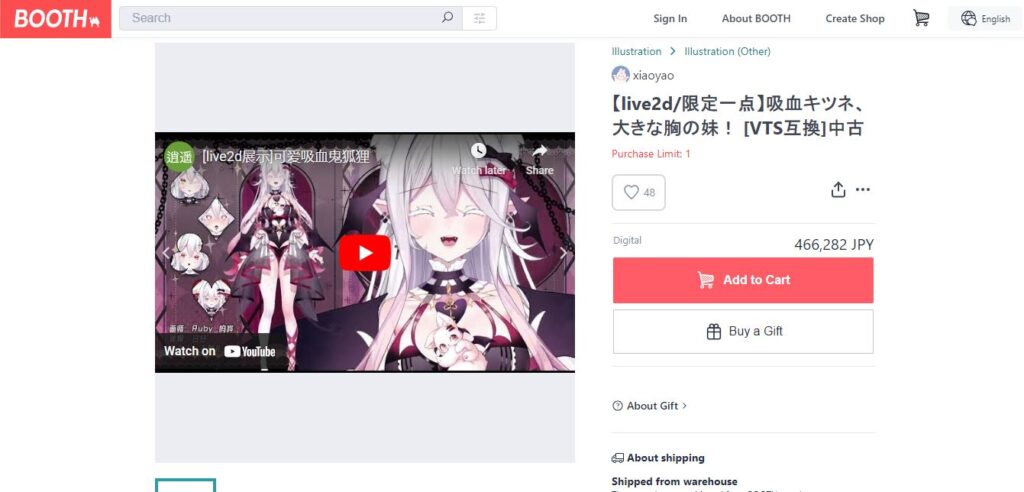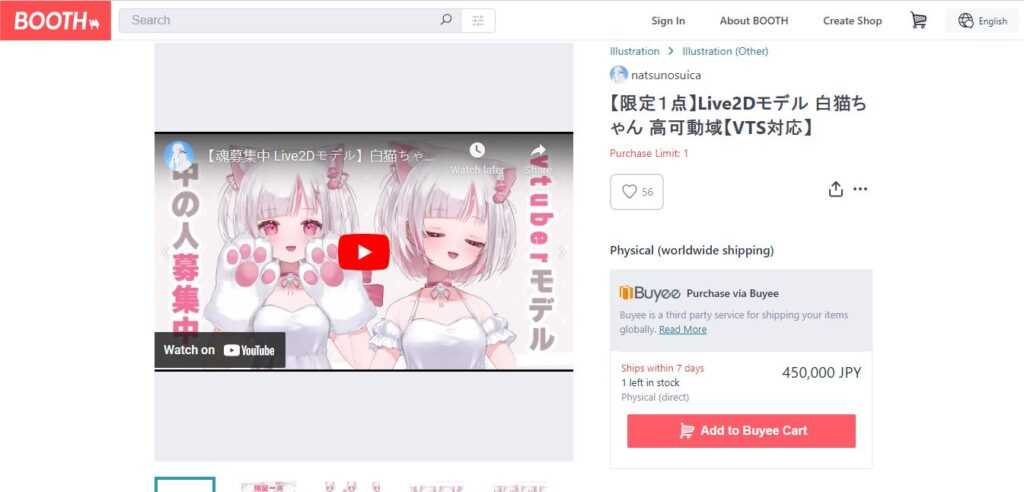 Reddit VTuber Models
Reddit is a great place to find free VTuber models for sale. You can find a variety of models on subreddits like r/VirtualYoutubers and r/Live2D. Plus, you can connect with other VTubers and get advice on creating content.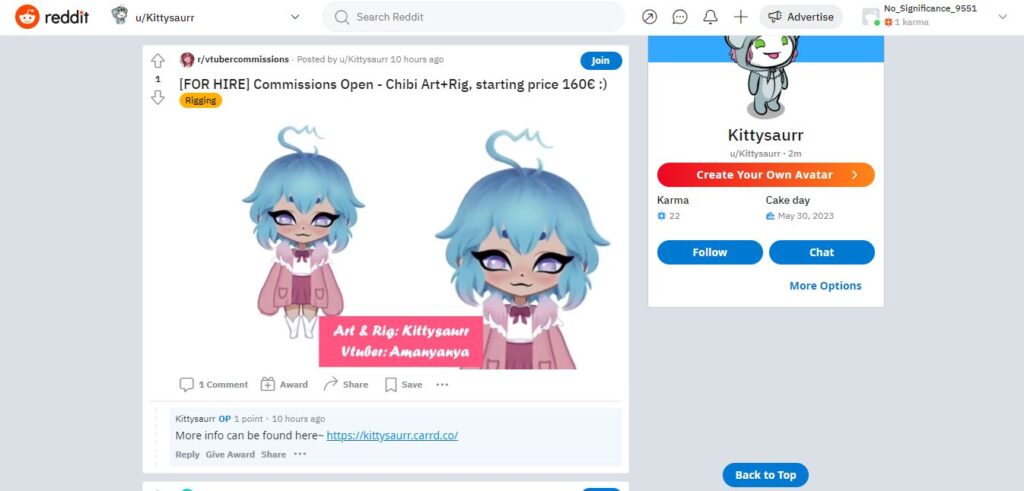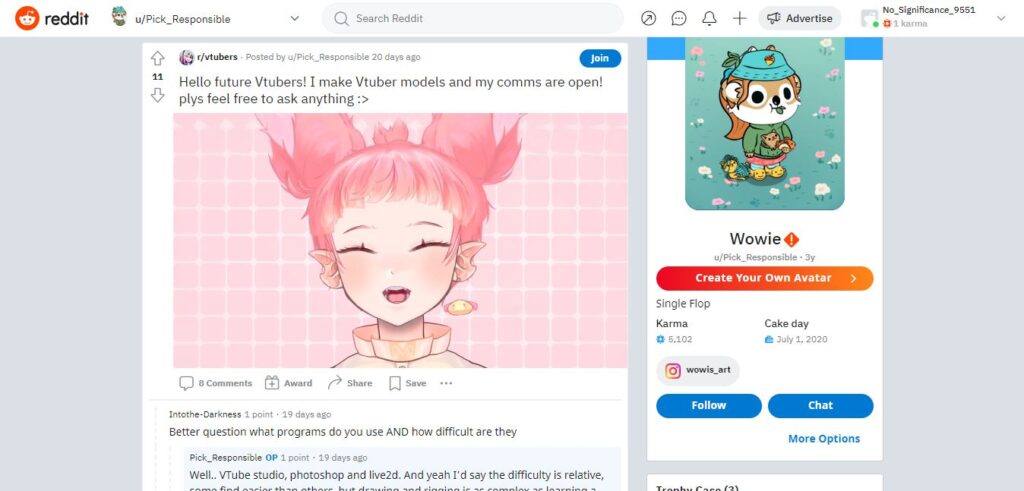 Twitter VTuber Models
Twitter is another great place to find free VTuber models and assets. You can search for hashtags like #VTuberModel or #Live2D to find models created by independent artists. Plus, you can connect with other VTubers and find inspiration for your own content.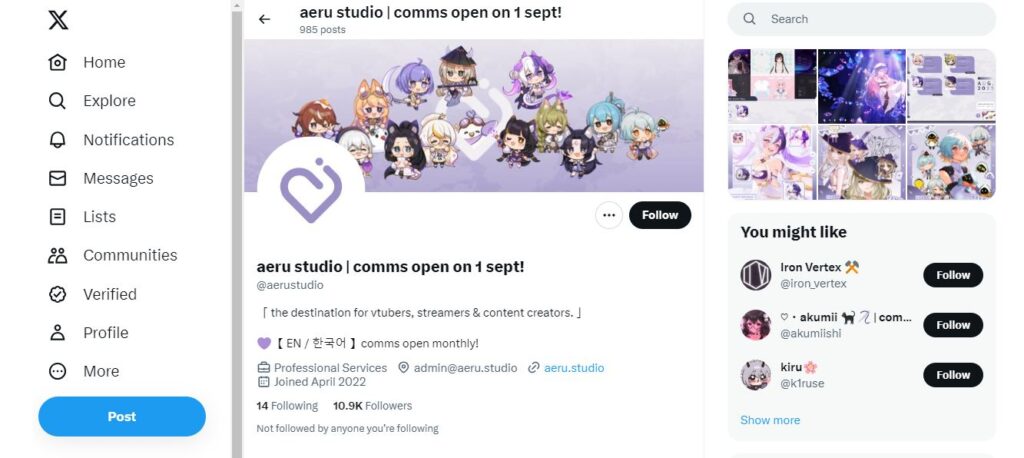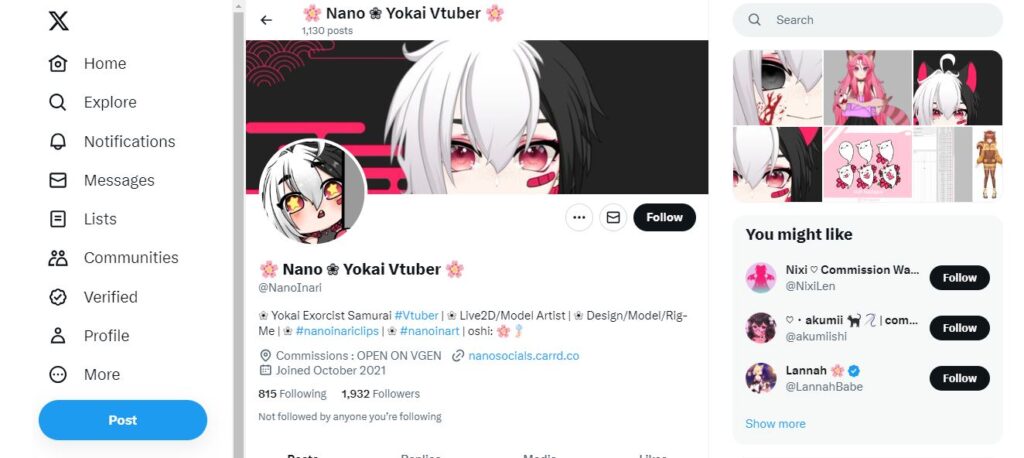 Whether you're looking for a custom model or a pre-made one, you're sure to find something that fits your needs and budget. So, get out there and start creating content as your virtual self!
What To Do After Buying A VTuber Model?
You did it, congrats on snagging your very own VTuber model! But hey, the party's just getting started! Now, let's dive into what to do next to make your VTuber journey truly epic:
Subscribe To A VTuber Newsletter (Like Us!)
Step one: Stay in the loop! And how do you do that? By subscribing to a VTuber newsletter, just like ours! Why is this important? Well, it's like getting a treasure chest full of exclusive news, juicy offers, and all things VTuber-related. Plus, you'll never miss a chance to grab the hottest new VTuber model in town. (Shameless plug alert: drop your email on our website and let the VTuber magic begin!)
Re-rig Your VTuber Model
Now that you have your VTuber model, you might want to re-rig it. Re-rigging is the process of adjusting the bones and movements of your model to fit your specific needs. This is especially important if you plan on streaming with your VTuber model. Don't worry if you don't know how to re-rig, there are plenty of tutorials and professionals out there who can help you.
Join The Twitch VTuber Community
Joining the Twitch VTuber community is a must if you want to get the most out of your VTuber model. You'll meet fellow VTubers, and make awesome new friends, and that's not all – your channel will get some serious love! And hey, when you're stuck in a tricky situation, this community has got your back.
Final Thoughts On Buying A VTuber Model
Well, I've done my research and I've come to a conclusion: buying a VTuber model can be a great investment, but do not take it lightly. There's a whole checklist of factors to consider, from the price tag to the quality and the rights to your beloved model.
If you're just starting out as a VTuber, it might be tempting to go for a low-cost, "general" model that anyone can use. But keep in mind that these models might not be as unique or high-quality as a model that you adopt and own exclusively. Plus, if you're serious about your VTubing career, investing in a high-quality model can help set you apart from the crowd.
Of course, we can't ignore the cost. No need to break the bank, but let's not settle for less and end up with a pixelated nightmare. Do your homework and strike a balance between your budget and your expectations. After all, we want to hit that sweet spot where quality and affordability do the fusion dance!
When it comes to finding a model, there are a lot of options out there. You can commission an artist to create a custom model just for you, or you can purchase a pre-made model from a site like Nizima or Etsy. Make sure to read the terms and conditions carefully, so you know exactly what rights you have to the model and what you're allowed to do with it.
In the end, buying a VTuber model can be a great investment in your career as a virtual content creator. Just be sure to do your research, weigh your options, and make a decision that's right for you. And hey, who knows? Maybe someday you'll be the proud owner of a one-of-a-kind, custom VTuber model that sets you apart from the rest.
If you're ready to elevate your VTuber experience to new heights, I invite you to check out our complete guide to VTuber model commissions.
Frequently Asked Questions
What's the going rate for buying a VTuber model, a kidney and a half or just a kidney?
Well, I'm not really sure about the kidney prices, but the going rate for buying a VTuber model can vary depending on the artist, the complexity of the design, and whether it's a 2D or 3D model. Generally, you can expect to pay anywhere from $50 to over $1,000 for a custom VTuber model.
Do VTuber models come with a warranty or just a prayer?
Unfortunately, VTuber models don't come with a warranty, but you can always pray that they don't break down on you. In all seriousness, it's important to choose a reputable artist and make sure you're getting a high-quality model to minimize the risk of any issues.
Can I trade in my old VTuber model for a newer model?
Sadly, there's no official trade-in program for VTuber models. However, you can always sell your old model and use the money to purchase a new one.
Is it possible to buy a VTuber model made out of cardboard and hope?
While it's technically possible to make a VTuber model out of cardboard, I would not recommend it. You'll want to invest in a high-quality model that's built to last and can give you the best possible performance.
Is there a VTuber model that can make me look taller and more handsome?
As much as we'd all love to have a VTuber model that can magically make us look taller and more handsome, unfortunately, that's not possible. However, you can always choose a model that fits your personal style and helps you feel confident on camera.
Can I buy a VTuber model that speaks fluent sarcasm?
As someone who speaks fluent sarcasm myself, I can say that unfortunately, there's no VTuber model that can match my level of snarkiness. However, you can always work with your artist to create a character that reflects your unique personality and sense of humor.