Bao The Whale – A 52-Hertz Deep Dive
The world of VTubers is like a vast ocean with a massive, thriving ecosystem underneath. There are a huge variety of talents and content that viewers can enjoy, and they all have unique qualities. Some of these people are incredible singers. Others are captivating storytellers. We also can't forget the video game gods among them.
Today, let's set our sights on a sea creature who is, quite literally, making huge waves in the VTubing scene. She is none other than Bao the Whale!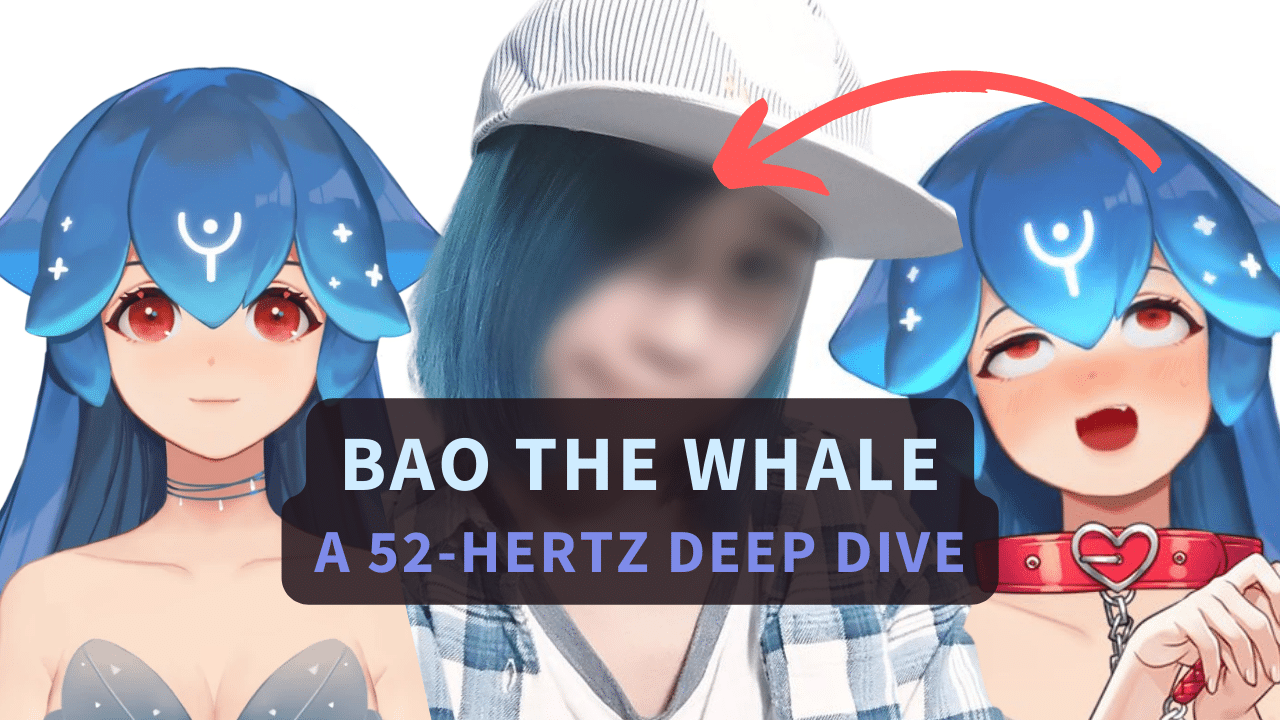 Who is Bao?
Bao is an English-speaking VTuber under United Talent Agency, and along with Shoto/Shxtou, they are the first two VTubers hired by the organization. It's an amazing feat to be part of UTA considering their roster of talents in gaming and esports contains some of the most prominent content creators in the world (e.g. Pokimane, Valkyrae, LilyPichu, etc.). She made her official debut on the 30th of October 2020 after previewing her first Live2D model a month before that.
According to her lore, she is a whale deity born from seafoam. She's lived for millions of years, experienced countless wars, and explored a myriad of oceans. Her birthday is on the 9th of November, and she's as old as the ocean itself. She stands 152cm tall. She's Vietnamese-American like Shoto, but unlike him, she speaks fluent Vietnamese. Plus, she can also speak Japanese. Trilinguals, rejoice! 
She's known for "Just Chatting" streams on Twitch, but most of her time as a content creator revolves around music. She's a great singer with an extensive amount of covers as well as original songs. Speaking of which…
Now Arriving at Hikaru Station
Before she started VTubing, Bao was known as a YouTube musician called Hikaru Station. She is known for singing anime and Vocaloid songs adapted to English, but she can do Japanese songs just as well. Her musical inspirations are artists like Harumaki Gohan and Madeon.
Singing isn't the only thing she can do, though. She's also good with some instruments like the guitar, the ukulele, the piano, and the ocarina. It was 2015 when both her first song covers and original songs got uploaded to YouTube, and now she has over a hundred of these to her name.
Her singing is described as emotional and with a wide vocal range. Her most popular song is an English cover of "My R" by Kurage-P, which now has almost 20 million views as of writing. Some other notable covers include a remix of "Excuse My Rudeness, But Could You Please RIP" originally by Calliope Mori, and "Yoru ni Kakeru" by YOASOBI. Her original work spans five singles (three as Hikaru Station, two as Bao), and a bunch of collaborations.
Her latest song is called "Citrus Love", officially released on September 4, 2022. It's currently sitting at 637,000 views and it was released a day after she debuted her newest Live2D model. It's a certified bop, so if you've got the time, please listen to it!
When looking into it as a whole, she's got an impressive body of work and that deserves a lot of respect.
The Evolution of Bao
Bao's character designer and rigger have stayed the same throughout her VTubing career – Hayamafair does the illustrations, and Brian Tsui does the rigging. Hayamafair also made the design of Vienna, a VTuber affiliated with the popular esports organization Cloud9. Brian Tsui did work for Nazuna Amemiya and Apricot of VSHOJO, as well as IRyS from Hololive.
Bao 1.0 has a simple but elegant design, with a blue one-piece dress and a large ribbon in the back. The animations are outstanding, though, with vibrant expressions right off the bat. The waterspout is very well-done and consistent with the whale theme.
Bao 2.0 goes for more of a fantasy theme, complete with a staff. The most significant changes are to her whale theme. Not only does she retain her water spout, but she's also able to generate bubbles with it. Plus, the light that pulsates in her hair is such a great touch to an already awesome model.
Bao 3.0 has a more casual feel to it, with white and blue being prevalent. The glowing hair is still there, the bubbles are still as bubbly as ever, and the water still spouts. The most noticeable change is that she now has a tail! It's so detailed that even the water droplets on it are animated.
Bao's current 4.0 model now has a citrus theme! Lemon and sea creatures go well together, and this one is no exception. The short hair just fits perfectly, and those cat ears are just adorable. We've also got a new facial expression that's… excitable. Plus, the waterspout now shoots 3 colors of liquid. The first one is yellow, the second one is clear, and the last is red. I'll leave it to you to figure out what those liquids are!
What a Wonderful Whale
Bao loves interacting with her chat, and her personality is seen as bubbly and kind, giving compliments to others often. She's got a good grasp of internet culture and loves a good pun. She also talks a lot to her viewers in her own Discord server. She mentioned in her debut that Hayamafair designed her to be "free and enthusiastic, like a playful little spirit of the ocean" which is completely accurate. Of course, in typical VTuber fashion, her chat pays her kindness back by giving her a roasting of a lifetime.
She does have this tendency to get very excited about the characters or people she has an interest in. One of the most memorable instances of this was when she had a huge crush on Blaidd, a character in the game Elden Ring. His voice was enough to make her melt to a point that his voice actor (Scott Arthur) made a video response to her tweet.
There was also that time she was super interested in Rick Sanchez from Rick and Morty. For her efforts, her chat witnessed her barking like a chihuahua, making them doubt whether she really was a whale VTuber or a dog VTuber in disguise.
Akuma Nihmune and Shylily are close friends of hers (with Numi and Bao meeting at TwitchCon 2022), and they often do streams together. She thinks of Vienna as her little sister, even meeting her in real life at some point.
In the same vein, Shoto is her little brother, with the two of them meeting at Anime Expo 2022, even teaching him some Vietnamese. She took part in other streams as well, notably a large Among Us collab with other famous Vtubers from VSHOJO, Nijisanji, and even indies.
Bao the Whale's Ascent
Bao's rise to the top of the Vtubing scene has been quite a sight to witness. Her YouTube career started off earlier than her Twitch career did. She almost doubled her subscriber count each successive year, starting off at around 90,000 subscribers in 2020, then 168,000 subscribers in 2021, then 293,000 subscribers in 2022, and now at 512,000 subscribers at this time of writing. Maybe she'll reach a million by the end of this year. Who knows? Anything is possible. 
Her Twitch statistics are even more amazing to see, starting from 14,000 followers in 2021 to about 160,000 followers in 2022 to sitting at 428,000 followers right now. Her massive growth also landed her in the #9 spot of the most-watched female Twitch streamers in the United States in Fall 2022. At least, that's according to what this post from StreamsCharts shows. It's an incredible achievement and a testament to her hard work and passion.
A Temporary Setback and A Triumphant Return
Bao recently went on a hiatus which started on December 21, 2022 with this tweet. It reads:
"Hewwo.
After a lot of contemplating, I've decided that I'll be on hiatus until after January. I'll be moving across the country (again) and not from the best circumstances, so I won't be myself for a while. I'll still be around in my Discord server and might take this time to make offline content instead. My mental and physical health kind of nosedived this last quarter of the year, so I want to take this time to properly take care of myself before it becomes irreversible. I love you all and I'll be back before you know it <3
Happy holidays everyone!~ Bao"
Moving to another place is a very stressful activity especially when you are an active content creator. Taking a break and focusing on herself was the right call in this case. Let this be a reminder to everyone to take care of yourselves and rest when you're feeling tired and burnt out.
The break certainly paid off for our favorite whale, as she returned to streaming on February 2 and has been better than ever. She recently did a podcast with Numi and Shylily called The Bikini Bottoms, and she's got a cover album coming out soon! Pre-orders for it are now available.
Wrapping Up
Bao's star continues to shine. It was only a matter of time before all her work as a VTuber/VSinger paid off, and her incredible growth during 2022 was evidence of that. 2023 seems to be the year she can finally fulfill her initial dreams of releasing a full album!
Let's hope that many more good things come her way.