Do VTubers Use a Voice Changer
When you are watching your favorite VTuber stream, you might get confused sometimes by the unnatural-sounding voice of the VTuber, and you might wonder, "Do VTubers use a voice changer?".
You might be wrong, as most of them don't, but some do. Got confused? Don't worry! As in this article, we will list down the VTubers that use the voice changer and what voice-changing software most of them use. Now without wasting your time, let's get straight into it.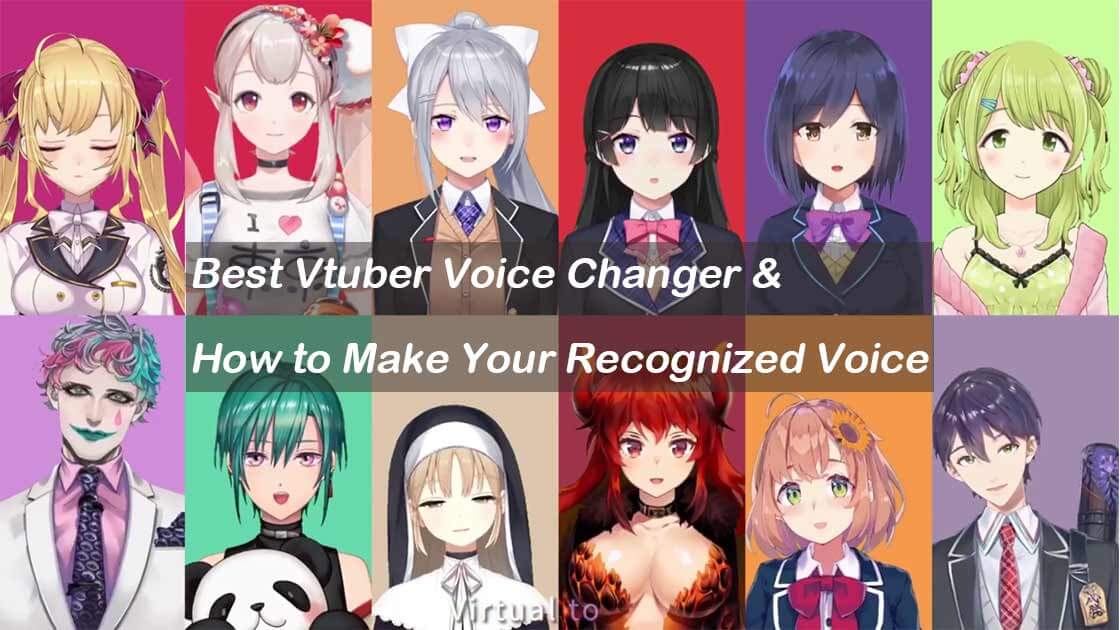 Which VTubers use voice changer?
You might get surprised by how most of the VTuber are naturally talented in changing their voice. You should know that the most popular VTubers, especially the VTubers from Hololive and Nijisanji, are professional voice actors, so it isn't a problem for them to sound like typical anime characters. And then there is an exception, Ironmouse. She doesn't have a normal-sounding voice due to the MAC lung disease and a childhood virus (aggravated by her being more seriously ill) that left her speechless for a whole year. 
That said, some of the VTubers do use a voice changer, and they are listed below:
Nora Cat
Ojiki
Comdost
Kaga Oren
Futaba Hiramori
Shiki Taigen
Kamioka Chiroru
Nem
Senzawa
Sachiowo
kson ONAIR
What voice changers do the VTubers use?
After some research, we devised a list of free and paid voice-changing software that the VTubers use. If you want to be a VTuber who uses voice changers or have fun, on discord, with some of your friends, then these are some of the best voice changers in the market.
This voice changer is free software and an excellent pick if you want to start your career as a VTuber, as it provides many features in premium voice-changing software.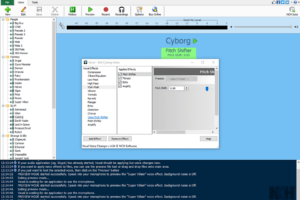 Features of Voxal Voice Changer:
This software can change the voice in a pre-existing recording.
Effects can be applied in real-time using this software, a must-have feature if you are a VTuber.
 Voice modifications can be made through Load and save effect chains for VTubers.
The vocal effect library includes the robot, alien, girl, boy, atmospheric, echo, etc. It is an excellent software for changing your voice to be more feminine; if you have a masculine voice.
This software has unlimited voice effects, and you can change them in real-time.
You can use it in-game or, for that matter, in any application you use, including VRoid or any VTubing software.
You can change the output audio to your speakers to further fine-tune the effects according to your liking.
Low CPU usage promises no lag while gaming or streaming.
User-friendly and simple interface
You can change your environment in real-time to spice up your stream and create different scenarios.
Custom hotkeys are an option to switch between different voices in real-time.
MorphVOX Pro is a paid voice-changing software with a free version also available. In my opinion, if you want to have fun with your friend, then go for the free version, whereas if you are reading this article as a guide to launching your VTuber career, then I highly recommend going for the paid version, and here is why: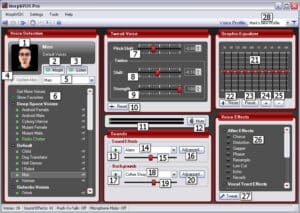 Features of MorphVOX Pro:
MorphVOX Pro has several premium features that make it stand apart from other voice-changing software products on the market:
MorphVOX Pro is an advanced voice-learning algorithmic program that ensures the best quality sound.
Flawless integration with VTubing software and every other program guarantees a smooth streaming experience.
MorphVOX Pro uses low bandwidth and has insignificant CPU usage; hence it doesn't interrupt your gaming or VTubing experience.
An extensive library of sound effect packs makes your streaming more entertaining.
You can change your background and make it sound like you are somewhere else.
You can add custom sound effects and a background environment.
There are unlimited possibilities for tweaking through advanced vocal tract filters.
"Quick Voices" is a feature that allows you to switch your voice with a single keystroke.
Voiceroid
Voiceroid is a voice synthesizing software made by AH-Software Co. Ltd. Although Voiceroid is the best voice-changing software for VTubing, it is only available in Japanese. That is why I won't be going into the details of this voice changer.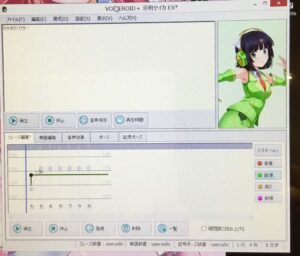 Voicemod is another free voice-changing software with great features comparable to a paid voice changer. You can apply a voice modifier to sound like anything, be it a woman, man, chipmunk, or a demon, you imagine a voice, and it might already have a similar voice modifier in its library.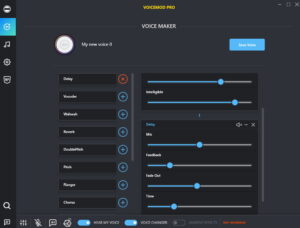 Key features of Voicemod:
Voicemod offers an endless library of voice-changing filters to choose from, e.g., pitch changing and gender-swopping.
Voicelab technology allows you to fine-tune your voice.
You can create your own audio effects that are playable in real-time with a push of a button.
Voicemod integrates seamlessly with any program such as OBS, VRChat, Discord, and many more. You can find tutorials on their official website for each program you like.
Clownfish is another free, excellent voice changing application that installs on the system level and doesn't require much tweaking to integrate voice changing with the different software you use. Fundamentally, it affects any application that uses your microphone, be it the OBS, Discord, VRChat, or any other software that uses a mic.
The popular Voice filters it offers are:
Female pitch
Robot
Male pitch
Clone
Alien
Helium pitch
Atari
Clownfish is popular because of its simple-to-use and user-friendly interface.
This voice changing software sounds more natural than any other software on this list, especially if you want to change your voice from masculine to feminine or vice versa for VTubing.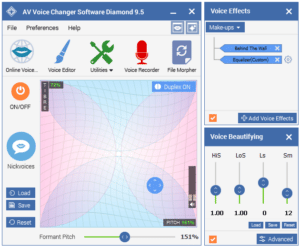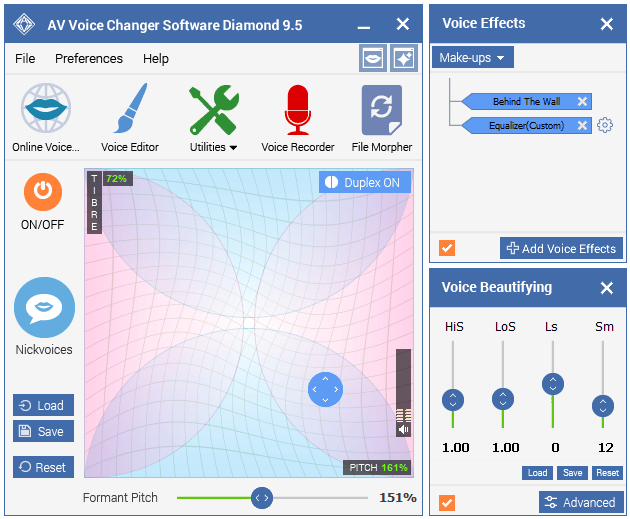 Features of AV Voice Changer Software Diamond:
Voice editor: You can edit and add effects to a modified voice file.
Effects: 40 plug-in Audio Effects, 30 Voice Effects, 17 Non-human Voices, 70 Background Effects, and more are available at your disposal when using the AV voice changer.
Voice Morpher: Adds in voice beautifying, voice attributes, and many other advanced features to morph your voice.
File Morpher: Morphs the audio files in batches.
Nickvoices: Change through different preset voices with a hotkey.
Voice analyzer: Analyzes your voice based on harmony, score, pitch, and brightness and helps you improve your voice.
Parody mixer: You can use this feature to mimic any person's voice, e.g., Hollywood stars, singers, or any of the available celebrity voices.
Voice comparator: With this feature, you can imitate anybody's voice by importing a voice sample of them.
Hotkey: This is where you set hotkeys for nickvoices and frequently used features.
Add-on Library: There is a vast library of free voices and sound effects that you can take benefit of.
All In One Voice Changer is relatively old software. Online chatting was the purpose of its development, but over time it became a valuable tool for streaming on Twitch and YouTube. It is a paid software with a free trial, but that isn't much of use as it comes with the premium feature disabled, and free features aren't worth the installation.
Should you be using a voice changer as a VTuber?
Well, it all depends on you; if you are moving into a VTuber career with a plan and a serious mindset, then you shouldn't, as it would make it difficult for you to collaborate with other VTubers or any other streamer in real life. You would have to go through a "Real voice reveal" and stuff like that for any collaboration to happen, and this is the main reason that Hololive and Nijisanji VTubers don't use voice changers.
If you are in it just for the sake of fun, then yeah, voice changer does provide opportunities to create fun and entertaining content.
Conclusion
Voice changers are a great way of having fun with your friends. While voice-changing software for VTubing, when used the right way, is a content-creating machine as it provides a lot of possibilities and scenarios where you can entertain your viewers with a push of a button on your keyboard. I hope our insight on this topic has helped you make the right choice of choosing a voice changer software that fits your need. See you guys in our next post; stay tuned.