VTuber Debut Video Commissions: All Eyes On You!
VTubing has blown up in recent years, and more peeps than ever are hopping on the hype train. If you want to make it big as a VTuber, you've got to drop an epic debut video. It's your first chance to show off your sick VTuber model you just commissioned and leave a lasting impression.
But let's be real: putting together a killer debut video can be intimidating, especially if you're new to this virtual world. That's where getting a pro VTuber debut video comes into play. Your first impression needs to be straight fire, and by teaming up with an experienced content creator, you get just that!
In this article, I'm going to spill all the tea on how to commission an epic VTuber debut video. From finding the perfect artist to collaborating with them and bringing your brand to life, I'll break down all the deets. 
Whether you're a seasoned VTuber looking for a fresh start or a total newbie taking your first steps, this article's got your back, fam. It's the ultimate guide to commissioning a lit VTuber debut video that'll slay the scene.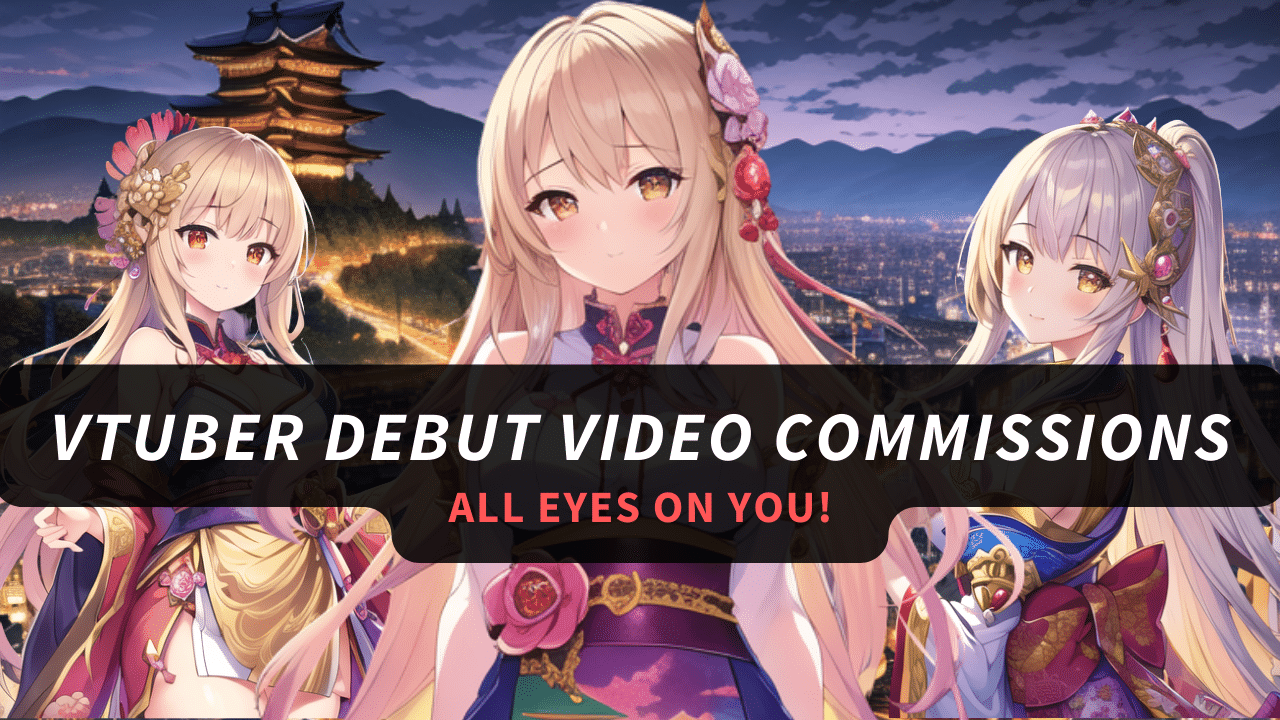 My Top VTuber Debut Video Commissions
Harry Marshandi 🥇 The best overall artist to commission for a VTuber debut video
Rafi Putra 🥈 Fiverr's choice for the best VTuber debut video commissions
Shlon 🥉 Best budget-friendly artist to commission for a VTuber debut video
The Importance Of A Personal Persona
As a VTuber, nailing your personal persona is key to attracting a dedicated fan base. Your persona is what makes you stand out from the rest of the VTubing crowd and gives you that special something. In this section, we'll dive into why having a killer personal persona is so important and how it can skyrocket your success as a VTuber.
Creating A Unique VTuber Persona
If you want to make it big in the VTuber community, you have to rock a one-of-a-kind persona (It's also a requirement for commissioning a VTuber debut video). Your vibe should scream your personality, interests, and values. Pick a persona that vibes with you and connects with your viewers. It's got to be relatable and leave a lasting impression.
When crafting your persona, think about what floats your boat. Consider the following:
What are your passions and hobbies?
What kind of personality do you rock?
What kind of content do you want to drop?
What kind of audience do you want to attract?
Keep your persona consistent across all your socials. That way, your peeps can spot you in a crowd and remember your style. But also, don't be afraid to switch things up and adapt your persona for different types of content. It'll help you grow your fanbase and reel in new viewers.
Role Of Lore In VTuber Persona
When it comes to being a dope VTuber and commissioning a VTuber debut video, your persona's got to have some epic lore. It's like the story behind who you are and why you're repping the VTuber life. Having a sick lore can help you connect with your audience on a whole new level and make your persona relatable.
So, when you're crafting your lore, keep these things in mind:
What's your character's backstory?
What kind of world do they call home?
What kind of challenges have they faced?
What are their goals in this crazy virtual universe?
But here's the thing: your lore should align with your persona. It should also be versatile enough to fit different types of content. This way, you can explore various facets of your character and keep your streams fresh.
Building a loyal audience as a VTuber starts with an original, relatable, and consistent persona. Your lore is the secret sauce that helps you bond with your viewers and makes your persona unforgettable. Fortunately, VTuber lore is something you can also commission!
Commissioning A VTuber Debut Video
If you're thinking about becoming a VTuber, one of the absolute key moves in your path is dropping a great debut video that'll hype up your viewers. This video is where you flex your personality and style, so you've got to make sure it's on point.
Consider hiring an experienced motion graphic designer or videographer to guarantee that your debut video comes out polished and pro.
Why You Need A Motion Graphic Designer
A motion graphic designer is like a wizard of visuals. They're the artists who know their stuff when crafting animations and graphics for your videos. They're the ones who'll make your Vtuber avatar come alive, rigging it up and animating it to perfection.
Not only that, but they'll hook you up with custom graphics and dope effects for your debut video. Plus, they'll make sure your whole brand has a consistent visual style so your debut video fits right into your overall persona.
What To Provide Your Videographer
When you're about to kickstart your VTuber journey, you must be ready with a few things for your motion graphic designer or videographer. First things first, you've got to have your VTuber avatar ready for them to work their magic.
You can whip it up with tools like VRoid or Blender, or if you want to flex, you can even commission an artist to sketch it for you.
Next up, you must have a crystal-clear vision for your debut video. That means knowing the style, vibe, and all the specific scenes or shots you want to see. Don't forget to mention any graphics or effects you're craving for.
If you got a storyboard or script, share that too, so your creative team can bring your vision to life without any hiccups. Oh, and don't forget, communication is key. Stay in touch with your motion graphic designer or videographer throughout the process. Be ready to drop feedback and make revisions as necessary.
And make sure you're both on the same wavelength when it comes to timelines, deadlines, and other crucial deets.
Commissioning a killer VTuber debut video can level up your brand and make you a standout in the crowded VTuber scene. With a talented motion graphic designer or videographer by your side, you can create a debut video that's truly you, showcasing your one-of-a-kind personality.
Pricing & Budgeting
When scoring a VTuber debut video, the price tags can swing wild. It all depends on factors like how intricate the model design is, the rigging, and the animation. Speaking from experience, a reasonable budget for a top-tier debut video can range anywhere from $10 to $125 or even higher.
But hold up, don't forget that the cost isn't just about the commission itself. You must factor in other expenses, too, like software licenses, music rights, and equipment. Those bills can add up quickly, so plan your budget wisely and consider all the associated costs. You can't afford an unpleasant surprise at such a crucial stage, can you?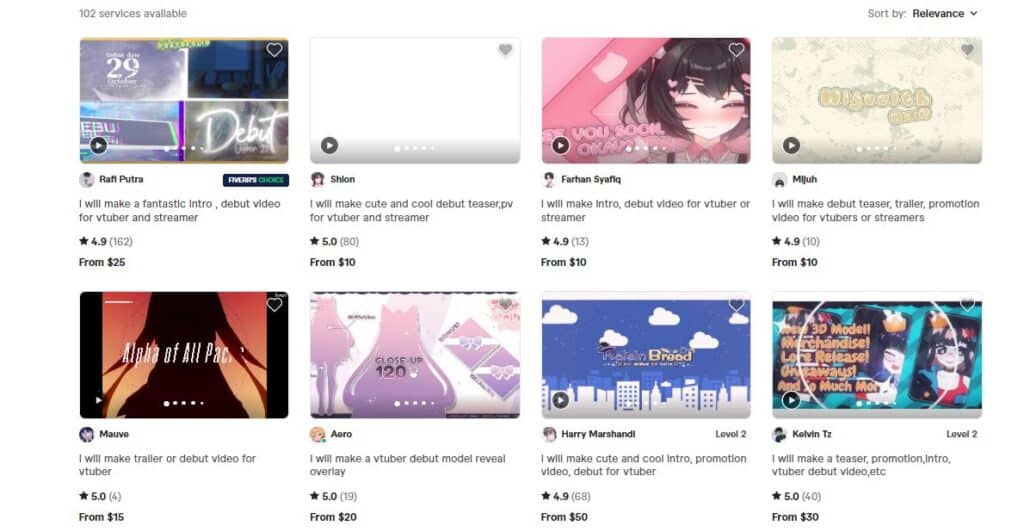 Now, when you're on the lookout for a VTuber commission, you must keep the artist's experience and skills in mind. Usually, the more experienced and skilled they are, the higher their rates are going to be. But sometimes, you can find talented artists who can deliver top-notch quality within your budget. Just do your research and find the perfect match.
.
Oh, and here's the deal—when you're budgeting for your VTuber debut video, the type of commission matters too. Like, a 2D Live2D model will generally be cheaper than a 3D model.
And if you're only looking for character design and rigging, that will be less expensive than a commission that includes animation and music.
Pricing and budgeting for a VTuber debut video can be a real maze, but with some smart planning and thorough research, you can find an affordable commission that's still fire quality and meets all your needs.
Choosing the Right Motion Graphic Designer: Finding The Artist To Commission For VTuber Debut Video
When you're ready to drop that lit VTuber debut video, you need to make sure you got the right motion graphic designer by your side. Trust me, as a pro VTuber videographer, I've linked up with some seriously talented designers, and I got the inside scoop on where to find them.
Fiverr is the spot to be. This marketplace is packed with skilled professionals who specialize in motion graphics for VTubers. You can browse through their profiles, peep their portfolios, and even read reviews from satisfied customers. It's a goldmine for finding the perfect person to bring your vision to life.
My Picks For Fiverr
Fiverr is the go-to platform for all you aspiring VTubers out there looking for dope freelancers to level up your game, especially when it comes to motion graphics design. So, without further ado, here are my absolute favorites, the cream of the crop, the sickest motion graphic designers you can find on Fiverr:
| Designer | Description | Price Range  |
| --- | --- | --- |
| Shlon | This wizard knows their way around motion graphics. They have mad skills in creating captivating visuals that'll make your audience want more from you. Plus, their previous clients love their work, so hiring them shouldn't feel daunting. | $10-$35 |
| Rafi Putra | Looking for mind-blowing visual effects? Look no further! Rafi Putra is a master at creating stunning effects that'll leave your viewers in awe. They've got the skills to transform your debut video into an epic experience. Also, they are Fiverr's choice for creating a debut video, so you know they're legit! | $25-$75 |
| Harry Marshandi | If you want your debut video to have that extra touch of uniqueness, Harry Marshandi is your go-to. They specialize in crafting custom motion graphics that'll make you stand out. Prepare to be blown away! | $30 – $130 |
Best artists for VTuber debut video commission
When picking a motion graphic designer for your epic VTuber debut video, peep at their portfolio and reviews to ensure their style and quality match your vibe. Also, don't forget to chat it up with the designer about your hype expectations, timeline, and budget to make sure the collab goes smoothly.
Additional Elements Needed Before Commissioning A VTuber Debut Video
When prepping for your lit VTuber debut, there are a bunch of extra elements that can level up your stream and give it that pro vibe. Check out these crucial elements to consider:
Commissions For Overlays & Logos
When it comes to your VTuber debut, the overlay and logo are major game-changers. These sick graphics are what you see on top of your stream, and they're key to giving your stream that polished and professional look. No worries if you haven't got the skills to create them yourself! You can hit up an artist to whip them up for you.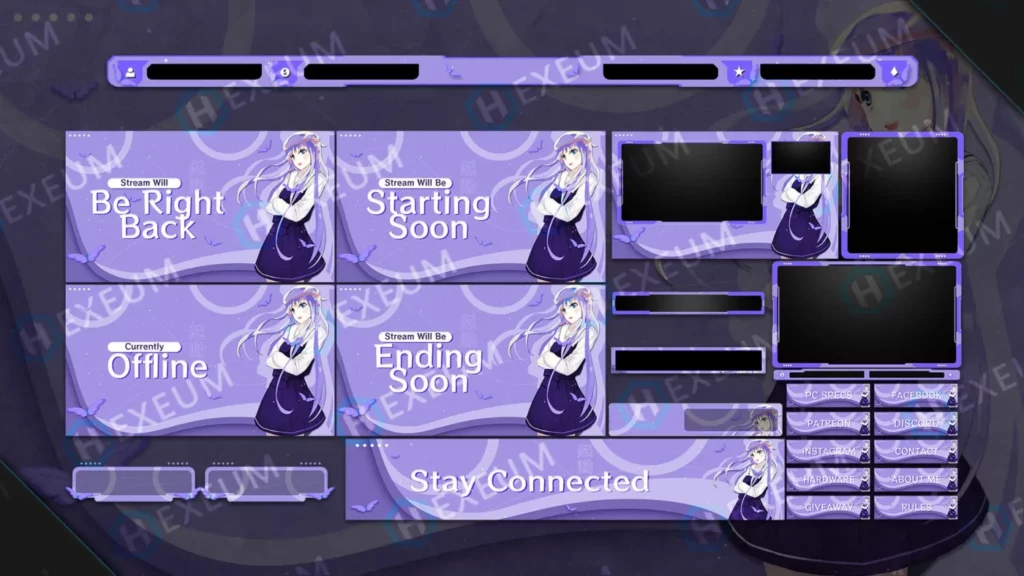 There are tons of talented artists out there who specialize in VTuber overlays and logos. They'll work with you to create a design that's all about your unique personality and style.
Accessories
Accessories are crucial for your VTuber debut! These are the fly items you rock or hold during your stream, and they bring that extra personality and swag to your streams.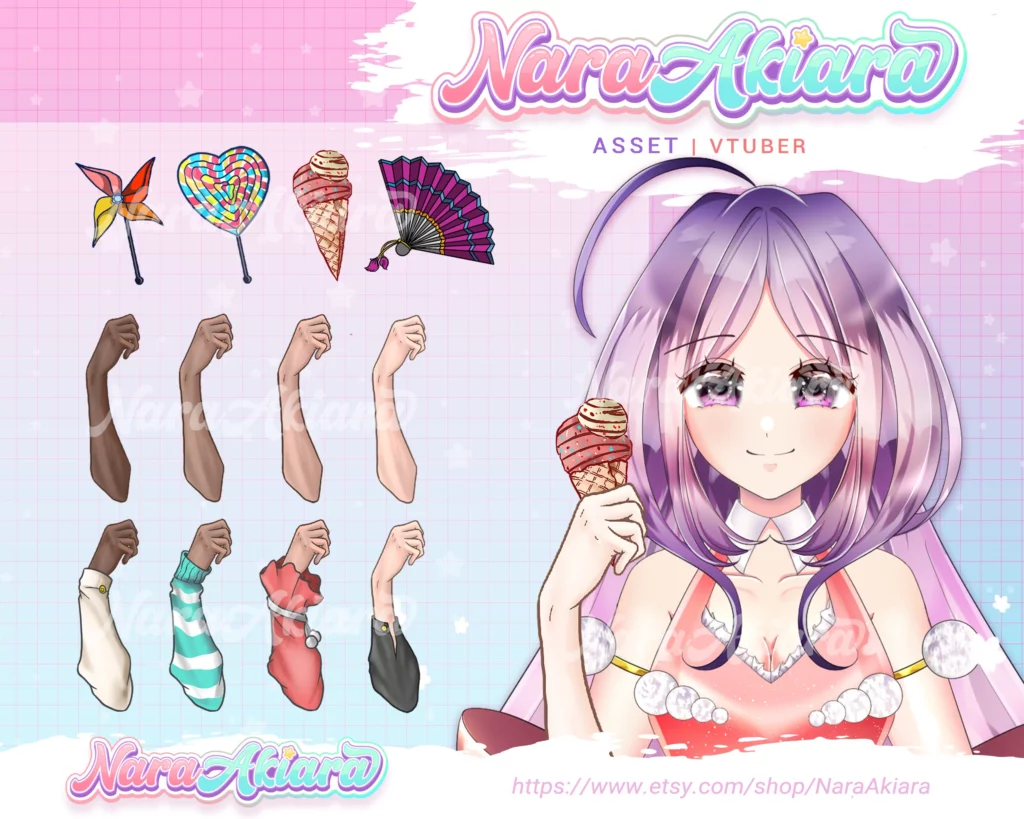 There are tons of dope accessories to choose from, like sick hats, fresh glasses, and cute plushies. When you're picking out your accessories, make sure they match your overall theme and show off your unique personality.
Reference Sheets
A reference sheet is like the holy grail for your VTuber character! It's a super detailed drawing that shows off all the essential deets, like your hair color, eye color, and a killer outfit. This sheet is a must-have for artists who want to create rad art of your character.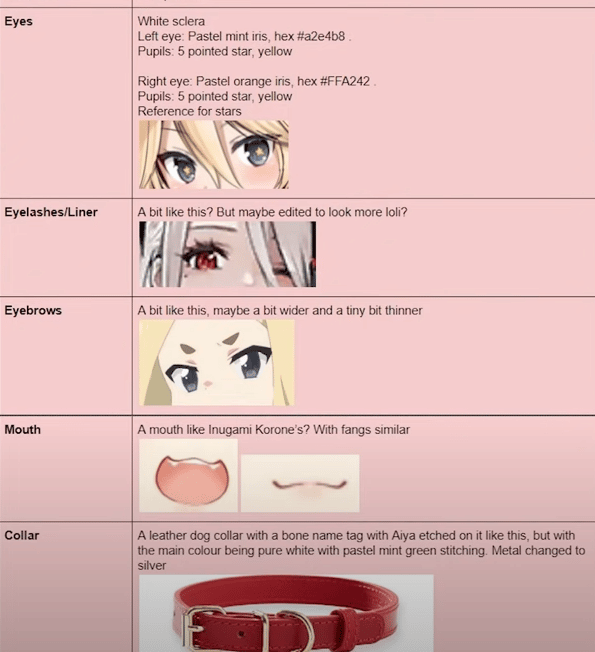 With a reference sheet, you can make sure your character stays consistent and on point in all your streams and artwork. If you don't have it ready, check out this detailed guide, where we discuss how to create a VTuber character reference sheet!
Don't Forget
Don't sleep on the little things when you're gearing up for your VTuber debut! We're talking about setting up your socials, making a tight schedule for your streams, and getting your streaming setup on point.
By putting in the effort to plan and prep, you'll be rocking a smooth debut and leaving a killer first impression on your viewers. No doubt, there's a ton of stuff to consider when prepping for that VTuber life.
Grab some dope overlays and logos, deck yourself out with sick accessories, whip up a sweet reference sheet, and pay attention to all the deets. That's how you make your stream pop and guarantee a debut that nobody will forget.
Wrapping Up: VTuber Debut Video Commissions
If you want to make a big splash in the VTuber community, consider getting a sick debut video commissioned. Yeah, it might cost you some serious cash, but trust me, it'll be worth it if you're dead serious about becoming a VTuber pro.
When you're commissioning your VTuber debut video, make sure you team up with a top-notch animator or editor who knows their stuff when it comes to the VTuber scene.
They need to understand you and your brand so they can create a video that truly represents you. Don't forget to clearly communicate your vision and expectations, and be open to their feedback and suggestions.
Remember: your debut video is just the start of your VTuber journey. Keep cranking out awesome content and growing your fanbase over time. Don't get discouraged if your debut video doesn't go viral or blow up right away.
 Building a successful VTuber career takes hustle, grind, and unwavering dedication. All in all, getting a VTuber debut video commissioned can be a smart investment if you're serious about diving into the VTuber world. With careful planning, collaboration, and never giving up, you can create a debut video that launches you into VTuber stardom. 
How To Commission A VTuber Debut Video: FAQs
How much should I expect to pay for a VTuber debut video commission?
When commissioning a VTuber debut video, the cost isn't set in stone. It all depends on the artist and how fancy you want your video to be. Generally, you're looking at a range of 50 to 500 bucks for a solid VTuber debut video commission. Before you dive in, make sure you have a chat with the artist about the pricing. Make sure you're both cool with the numbers before sealing the deal.
What should I look for in a VTuber debut video commission artist?
When you're on the hunt for a VTuber debut video commission artist, you must keep a few things in mind. Check out their experience, yo. Look for artists with experience in the VTuber debut scene and know their stuff. Take a peek at their portfolio to see if their work vibes with your style. But it isn't just about their skills. You also must consider their communication game. Find an artist who's easy to talk to and listens to what you've got to say. You want someone who's down to take your input and feedback and work with you to create something dope.
What are some common elements included in a VTuber debut video?
When it's time for your VTuber debut video, there are key elements you need to cover to make it legit. Introduce your character—share their backstory, personality traits, and interests. Show off your avatar and explain how you'll interact with your audience. Get them hyped for what's to come!
Are there any legal considerations I should be aware of when commissioning a VTuber debut video?
Absolutely! When you're creating that VTuber debut video commission, don't forget about the legal stuff! Make sure you're on the same wavelength as the artist when it comes to owning the video and the rights to it. Lock down a solid agreement so there aren't any surprises later. Check if the artist has legit licenses and permissions to use any copyrighted material in the video. We don't want any legal headaches, right?